If you aren't familiar with the unspoiled beauty that is Iceland, you might be thinking it's a frigid land not worthy of being a top honeymoon destination. In reality, it's one of the most scenic (and romantic) places on earth. Think black sand beaches, geothermal lagoons revered as the "fountain of youth," and, of course, the northern lights. If you and your partner crave adventure, the land of ice and fire will be a winter honeymoon playground you'll love exploring together. From daring ice cave tours to stunning views of Icelandic fjords, this is the perfect destination to make your first travel memories as newlyweds. Here's everything you need to know to plan the Iceland honeymoon of your dreams.
Know Before You Go
Before booking your trip to this remote island country, make sure you're clear on a few things first. Most of all: This is not a tropical vacation. Iceland sits between Greenland and Norway, making the climate trend cooler with mild winters. Expect highs of up to 60 degrees Fahrenheit during the summer and lows in the 40s.
Iceland's capital city, Reykjavík, is the easiest and most popular pick for your first visit, offering coastal views and a vibrant art scene. But as you plan, leave time to hop around this magnificent country. Iceland's remote landscapes are breathtaking and extremely romantic.
Our advice? Take the Ring Road to get the best feel for the country. Iceland's Route 1 wraps around the entire island through some of the most beautiful coastlines and countrysides. You'll experience everything from the famous Blue Lagoon in Grindavík to quaint towns of only 600 people along this majestic route.
Before you take off, make sure to convert a little cash into Icelandic króna — not euros. Tourists are often misled into thinking Iceland is part of the European Union (EU) due to its close proximity to the continent and its adaptation of European culture.
When to Visit Iceland (and How to Get to There)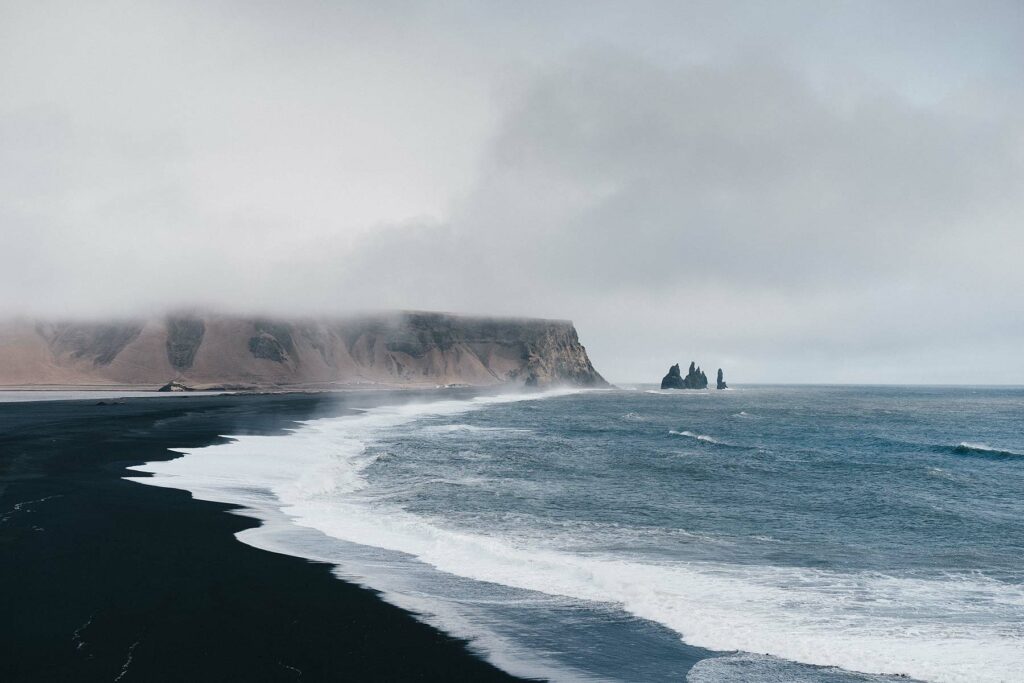 For the best weather and lush scenery, escape to Iceland on your honeymoon in late summer. Though you may not save money when booking your hotels and attractions, the days are long and ripe for exploration so you can make the most of every minute. If you're aiming to have a romantic dinner under the northern lights, however, aim for September through March.
Iceland is a surprisingly short six-hour, nonstop flight when flying from the East Coast. You'll likely find the best prices on flights into Keflavík Airport (KEF), as it is the largest on the island that serves international travelers.
Once you're there, traversing Iceland by road is a game-changer. Definitely rent a car to get the most out of your trip — and don't worry, you'll be able to drive on the right side of the road. Depending on the time of year, consider upgrading to a four-wheel-drive vehicle. Iceland has many dirt and gravel roads that are only harder to navigate when ice starts to form, so drive carefully!
Romantic Activities You'll Adore
While you won't be spending your days in bikinis by the beach, there are plenty of ways you and your partner can build the perfect honeymoon itinerary. Here are some of our favorite activities for a romantic getaway in Iceland, from bucket list attractions to day trip drives.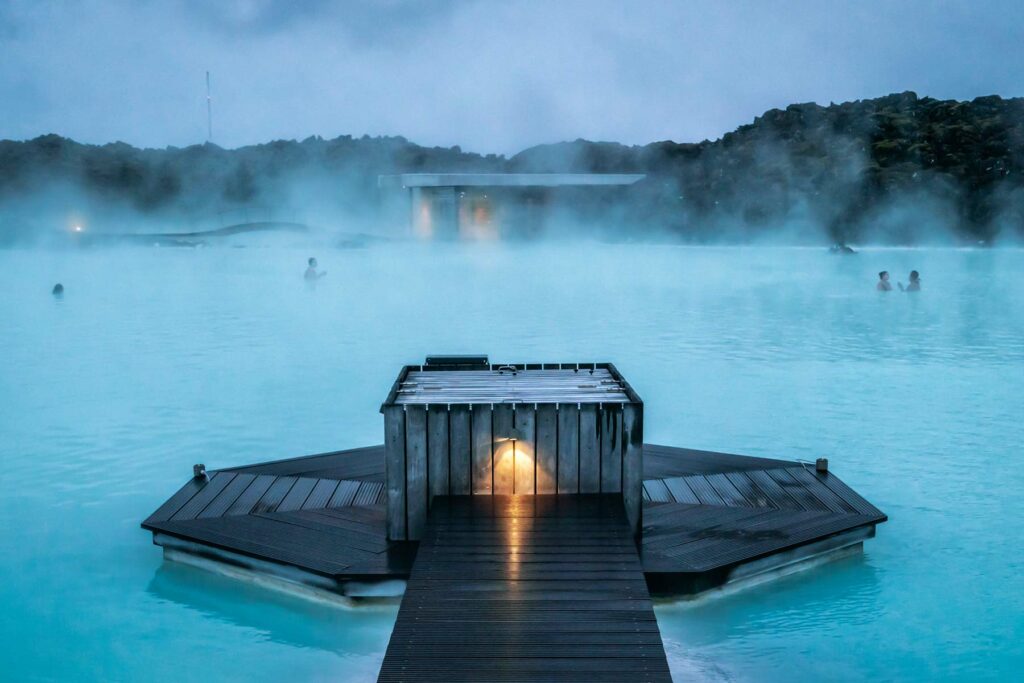 Experience the Blue Lagoon. Though you won't be lounging on the beach, you'll still want to pack a suit. Iceland is home to several geothermal pools and hot springs, the most famous being the Blue Lagoon in the southwest region. Just bring a bathing suit that you don't mind getting dirty. At the Blue Lagoon, you'll take turns slathering each other in mineral-rich mud and experience the intense skin-healing powers while basking in the steamy waters. After the chaos of planning a wedding, you and your partner will love this natural stress-relieving treatment.
Travel the Ring Road. It's worth mentioning again: The Ring Road is the best way to see all of Iceland, from its largest city to its smallest town. One thing to keep in mind — this route winds throughout the entire country of Iceland, so it will take weeks to complete in its entirety. If you don't have that kind of time, pull out your map in advance and mark off a short distance of the road based on cities and attractions you want to visit. If you're traveling along Iceland's east coast from Vatnajökull National Park, you'll be rewarded with incredible views of the East Fjords. On the south coast, you'll find the famed black sand beaches of Reynisfjara near the tiny village of Vik.
Dine under the northern lights. It doesn't get more romantic than a delicious meal with views of the dancing lights. Experience this once-in-a-lifetime moment with your new spouse while clinking glasses to your nuptials. Restaurants and dinner cruises offer seating with excellent views. While you'll have the best chance of seeing the aurora borealis from September through March when the nights are longest, you may get lucky and catch a glimpse between May and August.
Stay up all day. One of the most unique things about Iceland is the endless daylight during the spring and summer months. Stay up to see the midnight sun from a picturesque spot while sipping on some bubbly.
Drive Iceland's Golden Circle. Just because you don't have the time to conquer the Ring Road doesn't mean you can't still do a mini road trip! The Golden Circle is a 300-kilometer drive that begins and ends in Reykjavík. While the drive only takes about three hours, plan on making a day of it. You and your partner will travel through the country's most picturesque attractions, from Þingvellir National Park to the exploding geysers of the Geysir geothermal area. Make time for frequent stops to see breathtaking cliffs and explore small towns. Stealing kisses next to the iconic Gullfoss waterfall? Yes, please!
Walk on a glacier. Iceland is known for its impressive glaciers, but did you know you can actually hike them? Book a romantic day tour for two to feel like you're the only people on the Nordic island while you scale some of the country's most ancient ice formations. Vatnajökull is the largest glacier in Europe and can be hiked with a certified guide. Depending on the time of year, you'll be able to experience all the different parts of the glacier, including crevasses, ice falls and even ice caves. Not feeling that active? Book a private boat tour with a bottle of Champagne to view these giants from afar.
Hike to a secluded hot spring. Adventuring in Iceland will result in some of the most idyllic landscapes you and your partner have ever seen. Even better, there are many hikes that end in a secluded soak in a natural hot spring. Reykjadalur Hot Springs is probably the most remote and romantic spot, offering sweeping views of the countryside as you relax in the soothing waters.
Eat like a local. Indulging in Icelandic cuisine is a must during your visit. Splurge on a dinner at the Michelin-starred Dill Restaurant in Reykjavík for an authentic taste of Nordic flavors that you and your partner will be trying to recreate every anniversary.
Go whale watching. There are so many options for cruising the glacial waters of Iceland, but what could be better than bundling up to see some of the world's largest animals? Create a breathtaking memory with your partner by seeking out the most whimsical creatures of the sea.
Where to Stay
Iceland is filled with unique accommodations that only add to the romance of the wintery setting. Whether you are looking to be wrapped in luxury or immerse yourself in the gorgeous landscape, there is a hotel or resort perfect for celebrating your love.
Best for Luxury: The Retreat at Blue Lagoon
Iceland is known for its organic, skin-healing spa treatments stemming from the many hot springs. The Retreat at Blue Lagoon offers guests revitalizing geothermal spa treatments in the comfort of seclusion. Pulling water from the Blue Lagoon to create its subterranean spa, The Retreat allows guests to enjoy the famous waters without fighting the crowds. Don't forget to indulge at least one night at the Michelin-recommended restaurant on property for an unforgettable Icelandic meal.
Best for Seclusion: Ion Adventure Hotel
Feel like the only two people on earth in this romantic remote hotel just an hour outside of bustling Reykjavík. Carved into a mountain side surrounded by lava fields, the Ion Adventure Hotel answers the call for escapism, offering all the essentials of a city hotel without the throngs of people.
Best for City Experiences: 101 Hotel
If Reykjavík is calling to you for its vibrant art scene and delicious restaurants, 101 Hotel is the boutique hotel that feels intimate even among the bustle of the capital city. Expect sweeping harbor views, curated local art and easy access to the city's most loved hotspots.
Best for Seeing the Northern Lights: Hotel Rangá
Excited to see the northern lights? Hotel Rangá is a great home base for luxury, relaxation and sightseeing all from your room nestled into the Icelandic countryside. Hotel Rangá has little light pollution, which means unobstructed views of the crystal clear starry sky and, when in season, the northern lights. Grab a room with a private hot tub and experience this natural wonder immersed in secluded luxury.
Best for Coastal Beauty: Umi Hotel
Experience the famous black sand beaches of Iceland in complete seclusion at the stunning Umi Hotel in Hvolsvöllur. Located along Iceland's south coast, the hotel is surrounded by a pristine natural landscape that ranges from dramatic cliffs to secret waterfalls. While Umi Hotel is secluded, it has all the modern luxuries you'll be expecting on your honeymoon.
Up Next:
Whether it's for airfare, a hotel stay, or honeymoon travel experiences, create one list for all your honeymoon wishes.