Orlando is the place to say "I do" in Central Florida. It offers a stunning array of wedding venues perfect for destination weddings or locals looking to leverage their enviable home state. Because its weather is often balmy and sunsets are so enchanting, an outdoor wedding here is a must.
Whether you're looking for Disney-centric vibes, classic sophistication, a country club, or something in-between, Orlando can help you realize your ideal vision. To get you started with planning your extraordinary Florida nuptials, here are seven amazing outdoor wedding venues in Orlando that will check all of your boxes.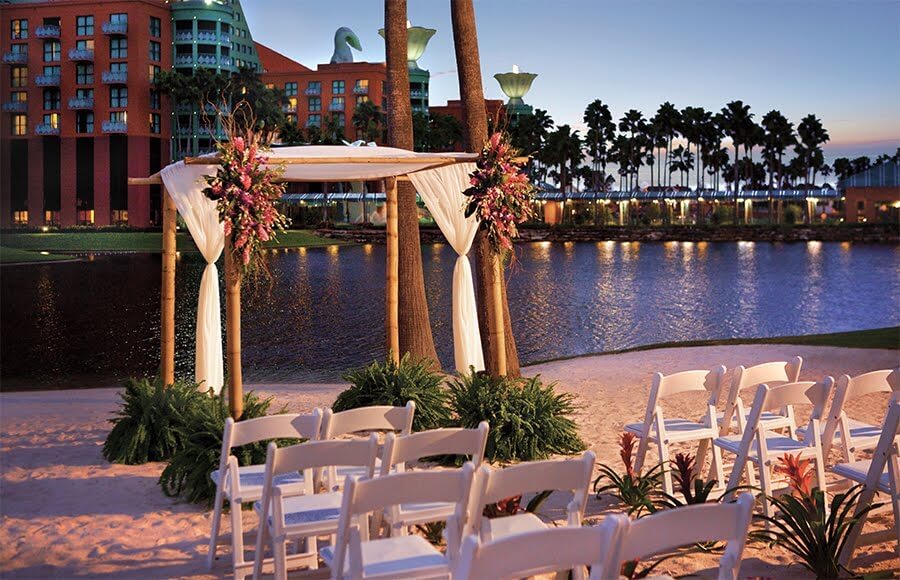 Surrounded by the most iconic theme parks in the world, Walt Disney World Swan and Dolphin Resort is the perfect venue for couples wanting to infuse whimsy and nostalgia into their wedding day.
The most magical outdoor event spaces include the white-sand Wedding Beach surrounded by towering palms, the charming Crescent Terrace dazzling with twinkle lights, and the elegant West Courtyard encircled in greenery.
Most couples who wed at this fairytale venue select the ceremony and reception package. It includes all the fixings for a stunning outdoor ceremony, a 60-minute cocktail reception followed by a three-hour lunch or dinner reception, a Catering Manager who helps you create your ideal menu, a wedding cake, champagne, and photography and videography services.
The event venue can also procure the services of a violinist, flutist, harpist, guitarist, DJ, or an ensemble. You're even provided with a Just Marry! Coordinator who can accommodate almost any wedding need.
Typical Cost: $160 – $197/per person
Capacity: 1,000
Bonus: You and your guests can enjoy a Disney character breakfast at Garden Grove. If you stay at the resort, you get free Disney transportation to the parks and first access through the Disney Magic Hours program.
Find Walt Disney World Swan and Dolphin Resort on Facebook, Instagram, and Twitter.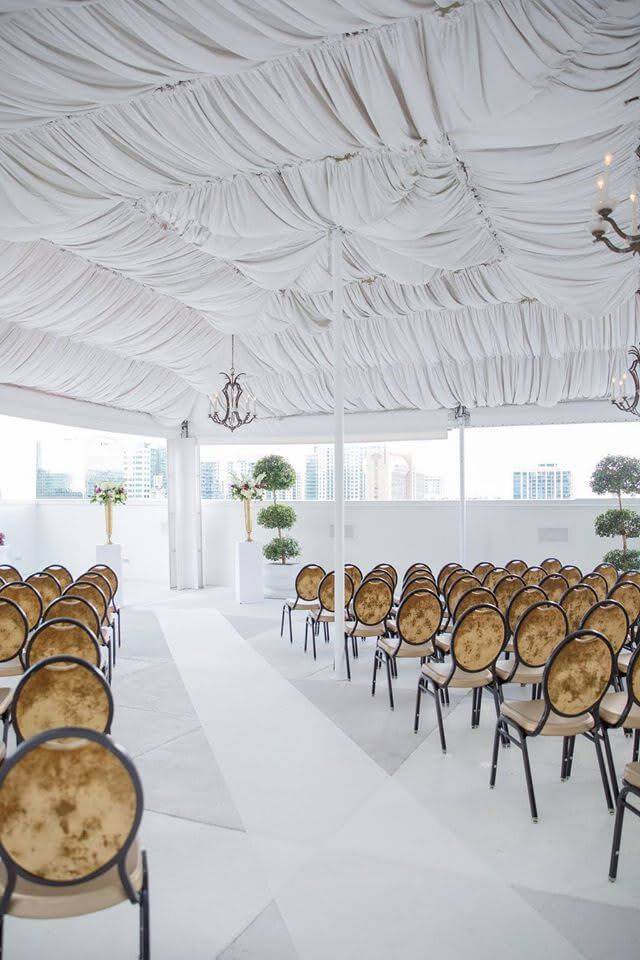 One of the most upscale wedding venues in the heart of Downtown Orlando, Grand Bohemian Hotel Orlando offers a dream setting for couples wanting European elegance with a twist.
The rooftop deck wows with a white billowing tent accented with chandeliers, stunning views of the city, and a sparkling pool. The white backdrop can also accommodate any color palette for your perfect wedding.
Receptions are often held in one of the hotel's 12 event rooms. The most popular is the grand Johann Strauss Ballroom that features crystal chandeliers and art from around the world. A dance floor can also be installed to up the fun.
When it comes to food, you won't be disappointed if you host your rehearsal dinner or reception here. The imaginative chefs work with couples to craft a customized dining menu that mixes classic favorites with novel surprises. The overall experience is composed of an eclectic blend of sophistication, innovation, and playfulness for your special occasion.
Typical Cost: Ceremonies start at $3,500; receptions start at $10,000
Capacity: 150
Bonus: The venue can organize luxurious group spa packages for you and your bridal party.
Find Grand Bohemian Hotel Orlando on Facebook and Instagram.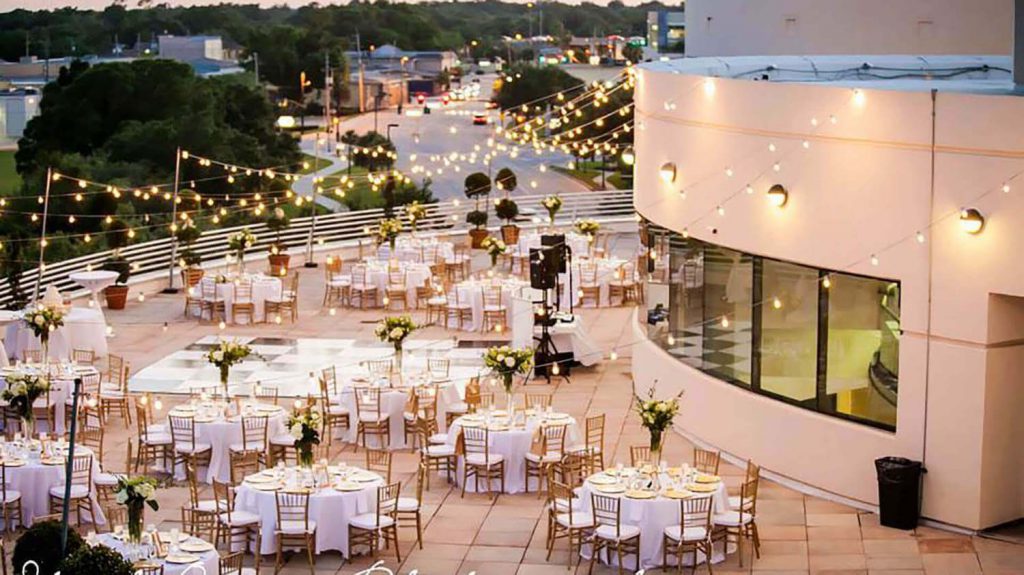 Located in the historic Loch Haven Park, Orlando Science Center impresses with unique architecture and a vibe filled with ingenuity and discovery.
The museum provides an impressive collection of outdoor and indoor event spaces. A favorite option among couples is the sweeping Suntrust Terrace offering views of the Orlando skyline. For a more natural ambiance, couples can tie the knot on the lakefront lawn.
After the wedding ceremony, you can host your reception on the airy terrace, in the awe-inspiring Our Planet exhibit hall, or in the DinoDigs area.
If want to create a unique experience for guests, this is your ideal outdoor venue. You'll all have access to activities like digging for fossils, simulating a tornado, and taking pictures beside 25-foot-tall dinosaurs.
Typical Cost: Starts at $8,000
Capacity: 300
Bonus: The rental fee helps support the event center's mission of educating through interactive exhibits and programs.
Find Orlando Science Center on Facebook and Instagram.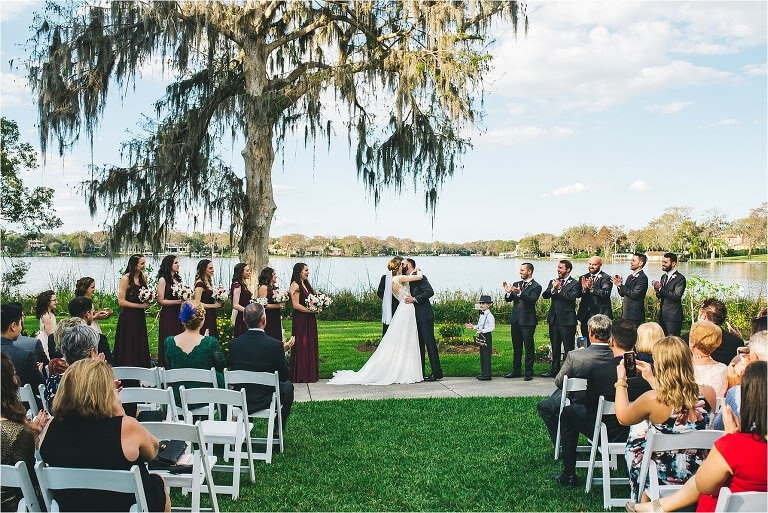 Enjoy the serene elegance of a lakeside wedding by hosting your special day at The Capen House at the Polasek in Winter Park, Florida, just 15 minutes from Orlando. This boutique ceremony and reception space is part of the Albin Polasek Museum & Sculpture Gardens and located on Lake Osceola.
Most ceremonies occur on the lakefront lawn, but there are plenty of other alfresco options, too. The property is composed of three-and-a-half acres of manicured grounds surrounded by oak trees. Couples who want to be outdoors, but not on the grass, will enjoy the patio that looks out onto the lake. In the event of rain, the venue can provide tents.
You can hold your reception on the patio or in the 2,500-square-feet of chic indoor event spaces. These include a veranda that features lake views, the drawing-room, or the grand banquet hall.
Note that this historic home also provides a catering kitchen, bathrooms, and a hospitality suite.
Typical Cost: $1,500 – $3,000
Capacity: 350
Bonus: Arrive or depart in style by hiring a boat that can access the property via an easily-accessible dock for your special event.
Find The Capen House at the Polasek on Facebook, Instagram, and Twitter.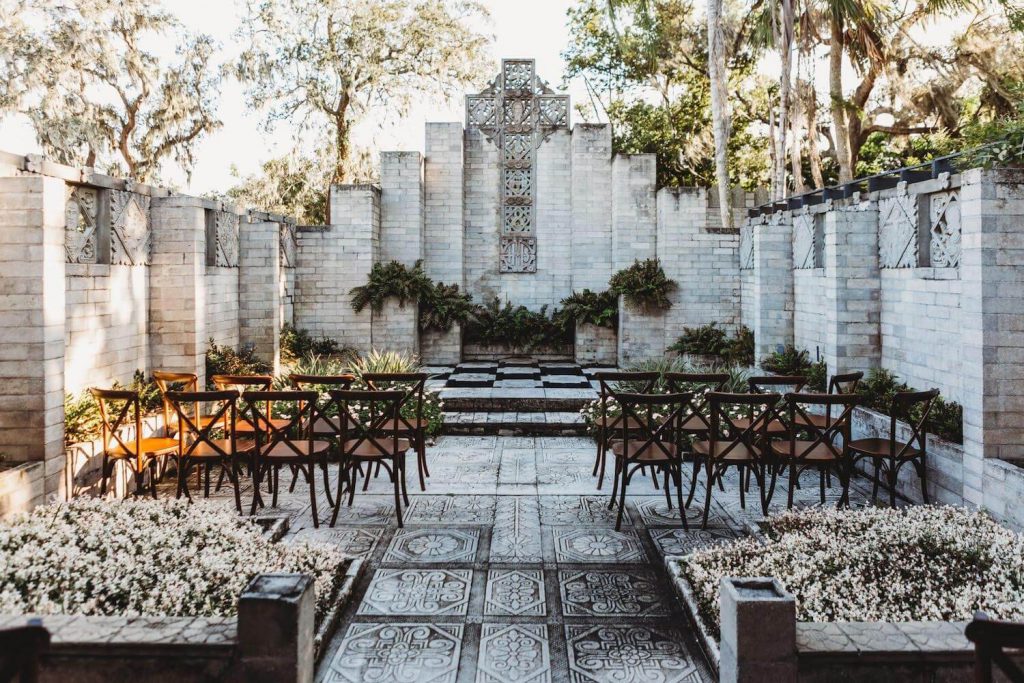 A spectacularly exotic environment, Art & History Museums – Maitland is one of the most coveted Orlando wedding venues. The historic museum is a fusion of lavish gardens, compelling architecture, and artwork that demands you stop and stare. It also provides a wide assortment of event spaces that include many of these enthralling elements.
The Mayan Chapel and Courtyard is the most popular area to host a wedding. The chapel provides an intimate outdoor space to pledge your love while the striking courtyard is an unconventional space to celebrate your union. You can also consider The Cottage at Lake Lily, another whimsical space for small groups.
Larger weddings can take place in the Main Garden that has a more traditional ambiance with a reflection pond, tree canopy, sprawling lawn, and rose garden.
If the party needs to move inside, The Germaine Marvel Building is an open-plan structure with bathrooms and a large kitchen. This is the place for couples wanting the offbeat vibe that only a museum can provide.
Typical Cost: $700 – $3,030
Capacity: 46
Bonus: The venue is conveniently located near many of Maitland's most popular accommodations.
Find Art & History Museums – Maitland on Facebook, Instagram, and Twitter.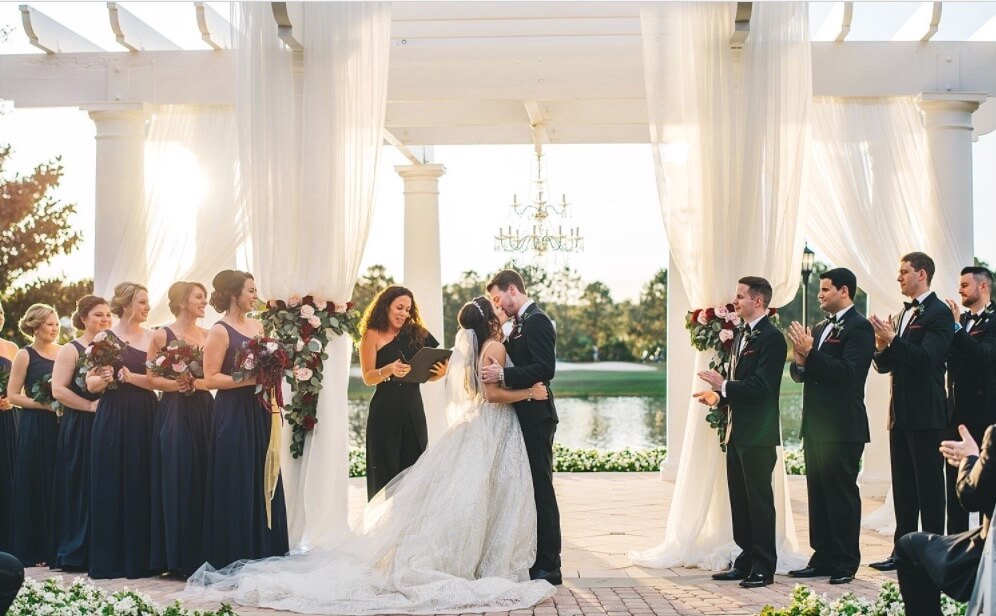 The pinnacle of style and impeccable service, The Ritz-Carlton Orlando, Grande Lakes is a superior option for couples who love luxury.
Outdoor ceremony spaces include an elegant lawn and a lakefront wedding gazebo that accommodates hanging chandeliers and draped linens. Both provide a beautiful and romantic ambiance.
Your outdoor wedding reception can unfold in the Citrus Garden that features a blanket of palms mixed with the colorful swirls of a Florida sunset or a tapestry of stars. The palatial Tuscany Terrace is also available for receptions.
If you're hoping for an opulent celebration, head inside to the chandelier-clad Ritz-Carlton Ballroom or the Plaza Ballroom that has vaulted ceilings and wrought-iron chandeliers.
Typical Cost: Starts at around $36,000 for 50 people
Capacity: 600
Bonus: The venue provides you with a hands-on team of creative event planners who ensure your style and preferences are met on your big day. Additionally, if you or your guests are golf aficionados, this venue offers a spectacular 18-hole golf course to enjoy between or after wedding events.
Find The Ritz-Carlton Orlando, Grande Lakes on Facebook, Instagram, and Twitter.
Aptly-named, Paradise Cove is a dreamy, laidback Florida wedding venue tucked away in a private corner of Lake Buena Vista on the shores of Lake Bryan.
Most ceremonies occur on the waterfront where low-hanging palms and a white sandy beach create a relaxed, tropical vibe.
From there, the party flows to the palm-thatched pavilion where twinkle lights, tiki torches, a tiki bar, and water views make you feel like you've stumbled onto an exotic paradise. The adjacent deck is the perfect spot for live music and dancing while rainbow-hued Adirondack chairs are a welcome refuge for guests who need a break.
This hidden gem also allows you to bring your own alcohol and have a catering kitchen for the caterer you select from its preferred vendor list.
Typical Cost: Starts at $2,100
Capacity: 350
Bonus: A private bridal suite and bungalow is included with your rental.