When it comes to unique wedding venues, it's hard to beat New York City. This illustrious metropolis is coated in culturally-rich sites, historic homes, and edgy event spaces, offering many opportunities to have a one-of-a-kind celebration.
To help you narrow down the options among the cornucopia of wedding venues in NYC, here's our roundup of the ten most distinctive and memorable to check out for your city wedding.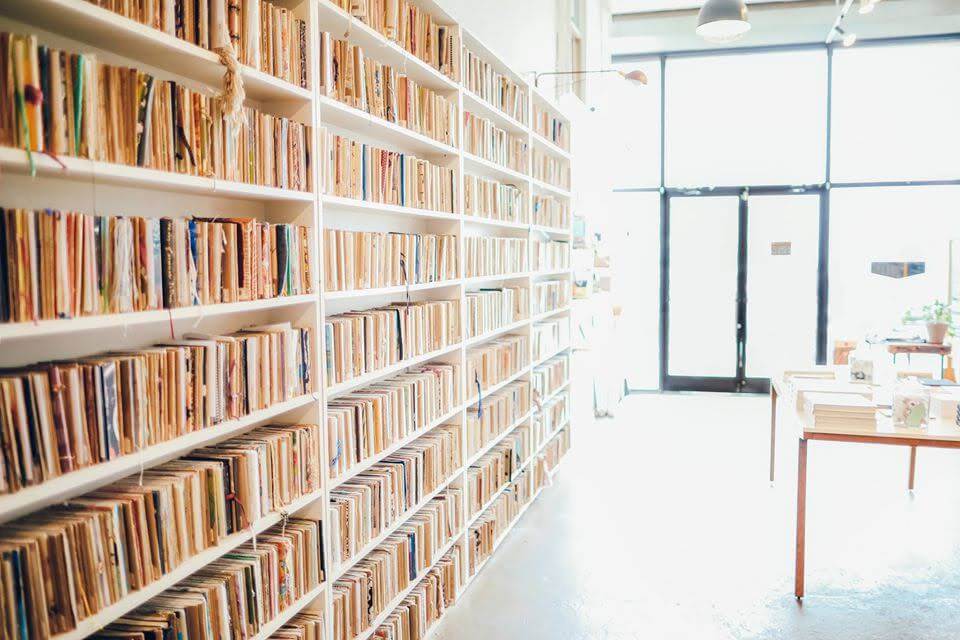 An art lover's haven, Brooklyn Art Library is a minimalist venue filled with more than 35,000 sketchbooks from artists around the world. This intimate space is accented by high ceilings, a brick accent wall, long, wooden library tables, and old card catalogs, making it perfect for couples wanting to host an NYC wedding that is both simple and uncommon.
While the library is stunning in the day and at night, the ambiance completely shifts as the sun sets. By day, this open-floor-plan event space fills with natural light, creating a gorgeous setting for photos. At night, dramatic lighting that produces a romantic vibe illuminates the room. If you want the energy of creativity woven into your big day, this venue is a win.
Typical Cost: $2,550 – $2,850
Capacity: 95
Bonus: Because of the colorful collection of books, there's little need for decorations beyond some twinkle lights and flowers.
Find Brooklyn Art Library on Facebook, Instagram, and Twitter.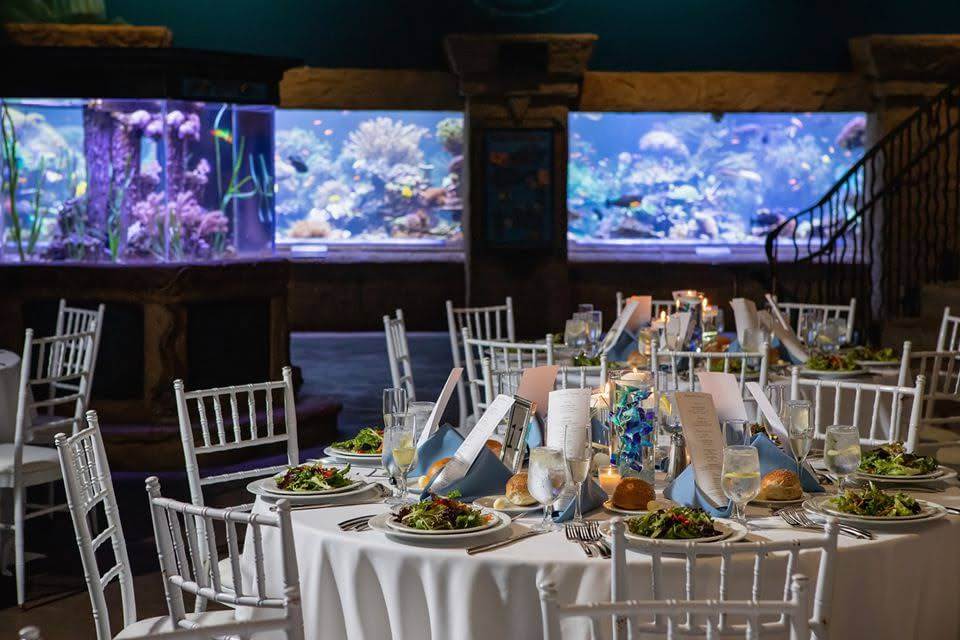 The place to get married in Long Island City if you have an affinity for marine life, Long Island Aquarium allows you to celebrate among a rainbow of sea creatures. In addition to the captivating displays within the banquet halls, guests can explore the 120,000-gallon Lost City of Atlantis Shark Exhibit and the habitats of penguins, sea lions, and other animals.
For the ultimate unique wedding ceremony, consider the aquarium's Shark Dive Wedding. After donning full-face masks, wetsuits, and scuba gear, you, your fiancé, and a scuba-certified minister will enter a shark cage and be lowered into a 120,000-gallon habitat with 10 sharks and a community of tropical fish. Microphones in your scuba masks allow guests to hear your vows as they watch from the shark tunnel. Your guests will then head to cocktail hour as you prepare for the wedding reception.
The Sea Star Ballroom and the Coliseum Room are ideal spots for evening festivities. The Sea Star Ballroom offers the most formal setting in the aquarium, as it overlooks the Treasure Cove Resort & Marina on the Peconic River. The Coliseum Room features walls of tanks filled with colorful fish.
Typical Cost: $75 – $135 per person
Capacity: 320
Bonus: The venue is all-inclusive and offers a range of packages that suit any style and budget.
Find Long Island Aquarium on Facebook and Instagram.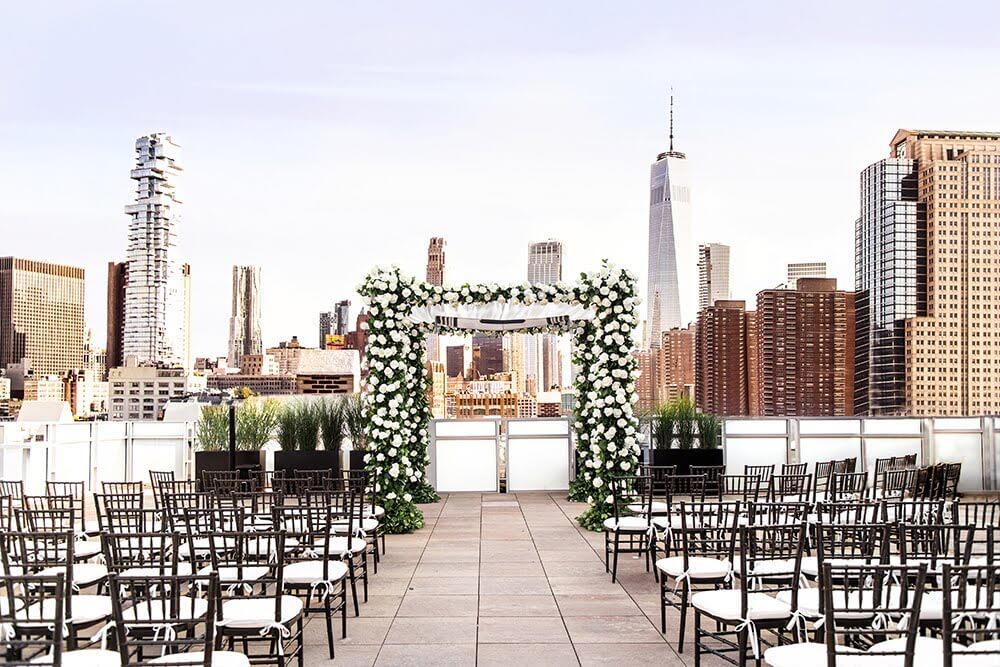 One of the most unique wedding venues in Lower Manhattan's Soho neighborhood, Tribeca Rooftop is perched on top of a 1920s printing press building, offering 14,000 square feet of rooftop terraces overlooking the glittering NYC skyline. It's also a blank canvas, so couples can transform this alfresco space into whatever type of wedding wonderland they desire. From whimsical, romantic, or bohemian to vintage, rustic, or alternative, this venue is sure to please.
Worried about inclement weather? Rest assured your reception can flow inside a room featuring a 1,100-square-foot cherry wood dance floor, 12-foot high ceilings, and a pinspot lighting system.
Additionally, exquisite service is a top priority at Tribeca Rooftop, as it provides wedding parties with a private entrance, dedicated elevator attendants, and valet service.
Typical Cost: $230 – $320 (not including food and drink)
Capacity: 325
Bonus: The in-house caterer provides delicious seasonal menus, and Duane Park Patisserie crafts fresh desserts.
Find Tribeca Rooftop on Facebook and Instagram.
Those wanting a bucolic vibe in the heart of the city will love Brooklyn Botanic Garden. This NYC wedding venue is composed of 52 acres of cherry trees, an assortment of roses, a Shakespeare and rock garden, and much more. Spring and summer weddings can be hosted in the gardens that surround the two main event spaces, the Palm House and the Lillian and Amy Goldman Atrium.
For daytime receptions, the Palm House is the ideal choice. Its glass walls let natural light wash over the elegant interior while providing gorgeous views of the Lily Pool Terrace. In the evenings, a reception in the Lillian and Amy Goldman Atrium is stunning, as it opens to the Cherry Esplanade and features a living roof of native grasses and wildflowers.
The Patina Restaurant Group provides incredible American-style cooking that can be served as a buffet, plated meal, station, or family-style meal. It can also serve an assortment of hors d'oeuvres for cocktail hour and set up an open bar. Plus, barware, flatware, linens, china, and glassware are provided.
Typical Cost: Starts at $5,000 during off-peak season and $11,000 during peak season
Capacity: 300
Bonus: The venue offers a bridal suite, valet parking, and wheelchair access.
Find Brooklyn Botanic Garden on Facebook, Instagram, and Twitter.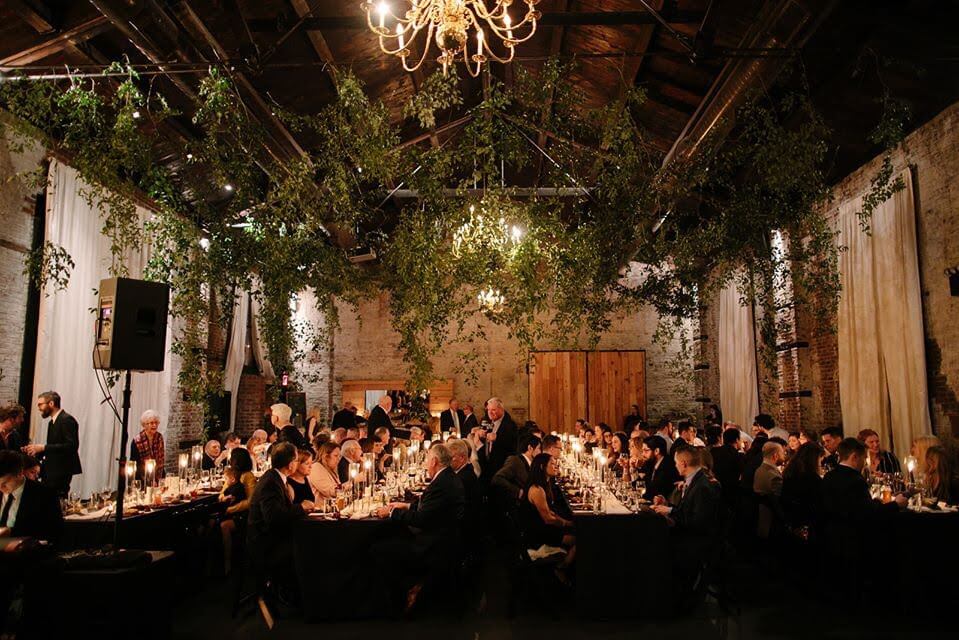 Chandeliers, large windows with billowing curtains, exposed brick walls, and open-beamed ceilings combine to make The Green Building an edgy venue for your big day. Built in 1889, this structure was a brass foundry before becoming a speakeasy. It's now a legendary location to host a party for the ages.
The 6,000 square feet of indoor and outdoor event space includes prohibition era-inspired private rooms that can be accessed through a hidden door, an elegant courtyard that can accommodate a fire pit, and a large main room that makes a dramatic impression. It also provides a finely-appointed private lounge, a perfect space to prepare for the ceremony and to recharge before the reception.
Typical Cost: Starts at $9,800
Capacity: 200
Bonus: The venue has a range of bar packages that include ice, mixers, garnishes, glassware, and expert bar staff.
Find The Green Building on Facebook, Instagram, and Twitter.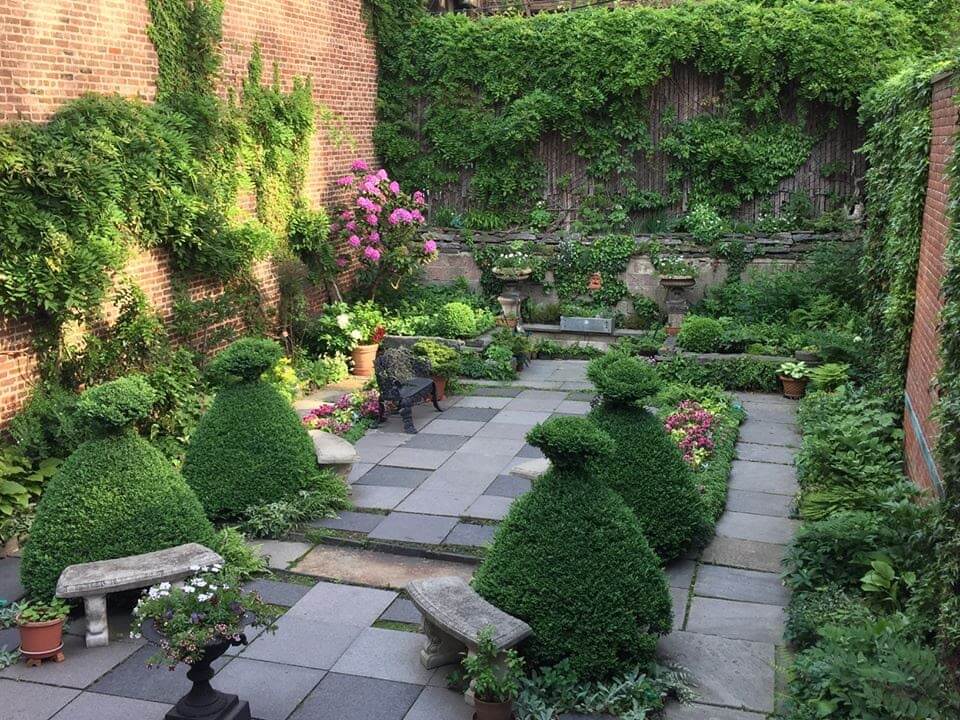 Couples with an appreciation for history will adore the 19th-century, late-Federal and Greek Revival Merchant's House, a historic landmark and museum. This renowned space dazzles with 3,000 pieces of furniture, decorative art, clothing, photographs, books, household items, and personal items that were owned by the Tredwells, the merchant-class family who resided in the House from 1835 – 1933.
The house also includes matching six-globe gas chandeliers, furniture created by acclaimed furniture maker Duncan Phyfe, and various dresses owned by the Tredwell family. Event spaces that can be used for your wedding include a Greek Revival double parlor and an outdoor "Secret" Garden that's an oasis of overgrown greenery.
Typical Cost: The rental fee ranges from $1,500 – $3,500 for a ceremony and reception and includes 3 hours of event time
Capacity: 40
Bonus: If you and your guests are interested in a touch of eeriness, request one of the museum's Candlelight Ghost Tours.
Find Merchant's House Museum on Facebook, Instagram, and Twitter.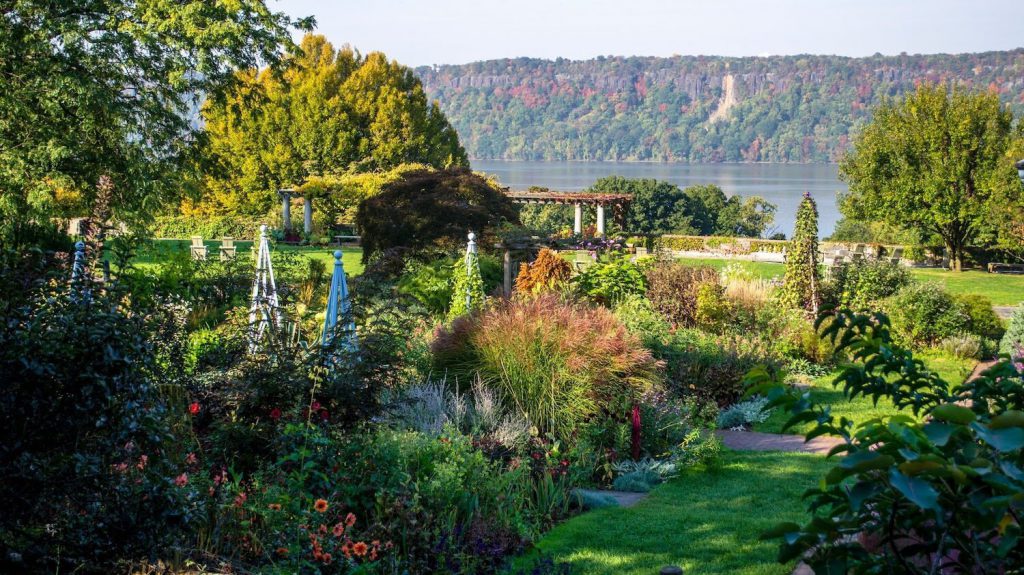 Located in the Bronx and overlooking the Hudson River and the Palisades, Wave Hill Public Gardens provide 28 acres of horticultural gardens to pledge your love upon. The Wave Hill house was built in 1843 in the style of an English country residence and has been home to icons such as Mark Twain and Theodore Roosevelt.
Most ceremonies take place beneath the pergola on the Great Lawn, and cocktail hour is usually enjoyed on the Lower Lawn or the Kate French Terrace next to the house. Meanwhile, receptions are typically hosted within the home's Armor Hall or the larger Mark Twain Room. Both rooms can accommodate a dance floor.
This is an amazing choice for couples wanting to stay close to the city, while also feeling like they've been transported to the English countryside.
Typical Cost: Starts at $16,000 for a weekend celebration and $4,500 for a wedding Monday – Friday
Capacity: 125
Bonus: The venue's Aquatic Garden provides an incredible backdrop for photos.
Find Wave Hill Public Gardens on Facebook, Instagram, and Twitter.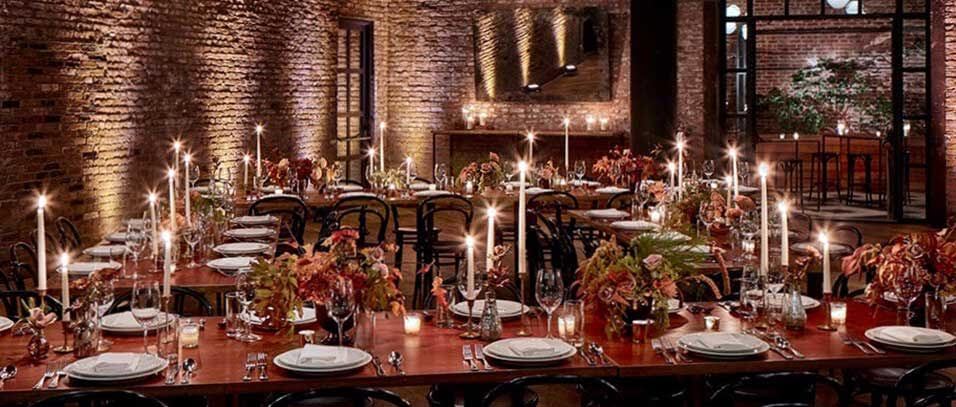 A boutique hotel situated in Williamsburg, Wythe Hotel is effortlessly cool with the original brickwork walls and vaulted pine ceilings of the factory the structure used to be. Adding to the cool-factor is the simple, modern aesthetic, stellar city views, cutting-edge art, and a garden that serves as an urban oasis.
A highlight of the space is the four glass-enclosed loft suites that make you feel like you're floating above the city. These can also be used for small receptions or serve as the mesmerizing location for your first night as a married couple. Plus, they feature the same high ceilings as the rest of the hotel and seamlessly blend cozy vibes with a chic aesthetic.
Typical Cost: Starts at $200 per person; space fee is $1,000
Capacity: 120
Bonus: The food and beverage offerings are as clean as they are delicious, as the in-house Reynard Restaurant provides seasonal, locally-sourced American dishes paired with minimally-processed wines and spirits.
Find Wythe Hotel on Facebook, Instagram, and Twitter.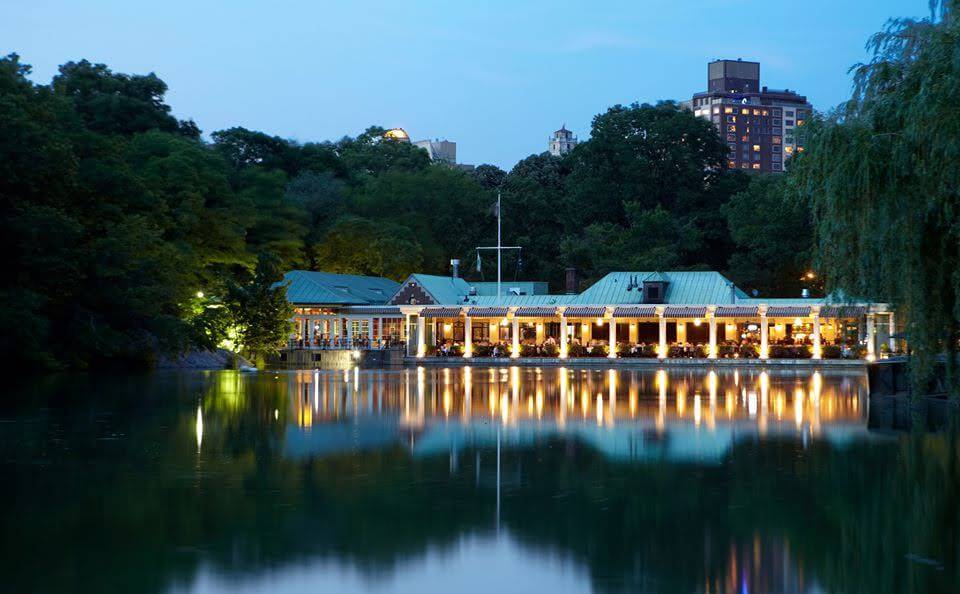 For over 150 years, classic, romantic moments have been enjoyed in rowboats on the lake that borders this famous boathouse in Central Park. The Loeb Boathouse itself has been the setting for everything from heartwarming on-screen scenes (ever heard of When Harry Met Sally or Sex and the City?) to real-life fairytales.
Adding to the whimsy of this famed site are the birds and 26 species of butterflies that decorate the warm air in the spring and summer — not to mention the eclectic assortment of trees lining the edges of the tranquil water.
Most ceremonies and receptions are located in the grand interior of the boathouse that makes a radiant impression with vaulted-beam ceilings and ornamental light fixtures. Additionally, the walls of windows provide stellar views of the lake and English Garden.
Typical Cost: Starts at $800; packages are $165 – $225 per person
Capacity: 230
Bonus: After saying "I do," you can take a ride in an authentic Venetian gondola with a gondolier who just might serenade you.
Find The Loeb Boathouse on Facebook and Instagram.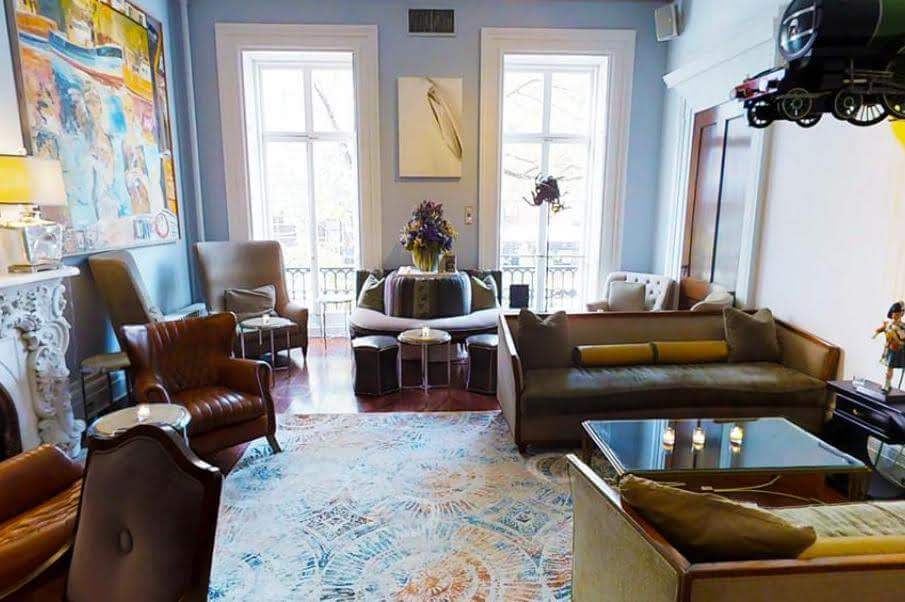 To infuse your wedding day with charming peculiarity, consider the one-of-a-kind Norwood Club. This 1847, pristinely-preserved mansion features 13 fireplaces, five stories, a walled garden covered in ivy, and grand staircases, in addition to plush carpeting, polished hardwood floors, and Oriental rugs.
And then there's the venue's modern art. From a train that disappears into a wall to psychedelic carpeting and drapes, Norwood Club makes you feel like you've been dropped into a surreal Art House film. And it's not surprising that this is the effect, as renowned set designer Simon Costin designed the interiors.
Most areas of this private club are available for ceremonies and receptions. The most popular areas are the salon, Club Room restaurant, lounge, garden, and private dining room.
Typical Cost: All floors are individually priced and range from $1,000 – $3,000 for five hours
Capacity: 80
Bonus: Because the venue doubles as an exclusive members-only arts and culture club, it's filled with the inspirational energy of the creatives who often inhabit this elite brownstone.