You're about to embark on one of the most memorable days of your life with the person you love. What better way to celebrate than by giving your future spouse a personalized present to commemorate the occasion? A wedding day gift exchange is a popular tradition among soon-to-be newlyweds and there are endless ways to make it special.
As your wedding planning finally wraps up, you may be worried about staying on budget with yet another celebration. But for a wedding day gift exchange, it's really the thought behind it that your partner will cherish forever. Spend as much or as little as you want! Remember, you're already exchanging rings during your wedding ceremony, so make this keepsake different and meaningful.
Here's everything you need to know about the wedding day gift exchange tradition and a gift guide with meaningful ideas ranging from love notes to DIY delights.
Do we have to do a wedding gift exchange?
Absolutely not. If the idea of a wedding gift exchange is adding pressure to your finances or putting a strain on your mental health, ditch it. You're already committing to the love of your life and that's more than enough! And, after all, you've likely created a wedding registry that will set your newlywed home up with all the essentials. But if you're intrigued by the idea, talk candidly with your partner about a plan. A great place to start is by setting a mutual budget that's comfortable for both of you to ensure you're on the same page.
When should we exchange gifts?
Typically, couples exchange gifts sometime before they walk down the aisle. That said, there are so many great ways to partake in this tradition.
Right after the first look is a great time to exchange gifts. Let your photographer know about the plan so they can shoot touching candids that capture the look on your partner's face as they open your gift box or read the opening lines of your handwritten note.
If you want to avoid seeing each other before exchanging vows, your photographer can still help scout the perfect place to capture the gift exchange moment. Ask them to find a wall opening or doorway where you and your partner can stand on either side of the partition and hand each other gifts without looking.
Whether you exchange gifts the morning of the wedding or enlist your people of honor to present gifts on your behalf, be sure to talk with your photographer in advance. These are moments you won't want to miss in your wedding photos so you can relieve them long after your big day.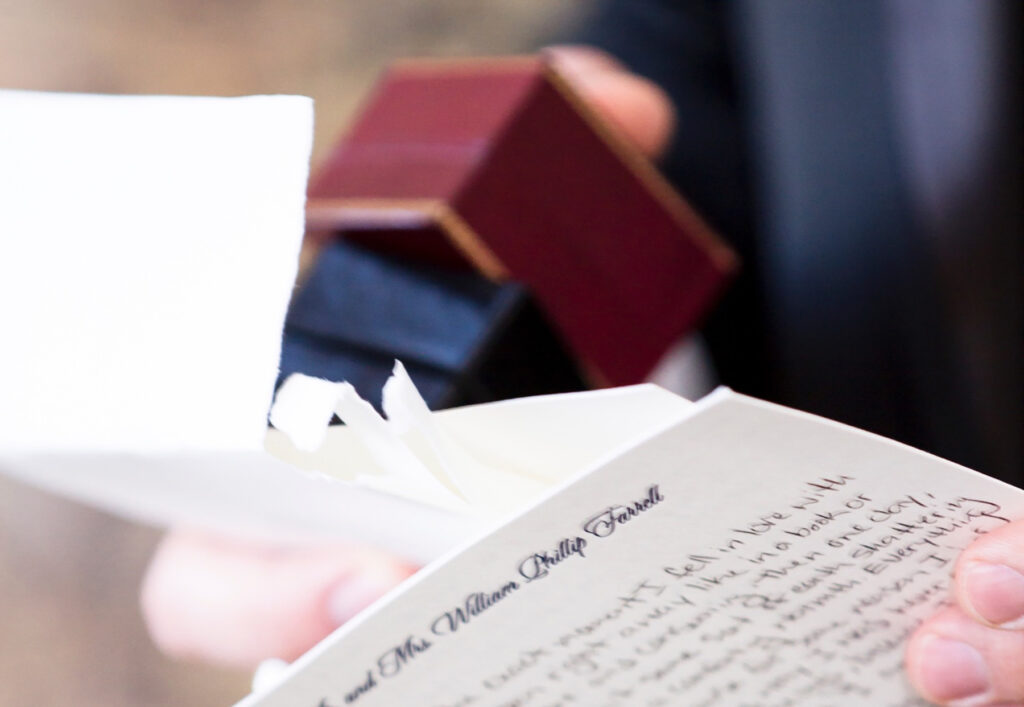 The big question: What should I give my partner for the gift exchange?
Decide if you want to partake in this tradition early on in the wedding planning process, because finding a great gift is going to take some brainstorming. Again, you don't need to have a big budget (or even any budget) to spoil your partner with a wedding day keepsake. Our guide breaks down six thoughtful gift exchange ideas for inspiration.
A Handwritten Love Letter
You don't need stacks of cash to do something wonderful for your significant other on your special day. Writing down your feelings is a romantic way to give them a piece of yourself they may not have seen before. Some couples even display these letters in their first home together — a frame engraved with your wedding date or monogram is a great gift idea to go with your note if you have the budget.
Before you get writing, pick out a beautiful card and a solid pen. Write a draft or two on a plain piece of paper so you can give yourself the space to craft exactly what you want to say. When you've perfected the spacing of your letter, handwrite it on that special card. Even if your handwriting leaves something to be desired, it's much more personal than typing it and your future spouse will love it because it came from your heart.
DIY Something Meaningful
You and your partner have a connection that is beyond anything a material object can capture. Sometimes, a homemade gift is the best way to show your significant other how much you value them. Think about a gift that weaves together the timeline of your relationship. A scrapbook is a beautiful way to capture your history together, but if you want something less time-intensive, create a shadow box of mementos. Think ticket stubs from memorable occasions, handwritten notes, favorite photos or souvenirs from your travels. It's not only a meaningful gift, but can serve as a conversation piece when you entertain guests in your newlywed home.
Family Heirlooms
Nothing says "welcome to the family" like a gift that has traveled through generations. You might be thinking a family heirloom is jewelry-related, like cufflinks or a special necklace, but don't limit yourself to wearable pieces. A china cabinet is a treasure trove of sentimental gifts, from crystal glasses to a special platter that your family has used for holiday dinners every year for as long as you can remember. These are great heirlooms to pass along to your partner so you can create your own traditions as newlyweds.
Jewelry
Let's be real: Diamonds are everyone's best friend. But even if you have that kind of budget, don't just go for the biggest and baddest gift (unless that's your partner's vibe!). Find something that will speak to them. Do they love vintage treasures? Visit a few local estate jewelry shops to find that perfect piece. Is their style more modern? Research jewelers in your area and work with them on a custom creation that embodies your partner's essence. Etsy is also a great resource for finding unique pieces by local artists. Consider giving it something extra by adding an engraved message, like your wedding date, initials or a line from your vows.
Get Creative
Not all gifts have to be tangible! Embrace your creative side and craft something from the heart. Do you fancy yourself something of a wordsmith? Put your words to rhythm and give them a song inspired by your love. More into body art? Design a tattoo and surprise each other with your creations on your big day. If you want something a little less permanent but still in the artistic realm, paint or draw something for your partner and frame the two pieces to hang in your home. However you decide to express yourself to your future spouse, it will be unique and beautiful.
Make a Memory
If you and your partner are planning a killer honeymoon that's getting a little pricier than expected, the thought of doing a pre-wedding gift exchange might leave you a little frantic. Make a deal with your partner to each set up one activity or experience on your honeymoon as your gift. This could be an expensive wine tour across Bordeaux or scoping out a hike that ends in a beautiful view with a picnic and a Champagne toast. The important thing is that the memory will last forever.