As you plan your wedding ceremony, you've researched save-the-dates, bridal shower invites, and, of course, wedding invitations. But there's one more piece of stationery you'll want to consider — the wedding program.
Not only is it a useful schedule for your guests as your big day unfolds, but it can become a beautiful reminder of the celebration, too.
Like most aspects of wedding planning, it can be tough to decide what your program should include and look like. We're here to help you with our guide to creating the perfect wedding program.
Why Should You Have a Wedding Program?
While it's not a must-have, a wedding program is often welcomed by guests. Whether it's simple or detailed, your wedding program is a timeline that lets your guests know what's happening and when. Without one, it could be hard to follow the ceremony.
A wedding program also helps your guests feel more involved with the ceremony. This is especially true if you include readings and words to songs. They'll be able to read and sing along and really feel part of the celebration. Many guests also like to keep the program as a keepsake of your special day.
What to Include in Your Wedding Program
Like all things wedding related, it's your choice what you feature in your program. Some couples opt for a simple program with only the essentials, while others get creative with newspaper-like handouts for guests.
Still, there are some basics that we recommend for your wedding program such as details about you and your partner, the date, and the ceremony.
Your Names
It's your wedding ceremony, so make sure both your name and your soon-to-be-spouse's name are listed on your wedding program. A welcome from the two of you is a lovely way to include guests and thank them for joining you.
Your guests will know who you are, but it's a useful reminder for distant relatives who may not be as familiar with your fiancé or fiancée. Plus, your photographer will probably snap a close-up of your wedding stationery on the day.
Details of the Officiant and Wedding Party
Along with your names, you'll also want to list the names of everyone involved in the ceremony. It's a way to give thanks to your officiant, groomsmen, bridesmaids, and family. Playing a part in your wedding is a big deal, and being noted in your wedding program highlights this honor with others. This will also help guests to know who is who in case they want to speak to your best man or bridal party after the ceremony.
Venue, Date, and Time
Your guests will be with you at the ceremony, but adding these details to your program still helps. It means your guests can get a feel for the timing of the event and the length of your ceremony. It's also a lovely addition for anyone who wants to keep your program as a momento.
Ceremony Schedule
Most importantly, your program should feature the schedule of your ceremony. Give your wedding guests the chance to follow along by sharing the order of events. It doesn't have to be detailed; it can just be a simple running order so your guests know what to expect.
Optional Extras
Many couples opt for a simple card that features the order of ceremony, but there's no reason to limit your wedding program unless you want to. If you're keen to go beyond the basics, here are some ideas on what you could include.
Readings and Songs
Many wedding ceremonies feature readings from friends and family, or hymns and songs that the couple loves. If this is the case, consider listing these on your wedding program. Sometimes it can be hard to hear at a ceremony, especially if there are lots of guests. This will help your guests enjoy the full impact of the lovingly chosen readings and songs.
A Dedication
It's not uncommon to see a dedication or words of thanks within a wedding program. These may be to a loved one who has passed or a close friend who played a part in the couple's love story. Adding a dedication to that person (or people) in your program is a lovely way to honor them.
Your Love Story
While some guests keep the program short and sweet, others use it as an opportunity to share more of their love story. You could feature little details about how you met, how your relationship progressed, and how the proposal happened. This turns your program into a personal narrative and a meaningful keepsake for loved ones.
Directions to Your Reception
If your wedding reception takes place at a different location, you could include the details within your wedding program. This helps direct your guests to where they should be next. They'll know when to be there, how to get there, and what to expect. Including a map can be a useful way of directing guests to your reception.
A Reminder to Unplug (Or the Opposite)
Programs are a great place to request that the ceremony be unplugged. Encourage guests to put their phones away so they can live in the moment. You can also go for the opposite, and include an event hashtag for them to share alongside candid photos.
If you're using Joy, these kinds of requests can also be sent as push-notifications before the ceremony.
What Should Your Wedding Ceremony Program Look Like?
Since wedding programs are optional, there's no defined way they should look. You have total freedom to be creative and express your personality.
Wedding Program Size
There's no set size for wedding programs, but most couples opt for a design that is easy to hold. You'll want guests to be able to follow your ceremony without holding a large card that gets in the way.
Many wedding programs are between 8.5-11 inches by 5.5 inches in size. This is enough space for the details without being too large to hold. If you search for wedding program templates online, most are around this size.
If you need extra space for dedications, readings, or reception details, you can easily turn a two-sided card into a booklet. To help your guests stay focused, keep this to no more than a few pages. You can always print a second, more detailed keepsake booklet for guests to enjoy after the ceremony.
Wedding Program Design
If you're all set on a theme for your wedding and have matching stationery ready, it makes sense that your program follows the same style. Many designers will be happy to create personalized programs to match your wedding invitations. You can also find printable templates online which you can customize, or go full DIY and design your own.
There are plenty of choices available when it comes to wedding program designs. From modern and minimal to detailed and illustrated, there's a design for every taste. Popular styles include gold foil, watercolor, monogram, and florals. Look for a design that complements your theme and has enough space for your needs. Make sure you have your design printed on high-quality cardstock so it lasts.
Fun Extras
It's become almost a tradition for the happy couple to be showered with confetti, bubbles, or something similar as they leave the ceremony. If you have plans for this, why not hand this out with your program? This way, your guests have something handy when the moment arrives.
Alternatives to a Wedding Program
If you want to keep everyone informed but don't want to print programs, you could display the information on a board instead. For couples having a laid-back ceremony or who want to reduce the environmental impact of their special day, an alternative like this makes a lot of sense.
Create the Perfect Program
Now that you know what wedding programs are all about, it's up to you whether you want one or not. If you do, make sure you include the basics like a running order of events and details about your wedding party.
Other than that, look at it as an opportunity to have fun and be creative with one of the most momentous occasions in your life. Let your wedding theme, personality, and love story inspire you to create a keepsake wedding program that you, your spouse, and your guests will enjoy.
Up Next: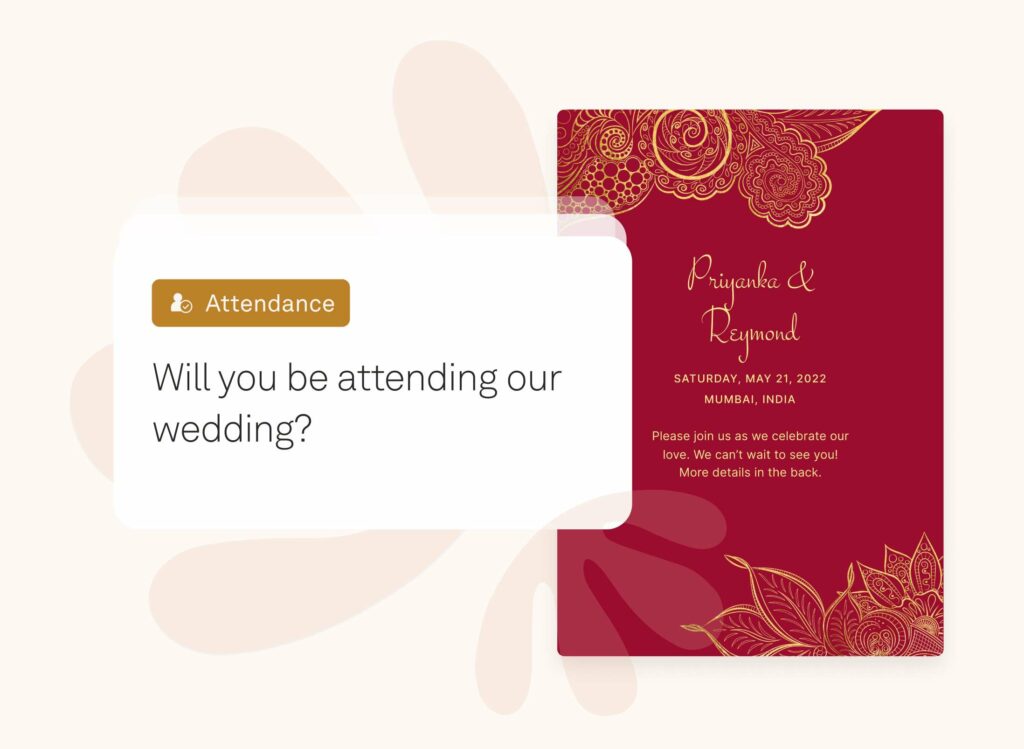 Whether you send traditional paper invitations or go paperless, you can easily collect RSVPs online.
Related Posts