The big day is over and you're basking in that post-wedding bliss. But once you remember all the thank you notes to loved ones that need to be written, you suddenly panic. Don't worry — you're not alone. Wedding thank you notes can feel overwhelming. They're not just another task to check off your to-do list, however; these missives are a meaningful expression of gratitude that holds a special place in the hearts of your guests.
Wedding thank you notes are probably the last thing you want to think about when you're still reveling in the whirlwind of your special day. So, whether you're handwriting your cards or going digital, why not get started early? Here's the perfect strategy for making the process of writing wedding thank you notes as easy and stress-free as possible.
Tips for Managing Handwritten Wedding Thank You Notes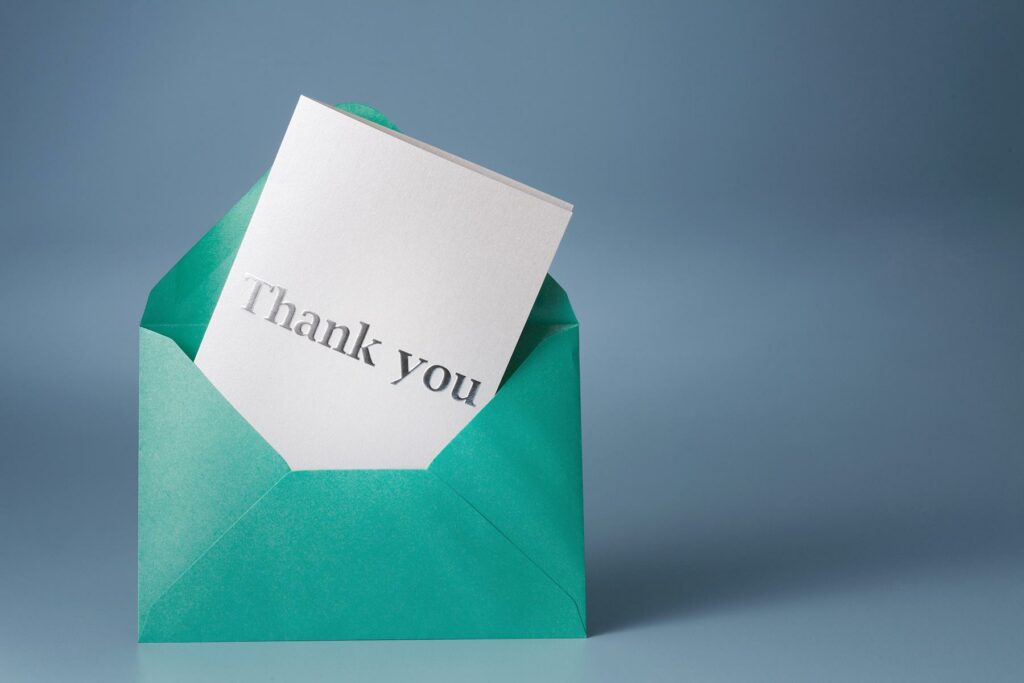 1. Track Gifts as They Arrive
Gone are the days of carrying piles of gifts home from your wedding reception. More often than not, wedding gifts arrive well before the big day. But one of the biggest mistakes couples make is not opening or recording each gift as they receive them. Packages may arrive without cards, and even those with cards can get jumbled if you let them pile up. The result? You and your partner have to play a game of "find the gifter" when you should be enjoying some much-deserved honeymoon relaxation. Take a minute now to create a spreadsheet of all your wedding gifts to save you an annoying runaround in the future. Need something easier? Try Joy's guest list manager, which allows you to organize your guests and who's purchased a gift from your registry, all in one place. You can then export a spreadsheet of gifts and givers whenever you need.
2. Utilize Columns in Your Spreadsheet
We enjoy a good list, but we love organization more. Proper set up of your tracking spreadsheet can help cut down on your time writing those wedding thank you notes. Include a column for notes on each gift or an interaction with the gifter to add a personal touch to your message. Jotting down thoughtful details now will make penning the perfect message a breeze once you're ready to sit down and start writing.
3. Keep the Design Simple
You've undoubtedly seen fancy thank you notes with elaborate designs and engravings. While these are fabulous to look at, it's not necessary to spend a fortune to get the point across to your loved ones. Stay focused on the sentiment rather than the design of the cards. A simple monogrammed stationery or bifold card with "Thank You" on the front is perfect for sending your message of gratitude. Want something a little nicer without going overboard? Many of Joy's wedding invitation suites include thank you cards that match your invites for a streamlined look.
4. Keep the Message Short and Sweet
Don't feel the need to wax poetic about a thoughtful gift. Hold space for a sincere message that focuses on how you will use the gift and what it means to you and your partner to have received it. Add in a line about how grateful you are that your guests were there to celebrate your marriage and you've got all the makings of a well-rounded note.
5. Use a Template
We usually say to not use a template, but hear us out. Crafting an outline doesn't mean everyone will receive a card that's a word-for-word carbon copy. Instead of a plug and play script, relieve your writer's block by creating a broader blueprint. Give the example below a try.
Line 1:

Include a salutation.

Line 2:

Start by expressing your gratitude for the gift.

Line 3:

Tell them how you and your partner look forward to using the gift.

Line 4:

Thank your guest for coming to the wedding and touch on a memorable moment you'll never forget.

Line 4:

Finish the sweet sentiment with a personal touch.
Need more tips for writing? Here's a helpful guide for how to write your wedding thank you cards, with templates for every situation.
6. Work in Batches
You may be tempted to knock these notes out all in one shot, but that's a mistake. Not only will you wear yourself out (physically and mentally), but your wedding thank you notes will start to become way too similar. Save your brain power and work in batches of 10 or so cards at a time. What's better? Have your partner join in the fun. Together, you'll get those wedding thank you notes done in no time.
Tips for Managing Digital Wedding Thank You Notes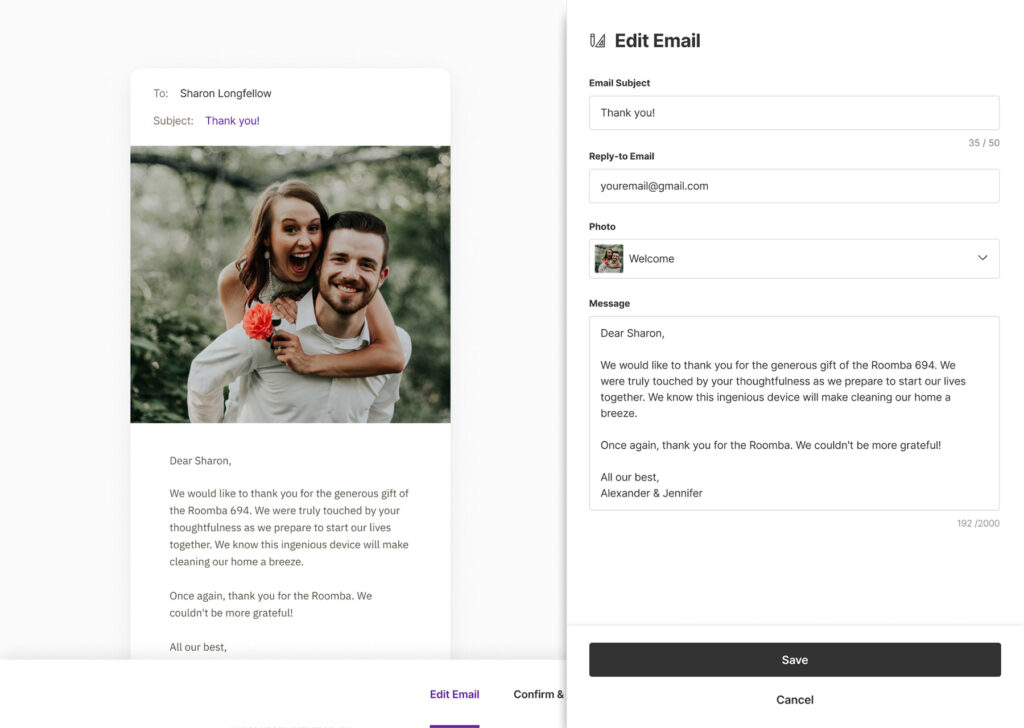 1. Use a Smart Tool
Writing hundreds of thank you notes is a daunting task. Compound that with tracking every gift, check and card and it's a recipe for disaster. Handwritten thank you notes are traditional etiquette but using 21st-century technology sends the same message, only easier. It's OK to focus on the gesture rather than the medium.
For a little help, you can look to smart tools to help you deliver these sincere sentiments. This might seem a little far out at first, but hear us out. Tools like Joy's Thank You Note Manager are green, efficient, and they let you design and write the perfect digital thank you card for your loved ones. Not only can you send your thank yous out in record time, you'll also be able to efficiently track who has received a note and when. This small but mighty tool will help you draft any message quickly and efficiently.
2. Track and Write Thank Yous From One Dashboard
A dashboard that does it all might seem too good to be true, but it's not! Joy's Thank You Note Manager allows you to write and record your thank you notes all in one convenient place in just a few clicks. It's available for all Joy couples with a gift registry. Just open up your gift tracker and click the "Write Thank You" button next to any gift to start your message. It's a huge time-saver, eliminating the need for manual data entry every time you receive a gift on your doorstep.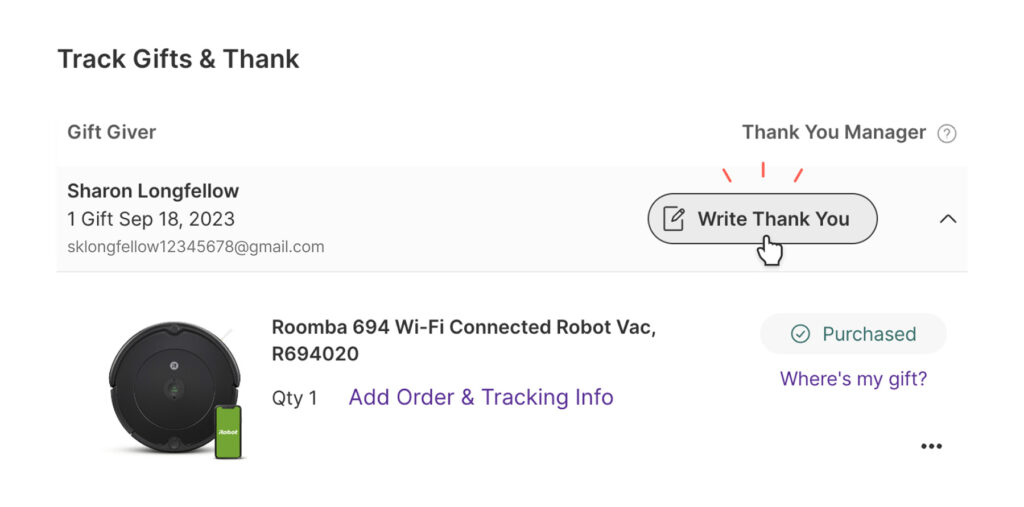 3. Let AI Help Write Your First Draft
Ever wish someone could just do the heavy lifting for you? Joy's Thank You Note Manager utilizes AI technology to craft personalized thank you emails that go straight to your guests' inbox, leaving you with more time to enjoy married life. Get help with the first draft with an AI writing assistant, which can help you conquer personalized thank you notes that are thoughtfully crafted for each guest and gift in the language and style of your choice. It's so easy it may feel like cheating, but don't be afraid to let this digital writing assistant guide you through the process. Each and every message is unique and tailored to your loved ones, giving you a great foundation to build on with your own thoughtful sentiment.
4. Take Personalization to The Next Level
Bring back the fabulous memories of your big day for your guests in their wedding thank you card by using a photo. With Joy's cutting-edge tool, you can easily swap out photographs to give your digital thank you note another personalized touch — a flexibility you won't find with traditional handwritten notes (unless you're willing to pay to print photos for each guest!).
5. Deliver With a Click of a Button
Slapping a stamp on a letter doesn't ensure that it will reach its final destination. With Joy's Thank You Note Manager, you can get your sweet sentiments directly to your guests' inboxes with just the click of a button (and confirm it's been received and opened!). Save on postage, save yourself a trip to the post office and do the environment a solid by leaving paper notes to the past and embracing the digital way. It doesn't get much easier than that.
Up Next:
From gifts, to cash funds, experiences or charitable causes, add any gift you want, from any online retailer, to your Joy registry.