When gathering with friends and family to celebrate your wedding day, making them feel welcome is a top priority. One way to foster those positive feelings from the start is to include signage in your wedding decor. From creative wood signs to calligraphy welcome boards, we've rounded up wedding sign ideas for various uses—plus, wedding welcome sign ideas to help you plan the perfect first impression for your big day.
Wedding sign ideas for various uses
While welcoming guests is a fabulous idea, there are other ways to incorporate signage throughout your event. From the first impression to the sparkler exit, think about utilizing wedding signs to communicate to guests.
Wedding welcome sign
Including a welcome sign is the perfect way to greet guests. Whether your sign simply says "Welcome" or includes your names and wedding date, a greeting can set the tone for your day.
Sanitization sign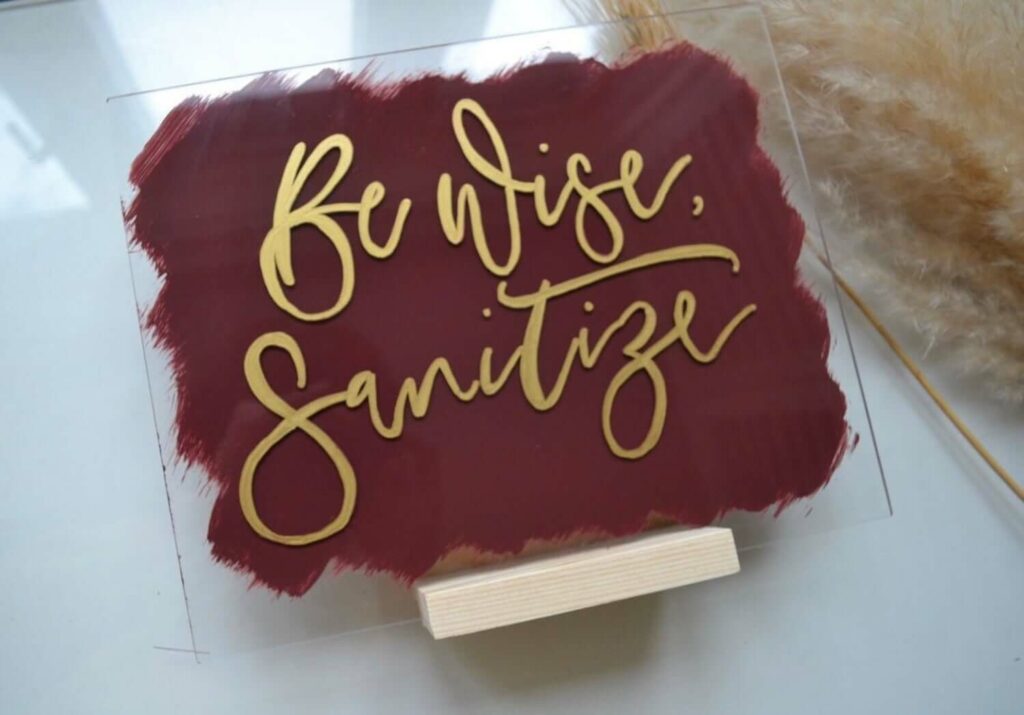 Use a wedding sign on your sanitization station.
To make guests feel more comfortable or to point out sanitization stations, use signage. Remind guests of social distancing rules and encourage them to wear masks by incorporating carefully placed signs.
Wedding hashtag sign
One way to have guests use your wedding hashtag is to include it on a sign. Prominently display your hashtag along with an Instagram symbol. It'll be fun to see the photos that guests took during your wedding day.
Seating chart sign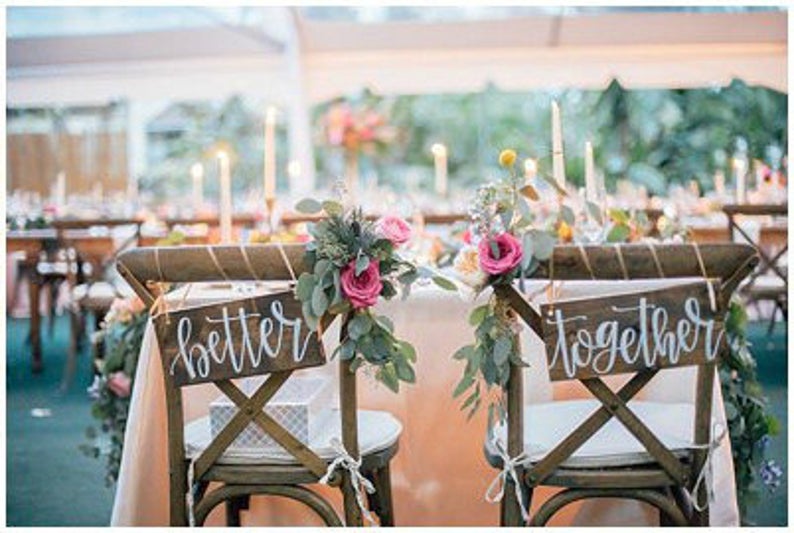 Using a reception sign to indicate where guests are seated will alleviate confusion. A seating chart sign can be placed near your wedding reception entrance so guests can easily see it.
Table numbers
Having table numbers that match your seating chart can be a special touch. Place numbers so the centerpiece doesn't block the view and guests can easily find their designated table.
Bar sign
Use signage to let guests know whether it's an open bar or they need to pay cash. Not only can a sign help let guests know the type of bar service you're offering, but you can also use one to describe your signature drinks.
Chair signs
Use wedding signs on your reception chairs to save your seats.
Quite often, couples place signs on their wedding reception chairs. Whatever wording you choose, there are several wording options to indicate that your chairs are reserved.
Personalized signs
Sometimes couples have specific signage needs on their big day. Here are a few other instances where you may want a personalized sign.
Point to restrooms for an outdoor wedding.
Place a sign by your wedding cake to indicate flavor.
Designate the wedding table used for gifts.
Use a board to instruct guests to put their phones away during the ceremony.
Include a sign that has your favorite verse or saying.
Have your photographer take a photo of you and your partner holding signs that say "Thank You" to use on your post-wedding Thank You notes.
12 wedding welcome sign ideas
No matter your wedding style, there is a sign to fit your needs. Every couple can incorporate sentiments into their big day, from glam signage for a hotel wedding to rustic wedding signs for a barn event. Scour sites like Etsy for handmade signage or make your own for a DIY wedding.
1. Acrylic wedding welcome sign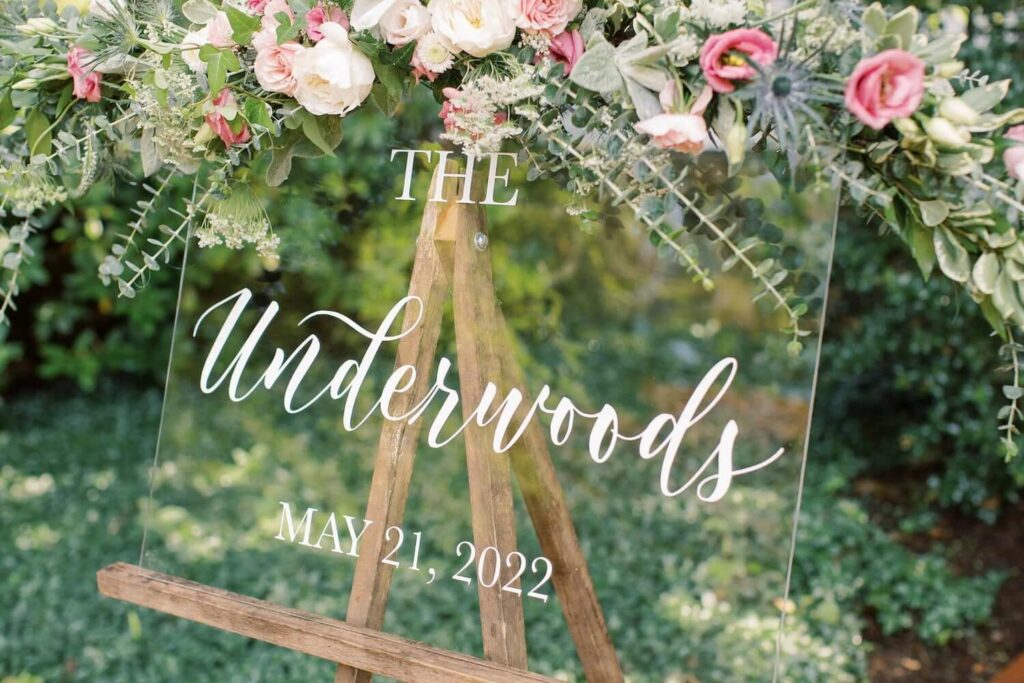 A clear acrylic wedding welcome sign adds an element of style.
Acrylic signs have been trending for a while, and it's no wonder. Their unique see-through feature is eyecatching. Have your florist accent your clear signage with eucalyptus or other greenery for a boho flair. Another option is to use an acrylic sign for a garden wedding so guests can view flowers through the see-through board.
2. Rustic wedding sign
A wooden sign makes the perfect wedding welcome.
Custom wooden signs are perfect for a rustic wedding.
3. Personalized sign using wedding photos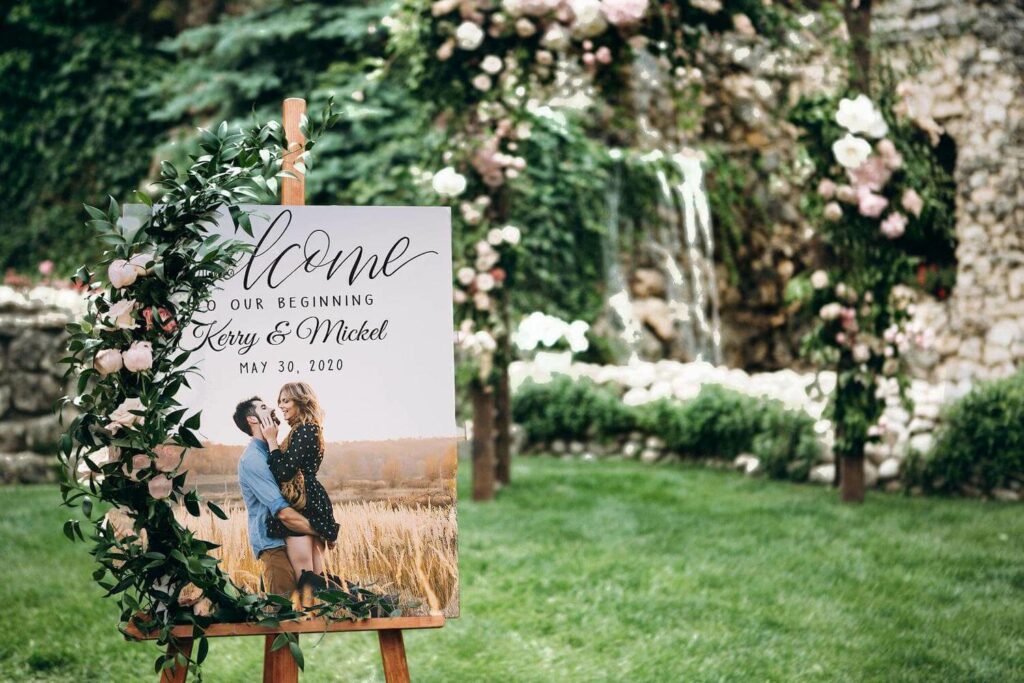 Photos can be printed for a personalized wedding welcome sign.
If you've had bridal portraits or engagement photos, take the opportunity to showcase them on your wedding day. Have your photos printed as the background for your wedding welcome sign. Purchase a sturdy easel and prominently display your greeting for guests to see.
4. Rose gold wedding sign
A rose gold sign adds elegance to your special day.
Offer guests a rosy welcome with a welcome sign in tones of rose gold. Place a lightweight board on an easel at your wedding venue to invite attendees into your ceremony. Adding details, like your names and wedding date, is a nice touch.
5. 3-D rustic wedding sign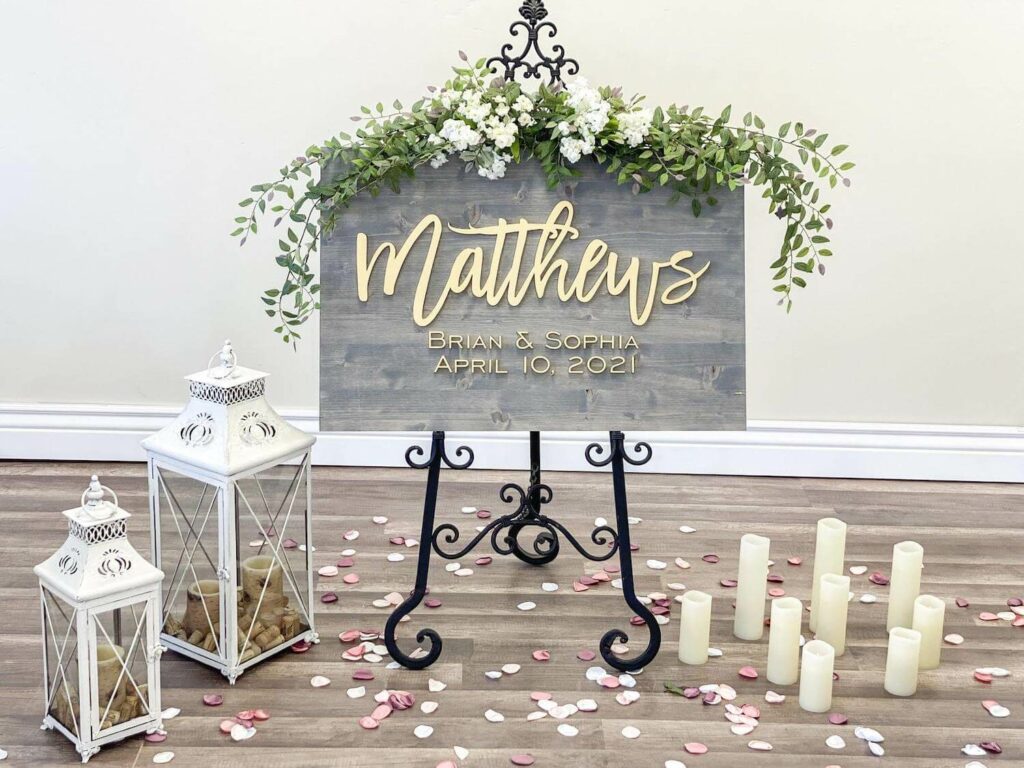 Use rustic wedding signs long after the big day.
For a truly unique welcome, have a three-dimensional sign made for your big day. These signs are a bit more expensive and meant to last, so think about longevity. Instead of saying "Welcome to our wedding," greet guests with your names and wedding date. That way, you can hang the sign in your home long after your special day.
6. Beach wedding welcome sign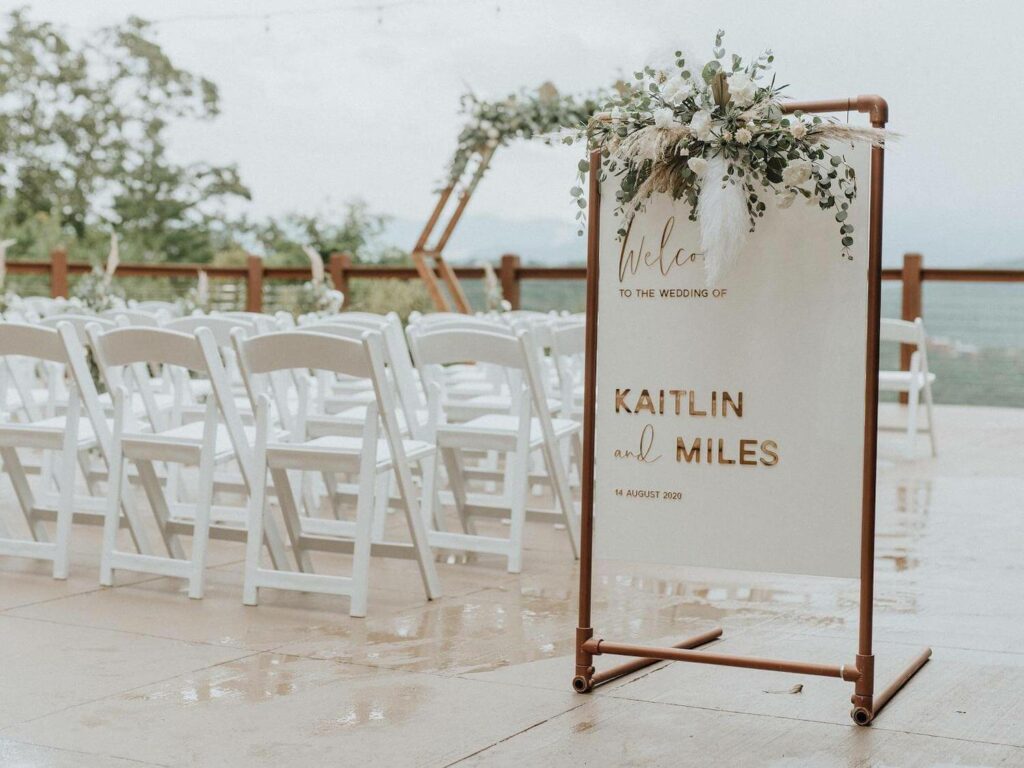 Have a sturdy welcome sign for a beach wedding.
Windy conditions at a beach wedding calls for sturdy signage. A lightweight, acrylic wedding sign can withstand rain and ocean spray. When paired with a metal holder, it becomes a high-impact wedding decoration to welcome guests.
7. Printable minimalist wedding sign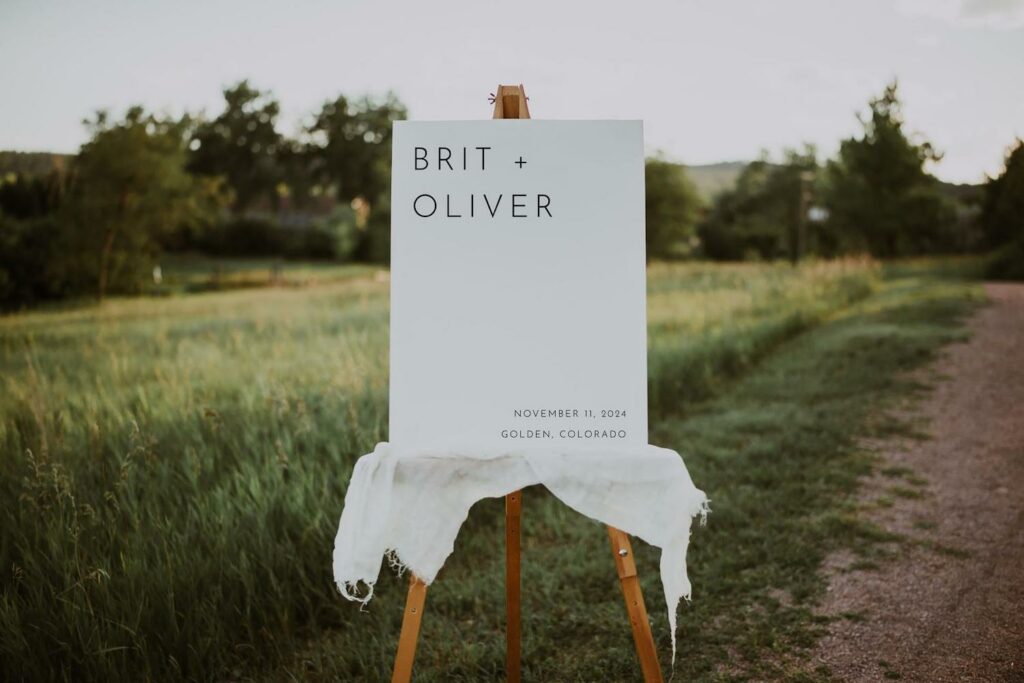 Signs can be printed for a minimalist wedding day.
Many companies offer digital files that you can have printed locally for those that prefer a DIY method. If you're on a short timeline, this is a fabulous way to get a personalized sign in a hurry. The minimalist design is the perfect complement to a scaled-back yet luxurious wedding day.
8. Arched wedding welcome sign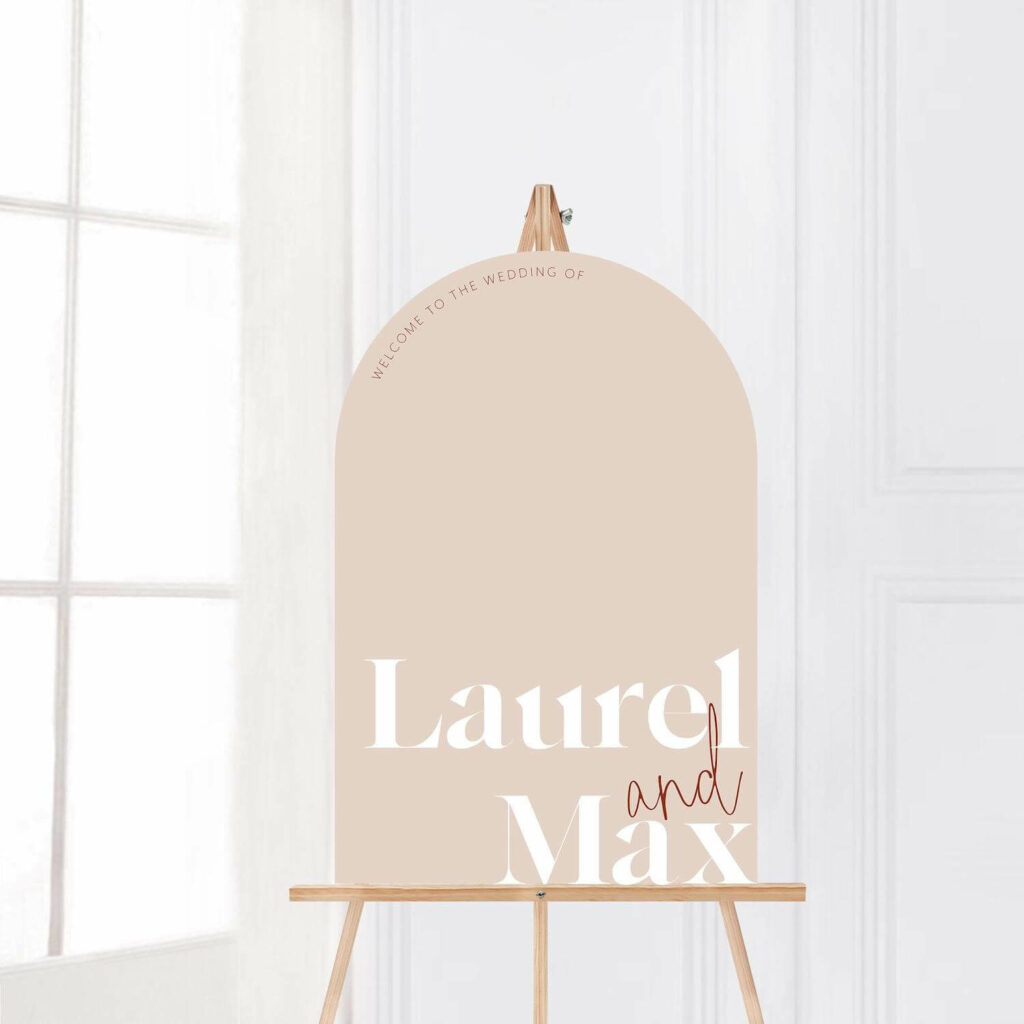 Choose a wedding welcome sign in a unique shape to make a statement.
One way to get a little creative with your wedding day signage is to choose a unique shape. An arched sign will definitely get noticed, especially when paired with a high-impact font. Choose colors that complement your wedding palette, and set the tone for your wedding day from the start.
9. Seasonal sign for a fall wedding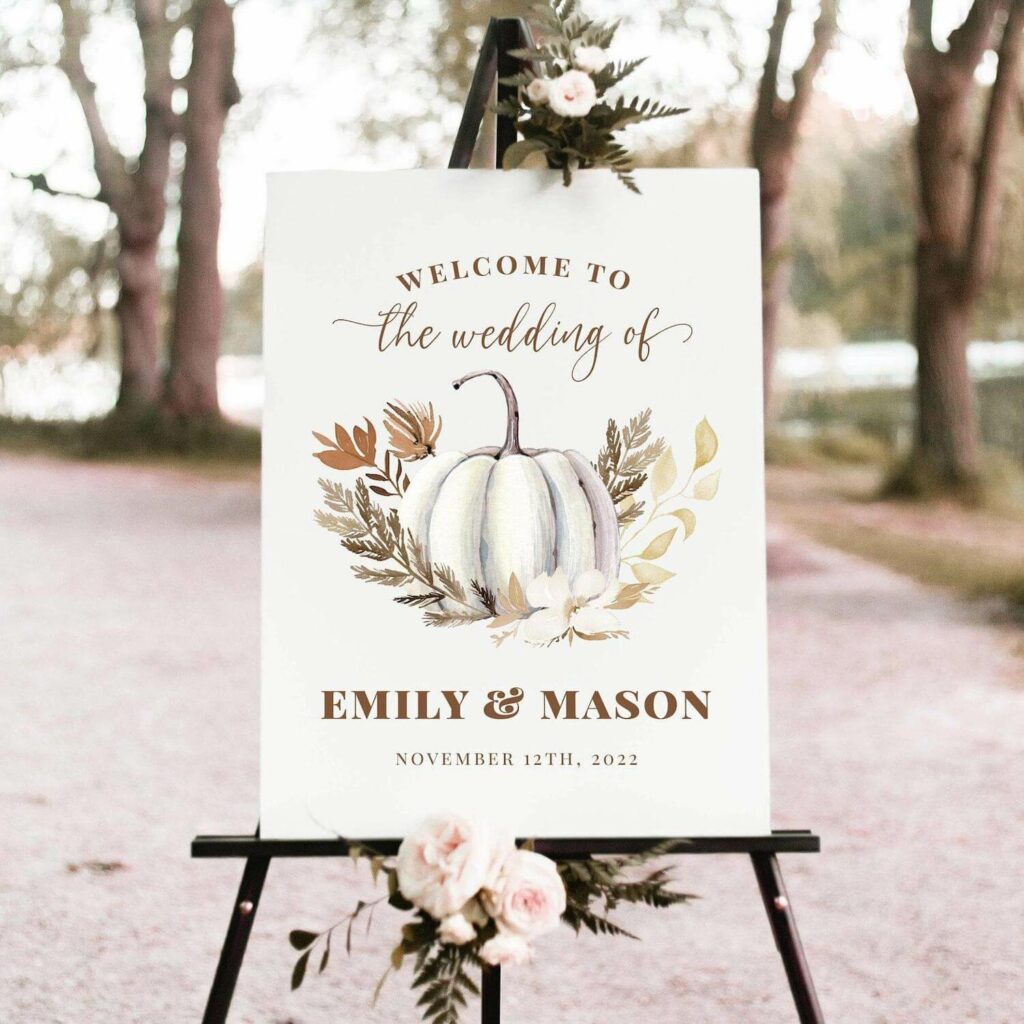 Seasonal signs are perfect for a fall wedding day.
When in the process of wedding planning for an autumn event, don't forget about signage. Many selections feature colorful foliage, pumpkins, and autumnal tones to complement your big day. Having a sign that coordinates is a nice touch to add to the festive decor.
10. Wedding program welcome sign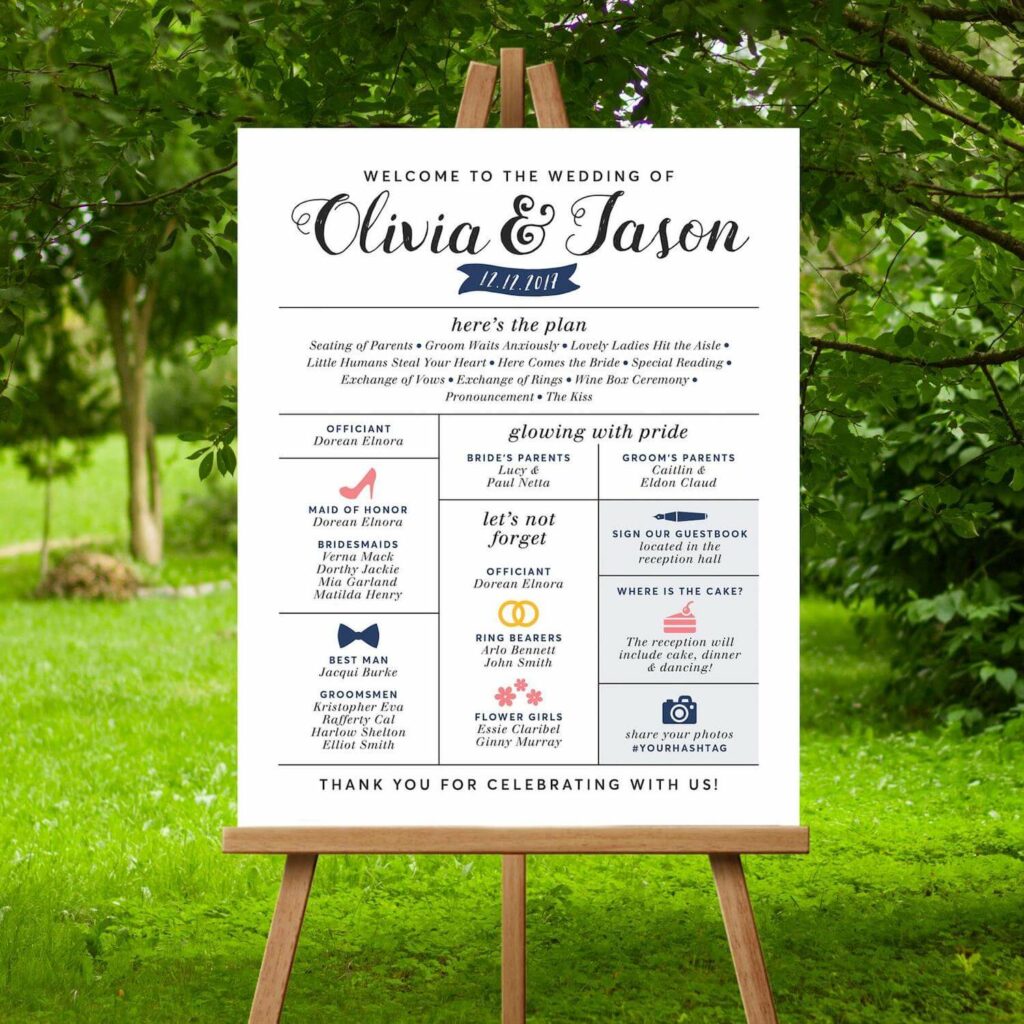 Use your wedding welcome sign as a program to convey information.
Instead of printed wedding programs, your welcome board can do the trick instead. Instructions and important announcements can be front and center as you greet guests. You can also add other touches, like the wedding party and the order of events.
11. Newsworthy wedding sign
Creative wedding day signage can mimic a newspaper's front page.
Another option for a program-less wedding is to create a sign that resembles a newspaper and puts you and your partner on the front page. Customize and download a wedding day sign that resembles a newsprint and includes a welcome letter to guests.
12. Guest book wedding welcome sign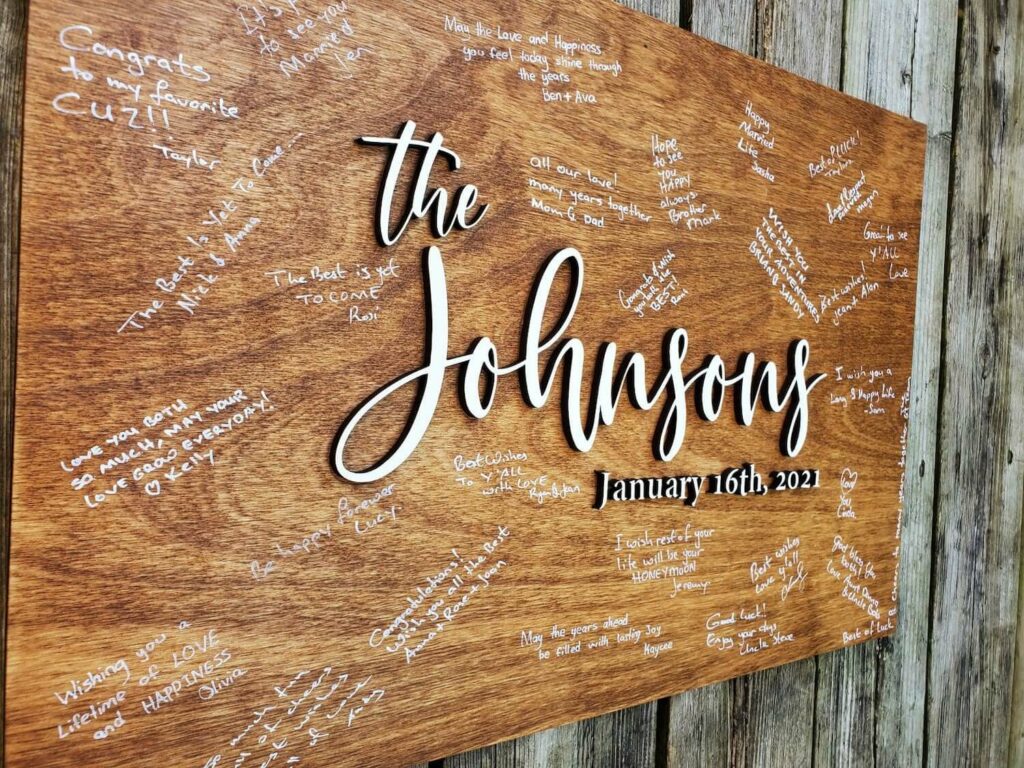 Have your wedding welcome sign do double duty as a guest book.
This is one of our favorite wedding welcome sign ideas! Have your signage do double duty as a guest book. Attendees can either sign their name or leave a word of advice to the happy couple. It can then be hung on a wall as a reminder of the big day.
Sayings for wedding welcome signs
Whether you decide to get creative or go with traditional verbiage, feel free to have fun with your signs. Although there are a few tried and true favorites for wedding sign sayings, you can also branch off and come up with your own. Here are some practical and fun statements for your wedding day signage.
Welcome to our wedding.
We're so glad you're here!
Welcome to our forever.
Happily ever after starts here.
Welcome to the wedding of Stacy and Jason.
Welcome to our beginning.
Rose and Aiden's wedding. September 18, 2021.
Welcome to our happily ever after.
Thank you for celebrating with us.
Welcome to our unplugged ceremony.
The best day ever!
This way to love, laughter, and happily ever after.
Choose a seat, not a side.
The beginning of forever starts here.
The start of bliss shouldn't be missed. We're glad you're here.
Come on in. This is the way. Thank you for coming to our big day.
Wedding welcome signs add an element of interest to your wedding day. Not only are they lovely decoration ideas, but they can also help you welcome, direct, and express thanks to your guests. Plus, with plenty of stylish options, you can coordinate signage with your wedding theme to create a cohesive look.