As weddings are postponed or canceled due to COVID-19, some couples are determined to stick with their original wedding date out of necessity, excitement, or both. If you're one of them, your guest list has probably sized down quite a bit. For micro-weddings, backyard weddings, or any celebration that requires a gathering, having guests also means setting health and safety rules. While the Centers for Disease Control and Prevention (CDC) has guidelines on gathering size and safety, it's up to you to enforce them on your big day.
Having clear yet clever wedding signs will make these guidelines feel easy to follow for your guests. Besides stating your planned precautions on your wedding invitations, it's wise to display welcome signs and sanitation signs throughout your wedding. While enforcing such guidelines is never fun, there are ways to express them in a lighthearted tone. Here are eight wedding sign ideas in the time of COVID-19 that will put your mind at ease and ensure your guests feel safe.
1. A warm (and clear) welcome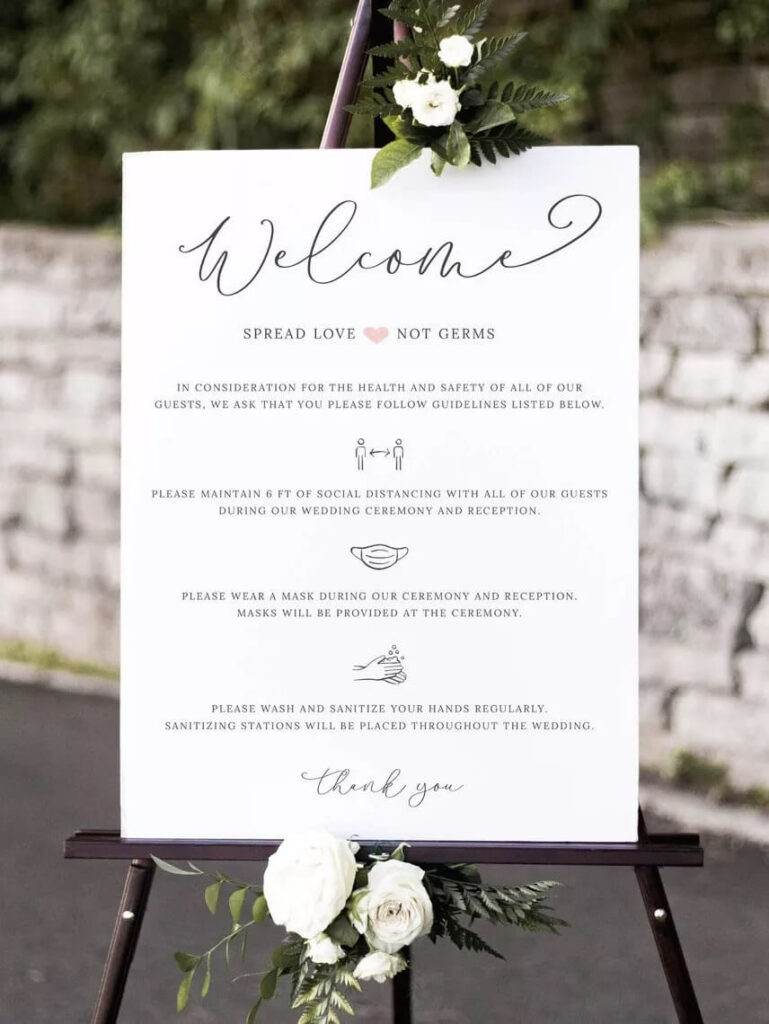 A welcome sign with everything you expect of your guests is never a bad way to go. Reminding your guests about washing their hands, keeping a safe distance, and wearing a mask at all times will grab their attention and keep them safe as they party the night away. Getting a big print of your wedding rules and putting them in an elegant easel or frame won't dapper down your wedding decor either.
2. A "Masks Available" or "Grab a Mask" sign
Guests may not be able to mask their excitement for your big day, but they can definitely mask their faces! Providing masks for your guests leaves no room for excuses. You can even personalize the masks you give out to match your wedding's theme. Have fun with it! They'll serve as a quirky party favor during this unprecedented year. Things are weird, but it'll be a reminder that we're in this together, and a reminder to keep those masks on.
3. A "Spread Love, Not Germs" sanitizing station
Similar to providing masks, having sanitizing stations docked throughout your party will ensure your guests are keeping their hands clean. It'll also be a cute reminder to wash those hands every once in a while!
4. A "Distance Makes the Heart Grow Fonder" sign
This old saying hits a little too close to home lately. There may not be any long hugs on your wedding day if it's happening this year or next, but the cries will be proof that the love is there. Distance, specifically six feet, does make the heart grow fonder. Adding a little "Kindly practice social distancing" line below the cute saying will make your safety message even clearer. Karina Valley Boutique on Etsy has a printable sign that says just that.
5. A "To Have and to Hold…From Six Feet Apart" sign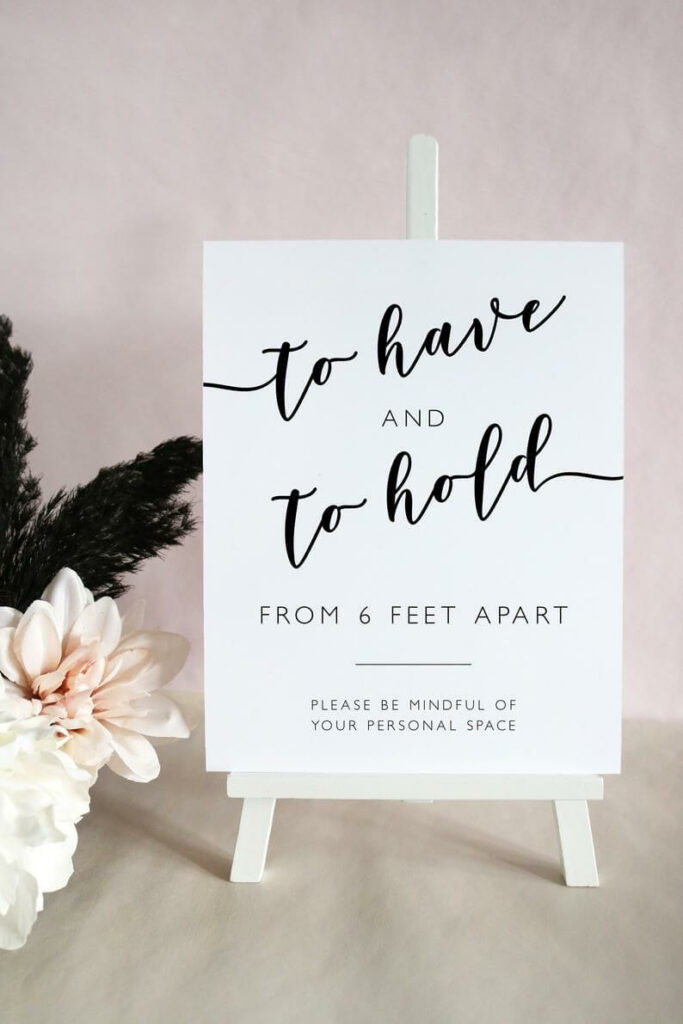 Every wedding ceremony has a few famous lines that are said every time, and "to have and to hold" is definitely one of them. A cute and punny way to address your COVID-19 rules, this sign reminds your guests that although it's a celebration, we're still in the midst of a pandemic.
6. A charming "Wash Your Hands" reminder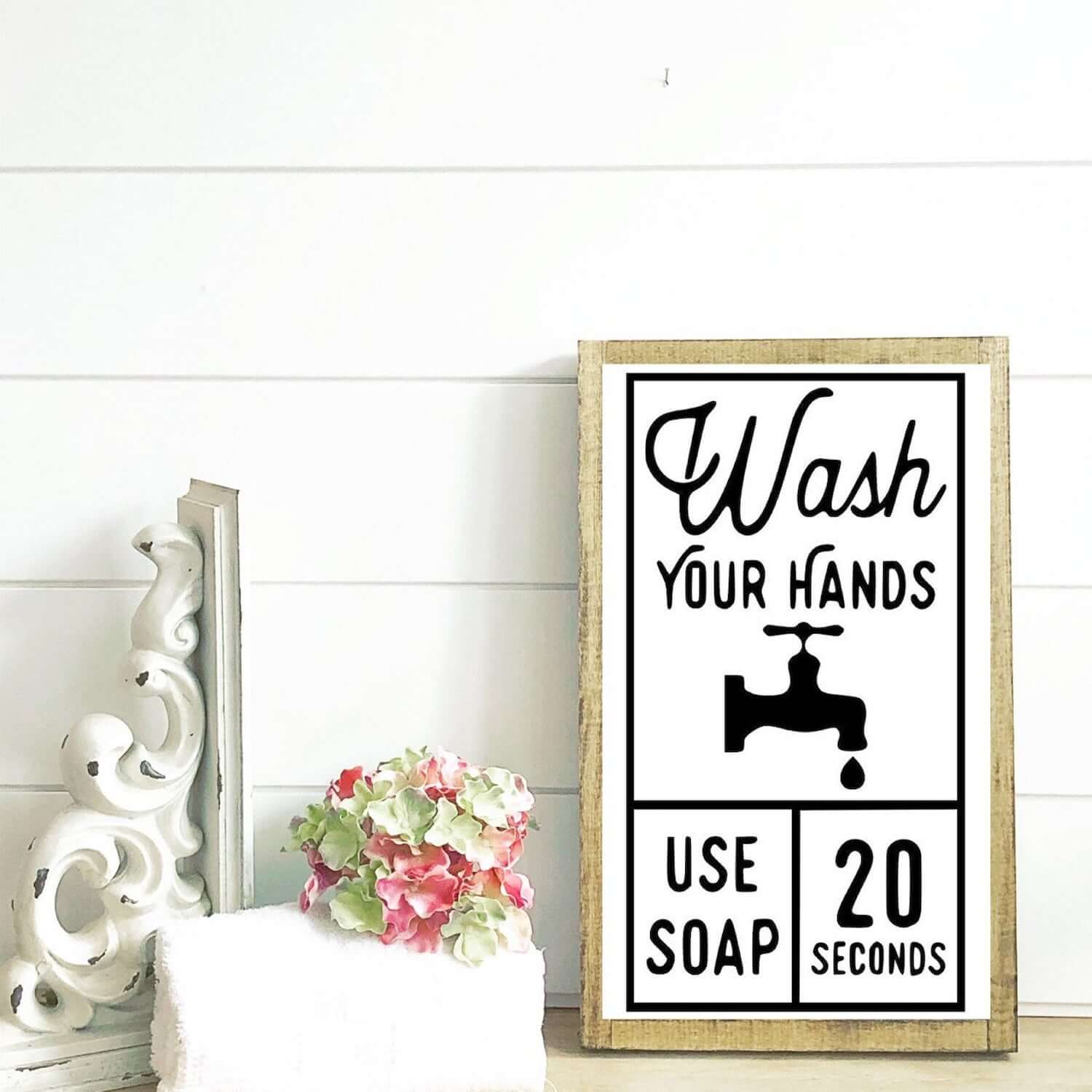 Guidelines for cleanliness and germ-killing was implemented months ago now, so a little sign in the bathroom like this one could go a long way.
7. Vinyl floor stickers to mark six feet of distance
Picture your wedding reception. There's dancing, laughter, and your guests are having an amazing time. How do you remind them (and maybe even yourself) about the six feet rule without killing the good vibes? The wedding atmosphere might make some people forget the reality of social distancing, so vinyl floor stickers like these will be a great reminder for you and your guests.
8. A sweet Thank You sign
Let your guests know that your wedding was extra special and extra exclusive in light of COVID-19. Show appreciation for those guests who showed up to celebrate your marriage, and thank them for following the safety guidelines. Such an important day wouldn't be the same without the people you love most, so make sure they know that and that you take their safety seriously.
Although we're in the middle of a pandemic, remember that it's still your big day! Have fun, be safe, and celebrate your love on the most important day. Your guests showed up to do the same, and that's what makes all your precautions and preparation worth it.