Cookware is an incredibly popular wedding registry category for good reason. For many, the kitchen is the heart of the home, and having this special space filled with pots, pans, and more that reflect your style is essential. Creating a wedding registry is an amazing opportunity to either upgrade your cookware or start fresh. That way you can kick off your newlywed life with a kitchen filled with high-quality and aesthetically pleasing items.
Because we understand how overwhelming it can be to sift through the seemingly endless cookware options, we've crafted a guide to help you hone in on the best pots and pans for your wedding registry.
Overview:
Best Cookware Set
Cookware lays the foundation of the kitchen, and a set that includes all the essentials is a great start for any couple. Not all cookware sets are made alike, however. You often have the option of nonstick, stainless steel, and copper. Within those categories there's a range from top-quality to "not worth your money."
Here's the lowdown on the best of each category.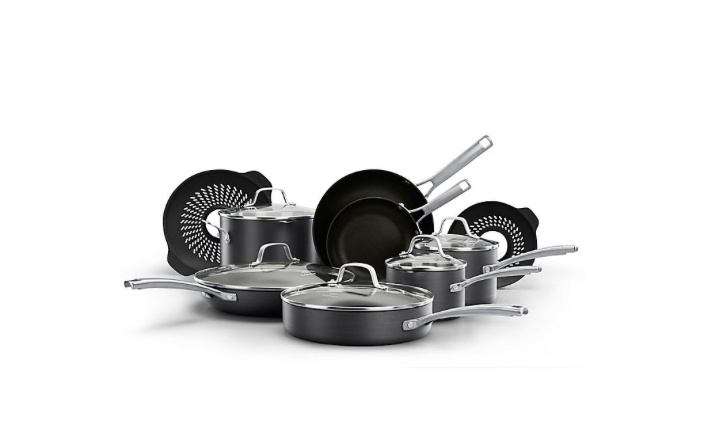 This 14-piece cookware set is an excellent choice for those that want easy cooking and fast clean-up. The durable, thermally efficient hard anodized aluminum in this set facilitates fast, even heating of food. The dual-layer nonstick interior helps ensure food doesn't adhere to the surface. In addition, this set provides the unique feature of "no boil-over inserts" that prevent a major mess if you get distracted while boiling water. Adding to the convenience are pour spouts on the pots, lids with an integrated strainer, measuring marks within the pots, and handles that stay cool to the touch. This is the set for the on-the-go couple.
$299.99 at Bedbathandbeyond.com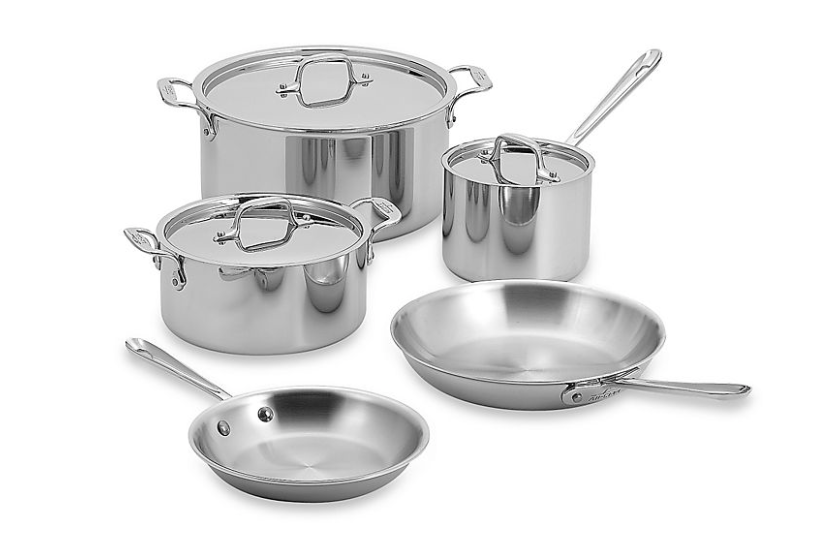 For the couple that wants to purchase a cookware set that could last a lifetime, this 8-piece stainless steel set is extremely durable, featuring pieces with an aluminum core between two layers of sparkling stainless steel. Adding to the appeal is the timeless, attractive aesthetic of this set, allowing the cookware to enhance the ambiance of the kitchen when hung from hooks, stored on shelves, or placed in glass-covered cabinets.
The set includes a saucepan, casserole dish, stock pot, fry pans, and lids.
$599.99 at Bedbathandbeyond.com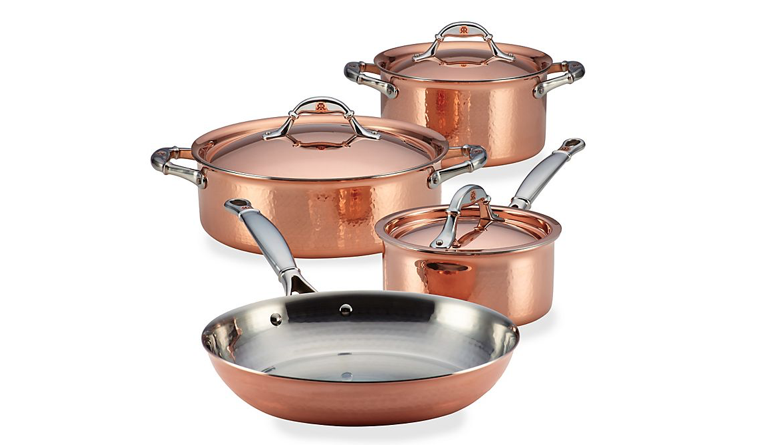 A favorite of culinary experts, copper cookware is one of the best options for conduction, meaning it provides even heat distribution and is ideal when cooking temperature-sensitive foods. The pieces in the Ruffoni Symphonia Cupra set offer these benefits and more with their copper-wrapped aluminum cores and stainless steel interiors for easy clean up. The style factor is also exceptional, as the dazzling copper exteriors are hand-hammered. These are pots and pans you won't want to hide away in the back corner of a cabinet.
$1,274.99 at Bedbathandbeyond.com
The Best Saucepans
The multi-purpose saucepan is a whiz at simmering, boiling, and poaching. It allows you to cook-up a range of goodies from hot stew on a cold night, to poached eggs for a lavish Eggs Benedict brunch. It's a must for every kitchen. The most universal size is a 3-quart, as it accommodates the primary uses for this variety of pan.
Following are our two favorite options for this kitchen mainstay.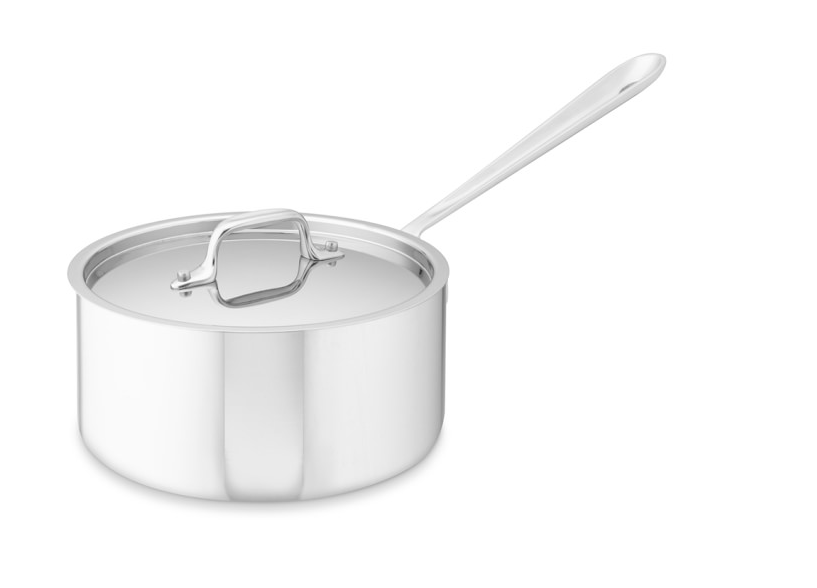 A superior choice, this stainless steel saucepan sandwiches an aluminum core between a stainless-steel interior and exterior, allowing for fast, consistent heating.
This pan is stick resistant, has riveted handles that stay cool, and is dishwasher safe.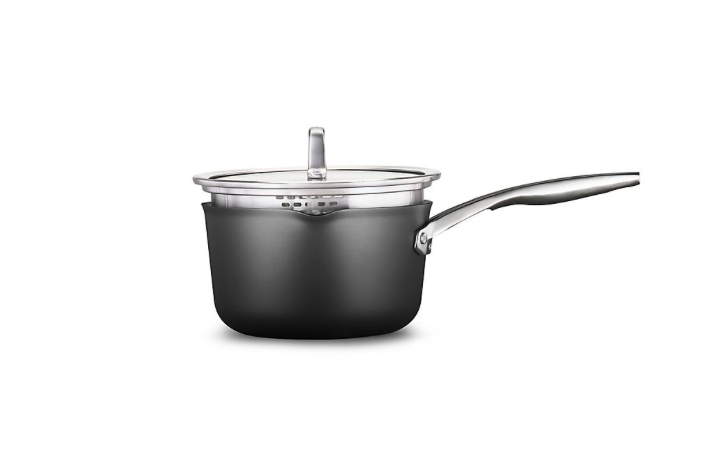 This is a prime choice for the couple that will only occasionally use a saucepan. This item has a 3-layer nonstick interior that lasts longer than many of its competitors and doesn't come off when used with metal utensils. And the hard anodized aluminum construction prevents the annoying occurrence of hot spots that can hinder cooking endeavors. Making it even more appealing to the casual cook is the fact that it comes with straining holes and pour spouts to remove the need for a colander.
$79.99 at Bedbathandbeyond.com
Best Sauté Pan
A sauté pan is a must-have for couples with a passion for braising, poaching, shallow-frying, searing, and pan-frying. It's one of the most versatile items on this list. If you enjoy the idea of walking into your kitchen to the vision of your new life partner frying up some eggs or sautéing onions and mushrooms for a loaded burger, be sure to add a sauté pan to your wedding gift list.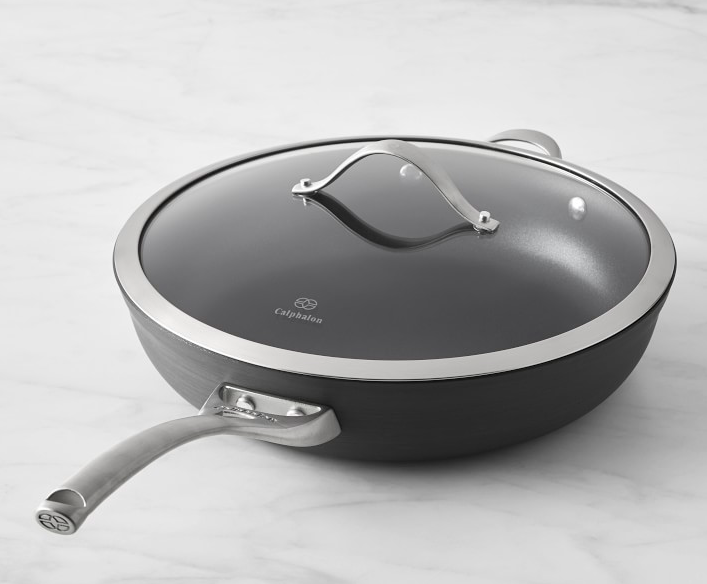 As many of the foods commonly cooked in a sauté pan are notorious for sticking, it's especially helpful to purchase from a reliable brand like Calphalon. This nonstick, deep sauté pan takes it up a notch by being larger than many other sauté pans. This makes it perfect for not only searing, sautéing, simmering, and braising, but deep frying as well. And because all of those cooking methods can lead to splatters, this pan comes with a tempered-glass lid with a stainless steel rim.
Best Fry Pan
Another popular registry item, a fry pan is as necessary to a kitchen as champagne is to a toast. But don't say yes to any old fry pan. As this will likely be a heavily used item, you want to make sure you choose one that's durable and easy to clean.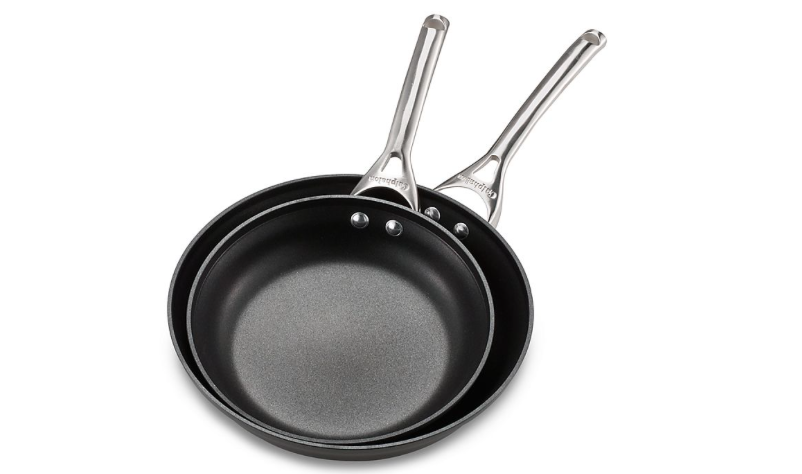 Why purchase one fry pan when you can get a bundle of two for an incredible price? This Calphalon set offers just that, providing a 10-inch and 12-inch pan. This ensures you always have just the right size for those scrambled eggs, bacon, or other popular fry pan treats. And sticking with the breakfast theme, having two pans also allows you to cook up pancakes or French toast as you whip up other treats in the second pan.
$49.99 at Bedbathandbeyond.com
Best Dutch Oven
A registry staple for the bride or groom with dreams of slow cooking, braising, or roasting delicious meals, this pot can cook an astounding range of dishes. You can even cook bread and cookies in a Dutch oven!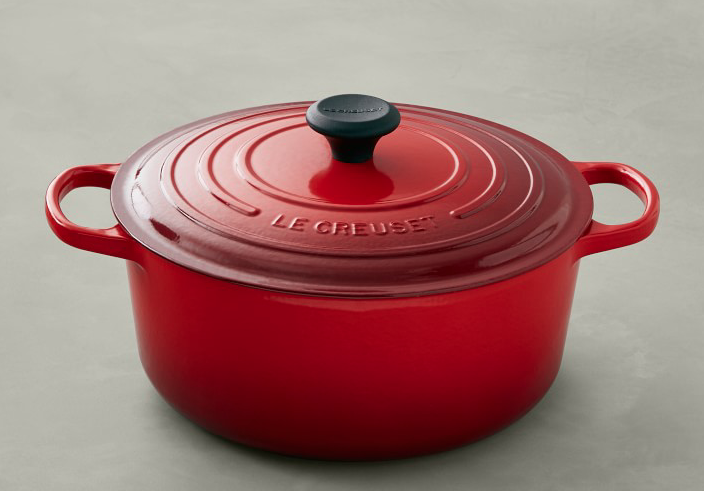 The premiere Dutch oven, this enameled cast iron option from Le Creuset is one of the rare pieces of heirloom cookware that is so durable and useful that you'll want to pass it on to your children. And then there's the colors. This Dutch oven comes in a variety of hues, almost guaranteeing you can find one to complement the color palette in your kitchen. You'd be remiss to not include this elegant staple on your registry.
Best Multipurpose Pot
A multitasking pot tailor-made for those wanting a streamlined kitchen, this cookware item often comes with a large pot, pasta drainer, and steamer. It's a 3-in-1 game-changer for dinnertime. Even if the only meals you enjoy cooking are spaghetti and the occasional soup, you'll appreciate this resourceful pot.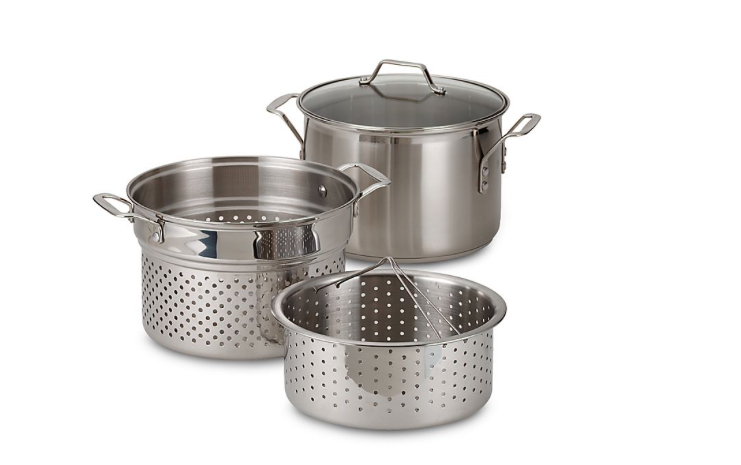 Perfect for large batches of soups, stews, sauces, pasta, and more, the 8-quart Calphalon multi-pot has a thick aluminum bottom core that evenly conducts heat. In addition, the vegetable steamer insert can be repurposed as a colander.
$84.99 at Bedbathandbeyond.com
Best Roaster
A traditional holiday helper, roasters help you craft that nostalgic meal that centers around turkey, lamb, pork, ribs, or brisket. But beyond the meat, roasters can also cook festive favorites like bread pudding, pound cake, and even cheesecake. So if you and your honey enjoy hosting during the holidays, a roaster is a no-brainer.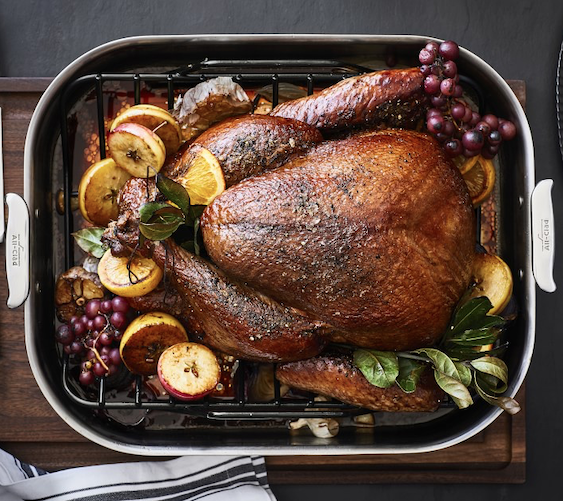 An incredibly thick, durable stainless steel roaster, this selection from All-Clad can handle up to a 20-pound turkey. It also includes a v-shaped nonstick roasting rack that fosters quick, even cooking. And because the last thing you want to do is drop the centerpiece of your feast, this roaster includes riveted handles that give you a solid grip.
Best Grill Pan & Griddle
A grill pan and griddle are nice additions for your kitchen mix. The griddle provides a large, flat surface to cook popular fare like eggs, grilled-cheese sandwiches, and quesadillas. Meanwhile, the grill pan leads to those appealing sear marks on steak, shrimp, veggies, and other goods that taste better grilled.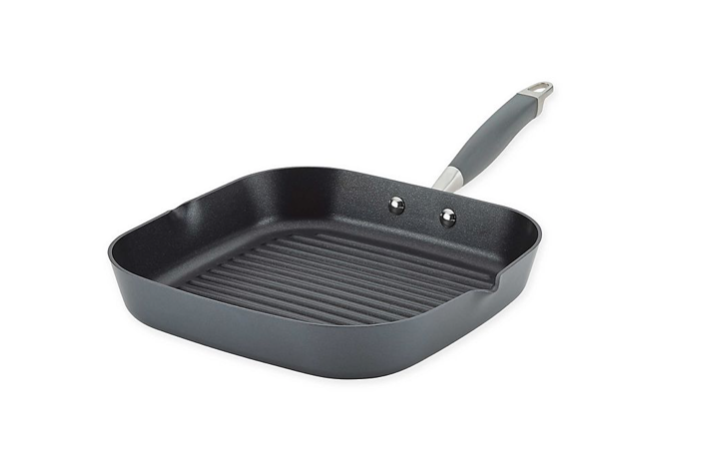 A huge appeal of this grill pan is that its nonstick surface is PFOA-free and lasts 16-times longer than traditional nonstick. It also comes in four colors, letting you decorate your kitchen with handsome functionality.
$39.99 at Bedbathandbeyond.com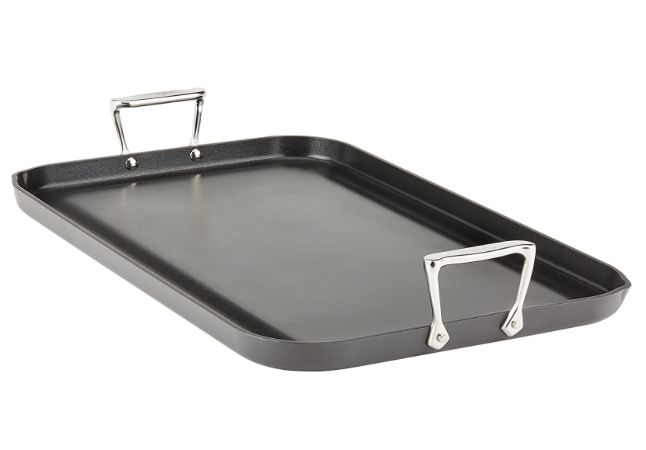 The All-Clad griddle is incredibly functional with a large enough area to cook up a feat for an entire crew. It has the ability to work on a gas or electric cooktop and the heartiness to be in an oven up to 500 degrees. It also features a PFOA-free scratch resistant nonstick coating that lets you cook with less fat, and a hard anodized aluminum construction for even heating and simple cleanup.
Registry Cookware Tips
Now that you have the inside scoop on the go-to cookware items, here's additional help for selecting the right pots and pans for your registry.
Registry Tip #1 : If you already have cookware, or an on-again-off-again relationship with your kitchen, Joy recommends creating your own cookware collection by browsing open stock items. You can then pick a few pieces that will upgrade your kitchen and suit your unique cooking needs.
Registry Tip #2: Think about the future as you consider the cookware to add to your registry. Do you plan to host holidays? Then maybe that roaster is for you. Do you plan on entertaining often? The large-surface griddle could come in handy. Do you plan to up your kitchen skills with gourmet cooking classes? Maybe say yes to the Le Creuset Dutch oven. Essentially, think about what you plan on cooking over the next few years, then match your registry selections with those meals.
Registry Tip #3: Cookware comes in so many shapes, sizes, and materials it can feel mind-boggling when trying to decide what to ask for. To simplify the process, here's a simple breakdown of the basic cookware options.
· Nonstick – Nonstick cookware is mainly about convenience, as it's usually scratch resistant, easy to clean up, and provides a uniform distribution of heat. In addition, it doesn't require as much cooking oil as other options. This is a great choice for a more inexperienced cook.
· Stainless Steel – This is a good middle ground between nonstick, and fancier options like copper, as it's fairly affordable and low maintenance. It's incredibly durable and offers quick heat absorption and even heating. It is also relatively lightweight and easy to clean.
· Copper – A prime choice for those that know their way around the kitchen, copper cookware typically conducts heat better than iron and stainless steel. It also boasts a timeless style that makes it a stunning type of cookware to leave on display. In addition, its ability to heat and cool quickly makes it a great choice for more temperamental dishes. It's also important to know that copper cookware requires occasional polishing.
· Cast Iron – One of the most durable options, cast iron cookware gets hot and stays hot. This makes it optimal for searing meat and keeping food warm for an extended period. In addition, cast iron cookware is reasonably non-stick (without the use of chemicals,) and can be used on the stove or in the oven.