We're cracking the lid wide open on the best cookware selections for your wedding registry. For many people, the kitchen is the heart of the home. So why not fill this special space with pots and pans that reflect your personal style?
Whether you're starting fresh, need a few additional pieces or want an upgrade, creating a wedding registry is an amazing way to stay organized as you identify what you need for your kitchen. And with so many items on the market, cookware is not one size fits all. You can guide your guests in finding the perfect wedding gift, whether it's an heirloom Dutch oven or high-quality pan set.
To help you get started in building your wedding registry, here's a guide to the best pots, pans and cookware sets you'll need for a fully stocked kitchen.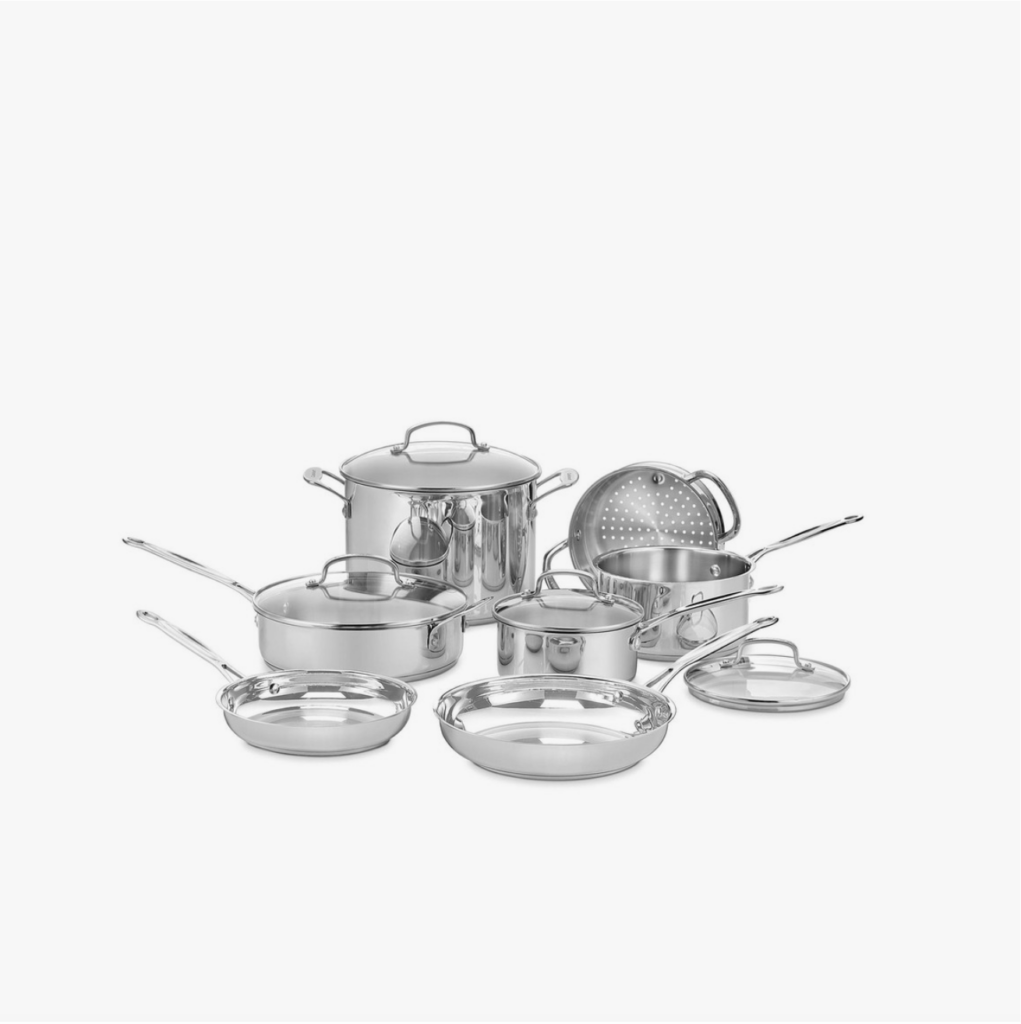 This is a fantastic 11-piece set that guests love to choose as a wedding gift. It has all the essentials, plus scores bonus points for a nonstick coating that makes cleaning effortless. The premium stainless steel makes for ultimate long-lasting use. This Cuisinart cookware set is also durable, with thermally efficient aluminum-encapsulated cooking bases that facilitates fast, even heating of food. Not to mention, the sleek finish makes it a fit for almost any style.
Here's what you get:
8-inch skillet
10-inch skillet
1.5-quart saucepan with cover
2.5-quart saucepan with cover
3-quart sauté pan with cover
8-quart stockpot with cover
Steamer insert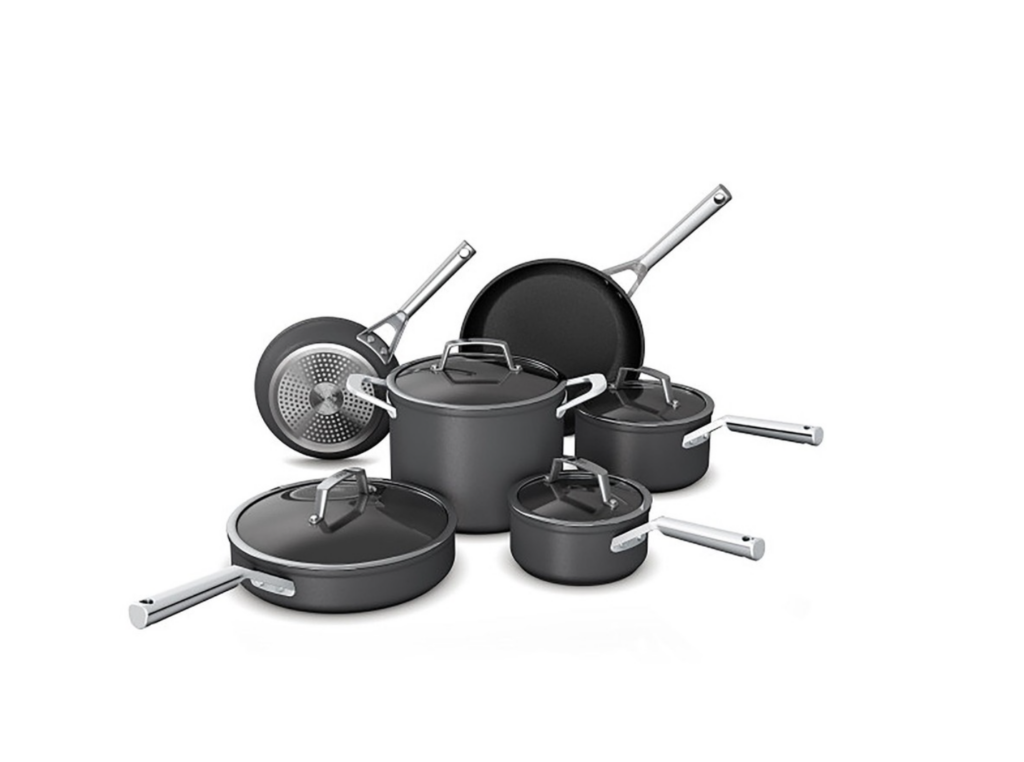 This premium set in black not only adds shine to your kitchen, it's a cookware set that could last a lifetime. This is one of the best cookware sets you'll find, with ten pieces featuring riveted handles and an aluminum base for fast, even heating on any cooktop. Built with Ninja's patented NeverStick technology, each piece has a scratch-resistant, hard-anodized exterior, and metal utensil-safe NeverStick cooking surfaces. Adding to the extreme durability and high quality is a timeless, attractive aesthetic.
Here's what you get:
1.5-quart saucepan with lid
2.5-quart saucepan with lid
3-quart sauté pan with lid
6.5-quart stock pot with lid
8-inch fry pan
10.25-inch fry pan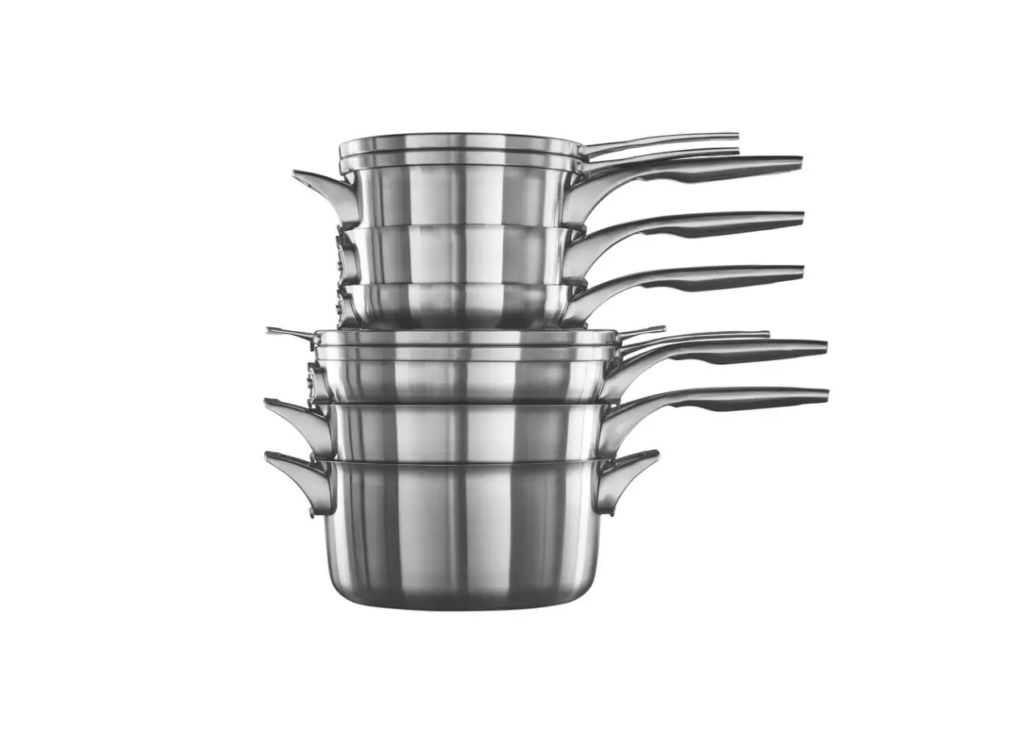 Versatility is a great feature of this stackable Calphalon cookware set, making clean-up a breeze on nights when cooking dinner and washing the dishes wear you out. This set securely stacks to save 30% more space compared with non-stacking Calphalon cookware items when stacked with like diameter. Crafted with a heavy-gauge aluminum core, heat distributes quickly and evenly across the pan. The cookware is also dishwasher, oven and broiler safe for full cooking versatility.
Here's what you get:
8-inch fry pan
10-inch fry pan
2.5-quart saucepan with lid
3.5-quart saucepan with lid
3-quart sauté pan with lid
6.5-quart stockpot with lid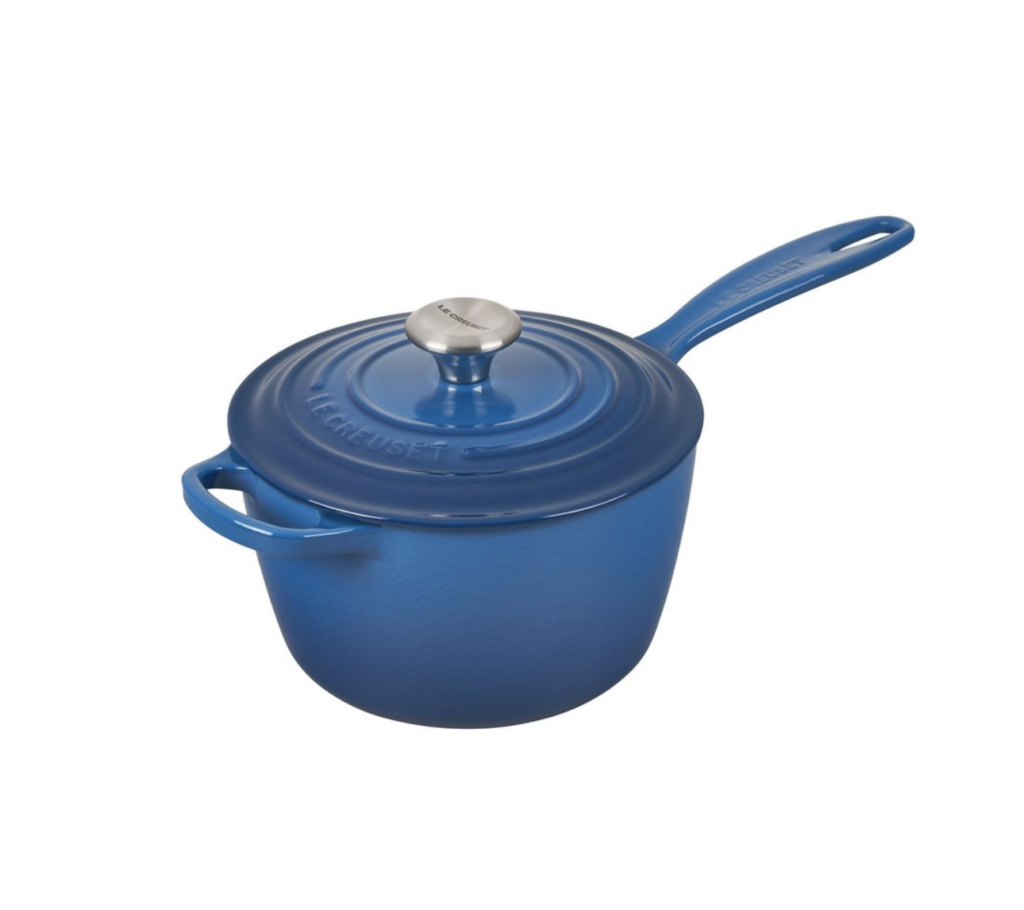 The multipurpose saucepan is a whiz at simmering, boiling, and poaching. A cookware must for every kitchen, it allows you to whip up a range of foods, from hot stew on a cold night to poached eggs for a lavish brunch. The extended helper handle and stick handle provide added control for maneuvering from kitchen to table, as the 2.25-quart capacity is ideal for 2-3 servings. These are also safe for dishwasher and metal utensils, with a long-lasting cooking surface that requires less oil to heat your food.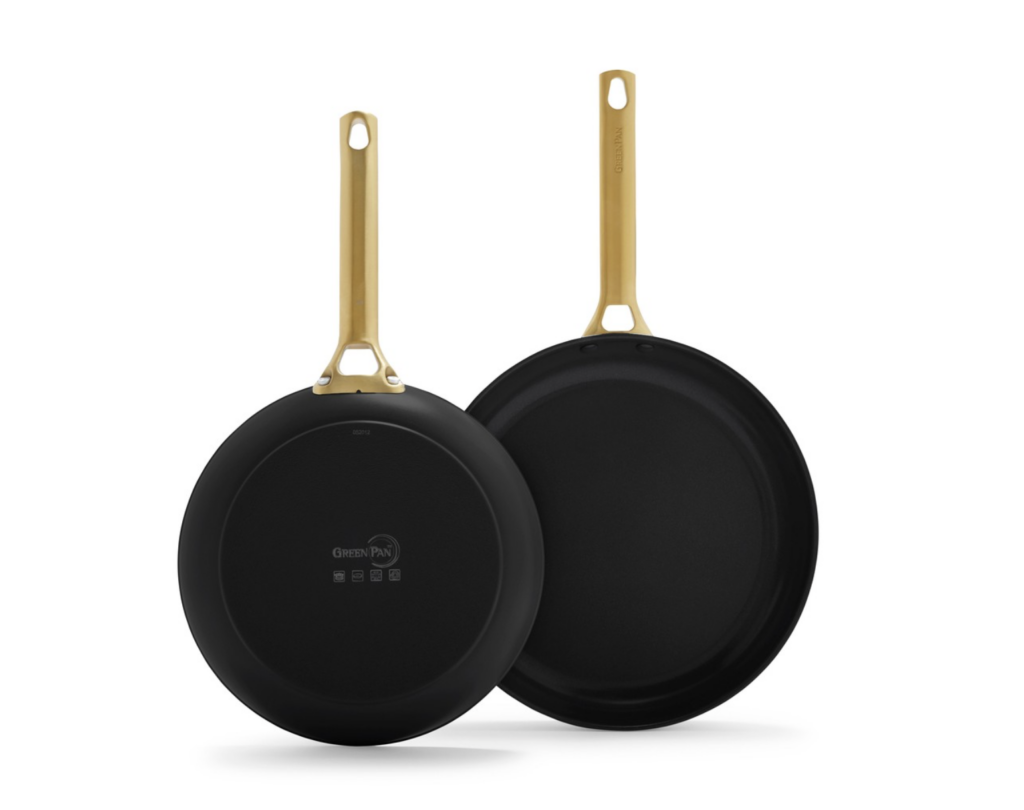 Another popular wedding registry item, a fry pan is as necessary to a kitchen as Champagne is to a toast — but don't say yes to just any fry pan. As this will likely be a heavily used item, you want to make sure you choose one that's durable and easy to clean. These GreenPan nonstick hard-anodized fry pans will be your go-to pieces of cookware. The two sizes offer options for family meals and everyday cooking. Each piece features our Thermolon™ minerals pro healthy ceramic nonstick coating, featuring layers of diamonds to make it ultra-durable and heat-responsive (all free of PFAS, PFOA, lead, and cadmium).
Here's what you get:
10-inch fry pan
12-inch fry pan
Whether you choose nonstick pans or stainless steel cookware as your everyday essentials, you need a few cast iron pieces. Cast iron is known for its excellent heat retention, distributing it evenly to offer a crispier, more satisfying finish on everything from grilled cheese to breakfast potatoes. These cast iron skillets by Lodge are pre-seasoned, meaning oil is baked onto the surface to make it nonstick. It also helps prevent your skillet from rusting. When washing cast iron, it's recommended to skip the dish soap if you can and lightly scrub your skillets and pans with coarse grain salt and a bit of water for stubborn stains. Season them from time to time (every month should do the trick) and your cast iron pieces will last a lifetime.
Here's what you get:
10.25-inch cast iron skillet
12-inch cast iron skillet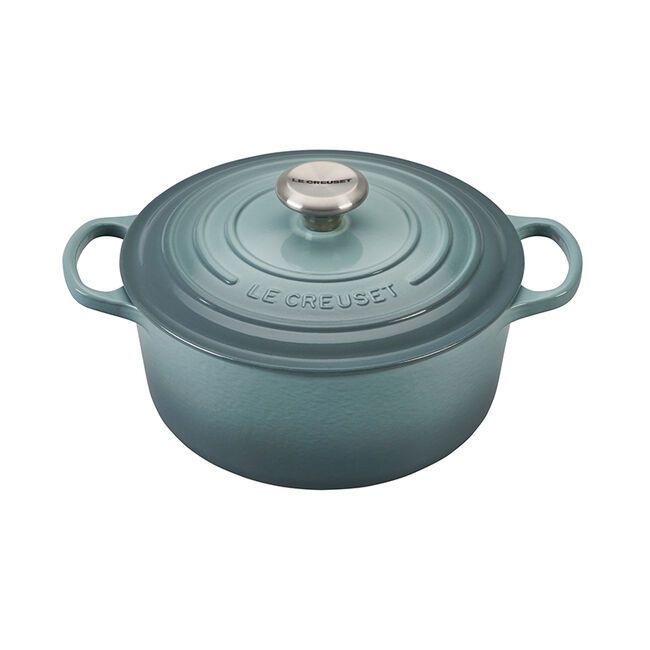 A Dutch oven is a wedding registry staple for any couple with dreams of slow cooking, braising, or roasting a range of mouthwatering meals. You can do everything from baking bread to whipping up a batch of cookies in this classic cast iron piece of cookware. Le Creuset's enameled cast iron is engineered to resist stains and provides better visibility so you can avoid burning your food. The Dutch oven also comes in a variety of hues, almost guaranteeing you can find one to complement the color palette in your kitchen. It's a rare piece of high-quality cookware that's so durable and useful that you'll use it for years to come.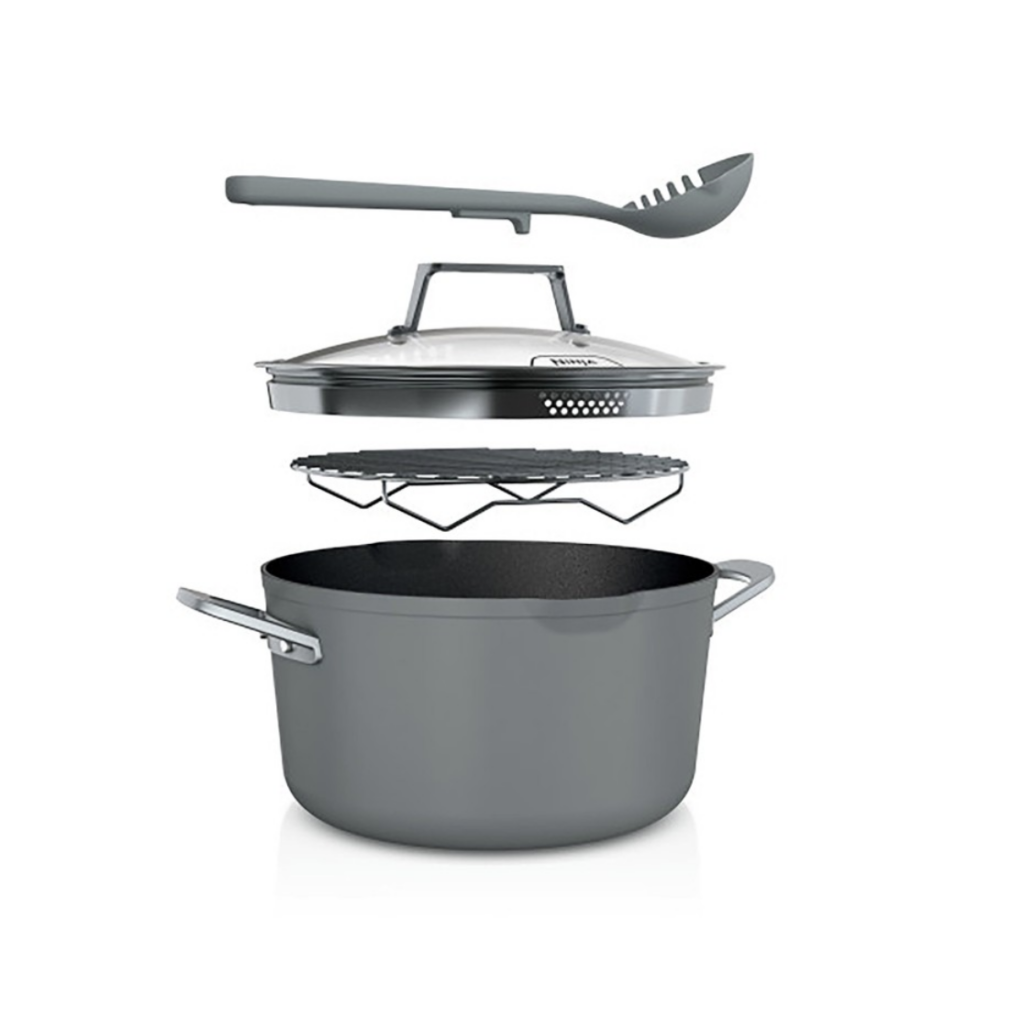 Stockpots are workhorses because they're so versatile. Great for boiling water, making soup or cooking corn on the cob, this registry item is a stellar choice for cooking large batches thanks to its size. This 7 quart Ninja multi-cooker can replace 12 cooking tools: stock pot, Dutch oven, saucepot, roasting pan, baking dish, strainer, braiser, deep fryer, spoon, ladle, steamer, and lid. It works on all cooktops, and is dishwasher-safe and oven-safe up to 500 degrees.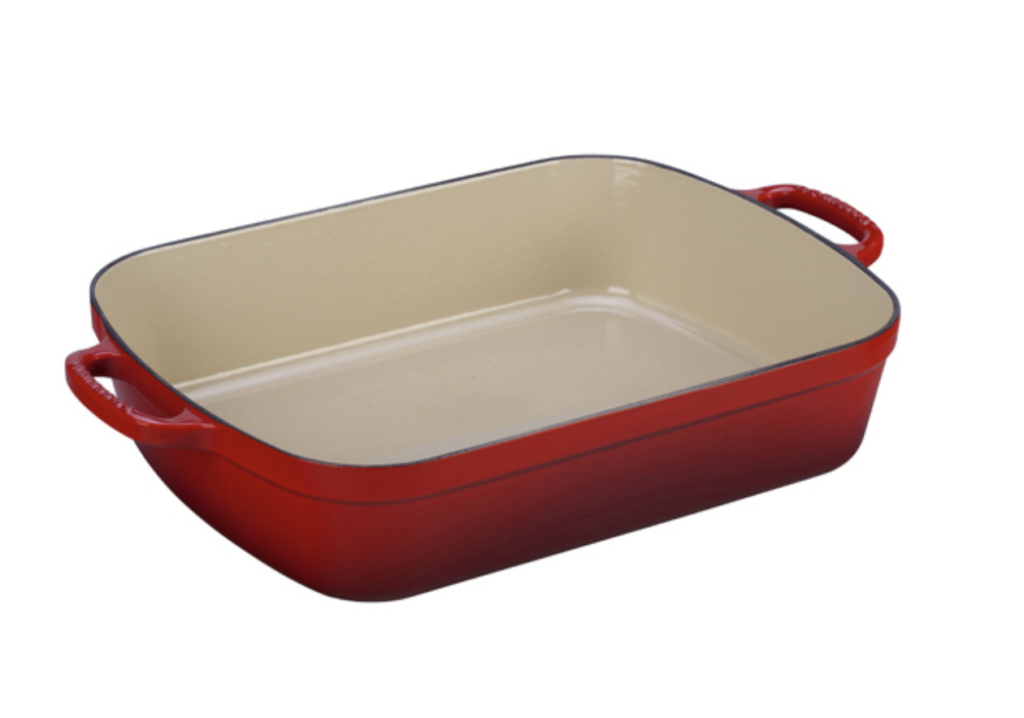 A traditional holiday helper, roasting pans allow you to craft a nostalgic meal that might center around turkey, lamb, pork, ribs or brisket. This type of cookware also goes beyond meat, heating festive favorites like bread pudding, pound cake and even cheesecake. Made of enameled cast iron, this 5.25 quart Le Creuset roaster is oven-safe up to 500 degrees and provides 5-6 servings. The low-profile design is optimized for oven roasting, while the wide loop handles make it easy to transport as the roaster is the lightest weight cast iron by quart on the market.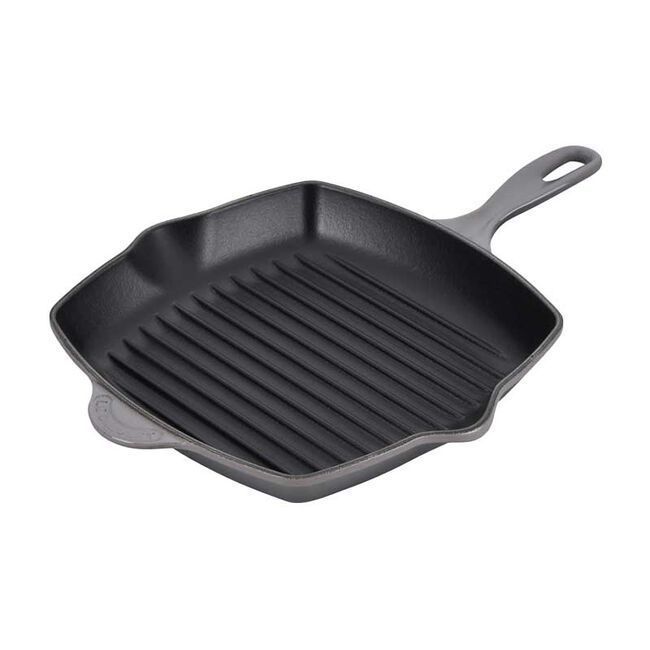 Bring the outdoors in with this sleek Le Creuset skillet grill. The black satin enamel finish and high ridges will add signature sear marks to any dish, giving foods like steak, corn and veggies that fresh-off-the grill appeal. Two pour spouts on each side of the skillet also makes it easy to drain fat and grease without the mess. You can use it in the oven up to 500 degrees and even run it through the dishwasher when you're done cooking.
Wedding Registry Cookware Tips
Know what open stock is and check it out: Open stock refers to all the individual cookware options not packaged in a set. Pick a few pieces for your registry to help round out your kitchen.
Plan for the future: The thought of hosting a holiday dinner during the wedding planning phase might seem daunting, but in a few years you might be ready to whip up a mouthwatering feast. You can prepare for all those potential occasions down the road with items like a roasting pan for a turkey or a multi-cooker for whipping up a family-style pasta dinner.
Understand the breakdown of basic cookware options: With several shapes, sizes and materials, it can be overwhelming when trying to decide what cookware to add to your registry. Here's a breakdown of four common types:
Nonstick: Nonstick cookware is mainly about convenience. It's usually scratch-resistant, easy to clean and provides an even distribution of heat, which helps eliminate undercooking or overcooking your food. Because of the nonstick surface, it also requires less cooking oil than other options. This is a great choice for anyone, especially less experienced cooks.
Stainless Steel: This is a good middle-of-the-road option between nonstick and investment pieces like copper. Stainless steel is typically fairly affordable and low maintenance if you care for it and clean it properly after each use. It's lightweight, durable and offers quick heat absorption.
Copper: Copper cookware is gorgeous — a great choice for cooks who know their way around the kitchen. In addition to its ability to heat and cool quickly, it conducts heat better than iron or stainless steel. It does require occasional polishing, but is a great statement piece to leave on display.
Cast Iron: One of the most durable cookware options, cast iron gets hot and stays hot. This makes it optimal for searing meat and keeping food warm for longer periods. It's great for stovetop cooking and can seamlessly pop into the oven for baking. If seasoned properly, cast iron will last for years.
Up Next:
From gifts, to cash funds, experiences or charitable causes, add any gift you want, from any online retailer, to your Joy registry.