Decorating a home is always a work in progress, so why not make it part of your wedding planning fun? Whether your vibe is mid-century modern or Gilded Age glam, adding home decor items to your wedding registry can be a great way to curate your shared style.
When you've exhausted your options for kitchen appliances and ceramic cookware sets, turn your attention to registry gifts that are fashionable yet functional. Home decor is a category with endless possibilities. While furniture may be better suited for group gifting through cash fund on your wedding website, items like frames and vases are great wedding registry ideas that come in a variety of price points. Plus, your wedding guests will love seeing their gifts displayed when they're invited over for your first dinner party!
From chic barware to stunning tabletop accents, we've put together a home decor guide featuring the best wedding registry gifts that will ensure you and your partner have the most cozy, stylish space to begin life as newlyweds.
Living Room
One of the most distinct wedding registry items on the list, this contemporary, geometric mirror is sure to draw attention. In addition to being a mirror, this item can be used as a chic tray for a coffee table or vanity. This is one of those wedding gift ideas that's also a statement piece. Its three-dimensional wire edge casts shifting, overlapping shadows as you view it from different angles. Consider this mirror if you have a small room you want to appear larger, as the reflection creates the illusion of more space.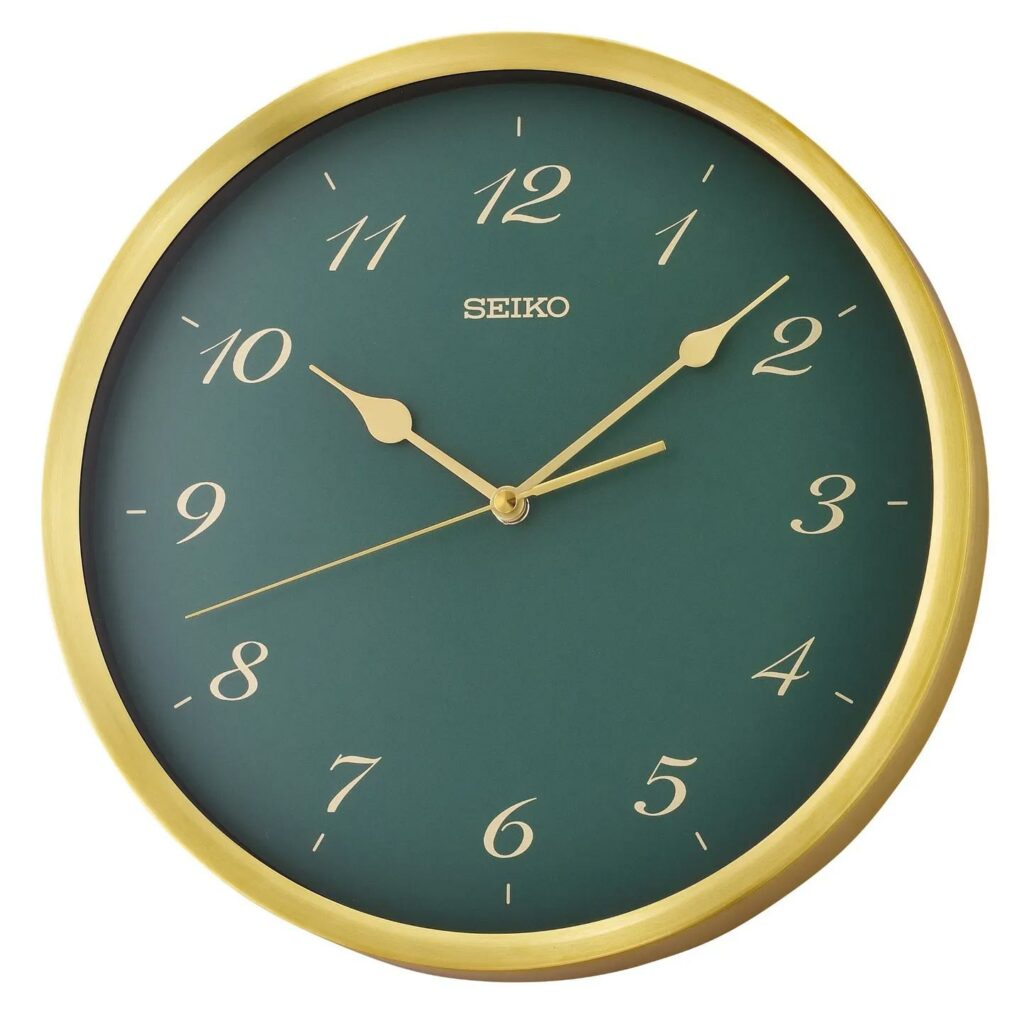 Keep time in style with a wall clock inspired by the rich colors of gemstones. With a green face reminiscent of the sultry hues of emerald and jade, this clock is a surprising neutral that will blend beautifully with warm beiges and wood tones. The appealing hue is enhanced by a gilded frame and golden hands marking the hours, minutes and seconds. The numbers also glisten gold and are large enough to easily be seen from across the room.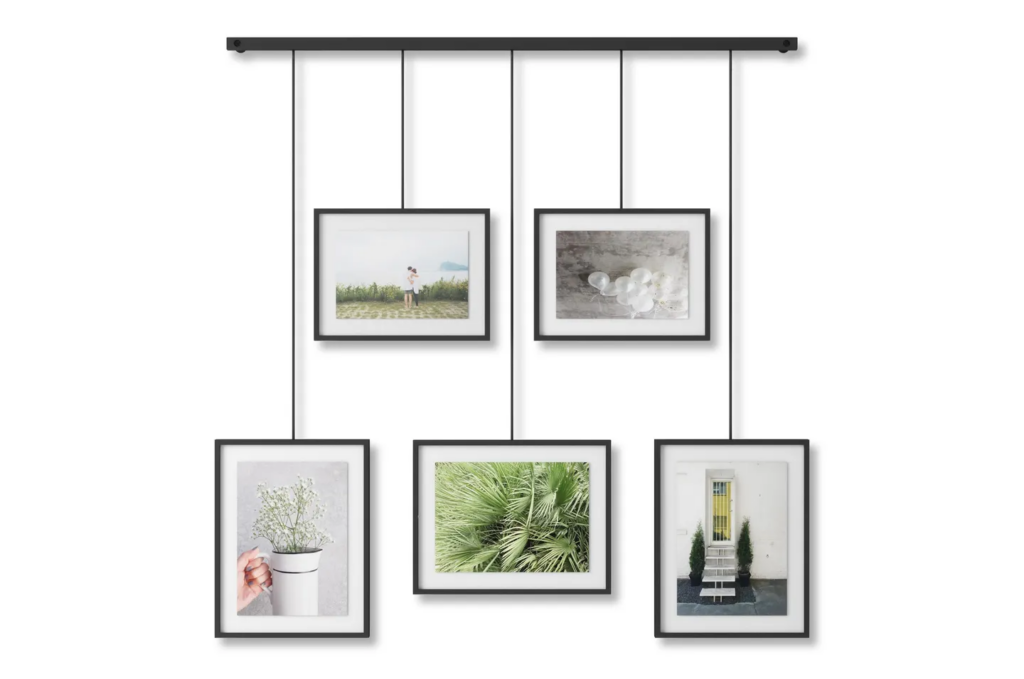 Display your wedding photos in a compelling way by adding this frame set to your wedding registry wish list. The varying heights of the frames, coupled with the wires they hang from, create a dynamic visual appeal that will earn praise from all your house guests. This setup also minimizes the number of screws you have to use, as the frames hang from a single brushed metal ledge with clips and brackets. One of the other added perks is that the two 4-by-6-inch and three 5-by-7-inch frames can be rotated to a landscape or portrait orientation.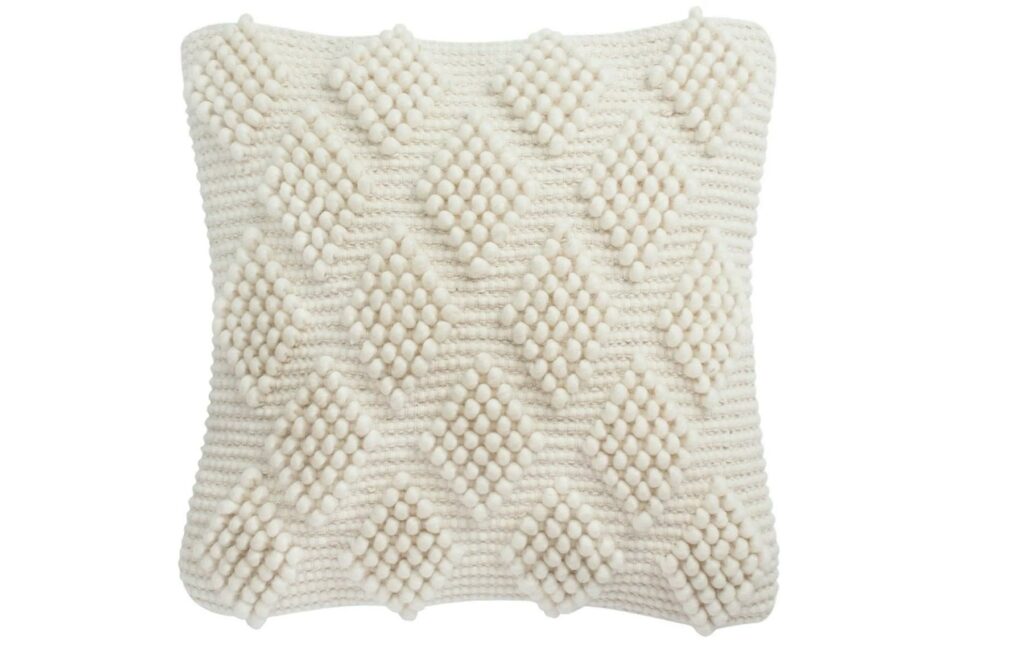 Create instant coziness in your home by requesting a few of these luxurious, hand-loomed wool throw pillows. The style of the pillow is simple yet captivating, with a natural white tone enhanced by an eye-catching diamond pattern. This neutral color makes it easy to pair the pillow with others that have pops of color. It's a versatile option you can use on a couch, armchairs or even a bed. Cleaning the pillow is also a cinch, as there's a hidden zipper sewn into the back cover.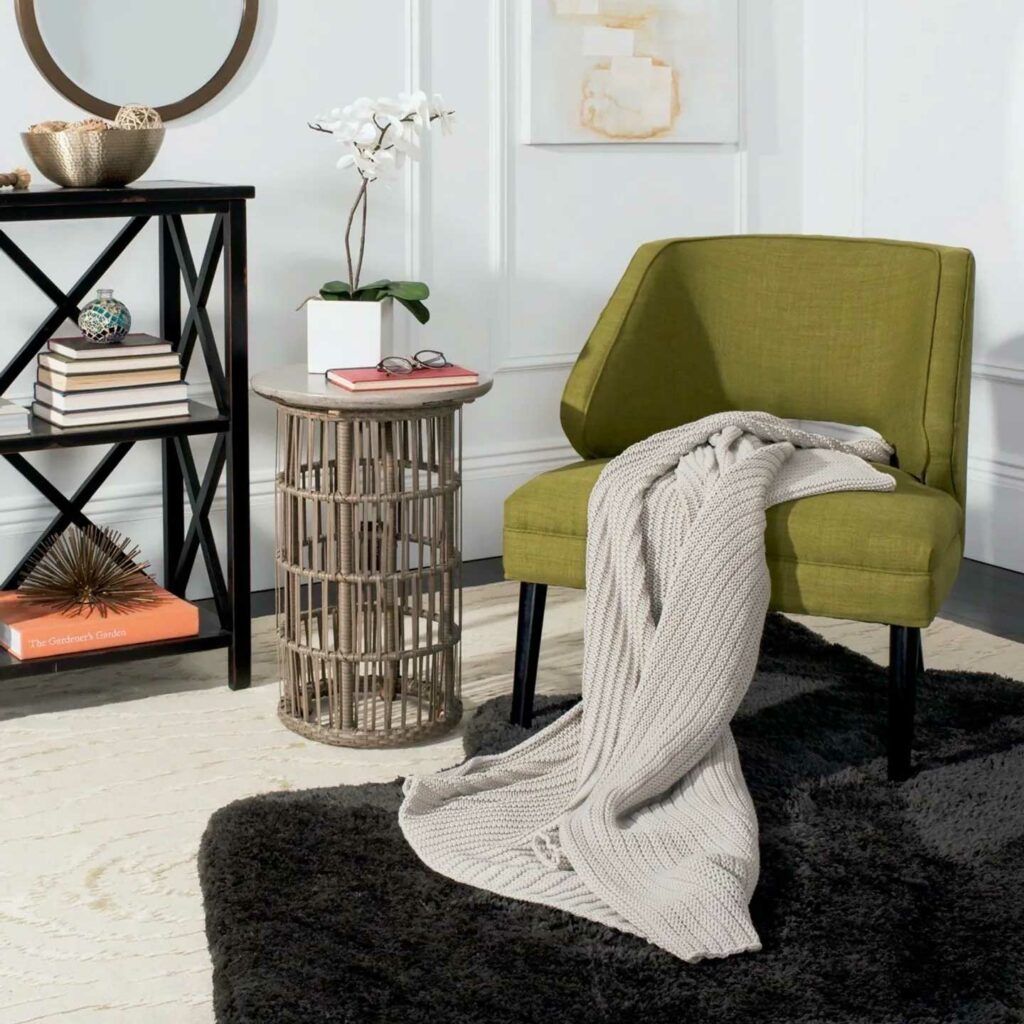 Imagine snuggling up with your partner under this soft cotton throw as you binge your favorite show and dessert. This luxurious blanket is the epitome of "hygge," a word in Danish and Norwegian describing a mood of coziness and contentment. The simple beige color and knitted texture makes this a chic piece to toss over the back of sofas or chairs. The 50-by-60-inch throw blanket will also look great at the foot of a small guest bed.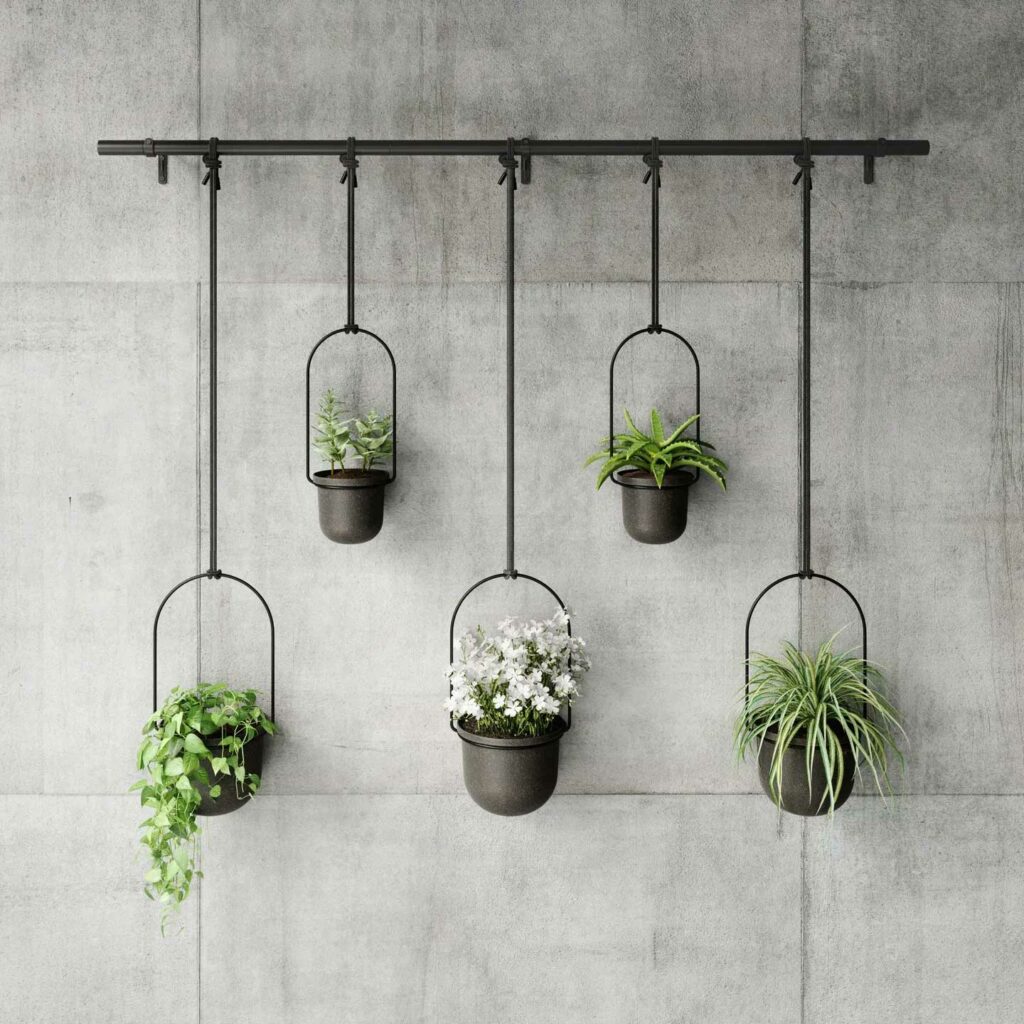 Freshen up the air in your home while also bringing the beauty of the natural world indoors. This multi-level hanging planter can fit in a variety of spaces, as it includes an adjustable metal rod that holds five pots from adjustable ropes. In addition, the planter won't put excessive strain on the wall since the pots are made from a lightweight, durable recycled material.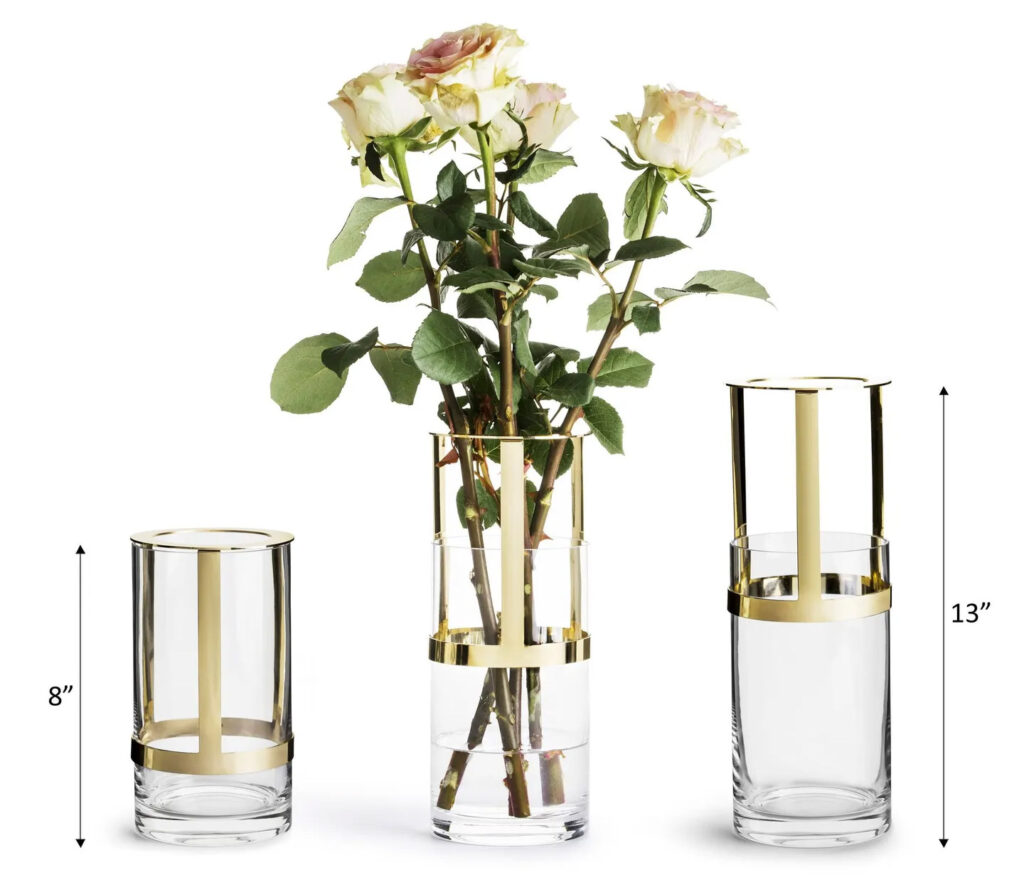 This contemporary vase will add a fashionable flair to your home, with trending clean lines and golden accents. In addition to serving up ample style, the vase is highly functional with an upper cylinder that can be adjusted depending on the height of your flowers. Those long stem roses you receive on your one-year anniversary won't be at risk of toppling out of the vase!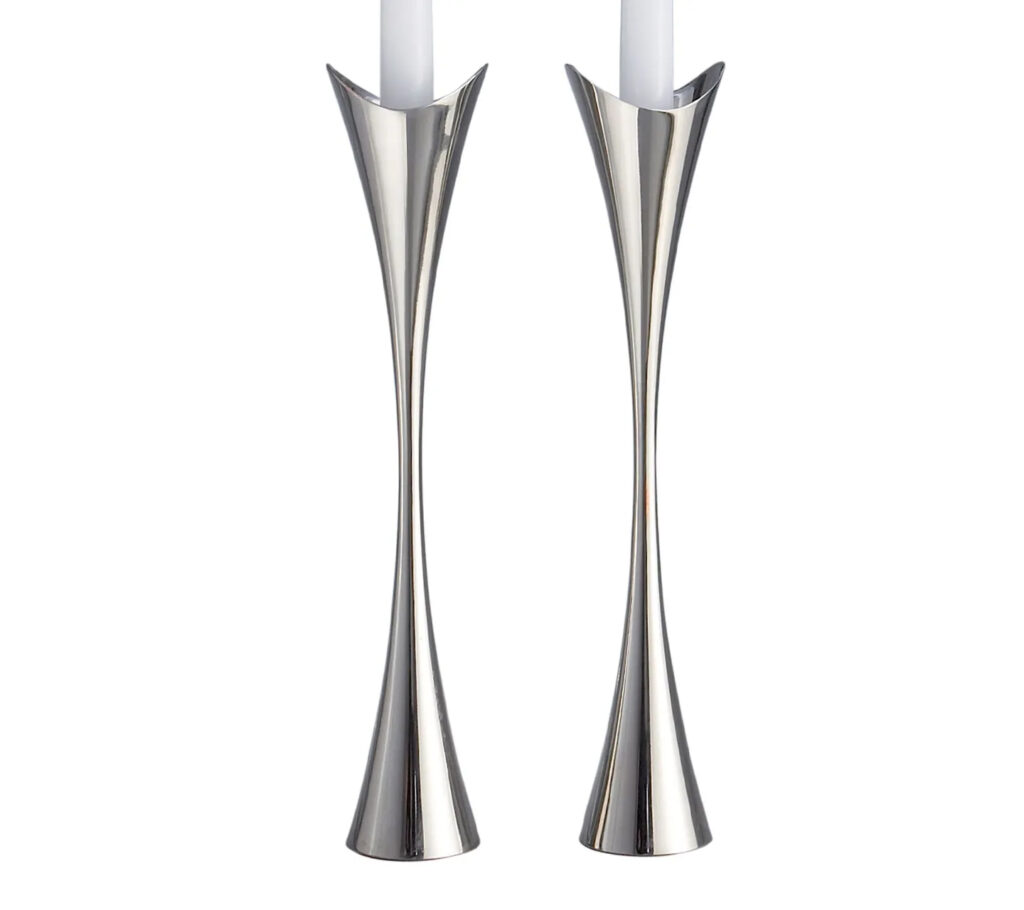 Do you love creating a dramatic ambiance during meals? If so, add these sleek candlestick holders to your wedding registry. They're a mix of Old World glamour and modern lines, with a design that draws the eye up to the flames. The holders flow from a sturdy base to an inward "waist," and then flare back out at the top. There's also a gleaming alloy finish that will enhance the flickering glow of the candles during a date night at home.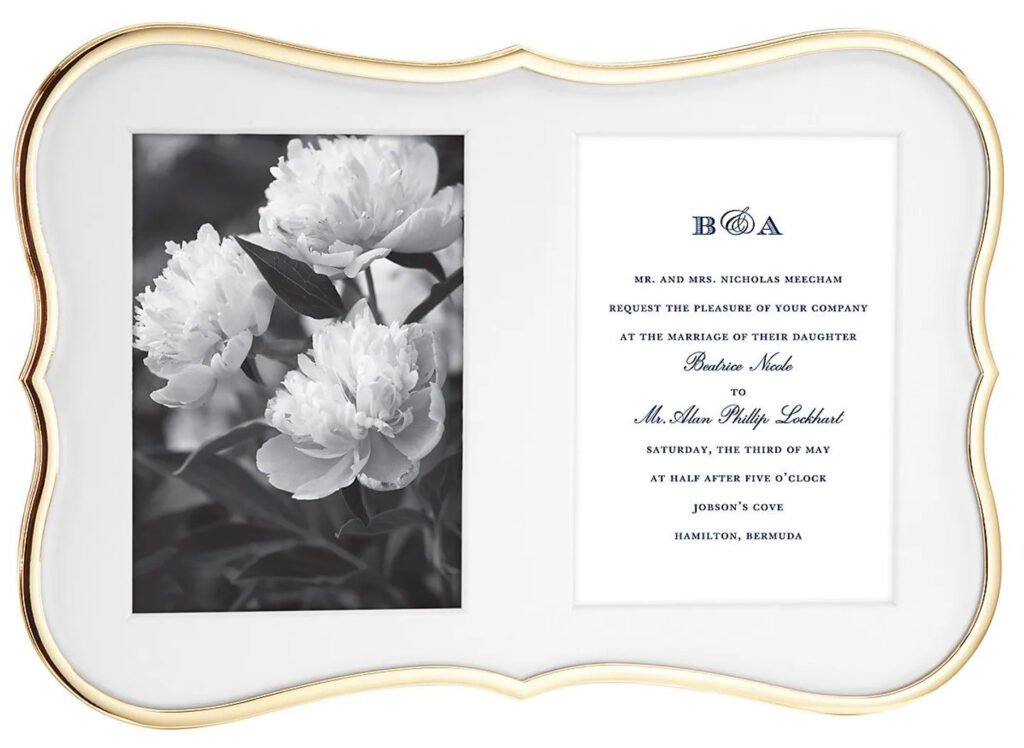 The Kate Spade brand is known for designing timeless home decor like this elegant, gold frame. It has a flowing shape that evokes a sense of grace and ease and 5-by-7-inch double openings that are perfect for showcasing your favorite photo and invitation from the big day. The neutral matte will help it blend into any home decor style and allow your photos or other wedding memorabilia to really pop.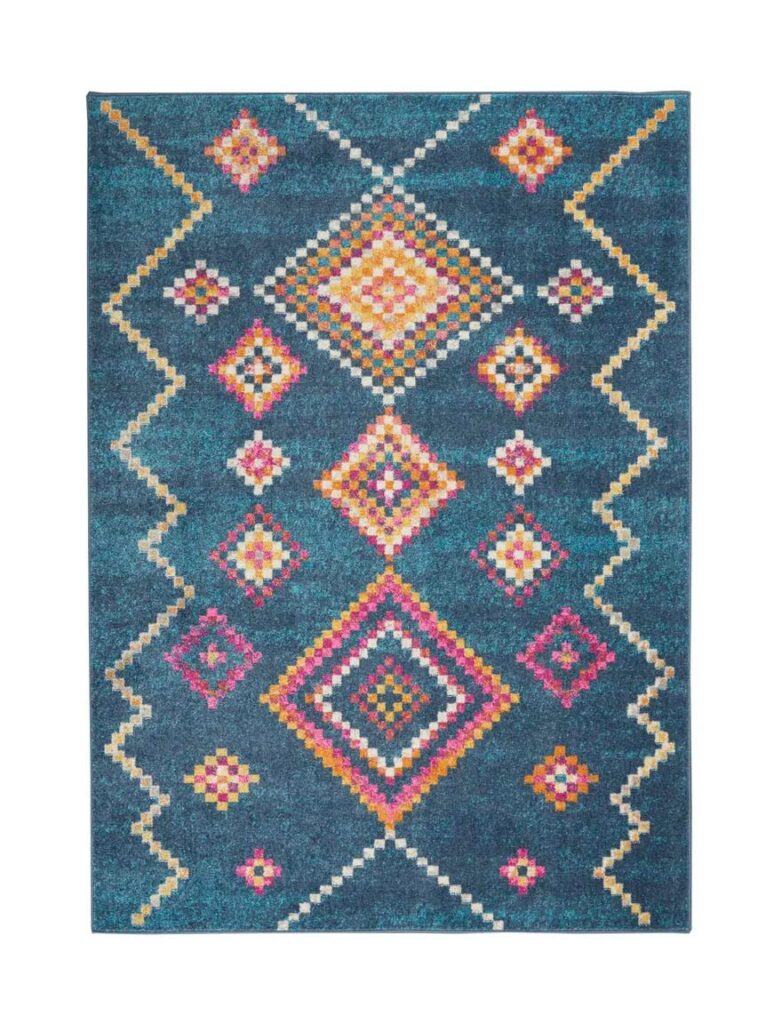 Great for homes with a boho or farmhouse aesthetic, this large area rug is a registry must for couples who love color. The bright geometric patterns are woven into a vivid teal base that features a graduated change in color for a vintage touch. Beyond its beauty, this area rug is incredibly plush and will feel amazing under your feet, as it's made of low-shed fibers that can be easily cleaned. Best of all, it's made to withstand heavy foot traffic so it can be a statement piece in your living room for years to come.
Kitchen & Dining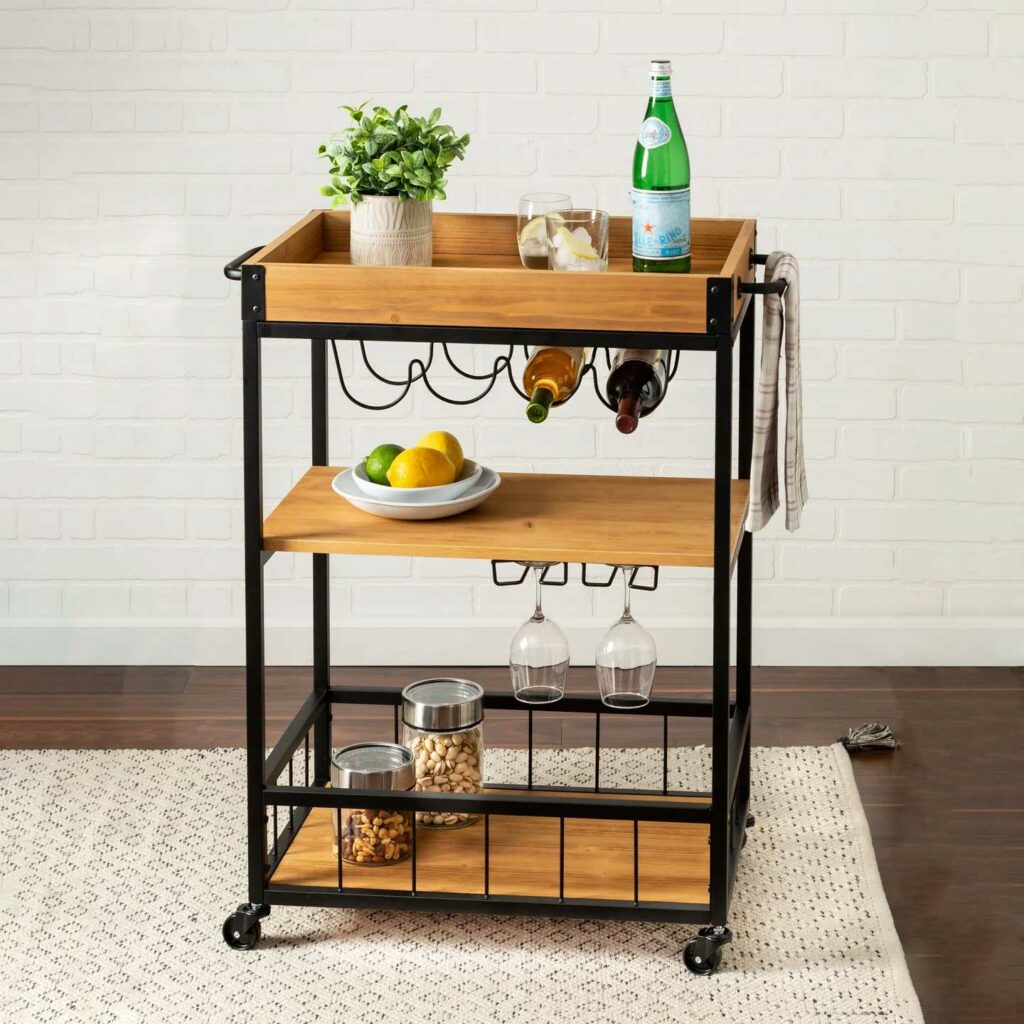 This Honey-Can-Do bar cart can do it all. A favorite of many engaged couples, it includes storage for four bottles and wine glasses, a removable serving tray, and ample storage for decanters, napkins, and other cocktail accessories. You can also move the party to another room by simply pushing the cart, which sits on coasters, to your desired locale. It has a simple design featuring a warm wood finish and modern black metal, which helps it blend with a variety of decor schemes, from mid-century modern to minimalist. Your home will become the place to be for cocktail hour and dinner parties!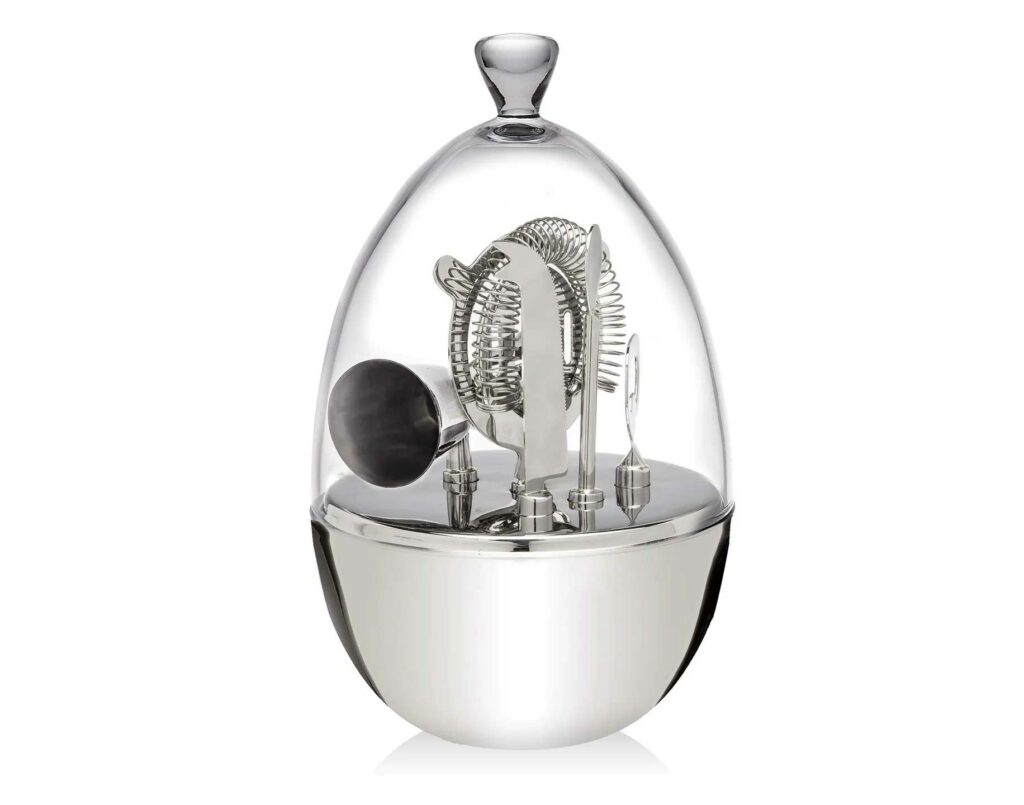 We love when registry items pull double duty, like this barware set that equips newlywed couples with the ability to mix drinks like pros. You'll be able to easily make everything from an espresso martini to the perfect margarita with the jigger, strainer, bottle opener, slicer and stirring spoon included in this stunning set. Beyond its functionality, the domed glass lid and smooth egg-shaped design will look great on any tabletop or bar cart.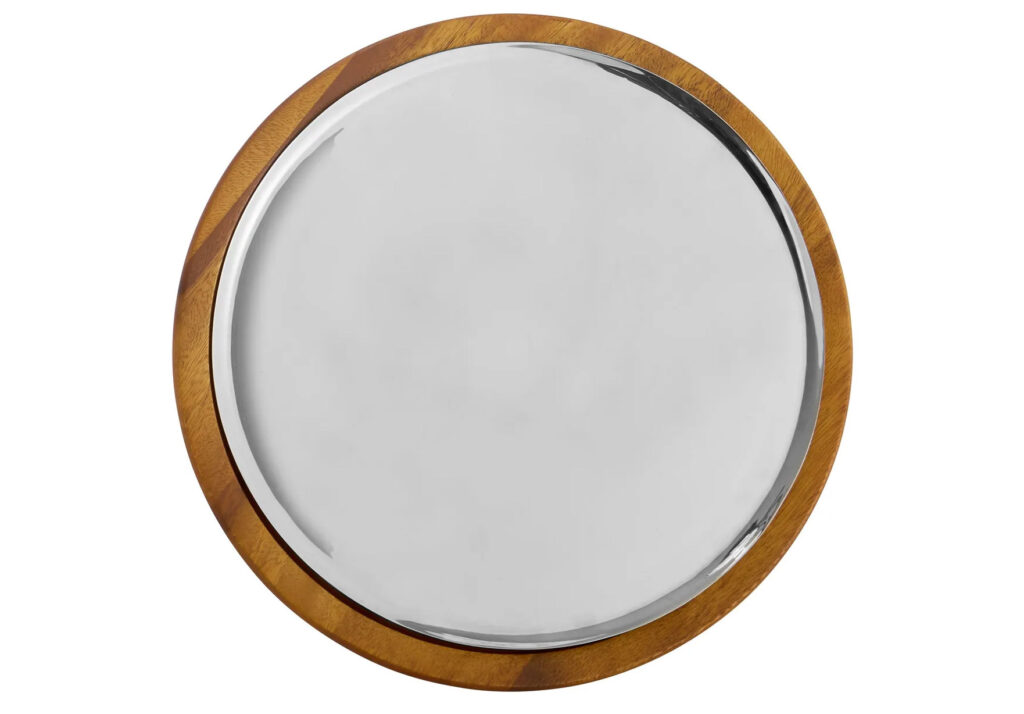 Made of metal and wood, this tasteful tray will set you up for a lifetime of hosting. An ideal accent to your home bar, this round tray makes it a cinch to deliver cocktails, appetizers, dessert or after dinner coffee service to your guests. You can also use it to hold serveware and flatware during dinner parties!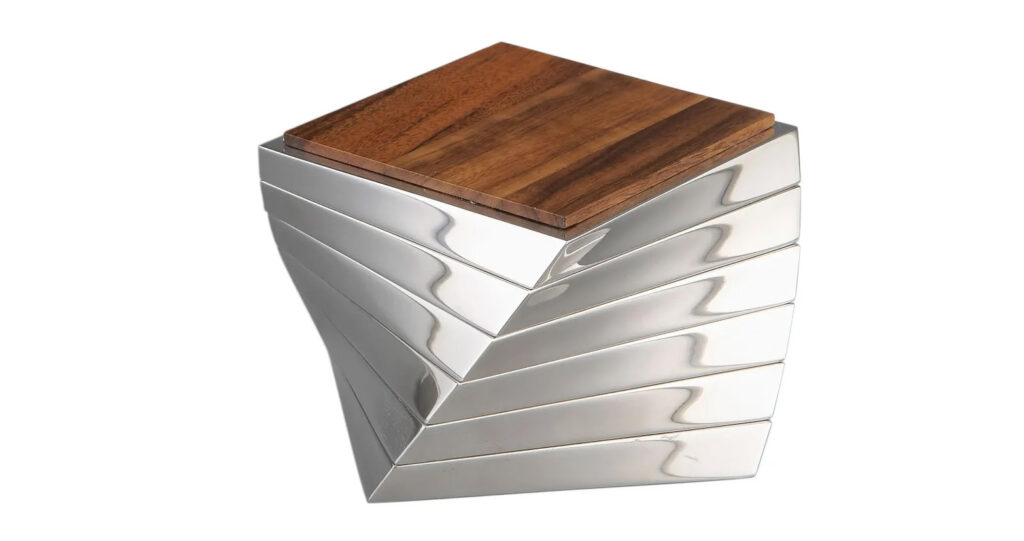 Cleverly designed to resemble a modern sculpture, these acacia wood and polished alloy coasters are like functional art for your coffee table. When separated, each individual coaster offers a stylish solution for protecting against water rings. As you add each coaster to the stack, the column twists to create an eye-catching piece.
Bed & Bath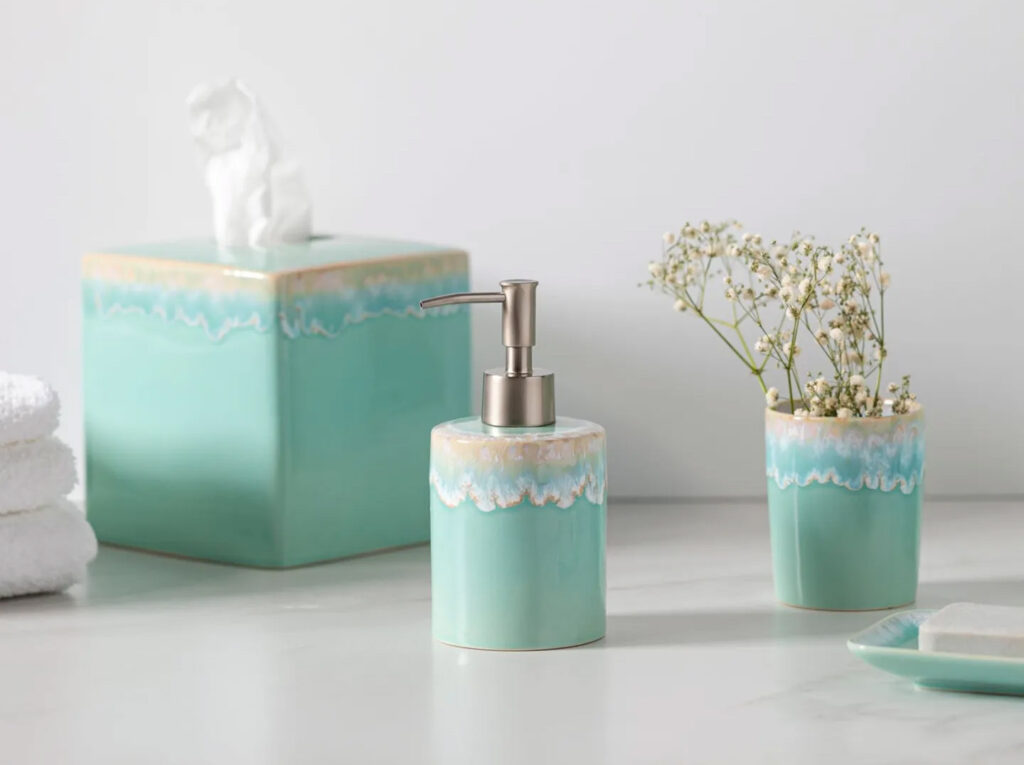 Ideal for homes with a beachy, eclectic or boho vibe, this three-piece bath set captures the chill vibes of a Grecian shoreline. The soap or lotion pump, tumbler and soap dish are made of fine stoneware in Portugal, making each piece highly durable and visually striking. With cool and warm tones, it can also match with a variety of bath towels, from sea foam green to a more neutral beige.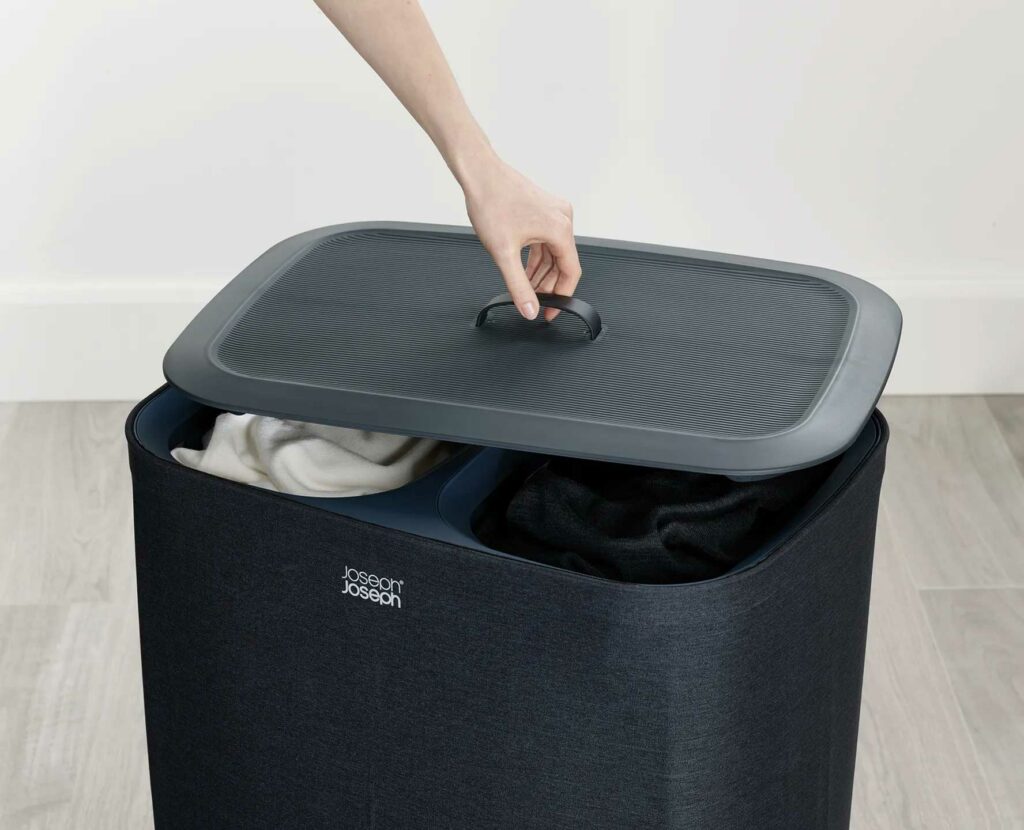 This streamlined hamper will make your laundry a cinch to deal with, as it includes two baskets with a 12-gallon laundry tote in each. You can use one tote and your partner the other, or use the two sides to separate your light and dark fabrics. On laundry day, simply lift the totes out using the attached handles. When you return the totes to the hamper, their self-locating rims will guide them back into the proper position in the compartment. In addition, the hamper's simple, fabric exterior helps it easily fit with any home decor.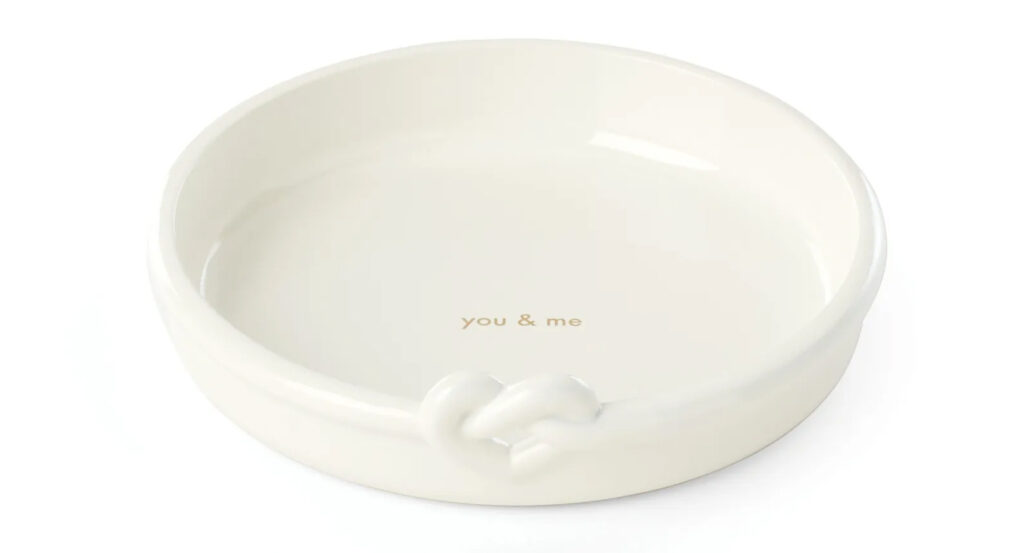 Ensure your wedding rings have a special place to rest when not on your fingers by adding this romantic ring dish to your registry. Crafted of enamel-coated metal, the white dish features a subtle knotted-heart detail in addition to "you & me" engraved on its base. If you want to make sure your wedding rings (or any other special pieces of jewelry) don't go missing, you can request a few dishes and put one by all the sinks where you and your partner may regularly take your rings off.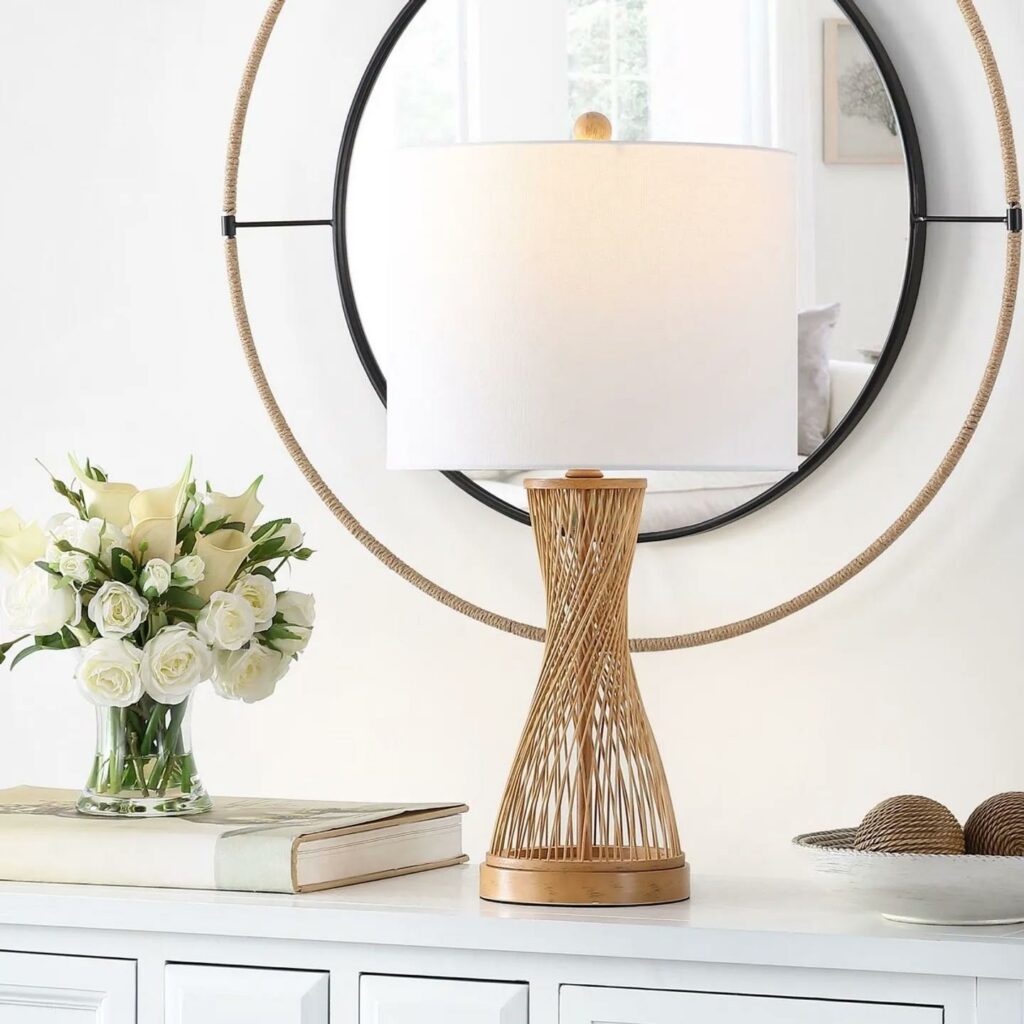 Fill your bedroom with a soft, warm light by adding this lamp to your wedding registry. With a base made of natural bamboo and a natural cotton shade, the color scheme of the lamp makes it a great choice for a home with beachy or boho vibes. The lamp also offers a touch of intrigue by featuring a twisted open hourglass silhouette. At the end of the day, you'll love snuggling up under the duvet to read in bed with the glow of this bedside lamp.
Up Next:
From gifts, to cash funds, experiences or charitable causes, add any gift you want, from any online retailer, to your Joy registry.