If you and your partner have an affinity for entertaining, adding high-quality serveware to your wedding registry should be at the top of your to-do list. Serving dishes will not only transport food to your tabletop, they can elevate the entire presentation of your delicious meal by adding a pop of style and personality.
Think serving trays, cheese boards, dessert stands and salad bowls — though do keep your hosting style in mind when building your list. Serveware holds larger portions of hors d'oeuvres, family-style entrees or treats, whereas dinnerware is best for individual helpings during seated meals. (Tip: No matter your personal style, divided compartments are great for maximizing every inch of space on your serving tray!)
From intimate cocktail parties to memorable summer soirees, experience the thrill of hosting as newlyweds with the right set of sophisticated entertaining essentials. Use our guide to discover the best serveware to add to your wedding registry for all those future get-togethers.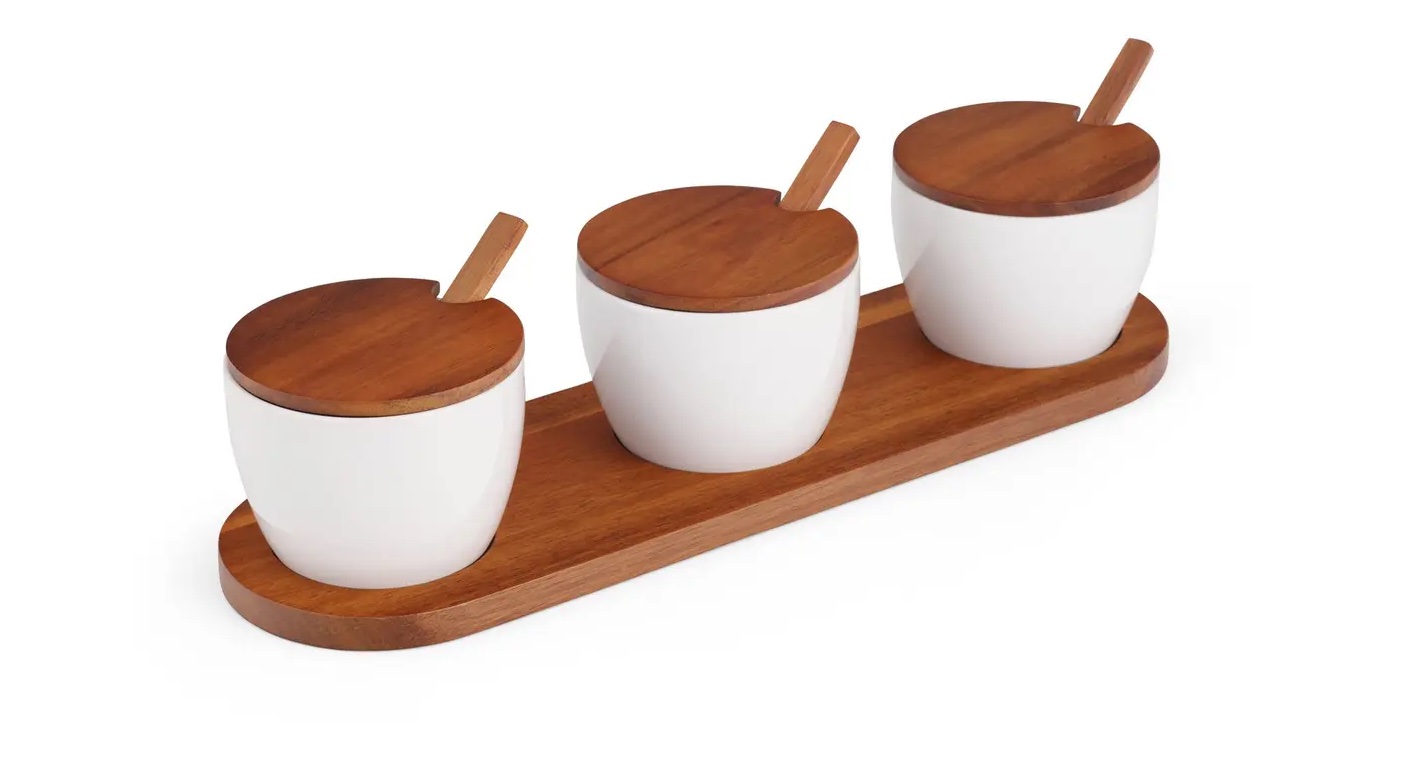 Ideal for offering your dinner guests options, this trio of condiment jars is an attractive addition to any dining table. Use the set for sauces, jams, salad fixings and even ice cream bar toppings. A sturdy wooden base holds the jars in place, while matching lids and spoons come in handy for keeping pests at bay during an outdoor meal. You can also extend this beautiful set's use beyond brunches and late-night soirees into everyday use. Fill the jars with salt, pepper and your favorite spices to use when seasoning evening meals, or top them off with sugar or other hot beverage add-ins and place next to your coffee or tea station.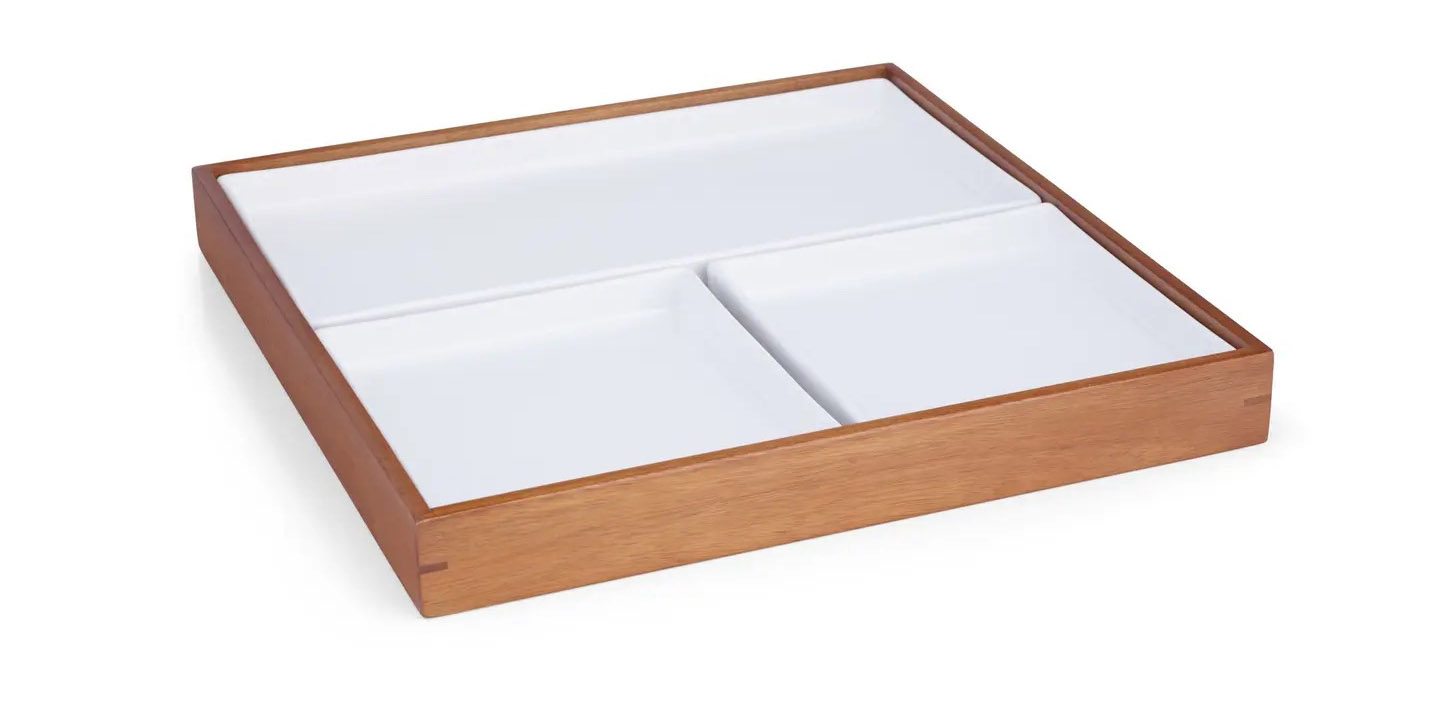 This serving tray from Nambe offers a sleek canvas to display everything from decadent sushi and colorful fruit to fancy desserts and even sandwich provisions. Its bright porcelain compartments and warm acacia wood add elegance to family celebrations, casual meals at home with your partner, and everything in between. The individual dishes can be removed and easily passed around the table, plus they are dishwasher-safe to make clean-up a snap. A testament to its versatility, you can also use the wooden tray on its own to serve drinks or place it on a coffee table adorned with candles and a vase of flowers.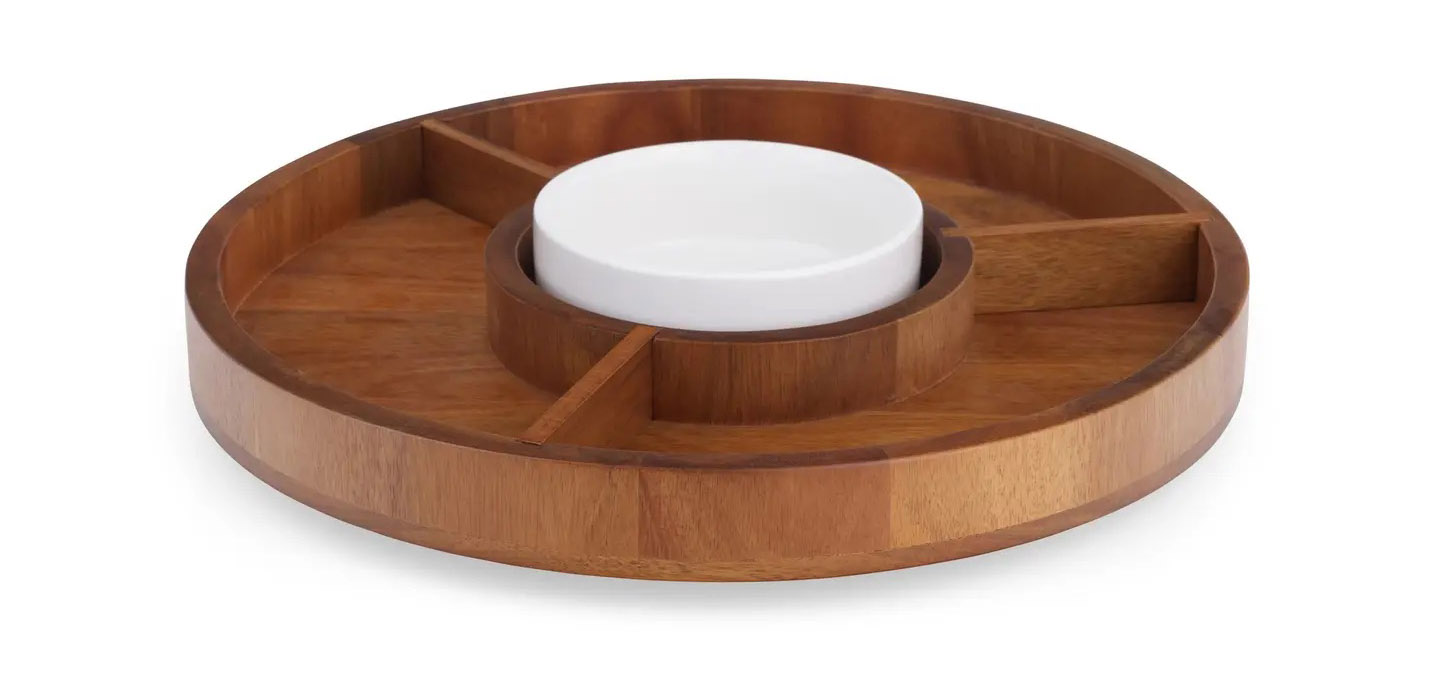 Functionality and beauty are married in the sleek Nambe Duets Lazy Susan. It's the perfect piece for elevating party dips or a crudite spread. This rotating serving dish lets guests help themselves, making everything within reach with a gentle turn. Thoughtfully crafted, the wooden base features a circular shape and three compartments surrounding a removable center dip bowl made of smooth, low-maintenance porcelain. The bowl can be heated and chilled, making it a versatile vessel for hot cheesy dips or cool yogurt sauces. From romantic candlelight meals to taco night dinners, this serving dish will be a tabletop mainstay throughout your marriage.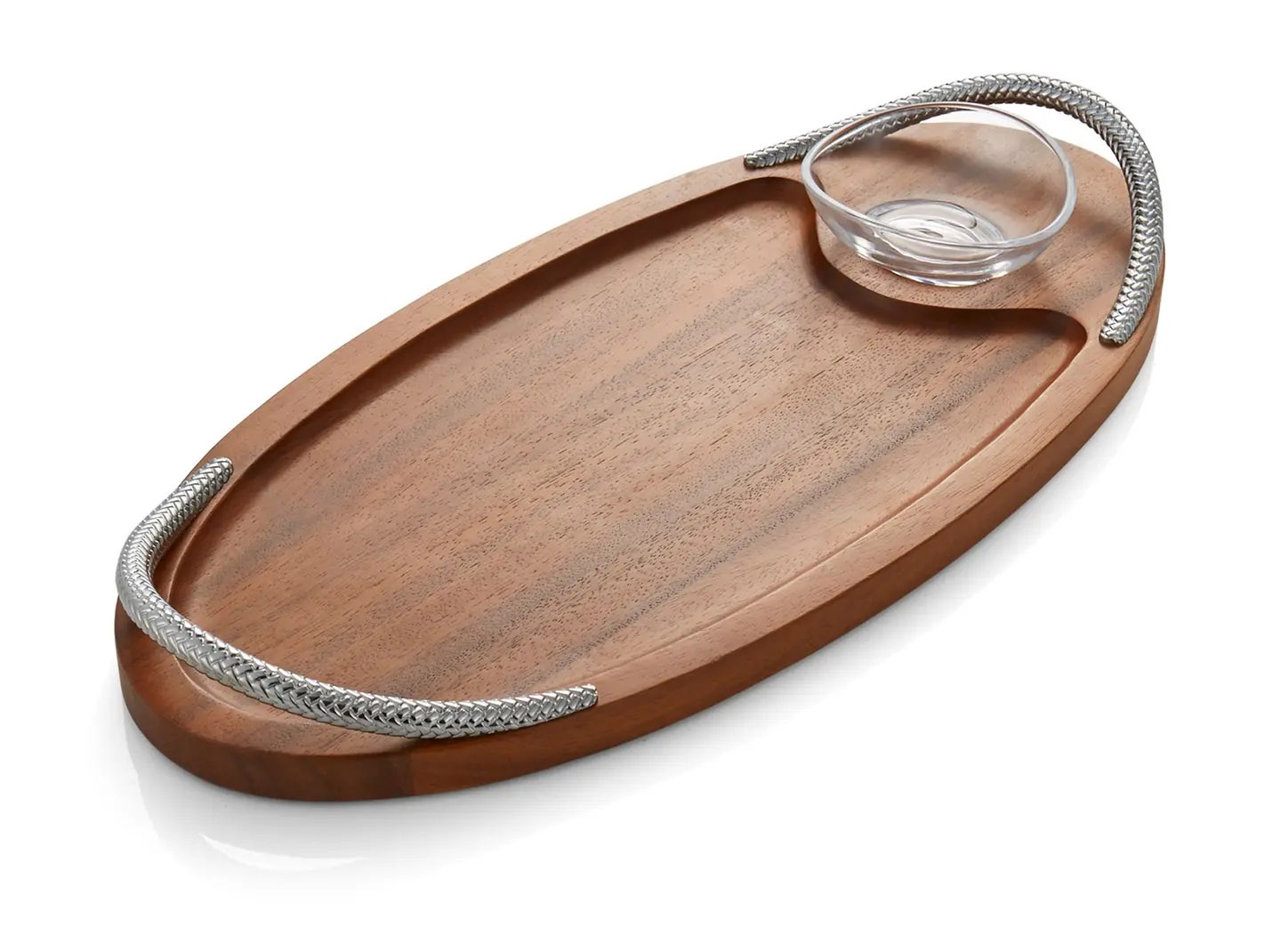 Showcase homemade (or bakery-made) bread on the Nambe Braid Serving Board with Dipping Dish. Made of stunning acadia hardwood, this oval-shaped board features a sophisticated braided handle design and dishwasher-safe glass bowl. Serve baguette, flatbread, crostini or your favorite warm bread on the sizable tray, measuring 18 inches long by 8.5 inches wide. You can slice and serve directly from the board, then pair with rosemary-infused oil, bold tapenades or luscious roasted peppers in the dipping dish to wow your guests before the main course. Beyond bread, this board and dish tray can also be used to serve appetizers or side dishes, like vegan lettuce wraps or deviled eggs.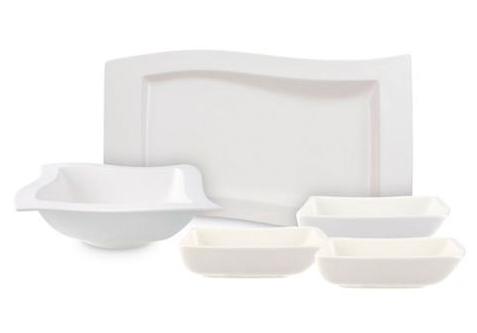 Coordinating serveware is a wedding registry staple for couples who love to entertain. From fruit salads and tasty small bites to pastas and roasts, just imagine the possibilities with the Villeroy & Boch NewWave 5-Piece Serving Set, consisting of one serving platter, one serving bowl and three dip bowls. Lean into the graceful curves and modern design to present your meal in an artistic way. The crisp white color is sure to coordinate with any dinnerware, regardless of color and pattern. Plus, Villeroy & Boch is a luxury brand you can trust to help create a memorable spread for any occasion for years to come.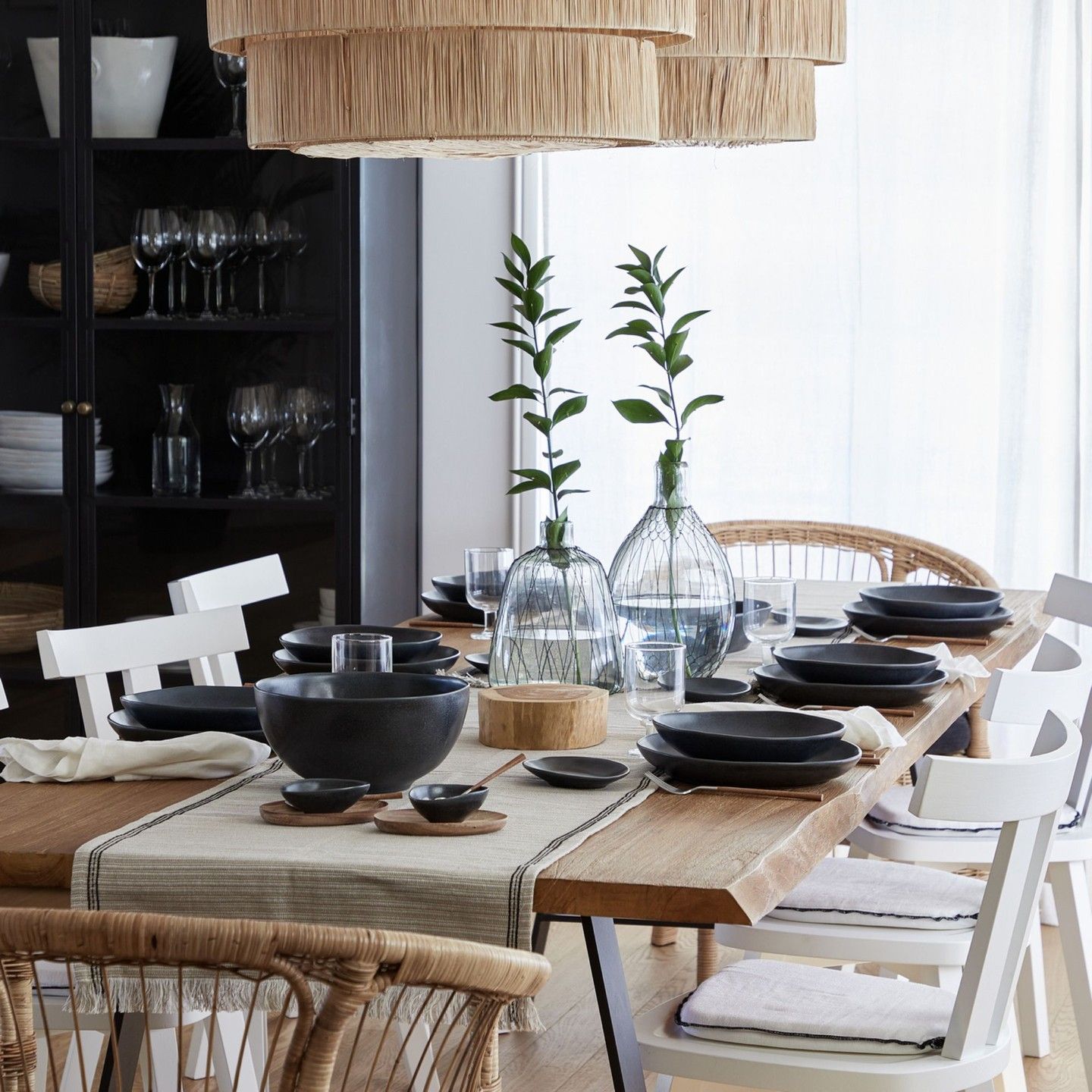 Let the rustic yet super chic Costa Nova Livia stoneware collection make a statement on the dining table in your newlywed home. Made in Portugal, the collection's timeless black or white color options can add a modern feel to mealtime. The organic lines and shapes make these pieces the ideal foundation for party favorites from brunch to dessert. Fill the 11-inch serving bowl with artisanal pasta; roast seasonal vegetables in the 13-inch baker; or lay out fresh-from-the-oven cookies on the 13-inch oval platter. Each item is oven-, microwave-, freezer- and dishwasher-safe — clutch for any entertainer. Don't keep these beauties hidden away in a buffet cabinet, either. Use the collection every day as fruit bowls or to organize small items around the house.
Livia 13-Inch Oval Platter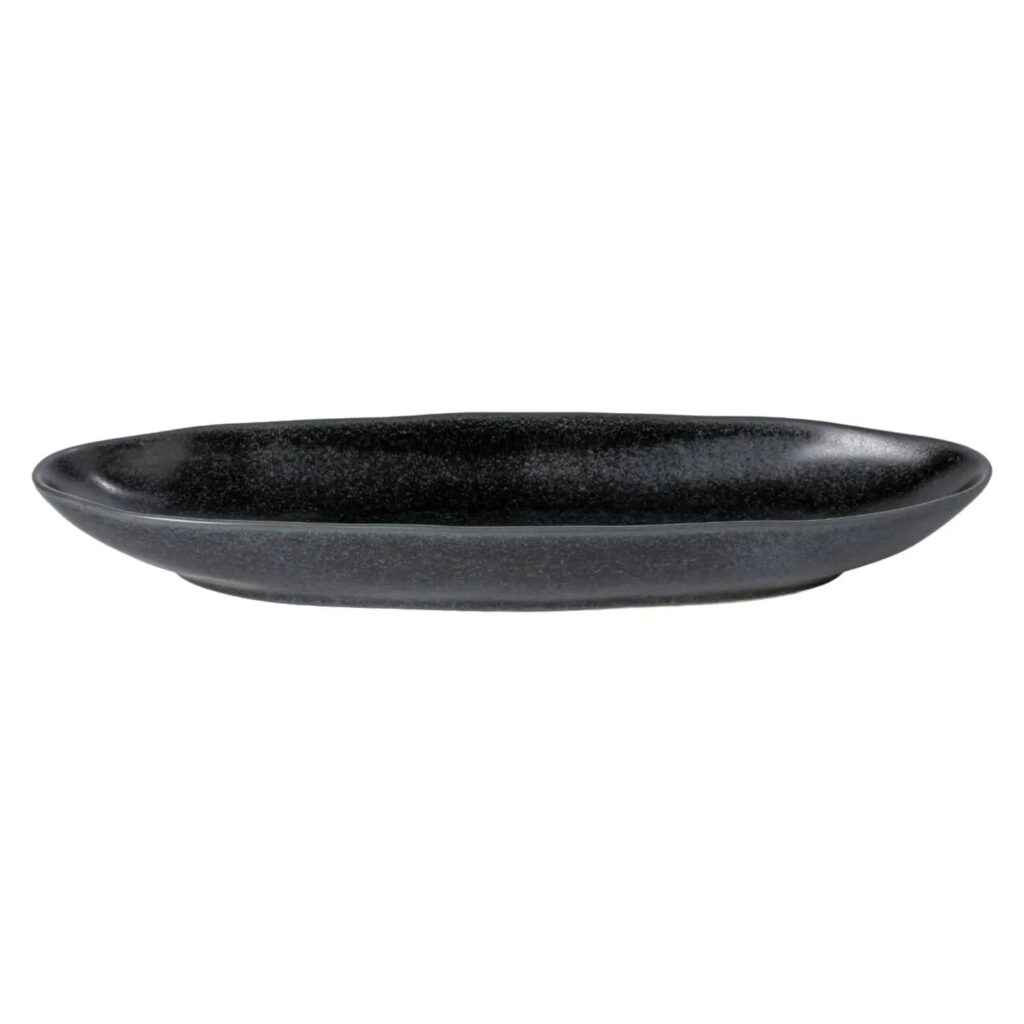 Livia 13-Inch Oval Baker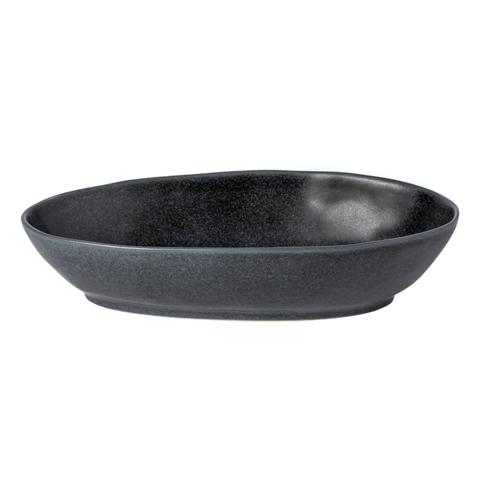 Livia Serving Bowl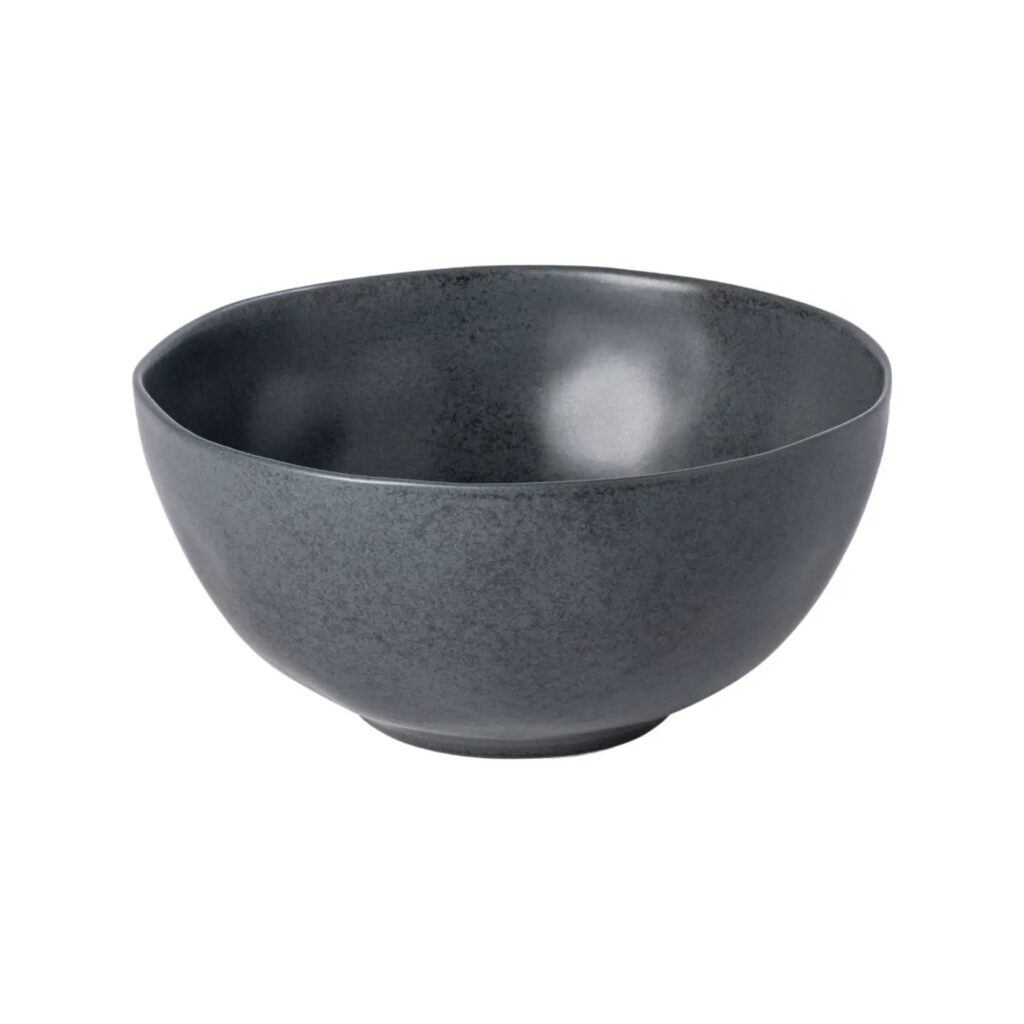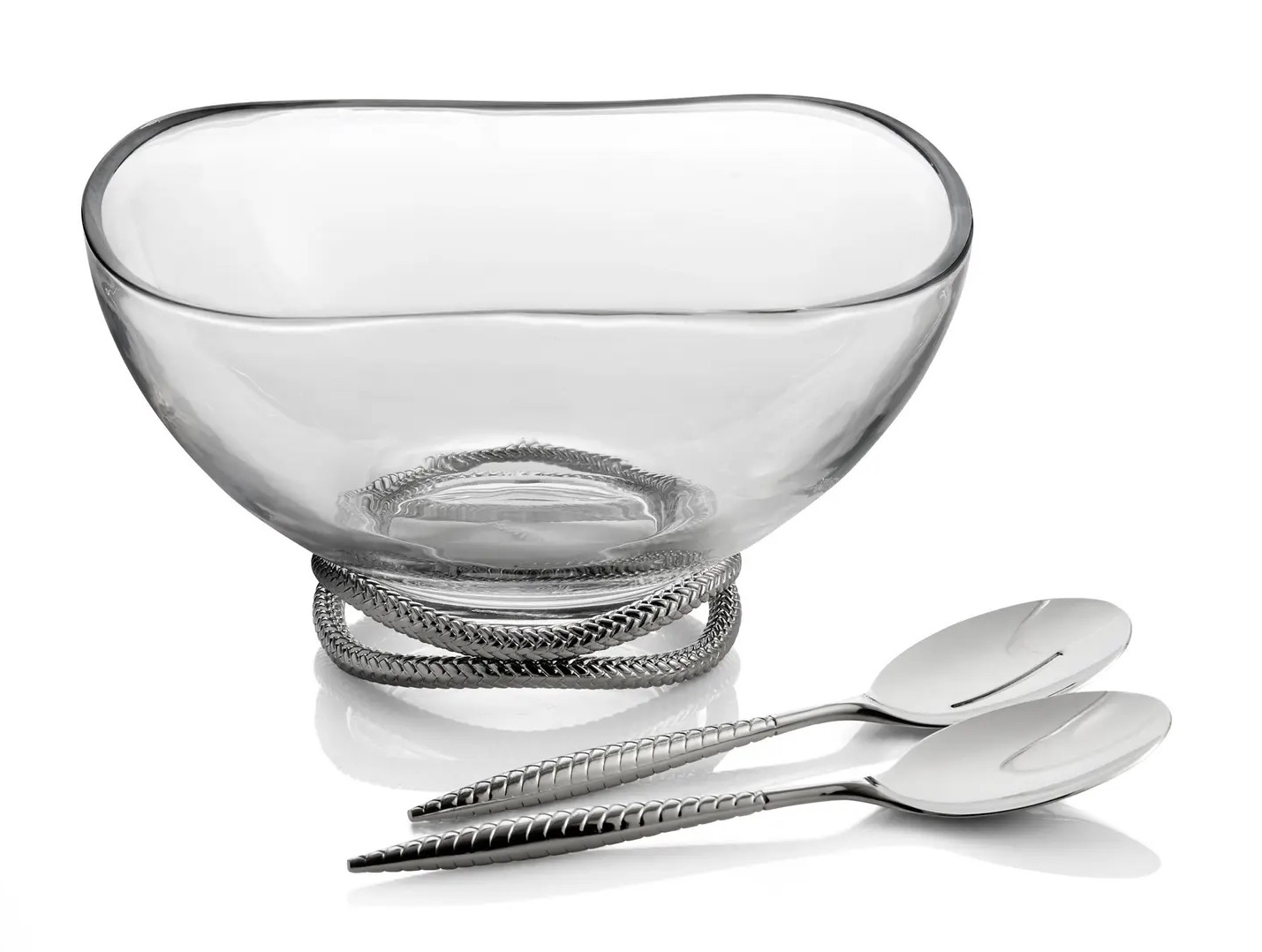 Show off the bounty of your backyard garden or local farmers' market with this beautiful salad bowl. Boasting an elegant shape and masterful braided details, the Nambe Braid Glass Salad Bowl with Servers is fit for any occasion. Whether you and your soon-to-be-spouse are hosting a Sunday night dinner or barbecue bash, the salad bowl's durable glass frame, stylish chrome accents and study servers make it a reliable favorite. The bowl is large enough to serve a crowd, measuring 12 inches by 6 inches; it's also dishwasher-safe. This charming twist on a classic is deserving of a chef's kiss.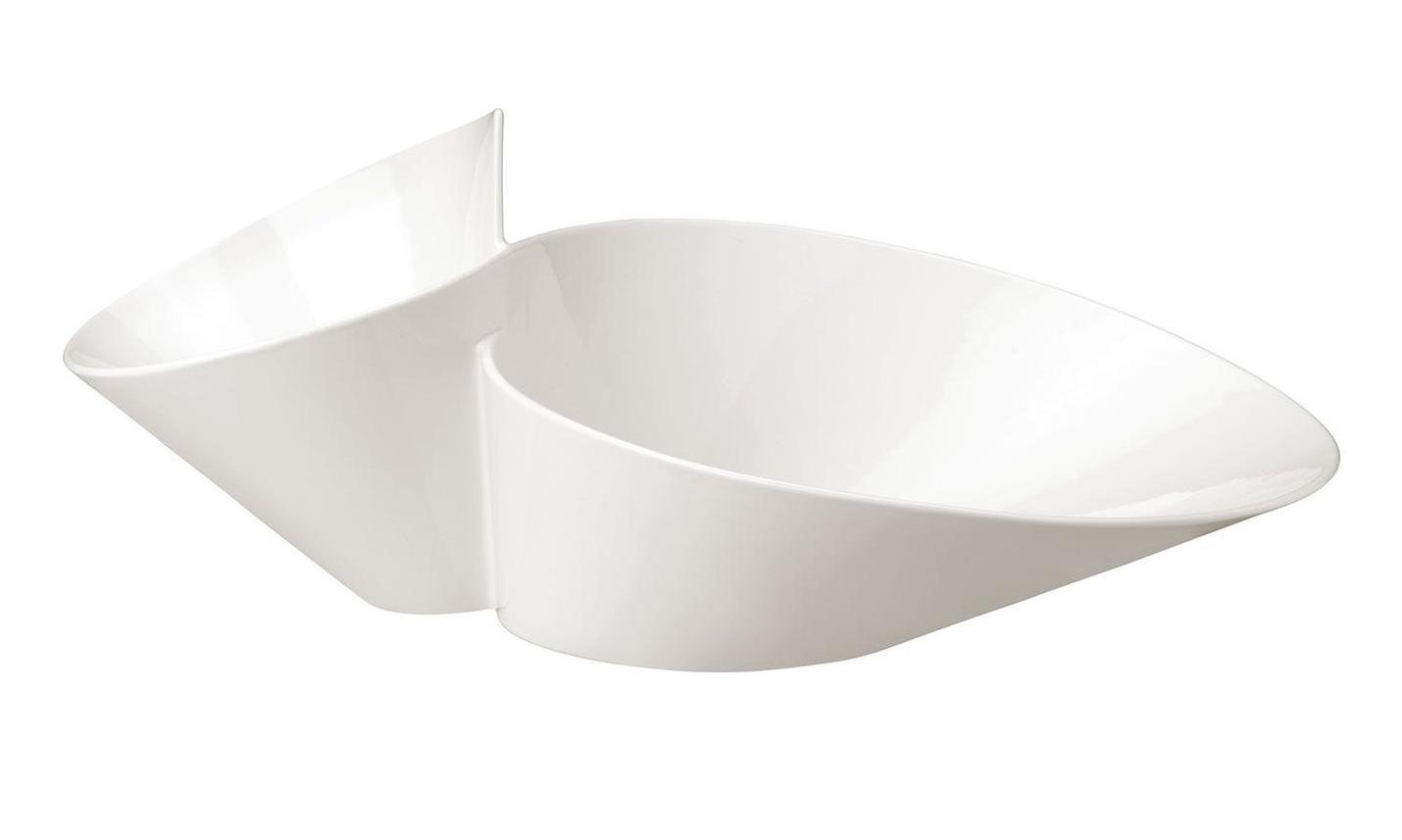 A chip bowl is an essential entertaining piece. Because, let's face it — who can resist a good dip? Give your guests what they want served up in a modern, intriguing piece. The NewWave Chip & Dip Bowl is part of a bestselling line from Villeroy & Boch, a leader in the dining space. The dish featured two vessels merged in an artistic side-by-side design. Fill one side with handcrafted salsa, fresh guacamole or hummus and the other with crunchy tortilla chips or warm pita bread. No matter what crowd-pleasing favorite you serve, the exceptional quality and beauty of this bowl are what entertaining dreams are made of.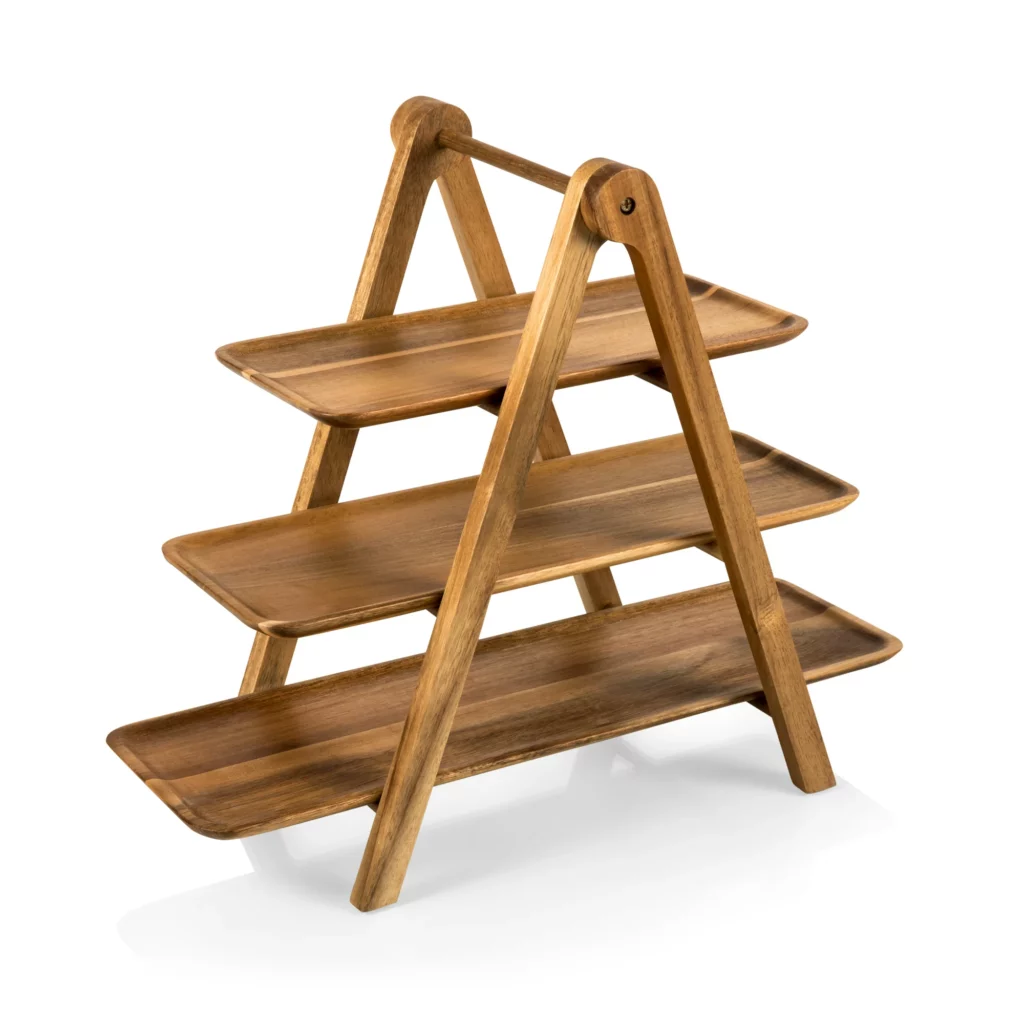 Delight your guests with sweets served on a posh, 3-tier dessert stand. A treat for the eyes, the Toscana Serving Ladder is unmatched for storing everything from cookies to tarts — not to mention, cheeses and other hors d'oeuvres. The simple and refined acacia wood base functions as an ideal backdrop for your dessert course. It's an extremely convenient feature when hosting a garden party or luxury picnic outside as it features removable small, medium and large trays. Even when your home isn't filled with guests, use this piece to elevate your treats into a gourmet experience with your sweetheart.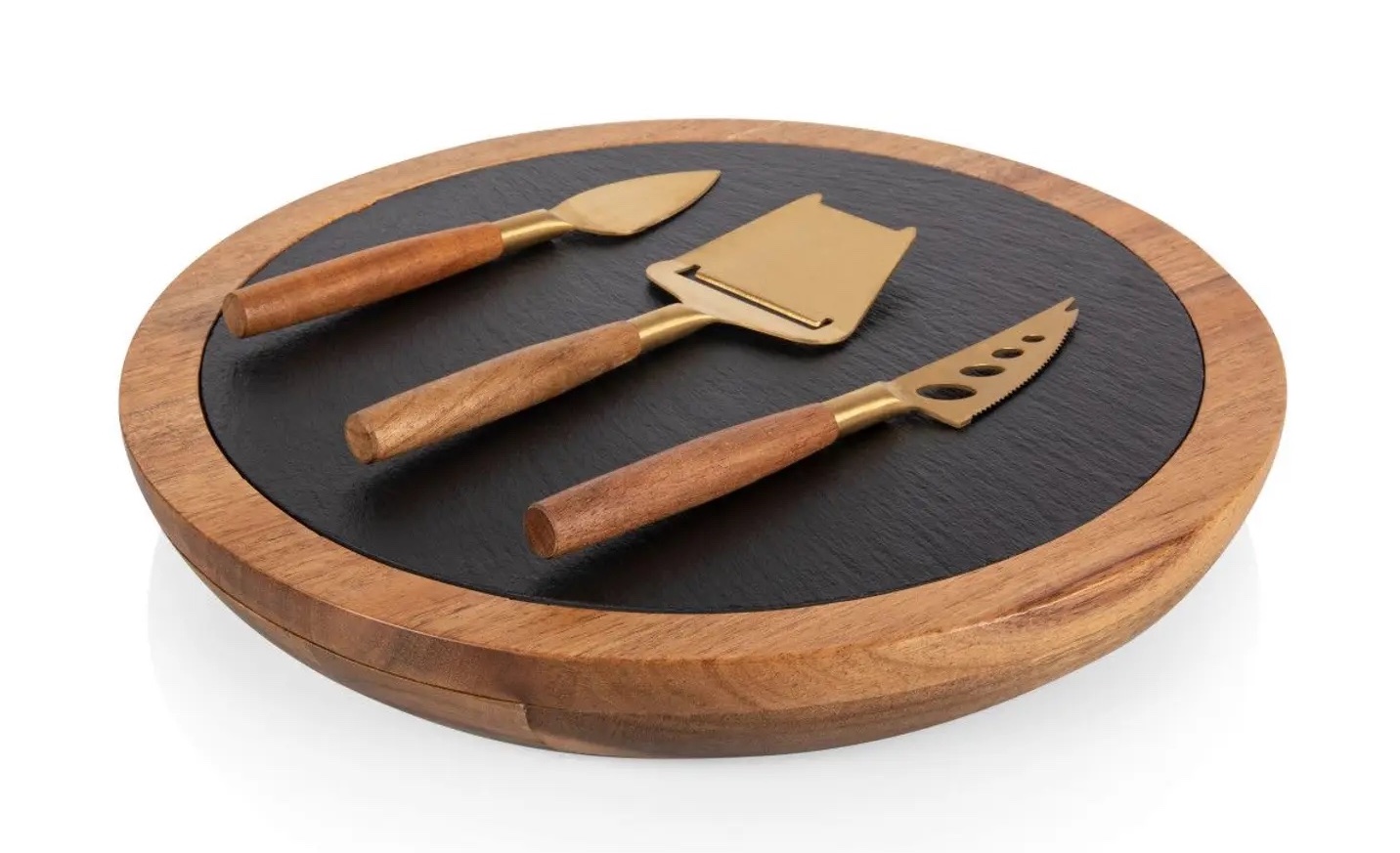 The sign of a good dinner party is an amazing charcuterie board. Transform cheese, crackers, dried fruit and nuts into a feast for the eyes (and stomachs) of your guests with this cheese board from Toscana. A gorgeous black slate board sits atop a natural acacia base to offer a sleek and compact centerpiece. This piece also has layers of functionality. Remove the slate piece to showcase the tray's beautiful wood grain; in doing so, you'll gain a cutting board surface and double your serving space for larger parties. The wooden tray also includes a discreet drawer to store three cheese tools, each crafted from gold titanium-coated stainless steel and styled with wooden handles.
Up Next:
From gifts, to cash funds, experiences or charitable causes, add any gift you want, from any online retailer, to your Joy registry.