Couples with a passion for entertaining can elevate their gatherings with upgraded serveware. From cheese boards, serving trays, and platters to serve bowls, dessert stands, and pitchers, you have a variety of serveware to consider. As you explore our guide to the best serveware for your wedding registry, consider your unique serving needs and the style of your kitchen and dining room.
Overview:
Best Cheese Boards
If you like to offer guests an impressive assortment of cheese as an appetizer option, you'll appreciate the following cheese boards. These high-quality pieces of serveware provide all of the necessary accessories to ensure you and your guests can fully enjoy this rich fare.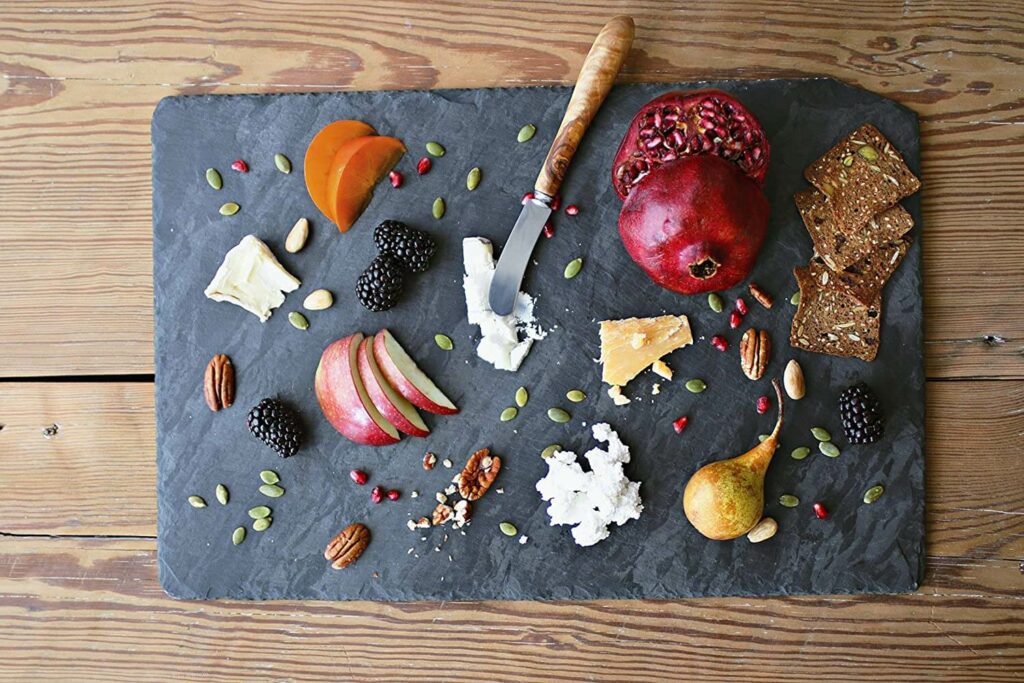 This stylish, natural slate board was sourced from New York State quarry, and is incredibly strong and durable. Each board is hand cut, washed, and sealed with food grade mineral oil, and includes four cork feet to prevent the tabletop from getting scratched. It also comes with a soapstone pencil so you can write the names of the various cheeses right on the board, adding to the chic aesthetic.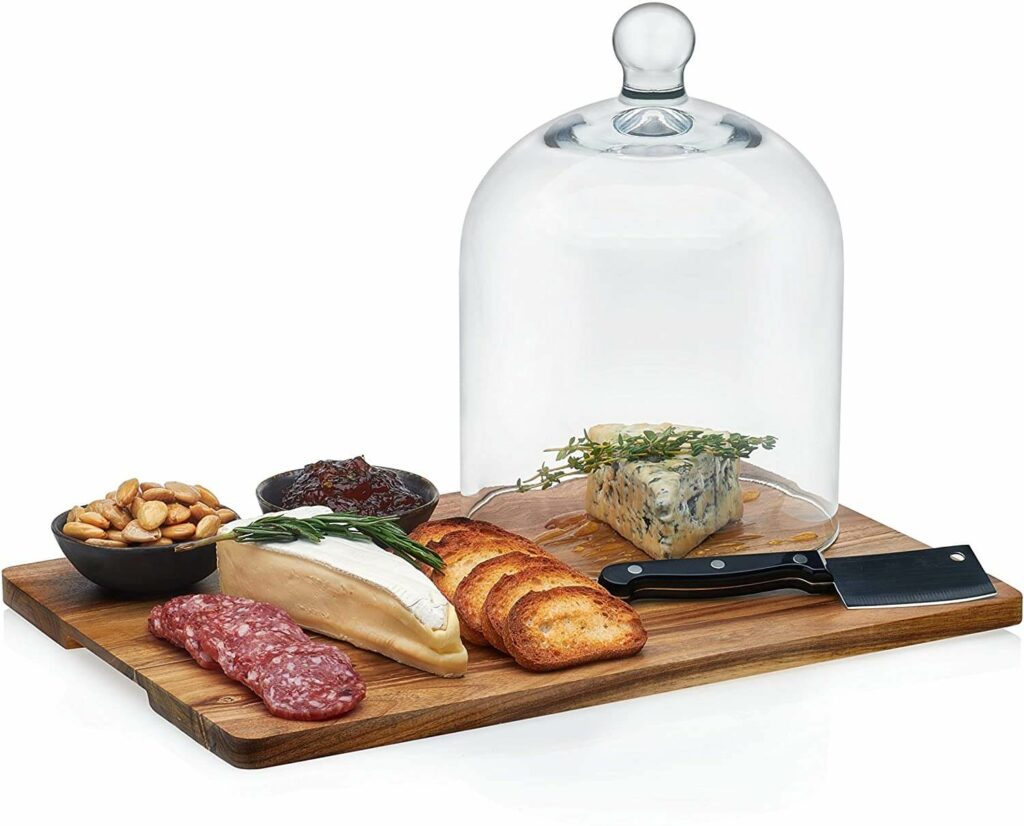 Couples wanting a more traditional cheese board will appreciate this serving set. The stunning acacia wood board includes a large glass dome, which provides elegance and enhanced practicality. It also comes with two ceramic dipping bowls and a stainless steel cheese knife. And to ensure easy handling, the board has engraved handles.
Best Chip and Dip
Instead of mismatched jars of dips when hosting, register for a condiment dish set that allows you to beautifully display everything from dips and condiments to fruit and nuts. You can also use the serving board that makes the bowls easy to pass.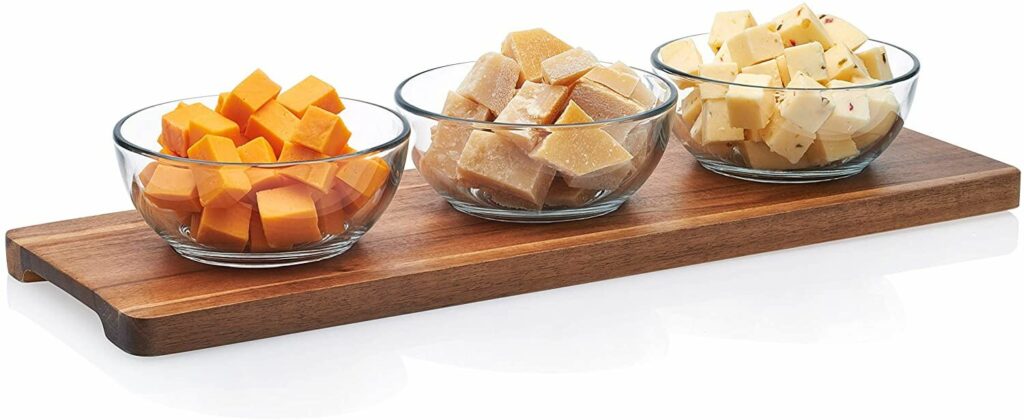 Upgrade the visual appeal of chips and dips, hummus and crackers, or a range of other popular appetizers with this acacia wood serving board and condiment dish set. The set comes with three 14.7-ounce round glass bowls that are dishwasher safe. Meanwhile, the board provides engraved handles for a comfortable hold and easy passing.
Best Serving Tray
Providing convenience and sophistication, a quality serving tray is a must for entertaining. Whether you need to transport and display condiments, cream, sugar, a coffee carafe, or other items, a serving tray will make life much easier.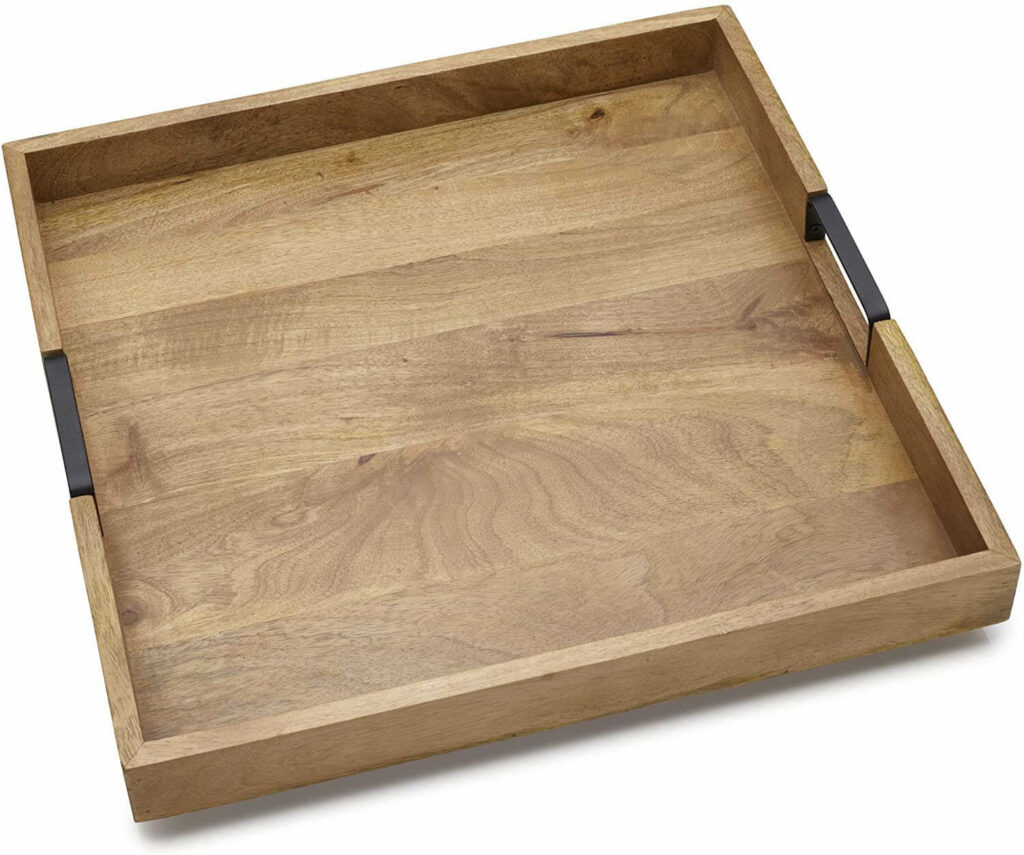 This incredibly popular, 18-inch tray has a classic design that suits any style. It's crafted from iron and mango wood, and features high walls to keep items in place. The tray can also rotate, making it easy for everyone to access the various goods.
Best Platter
As many main courses seem so much more appealing when served on an attractive platter, this type of serveware is a staple in many kitchens. While there are numerous options to choose from, we've honed in on a timeless platter that would be an amazing addition to any home.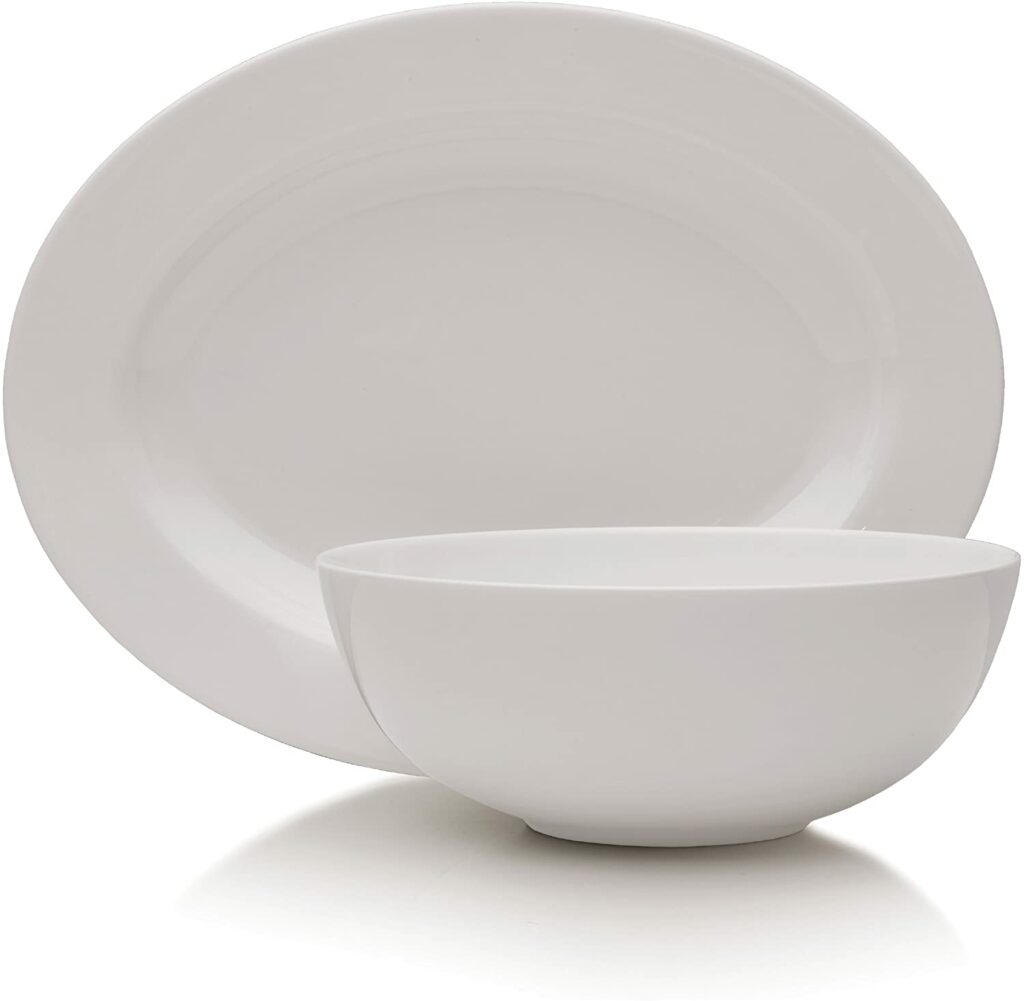 Made of durable bone china, this tasteful platter and vegetable bowl will add sophistication to any table. Its white, minimalist style and clean lines can complement almost any type of dinnerware, and suits casual or formal meals. This set is also chip resistant and oven-, dishwasher-, microwave-, and freezer-safe.
Best Serve Bowls
As some form of salad is present at most meals, every couple should own a serving bowl they love. This type of bowl comes in a variety of styles, so we've selected the best-of-the-best in a range of designs to suit every couple.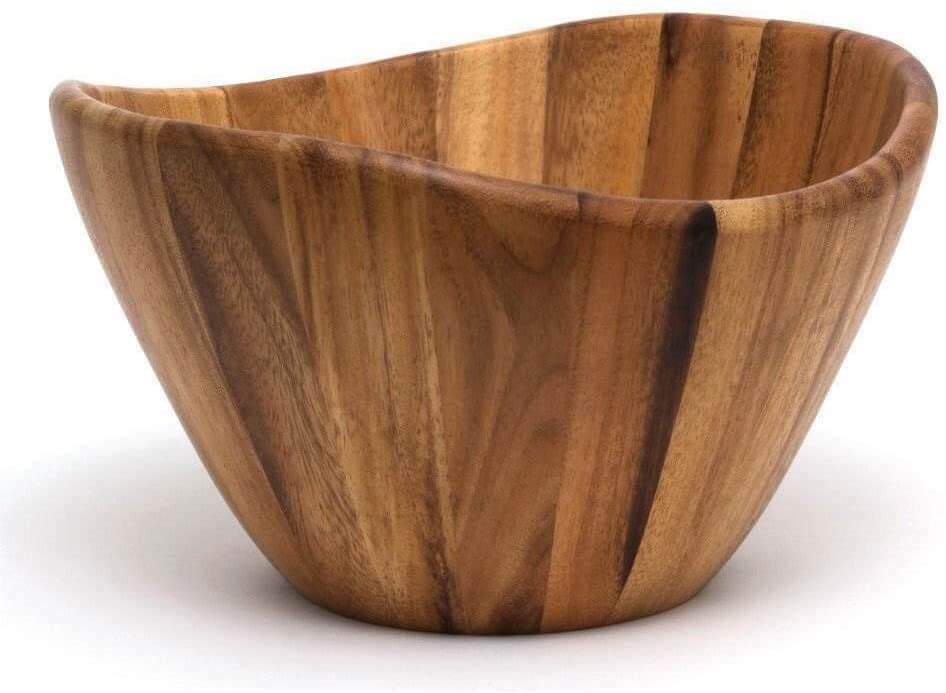 If you like a more rustic, natural look, you'll appreciate this deep serving bowl. Not only is it incredibly durable, but it can also be an appealing centerpiece with its compelling grains of acacia wood. Besides being decorative, the bowl's 12″ diameter and 7″ height capacity can hold large amounts of salad, fruit, bread, and more.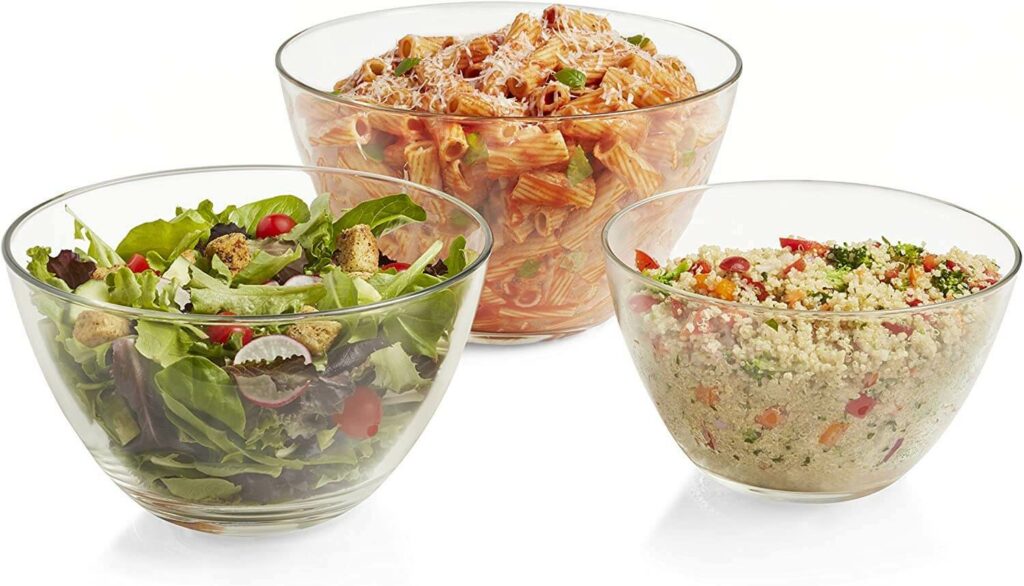 If you're attracted to glass serveware, this serving bowl set is an easy choice. It includes an 8.5-inch bowl, 9.5-inch bowl, and 10.75-inch bowl, making it perfect for couples that like to entertain large groups. Plus, the bowls can also be nested and used for mixing, helping you save space in the kitchen. They're also microwave- and dishwasher-safe.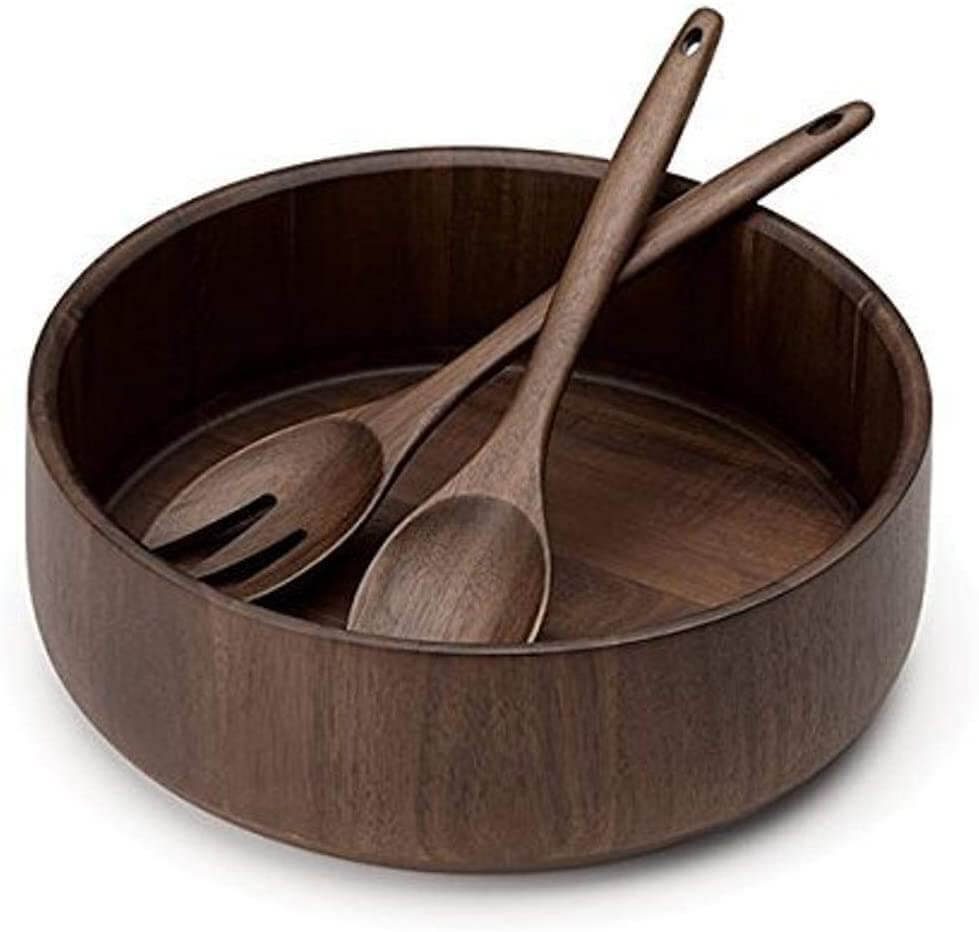 Crafted with mid-century Scandinavian design in mind, this brown, wooden salad set will add an artful touch to your collection of serveware. It includes a large, wide salad bowl and a matching serving fork and spoon that all exude refinement. This salad set is ideal for a kitchen that includes items made of natural materials stained in rich colors.
Best Cake and Dessert Stands
After taking the time to create (or buy!) decorated cakes or other desserts, you want to be able to display them on an equally appealing stand. The following stands are both stylish and functional, helping you present your sweets in a way that guests will want to skip straight to the dessert.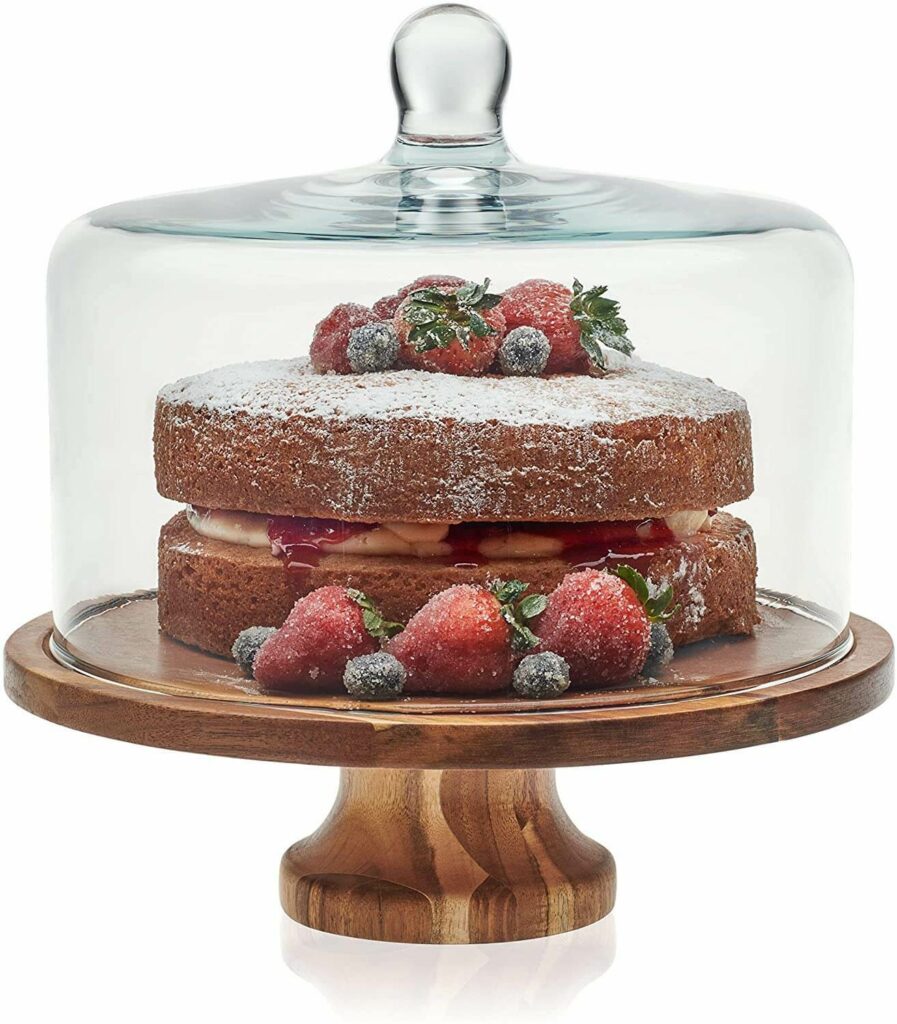 A classic stand with a modern edge, this gorgeous acacia wood serving board and glass dome helps you both display and protect desserts until it's time to eat. The footed 11.6-inch round serving board comes with a 10.5-inch glass dome that features a ball top for easy handling and added aesthetic appeal. Plus, the raised position of the board makes passing and serving easier.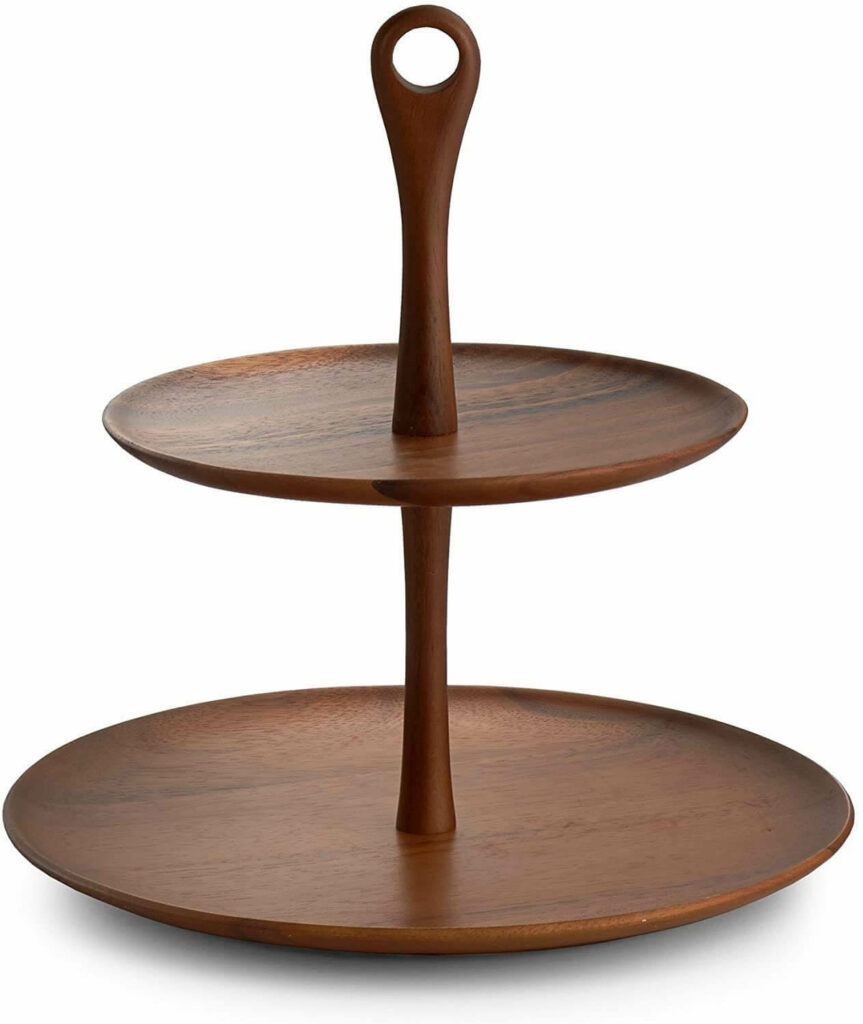 An optimal way to display a variety of food, this dessert stand is made of acacia wood and includes two levels that can be used for everything from hors d'oeuvres to sweet treats. This serveware line was thoughtfully designed with the idyllic landscape of the Isle of Skye in mind, and the result is stunning. It's a timeless piece that will never go out of style.
Best Pitcher and Beverage Dispensers
Now that you've added serveware for food to your registry, it's time to turn your attention to the most attractive ways to serve beverages. The following options are staples for entertaining, ensuring you can serve drinks with both style and functionality.
This sleek glass pitcher, made of European crystal, can be used for everything from an elegant dinner party to a quiet dinner at home. It even makes water look luxurious. You also know you're getting a quality product, as the superb craftsmanship of the Lenox brand has been around for over 130 years. This pitcher is not just visually exquisite, but built to last as well.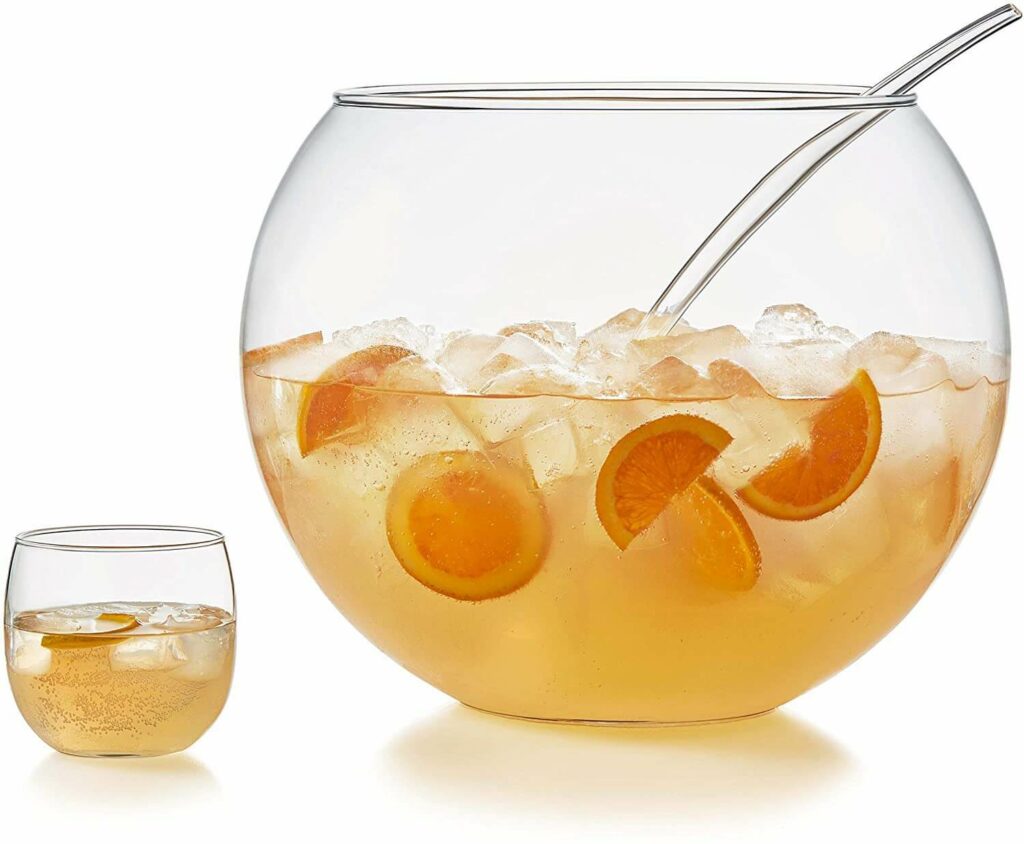 From sangria and cocktails to non-alcoholic beverages, this punch bowl and ladle is a must have for the couple that entertains. The 10-piece, glass set includes eight punch glasses, a large punch bowl, and a deep ladle, all of which feature clean lines and a graceful aesthetic. The Libbey brand is also one of the top glassware manufacturers in the US, meaning they know what they're doing.