One of the most exciting parts of creating a wedding registry is daydreaming about all the romantic meals, dinner parties with friends, and holiday feasts you and your partner will have in your newlywed home. Along with the best cookware and utensils that will help you prepare each mouthwatering dish, dinnerware is one of the most important registry items you'll need to turn this culinary daydream into reality.
But first, consider your plans for the present and future. How often do you plan to host big celebrations? What about the types of food you'll serve? And beyond the table, what kind of dinnerware will best match your kitchen and overall home decor? You'll want to ensure your plates and salad bowls not only meet your functional needs, but also suit your unique style so they look at home next to that shiny new coffee maker on your countertop.
As a general guideline, you'll want to register for eight place settings for an anticipated household size of four, and increase that number to 12 if you envision hosting larger gatherings of your loved ones. With so many options available — from different materials to hand-painted designs to the number of pieces included in each place setting — the search for the right dinnerware set can quickly become overwhelming. To make the selection process easier, we've done the research for you and rounded up our top choices in a range of different styles and price points. 
Overview
What to Look for in a Dinnerware Set
Before deciding on the best dinnerware set for your needs, there are a few additional things to keep in mind. The following tips will help ensure you and your partner end up with dinnerware that fits your lifestyle and aesthetic.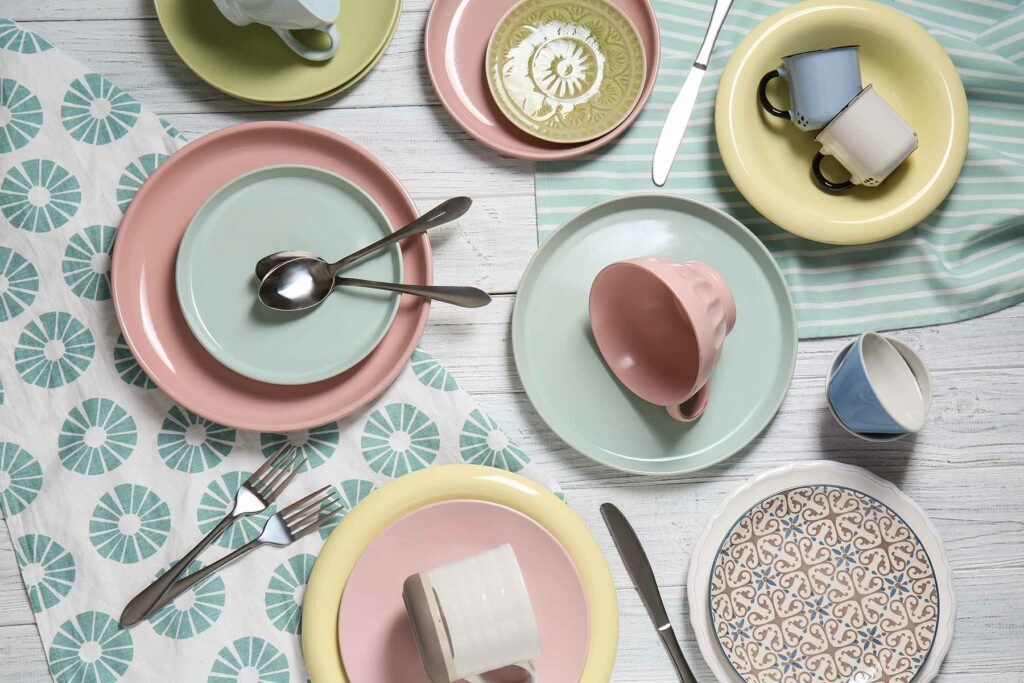 Look closely at what comes in each set, and make sure the pieces suit your lifestyle. While you can add individual pieces (open stock) to your registry, choosing a dinnerware set makes it easy for someone who wants to buy you a big gift for your special day. These sets often have 12 pieces in total — four 3-piece place settings that include a dinner plate, an accent plate and a bowl. A 16-piece set will have four 4-piece place settings with a dinner plate, salad plate, teacup and saucer. More formal 5-piece place setting may include either a bread and butter plate or a bowl. Keep in mind that different sets may offer mugs instead of saucers, as well as varieties of bowls in different shapes and sizes for pasta, cereal and more.
Pay attention to different features. Not all dinnerware is made equal. If you and your partner love leftovers, make sure you choose a set that's microwave-safe (and can be tossed in the dishwasher for easy clean-up!).
Consider materials. Porcelain and bone china are popular picks for dinnerware, as they're resistant to chipping and cracking. They're great for everyday use and entertaining, but for a less formal look, stoneware is a very durable option. Be cautious of other durable materials like shatter-proof melamine resin, which is great for kids and outdoor dining, but is not recommended for use in the microwave.
Think about how the dinnerware set will look on your tabletop. While it's common to think about how dinnerware will fit into your kitchen aesthetic, it's also important to think about how the set will look on your tabletop. If you have a dark dining room table, for example, you might select dinnerware in a lighter hue that will pop when placed on the table.
Choose dinnerware in a neutral hue if your kitchen aesthetic will change. Select a set in a white or cream if you'll be remodeling your kitchen or moving into a new home, or if you haven't come to an agreement on a style you both love.
Consider holding off on the formal fine china. It's not only expensive, but the delicate material requires hand-washing and careful handling so it's not practical for using on a regular basis. Instead, register for an elegant set in a more durable material that can be used for hosting formal meals or everyday use.
Determine if there are matching serveware sets. If you want most of your kitchen items to match, check if your dinnerware brand of choice also has serveware available open stock, like platters, serving bowls and dessert trays.
Best White Dinnerware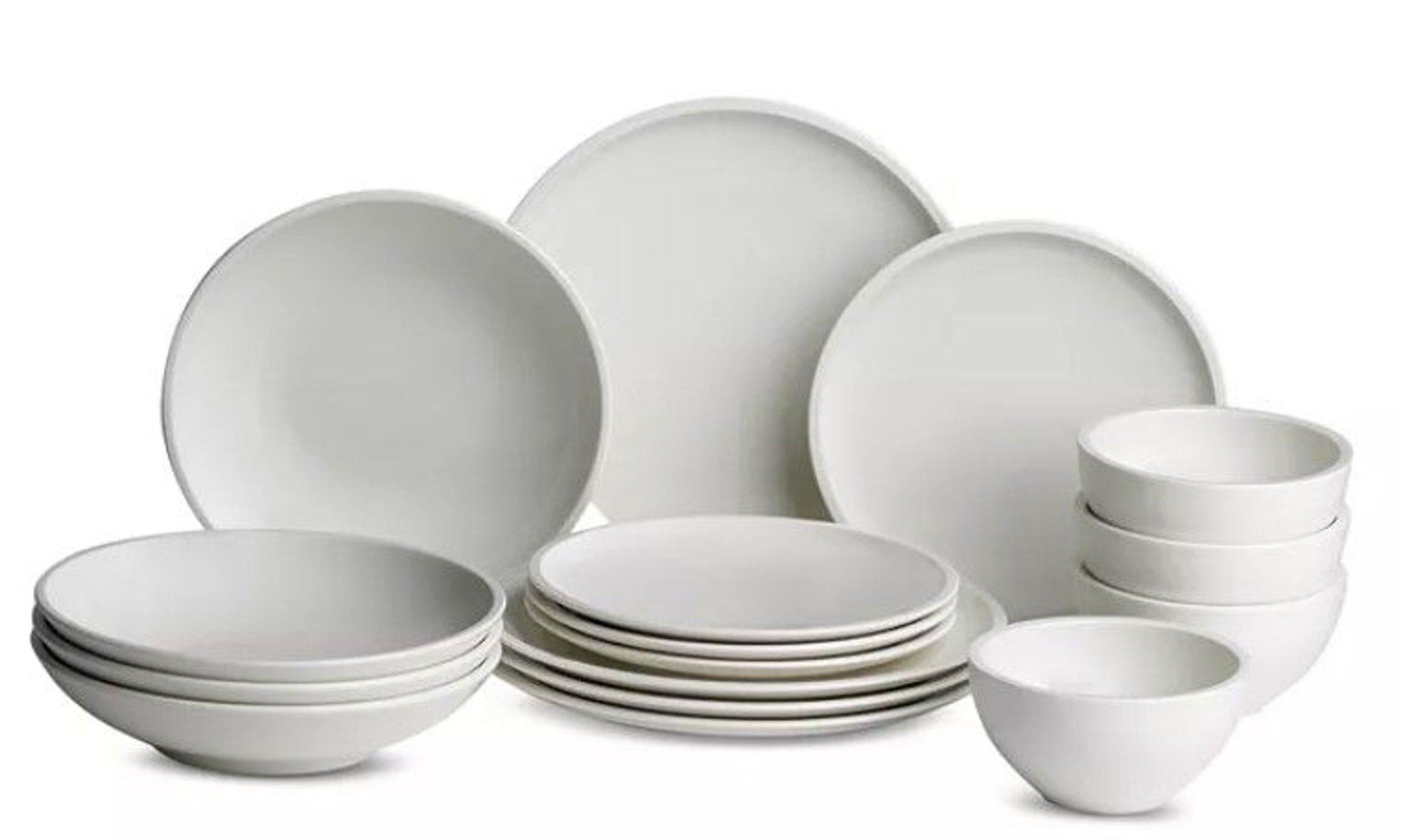 This rustic-chic Villeroy & Boch porcelain dinnerware set is ideal for craftsman, bohemian or mid-century modern kitchens, as it was inspired by the farm-to-table philosophy. The simple circular design and trending matte finish gives the four place settings a sophisticated and laid-back vibe. Its neutral hue also makes this set a great choice to balance out kitchens with ample color.
Because of its versatility, this wedding gift can be used as everyday dinnerware for a chill get-together with friends or a more formal dinner party. All the pieces are microwave- and dishwasher-safe, and as an added perk, the plates feature a wide edge to help minimize the chance of any spills.
Here's what you get:
(4) 10.5-inch dinner plates
(4) 8.5-inch salad plates
(4) 9-inch pasta bowls
(4) 20-ounce rice bowls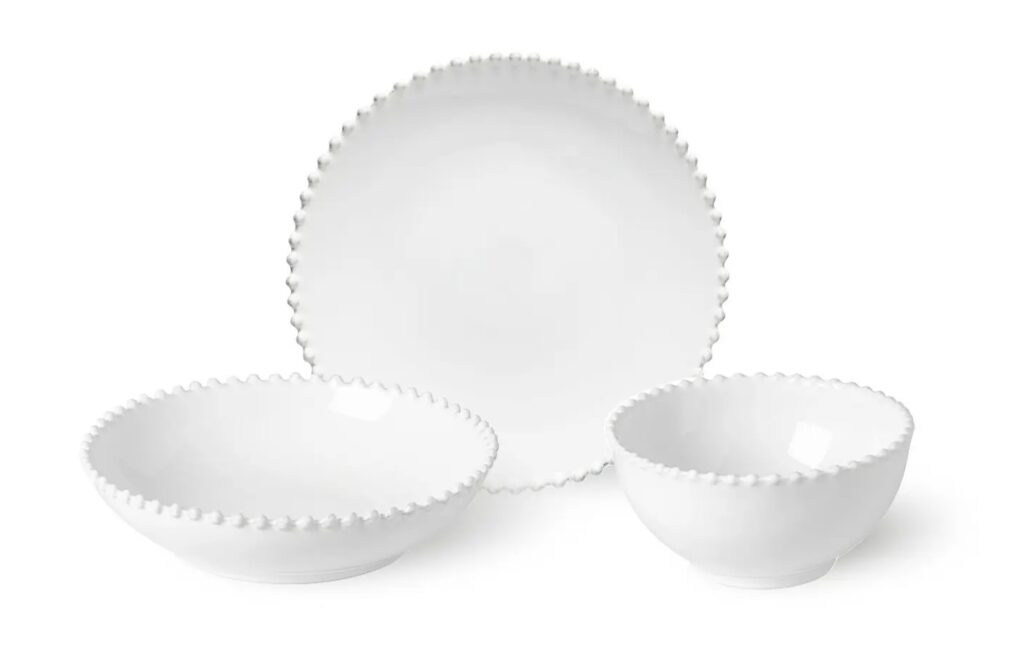 This is the best dinnerware for couples who want to add an understated touch of whimsy to their kitchen, as this set subtly emanates the richness of 18th-and 19th-century ceramics. Like antiques with a modern twist, the 3-piece place settings have embossed beading along the rounded edges. Along with its distinctive features, this high-quality set is made of stoneware in Portugal, and can be used in the microwave, freezer and dishwasher. And because this dinnerware comes in a sleek, white hue, it's truly timeless. It's guaranteed to be a lasting favorite, even if you move or remodel your kitchen many times over.
Here's what you get:
(4) 11.25-inch dinner plates​​
(4) 27-ounce cereal bowls
(4) 21-ounce pasta bowls
Best Colorful Dinnerware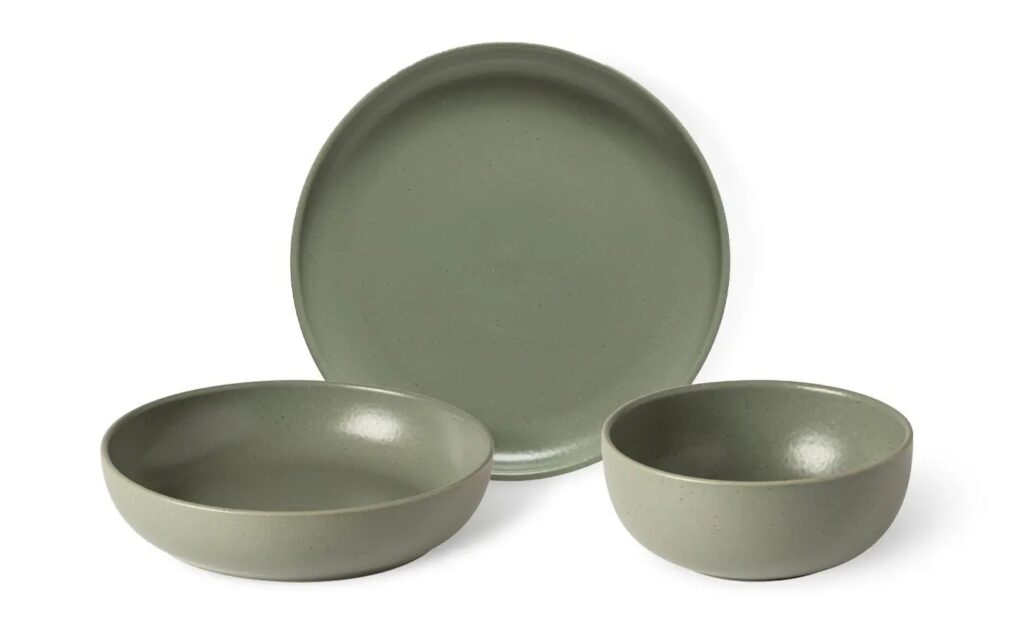 If you need your plates and bowls to fit in a specific color palette, this is the dinnerware set for you. This matte set has an artisan vibe, as it's handcrafted in Europe from natural resources by craftsmen skilled at everything from hand-finishing stoneware to blowing glass. A variety of color options will bring a pop of personality to any kitchen — you could even go all out with a different color set for each season. The earthy artichoke green is an appropriate pick for welcoming spring, while marshmallow pink makes for a cheery summer hue. Cayenne red brings to mind the vibrant colors of fall leaves and blueberry will help beat those winter blues.
Here's what you get:
(4) 11-inch dinner plates​​
(4) 21-ounce cereal bowls
(4) 33-ounce pasta bowls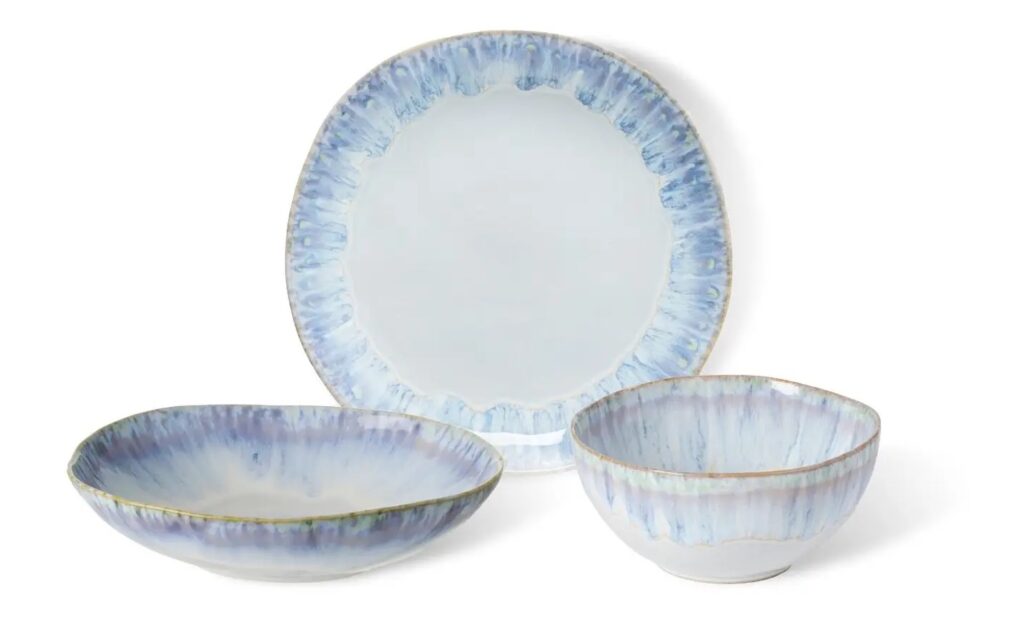 Perfect for a beach-inspired home, the blue and white glaze on the stoneware set was inspired by pristine, shell-speckled beaches that fade into a cool lagoon. Guests will be wowed by the detailing on the plates and bowls, as each piece seems like a work of art forged by the sea. Organic shapes found on the coast also influenced the design of this dinnerware set, meaning it pairs nicely with serveware made of natural materials like wood.
Adding to the appeal is the eco-conscious production, with each piece crafted from natural, sustainable materials in Portugal. They're so gorgeous you might just want to leave them on display as a statement piece in your dining room. While the set is microwave-, freezer- and dishwasher-safe, it's best to wash the dinner plates and pasta bowls by hand and place the smaller bowls on the top rack of the dishwasher.
Here's what you get:
(4) 11-inch dinner plates​​
(4) 9-inch cereal bowls
(4) 15-inch pasta bowls
Best Scalloped-Edge Dinnerware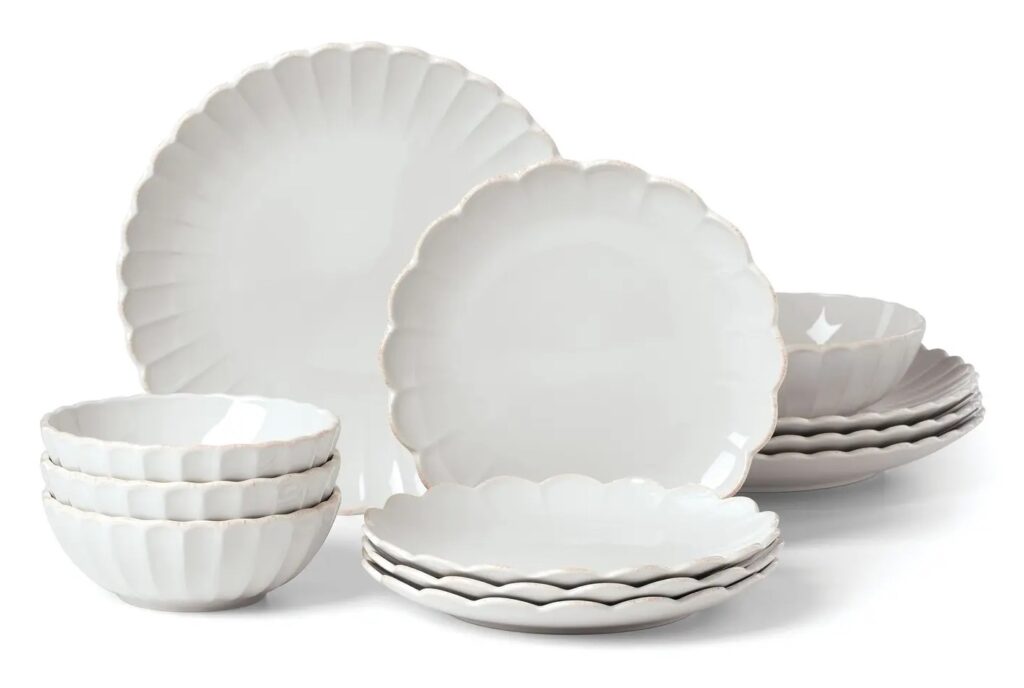 A perfect fit for a feminine, country or cottage-style home, these French-inspired plates and bowls will transport you to a romantic cafe in Paris (especially when using them to host brunch — don't forget the fresh croissants!). The clean, elegant motif of this dinnerware set is accentuated by the scalloped edges and tea-stained finish that gives it a more unique feel.
In addition, the creamy white color of this set makes it easy to match with many varieties of serveware and flatware. This is also a great option if you're wanting an option that can be used at a range of events, such as a casual breakfast with your partner or a holiday meal with the extended family. Each dinnerware set comes with service for four, so add extra to your registry if you plan to entertain.
Here's what you get:
(4) 11-inch dinner plates​​
(4) 9-inch accent plates
(4) 16-ounce bowls
Best Patterned Dinnerware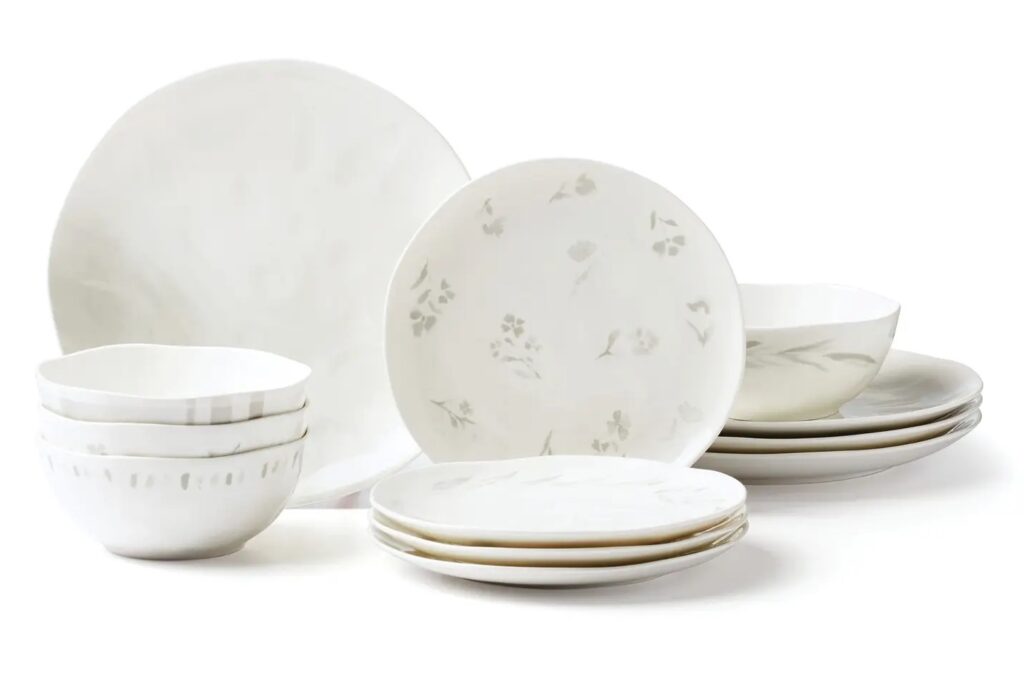 The subtle pattern of this set makes it a fun choice for couples wanting a touch of art on their dinnerware. Muted illustrations of leaves, flowers and organic shapes look as though they were delicately painted onto the pieces with watercolor.
While patterns can sometimes limit the range of kitchen styles a set can work in, this set can work with everything from traditional and Mediterranean-style kitchens to shabby chic and farmhouse aesthetics. The dinner plates are a plain snowy white, while accent plates and bowls feature the faint gray designs, accomplishing the task of being both simple and intriguing.
Here's what you get:
(4) 10.25-inch dinner plates​​
(4) 8.25-inch accent plates
(4) 20-ounce all-purpose bowls
Up Next:
From gifts, to cash funds, experiences or charitable causes, add any gift you want, from any online retailer, to your Joy registry.