Your wedding registry is the perfect time to upgrade your dinnerware, as friends and family are eager to help you enhance your home for married life. Fortunately, there are a variety of styles, shapes, and colors to choose from, ensuring you can find the best dinnerware that complements your dining room and kitchen. To help make the wedding gift selection process easier and more enjoyable, we've rounded up the best-of-the-best when it comes to white, colorful, formal, and outdoor dinnerware. 
Overview:
Before exploring your options, it's important to determine how many place settings you'll need. To do this, think about now and the future. Do you have a big family? Do you host friends? Do you hope to entertain more often? We recommend having a minimum of eight place settings to ensure you're prepared for most hosting occasions. If you plan to entertain larger groups, aim for at least 12 place settings. Here's a breakdown of what to expect with four- and five-piece dinnerware sets:
Four-Piece Place Setting: Often includes a dinner plate, salad plate, bowl, and mug.
Five-Piece Place Setting: Often includes a dinner plate, salad plate, bread and butter plate, and teacup and saucer.
Best White Dinnerware
For couples wanting a clean aesthetic in their dining room and kitchen, white dinnerware is ideal. White is also the ultimate timeless choice that can be dressed up or down, making it blend seamlessly with almost any home decor. Plus, it works well for both a casual brunch and a more formal dinner.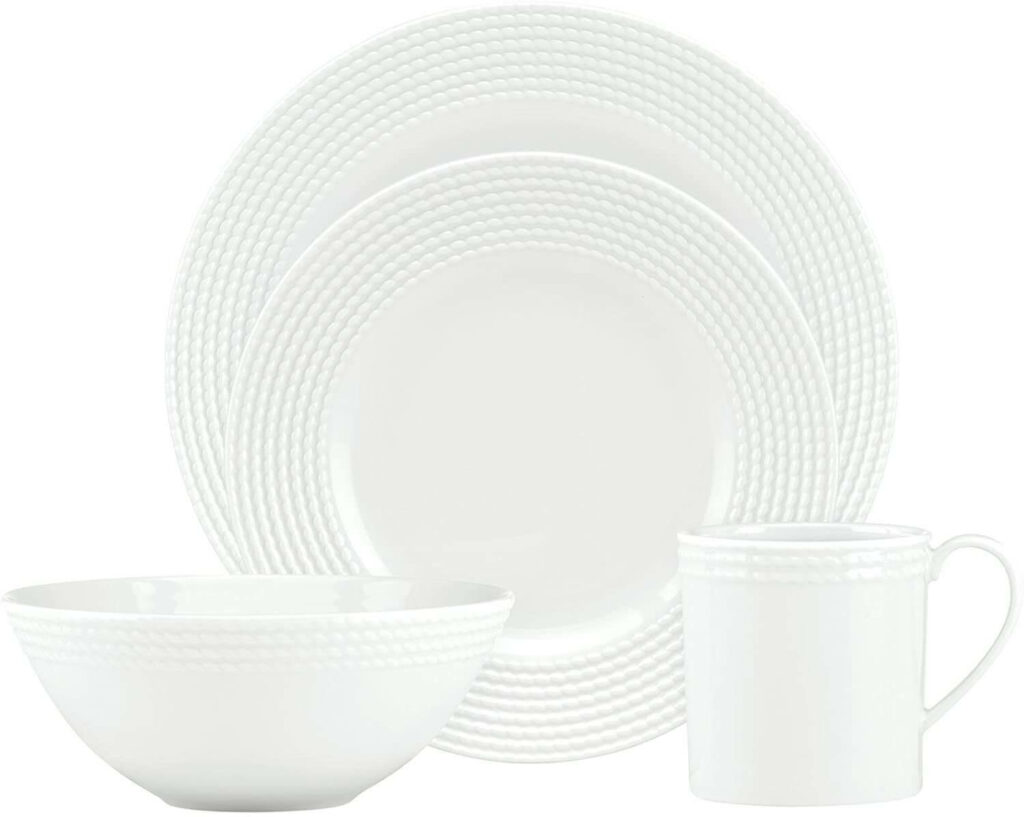 This chic, porcelain dinnerware set features the popular Kate Spade New York Wickford pattern, which is composed of a raised rope design on crisp white — a stylish effect that's perfect for everyday use and special occasions. The set is microwave- and dishwasher-safe and includes four dinner plates, accent plates, serving bowls, and mugs. As an added bonus, they have a breakage replacement program.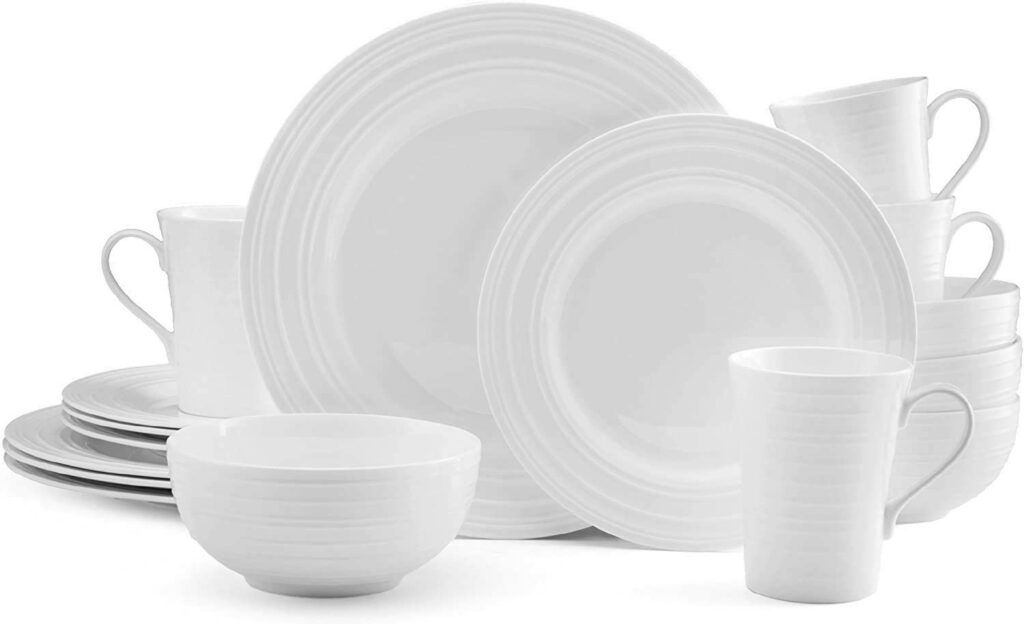 Understated with a contemporary style, this dinnerware set is made of bone china that's accented with striations around each piece. These whimsical swirls are striking without being exaggerated. The set includes four dinner plates, salad plates, cereal bowls, and mugs. Additionally, this durable, high-quality bone china is safe in the oven, dishwasher, microwave, and freezer, while also being chip-resistant.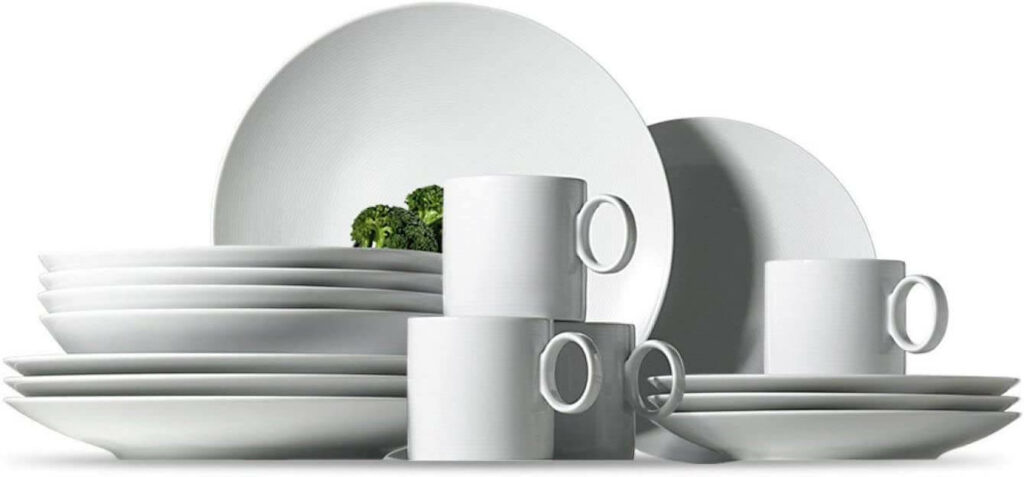 Made in Germany, this casual yet elegant dinnerware set is ideal for couples wanting everyday dinnerware that can be used for any occasion. It includes simple, white dinner plates, dessert plates, soup bowls, and coffee cups. The dinnerware is also made of glazed ceramic that's resistant to signs of use and has a pure white color that won't fade. Plus, it's microwave- and dishwasher-safe.
Best Colorful Dinnerware
If you enjoy a more colorful aesthetic, you'll love one (or all!) of the following options. These colorful sets can add a pop of color to a more understated dining room and kitchen, or complement a tabletop that's full of vibrant hues. Whether you want a set composed of the same color or multiple tones, we have you covered.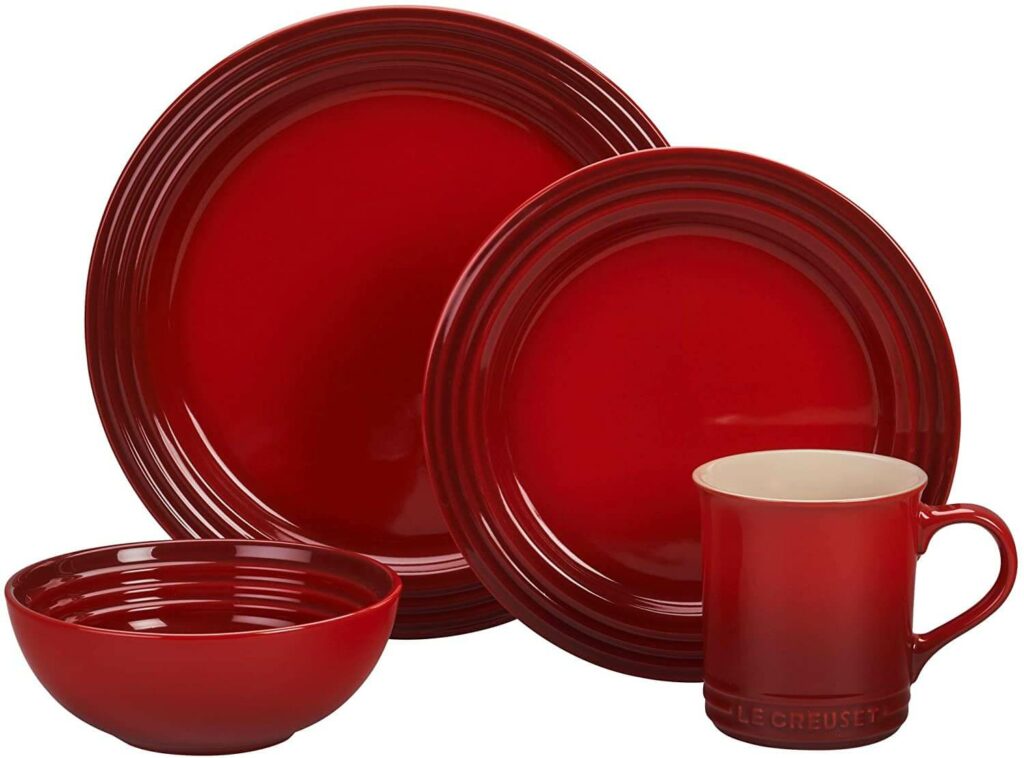 The shining glaze of these Le Creuset plates, bowls, and mugs adds a rich flair to any meal. Whether you're eating a bowl of cereal or enjoying a gourmet dish with friends, your food will seem more appealing atop this stunning dinnerware. It also comes in a variety of colors. In addition to its visual appeal, this set resists chips, scratches, and stains, and has a nearly-nonstick glaze that easily releases food for simple cleanup.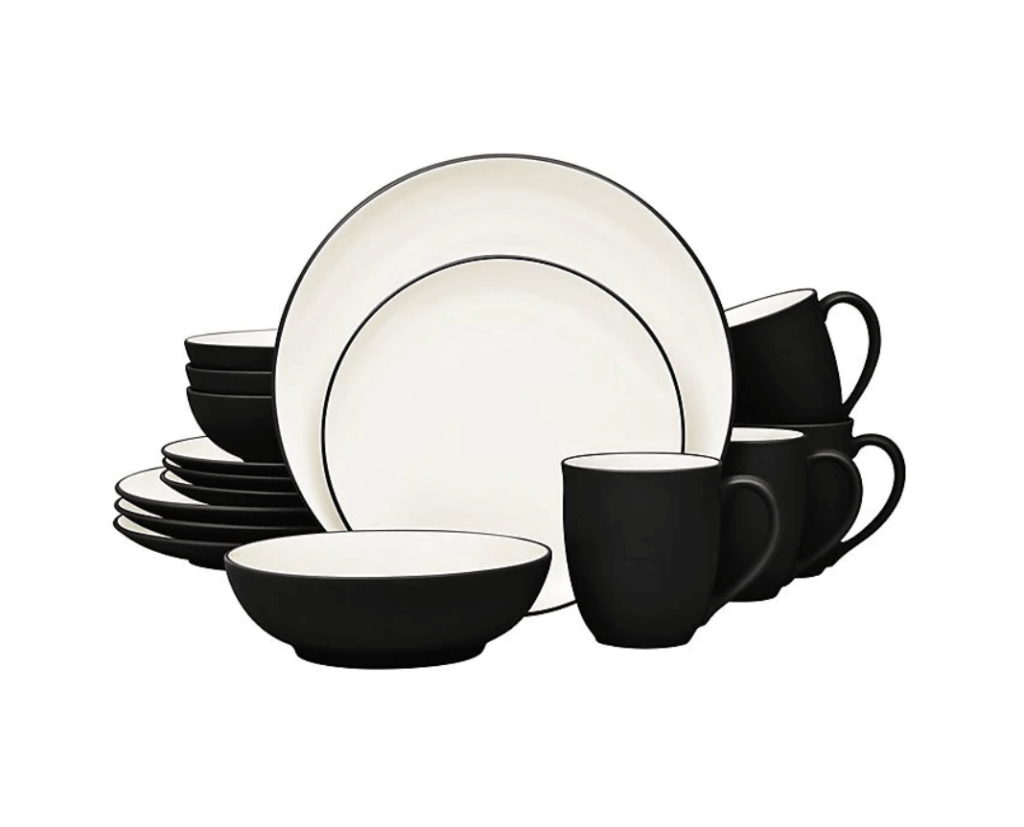 This dinnerware set is perfect couples seeking some subtle color in their dinnerware. Not only is this stoneware microwave- and dishwasher-safe, but it comes in a variety of attractive colors that resonate with every kind of couple. On top of color selection, the set also features a beautiful glazed interior and matte exterior.
$159.99 at Bedbathandbeyond.com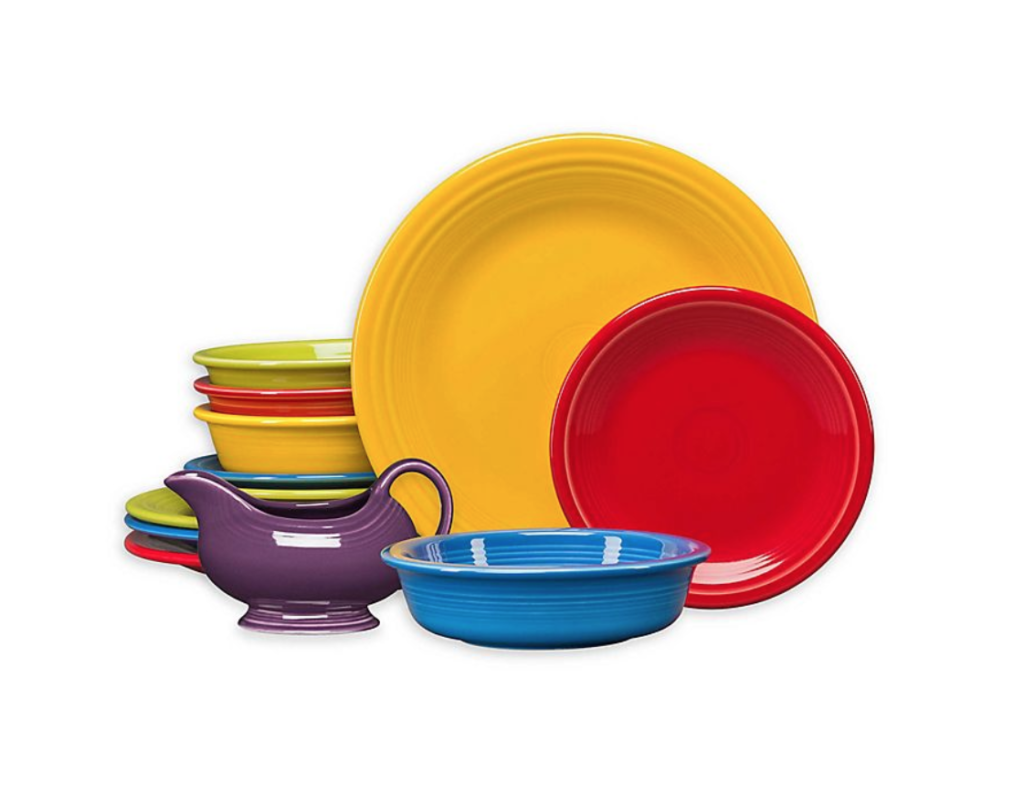 This aptly-named dinnerware collection features a mix of bold, vibrant colors. Each piece is made of chip-resistant, durable ceramic that includes a compelling, concentric ring pattern. Plus, you can make the set your own by choosing the dinnerware pieces and colors that suit your unique needs, mixing and matching to create a custom set.
$139.99 at Bedbathandbeyond.com
Best Formal Dinnerware
Whether you like to spice it up for special occasions, host dinner parties, or have romantic date nights at home, or maybe you just enjoy elegant, upscale designs, a set of sophisticated dinnerware could be right for you. Besides dinner and salad plates, these sets often include bread and butter plates and a saucer and cup for tea or coffee. From elaborate patterns to simple designs, here are some options to help you start a lifetime of polished dining experiences.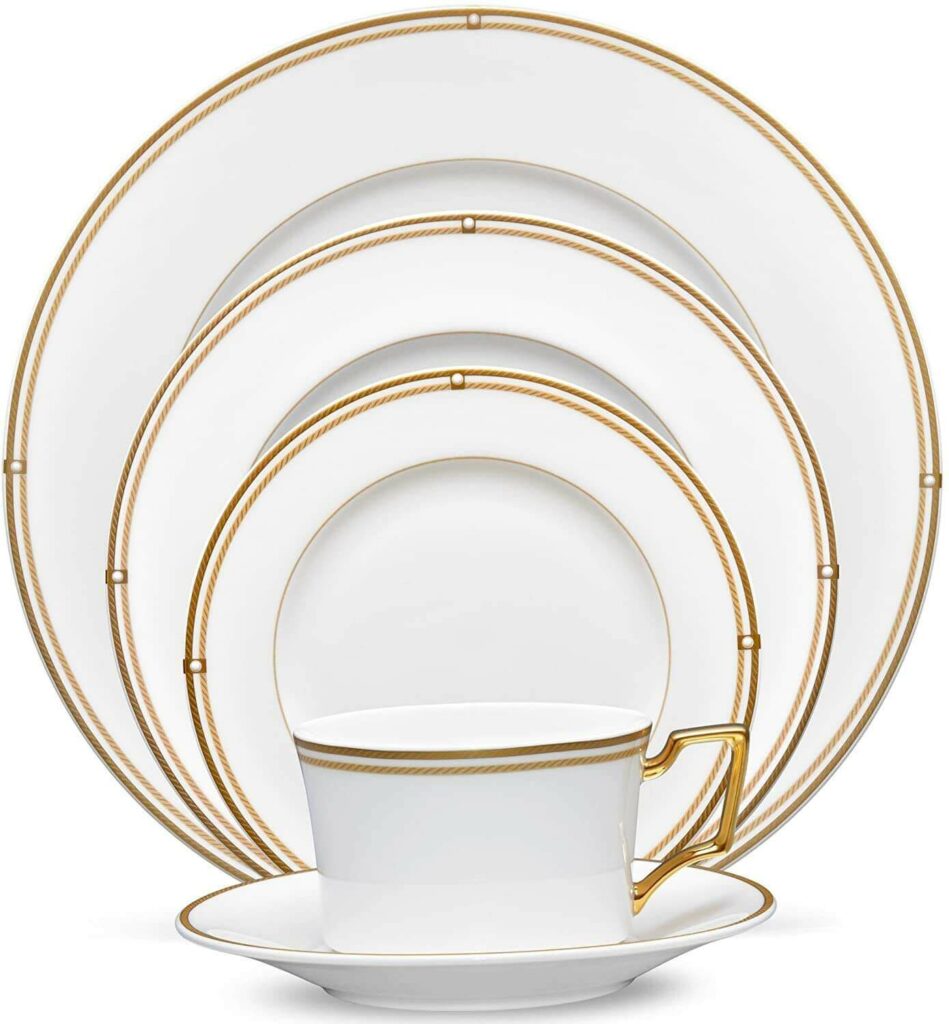 This incredibly elegant set is sure to add refinement to your dinner table. Made of bone china, each piece includes a delicate, gold-braided border and raised enamel dots that are simple while still being eye-catching. The set includes a dinner plate, salad plate, bread plate, saucer, and cup.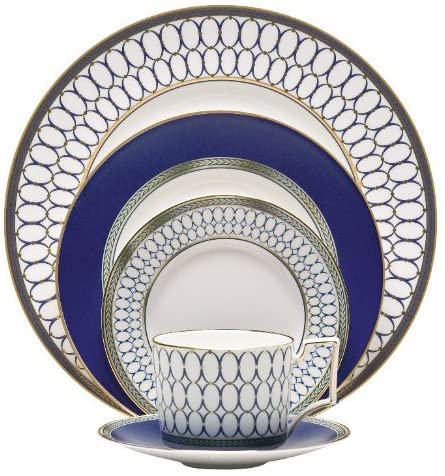 With a dramatic Florentine design composed of a deep blue pattern and 24K gold banding, this five-piece set is sure to leave an impression on dinner guests. Made of fine bone china, the set comes with a dinner plate, salad plate, bread and butter plate, and teacup and saucer.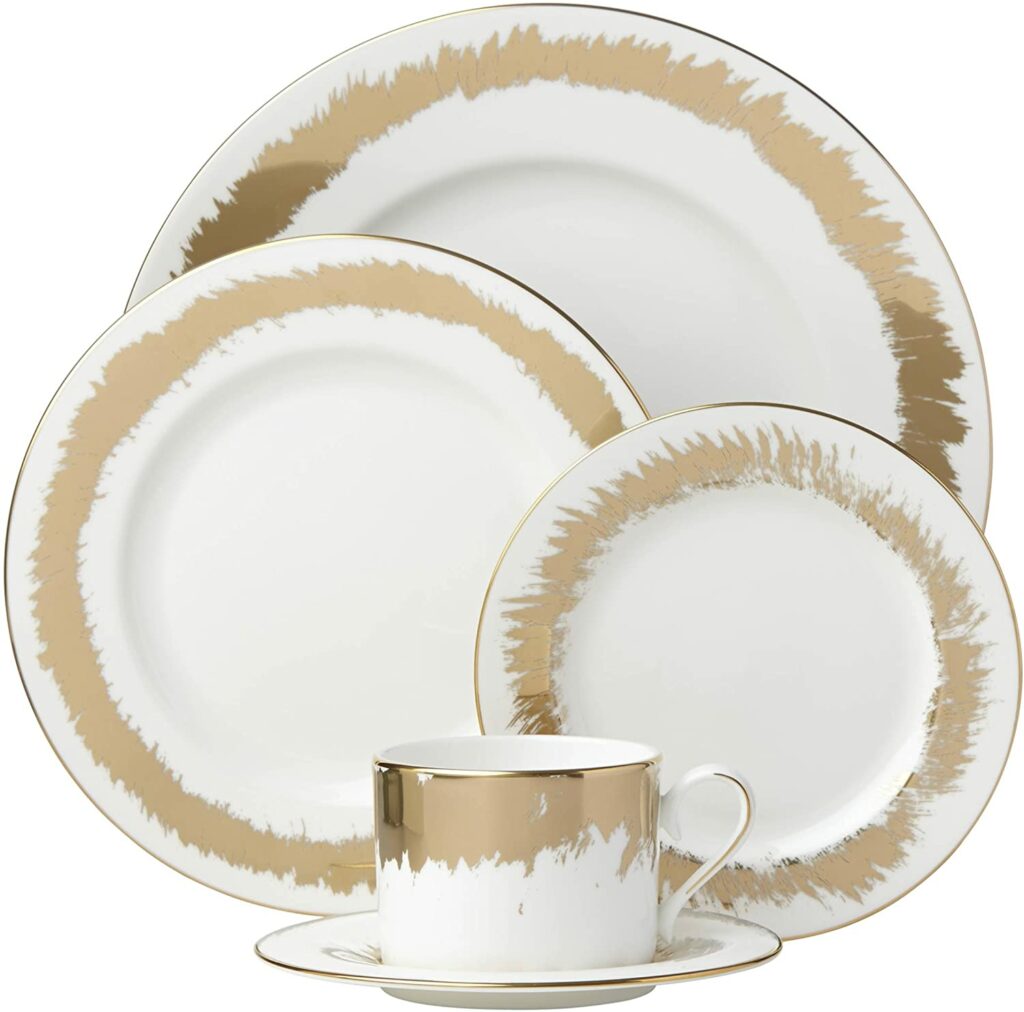 Providing an edgy design, this place setting is a great choice for couples wanting formal dinnerware that's not too traditional. Each piece is crafted with white bone china, and includes a circular gold brushstroke motif and gold-trimmed edges, which create a dramatic effect. The set includes a dinner plate, salad plate, bread plate, saucer, and cup.
Best Outside Dinnerware
While dining outside can have a charming ambiance, it can also result in rougher conditions for dinnerware. Those hoping to regularly enjoy alfresco meals should invest in dinnerware made of melamine. This compound is durable, fire- and heat-resistant, lightweight, and almost unbreakable, making it ideal for the outdoor elements. We've made sure to select dinnerware sets that are both crafted with melamine, and attractive.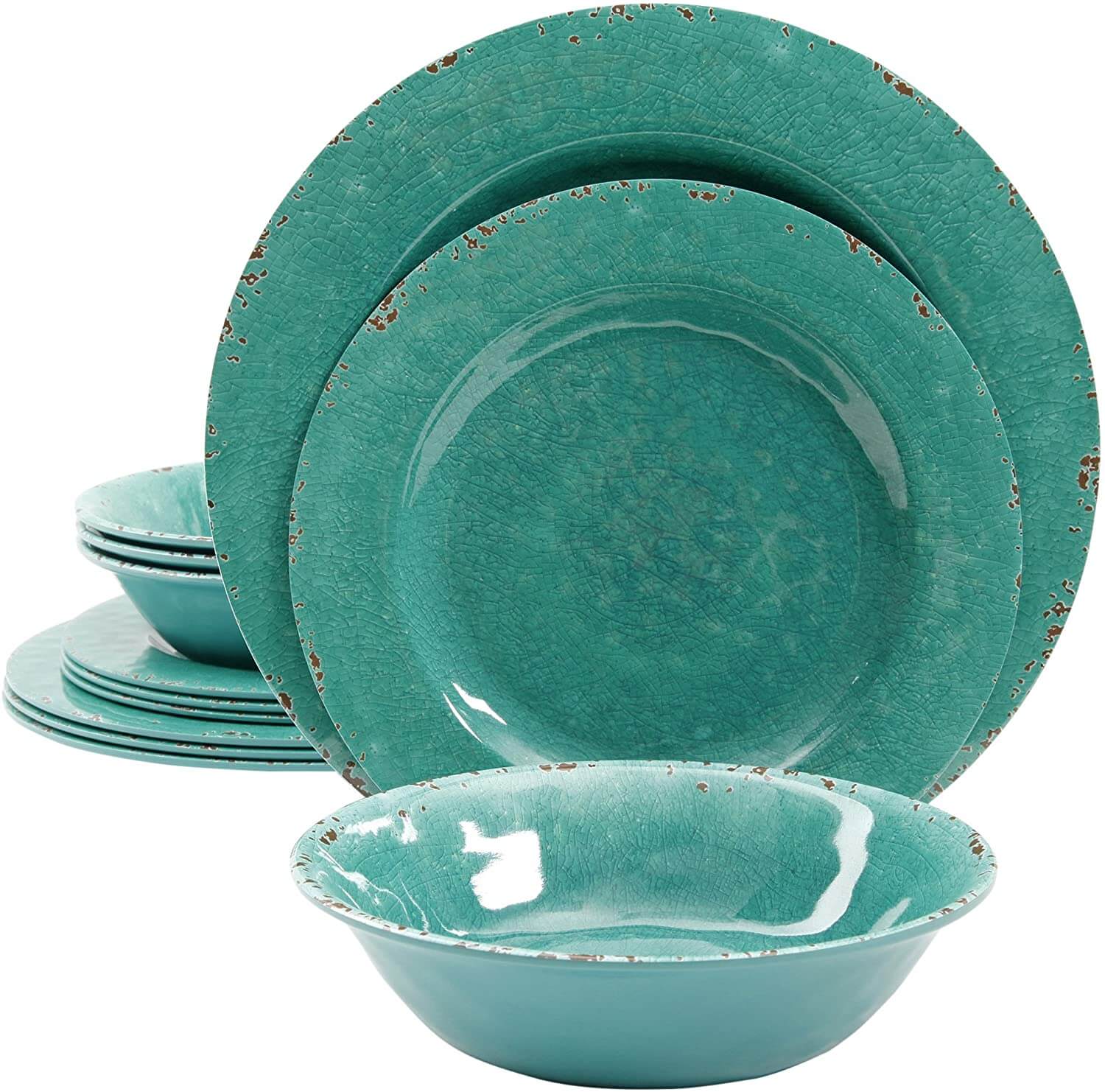 This festive set features a rustic, weathered crackle glaze that makes it a wonderful complement to a charming outside setting. The pieces are designed from heavyweight melamine, making them durable and scratch-resistant. While they're made with the outdoors in mind, they're still an excellent choice for a casual indoor meal. The set includes four dinner plates, salad plates, and bowls.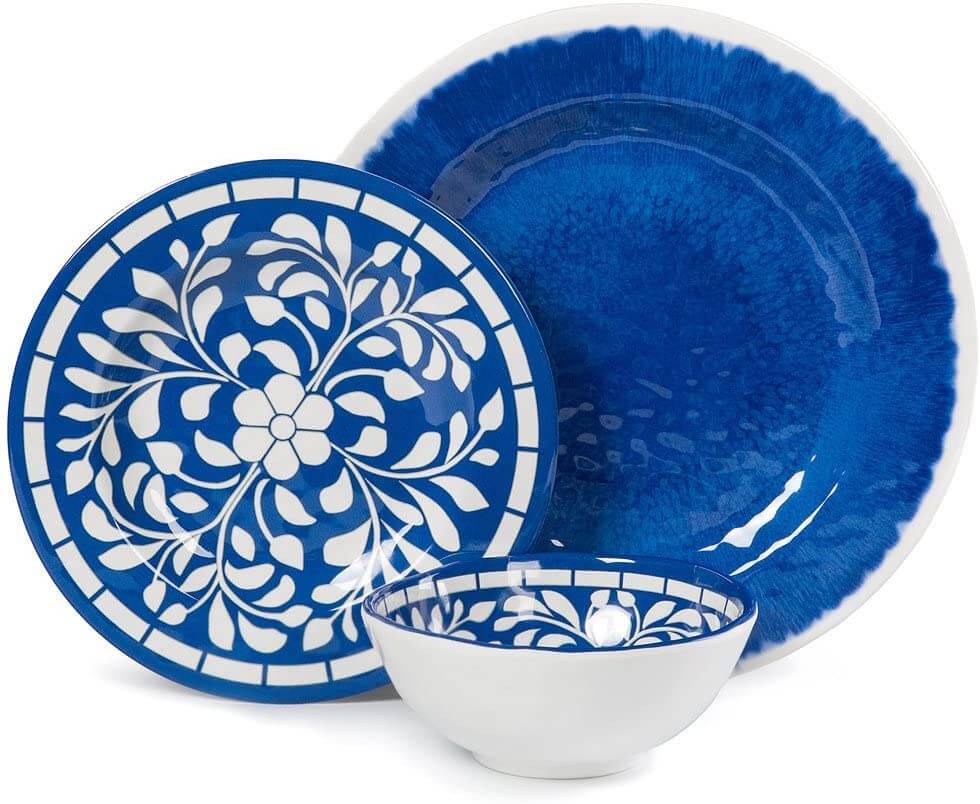 This dinnerware set seamlessly goes from indoor to outdoor dining and includes a stylish, blue-and-white (or green-and-white) floral design. Made from the durable melamine compound, they can not only be used at home but also in RVs, while camping, and on picnics. Plus, they take up less room compared to more traditional ceramic dinnerware. The set includes dinner plates, salad plates, and bowls.