If you hop on Highway 1 and head to California's central coast, you'll soon find yourself in the honeymoon haven of Big Sur. When the road narrows to a twisting two-lane highway, you'll see the seemingly endless waters of the Pacific Ocean to the west and sprawling old-growth redwood forest to the east. You'll also cross the iconic Bixby Bridge that's been featured in numerous movies and television shows.
This rugged coastline stretches 90 miles and is free of chain stores, fast food joints and almost all other man-made establishments — here, unfettered nature rules.
Tucked amongst the trees and discreetly perched on the bluffs are boutique resorts and eateries that make Big Sur one of the dreamiest honeymoon destinations around. For those wanting to revel in sparkling ocean views, misty walks through ancient forests, and other otherworldly features, this is a must-visit stretch of land perfect for your romantic getaway.
Why Big Sur is a Go-To Honeymoon Destination
One of the prime reasons Big Sur is such a beloved honeymoon spot is that it allows newlyweds to escape the busyness of daily life so they can truly tune in to one another. While there are certainly luxury accommodations and eateries in Big Sur, it can also be a surprisingly affordable honeymoon destination with many outdoor activities and lush landscapes to explore. There's also very little pretension or pressure to look or act a certain way, leaving couples free to unwind and rejuvenate. And because there's only one road to Big Sur, it feels like a world unto itself, while still being in close proximity to charming nearby towns with a host of modern amenities — it truly is the best of both worlds.
When to Visit
While there's no bad time to head to Big Sur, there are some slight variations in the seasons (and the crowds they attract). Big Sur in the summer often sees warm weather in the day and cool temps at night, which is ideal for the many outdoor activities offered in this area. However, summertime is also when Big Sur is the most crowded and expensive. Between May and August, it's common for the coast to occasionally have a marine layer that can cause cool, foggy conditions that may impede views.
Fall in Big Sur is our favorite season for those who can get away this time of year, as the crowds have thinned and harvest time has commenced at many of the nearby vineyards. Alternatively, tourism is still fairly light in spring, a lovely time of year when the wildflowers are in bloom.
Skip the winter season if you're all about the outdoor activities, as this is when Big Sur gets most of its rain. However, if the idea of cozying up by a fireplace with your partner and looking out at water trickling through the redwoods sounds appealing, this may be an ideal time for your Big Sur honeymoon.
Tip: Bring a coat no matter what time of year you're visiting. Big Sur is almost always cool in the evening and has many chilly days, even in the summer.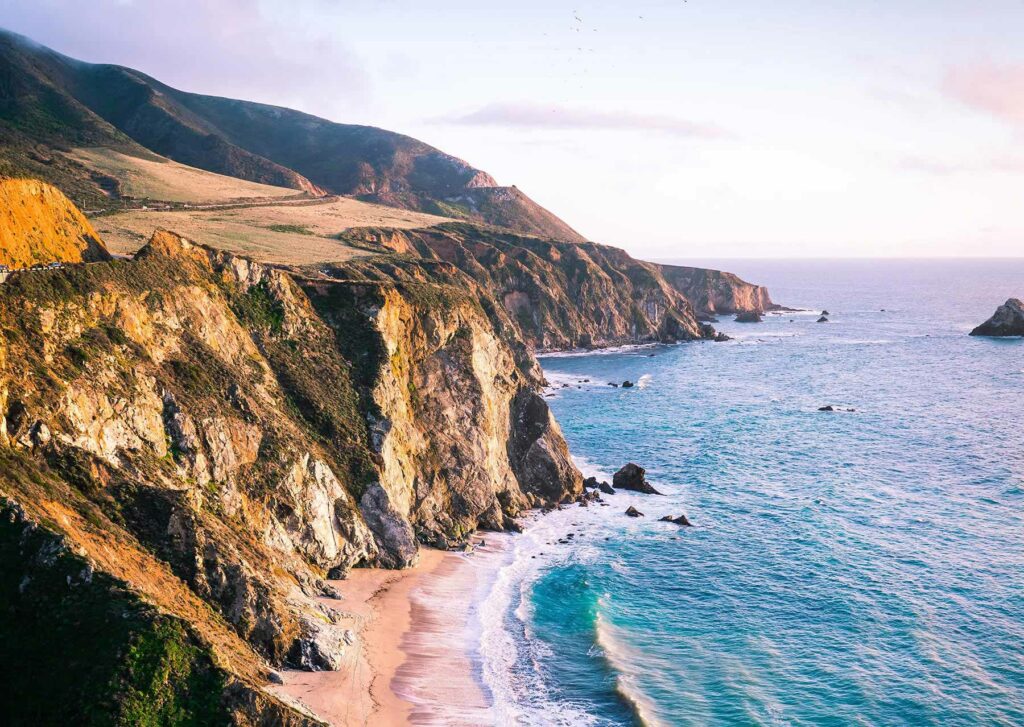 How to Get There
Most people coming to Big Sur from out of state fly into San Francisco, then make the three-hour drive south (add some time if you're up for a scenic road trip down Pacific Coast Highway). The closest regional airport is Monterey Regional Airport, which is 45 minutes from Big Sur. Most direct flights originate from in-state or a few major hubs, including Dallas, Denver, Las Vegas, Los Angeles, Orange County, Phoenix, San Diego, San Francisco and Seattle. For those flying in, a rental car is a must.
Where to Stay
The accommodations in Big Sur are some of the most unique and impressive in the world when it comes to architecture, cuisine and location. While each lodging option has its own vibe, one of the best ways to narrow down where to stay is to decide if you want a sweeping ocean view or to be ensconced in the awe-inspiring redwood forest. Here are our favorite Big Sur accommodations, with options on the water and in the trees.
Best Resorts by the Sea
One of the most coveted hotels in Big Sur, Post Ranch Inn is an award-winning luxury hotel that boasts mid-century modern architecture with a major emphasis on delivering jaw-dropping views — find floor to ceiling windows pretty much everywhere, including the suites, spa and dining room. From almost every corner of this property, you feel as though you're levitating above the sea.
One of the most romantic ways to enjoy this view is by having a soak in the inn's infinity hot tub before heading to the highly acclaimed, on-site Sierra Mar restaurant. At Sierra Mar you'll order from a seafood-centric menu that utilizes ingredients grown in the chef's garden or foraged from the surrounding sea and forest.
And finally, there's the spa, which offers innovative treatments such as the Big Sur Herbal Spirit Journey and Sound Journey Meditation. It also has two couple's treatment rooms, one of which features a wood-burning fireplace.
If you're looking for a cozy, inviting and fairly affordable hotel by the sea, this is the honeymoon retreat for you. Ragged Point Inn and Resort sits 350 feet above the Pacific Ocean and offers charming rooms with wood accents, fireplaces, whirlpool tubs, and private decks or balconies with ocean views. At the gourmet Ragged Point Restaurant, you can enjoy seasonal cuisine made with local ingredients and an impressive offering of local wines. If you visit in the summer, you'll have the pleasure of experiencing the hotel's weekend concert series and barbecues.
Best Resorts in the Forest
One of the most luxurious hotels in the area, the adults-only Alila Ventana Big Sur makes you feel as though there's little separation between you and the majesty of the redwood forest. The hotel was designed with the philosophy of bringing wood, water and air inside, and thus features rooms with high ceilings, massive soaking tubs and spellbinding views of the forest-meets-ocean vista. If you truly want to immerse yourself in nature, opt for one of the hotel's plush glamping tent cabins.
A trip to Spa Alila is a must when staying at this hotel, as it offers Japanese-style onsen baths and outdoor treatments that allow you to breathe in the fresh, redwood-scented air while receiving one of the spa's many varieties of relaxing massage.
This moderately-priced hotel is dripping in style with cabins featuring chic, vintage-inspired decor. Each cabin is distinctive with thoughtful, eco-conscious elements that make you feel even more connected to the surrounding environment. For example, one cabin has a recycled peroba wood bed frame, eco-resin twig door and recycled stone floors. All accommodations offer gas fireplaces so couples can cozy up after a long day. The style of the cabins flows into the on-site Big Sur Roadhouse restaurant, as it was infused with "homegrown modernism" by San Francisco designer Steve Justrich.
Do you love the idea of sitting with your new spouse on an Adirondack chair made for two, as you soak your feet in the cool water of the Big Sur River? If so, you've found your honeymoon hotel. This quaint inn is encircled by redwoods and, as you may have guessed, right on the banks of a river. The inn has a nostalgic feel with its cabin-inspired rooms featuring plush bedding and artwork depicting local scenery. Because it's your honeymoon, be sure to upgrade to a suite that overlooks the river.
Where to Visit During a Romantic Getaway in Big Sur
An outdoor oasis, Big Sur has a host of activities that will infuse your honeymoon with an ideal balance of adventure and romance.
Eat at Nepenthe. Snag an outdoor table for two at this historic clifftop restaurant that has been a favorite of legends like Orson Welles, Henry Miller and Hunter S. Thompson. Fans of classic films will also recognize Nepenthe as a setting in "The Sandpiper," starring Elizabeth Taylor.
Enjoy a picnic above a waterfall at Julia Pfeiffer Burns State Park. Pack a picnic and a bottle of wine, and set out on the McWay Falls Overlook Trail that will take you to one of the most iconic lookouts in Big Sur. During low tide, the 80-foot McWay Falls pounds onto the sand, but is transformed into a tidefall when the ocean rises. (Tip: Before embarking on any trails, check the California Department of Parks and Recreation website for updates on any weather-related closures.)
Walk through purple sand at Pfeiffer Beach. If you're up for an adventure, take the twisting road to this off-the-beaten-path beach. Walk north to discover unique purple sand that comes from manganese garnet rocks in the cliffs. This part of the beach also features tide pools during low tide. Don't miss the iconic Keyhole Arch, which makes a stunning backdrop for a honeymoon snapshot.
Hike the shoreline at Point Lobos State Natural Reserve. Revel in the wonders of nature while meandering hand-in-hand with your love through the rare plant communities, endangered archeological sites and unique geological formations at Point Lobos. You should also keep an eye out for seals, sea lions, sea otters and migrating gray whales if you're visiting between December and May.
Explore Hearst Castle. If you want to check out a man-made marvel, take the 65-mile drive south to San Simeon where you'll find Hearst Castle. This grand compound, built between 1919 and 1947, was commissioned by publishing tycoon William Randolph Hearst and designed by architect Julia Morgan.
Catch the sunrise at Lovers Point in Monterey County. If you're both morning people, wake up before the sun and head to Lovers Point in the city of Pacific Grove. This beach is so unique for the West Coast because it faces east and allows you to watch the sun rise from the ocean.
Rent electric bikes in Carmel-by-the-Sea. Take a short 45-minute road trip up the coast to Carmel-by-the-Sea and snag electric bike rentals. You can then zoom through the quaint town and along the tree-lined coast until you reach The Restaurant at Mission Ranch, located on-site at Clint Eastwood's 22-acre landmark resort.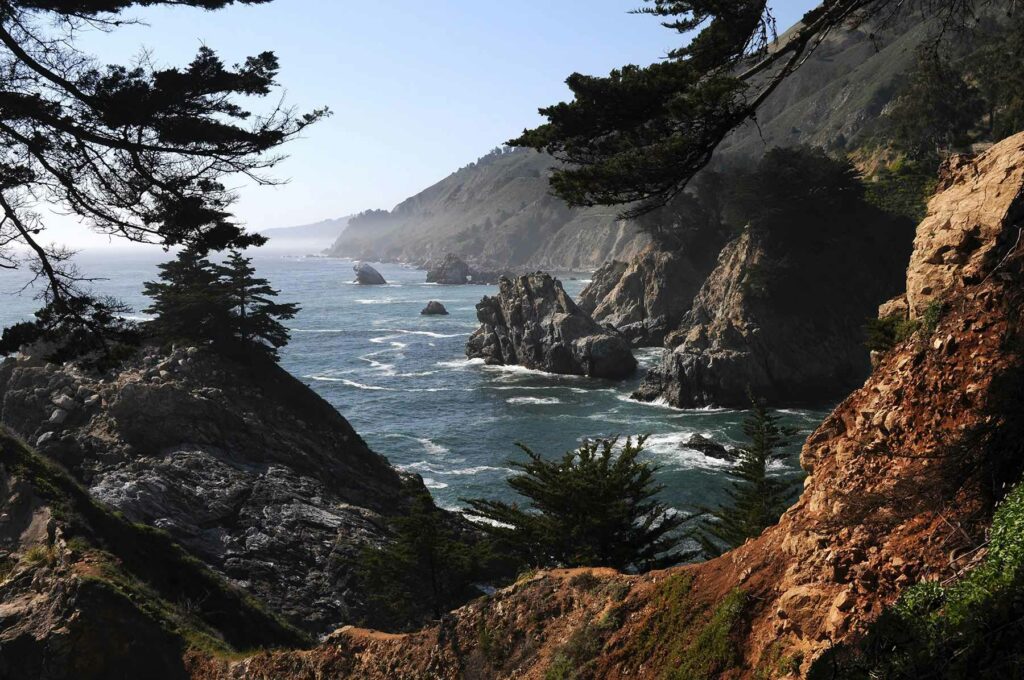 Additional Big Sur Honeymoon Tips
To help ensure you have an amazing Big Sur honeymoon, here are a few additional tips for planning an unforgettable getaway.
Pack hiking shoes and a rain jacket. As most of the activities in this area involve walking, you'll want to bring comfortable shoes for hiking. And even if you're not visiting in the rainy season, it's still wise to bring a raincoat, as you might encounter a surprise sprinkle.
Stay for at least four nights. Because driving will take up a decent portion of your trip, plan to stay in the area for at least four nights to enjoy a full three days in this coastal oasis.
Be prepared to be semi-off-the-grid. Cell service and WiFi is a bit spotty on this stretch of coast, so it's a great time to turn off your phone and computer and fully connect with nature.
Create a honeymoon registry to indulge in romantic meals and spa treatments. Beyond all the outdoor activities, the restaurants and spas in Big Sur are major highlights. If you haven't already, create a honeymoon registry that will allow loved ones to contribute to your meals and spa treatments (as well as accommodations and other trip essentials!).
Consider Big Sur for your wedding venue.

If you're interested in a destination wedding but haven't yet found the ideal location, consider Big Sur.

This area has an abundance of dreamy

wedding venues

at a variety of price points.
Up Next:
Whether it's for airfare, a hotel stay, or honeymoon travel experiences, create one list for all your honeymoon wishes.