Now that the confetti of your big day has settled, it's time for a memory-making adventure. Are you dreaming of strolling hand-in-hand along pristine shores? Cuddling up in a majestic mountain setting? Exploring enchanting desert landscapes? What about dancing the night away in a bustling big city like Los Angeles? California has your post-wedding bliss covered, no passport required. The Golden State is perfect for road trippers, campers and luxury-seekers alike. Here's how to get the most out of this domestic gem on your dream honeymoon in California.
Planning Ahead
California is a huge state — 163,696 square miles, to be exact. It has much to offer, so narrowing down your "must visit" list in advance will really help shape your trip. If you're traveling to one or two cities that are nearby, plan for at least a week. For the ambitious couple who craves exploration, however, take at least two weeks to road trip through this stunning state. Once you start cruising along Pacific Coast Highway, you'll want to make as many picturesque stops as possible.
When to Go on a Honeymoon in California
While the state is gorgeous all year round, some months are better than others for a honeymoon in California. Spring brings the infamous wildflower bloom and mild temperatures, perfect for seeing the vibrant colors of the Anza-Borrego Desert or visiting the charming vineyards of Napa Valley. Summers are great for coastal locales; just seek out lesser-known beach towns like Oceanside or Oxnard if you want to honeymoon with fewer crowds. During this time of year, avoid trips to the desert as temperatures can easily climb over 100 degrees. Fall brings gorgeous foliage in places like Lake Tahoe and Yosemite and wine tasting in the cooler wine regions like Paso Robles. In winter, rent a vehicle with chains to hit up ski towns like Big Bear or Lake Tahoe.
Getting There and Getting Around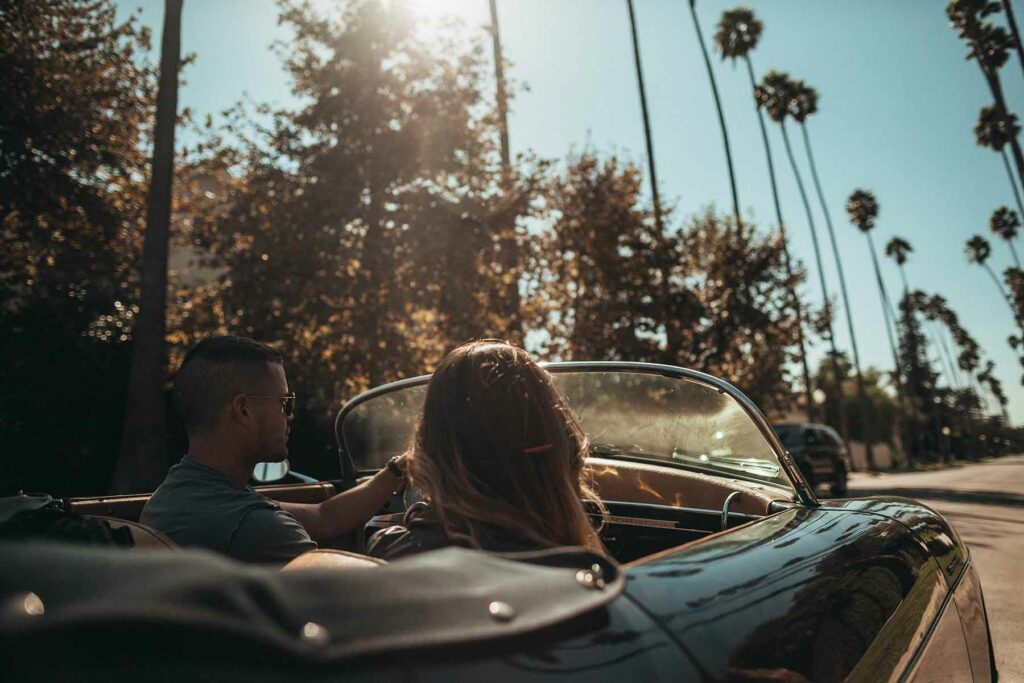 California is a breeze to reach with nine international airports and more than a dozen other commercial airports. Major transit hubs provide access from north to south, including San Francisco International (SFO), Los Angeles International (LAX) and San Diego International (SAN). Some regional airports even have special perks for travelers. If wine country is your destination, for example, Charles M. Schulz – Sonoma County Airport (STS) in Santa Rosa lets you bring home a whole case of wine as checked baggage for free!
As far as getting around, public transportation like the BART can suffice if you're heading to a big city such as San Francisco, but can be unreliable in other areas. Ride shares, however, are plentiful. For a honeymoon in California, renting a car may be your best option. Picture a convertible with the top down as you take a romantic sunset drive across the Golden Gate Bridge.
Plan a Northern California Honeymoon
NorCal is where nature meets culinary paradise. Here's a look at our favorite activities and hotels for a honeymoon in Northern California.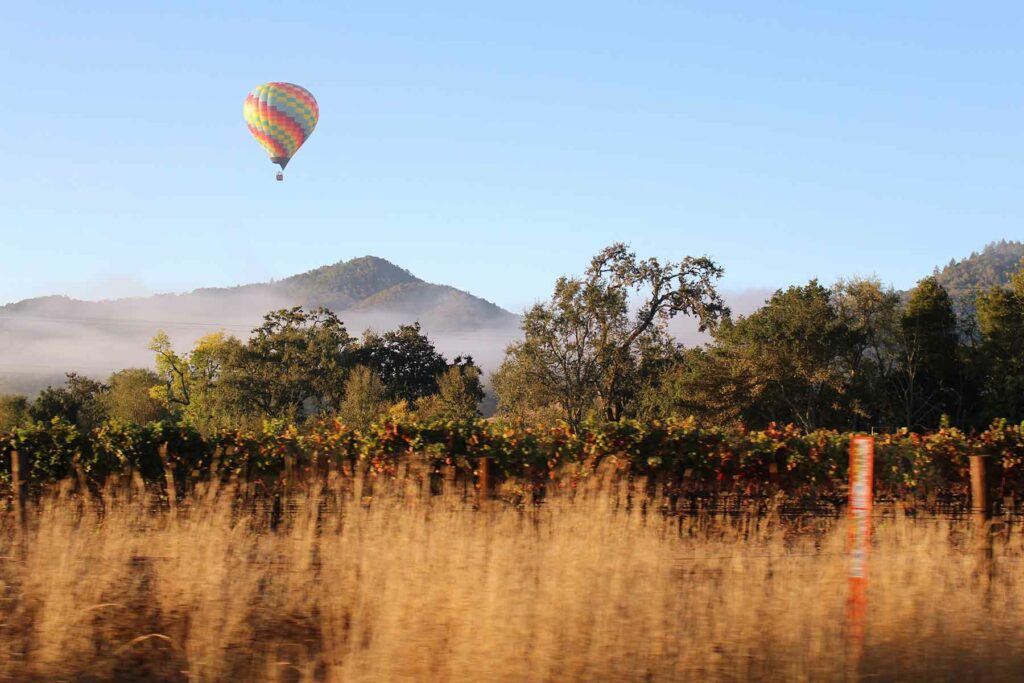 Go wine tasting in Napa Valley and Sonoma. Explore the world-famous wine regions with tastings at boutique wineries and larger estates. There are also curated tours like Bohemian Highway in Sonoma County, which will take you and your love off the beaten path based on your personal wine preferences.
Indulge in Michelin-starred dining in San Francisco. One of the most celebrated restaurants in town, State Bird Provisions is renowned for its innovative contemporary American cuisine served dim sum-style. It's also one of the more wallet-friendly restaurants with a Michelin star, making it a honeymoon splurge you won't feel guilty about.
Take a hot air balloon tour. Elevate your honeymoon experience with a bird's-eye view of Napa Valley's rolling vineyards. Enjoy the breathtaking panoramic view while sipping on sparkling wine during your flight.
Go on a redwood forest retreat in Muir Woods. Embark on a romantic getaway amidst the towering ancient redwood trees of Muir Woods National Monument. Well-maintained trails wind through these majestic giants, providing a serene and awe-inspiring experience.
Where to Stay in Northern California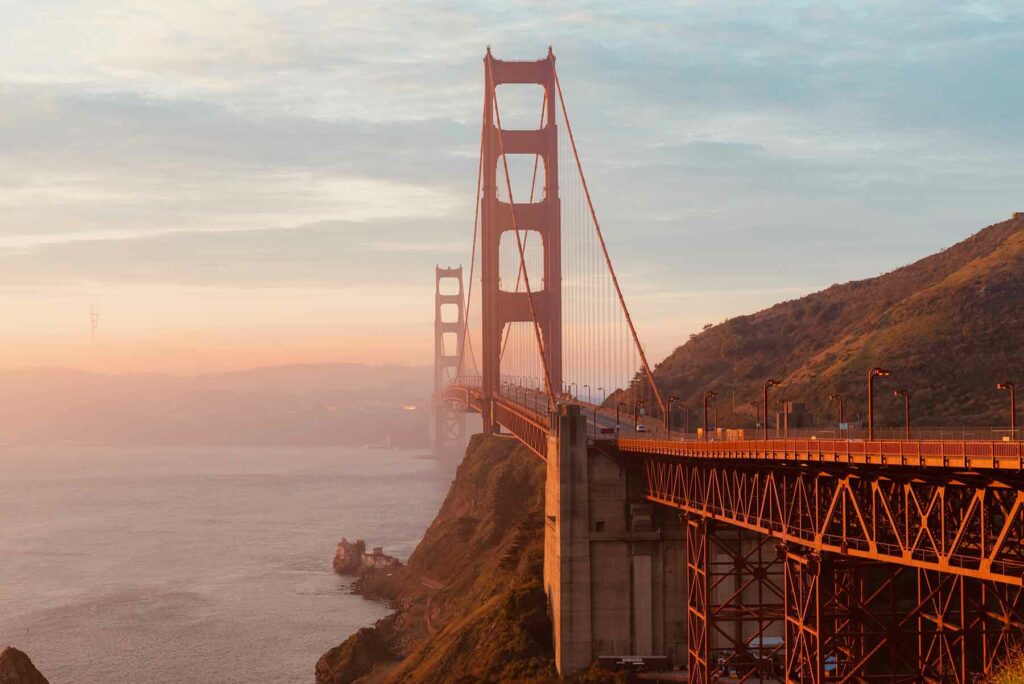 Cavallo Point, San Francisco
Situated in a historic building just across the Golden Gate Bridge in Sausalito, this luxury lodge offers stunning views of the city skyline and bay. It's surrounded by natural beauty and provides a serene and secluded atmosphere perfect for honeymooners. There are charming and well-appointed rooms, including many with fireplaces and private balconies. Exquisite dining, spa treatments and cooking classes await you in this jewel of a hotel.
Auberge du Soleil, Napa Valley
Perched on a hillside overlooking Napa Valley, Auberge du Soleil offers stunning panoramic views of vineyards, rolling hills and the valley below. For an unforgettable honeymoon meal, dine at the on-site Michelin-starred restaurant that offers exceptional cuisine accompanied by breathtaking views. The hotel also offers a range of rejuvenating spa treatments like side-by-side couple's massages in a serene environment.
Honeymoon in California's Romantic Mountain Towns
From the snow-capped peaks of Mount Shasta to the serene tranquility of Big Bear, the expanse of California's mountain towns promises an array of experiences for outdoorsy couples across all four seasons.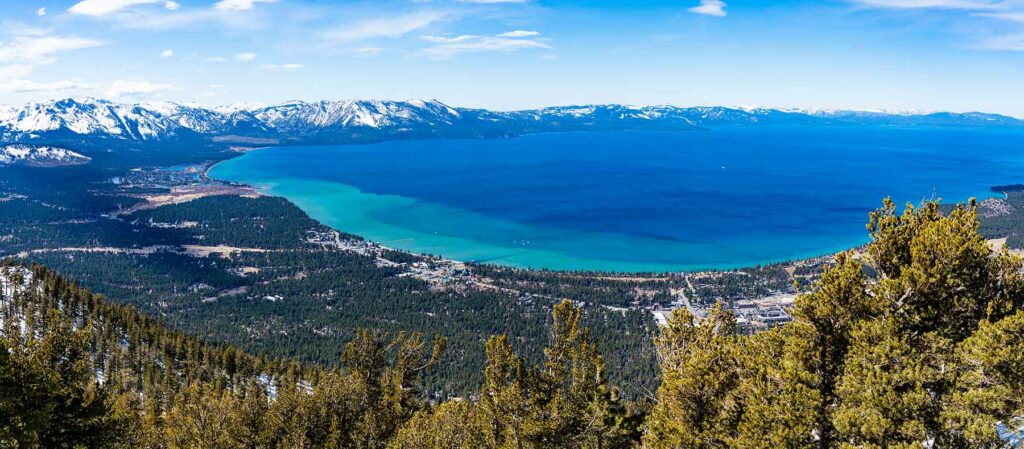 Experience the allure of Lake Tahoe in summer and winter. Snuggle up in a cozy ski-in/ski-out resort like Everline Resort and Spa. You'll enjoy direct access to Palisades Tahoe so you can enjoy days on the slopes and evenings by the fireplace. During the summer, partake in water sports, lakeside picnics and sunset cruises, surrounded by the breathtaking beauty of the Sierra Nevada mountains.
Immerse yourselves in the grandeur of Yosemite National Park in fall and spring. Embark on a romantic hike through towering redwoods along shaded trails. Discover hidden waterfalls, serene meadows and panoramic vistas that frame your journey into the heart of nature's splendor.
Enjoy all-season adventures on Mammoth Mountain. Mammoth Lakes is a haven for adventure enthusiasts year-round. Whether you're skiing down powdery slopes or hiking to Rainbow Falls, the eastern side of the Sierra Nevada mountains offers an ever-changing landscape. Explore hot springs, go horseback riding or simply indulge in each other's company amidst the alpine beauty.
Where to Stay in California's Mountain Towns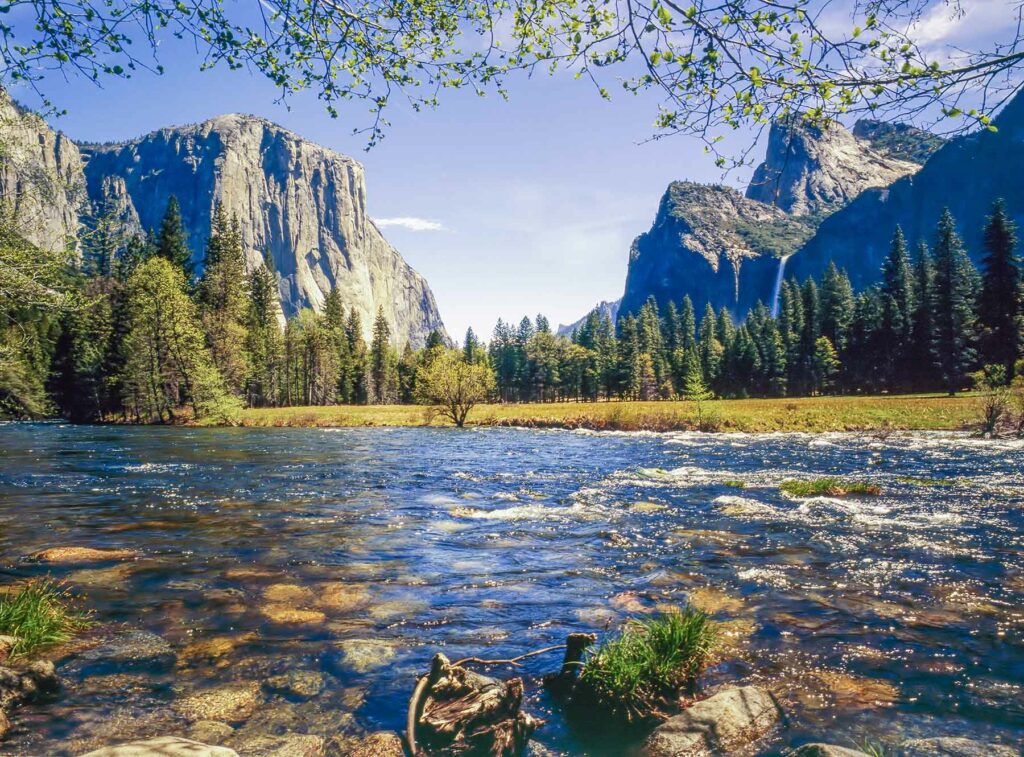 Surrounded by the majestic beauty of towering pines and rugged landscapes, this lodge offers a blend of rustic charm and modern luxury. You'll feel like you are at the center of one of America's most beautiful national parks. Unwind at the spa or stargaze by the firepit while roasting s'mores and sipping local wine. Bonus: You're right by the south entrance of Yosemite National Park!
Nestled on the shores of North Lake Tahoe with breathtaking views of the crystal-clear water, The Ritz-Carlton offers an unrivaled romantic experience that is both luxurious and enchanting. Honeymooners can look forward to ski-in/ski-out privileges at Northstar California, couple's spa treatments and delicious cuisine at Manzanita restaurant.
The Westin Monache Resort, Mammoth
The Westin Monache Resort stands out as a perfect blend of luxury and natural beauty. Unwind in the heated outdoor pool or soak in the hot tub, all while taking in the breathtaking views of Mammoth Mountain.
Retreat to California's Central Coast
As a more affordable alternative to Napa and Sonoma, this region presents couples with an unforgettable honeymoon destination. Here's how to fill your itinerary with the perfect blend of romantic activities and laid-back vibes.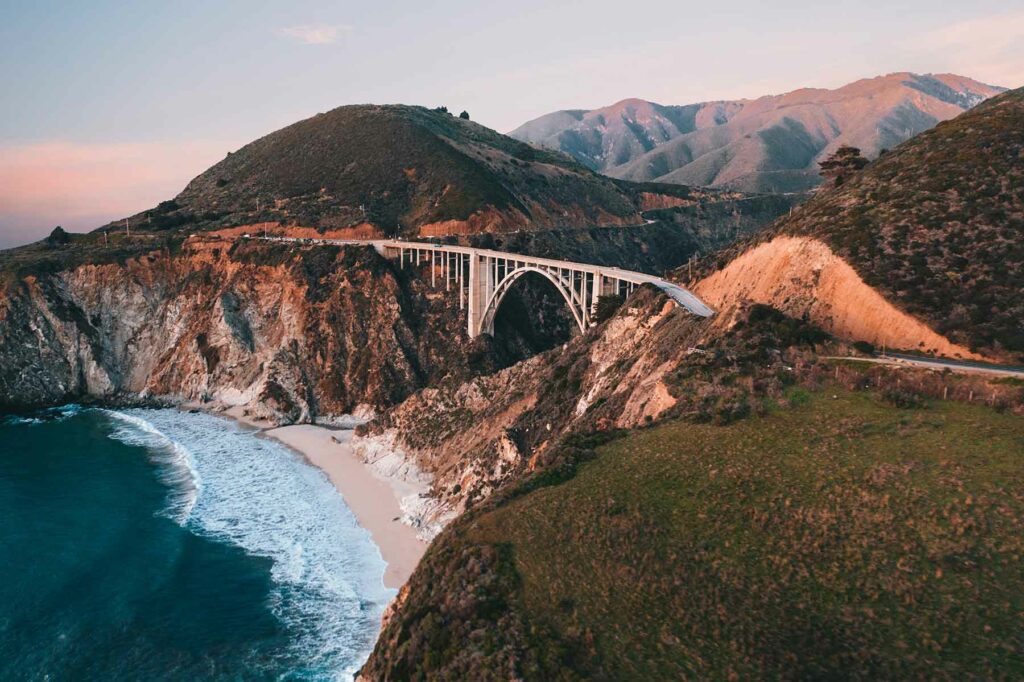 Cruise the coast along Highway 1. Take that cute convertible you rented for a scenic drive along an iconic stretch of road that hugs the stunning California coastline. The Big Sur drive between Carmel and San Simeon is one of the state's most stunning. Stop at the Bixby Bridge for a honeymoon photo op complete with breathtaking views of the Pacific Ocean.
Book a surfing lesson for two in Santa Cruz. Imagine holding hands while catching your first waves during a personalized surf lesson for two. Feel the thrill of the ocean together, laugh at the wipeouts and relish the sense of achievement. Afterward, explore the iconic Santa Cruz Beach Boardwalk or simply relax on the golden sandy beaches during a sunset.
Take the 17-Mile Drive. The private stretch of road between Pacific Grove and Pebble Beach offers romantic views of the Monterey Peninsula. End your journey with a visit to the Monterey Bay Aquarium, where you can share moments of wonder and awe as you view marine life together.
Go wine tasting in Paso Robles. Raise your glasses to love at one of the region's more than 250 wine tasting rooms. Take a leisurely bike tour through the vine-covered landscapes and be sure to stop for tastings and a picnic along the way.
Dive into downtown Santa Barbara. Historic State Street is lined with boutiques, art galleries and charming cafes. Enjoy a romantic horseback ride along the coastline, basking in the panoramic views. For a touch of luxury, book a sunset cruise to watch the sun dip below the horizon.
Where to Stay Along the Central Coast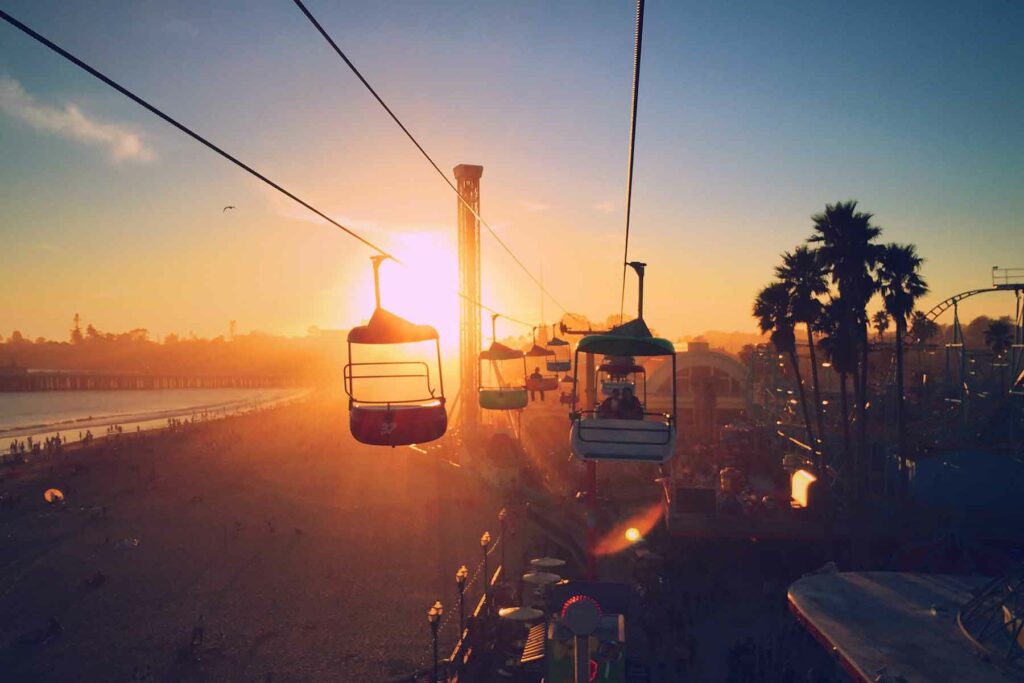 Chaminade Resort & Spa, Santa Cruz
Lose yourselves in luxury by the sea at the equally upscale and laid-back Chaminade Resort & Spa. Honeymooners will delight in a vine-to-view culinary program, bespoke cocktails and breathtaking dining views. The hotel also provides a variety of classes including yoga and Zumba so you can warm up before hitting the sand.
This spectacular adults-only retreat offers seclusion, wellness and over-the-top indulgence. Dine high above the Pacific Ocean at The Sur House, book a couple's suite at Spa Alila or create your own botanical cocktails for two. Take it from us, you'll never want to leave.
Perfect for artsy couples, this historic property is filled with vintage touches around every turn. Discover lush gardens, elegant architecture, comfortable rooms and modern amenities that create a memorable honeymoon experience.
Allegretto Vineyard Resort, Paso Robles
This resort will have you questioning whether you are in California or at a European villa. It offers a blend of Mediterranean and Tuscan architecture and is surrounded by vineyards. Soak in the serene and romantic atmosphere of the expansive grounds while enjoying wine tasting, art tours and weekend yoga.
Relax on a Sun-Soaked Southern California Honeymoon
There's an alluring array of beach and desert landscapes, cultures, and attractions here that make SoCal an ideal honeymoon destination. There's something for every couple — the bustling cityscapes of Los Angeles, the serene beaches of Orange County, the vibrant vibes of San Diego, and the mystic allure of the desert.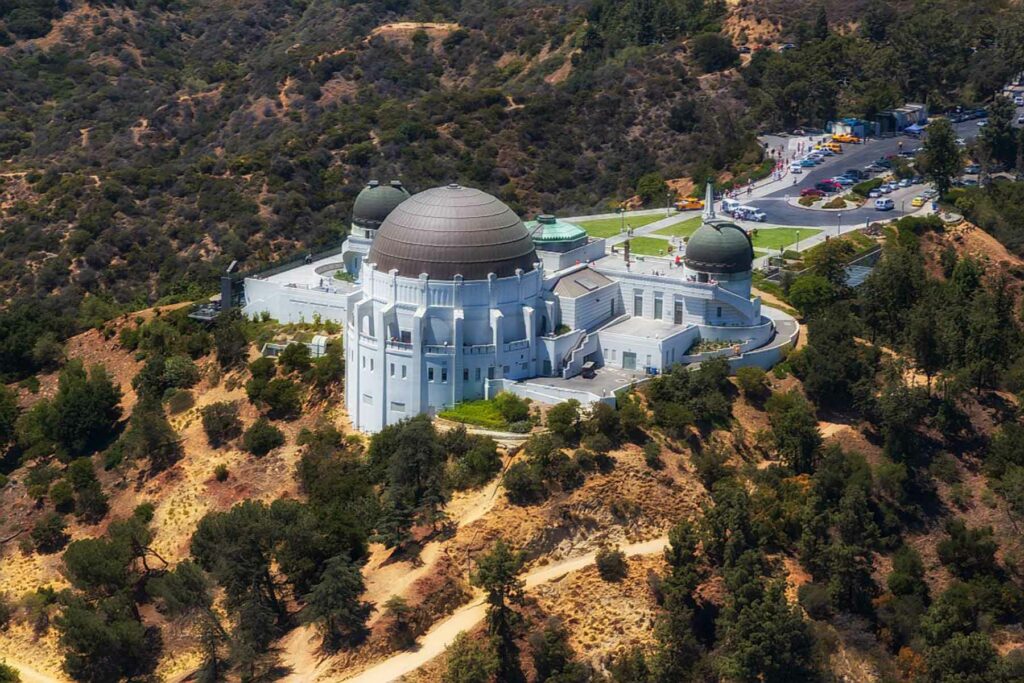 Get starry-eyed at Griffith Observatory. This spot in the Hollywood hills is like your front-row ticket to the universe. Gaze at constellations, planets and even the moon through telescopes to feel like you're floating among the stars.
Have a red carpet experience in Los Angeles. Channel your inner celebrity with a stroll down the Hollywood Walk of Fame or visit the Santa Monica Pier for retro vibes. Dine in glitzy Beverly Hills, where you might rub elbows with actual celebrities (how's that for a honeymoon story?).
Find beachfront romance in Newport Beach. Orange County is all about those coastal vibes. Newport Beach offers laid-back luxury with its sandy shores, high-end shopping and Michelin-noted restaurants with waterfront views.
Live your desert dreams in Joshua Tree National Park. Take a honeymoon hike amidst the surreal rock formations on a brisk fall day. At night, hold hands while watching the stars twinkle like diamonds in the inky sky. You may even have a chance to see the Milky Way.
Find pampering and adventure in Palm Springs. From luxurious spas to outdoor adventures, this desert paradise has it all. Relax by the pool, hit the hiking trails, or take a ride on the Palm Springs Aerial Tramway for panoramic views that will take your breath away.
Go on an urban adventure through San Diego. Vibrant nightlife and tasty eats await in the Gaslamp Quarter. For respite during your honeymoon in this California destination, hop over to Coronado Island for timeless elegance, water sports and luxury hotels.

Where to Stay in Southern California
Indulge in spa services, wellness classes and rooftop cocktails on the Sunset Strip. Between the luxe accommodations and prime location, you and your partner will love exploring the area as much as you will sleeping in.
The Resort at Pelican Hill, Newport Beach
Set above the picturesque coastline of Newport Beach, this five-star resort offers views of the ocean and the hills. Luxurious bungalows and suites are perfect for sipping sparkling wine from the seclusion of your own private terrace. Take a dip in the show-stopping Coliseum Pool before a round of golf or a couple's massage.
This mid-century modern desert gem offers private villas with secluded patios and gardens, perfect for honeymooners seeking intimacy and relaxation. The Parker's pool area is a central hub of relaxation and socializing. Don't forget to reserve a chic poolside cabana for a luxurious way to soak up the sun and unwind.
This boutique hotel located in the charming coastal community of Del Mar north of downtown San Diego offers breathtaking ocean views and direct access to the beach. Dining options include the award-winning restaurant Kitchen 1540, which serves farm-to-table cuisine with a focus on fresh, local ingredients. Top it all off with an incredible spa and you have the perfect hotel for your California honeymoon.