Offering the ideal blend of adventure and laid-back vibes, Lake Tahoe is a popular honeymoon destination for newlyweds who enjoy outdoor activities. The Tahoe area surrounds an expansive freshwater lake, which is located on the California-Nevada border in the northern Sierra Nevada Mountains. As the second-deepest lake in the United States, in addition to being one of the highest, Lake Tahoe provides a picturesque ambiance with alpine flora and fauna, and year-round gorgeous views.
Along the lake's 72-mile shoreline, you'll find a host of outdoor activities perfect for a romantic getaway, such as skiing and sleigh rides in the winter or hiking, biking and watersports in the summer. And when it's time to wind down, many of the resorts and towns scattered around the lake offer world-class spas and romantic dining options. From where to stay to what to do, here's everything you need to know about planning an unforgettable Lake Tahoe honeymoon.
Why Lake Tahoe is Great for Honeymooners
Lake Tahoe is a top choice for honeymooners for a variety of reasons, a prime one being that there's a little something for everyone. To the north, there's a wonderland of upscale resorts and gourmet eateries. Meanwhile, the southern banks are home to a thriving nightlife scene.
Tahoe is also fairly easy to get to, as you can book a direct flight into Reno-Tahoe International Airport from most major cities in the United States. The airport is about 30 miles from North Lake Tahoe and 60 miles from South Lake Tahoe, and the commute is part of the fun. During the short drive, you'll have a chance to take in spectacular views of the mountains and water.
While many resorts can arrange your transportation from Reno, it's best to rent a car at the airport if you plan on adventuring outside your hotel.
When to Go to Lake Tahoe
While Tahoe is a wonderful year-round honeymoon destination, activities will vary depending on when you visit. If you want to glide down fresh powder, plan your honeymoon between late November and March. Tahoe is fairly chilly during ski season, with highs typically in the 30s or 40s and temps that often drop below freezing at night.
In the summer, Tahoe is fairly warm during the day, with temperature in the 70s or 80s, and cools off at night. This mild weather makes summer a great time to engage in all the fun the lake has to offer, such as scuba diving, boating and a variety of other watersports. Honeymooners also enjoy taking to the mountains on bike or foot this time of year.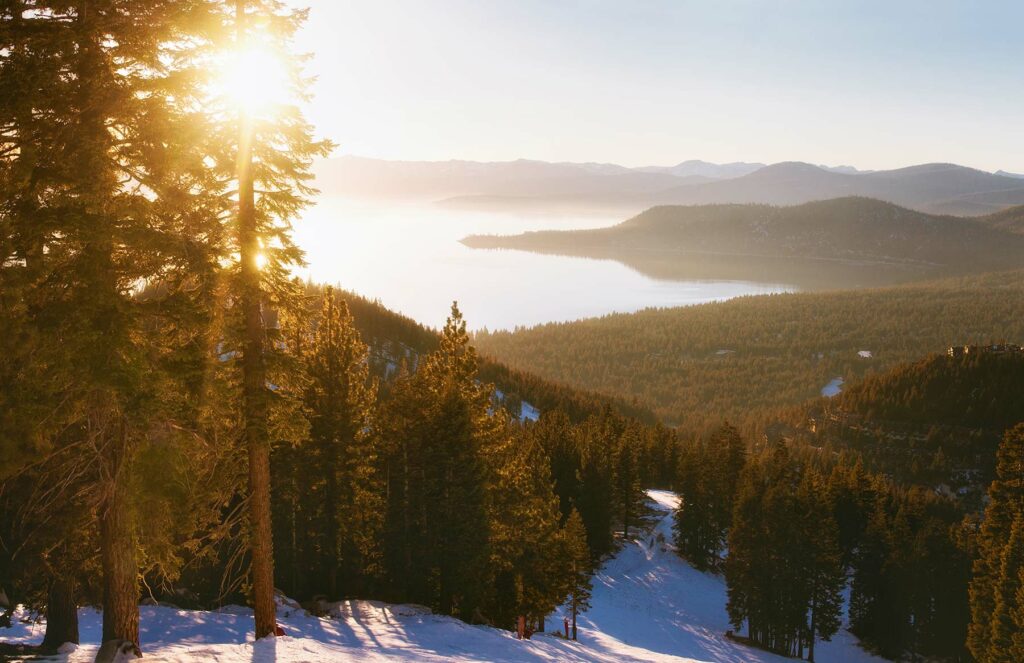 Best Honeymoon Activities in Lake Tahoe
Tahoe is one of those rare ski destinations that's pulsating with energy and activity all year long. When the skiers hang up their long johns, a fresh crop of thrill-seekers take their place to engage in hiking, biking, diving, fishing, swimming and sightseeing in this visually rich environment. The host of activities in the Tahoe area also lend themselves to romance, as many are ideal for a party of two.
Skiing. Start your marriage off with an adrenaline rush by exploring the many world-class ski slopes in Tahoe, including Heavenly Mountain Resort, Northstar California Resort, Mt. Rose-Ski Tahoe and more. Share a ski lift for two and spend the ride daydreaming about your future before heading down the mountain.
Guided snowshoe tour and dinner at The Chalet.

A popular Tahoe honeymoon activity is the guided snowshoe tour to the mid-mountain Chalet at Alpine Meadows. After reaching The Chalet, you're treated to a four-course Bavarian inspired meal, a complimentary glass of Champagne and hand-selected wine pairings.
Sleigh rides.

Can you think of anything more romantic than a winter sleigh ride in the mountains? Neither can we. If you'll be in Tahoe during ski season, it's a must to snuggle up in a sleigh for a private tour with Borges Sleigh and Carriage Rides. You'll travel along the banks of Lake Tahoe and the surrounding pines, while your guide narrates the journey and stops for photo ops.
Sunset lake cruise.

In the warmer months, a sunset cruise on the emerald lake is one of the best ways to kick off your married life. Many of the lakeside resorts offer group boat trips that include beer, wine and light appetizers, or a full dinner. If you want to go all out, book a private cruise.
Snorkeling or scuba diving.

One of the best ways to take in the beauty of the lake is to dip beneath its surface. If you opt for scuba diving, you'll have the opportunity to explore an underwater tapestry of shipwrecks, surreal forests with 80-foot-tall sunken trees that are more than 2,000 years old, and fascinating mazes of boulders. Snorkelers are also in for a treat, as the lake's impeccable clarity means you'll feel as though you're flying atop the surface of an alien planet. Emerald Bay State Park is an optimal location to engage in these underwater activities.
Stand-up paddleboarding or kayaking.

If the idea of being fully submerged in the chilliness of Lake Tahoe gives you a brain freeze, consider renting stand-up paddleboards or kayaks. You can pack a picnic lunch and find a private cove to enjoy a romantic meal.
Hiking.

Tahoe offers a web of amazing hiking trails, ranging from a mellow lakeside walk to a more extreme trek up the side of a mountain. Popular trails in South Lake Tahoe include Mount Tallac, Eagle Falls, and Echo Lakes Trail. North Lake Tahoe favorites include Mount Rose, Lola Montez Trail and Tahoe Meadows Trail.
Biking.

Get your heart pumping by grabbing bike rentals and conquering the path from Tahoe City to Squaw Valley that offers stellar views of the Truckee River. You can also bike the mellower Tahoe Meadows Trail, which features ample sightings of wildflowers and sprawling greenery, or explore the Pope-Baldwin beach bike trail that takes you through old-growth forest and offers the opportunity to swim at Pope Beach.
Gondola ride to High Camp.

Score spellbinding honeymoon photos by riding the gondola at Palisades Tahoe that carries you 8,200 feet above sea level to High Camp, a mountaintop playground with breathtaking views. After snapping those romantic scenic shots, you can take a dip in the High Camp hot tub while sipping on some spiked hot chocolate.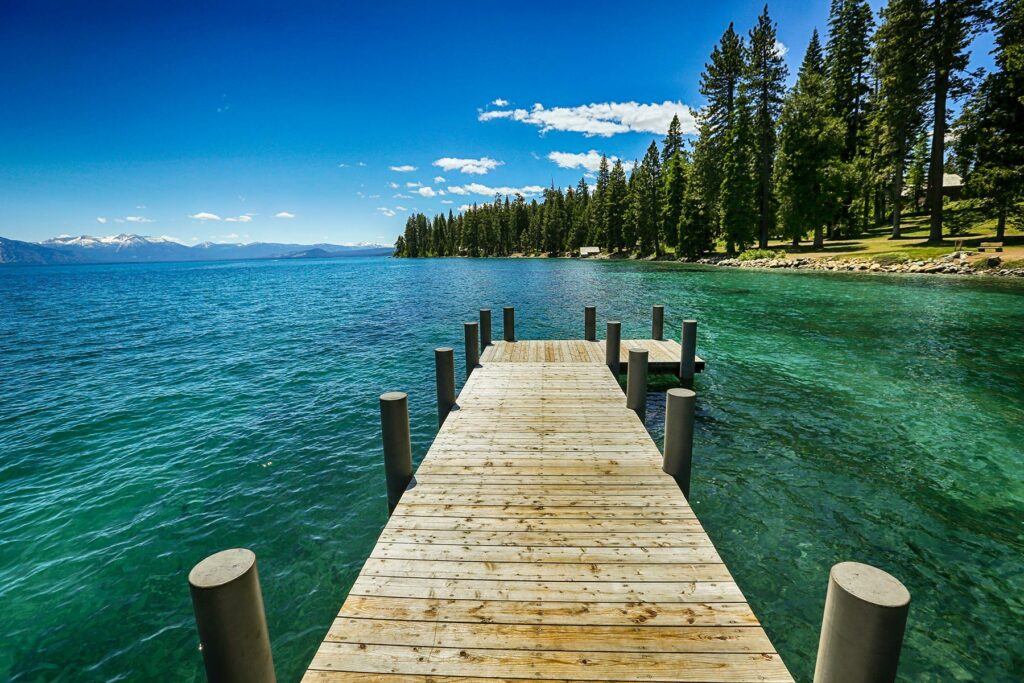 Where to Stay: North or South Lake Tahoe?
The first decision you need to make when planning your honeymoon is whether you want to stay in North Lake Tahoe or South Lake Tahoe. Both are amazing, but in different ways. North is where you'll find the majority of ski areas and a mellower, nature-centric experience. South Lake Tahoe is known for its active nightlife scene, numerous casinos and live music.
Because cost is often a factor when planning a honeymoon, we've created a guide to some of the best accommodation options in both areas at a variety of price points.
North Lake Tahoe Hotels and Resorts
Whether you're looking to save, upgrade or splurge, North Lake Tahoe has accommodations for every type of honeymoon budget. Couples seeking privacy can also opt for one of the many Tahoe vacation rentals available year-round.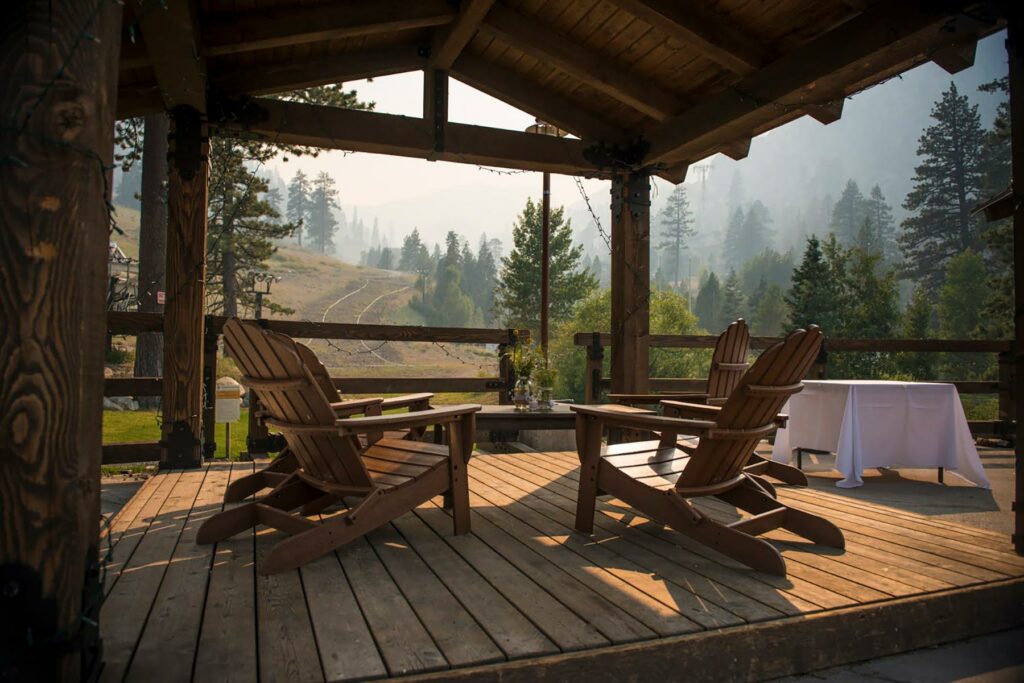 The epitome of convenience, The Village at Palisades Tahoe Hotel is steps from the slopes. Formerly Squaw Valley Alpine Meadows, this ski resort is perched above a European-style village offering an impressive array of bars, restaurants and shops, including one to rent your gear. This resort maximizes your time, as it doesn't take much effort to get from point A to B — everything is literally right outside your room. If you're hoping to save a little money, many of the rooms also include kitchens. (Just make sure to do your grocery shopping in Reno.)
Naturally, skiing is the favorite pastime at the resort in the winter. In the summer, you can hop on the tram to High Camp, go rock climbing, explore a ropes course or engage in a number of other outdoor activities. When you want some lake time, it's just a 10-minute scenic drive to Tahoe City.
The Village at Palisades Tahoe Hotel is the place to be in the spring and summer if you and your partner love live music, as the resort hosts a range of music festivals such as WinterWonderGrass and the Brews, Jazz, and Funk Fest.
Located in Incline Village, Nevada, the Hyatt is the place to stay if you have a moderate budget for lodging and want to enjoy a spectacular lake view. This resort highlights the deep blue waters of Lake Tahoe and sunsets that will dial up the romance on your honeymoon. You'll also enjoy rustic-chic rooms with cozy window seats and mountain views, outdoor fire pits, hot tubs and a palatial pool. And then there's the hotel's Stillwater Spa & Salon — don't miss romance-infused offerings like the Love Massage, which utilizes an aromatherapy formula to promote joy and soothe the senses.
Couples can treat themselves by booking a one-bedroom beachfront cottage that includes a king bed, separate living and dining areas, a full kitchen and balcony perfect for watching the sunset with a flute of Champagne in hand.
From mid-December through the end of March, the resort makes it a breeze to access the slopes, as it provides complimentary shuttles to the Northstar California ski resort. In the summer, the beach and lake are only a few steps away.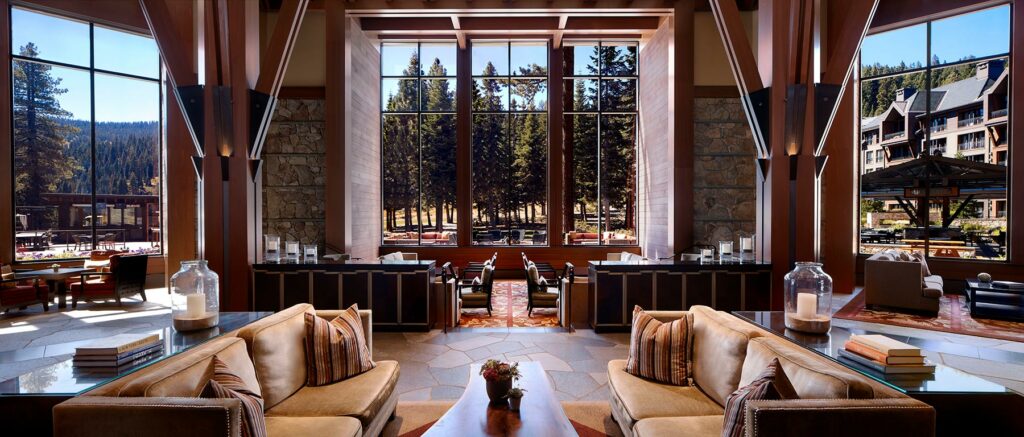 When the snow arrives, this five-star ski resort offers the convenience of skiing in and out of Northstar California, as well as a large fire pit where you can defrost and enjoy some s'mores. When the snow melts, it transforms into a summer utopia with a heated pool, volleyball and views of the wildflower-coated terrain. If you want to enjoy the lake, you can take a complimentary shuttle to the resort's Lake Club that provides beach access, a private pier, complimentary kayaks and stand-up paddle boards, and water sport rentals.
This luxury hotel also offers year-round California-inspired dining experiences, a world-class spa and the plush accommodations one would expect from a Ritz-Carlton property. And because it sits on the mountainside, the views from pretty much every corner of the resort are unbeatable.
When it's time for the spa, say yes to the Journey Through the Forest experience in the couple's treatment room. This treatment starts with a 90-minute massage that includes a blend of native essential oils designed to release deep stress and tension while stimulating your immune system. You'll also receive a full-body exfoliation and soak in a private tub.
South Lake Tahoe Hotels and Resorts
With affordable hotels and luxury splurges, South Lake Tahoe has great options for newlyweds who want to stay in close proximity to nonstop nightlife and entertainment.
If you live for live music and dancing, you'll love the late-night party scene and 24/7 gambling action at Hard Rock Hotel & Casino. While it's a more unconventional honeymoon choice, the three-star getaway offers a little bit of everything — gorgeous views of the lake, a sprawling pool, and a host of unique amenities such as an on-site tattoo shop. The Hard Rock delivers fun year-round, as it's in close proximity to the Heavenly and Kirkwood ski resorts, and it facilitates summer activities such as Jet Ski rides, golfing and even helicopter tours.
And then there's the nightlife. At the Hard Rock, you'll have seemingly endless options for dining and drinking, as well as live entertainment such as music festivals, burlesque shows and an all-you-can-eat drag brunch with bottomless mimosas.
A great compromise for couples who want to be close to the action while still enjoying a romantic retreat, this cozy lodge is tucked into the pine trees of South Lake Tahoe and features nine stylish, charming rooms with river rock gas fireplaces. For even more privacy, you can book one of the well-appointed cabins equipped with partial kitchens and dōTERRA essential oil diffusers in each room. Another distinctive benefit of this lodge for pet parents is its proximity to Hair of the Dog pet concierge, which is an overnight daycare and boarding facility for your four-legged friends, as they're not allowed in the resort's rooms and cabins.
While the lodge feels worlds away from the bustle of South Lake Tahoe, it's actually only half a mile to the beach and 1 mile from Heavenly Mountain. You can take a pleasant 10-minute stroll to Ski Run Marina, where you can rent kayaks, paddle boards, powerboats, and jet skis. You can also reserve a parasailing excursion or cruise on the Safari Rose yacht through Emerald Bay. If you want some wheels, rent a cruiser bike from the on-site Anderson's Bicycle Rental and pedal on one of the paved paths through the woods that lead to spots like Baldwin Beach.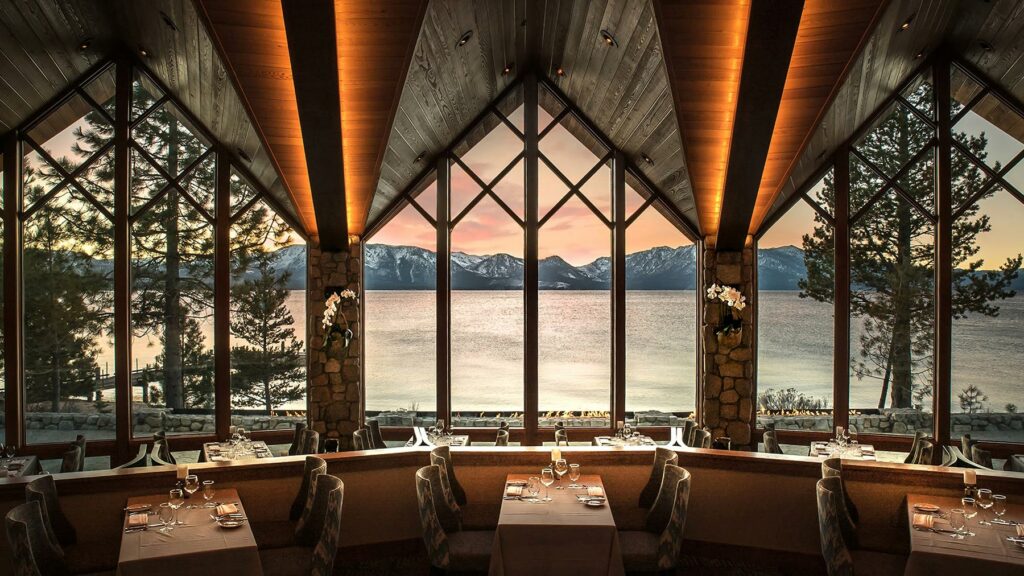 This dreamy boutique resort is the kind of place where you can spend your entire honeymoon without feeling a need to venture out. It sits on the shores of Lake Tahoe and offers gourmet dining, a day spa and summer activities such as golfing, star tours, "paint and sip" workshops, outdoor movies, live music and watersport rentals. In the winter, couples can hold hands while ice skating or traverse a snowshoe path that ends at the Champagne Chalet. And regardless of the time of year, Edgewood Tahoe honeymooners must try one of the innovative treatments at the Forbes Travel Guide 4-Star-rated spa.
This LEED-certified resort also strives to be a steward of the land and operates by an admirable credo: "To continually minimize our environmental footprint and ensure that this pristine area is just as pristine for those who come after us, as it was for those who came before us."
Additional Lake Tahoe Travel Tips
To help ensure your Lake Tahoe honeymoon is everything you hope for, here are some additional travel tips to make the most of your stay:
Arrive in the morning or afternoon. Because the drive from Reno to Tahoe is so spectacular, do your best to book a flight that will help ensure you're making the drive in daylight.
Schedule rest. There are so many amazing options for physical activity around Lake Tahoe that it can be easy to wear yourself out. Take time out of your day and plan for cuddles, or get some rest and relaxation with a couple's spa treatment.
Pack some warm clothes during spring and summer.

Even if you're honeymooning in Tahoe in the summer, it can get chilly in the evening. Be sure to pack a few pairs of pants and sweaters

.
Stay hydrated.

Avoid altitude sickness by packing electrolyte packets and drinking a lot of water.
Up Next:
Whether it's for airfare, a hotel stay, or honeymoon travel experiences, create one list for all your honeymoon wishes.