Ready to dive headfirst into new cultural and culinary experiences on your first trip as newlyweds? Japan is a captivating destination for a romantic honeymoon, offering an unforgettable blend of rich history, natural beauty and dining delights. From stunning cherry blossoms in the spring to private onsens (hot springs) where you can relax and unwind — plus Michelin-starred cuisine that will tantalize taste buds — Japan promises a honeymoon like no other. Its accessibility also makes it easy for couples to travel between different regions and experience everything this country has to offer. Whether you're seeking vibrant city life on the bustling streets of Tokyo or a serene escape and cultural immersion at Kyoto's must-see temples, here's a guide to celebrating your love in one of the best honeymoon destinations in the world.
What to Know Before Your Honeymoon in Japan
We know it can be intimidating to plan any honeymoon, let alone one in a destination that's an average of 12 hours away (even longer if you're traveling from the East Coast). But a few key facts will make crafting your dream getaway a breeze.
An island nation located in East Asia, Japan consists of four main islands and numerous smaller ones. Because of its geography and how far it is from the U.S., you're going to want to plan for at least 10 days to get the most out of your honeymoon. Want to explore the incredible countryside? Make your romantic getaway stretch to a solid two weeks. You won't regret it!
Before booking that plane ticket, keep in mind that Japan is not a budget destination — but it's definitely worth saving for this unique honeymoon experience. Since accommodations, flights and food can be expensive, look for small ways to save money, such as using a Japan Rail Pass or exploring Tokyo's incredible street food scene for a few meals. Setting up a honeymoon fund as part of your wedding registry is also a good idea, which will allow your loved ones to help get you to your dream destination and offset the cost for some activities and experiences.
Getting There and Getting Around
Now, let's get down to brass tacks. Japan has several airports you can fly into, but the most popular for international travel is Narita International Airport, which is located about 40 miles outside of Tokyo. While you can always take a cab into the city, save a little money and travel like a local on the JR East Narita Express for around 3000 yen ($22). The hour-long trip will give you insight into local life, and you can save that leftover cash for a romantic first meal! If you plan to fly domestically within Japan to visit other cities, however, you'll likely use Haneda Airport (also known as Tokyo International Airport).
Once you're here, skip the pricey cabs. Japan's extensive network of local and express trains makes it easy to get around, and the famous shinkansen (bullet train) is an adventure in and of itself. As one of the fastest trains in the world, it's an excellent way to travel between cities — perfect for multi-destination honeymoons so you can make the most of your time. Before you go, be sure to order the Japan Rail Pass, which provides unlimited travel on most trains. You can always rent a car or a motorcycle, but with all the great transportation options it's really not necessary. If you do dive into driving, be sure to brush up on traffic laws before you commit. You'll also need to obtain an international driving permit prior to arriving in Japan.
When to Go on a Japan Honeymoon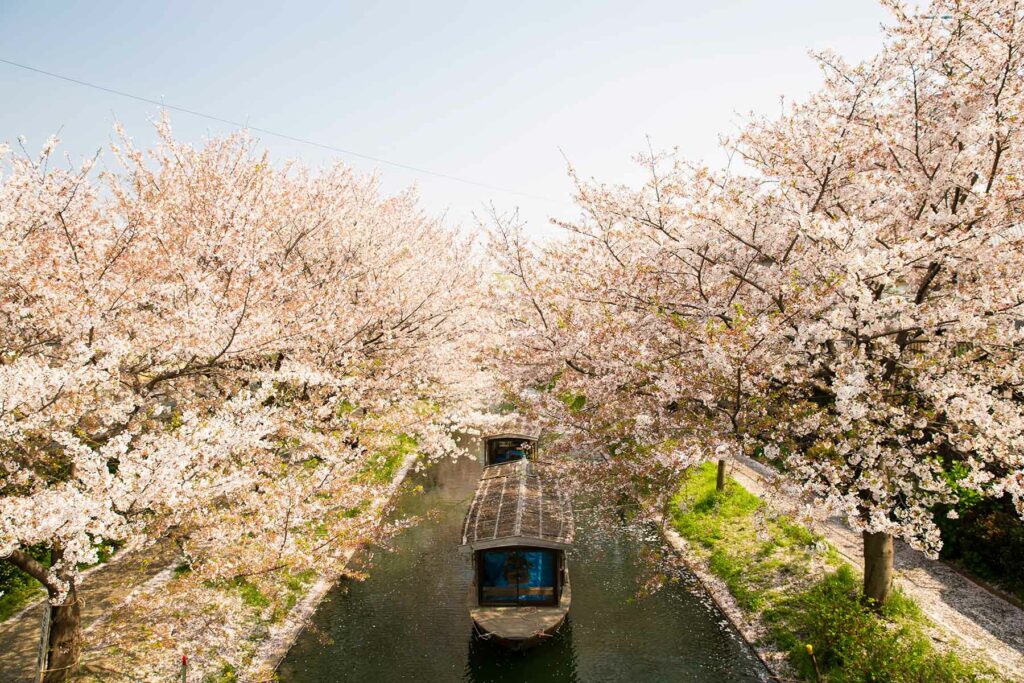 While it may be synonymous with cherry blossom season from late March to early April, Japan is absolutely stunning year-round. For a winter honeymoon, head to the Hokkaido mountains to find snowy landscapes ripe for a ski getaway. You'll also love canoodling in local hot springs after a day on the slopes!
Naturally, spring is the peak time to visit Japan as the cherry blossoms bloom and festivals are held throughout the country. Tokyo, Kyoto and Hiroshima are great this season, known for their lush landscapes and amazing cultural events. If you can withstand hot and humid weather, visit during the summer to enjoy beaches along the Shonan Coast and festivals such as Gion Matsuri held in Kyoto every July.
To save money on your honeymoon in Japan, consider traveling during the low season, which is from December to February and June to August. Just avoid booking a stay during Golden Week (late April to early May) and Obon Week (mid-August), since these are peak travel events and prices for flights and hotels can be high.
Where to Stay
The honeymoon hotel you choose will shape your experience in Japan. From luxurious amenities to traditional ryokans (Japanese inns), here are some of the most romantic places to enjoy your romantic getaway for two.
If budget isn't an issue, Aman Tokyo is a dream hotel for a luxe honeymoon stay. With stunning views of the city skyline from its rooms and suites at the top of the Otemachi Tower, Aman is known for its incredible spa and delicious cuisine. After savoring Tokyo-style Edomae sushi at Musashi, experience cultural traditions like sumo, going behind the scenes to see wrestlers in training. Not to mention, the hotel's convenient location in Tokyo makes it super easy to explore the city.
Located just down the street from the Gora train station, Gora Kadan is a luxurious ryokan in the hot spring town of Hakone. The ryokan has spacious rooms with traditional Japanese decor, private hot spring baths and stunning views of the surrounding forest. Explore the beautiful garden, authentic dining options and amazing spa with your new spouse for an unforgettable experience.
If you're looking for a blend of contemporary style and Japanese hospitality, look no further than the trendy boutique brand known for reimagining properties with interesting pasts. Opened in 2020, the Ace Hotel Kyoto building was once headquarters for the Kyoto Central Telephone Company in the 1920s. Today, this stylish and modern hotel located in the heart of Kyoto offers several amenities that honeymooners will love, such as a rooftop restaurant with great views of the city and tatami suites with a private bar and Japanese soaking tub. The hotel also has a great location downtown that makes it easy to explore Kyoto's many attractions, such as Nijō Castle and the Kyoto Imperial Palace.
For complete relaxation wrapped in a lush, natural setting, The Ritz-Carlton, Nikko is a must. This luxurious hotel is located in the scenic Nikko National Park, and it's an excellent choice for honeymooners who are looking for a romantic, secluded experience steeped in history. The rooms feature traditional Japanese design elements, such as tatami floors and shoji screens, but with modern amenities like luxurious bedding and state-of-the-art technology. You and your partner will love the traditional Japanese spa and private onsen as much as exploring the natural surroundings of the hotel with a leisurely hike.
Hoshinoya Kyoto is a luxury ryokan located on the banks of the Oi River in Arashiyama. With private hot springs, a stunning garden and river views, this property is perfect for finding alone time with each other after a long year of wedding planning. It also offers a range of activities that can be enjoyed by honeymooners, such as traditional Japanese tea ceremonies, calligraphy lessons and guided tours of the surrounding Arashiyama area. Did we mention there's a spectacular spa? Book a waterside relaxation program for an immersive experience that includes a soaking bath, custom tea preparation, zen meditation and acupuncture or massage treatments offered in your guest pavilion.
Calling all foodies! This luxury hotel is full of dining options, from teppanyaki and sushi to a crustacean bar with 40th-floor views of the skyline. A beautiful spa with detoxifying baths and more stunning panoramas creates a transcendent experience for couples. When you come back down to earth, step outside to visit several cultural attractions within a couple miles of the hotel, such as Osaka Castle and the Dotonbori shopping and entertainment district.
Honeymoon Activities in Japan You Can't Miss
Whether you're an outdoorsy duo or love living that spa life, Japan is filled with luxurious and cultural experiences that you will be reminiscing about long after you return to reality. Here are a few of our favorite activities to help you unwind and celebrate in newlywed style.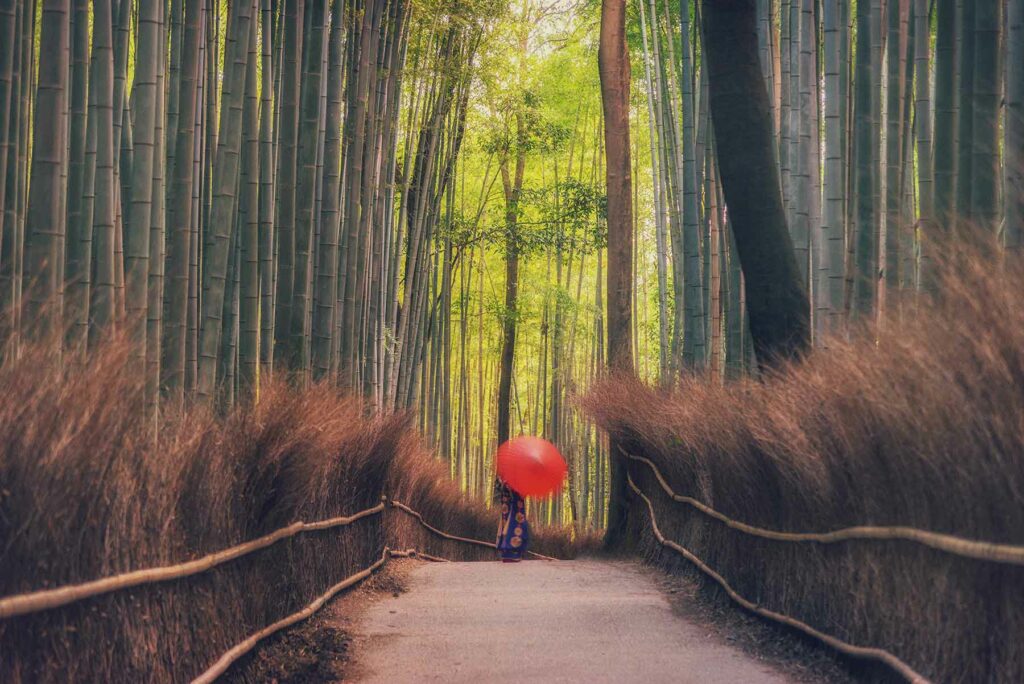 Dine at a Michelin-starred restaurant: Japan has more Michelin-starred restaurants than any other city in the world. Kaiseki dining — think small courses, beautifully prepared with fresh, seasonal ingredients — is an unforgettable culinary experience that you can enjoy in cities across the country. Your biggest hurdle will be snagging a reservation, so if food is your love language, add this item to your wedding to-do list. Check out Sukiyabashi Jiro in Tokyo and Kikunoi or Kitcho Arashiyama in Kyoto for some of the highest-rated meals in the country.
Visit an onsen. You can find these traditional Japanese hot springs all over Japan, but a few towns top the list as onsen destinations. Hakone, Beppu and Kusatsu are all regions to have on your radar, with healing waters that flow through the mountainous and volcanic landscapes. Since many onsen are separated by gender, be sure to visit a private onsen to relax and unwind with your partner. Also consider an overnight stay in an onsen ryokan, a hot spring resort that may have communal or private baths you can reserve for two.
Take a day trip to Mount Fuji. One of Japan's most iconic landmarks, Mount Fuji is a great day trip from Tokyo for couples. An active volcano — albeit one with a low eruption risk— the country's tallest peak is popular for outdoor adventures like climbing and hiking during the summer months, or skiing and snowboarding during the winter. For a honeymoon splurge, stay overnight in one of the nearby towns such as Hakone or Fujinomiya.
Visit Hokkaido. If you and your partner bond over skiing, a visit to Hokkaido is a must. Hokkaido is Japan's northernmost island and a wintery wonderland for outdoor lovers. The island is known for its skiing and snowboarding (and hot springs!), and there are many resorts that offer excellent slopes for beginners and advanced skiers alike. It's also known for its beautiful scenery, with snow-covered forests and frozen lakes.
Explore the Arashiyama Bamboo Grove. A towering maze of bamboo stalks creates a serene and peaceful atmosphere in Kyoto. Stroll hand-in-hand through the pathways and get lost in the sea of emerald green. As you take in the scenic beauty of the bamboo forest, don't miss your chance to visit nearby historic sites like the Tenryuji Temple.
Get a taste of local life in Shinjuku or Shibuya. Tokyo is a vibrant and exciting city that offers endless possibilities for shopping, dining and entertainment. Couples can enjoy a day of luxury shopping at Shibuya's famous department stores, or take a romantic walk through the neon-lit streets of Shibuya, known for its vibrant nightlife scene.
Visit shrines and temples. Japan's awe-inspiring temples and shrines each have their own unique history. One of the most famous Shinto shrines in Japan is the Fushimi Inari Taisha in Kyoto, known for its thousands of bright red torii gates. Kinkakuji, also known as the Golden Pavilion, is another must-visit temple in Kyoto, with a beautiful golden facade that reflects on the surrounding pond.
Visit Gion, Kyoto's geisha district. The famous entertainment district, known for its traditional tea houses and geisha performances, comes to life in the early evening hours. During the day, take a stroll through the historic streets and see the beautiful architecture and cultural heritage of the area. At nightfall, take a guided tour to get a window into this element of traditional Japanese culture.
Partake in a Japanese tea ceremony. Also known as chanoyu, this traditional ritual that is steeped in cultural significance. The ceremony involves the preparation and serving of matcha, a powdered green tea, and is a beautiful and serene experience. The ceremony is typically held in a tea room or tea house and is associated with the principles of Zen Buddhism, emphasizing simplicity, mindfulness and harmony with nature. Doesn't that sound amazing after planning a wedding?
Up Next:
Whether it's for airfare, a hotel stay, or honeymoon travel experiences, create one list for all your honeymoon wishes.