Imagine you and your partner lounging comfortably in a beach chair, where the only noise you can hear is the crashing of crystal blue waves over a white sand beach. If this sounds like the moment you dream of as your white noise machine sings you to sleep, we've got good news when it comes to your honeymoon plans. Mauritius blends the natural beauty of idyllic coastlines with a tropical landscape perfect for exploring on foot or by sea. We have everything you'll need to plan your romantic getaway to one of the best honeymoon destinations in the world.
Getting the Lay of the Land
Let's talk about location. The island nation of Mauritius is situated off the coast of Africa, just west of Madagascar in the Indian Ocean. The main island is blessed with miles of pristine beaches, but the real treasures are in the crystal clear waters. Mauritius is surrounded by coral reefs that create whimsical lagoons all over the coastline. This unique locale gives visitors the choice between the relaxing sounds of crashing waves or calm waters perfect for snorkeling.
While the shoreline is spectacular, the center of the island is composed of a seemingly untouched mountainous landscape. You might be tempted to spend your whole honeymoon on the beach (and, who could blame you!), but we highly recommend making some memories under a waterfall like Alexandra Falls in Black River Gorges National Park. Explore the vibrant floral and fauna of the rainforest with your new spouse to get those desert island romance vibes. Mauritius has all the makings of a secluded fairy tale vacation with the added bonus of adults-only hotels, beachfront villas and exciting local cuisine.
What to Know Before You Go
With great distance comes a greater PTO request and more travel time. A flight to the beautiful Mauritius takes at least 24 hours from the East Coast. That means be prepared to take at least two weeks off to fully enjoy and relax in this tropical paradise. If you think you might get antsy staying in one place for two weeks, change it up! Spend one week oceanside and the other near the rainforest. Or take a side trip to nearby Rodrigues, a territory of Mauritius that's known as the "little sister" of the Mascarenes Islands. The flight is roughly 90 minutes, and it's worth it to experience activities like kitesurfing, fishing and walking among Aldabra giant tortoises at François Leguat Reserve.
If staying in one place better fits your vibe and budget, it's easy to take a day trip to other parts of the island. Either way, getting around won't be too difficult as English is the official language of Mauritius (though locals are fluent in French and Creole).
When to Go
Like many island nations, the weather is pretty gorgeous all year round for the most part, but some months are dryer and less humid than others. From May to October, expect to see warm weather and low humidity. Starting in November, humidity will start to rise, but it's still a lovely time to lay on the beach and save money on your travel expenses. You might get a little rain, but it's nothing a spa day won't solve! January and February are the months to avoid due to heavy rains that will really threaten the activities you can experience. For example, snorkeling in those gorgeous lagoons won't be on the agenda during cyclone season.
Travel and Transportation
The flight to Mauritius is long but worth the trek. Expect to spend at least 24 hours in the air with a stopover. You and your partner will make your grand arrival at Sir Seewoosagur Ramgoolam International Airport, where you can easily grab a cab or hotel-provided shuttle and be whisked away to your resort. After all that travel you might be tempted to curl up in that stunning resort bed with the ocean breeze hitting your face and pass out for the day, but resist! If you force yourself to stay up until nightfall it will help you adjust to the local time, which is a nine-hour difference from the East Coast of the United States. Cabs are readily available should you want to explore the island outside of your hotel, but you can always rent a car if you want to incorporate a romantic road trip into your itinerary.
Honeymoon Activities
Whether you are the outdoorsy type or live for that beach life, Mauritius has romantic experiences around every corner for couples.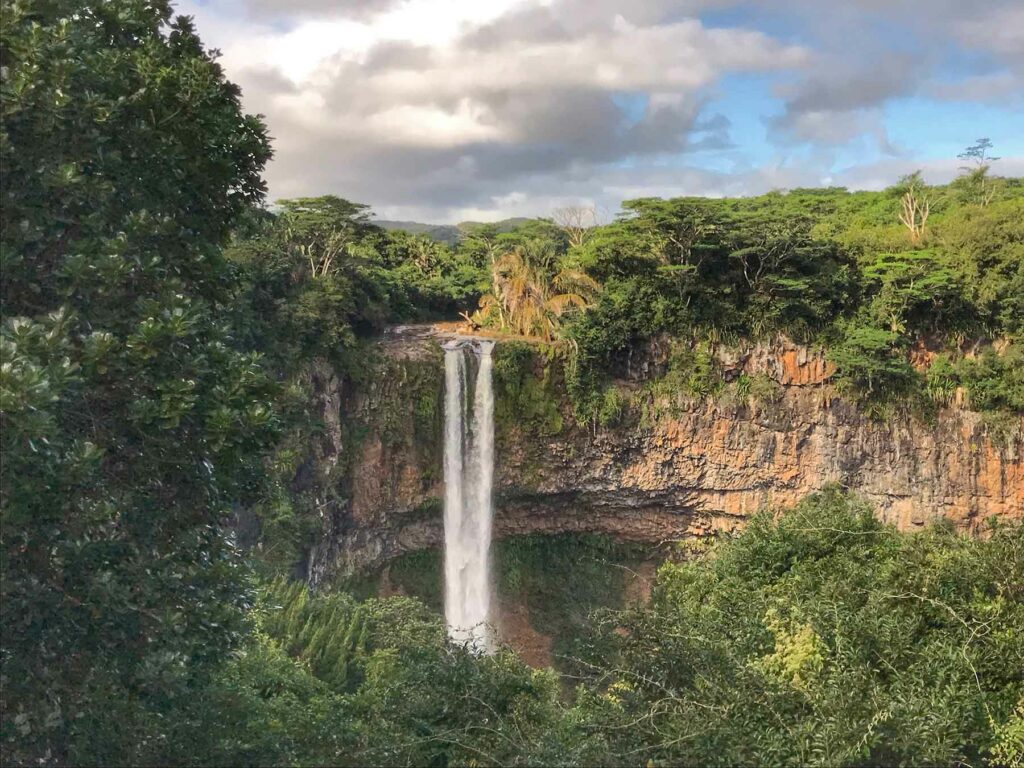 See coral reefs up close. Pristine coral reefs are sadly dwindling as pollution enters our ocean waters, but Mauritius is a safe haven for these natural wonders. Take a guided snorkeling tour or explore on your own in a nearby lagoon. Bring an underwater camera and snap a cutie selfie for the honeymoon scrapbook! Pro tip: Make sure to get reef-safe sunscreen to keep the ocean life healthy for generations to come.
Picnic in Black River Gorges National Park. Hiking through Black River Gorges National Park is like walking back in time with untouched lush forests and wildlife delightfully unaware of humans. On a given day on the hiking trails, look up and you may see the rare pink pigeon endemic to the island or a Mauritian flying fox. Have your hotel pack you a romantic picnic to enjoy under the umbrella-like shade of a bois de natte tree. It will feel like you're the only two people on earth!
Zip line, party of two! This is for the adventurous couples out there. Zip lining is a big activity in Mauritius and it's a great way to see the rugged terrain from a bird's-eye view. Take a leap of faith with your partner (again!) across the picturesque landscape of Vallée des Couleurs, where you'll see everything from waterfalls to rainforests.
Check out the giant lily pads at Pamplemousses Botanical Garden. Regardless of what time of year you decide to visit Mauritius, a trip to the oldest botanical garden in the southern hemisphere is a must. The blooms in spring are breathtaking, but the real stunners are the gigantic lily pads that clock in at a shocking 2 to 3 meters in diameter. The garden itself is quiet and serene — the perfect place to relax with each other in idyllic surroundings.
Swim under waterfalls at Tamarind Falls. You'll notice an abundance of waterfalls throughout the island, but not all of them are prime for swimming. Tamarind Falls is home to seven waterfalls along the Rivière Tamarin, most of which empty into a calm lagoon perfect for a dip after hiking. Bring your bathing suits for an impromptu swim.
Eat all the street food. The best way to get to know a new place is through its local cuisine, specifically street food since that is likely what the locals are eating most days. Venture to the capital city of Port Louis and meander the streets sampling everything from dholl puri to fried noodles. If you don't know where to start, book a guided street food tour.
Treat yourself to a fabulous dinner at Le Capitaine. We are all about that street food, but indulging in some fine dining is a must while on your honeymoon. Le Capitaine in Grand Baie is not only delicious, but it's one of the most romantic restaurants on the island. Expect the freshest seafood you've ever tasted alongside sprawling views of the Indian Ocean.
Have a couples spa day. With an abundance of natural wellness ingredients readily available on the island, Mauritius' spa game is on point. There are five-star properties across the island offering incredible luxury experiences, such as the Four Seasons Resort Mauritius at Anahita, which offers over-water treatment rooms for enjoying healing services like massages and cupping. Take at least one day to indulge in a couples treatment that's inspired by your surroundings. You're going to need it after months of wedding planning and a 24-hour flight!
Do a rum tasting in Chamarel. The charming village of Chamarel might not be the bustling hub of Mauritius, but it is certainly worth visiting to experience the Chamarel Colored Earths and, of course, the Rhumerie de Chamarel Distillery. Take a cab into town for a rum tasting at the distillery and spend the day wandering the spectacular grounds of the chalet.
Take a private boat tour. Private boat tours can be expensive, but they are super romantic — especially when you are visiting tiny untouched islands. Mauritius is surrounded by a few small isles perfect for getting that intimate desert island feeling. Book a tour to Île aux Cerfs, a private island where you can explore the largest lagoon of Mauritius.
Where to Stay
From adults-only resorts to all inclusive wonders, the accommodations on Mauritius are a honeymooner's dream.
Paradise Cove is the perfect place for couples who want to feel secluded on a beautiful beach, but have access to larger towns at a moment's notice. The adults-only resort is situated on the northern coast of Mauritius on a quiet peninsula with breathtaking views of the Indian Ocean. Suites offer cliff-top views of the infinity pool for a romantic honeymoon experience. Don't forget to book a signature "You & Me" moment, such as a catamaran excursion for two or a private day trip on a pirogue to Bernache and Ambre islands.
If you're looking for extraordinary views near the city, the Westin Turtle Bay Resort & Spa is the best of both worlds. Located near a protected marine park, the hotel has easy access to bustling Port Louis and Grand Baie. The on-site spa and adults-only pool also offer plenty of time for relaxation without leaving the luxury resort. The best part? Every room has its own balcony or terrace with sprawling ocean views.
If you have been stalking Instagram posts about honeymooning in Mauritius, you've probably seen couples snuggled up on a sun bed at the incredibly chic LUX* Grand Baie. Honeymooners will love the state-of-the-art spa, rooftop infinity pool and roomy suites at this luxury hotel. Upgrade to a villa to enjoy a private heated pool and butler service! The extravagant property touts itself as a haven for foodies and has a playful vibe perfect for couples who like to relax by day and celebrate at night.
Sofitel Mauritius L'Impérial Resort & Spa is led by French luxury rooted in wellness and relaxation. Nestled in Tamarin between powdery beaches and the rolling hills of the rainforest, each room has a stunning natural view. Restaurants, bars and a spa sanctuary will make it hard to leave the property to explore the rest of the island. The vibe here is a bit quieter and more relaxed, favoring the grounding power of its lush surroundings.
Get ready for some serious pampering at the elegant Shangri-La Le Touessrok. Not only is this property totally trendy from the decor to the restaurants, it's also home to a championship 18-hole golf course. Inspired by Asian hospitality, this five-star beach resort is quietly situated on the eastern coast of Trou d'Eau Douce. Amp up the romance by inquiring about the hotel's private island retreats!
Perched on the Le Morne Brabant, a peninsula at the southwestern tip of Mauritius, newlyweds love the JW Marriott Resort for its thoughtful hospitality and extravagant villas. As a few room types have walk-out beach access, ask the front desk to set up a special dinner on the beach by your room for you and your new spouse. Sip Champagne under the stars as you listen to waves crash around you just steps from your suite.
Additional Travel Tips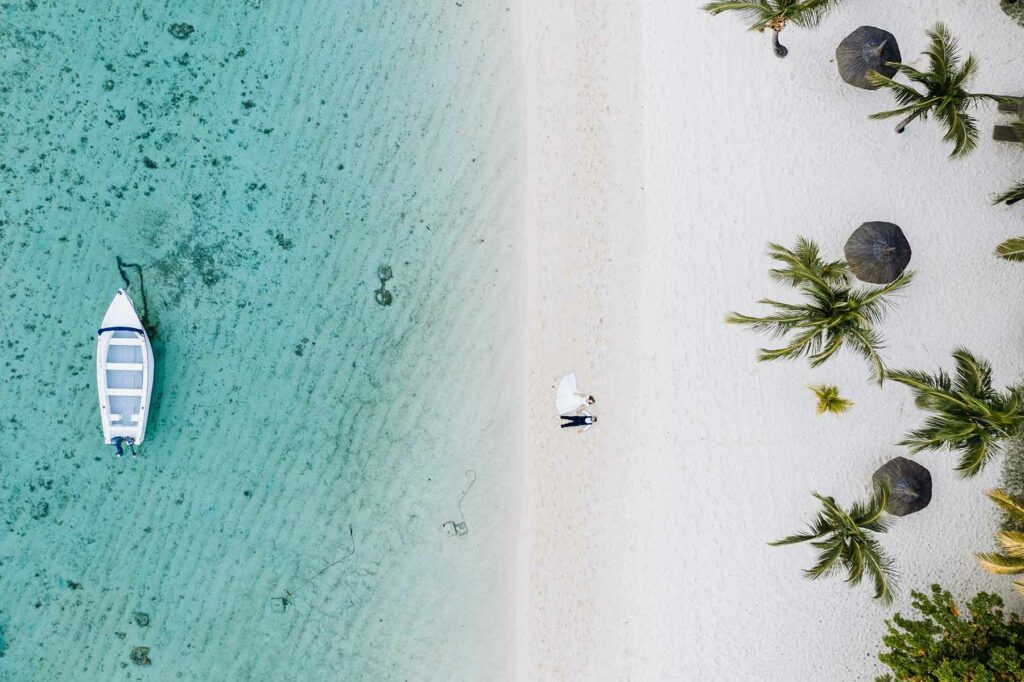 Currency: Make sure to purchase some Mauritian rupee before getting to the island, especially if you plan to indulge in the delicious street food options of Port Louis. While the exchange rate will fluctuate, it's currently about 44.5 rupees to the U.S. dollar. For reference, an inexpensive meal might cost you 150 to 300 rupees.
What to Pack: It is quite warm most of the year in Mauritius, so packing light and breathable clothing is a must. In more humid weather (November through March), linen and cotton materials will save you from damp days. Be sure to bring some clothing for outdoor activities! Hiking shoes and wicking attire are always good to have on hand. Last, but definitely not least, pack reef-safe sunscreen and a water bottle, and be prepared to use them often.
Electrical Adapters: Even though your hotel might have complimentary adapters to borrow, you may want to pack your own type C (round two-pin) and G (square three-pin) adapters. The standard voltage in Mauritius is 230 volts.
Up Next:
Whether it's for airfare, a hotel stay, or honeymoon travel experiences, create one list for all your honeymoon wishes.