If you're on the hunt for the perfect blend of romance, adventure and pure tropical magic, Puerto Rico is your honeymoon haven. This enchanting island is not just a place; it's a vibrant cultural experience with picturesque views around every cobblestone-laden bend. There are pristine beaches with dazzling white sands, as well as secluded coves with turquoise waters lapping at the shore. In El Yunque National Forest, where waterfalls cascade through a jungle paradise, you'll be greeted with awe-inspiring beauty at every turn. So, pack your bags, grab your partner's hand and get ready for a whirlwind of unforgettable moments during your honeymoon in Puerto Rico.
What to Know Before You Go
Alright, starry-eyed adventurers — here's the scoop on this Caribbean gem: Puerto Rico is a dreamy escape nestled between the Dominican Republic and the Virgin Islands. To truly soak in all the magic this island has to offer, your ideal honeymoon length is around a week to 10 days.
There's also no need to hunt down your passport for this romantic getaway. Since Puerto Rico is a U.S. territory, that means you can hop on that plane with a simple driver's license or government ID card. When you book your flight, just remember Puerto Rico is on Atlantic Standard Time (AST), which doesn't include daylight savings time. As for communication, both English and Spanish are widely spoken in Puerto Rico. Bonus: The dollar is also accepted everywhere.
When to Honeymoon in Puerto Rico
Believe it or not, there are ideal times to visit this tropical paradise — and a few months you may want to avoid. Puerto Rico's peak tourist season, which runs from mid-December to mid-April, promises gentle ocean breezes and golden sandy beaches.
Now, if you're all about avoiding the crowds and scoring some sweet honeymoon savings, embrace the off-season, which runs from mid-April to mid-December. It's a little hotter and more humid, but you'll be saving some serious bucks on travel. Since the weather is still beautiful, you won't miss out on any activities offered in peak season.
Do keep in mind that hurricane season officially runs from June to November with the height being in August and September. While the odds of encountering a major storm are pretty low, it's still something to be aware of when you book. Look into travel insurance in case Mother Nature interferes with your plans.
Getting There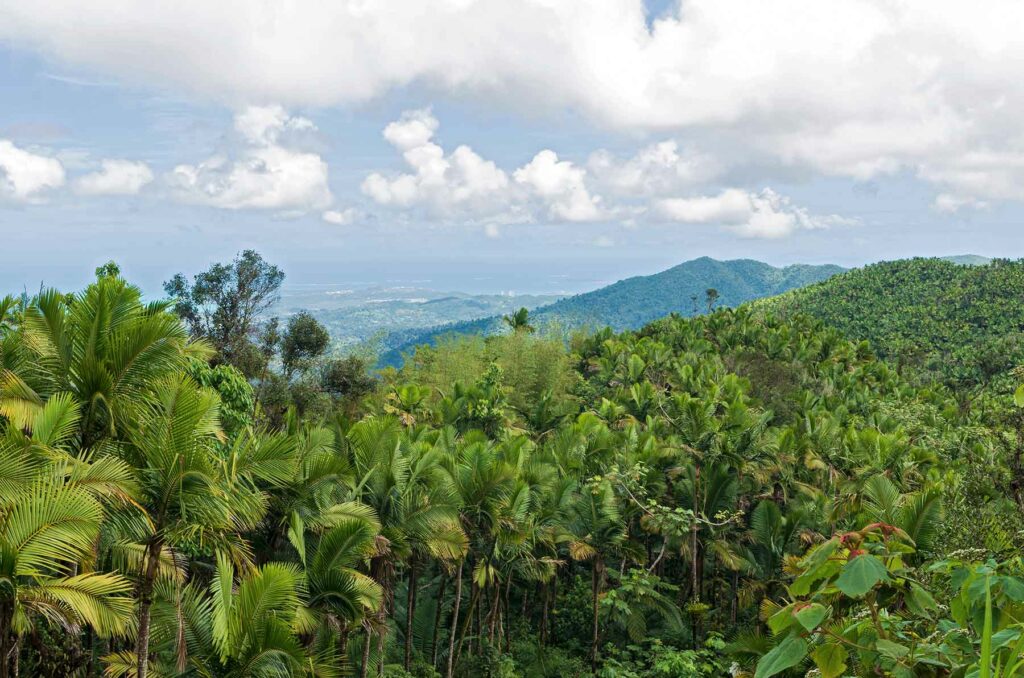 You have two fantastic options when it comes to air travel: Luis Muñoz Marín International Airport (SJU) in San Juan and Rafael Hernández Airport (BQN) in Aguadilla.
If you're eager to soak up the vibrant energy of San Juan and explore the eastern part of the island, SJU is your go-to choice. But if a more secluded and romantic escape in the western and northwestern parts of Puerto Rico is more your speed, set your sights on BQN. Either way, the travel time to your dreamy hotel will be quick, and you'll find a parade of taxis, rideshares and shuttles ready to whisk you away.
Getting Around Town
Puerto Rico offers various transportation options that will make your honeymoon a breeze to plan. If you're looking for a convenient and reliable option, you'll be glad to know that ridesharing services such as Uber are available in many parts of Puerto Rico, especially in the metropolitan areas like San Juan. Yellow taxis are aplenty and easily found around popular tourist spots and hotels. Just be sure to confirm the fare with the driver before hopping in or ask your hotel staff for a ballpark estimate to ensure you're not caught off guard by the total.
If walking is your thing, let the cobblestone streets of San Juan, colorful buildings and charming plazas transport you to another era. Isla Verde, Condado, and Ocean Park are also great spots to walk along the beachfront while enjoying the view.
Puerto Rico does have public transit options, mainly buses, but they might not be as convenient or efficient as you'd expect. Renting a car could be a fantastic idea if you plan on exploring the island extensively.
Honeymoon Activities
Whether you're seeking adventure, relaxation, or cultural immersion, this tropical paradise has something extraordinary for every couple. Here are some of the most captivating honeymoon activities Puerto Rico has to offer, designed to make your trip unforgettable.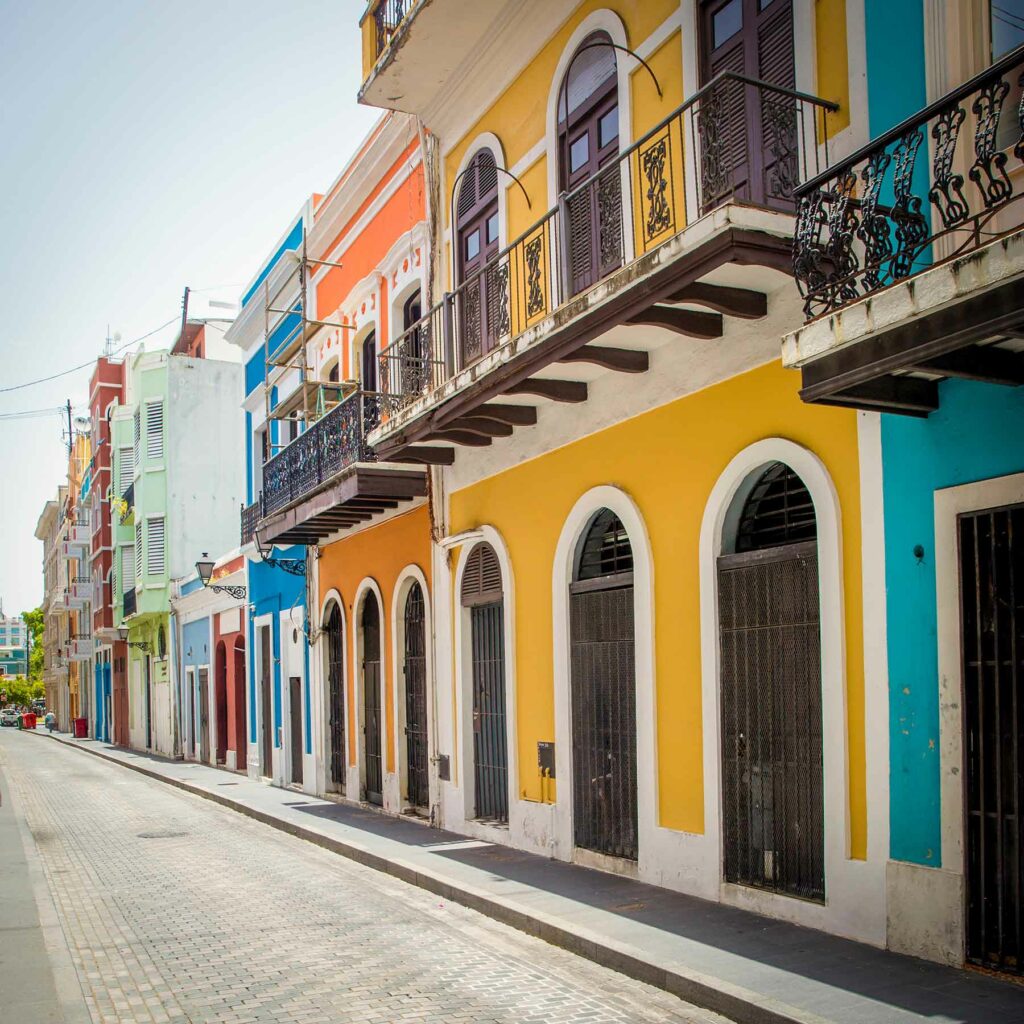 Take an enchanting stroll through colorful Old San Juan
A leisurely stroll through the cobblestone streets of Old San Juan is a must on your Puerto Rican honeymoon itinerary. Hand in hand, you'll explore historic forts like El Morro and Castillo San Cristóbal, catching breathtaking views of the ocean. Vibrant buildings painted in shades of pastel line the historic streets and provide a picturesque setting for your honeymoon photos. Don't forget to press pause for a respite at a cozy cafe.
Take an enchanting stroll through colorful Old San Juan
A leisurely stroll through the cobblestone streets of Old San Juan is a must on your Puerto Rican honeymoon itinerary. Hand in hand, you'll explore historic forts like El Morro and Castillo San Cristóbal, catching breathtaking views of the ocean. Vibrant buildings painted in shades of pastel line the historic streets and provide a picturesque setting for your honeymoon photos. Don't forget to press pause for a respite at a cozy cafe.
Plan an immersive experience in El Yunque National Forest
Venture into the heart of nature in the only tropical rainforest in the national park system. Here, you can hike through verdant trails and discover hidden waterfalls and lush flora. The mesmerizing symphony of the Puerto Rican coqui (a small tree frog) in the evening adds a touch of magic to your surroundings. Embrace the privacy of this enchanting rainforest and relish in the tranquility that only nature can provide.
Go on a romantic snorkeling adventure
Dip into the crystal-clear waters of Flamenco Beach in Culebra or Escambrón Beach in San Juan for an unforgettable snorkeling experience. Explore vibrant coral reefs teeming with colorful marine life as you hold each other's hands underwater. Spot turtles, tropical fish and even seahorses, sharing these magical moments with the one you love.
Explore the glow-in-the-dark magic of Mosquito Bay in Vieques
Get hypnotized by the ethereal beauty of Mosquito Bay, where you can witness the phenomenon of bioluminescence. A clear-bottom kayak tour is the best way to see this striking display. As you paddle through the calm waters at night, the sea sparkles with millions of tiny glowing organisms, creating a private and intimate celestial-like show.
Book a day trip to charming Culebra
Embark on a day trip to the captivating island of Culebra, about 20 miles off the coast of Fajardo on the northeast side of Puerto Rico. As a wildlife refuge, it's a habitat for endangered sea turtles and is home to an incredible population of more than 13 species of seabirds. Once you arrive, make a beeline for the world-renowned Flamenco Beach. Sink your toes into the powdery white sand and take a romantic stroll along the shoreline. The azure waters offer the perfect backdrop for a quiet picnic, and you can revel in the privacy of this pristine paradise.
Indulge in fine dining
Treat yourselves to an exquisite dining experience — think candlelight meals of delectable Puerto Rican cuisine with a modern twist. In the heart of Santurce, Vianda is a notable pick with seasonal ingredients and a solid wine list. In Old San Juan, Marmalade Restaurant & Wine Bar only offers tasting menus. Enjoy five courses with optional wine pairings to complement the Puerto Rican fusion cuisine.
Eat your way through the streets of Puerto Rico
While indulging in the island's rich culinary offerings, don't miss out on Puerto Rico's beloved street food. Take a detour from San Juan's world-class restaurants to find off-the-beaten-path flavors. Share a plate of crispy alcapurrias or melt-in-your-mouth mofongo at local food stands that will immerse you in the island's vibrant flavors.
Hit the greens
For couples who enjoy a leisurely round of golf, Puerto Rico offers stunning courses against the backdrop of the Caribbean Sea. Tee off at places like Royal Isabela or Bahía Beach Golf Club, where you can bond while perfecting your swing. The green fairways and ocean views create an idyllic setting for quality time together.
Book a sunset sail for two
Watch the sun dip below the horizon as you set sail on a romantic cruise for two. Many tour operators offer private sailboat or catamaran experiences, allowing you to enjoy the tranquility of the sea. Sip on Champagne, feel the gentle sea breeze and bask in the romantic ambiance. You'll create cherished memories against the backdrop of the ocean.
Where to Stay
For couples trying to decide between indulging in relaxation or nightlife excitement, Puerto Rico is the best of both worlds. Tropical rainforests, pristine beaches and affordable luxury accommodations have all the makings of romantic getaway you'll remember forever.
Nestled in a lush tropical setting, this luxurious resort offers sumptuous rooms and suites as well as two private beachfront villas—a splurge if you want an intimate atmosphere for an unforgettable honeymoon. The resort's personalized butler service adds a touch of romance, ensuring every need is met while you focus on romance. Savor a candlelit dinner on the beach, book a relaxing couple's massage at the Forbes Five-Star Iridium Spa, or enjoy nearby activities such as renting a paddleboard from the on-site Boat House and Nature Center or exploring the nearby El Yunque rainforest.
This historic property boasts elegant architecture and a vibrant nightlife scene on-site. There's live entertainment daily in the lobby and world-class DJs at Club Brava, as well as the Foxwoods El San Juan Casino. It's the perfect pick-me-up between romantic activities, which are plentiful. Indulge in a couple's treatments at the Well & Being Spa or relax in a cabana at one of the hotel's four pools. The beachfront location allows for walks along the shore, plus easy access to Old San Juan's charming streets and fortresses.
Offering panoramic ocean views from its stylish rooms and suites, La Concha sets the scene for a romantic escape. The sleek infinity pool overlooks the Atlantic, and the resort's lively nightlife appeals to couples looking to boogie down. Its beachfront location and close proximity to art galleries make this the perfect choice for worldly couples.
Located along the serene northeast coast, this resort boasts secluded beaches and lush landscapes. Couples can tee off on the two championship golf courses and unwind with the Mandara Spa's rejuvenating treatments. Outdoor lovers can explore the nearby bioluminescent bay for a magical evening kayaking experience.
Set against the backdrop of Rincon's famous sunsets, this stunning property in Almirante Beach offers tranquility and seclusion. Couples can surf together in the day, then swim up to the bar at the infinity pool. End each night by cozying up around a beachfront bonfire. The relaxed atmosphere of Rincón provides an opportunity for quality time and unforgettable romantic moments.
Perched on a cliff overlooking the ocean in Fajardo, the El Conquistador offers breathtaking views and a variety of amenities for couples. The resort has its own private island accessible by ferry that provides intimate beach coves for an exclusive escape. Adventure-seeking honeymooners can also explore the nearby bioluminescent bay or take a romantic horseback ride.
This luxurious 50-acre resort is the perfect blend of exclusivity and natural beauty. Honeymooners can revel in the sanctuary of their own plunge pool in their private residence. Afterward, enjoy a walk along the resort's pristine beaches. The spa's outdoor treehouse treatment rooms and farm-to-table dining options enhance the whimsical ambiance.
A charming bed and breakfast, Casa Isleña in Rincón offers an intimate setting with personalized service. Couples can relax in the lush garden courtyard, enjoy fresh-caught fish for dinner and take leisurely strolls to the nearby Sandy Beach for sunset views. The property's cozy atmosphere and personalized attention make it a perfect romantic hideaway.