Getting married around Christmas is wonderful for two reasons: Your family has a great excuse to all be in the same place for the holiday, and prices are largely off-peak. Whether you are leaning into the theme or would rather look to other avenues for inspiration, we have a few Christmas wedding ideas to get in the holiday spirit.
Our number one tip? Keep it simple. Overplaying the holiday angle will make the event feel more like a Christmas party than a wedding. That being said, a Christmas wedding theme offers a million ways to save on decor by using a few staples with your existing Christmas stash. For starters, pull out your garland. This underrated greenery is a blank canvas for any Christmas or winter wedding creation.
While we love a good Christmas moment, avoid being too on the nose with the decorations. If every corner is flanked with Christmas trees and nutcrackers, your wedding reception will end up looking a bit like "Babes in Toyland." Keep it light and fresh. Use winter's gifts, like snowflakes and pinecones, to pepper in some nature.
To help you dodge some tricky faux pas, we pulled together a few must-haves that will complete your theme without overwhelming it. Our advice? Keep Santa off the guest list.
1. Garland Accents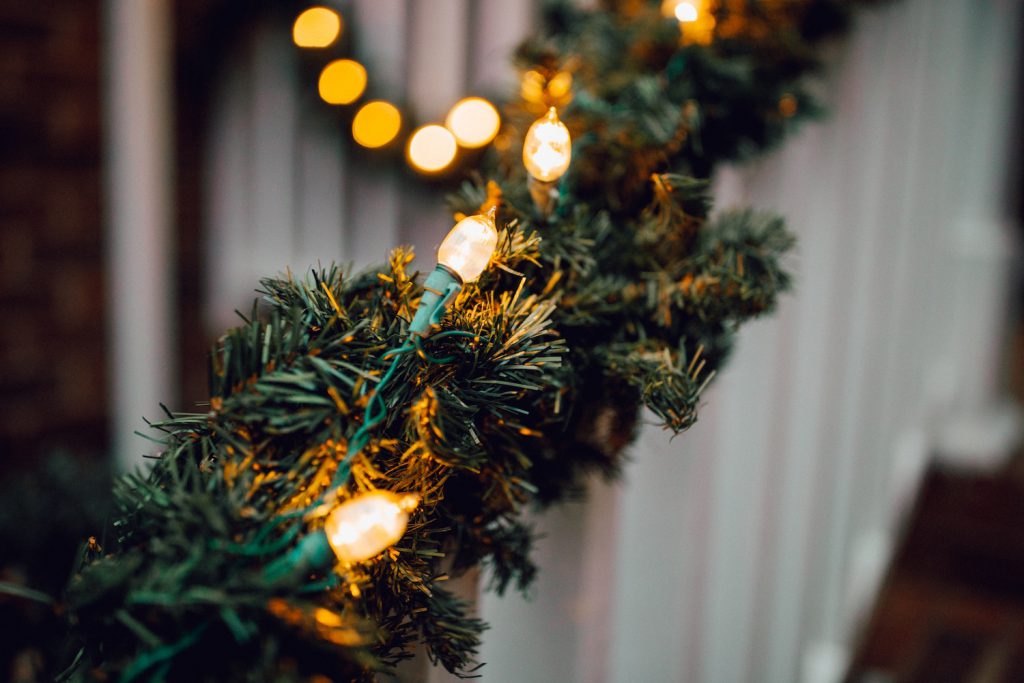 Garland is a lifesaver for wedding decor without having to be specifically holiday-related. The faux winter greenery makes a great accent to altar arches, railings, and even reception table runners. Weave some cold-weather flowers, pinecones, or lights into the garland to create a lush, winter wonderland feel.
Embracing the Christmas theme for your wedding day? Weave a tangle of red and gold ribbons through the garland and accent the branches with non-fragile ornaments.
Bonus: You can reuse the decor in your home for years to come.
2. Red and Green (Done Right)
The Christmas color palette has historically been scarlet red and evergreen. While these colors are beautiful individually, together they clash. If you are set on the opposing hues, lean into different shades of both to tie them together without overwhelming the room. Deep berry and evergreen tones will eliminate color-clashing and create an elegant foundation for your design.
A beautiful piece of tartan fabric or ribbon is a great place to start. The tartan will introduce the colors in a subtle way while still staying on-theme. Try tying the tartan ribbon around each of the reception chairs as well as having the accent streamline into the table runners. Keep the rest of the tablescape simple, using natural colors and metallic tones to make the pattern stand out.
If you're also looking to make your bridal party pop, crimson bridesmaid dresses are stunning for a winter wedding. Just keep the groomsmen in simple, black suits. Or, you can opt for tuxes accented with tartan ties that use the same red as the dresses to pull in the bold hue. You can even craft subdued bouquets and boutonnieres using in-season greenery and winter-white flowers to let the red really shine through.
Are you more partial to a deep, emerald green? You can still use these techniques. Because green is such a natural color, it can be easily blended with the red dresses in the form of natural foliage. However, the same is not so true if you reverse the colors. If you're going green, keep red flowers out of the wedding bouquets.
3. Mistletoe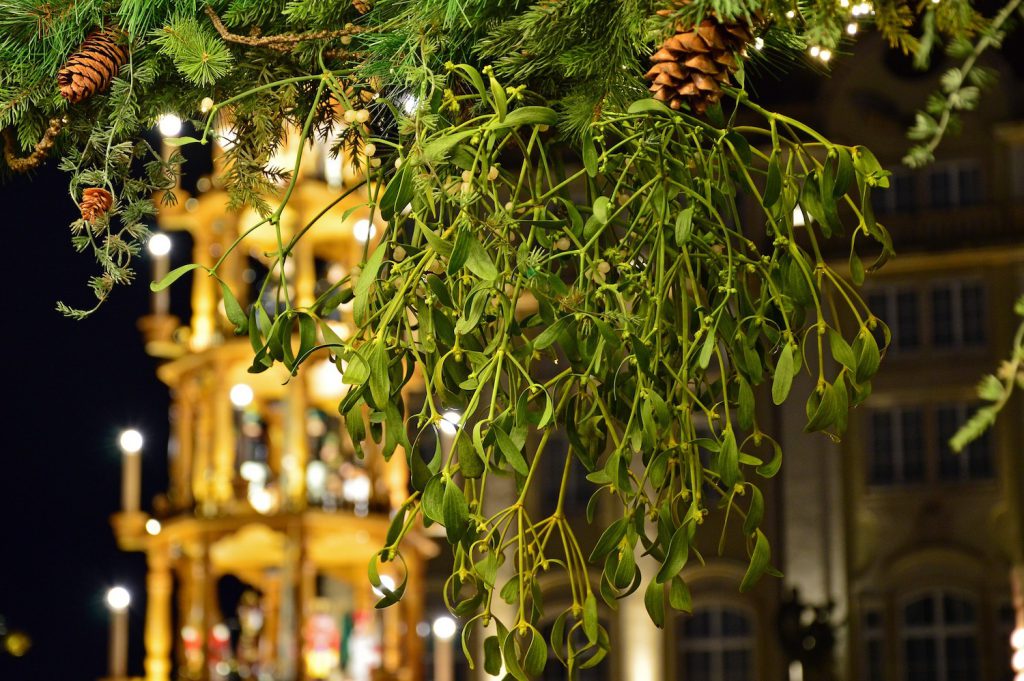 With romance in the air, the tradition of mistletoe is the perfect accent for your big day. Ring in the spirit by using the leafy branches to fill out the floral arrangements on your wedding arch. The sentiment will be emotional without harping too hard on the Christmas association.
If the plant doesn't work well with your arrangement, hang a little bit above the sweetheart table. Just tie some mistletoe with a ribbon that matches your colors to create a romantic nook for you and your partner.
4. Christmas Tree
When decorating for a Christmas-inspired wedding, we subscribe to the rule of less is more. While those mini Christmas trees are so cute, having them as centerpieces, and on the bar, and on the dessert table is overkill.
So, instead of making a mini forest, go big! Grab a medium-sized tree (faux or real) and have it be the designated gift area. Decorate the tree in simple, color-conforming ornaments with a simple sign. The corner will make for adorable photos.
5. Table Favors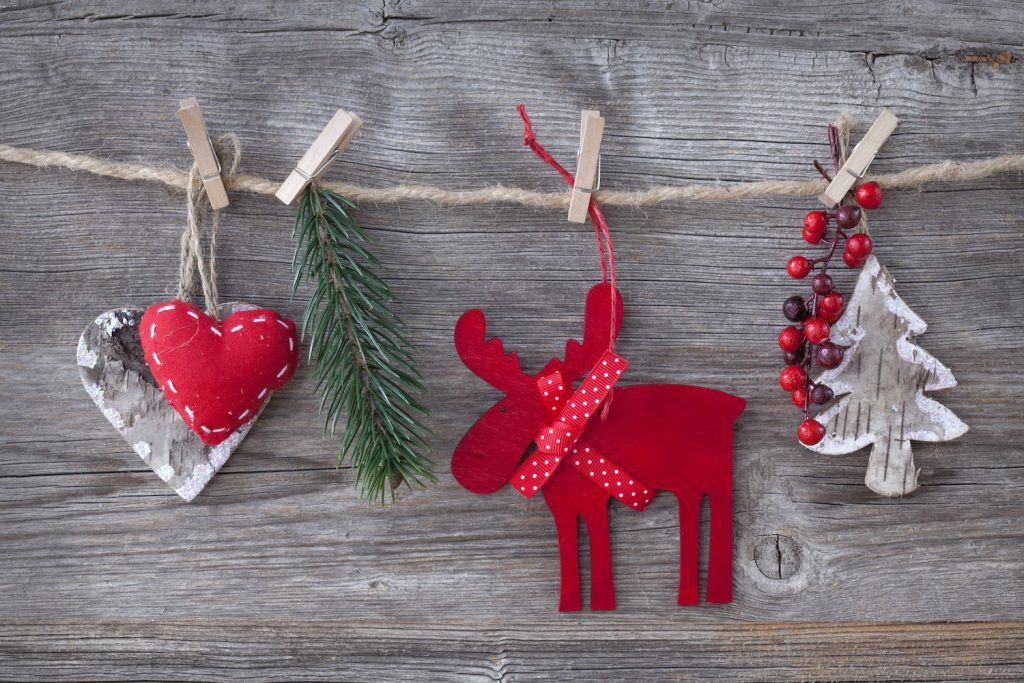 Wedding favors are a great way to subtly bring in a holiday theme without it taking over your nuptials. A personalized Christmas ornament is something your guests will cherish and use each year.
If the ornaments are delicate, hang them on the gifting tree (tip above) for your guests to take at their leisure to avoid any accidents during dinner. Etsy has a great selection of Christmas decorations to get you started.
6. Flowers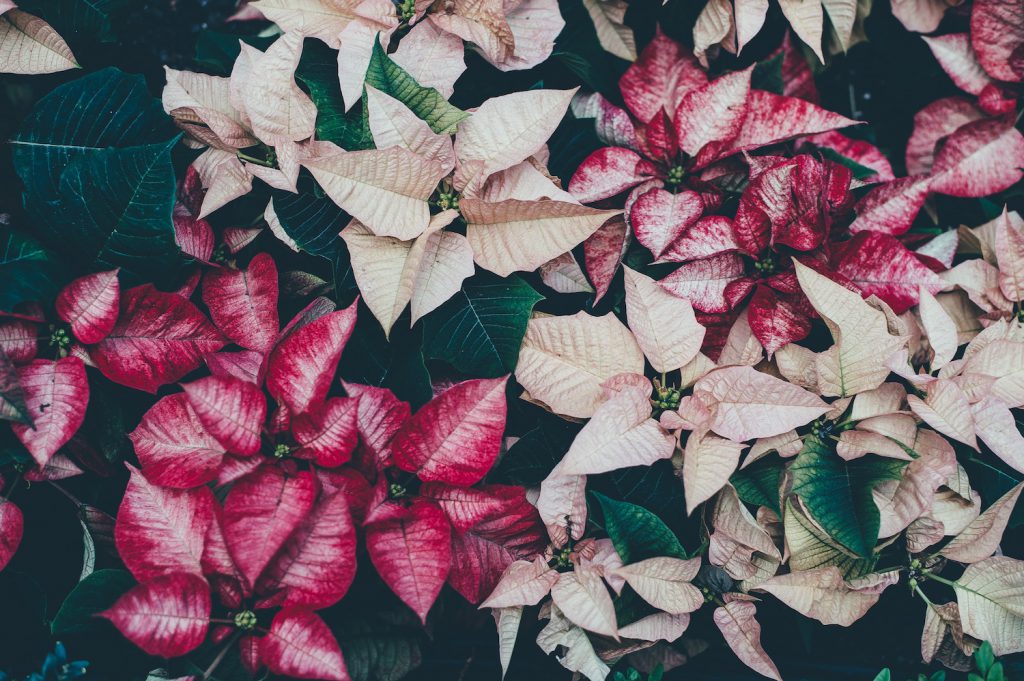 Poinsettias are the official flower of Christmas, but the crimson floral is very delicate and can be harmful to our furry friends. While not ideal for a bouquet, this traditional symbol of holiday cheer would make a beautiful centerpiece.
If the classic red poinsettia is a bit too loud for your color scheme, white poinsettias are a beautiful alternative and look amazing paired with winter greenery, sprigs, and gold accents.
7. No Santas Allowed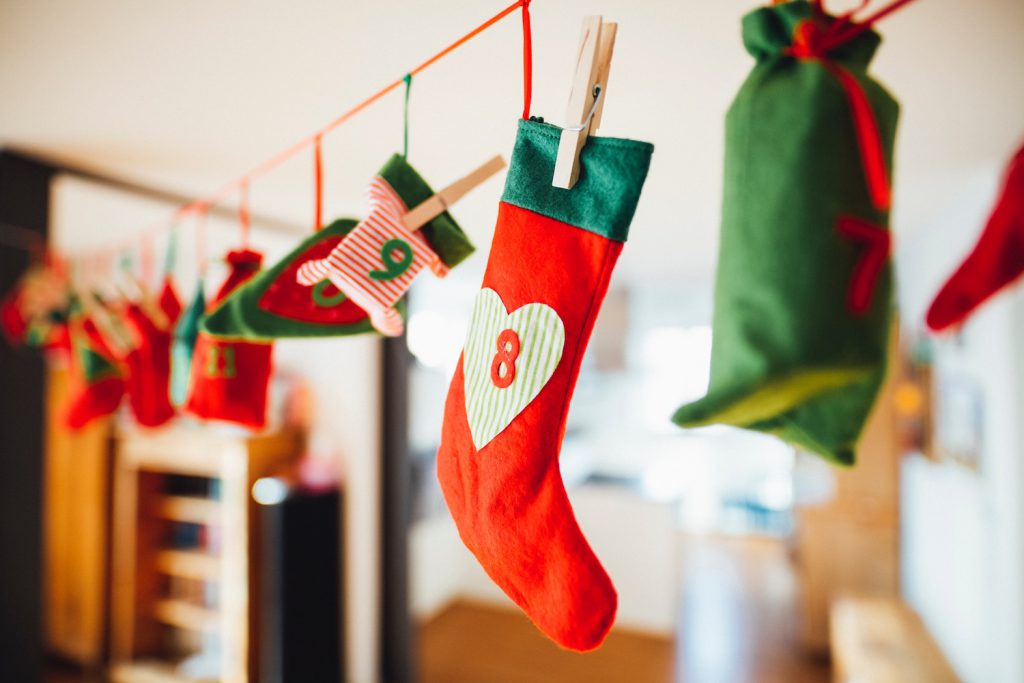 While this rule might sound harsh, the jolly fellow has a lot to do this time of year! Also, you wouldn't want his presence to take away your spotlight, as he will certainly steal the show.
If you have children attending your nuptials and want to do something for them in the spirit of Christmas, fill a mini stocking for each child with a note from Santa inside and leave them at each place setting.
8. Let There Be Cocoa!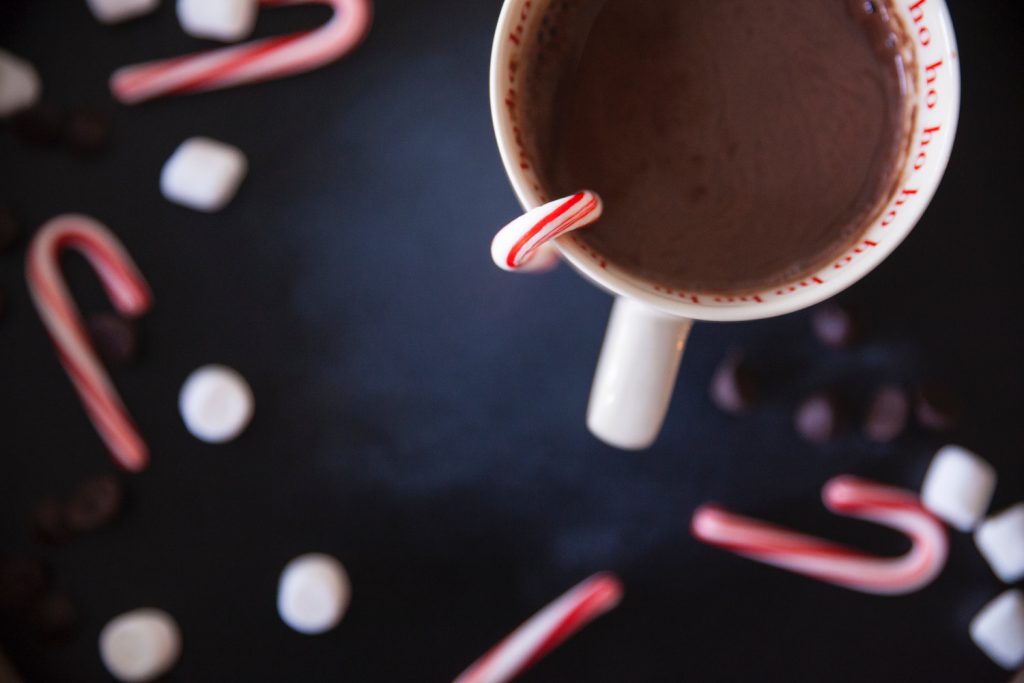 Dessert bars are a wonderful way to end the evening, but if you are looking for a candy-coated ending to your reception, a hot cocoa bar is a perfect finale. You can even DIY it!
Just set up a long table with coffee chafers filled with hot chocolate. Then, down the center of the table, place bowls with toppings like chocolate-covered marshmallows, candy canes, whipped cream, and cookies.
Your guests will tap into their inner child just in time for the magical holiday. If there aren't many children attending your wedding, kick the spirit up a notch (literally) by adding whiskey or cream liquors to the bar.
Up Next:
Set up your wedding website in minutes with design options to make yours truly unique.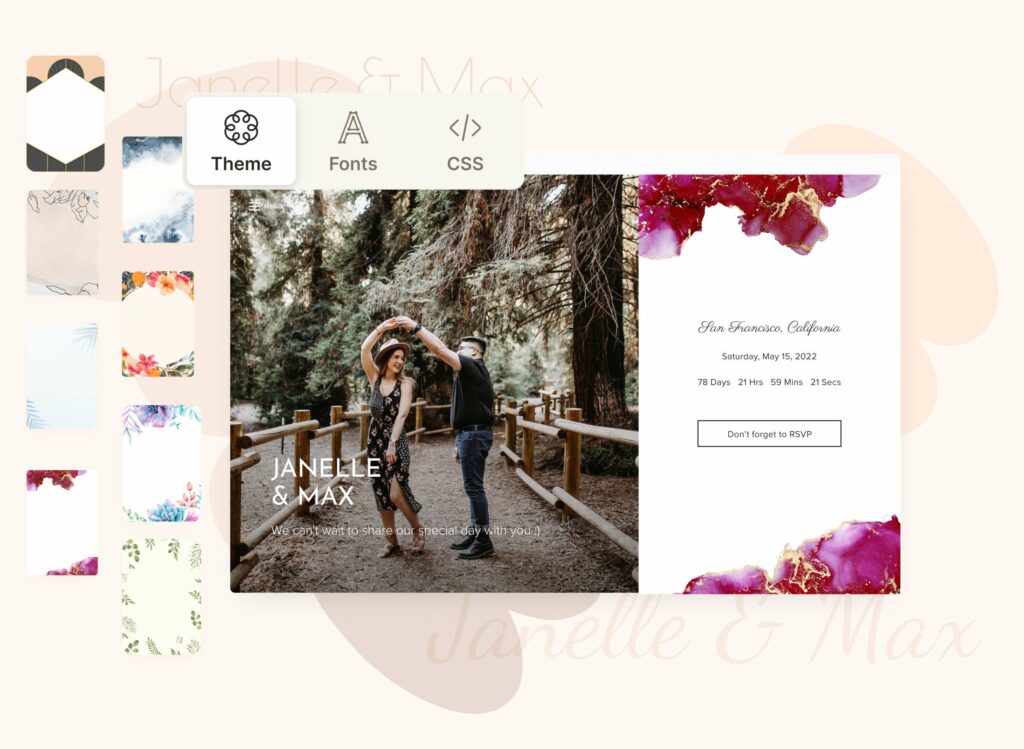 Related Posts