Making the guest list might be the most stressful part of wedding planning. You have to decide who makes the cut, who doesn't, whether to give everyone a plus one or to make some people go it alone. And everyone you add to the list stretches your budget more and more. So give yourselves all the help you can get. Find the right tools to help you along the way. From the first draft to the last-minute cancellation, we've listed the best guest list tools to make your lives easier for each step in the process.
Pen and Paper
Best use: The first go-around.
Ready to start the guest list? Do yourselves a favor: Stash your phones and computers across the room, and pull out a pen and paper.
Why keep it so simple? First off, by limiting your tools to just the basics, you and your partner can stay focused. You'll also actually spend time together, instead of getting lost on Instagram trying to figure out if your cousin Jen still needs that plus-one.
The pen and paper will also help you keep in mind that the first round of the guest list is just a draft. It isn't the final number you'll give to your caterer.
Pro tip: At this early stage, don't worry so much about per-head costs and plus-ones. Instead, think about the big idea of your wedding. Do we want a small intimate wedding with just our closest friends and family? Or should we throw a huge bash for the whole neighborhood?
Best use: Budgeting and making cuts
For the second round of your guest list, you'll need to start getting down to the nitty-gritty. A spreadsheet, whether it's Excel, Google Sheets, or a wedding-specific online tool, is the best way to go about it. Spreadsheets can help you make budget calculations and keep all of your guest list information in one central place. There are tons of pre-made templates online, but you'll probably want to customize it for your own needs. Use an online tool like Google Sheets or Excel Online to collaborate freely with your partner, Mom, and wedding planner.
There are also tons of wedding websites that provide a lot of the same capabilities.
An online RSVP tool (like Joy!)
Best use: Sending and managing invitations
Once you've nailed down the guest list you'll want to start sending out save-the-dates and invites. Whether you're going with paper invites or digital invites, an online RSVP manager, like Joy, can be super helpful. Joy allows you to send electronic save-the-dates or invitations. Then, your guests can RSVP online (or you can enter their RSVP information manually) and you can keep track of their addresses, meal preferences, and plus-ones all in one place.
Best use: Planning the layout of the reception
Trying to decide whether to go with 8-foot rounds or a long rectangular tables? All Seated can help. All Seated lets you do things like import your guest list, visualize and design the layout of your reception, and more. You can also add your planner, vendors, and venue contacts as collaborators to keep everybody involved.
The tool has tons of useful features: you can make layouts for multiple events and import room layouts from your wedding venue. Plus, it's free to try out. There are of course, some limitations. For instance, the event space design tool can be a little glitchy at times. It's also a little too clunky for drafting your seating chart (which is where the post-its come in).
Post-its (or notecards)
Best use: Choosing seating arrangements
Seating arrangements will take a lot of trial and error, so movable pieces are a must. Post-its are lightweight, cheap, and colorful — perfect for the task at hand. Choose different colors for family and friends, or your side and your partner's side. Put one name on each card, and go crazy. Stick them on the wall, the kitchen table, or a big printout of your reception floor plan.
Of course, there are online tools that mimic the same functionality, but sometimes physical objects are just better. For one thing, you don't need an internet connection, so you can stay focused and minimize distractions. Plus, working with physical objects allows you to problem-solve all those inevitable seating chart problems in-person with bae or Mom around the kitchen table.
Joy's guest list Labels feature
Best use: Every other guest list question
Throughout the planning process you'll find you have a lot of questions related to your wedding guest list. Like, how many kids meals do I need to order? And, who all can carpool from JFK? Joy's guest list Labels feature can help you answer these and any other questions you may have about your guest list. Create and add labels to your Joy guest list, then filter on those labels. For example, add a "Bridal party" label to everyone in your bridal party. Then, simply filter on the "Bridal party" label and export them for an email list of your VIPs.
Up Next: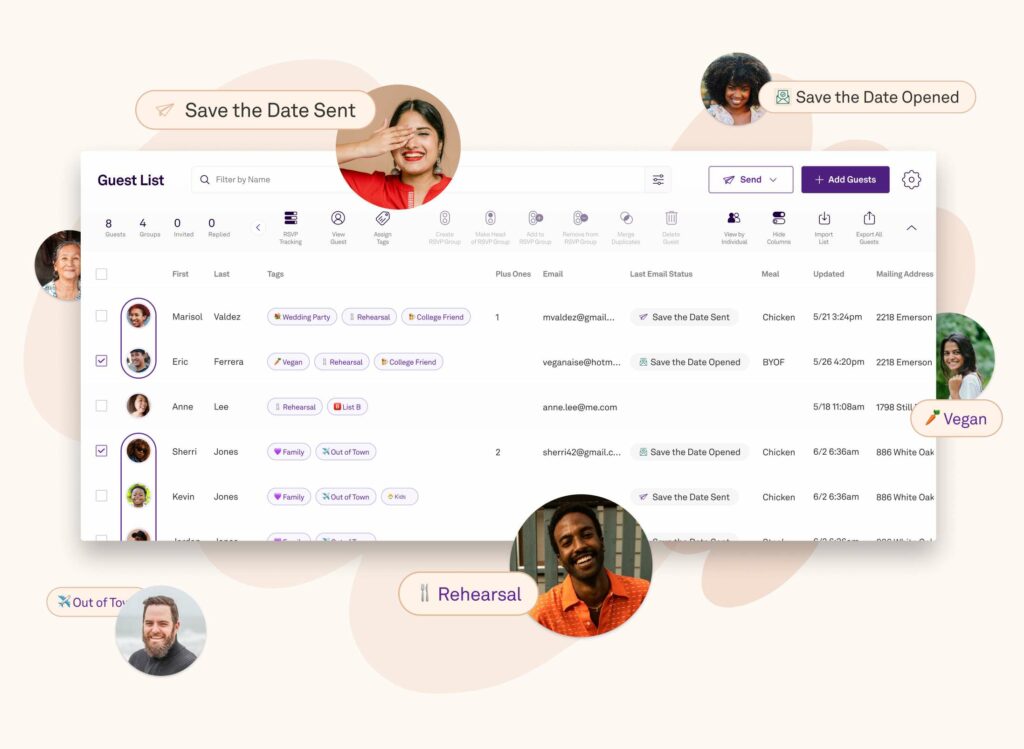 Collect RSVPs, track responses, and communicate with guests—all in one place.