Like most parts of wedding planning, invitations come with a lot of traditional rules. And there are a lot of good reasons for following the traditions for invitation wording. Tradition often has trouble keeping up with technology, however, and online invitations offer a lot of features that aren't covered by the invitation etiquette of days past.
Some may say that this just proves the superiority of paper invitations. But the fact remains that not only are online RSVPs better for the environment, they are also the most convenient option for your guests. And it's even more convenient for them when they receive the link to RSVP through their email.
So whether it's for the convenience or for the environment, online invitations are a great option for letting guests know the where, when, and how of your wedding. And while it's totally possible to have wedding e-cards that follow the traditional wording, different formats come with different possibilities. It's easier to personalize online invites for specific guests, for example. It's also much more convenient for your guest to make their way to your wedding website from an online invite. No matter what kind of invites you use, though, the most important thing is that they communicate the essential info about your wedding. With that in mind, we've provided some examples of modern wedding invitation wording to get you started.
Invitation email wording
An invitation email is less formal as a matter of course. An email can be a great way to direct your guests to your invitation e-card and wedding website, however.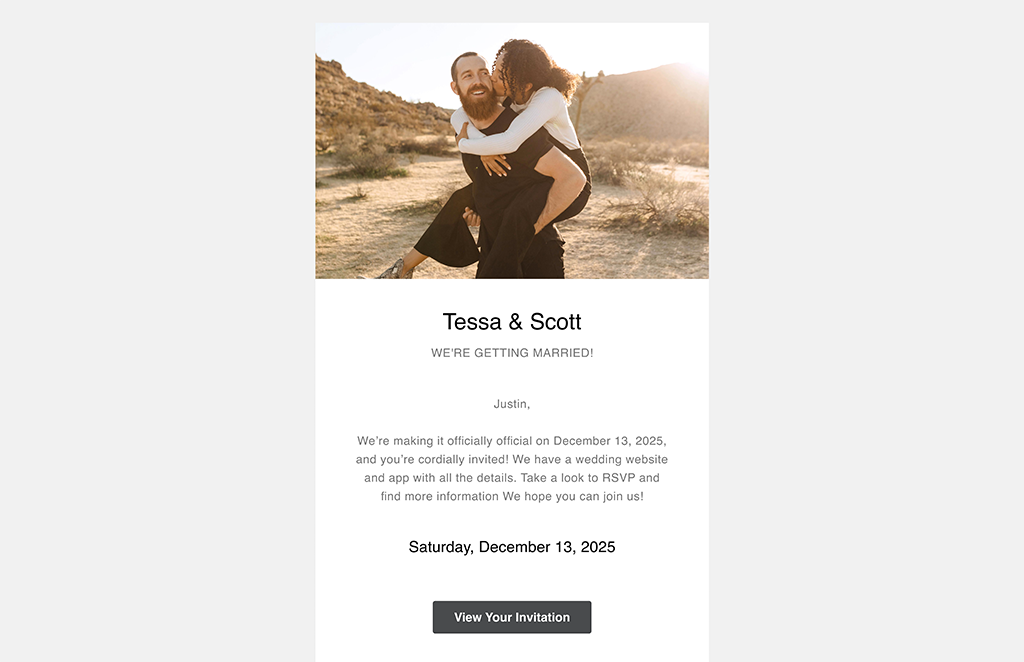 Tessa & Scott
WE'RE GETTING MARRIED!
[First Name(s)],
We're making it officially official on September 22, 2018, and you're cordially invited! We have a wedding website and app with all the details. Take a look to RSVP and find more information. We hope you can join us!
Casual invitation wording
For a more casual affair, you can get creative with your invitation wording. You can include the date and location, along with a special message, on the front of the card. The back of the card can include all the traditional details. An e-card also allows you to include personal messages in your invites.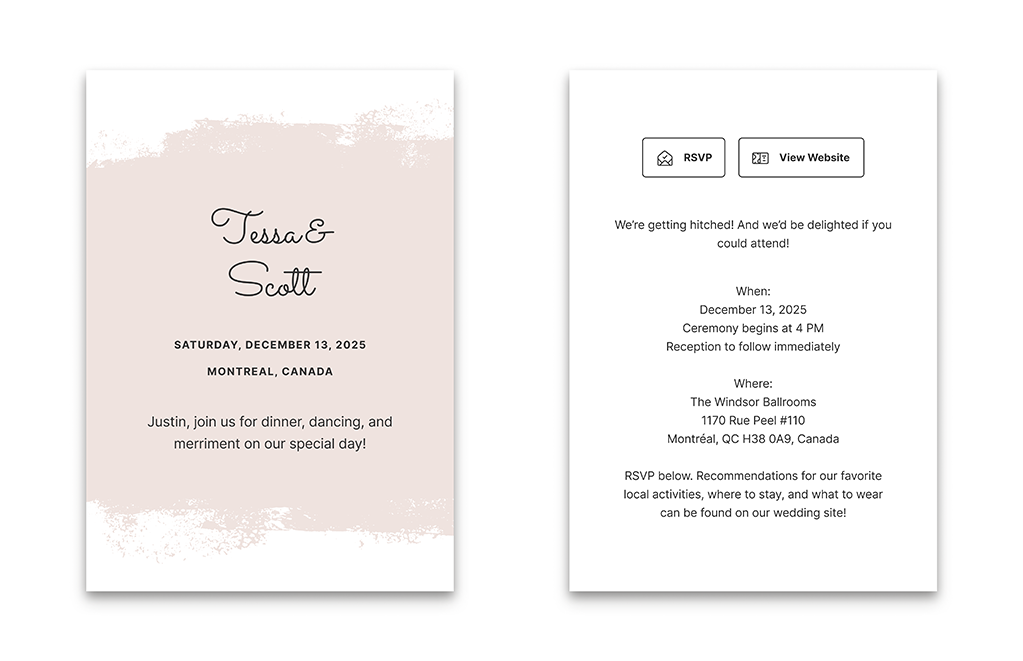 Front:
[First Name(s)], join us for dinner, dancing, and merriment on our special day!
Back:
We're getting hitched! And we'd be delighted if you could attend!
When:
December 15, 2018
Ceremony begins at 4 PM
Reception to follow immediately
Where:
The Windsor Ballrooms
1170 Rue Peel #110
Montréal, QC H3B 0A9, Canada
RSVP below. Recommendations for our favorite local activities, where to stay, and what to wear can be found on our wedding site!
Modern wedding invitation wording
Here's an example of wording that conveys a sense of formality, but also suits both paper and electronic formats.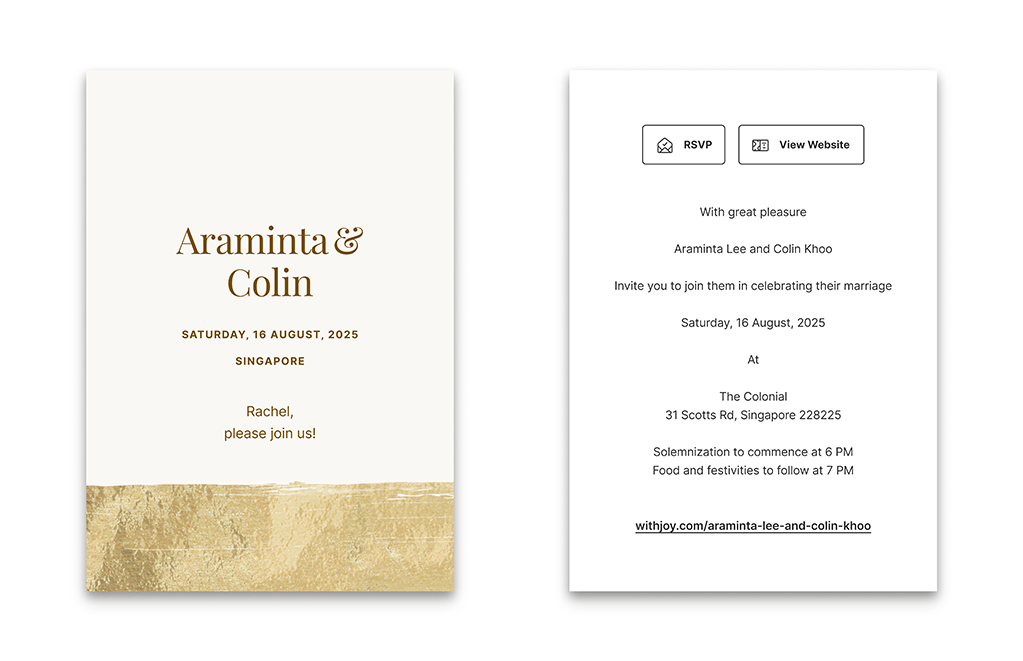 With great pleasure
Araminta Lee and Colin Khoo
Invite you to join them in the celebrating their marriage
Wednesday, August 15, 2018
At
The Colonial
31 Scotts Rd, Singapore 228225
Food and festivities to follow
Traditional wording with a modern twist
Of course, there's no reason you can't go with the traditional wording format. Here's an example of how to adapt it to your invitation e-cards.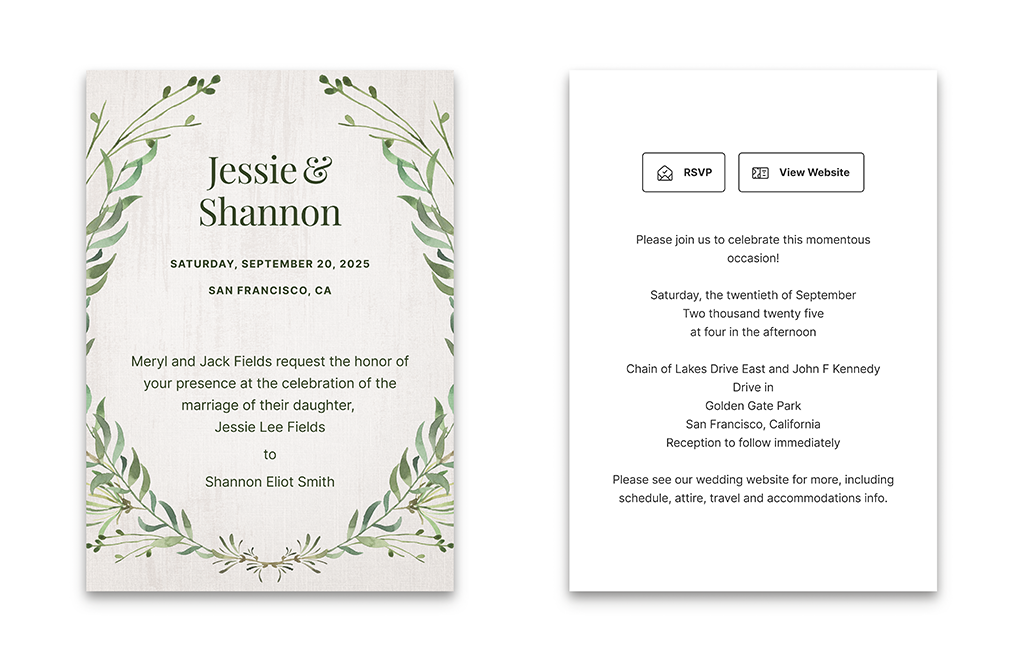 Front:
Meryl and Jack Fields request the honor of your presence at the celebration of the marriage of their daughter,
Jessie Lee Fields
to
Shannon Eliot Smith
Back:
Please join us to celebrate this momentous occasion!
Saturday, the twenty-second of September
Two thousand eighteen
at four in the afternoon
Chain of Lakes Drive East and John F Kennedy Drive in Golden Gate Park
San Francisco, California
Reception to follow immediately
Please see our wedding website for more, including schedule, attire, travel and accommodations info.
Whether you send traditional paper invitations or go paperless, you can easily collect RSVPs online.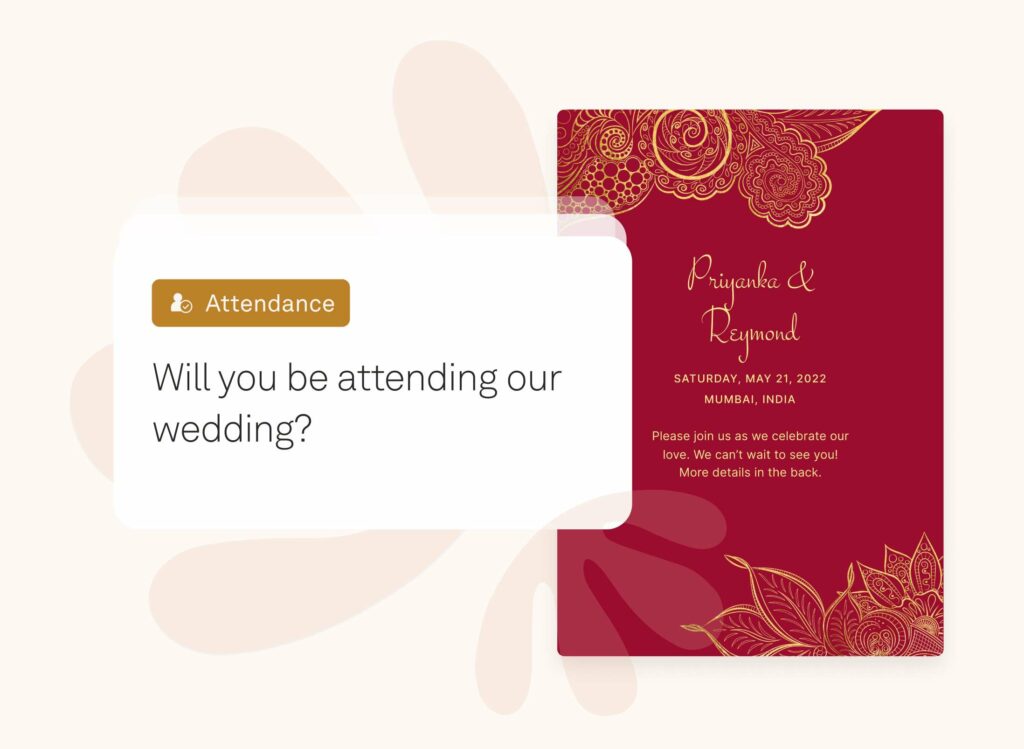 Related Posts