With ancient Hawaiian culture and contemporary comforts, Oahu is a special place to say "I do." This acclaimed island offers cutting-edge eateries, chic boutiques, and modern hotels. It also maintains its old-world charm with secret beaches, immaculate expanses of tropical rainforest, and architecture that's a time capsule to the late-1950s.
The wedding venues on this island are just as impressive, offering event spaces that feature spectacular ocean views, immaculate beaches, and magnificent gardens that help you create a utopian wedding day. If you're searching for the perfect location for a tropical destination wedding, Oahu should be a serious contender.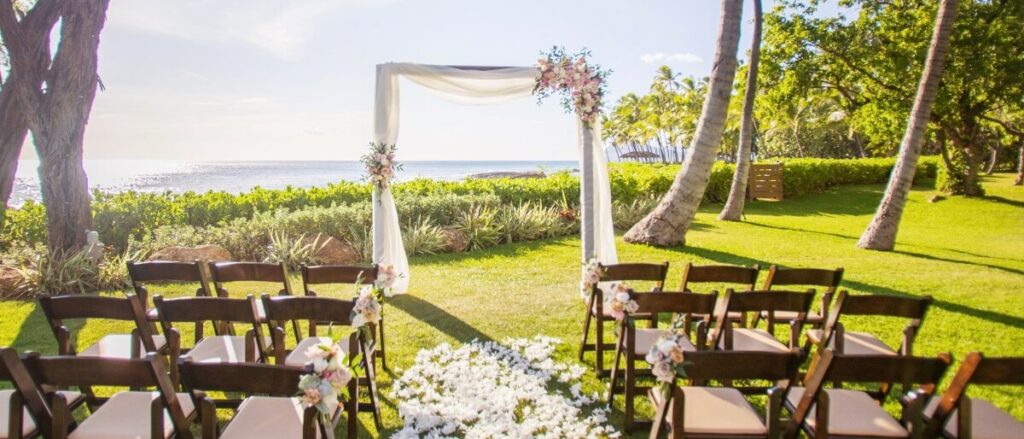 It's appropriate that Lanikūhonua means "where heaven meets Earth," as this venue is perched on the edge of the Pacific and coated in a lush tapestry of tropical foliage. One of the most popular ceremony sites at Lanikūhonua Cultural Institute is a private beach, which allows you and your guests to rest your feet in the soft, warm sand as the setting sun lights up the sky with vivid colors. It's an ideal location for a dream wedding.
Another stunning location for a wedding ceremony is on the verdant, oceanfront lawn encircled by palm trees. Most receptions also take place here. Additionally, weddings can be held at one of the two pavilions resting in the manicured gardens that look out over the ocean.
Typical Cost: Starts at $4,975
Capacity: 1,000
Bonus: Your money supports the cultural center's mission to preserve and promote the Hawaiian culture.
Find Lanikūhonua Cultural Institute on Facebook and Instagram.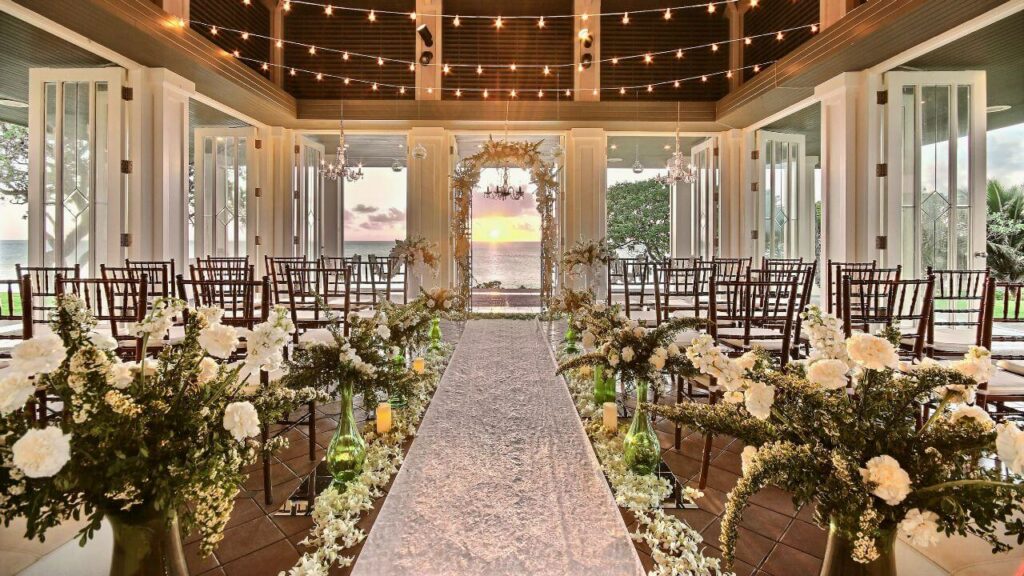 The dreamy North Shore of Oahu effortlessly enchants guests with its pristine beaches, cascading waves, and rich landscape of jungles and forests. This is why Turtle Bay Resort, located in this exotic wonderland, is such an acclaimed choice for a destination wedding in Hawaii.
As this resort boasts 10 event spaces spread throughout 25,000 square feet of indoor space, 850 acres of outdoor land, and five miles of beach, it's easy to find the perfect spot for your wedding day. Whether you're dreaming of a barefoot ceremony on the beach, with the glowing sunset and sparkling sea as your backdrop, a celebration on a vast lawn overlooking the water, exchanging vows under a canopy of soaring trees, or nuptials within an open-air pavilion coated in twinkle lights, Turtle Bay Resort has you covered.
Typical Cost: Starts at $4,500
Capacity: 150
Bonus: The venue has a variety of wedding packages, helping to ensure you're able to plan your ideal wedding for a price that fits your budget.
Find Turtle Bay Resort on Facebook, Instagram, and Twitter.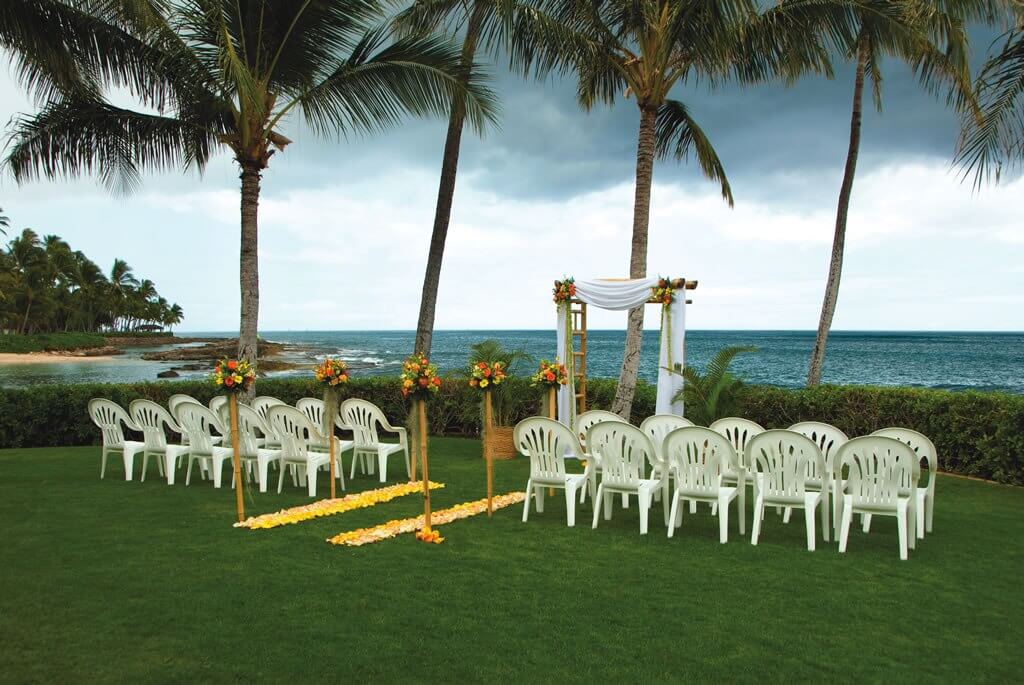 A serene environment by the sea, Paradise Cove is composed of a magical combination of tropical gardens, blue lagoons, mesmerizing coastline, and rugged mountain ranges. The ceremony sites take advantage of these views and include the Beach Gardens, Imu Gardens, Ocean Gardens, Paradise Cove Beach, and The Point at Paradise Cove.
The Beach Gardens are located on a blue lagoon and offer a dreamy setting while The Imu Gardens are optimal for an intimate celebration against the colorful backdrop of nature. The Ocean Gardens feature fragrant flowers and a jaw-dropping view of the sea, and the Paradise Cove Beach provides white sands and a great vantage point for the sunset. Finally, The Point at Paradise Cove is set above the lava rock coast and has the continual soundtrack of crashing waves.
Following the ceremony, the venue can host a private reception, or you and your guests can join the luau, which includes a lei, complimentary mai tai, live music, an optional Outrigger canoe ride, ancient Hawaiian games, arts and crafts, hula lessons, hukilau on the beach (pulling of fishing nets), and a roast pig feast.
Typical Cost: Starts at $3,800
Capacity: 1,000
Bonus: Many of the wedding packages include the ceremony site location, tables and chairs, music, photography, flower lei, champagne, and commemorative champagne flutes.
Find Paradise Cove on Facebook, Instagram, and Twitter.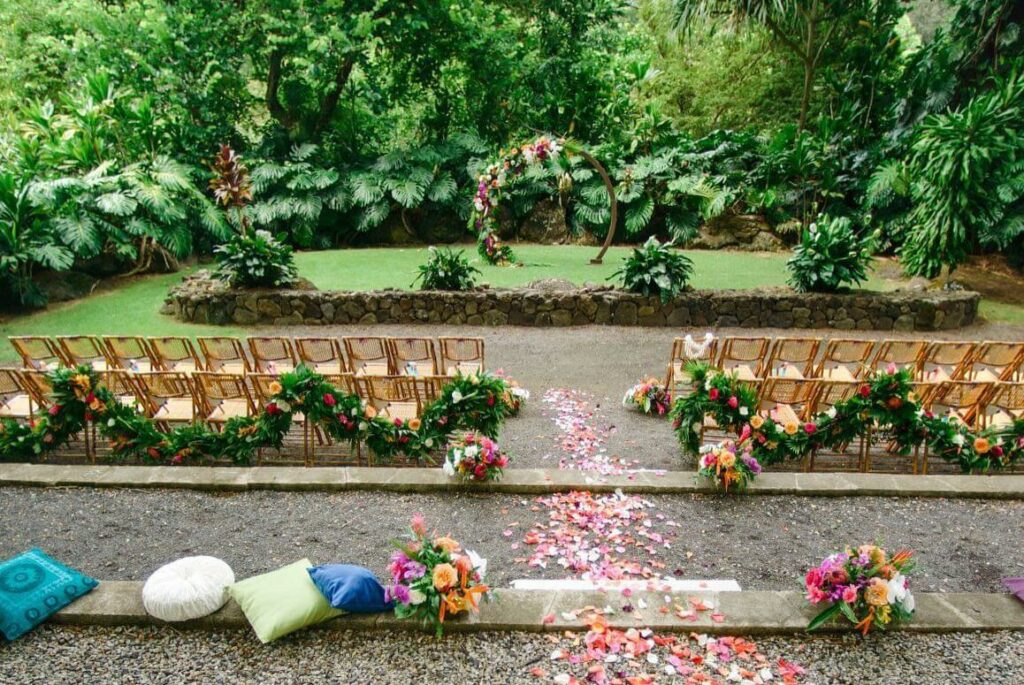 One of the most heavenly wedding locations on Oahu, Waimea Valley is filled with flourishing botanical gardens and mesmerizing landscapes that make you feel like you're saying "I do" in paradise. The Amphitheater is one of the more popular ceremony sites, as it allows your guests to look down upon you as you pledge your love on an intimate grassy lawn edged in tropical plants. The Main Lawn is another gorgeous ceremony site and features a soaring, monkey-pod tree that casts a beautiful shadow onto the large, manicured lawn below.
Other stunning options, perfect for smaller wedding parties, include Puhala and the waterfall. Puhala is located in the corner of the heliconia and ginger garden and has lava stone steps and a lush platform where you'll stand to tie the knot. The waterfall site will have you saying your vows on a platform backed by a 40-foot-tall, rain-fed waterfall. Waimea Valley also features a variety of lovely, covered sites for an alfresco reception.
Typical Cost: Ceremonies start at $1,000 and receptions start at $3,500, depending on the selected event space
Capacity: 300
Bonus: The venue's exclusive caterer, Ke Nui Kitchen, sources its fish from local fishermen and other ingredients from surrounding farms.
Find Waimea Valley on Facebook, Instagram, and Twitter.

"Halekulani," which means "house befitting heaven" is the perfect name for this five-star resort. Located on the shore of Waikiki Beach, it wows with gentle, offshore breezes, a grove of coconut trees, awe-inspiring views of Diamond Head, and plush rooms that provide the ideal combination of sophistication and serenity. Ceremonies can unfold on the vibrant garden courtyard or on the intimate Kawehewehe Lawn that looks over the water. Meanwhile, receptions can be hosted in the garden courtyard, an elegant ballroom, or a tropical lanai overlooking the ocean.
Planning a wedding at Halekulani Hotel on Waikiki Beach is truly a breeze, as the venue has an in-house florist, pastry shop, award-winning chefs, and expert staff who can help you create the wedding you've been envisioning. You can also treat yourself and your bridal party to some time at the spa, where they can assist with hair, makeup, and nail care before the walk down the aisle.
Typical Cost: Starts at $5,000
Capacity: 300
Bonus: While it's hard to pull yourself away from the resort's allure, you and your guests can easily access Honolulu's dynamic assortment of shopping, dining, entertainment, museums, and water sports.
Find Halekulani Hotel on Waikiki Beach on Facebook and Twitter.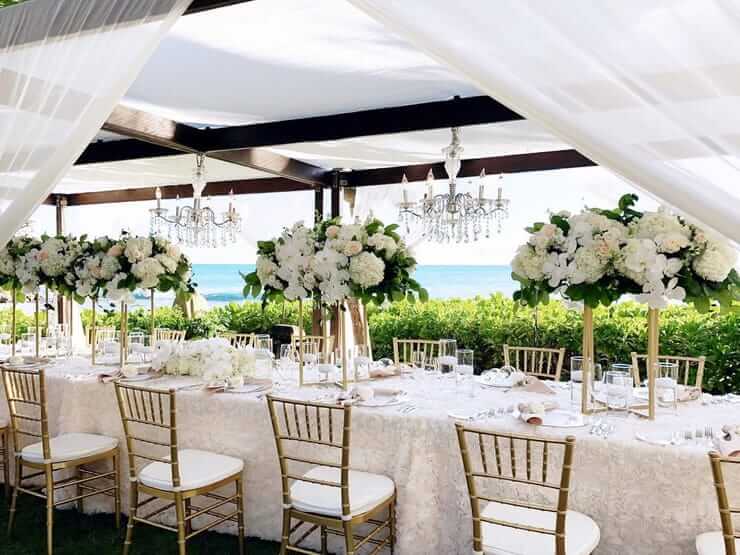 As one of the most luxurious hotel brands in the world, a wedding at the Four Seasons Resort Oahu at Ko Olina is almost guaranteed to be spectacular. This elegant hotel caters to a range of wedding needs by offering three wedding packages. The Voyage package is geared toward adventurous couples (and guests!) that want to engage in activities like surfing, kiteboarding, horseback riding, waterfall treks, and seaplane rides while on the wedding trip.
The Epicurean package is for the foodies, as Executive Chef Martin Knaubert takes you on a journey through the amazing flavors of Hawaii and beyond. The Hawaiian Legacy package infuses Hawaiian culture into the big day by having you arrive at the ceremony in an outrigger canoe or having a Kahu (honored attendant) bless the ceremony with a mele (chant). Many of the packages also include everything from an event coordinator, officiant, lei, and bouquet to photography, live music, and a complimentary night at the resort.
Typical Cost: Starts at $250/per person
Capacity: 1,400
Bonus: The resort includes four expansive lagoons that teem with life and offer phenomenal snorkeling.
Find Four Seasons Resort Oahu at Ko Olina at Facebook, Instagram, and Twitter.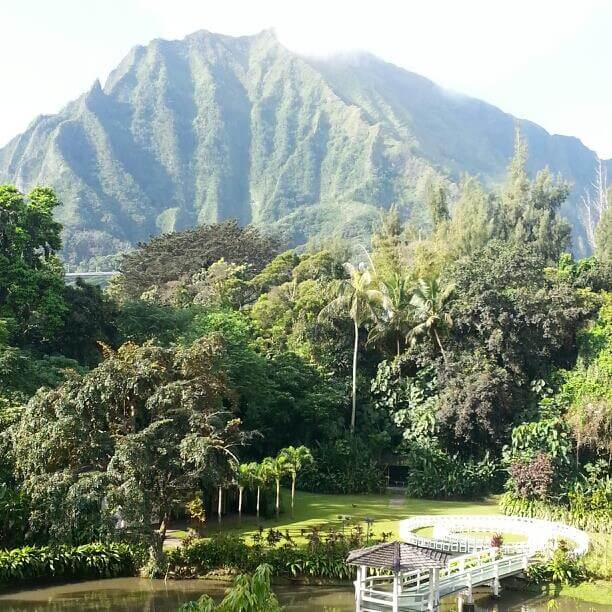 Located in Kaneohe, the Hawaiian fantasyland of Haiku Gardens is a jewel in the midst of Haiku Woodlands. This patch of paradise is composed of lush layers of tropical foliage and set against the stunning Ko'olau Mountains. The four-acre site offers four ceremony venues, including a private botanical garden, an open-air chapel, and a white gazebo accented by a serene pond.
After you say "I do," festivities will move to the onsite, award-winning Haleiwa Joe's Seafood Grill, which overlooks the gardens. Delicious menu options like Thai fried calamari, poke, tempura crab rolls, fresh island fish, and other sumptuous items are sure to make your big day a memorable experience. If you're searching for a dazzling venue that exudes the essence of aloha, Haiku Gardens should be top of your list.
Typical Cost: $3,800 – $15,000
Capacity: 175
Bonus: Many packages include leis, musicians, hand-tied bouquets, rose petals coating the aisle, and more.
Find Haiku Gardens on Facebook, Instagram, and Twitter.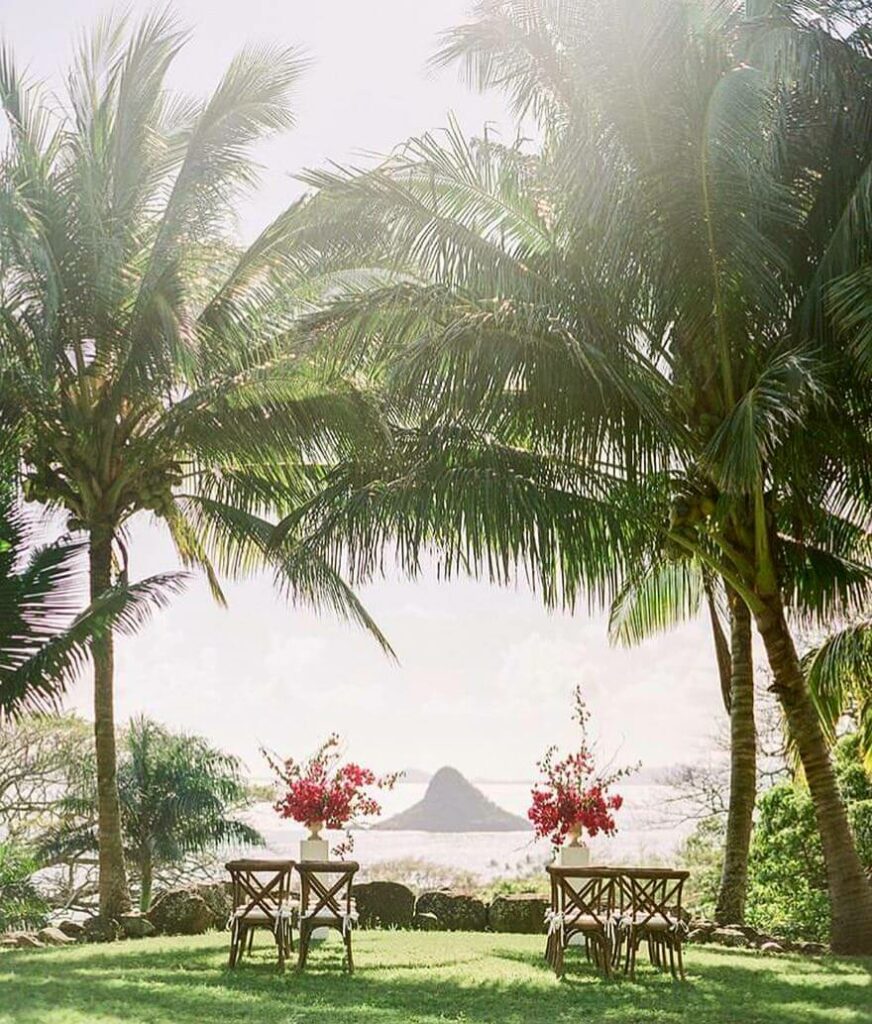 If you've seen movies like Jurassic Park, Jumanji, Pearl Harbor, and Godzilla, you've seen Kualoa Ranch. This 4,000-acre nature preserve was the sacred residence, refuge, and training grounds for Hawaiian royalty in ancient times. Now, it's primarily home to hundreds of cattle, horses, sheep, and whatever creatures live in the 125-acre, 800-year-old fishpond. This is the venue for couples that love dramatic displays of nature, taking in the aroma of tropical flowers, and the soft kiss of the warm ocean breeze.
The exotic ranch also offers a range of sites for wedding celebrations, from secret beaches to tropical gardens, and provides seemingly endless options for photo backdrops. When it comes to food, you'll receive a delicious farm-to-table dining experience from the onsite catering service, which uses Kualoa-grown beef, oysters, shrimp, fish, fruits, and vegetables.
Typical Cost: $2,400 – $3,500
Capacity: 600
Bonus: The location is so visually-appealing that few decorations are required.