If you're hoping to plan an affordable wedding, you'll be happy to discover that Cincinnati, Ohio offers a variety of amazing venues that won't break the bank. From a plant conservatory and riverboat to a sculpture park and stone and marble pergola, this city offers an assortment of ceremony and reception options that are sure to make your wedding day a memorable one. To help you narrow your search, here's our roundup of the best affordable wedding venues in Cincinnati.
Located in Eden Park, in downtown Cincinnati, Krohn Conservatory is a visually compelling glass structure constructed in 1933. This art-deco wedding venue provides a blend of sophistication and eccentricity with its rainbow of foliage, golden light, towering ceiling, and stunning views of Eden Park. Couples can say "I do" to the backdrop of lush foliage; from there, they can celebrate their love during a wedding reception set among a botanical garden that includes 3,500 plant species.
You can choose various areas of the conservatory for your wedding ceremony and reception, including the Fern House, Palm House, Desert House, Orchid House, and Bonsai Gallery.
Typical Cost: $2,000 for six hours of event time
Capacity: 150
Bonus: This event venue provides wedding planning services, security, setup and clean-up, a day-of coordinator, and a prep kitchen.
Find Krohn Conservatory on Facebook and Instagram.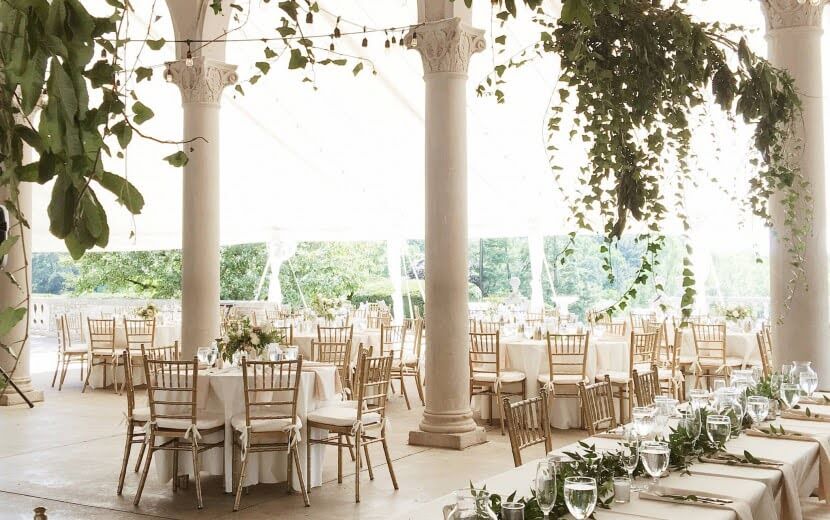 One of the most impressive Cincinnati wedding venues, Ault Park Pavilion wows with a soaring two-story, stone pavilion that sits atop a majestic double staircase. Many couples choose to exchange vows on the landing at the top or bottom of the steps, as this allows the pavilion, or the city skyline, to serve as a mesmerizing backdrop. Couples can also orient the ceremony so guests are facing the park below the steps.
The pavilion, which features high ceilings and grand stone pillars that create a stately ambiance, is an ideal reception venue. You can enjoy dinner on the first story of the building and then move upstairs to dance and experience spectacular views. Guests can also roam the park before and between wedding events.
Typical Cost: $1,200 – $1,600 for a ceremony and reception
Capacity: 600
Bonus: You can save some money on decor, as this event center is so captivating that couples rarely need more than string lights, candles, and flowers.
Find Ault Park Pavilion on Facebook.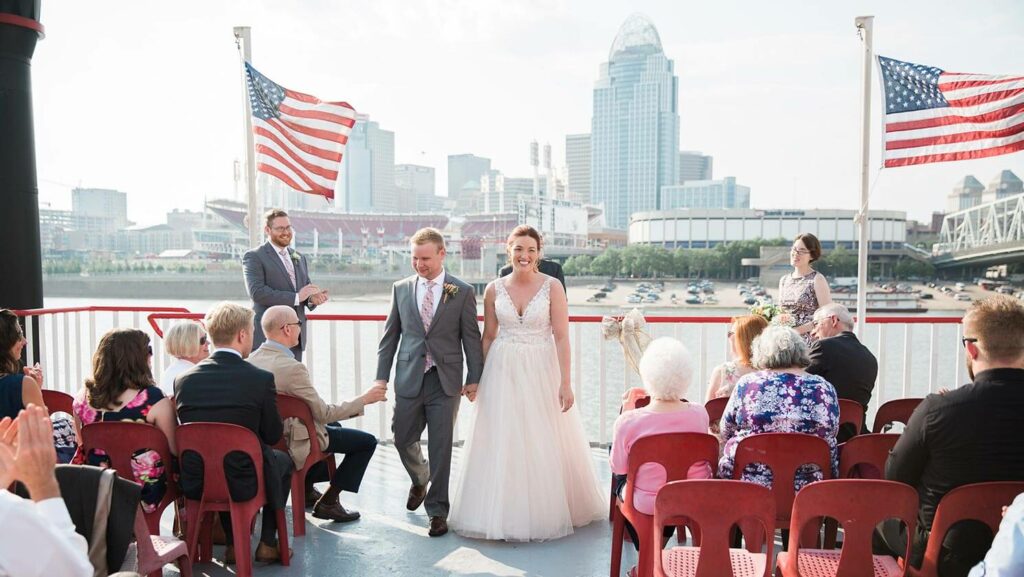 If you're into the idea of a floating wedding, consider tying the knot on one of the BB Riverboats, which operates out of Newport in Northern Kentucky. This company provides a variety of all-inclusive packages so you can ensure you have the exact food, drinks, decor, and entertainment options you want.
The most popular boat for weddings is the Belle of Cincinnati. The Belle is decked out in Victorian decor and includes three climate-controlled decks, which include a full bar and buffet area, dance floor, and elevator. Most couples enjoy an outdoor ceremony on the open-air upper deck, which provides spectacular views of the surrounding scenery. You can then migrate to a lower deck for dinner and dancing.
Another great option for your big day is the River Queen, a smaller boat that's perfect for a more intimate wedding. This boat has two decks that can also accommodate an alfresco ceremony, dinner, and dancing.
In addition to a cruise on the Ohio River, you'll receive wedding planning services, china, linens, flatware, menu tasting and selection, affordable pricing, and free parking. This vendor can also coordinate live music, party favors, souvenirs, flowers, and decor.
Typical Cost: $2,500 for 50 guests
Capacity: 500
Bonus: This event space offers in-house caterers that can whip up entrees like honey-glazed ham or marinated roast turkey breast, sides of grilled asparagus and buttered corn, and an impressive variety of hors d'oeuvres.
Find BB Riverboats on Facebook and Instagram.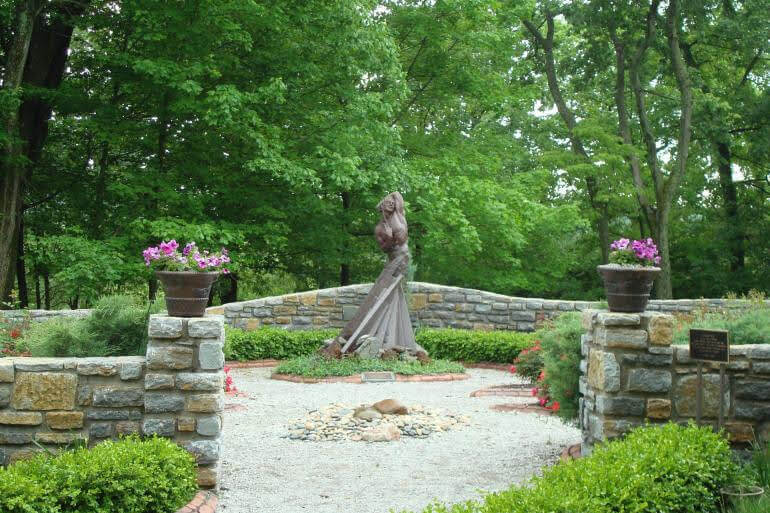 A one-of-a-kind Cincinnati wedding venue, Pyramid Hill Sculpture Park & Museum is like a wonderland of man-made and nature-made marvels, making you feel like you've stumbled upon a secret garden.
You can enjoy these secret garden vibes during a ceremony in a grassy area that rests on the edge of the forest and includes a semi-circle trellis that sits atop a series of columns. There are also numerous other ceremony sites that offer views of many of the large sculptures scattered throughout the grounds.
You can have an outdoor wedding reception on the museum patio, which features stone walkways and alcoves. Larger groups can use the pavilion that has stone columns and wood triangle frames along the back wall, in addition to a scenic view of Lake Nanci and numerous sculptures.
Typical Cost: $250 – $1,500 for a ceremony; $1,750 – $4,000 for a reception
Capacity: 300
Bonus: You can upgrade your wedding package to gain access to the Ancient Sculpture portion of the museum.
Find Pyramid Hill Sculpture Park & Museum on Facebook, Instagram, and Twitter.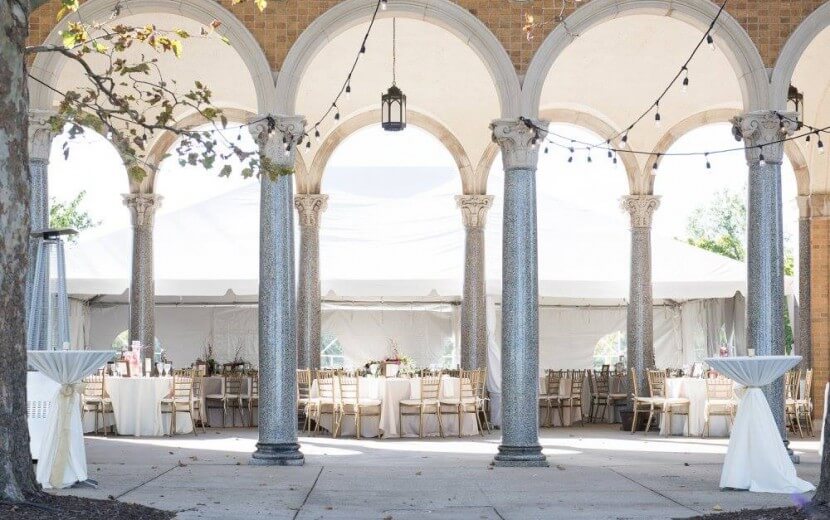 If you want to enjoy sweeping views of the city mixed with scenic landscapes, consider Mt. Echo Park for your outdoor Cincinnati wedding.
For a dramatic site on your special day, the park's enormous, Italianate-style, stone and marble pergola is large enough to provide a covering for a dance floor and tables. This structure was built in 1929 and is one of the most spellbinding sights in all of the Cincinnati parks. If you need additional space for a larger wedding, you can even attach a tent to the side of the pergola.
This outdoor wedding venue is perfect for a ceremony among the rolling green hills in the park, many of which back up to forests. Look out for a prime hilltop location that looks out over the Ohio River and city.
Typical Cost: $1,200 – $1,400 for a ceremony and reception; includes 6 hours of event time
Capacity: 150
Bonus: The Buckeye and Sycamore trees throughout the park add a bucolic vibe to your special event.
Find Mt. Echo Park on Facebook.