Once you've secured your wedding date, time, and venue, it's a perfect opportunity to start exploring your wedding invitations. While some couples prefer their invitation suite to reflect the season, location, or venue they're getting married in, others choose invitations that are an expression of their personality. Whether you're looking for online invitations, paper invitations, or a mixture of both in the lead-up to your big day, we've rounded up the best wedding invitation sites based on their standout features.
Best free online invitations: Joy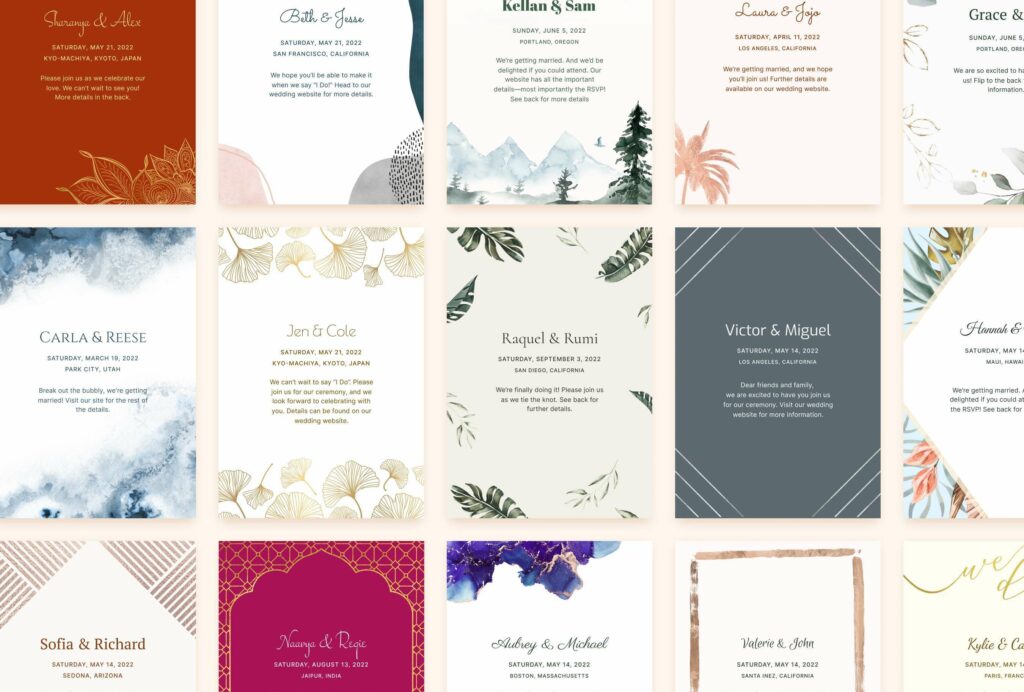 Summary: Beyond hundreds of designs ranging from minimalist and classic to floral and whimsical, Joy's online wedding invitations not only match your wedding website but offer the easiest way for guests to RSVP. After RSVPing directly from their personalized online invitation, guests' responses will automatically populate within your guest list, conveniently keeping you up-to-date on who is attending each of your events and their preferences. For couples that want a no-fuss solution to the RSVP process, while also spreading the word about their wedding in an aesthetically-pleasing way, Joy is a perfect fit.
Sticker price: Free online wedding invitations that can be sent to an unlimited number of guests; matching paper invitations from partnerships with Paperlust* and Paper Culture* (*prices vary depending on the company, shipping, design type, and paper type)
Pros:
Fully customizable text fields to reflect your wedding plans in your own way and in your own words
Send wedding invitations directly from the Guest List feature on your wedding website
A professional RSVP experience for your guests, from the moment they receive the invitation in their inbox to the moment they submit their response
Your wedding website links directly from the invitation as its own button, subtly pointing guests toward more information about your big day
A two-sided invitation experience, allowing you to include additional details and information on the reverse side of the invitation card than you'd be able to fit on a printed invitation.
Cons:
You can't adjust the font or font size on the invitations without having to use custom CSS, which could be challenging for non-techie couples
Best invitations with international shipping: Paperlust
Summary: An ideal option for couples looking to send wedding invites to loved ones all around the world, Paperlust offers a bevy of gorgeous, unique designs that will complement your big day. Plus, the designs are crafted and curated by a global community of independent artists and creatives, helping you achieve that personal touch you can't find anywhere else.
Sticker price: Depends on selected print; free worldwide express shipping on orders over $300
Pros:
A vast variety of offerings that match your wedding aesthetic, including rustic, elegant, modern, and floral themes and mediums like paper, letterpress, foil, and printing on wood and acrylic
A wide assortment of options to set the stage for your big day, from full wedding stationery suites to day-of stationery like programs, menus, escort cards, place cards, and wedding signage
Order a free sample pack, which includes seven different invitation designs and one envelope, to experience the paper quality and raw materials before committing
With every order placed, Paperlust will plant one tree toward reforestation to build a more sustainable future
Cons:
You may not be able to request a sample of a specific design, as it depends on demand and studio inventory
Due to the custom-made nature of the invitations, refunds aren't possible after the proof design period
There is design fee to create an entirely custom design; inquiry for a quote is available on the website
Best invitations for eco-conscious couples: Paper Culture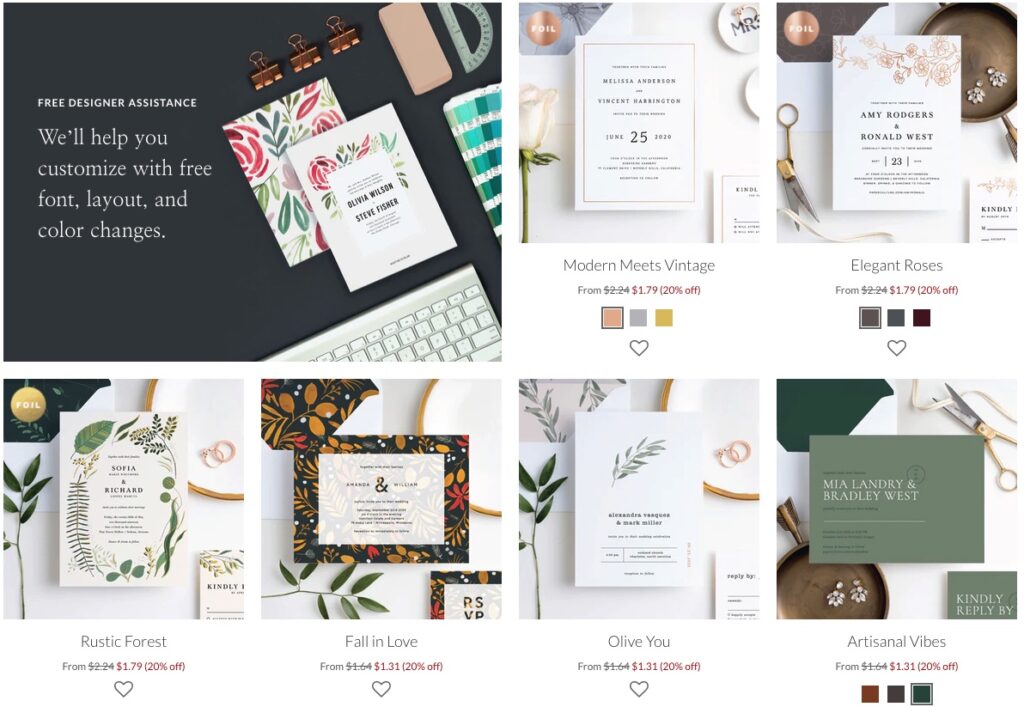 Summary: Paper Culture offers hundreds of wedding invitation design options that are just as beautiful as they are environmentally-friendly. Recognized by the Environmental Protection Agency (EPA) as a Top 10 Climate Leader, Paper Culture is a perfect fit for couples who want to spread the word about their big day (in a big way!) while also treating the earth kindly.
Sticker price: Depends on card and format; ranges from $1.79/per card to $2.09/per card
Pros:
Beyond sourcing sustainable materials, from recycled paper to bamboo, Paper Culture will plant one tree for every order, particularly where reforestation is most needed
Free designer assistance to help you customize and perfect your wedding invitations before purchasing
Free wedding invitation sample kit, preassembled with different designs and paper thickness to get a sense of what to expect before making your decision
Cons:
Paper Culture does not offer Mail For You service (where it mails the invitations for you) for wedding orders.
You can only filter by color on the wedding invitation designs, which can make it hard to search for what you need if you have a specific theme in mind
Paper Culture doesn't offer custom designs
Best handmade invitations: Etsy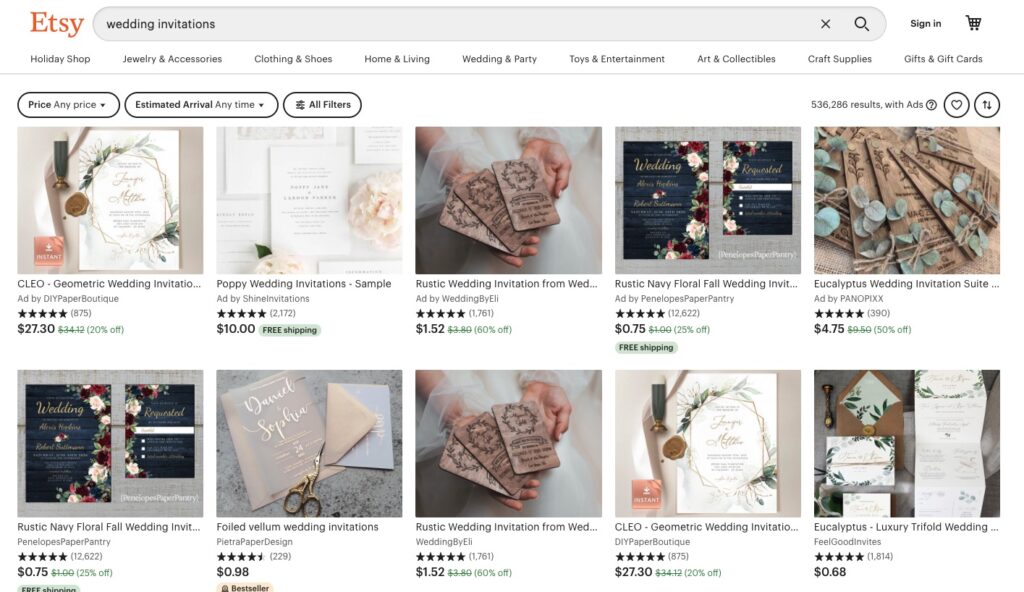 Summary: For truly unique wedding invitations with a handmade touch, look no further than Etsy. As you peruse the site, you can tell right away that many of the items are lovingly crafted, making it a perfect way to set the stage for the biggest day of your life. Whether you're looking for simple and sweet invitations on sturdy paper or unique invitations crafted from wood, Etsy could be the right fit.
Sticker price: Depends on selected print
Pros:
To get a better sense of the print you're eyeing, see real reviews and photos from couples who've purchased it under the 'Reviews' section
Communicate directly with the seller to ask questions about the print, shipping, and anything else
Filter by special offers, shipping speed, price range, wedding theme, season, orientation, and more to discover invitations that match your preferences
Cons:
No designer assistance or extensive customization — unless you're working with a seller that offers such perks
The sheer volume of invitation types (over 100,000!) may be overwhelming to some couples
You're forced to click on the print thumbnails to open up more details, which may not create the best user experience
Best affordable invitations: Shutterfly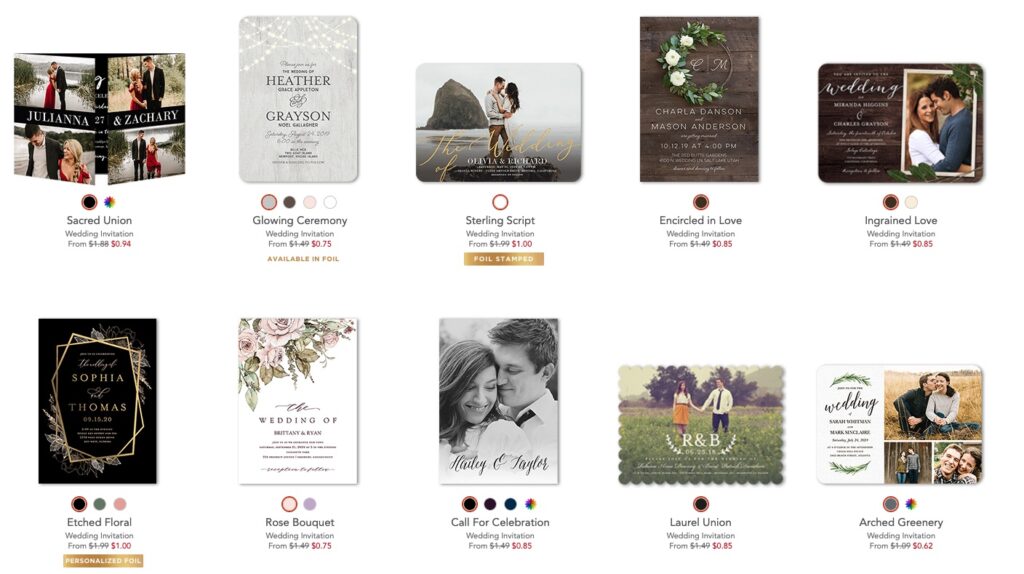 Summary: As a trusted brand known for personalized products at an affordable price, Shutterfly offers couples a variety of wedding invitation styles. Whether you're after a chic or rustic look, or something in between, you can find a print that matches your personality or aesthetic. You can even upload a picture of you and your partner together, which will automatically be reflected in the designs you peruse, helping you visualize right away how the print will look.
Sticker price: Depends on selected print
Pros:
Order a free wedding sample kit to see and feel a range of designs and customizations before committing — plus, receive a coupon offer with the kit
Request customized samples of five of your favorite prints
Filter by theme, color, style, number of photos, trim options price, designer, and more to find prints that match what you envision for your wedding day
Cons:
The designs may not feel as unique, or have a personal touch, as other retailers
You're forced to click through to the print to learn more details, which may not create the best user experience
Mail For Me service (where Shutterfly mails the invitations for you) isn't available for international orders
Best upscale, hand-designed invitations: Paper Source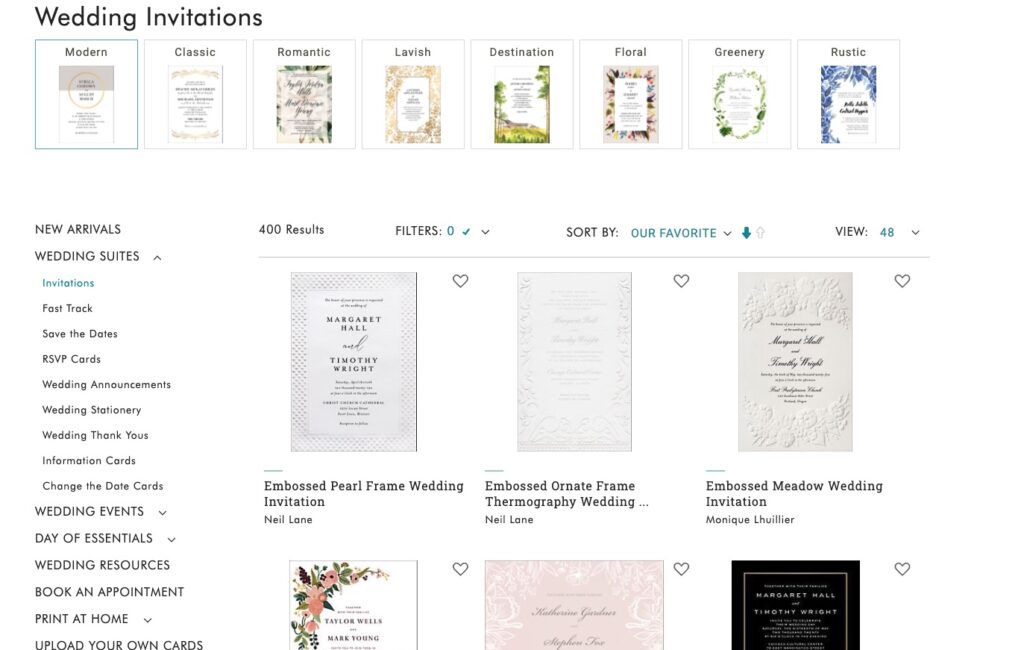 Summary: A special day requires a special invitation, making Paper Source a perfect fit for couples looking for upscale elegance in their invitations. From modern and classic to romantic and lavish, each invitation is crafted with exclusive design features that practically burst with color and joy.
Sticker price: Depends on selected print; free standard shipping on orders $60+
Pros:
Choose from 34 exclusive paper types, a full range of colors, 200+ design templates, and dozens of luxe, artisanal details to set the stage for your big day the right way
Paper Source puts the environment first with sustainable products and materials (from the design stage to the shipping stage)
You have the option to select Rush Proofing, which allows you to receive your email proof on the same day (as opposed to the usual 3-4 business days)
Cons:
No first-hand reviews or photos of the invitations from real couples
If you need design help or advice, you'll have to book a consultation appointment in advance
You can't filter by color or price while perusing
Best invitations for reliability: Vistaprint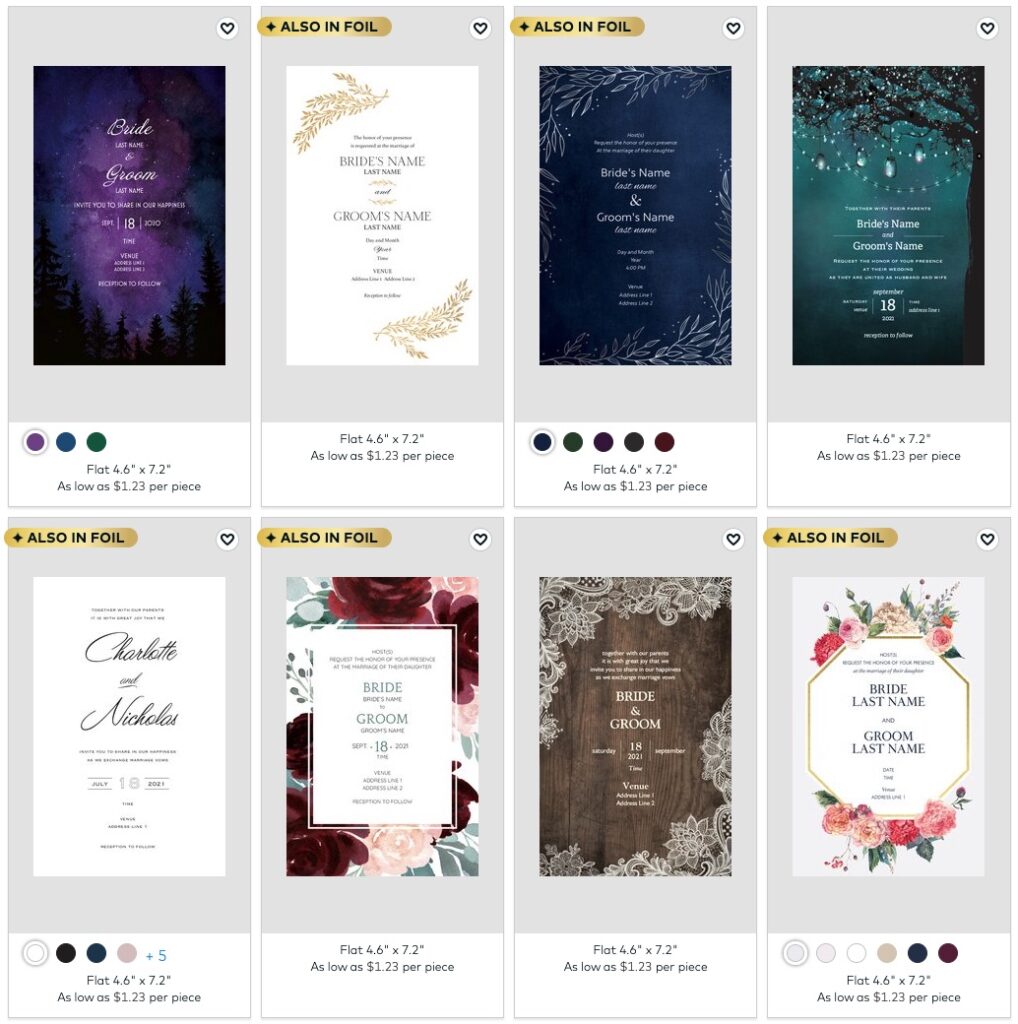 Summary: From floral and rustic to destination and on-trend, Vistaprint offers hundreds of lovely wedding invitation designs to match your style, personality, and wedding aesthetic. It's also one of the more reliable brands, offering a satisfaction guarantee for all of its products and various solutions if you're unhappy with your order. Plus, the company is eco-conscious, so you can rest assured your invitation paper has been sustainably sourced.
Sticker price: Depends on selected print; shipping ranges from $5.99 to $34.99
Pros:
Request a free 10-piece wedding sample kit to experience the most popular wedding items, including paper stationery and paper stocks
Search by trending invitation styles to get a sense of what other couples are loving lately
Filter by style and theme, corners, embossed gold foil, size, fold, orientation, color, and more to efficiently discover your desired invitation look
Cons:
You can't filter by price, which could make it difficult for couples who have a certain budget
No first-hand reviews or photos of the invitations from real couples
The fastest shipping option is three business days
Best invitations for vibrant designs: Zazzle
Summary: Zazzle makes it easy to shop by style, color, and format for your wedding invitations, which is especially helpful if you already have a certain look in mind. Offering vibrant designs from its vast community of independent designers, the company offers a plethora of creative, customizable invitations to meet your needs.
Sticker price: Depends on selected print
Pros:
Use a vast amount of filters to discover your perfect invitation more efficiently, without having to peruse thousands of options
See first-hand reviews and photos from other couples to help you make a decision
Create your own design directly in the Zazzle invitation template
Cons:
With tons of options and selections across each page, it's not the most user-friendly website
Shipping information isn't easily discoverable
The designer information is buried at the bottom of the selected invitation, making it difficult to learn more about the inspiration behind the look
Best invitations from independent artists: Minted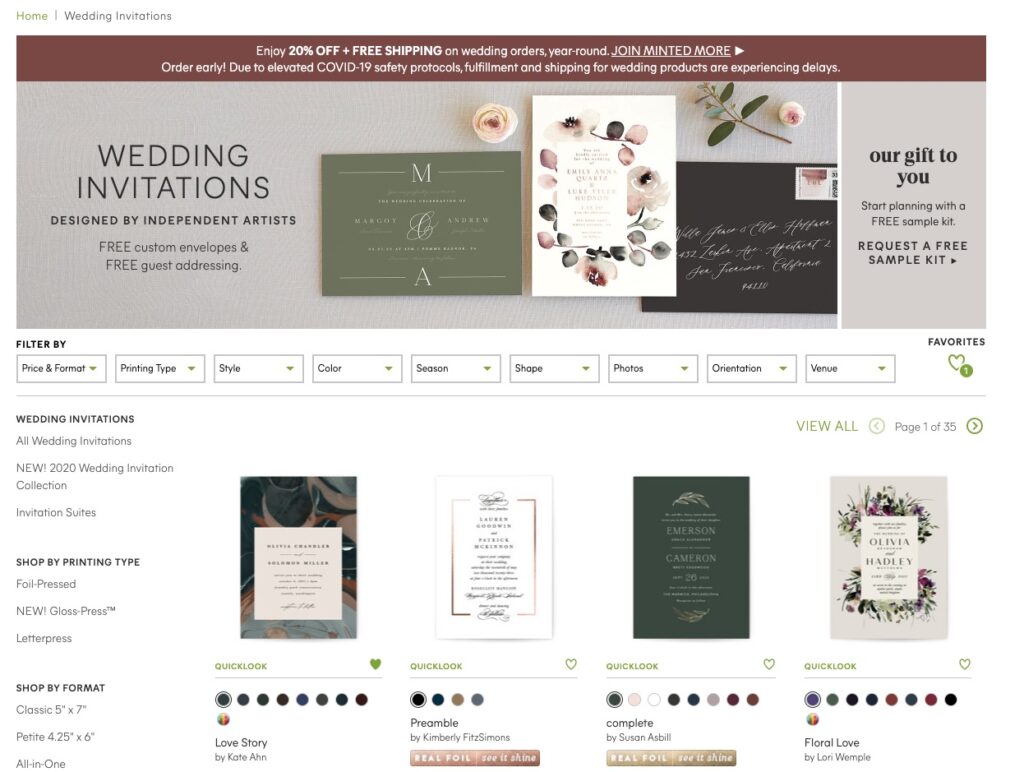 Summary: With a commitment to design and supporting independent artists, Minted offers couples wedding invitations that are easy to fall in love with. As you peruse the designs, you can read about the artist's story and inspiration to get a deeper sense of who they are, what they created, and how that matches up with your love story. From trendy to traditional to everything in between, you're bound to find a print that perfectly fits your wedding aesthetic.
Sticker price: Depends on selected print; shipping ranges from $3.95 to $34.95
Pros:
Filter by a wide variety of categories, such as price and format, printing type, style, color, season, shape, photos, orientation, and venue, to quickly discover wedding invitations that match your vision
You can submit a custom design request for more complex changes to design elements, layouts, photos, and more
A variety of shipping options, such as standard, priority, expedited, and rush, to meet your needs
Cons:
The bevy of invitation designs could feel overwhelming to the couple who isn't sure what they're looking for
After clicking on a design, there are many options to add features or personalize the invitation, which could lead to confusion about the best course of action
Few envelope options
Best online, designer invitations: Paperless Post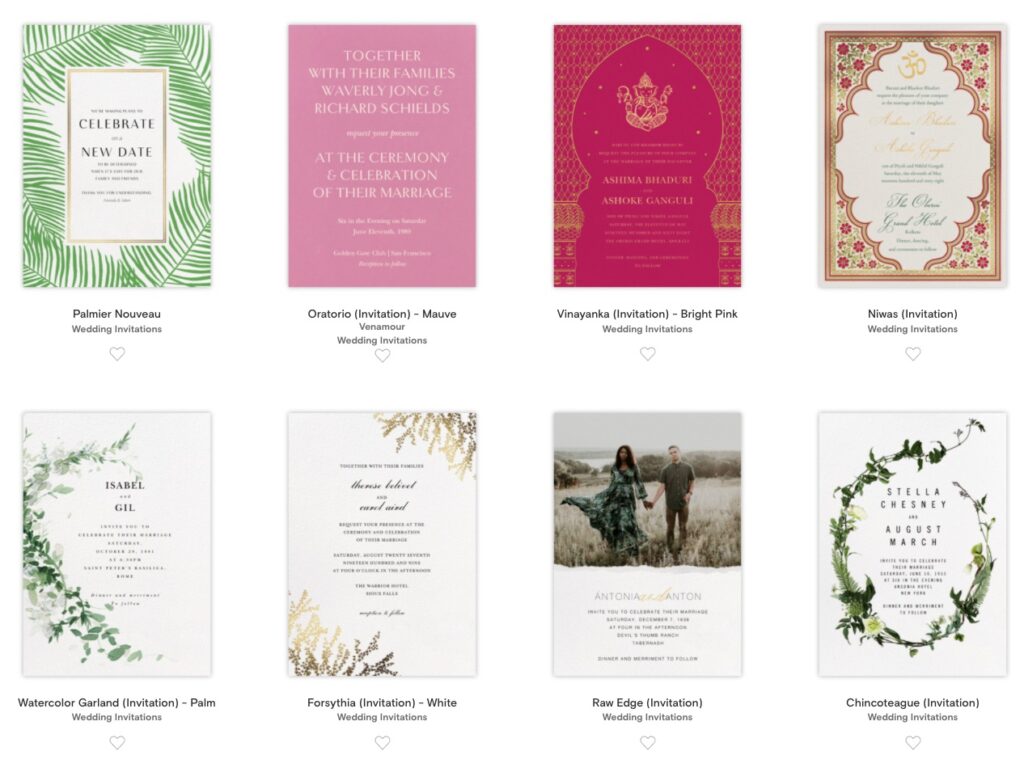 Summary: From classic and modern to rustic and romantic, Paperless Post works with couples to create high-quality online designs that are worthy of a celebration. Whether that means adding an original drawing to your invitations or choosing one of hundreds of designer themes from the likes of Oscar de la Renta, Venamour, Kate Spade New York, Rifle Paper Co., and more, your Paperless Post invitations will surely impress.
Sticker price: Hundreds of free invitations available to send to up to 50 emails; for 'premium cards,' Paperless Post operates on a coin system (or virtual credits you can purchase to send invitations) and offers packages ranging from 25 coins for $10 to 1,000 coins for $100, depending on your needs
Pros:
A clean, navigable website that makes it easy to search for your perfect invitation
Personal design services, such as watercolor motifs, line-drawing illustrations, personalized wedding stationery, and bespoke designs to help you perfect your invitations and realize your vision
Offers printed wedding invitations through its print partner Paper Source
Cons:
The coin system for 'premium cards' could be confusing to some couples
Before you can explore and customize a card, you have to sign up for an account with Paperless Post