When you first get engaged, it's common to experience waves of emotion—shock, surprise, thrill, joy—much like a Jackson Pollock painting. But when the paint dries and the initial excitement wears off—though allow yourself a moment or two to enjoy it—the time will inevitably come to cross your T's and dot your I's.
Enter: The Wedding Website. But is it necessary? Yes, if you want to get the logistics and communication right. Implementing a wedding website is also a smart strategy, considering the world is becoming increasingly digitally connected.
According to a 2018 study from Nielsen, a global measurement and data analytics company trusted for more than 90 years, "American adults spend over 11 hours per day listening to, watching, reading or generally interacting with media."
Try not to consider a wedding website to be another laborious task in the planning process. Instead, think of it as participating in the digital ecosystem—one that's a playground for learning, discovery, and entertainment and a part of our daily lives culturally, socially, and professionally.
With a wedding website, you can leverage this digital reality to:
communicate with guests
send and manage RSVPs
answer frequently asked questions in one place
flaunt your love, and more
Not only is building a website a great bonding activity between you and your partner, but it's also an investment because it saves you time down the road as your wedding date gets closer. For instance, you're less likely to get barraged with questions from guests about what to expect, wear, and know. That leaves you with more time to enjoy your love, your joy, and the process—not just the destination or big event itself.
As Ralph Waldo Emerson once said, "To finish the moment, to find the journey's end in every step of the road, to live the greatest number of good hours, is wisdom." In other words, enjoy the journey—not just the destination—for it will fly by faster than you think.
Here's a breakdown, as a 19-tip listicle, of how to create a wedding website that will inform and delight your guests, simplify and speak to their needs, and stay true to you, the happy couple.
The Basics:
Inform
1. Add your names, a photo together, and the wedding logistics
This tip is barebones and obvious, but it's important. When building your wedding website, include the who, what, where, when, and why—ideally on the main page. Who's the focus? What's it about? Why are visitors coming here? At the end of the day, keep your guests at the forefront, approaching any information you include from their point-of-view. This way, you won't risk overwhelming or under-informing them.
2. Include a page briefly detailing the timeline of events
Whether your festivities will last for a day or weekend—or longer!—make sure to outline all events and when they're happening. From the cocktail hour to the ceremony, from the reception to the after-party, be concise with your descriptions. Though their heads are probably buried in a digital device already, your website isn't the only thing that has their attention. People are busy and distracted, so brevity is king—especially for such an important event like your wedding.
3. Schedule event privacy with Joy
Most couples tend to have family-only or wedding party-only events prior to the ceremony, but you don't want to list those events publicly and risk offending guests (gasp) if they inquire about them and they're not supposed to be included.
The days of having to figure out which events to leave off your site and which to discuss separately with your 'exclusive' guests will soon be over. With Joy you can easily schedule event privacy for each guest. This means you can list all of your events, control who can see what, and rest assured that no one feels left out.
4. Create a FAQ page to nip common questions in the bud
One of the beauties of a wedding website is that you can create a centralized resource center for inquiries and concerns that might come up. To start your list, you can research the questions that wedding guests tend to ask and proceed from there.
As the planning continues, you'll likely have family and friends ask specific questions tailed to your event, which you can include on the FAQ page as they surface. Not only will this minimize the questions you get asked, but you'll feel less overwhelmed, too, because all the pertinent information will be in one location and easily accessible on any digital device—at least with Joy. Have we reminded you to check out our top-rated mobile app yet?
5. Set up a travel directions and accommodations page
You can either include travel questions on your FAQ list or create a separate page devoted to this theme. Keep in mind that when a page is created for a component of your wedding, it's ultimately a cue to guests that it's important. While there's no 'right' and 'wrong' method, we recommend creating a travel page because its importance becomes heightened, and the risk is low that it will get buried.
After all, travel—especially for destination weddings or out-of-town guests—is one of the primary concerns; you want to make it as easy as possible for your loved ones to locate these details.
And with Joy's Booking Assistant (built conveniently into the platform), you can even help guests book and find the best deals on nearby hotels, establishing your travel page as a one-stop-shop for directions, accommodations, and booking.
6. Encourage guests to RSVP online but don't make it the only option
With Joy's sophisticated and intuitive RSVP system, it's easy for guests to click yay or nay—and for you to collect your RSVPs in one place.
If online RSVP is your preference, make it clear across the board. That means if you mail out paper invitations, emphasize that you want guests to reserve their spot with an online RSVP, and then link directly to the page where they can do that.
At the end of the day, think about what would make their lives easier. For instance, while the traditional method of mailing paper invitations— including a response card and a pre-addressed and stamped envelope—to collect RSVPs might seem more official, relying solely on that strategy may not be in your guests' best interest, or do your sanity any favors. After all, mail can get lost in the shuffle.
With a wedding website through Joy, you can easily set up an online RSVP page and, if you wish, mail out paper invites that match your theme. Whatever route you take, ensure that you're absolutely clear about your preferences on the paper invitation and website—and any other formats you're considering. Your clarity will go a long way.
7. Add multiple attendance questions and tailor them to each guest
Once you know who plans to attend your wedding, via online RSVP or paper invitation, it's always smart to ask questions related to their attendance and preferences. Think plus 1s, food requirements, or carpooling needs.
With Joy, you can include multiple attendance questions and tailor them for each guest. The beauty of this feature is that you can ask specific questions related to different events in your schedule—such as a family-only dinner—with discretion, without the risk of anyone feeling left out, in one seamless platform.
8. Create a wedding email account for lingering questions
Unless you're having a small wedding, or you're okay with family and friends regularly texting and calling you about miscellaneous curiosities and inquiries, it's not a bad idea to create a joint email account to address any lingering questions or concerns. It's also a way to provide guests—of various generations, ages, needs, and preferences—another way to communicate with you. Then, add this email address somewhere on your website, but make it crystal clear if it's your preferred contact method or just an option.
9. Use a password to protect your site
A wedding website will include personal information about you and where you will be at a certain date and time, so we recommend protecting your site with a password or code—and only sharing it with invited guests—to minimize the possibility of unwanted wedding crashers or something more nefarious. Better to be safe than sorry.
10. Set up your site early to include the URL on paper invitations
Your aim is to encourage guests to refer to your website for all pertinent information, so it's best to build it on the earlier end—but only once you've settled on a wedding theme, as this will bring more cohesion and intentionality to your wedding experience. Then, you can simply add the URL on paper invitations and include the passcode. Voila!
The Basics:
Delight
11. Include a page about your wedding party
Detailing information about your bridal party and/or groomsmen—like photos, names, and your relationship to them—is a nice touch, especially for guests who may not be familiar with who they are. It's also a courteous gesture—on top of the honor it already is to be a part of the wedding party.
12. Coordinate your wedding theme with the physical and the digital
It's important to think about the look of your site after you've settled on a wedding theme in order to match both experiences. For instance, you don't want to spend precious time creating a modern, minimalist website only to realize later that you want a bohemian wedding.
Once you've established the physical wedding space, and ideally the colors and fonts you'll use on stationary and signage, translate that mood to the digital space. Joy has thousands of complementary design combinations—with more on the way—to ensure cohesion.
13. Use professional photography to amplify this moment
Hire a photographer to snap a few engagement photos of you and your partner for the cover photo of your site, and intersperse them across different pages, as the sharpness and crispness will add a layer of significance.
If you want to include a gallery of photos chronicling your experiences together, be sure not to include too many (as in hundreds) because it can come across as overwhelming.
Choose some standout moments, and maybe some silly ones if they symbolize you as a couple. At the end of the day, you want to leave a little bit of mystery, as less is usually more.
14. Add a registry page but don't emphasize it
When it comes to adding a registry to your wedding website, you have to balance a tightrope between accessibility and delicacy. This means making it easy for guests to locate your registry but also deemphasizing it. After all, their presence at your wedding—one of the most important days of your life—is a gift in itself.
You can simply add a page titled 'Registry,' link it to your wedding website and let it live there without actively promoting it. For an added layer of class, include a brief message on the page expressing your thanks. The point is, be humble.
The Extras:
Inform
15. Set social media and photography guidelines
If you want your guests to be unplugged at any point—for instance, during the ceremony—make those expectations clear. You can either add a social media or photo guidelines page emphasizing a no-phone policy during specific events or simply add social media- and photo-related questions to your FAQ page.
It's ultimately a question of what your expectations are and how seriously you want to enforce them. Also keep in mind that your guests are excited for you and want to celebrate your love, so either way you approach these guidelines, do so delicately and politely.
16. Recommend local activities to prolong your guest experience
Whether they're traveling from out of the country, out of town, or just a short drive away, your guests will appreciate any local activities you can offer. If you picked your wedding location because it's significant in some way to your relationship—for instance, you had your first date or kiss there—chances are there are surrounding spots that are also significant.
If this applies to you, share those sweet details as you recommend things to do and see. But if the location is new to you, too, it's nothing a little bit of research can't fix. Consider the date of your wedding, as well, as there might be interesting festivals or events preceding or following the wedding. Trust us, your guests will welcome the insider knowledge.
The Extras:
Delight
17. Upload video to heighten your journey and future together
Who says your wedding website needs to be limited to photos and text? Including videos adds another dimension to this already special moment—and with Joy, it's easier than ever. Maybe you have footage of the moment you got engaged, or you're planning to shoot video during a professional photography session. Both are fair game and delightful moments to include, but also feel free to get creative.
18. Write a description of how you met, but keep it short and sweet
Some guests may not know the story of how you and your partner met—especially if it's a unique one. Consider including a description of your history to set the stage for the big day. This could be a great bonding activity with your partner, to reminisce about your journey together and determine what and how much to share. But, as always, be brief and show restraint.
19. Add a shout-out page to celebrate your vendors
Nothing is more thoughtful than showing appreciation to those who are about to bring your wedding dreams to life and make your day so special. Consider listing your vendors, describing their roles, and referring their services by linking to their websites or social media to express your gratitude before you make your way to the altar. After all, without their vision, labor, and professionalism, none of this can be possible.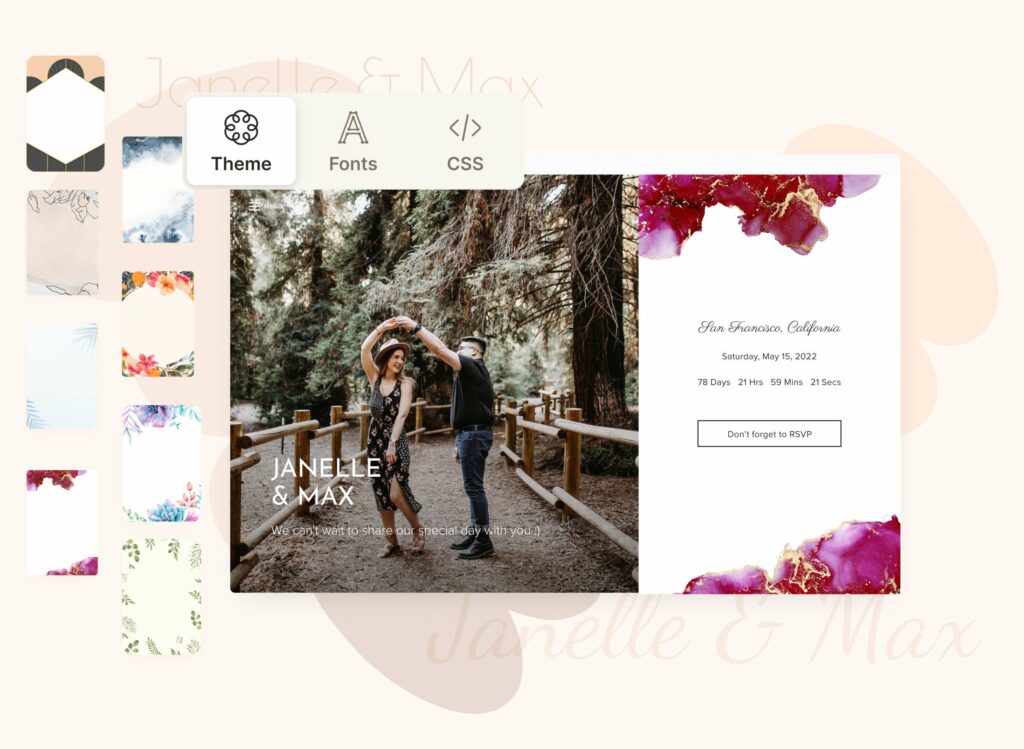 Set up your wedding website in minutes with design options to make yours truly unique.