While most couples used to follow age-old protocol to plan and fund their wedding, times continue to evolve. Instead of exclusively relying on their parents' help and resources, couples are now deciding how to craft an experience that suits their unique needs and tastes — in their own way, on their own terms.
Some couples are set on sticking with tradition, while others are forging a new path with their wedding events, including who pays for the rehearsal dinner. Wherever you fall on the spectrum, this guide will help you navigate how to handle this delicate aspect of wedding planning with grace.
Traditional Option
While it's a common custom for the bride's parents to pay for the wedding ceremony and reception, the groom's parents traditionally pay for the rehearsal dinner. It's the way to go if you're following traditional rehearsal dinner etiquette, and the groom's family is willing to host.
Modern Option
Many couples now choose to pay for their wedding rehearsal dinner themselves. Or they may ask both sets of parents to pitch in. However, there's no rule that says you can't let other family members host the dinner if they've requested the honor.
How to Approach "The Ask"
A crucial part of wedding planning is knowing your budget. It's best to determine who will fund the main event, and side events like the rehearsal dinner, before you start planning.
If you're hoping your parents, in-laws, or other wedding guests you're close to will help pay for the rehearsal dinner, but they haven't yet offered, you'll need to broach the subject sooner than later.
But before you speak with them, get clear on what you hoping they'll fund. Ask yourself questions like:
Do I want them to pay for the entire event?
Do I want them to pay for just the food or the venue?
How much control am I comfortable with them having in the planning process?
Will I acknowledge their contribution to the rehearsal dinner invitations?
Once you and your fiancé are clear on these topics, make the ask. While it's not always possible, it can be nice to request this financial support in person.
Top Rehearsal Dinner Considerations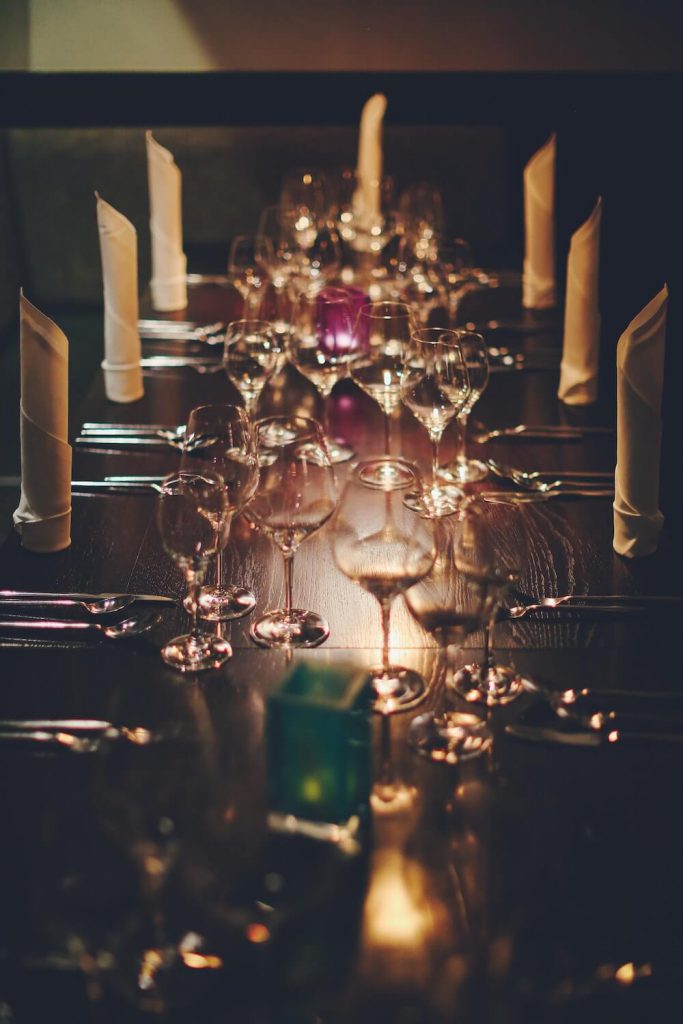 After you've determined who will pay for the rehearsal dinner, keep the following seven considerations in mind as you plan your special event.
1. Host Communication
If the person(s) paying for some or all of your rehearsal dinner has requested input in the planning, and you've agreed, check with them before finalizing key components of the event. This is especially important when it comes to menu selection and headcount, as these elements have a big impact on cost.
And if you feel overwhelmed by planning your wedding day, it's reasonable to request that those paying for the rehearsal dinner also organize it.
2. Venue Location
To minimize transit time, select a rehearsal dinner venue within 15 miles of where most guests are staying. Guests will appreciate the close proximity, as they will have the option to use rideshare which will cut costs. It's also helpful if the rehearsal dinner venue is near the wedding venue.
3. Timing
As the name implies, the rehearsal dinner typically follows the wedding rehearsal, which is usually held the evening before the big day. It's also best to plan for an earlier meal, so you and your guests aren't too wiped out the next day.
4. Invite List
Traditionally, only those who participate in the rehearsal — the wedding party, officiant, and immediate family members — receive an invite to the rehearsal dinner. They should also be allowed a plus one.
However, plenty of couples choose to add additional loved ones and out-of-town guests to this list. But if someone else is paying for the dinner, be sure to check with them before inviting more people.
5. Wedding Invitations
Because the rehearsal dinner is more laidback than the wedding, it's okay to send a digital invitation or even a simple email. But if you're hosting a more formal event, you can mail formal invitations, as well.
Send your invitations four-six weeks before the rehearsal and include directions to the venue if map apps don't provide accurate information. Additionally, if the dinner is formal, note the attire request on the invite.
If you're not paying for the dinner, consider whether to acknowledge the hosts on the invitation. For example, you could write:
"Please join us for a rehearsal dinner in honor of Sadie and John. Hosted by Sandy and Tim Smith."
"Anna and Dave Johnson invite you to a rehearsal dinner honoring Sarah and Eric Johnson."
6. Seating Chart
If you're having a formal dinner with a large guest list, it's customary to have a seating chart. This can be helpful if you'll have numerous out-of-town guests and want to ensure they have ample time to visit with people they rarely see.
And if the groom's or bride's family (or anyone else) is hosting the event, be sure to assign them prime seats near you and your fiancé.
7. Toasts
While there's a clear protocol for who makes a toast during the wedding reception, rehearsal dinners provide a more spontaneous atmosphere for these tributes. However, be sure to ask the hosts, and any other guests who have a way with words, if they'd like to make a toast.
Tip: If too many guests start vying for mic time, you can cut the speeches short by snagging the stage, thanking everyone for their attendance. You can then announce it's time for dessert, dancing, or anything that doesn't involve more toasts.