For a lovely and affordable wedding venue in central Ohio, look no further than Columbus. The venues in and around this city highlight the natural beauty of the area and include charming buildings that are perfect for a ceremony and reception. From peaceful farms in the country, whimsical gardens, a unique golf course, and an indoor/outdoor space that features amazing views of downtown, you can find your perfect fit among these five surprisingly affordable wedding venues in Columbus, Ohio.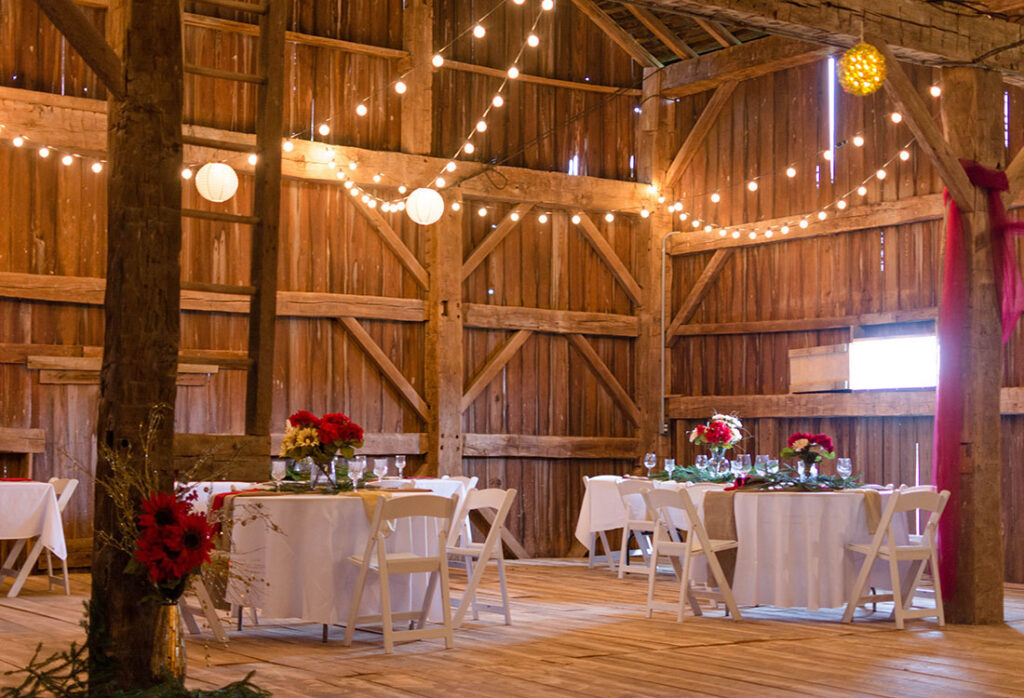 A 230-acre wedding venue, Maplewood Farm has breathtaking views of the Ohio countryside and has been a family-owned farm since 1849. The family spent four generations raising crops, tapping maple trees for syrup, and enjoying their own weddings on this serene land.
For the wedding ceremony and reception sites, couples have a range of options located in the forests, fields, and buildings that dot the property. Popular options include the 150-year-old barn, a maple grove, a pond, which has an island, and two pavilions. You really can't go wrong, as each setting seems like it was pulled from a storybook.
To ensure ease during wedding preparations, the couple and their wedding party can utilize the dressing rooms in the farmhouse. The couple and a few guests can also choose to stay overnight on the farm.
Typical Cost: Starts at $1,500 during off-season and $2,500 during peak season
Capacity: 250
Bonus: Couples can also host their rehearsal dinner, wedding or bridal shower, or engagement dinner on the farm.
Find Maplewood Farm on Facebook.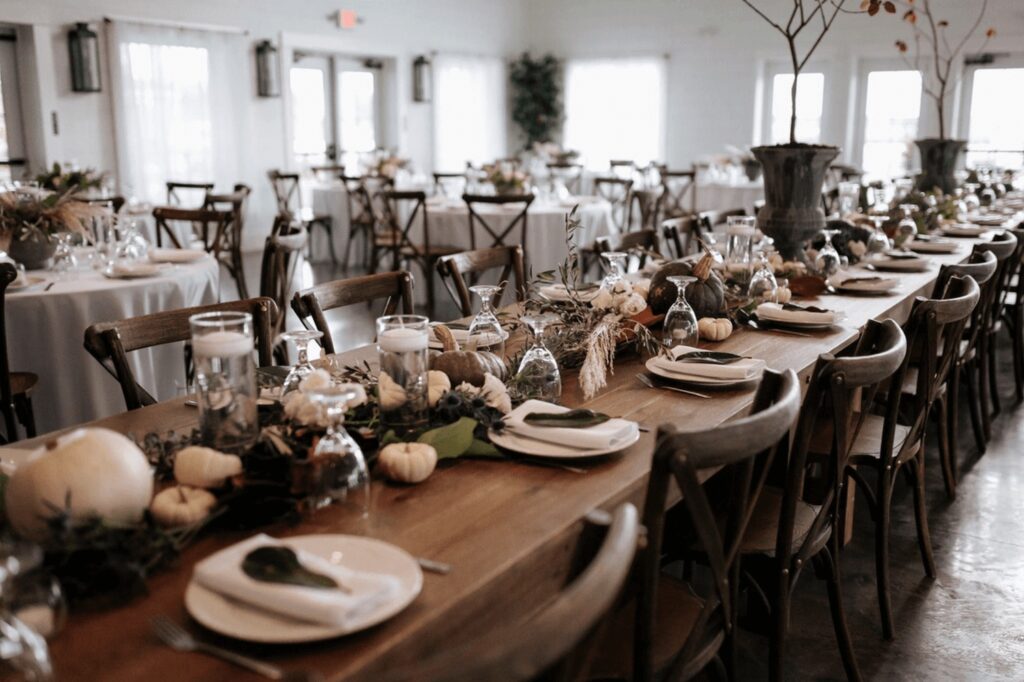 Set in the woods, this 130-acre farm radiates tranquility with its nine-acre lake, bucolic views, and simple design that makes it a blank canvas to suit almost any wedding theme. Crimson Lane features three spaces for an outdoor ceremony, which include the aptly-named White Oak, Waterfront, and Garden event spaces. Couples can also say "I do" in The Chapel, which offers a classic environment for nuptials. It also provides two "getting-ready" rooms so that the wedding party can prepare for the ceremony in comfort.
The reception venue is the 3,400-square-foot, climate-controlled Main Hall, which has a modern aesthetic with a neutral color palette, wall sconce lighting fixtures, and exposed dark-wood ceiling beams.
Couples can choose to book this dreamy venue for the weekend or just for their big day. The event venue can also make wedding planning easier by allowing you to select your own caterers and other vendors. Setup and cleanup services are also available.
Typical Cost: Starts at $6,000
Capacity: 200
Bonus: The team is very hands-on, helping to ensure that your wedding day goes off without a hitch.
Find Crimson Lane on Facebook and Instagram.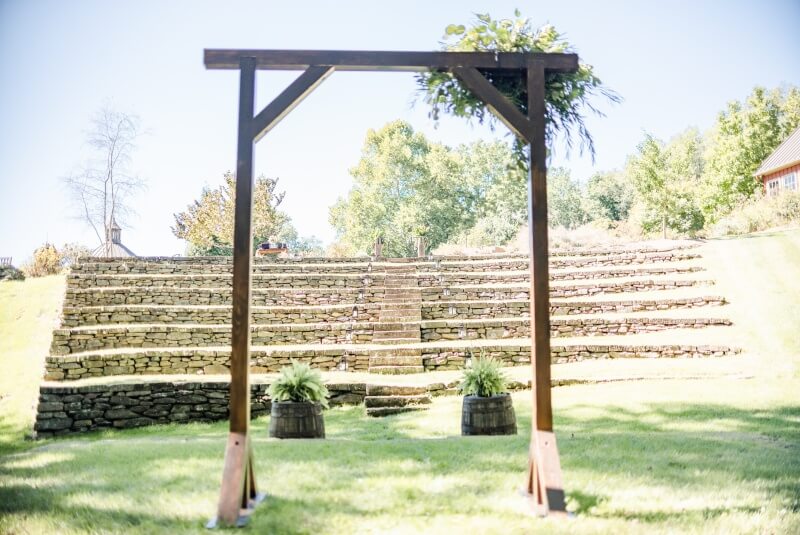 As an outdoor wedding venue, Clary Gardens is a wonderland of trees, flowers, scenic stone walkways, ponds, trellises, and other charming details. Many couples choose to tie the knot in the exquisite sandstone amphitheater that's built into the hillside and features a natural stage and electricity hook-up. The Rose Gazebo Garden is the top choice for those hosting a more intimate celebration, as it has English garden vibes and an impressive copper cupola.
Couples can use the Garden House, which has a full kitchen and two full bathrooms, to prepare for their "I dos." The attached "secret garden" is a great choice for a small, outdoor wedding, and the adjoining courtyard is often utilized for cocktail hour.
There's also a covered reception area that has a large foot-stamped concrete pad and floral containers that can bring the beauty of the garden inside.
Typical Cost: The pricing for the event center rental ranges from $400 – $675.
Capacity: 400
Bonus: There are seemingly endless backdrops for wedding photos that feature the stunning displays of nature woven throughout the property.
Find Clary Gardens on Facebook and Instagram.
A unique wedding venue, Golf Club of Dublin features a colonial-style clubhouse with panoramic views of Mt. Diablo and the Tri-Valley area. The open-air terrace is where most ceremonies occur, allowing couples to wed against the backdrop of the green and the scenic landscape beyond.
Couples can hold their wedding reception in Manor Hall, which provides access to the Hearth Room and Mulligan's Pub. This banquet hall is an elegant space with alabaster chandeliers, 25-foot vaulted ceilings, floor-to-ceiling bay windows, and French doors that provide views of the event lawn and "Pot o Gold" lake when open. The party can also spill into the adjoining Hearth Room that wows with a brick hearth, dark walnut accents, and hardwood floors. This room is where the dancing typically takes place. Guests can also utilize Mulligan's Pub, which emulates a traditional Irish pub with dark walnut accents, backlit amber bottles, and hardwood floors.
During the festivities, the wedding party can enjoy some downtime in the Bridal Suite that includes ample seating, a dressing area and vanity, and a refreshment station.
Typical Cost: $1,500 – $10,500
Capacity: 180
Bonus: The wedding packages at this country club venue include in-house bar and catering services. The event planners and wedding planners also work hard to accommodate the couple's vision for their dream wedding.
Find Golf Club of Dublin on Facebook.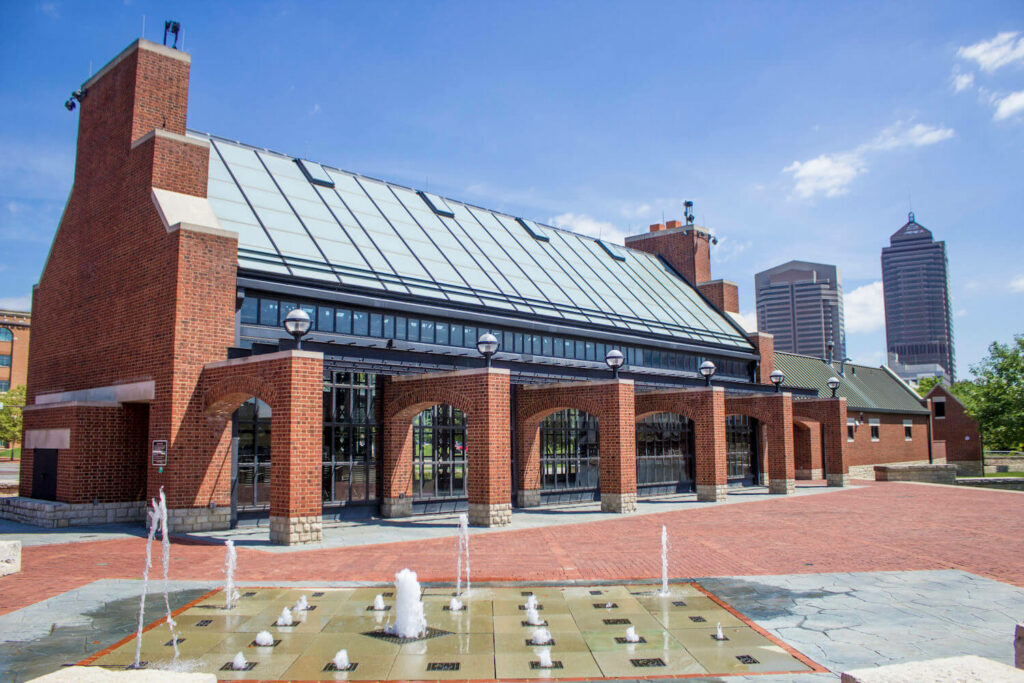 Operated by the City of Columbus, this 12-acre park is one of the most popular Columbus wedding venues. North Bank Park Pavilion boasts a modern, urban appeal, a hands-on, professional staff, and spectacular views. It also features some of the best panoramas of the downtown Columbus skyline, which is especially captivating at sunset when the vibrant colors of the sky reflect off the buildings. For this reason, the go-to ceremony site is a large, outdoor patio that looks out onto the banks of the Scioto River and city.
After getting hitched, couples head into the dazzling reception space that has a soaring, pitched ceiling and is almost entirely made of glass. The walls (and ceilings!) of windows mean that you can still take in the views when you're inside partying the night away.
Typical Cost: The rental fee ranges from $750 – $1,350 for a reception and includes six hours of event time, excluding setup and cleanup. Additional hours are $225/per hour. An alcohol permit must be purchased.
Capacity: 200
Bonus: This conference center venue is conveniently located near many of the city's best hotels.