If you're coveting a colorful dress or an off-the-beaten-path suit, you're not alone. Bridal fashion is relaxing the "rules" of white, ivory, and champagne for cool tones, colorful prints, and yes, even black. Don't be surprised if you discover traditional bridal and suiting boutiques lacking in vibrant options. To find the perfect outfit, you may have to step outside specialty shops and search for boutiques that focus on a broad spectrum of formalwear. Here are some ways to approach this process—plus, gorgeous ideas for colorful wedding wear to get you started.
Finding a unique wedding outfit
The trick to finding a unique wedding outfit is to focus on gowns or suits with a similar silhouette and fabric to the traditional white ensemble. Mermaid, trumpet, ball gown, slip, and empire styles are all traditional fits that will make your dream dress feel more "bridal" even though it isn't white.
As for textiles, stick with the classics like whimsical tulle, lace, silk, brocade, and satin. If you're going for suiting, tailoring is key. First, pick a pant that feels comfortable, but with a shape that's elegant enough to distinguish from your everyday trouser. Try tapered pants with a juxtaposing tuxedo stripe or a streamlined wide leg with the perfect break. Next, find a tuxedo-style blazer or structured top that's perfectly fitted to your body shape. Shawl and notched lapels are the most common styles for jackets, but there are many options to choose from.
Benefits of a non-white wedding outfit
While white is the classic choice for a nuptial celebration, the traditional hue can be limiting. The thought of wearing such an expensive outfit just one time is a tough pill to swallow. Choosing a printed or multi-hued ensemble will give your wedding wear a longer lifespan. Perhaps you can even wear it to a friend's wedding! Rethinking that white outfit you already committed to? If you've already found the perfect white dress, don't fret. Work with a local dyer to get the perfect hue for your already perfect outfit.
Setting dress code expectations
If you choose to wear a color other than white, there's a legitimate fear that a guest may show up in the same color or even the same outfit. Setting a dress code for your guests on your invitation and wedding website is a great way to avoid an awkward situation when walking down the aisle. Remember, this is your wedding. If you want to wear black and have attendees wear white, go for it!
Colorful wedding wear ideas
Playful prints
Prints are a great way to dip your toe into the colorful wedding wear trend without committing to a fully saturated ensemble. Many wedding designers like Carolina Herrara and Rodarte are showing traditional white gowns overlaid with playful patterns. If you're ready to dive headfirst into a bright hue, make sure to select a base color that looks great on your skin tone. Choose an over-the-top silhouette and luxurious material to create a more bridal feel.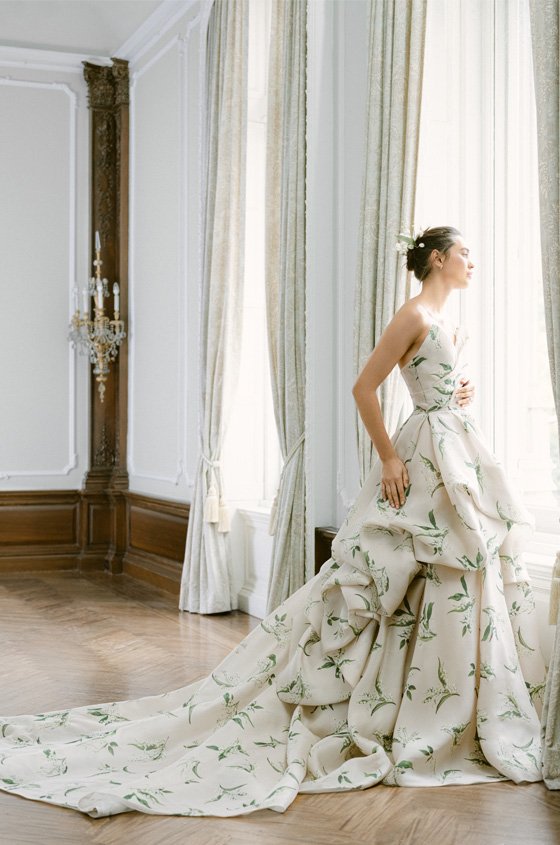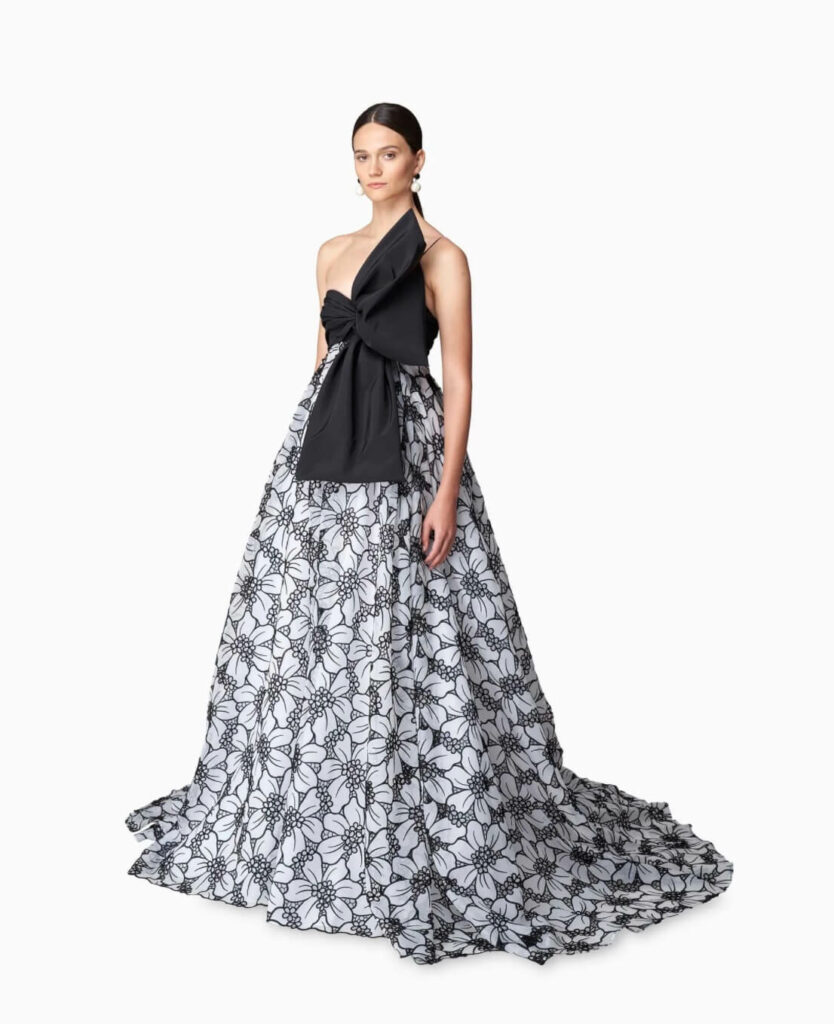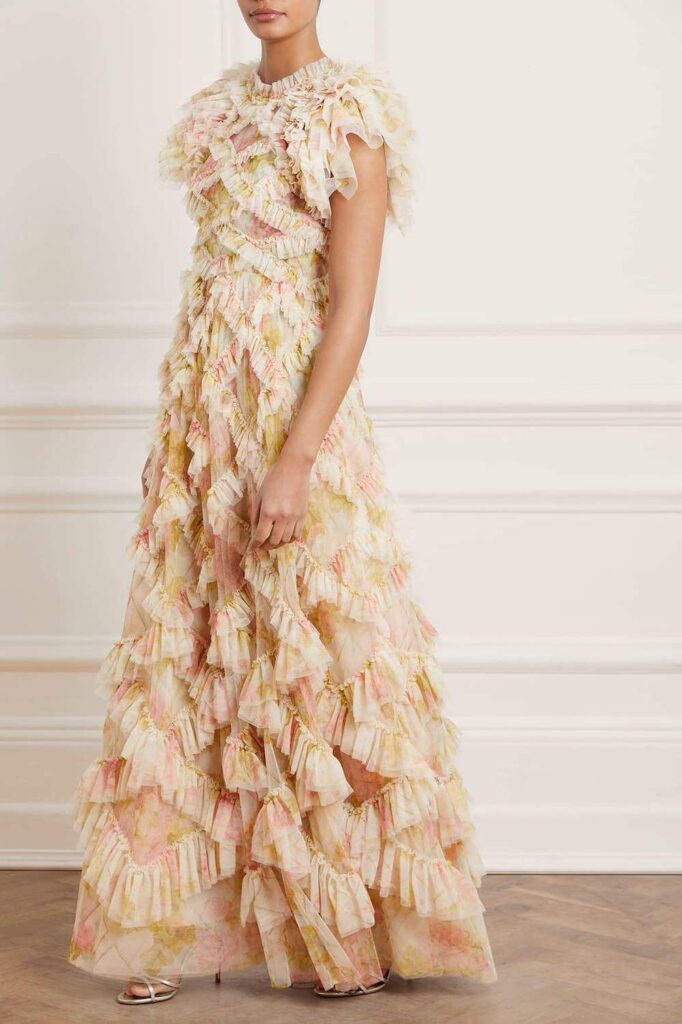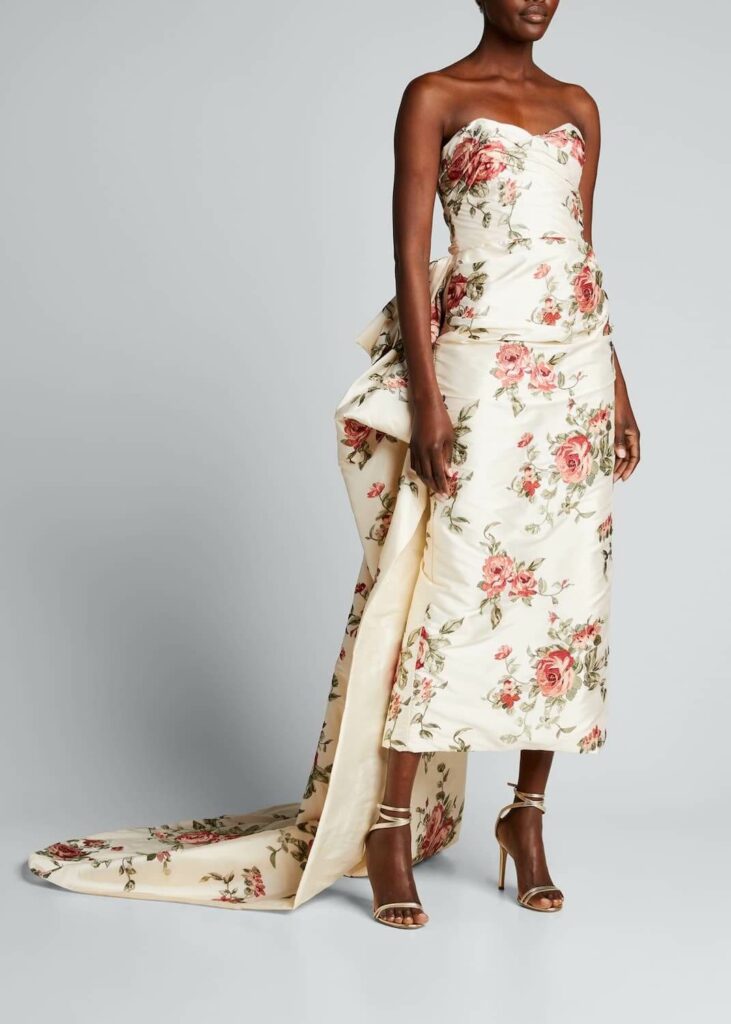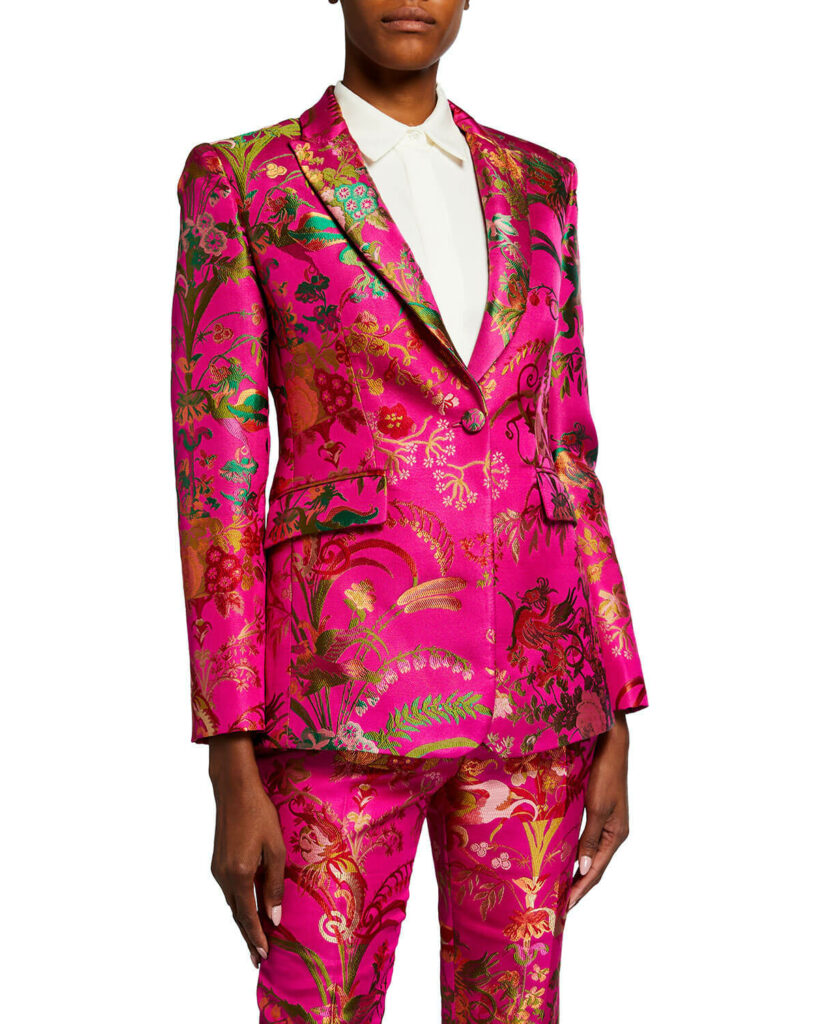 Black is the new white
A black gown is the pinnacle of elegance at any formal function. Why can't it be for the modern bride, as well? The raven shade tends to evoke negative symbolism within the context of a wedding, but according to Vogue, the bridal fashion industry is ready to shatter that outdated thinking and embrace ebony wedding wear with open arms.
Tip: Choose a dress with delicate details to take the outfit from formal to bridal.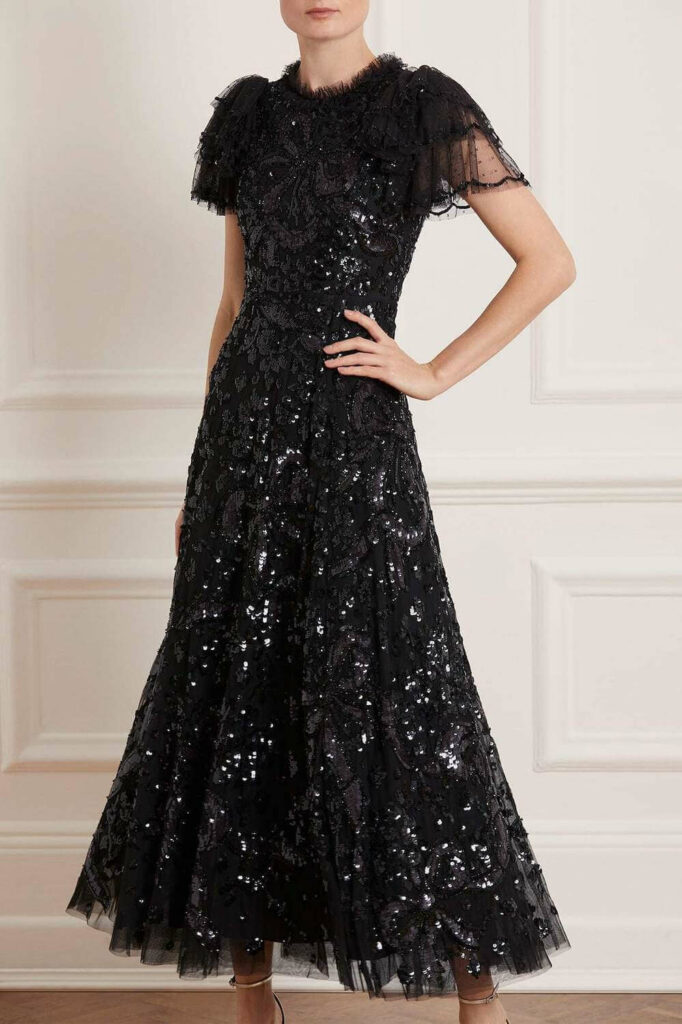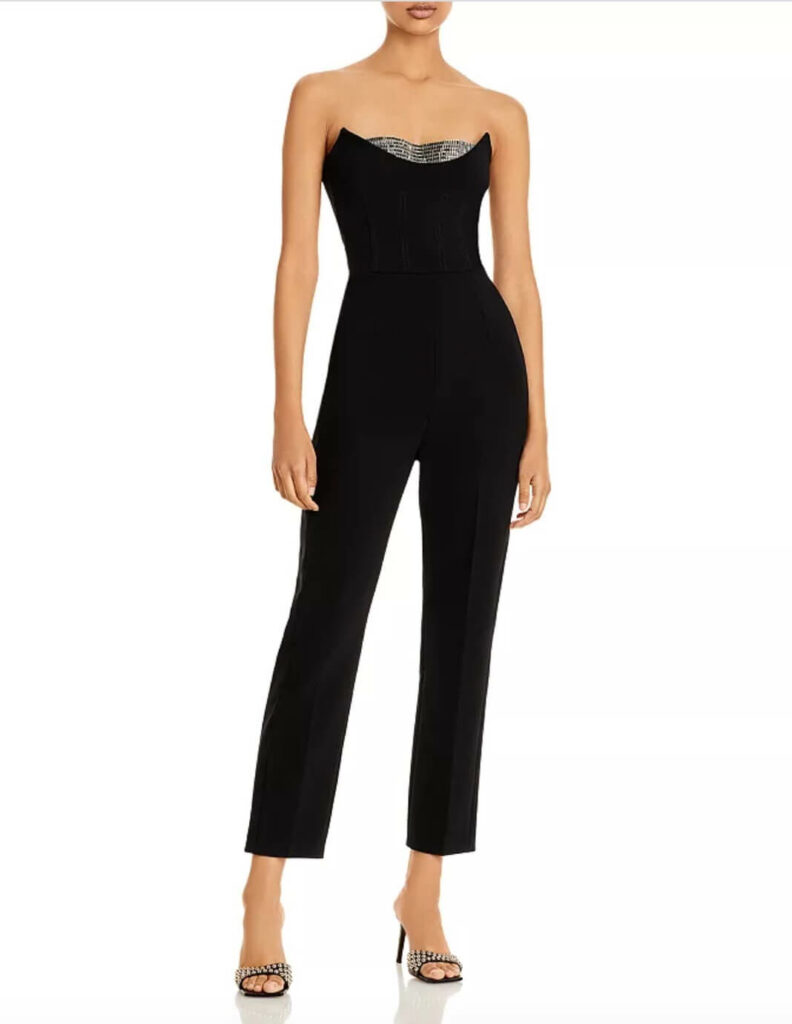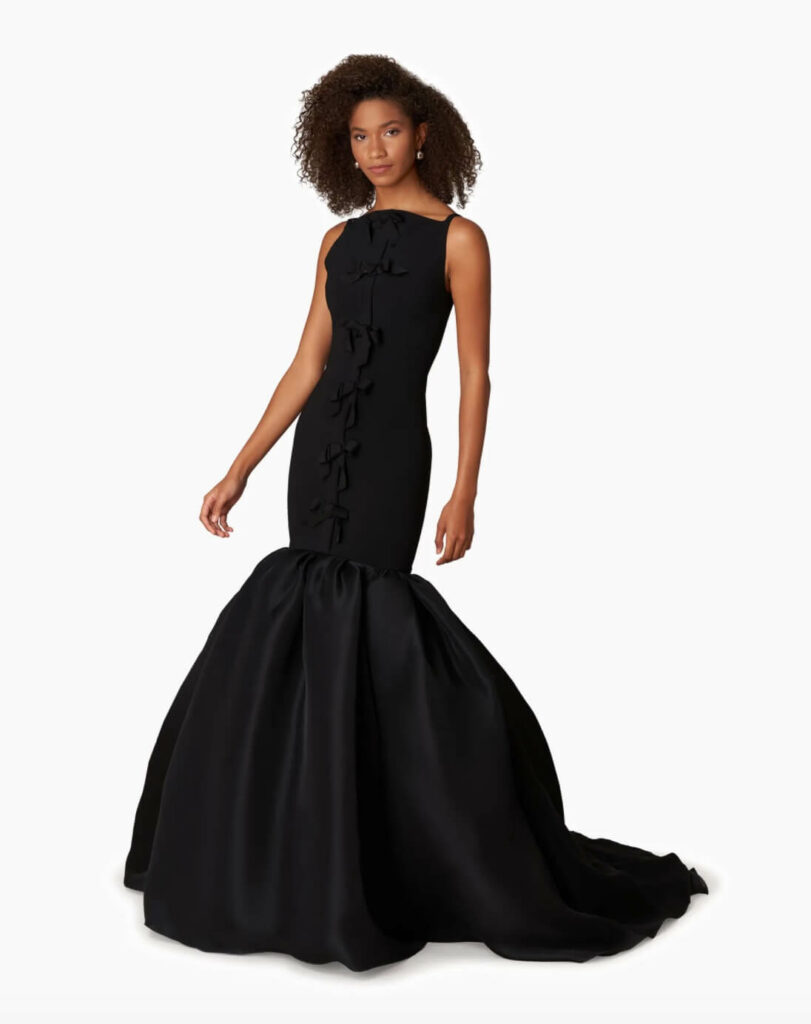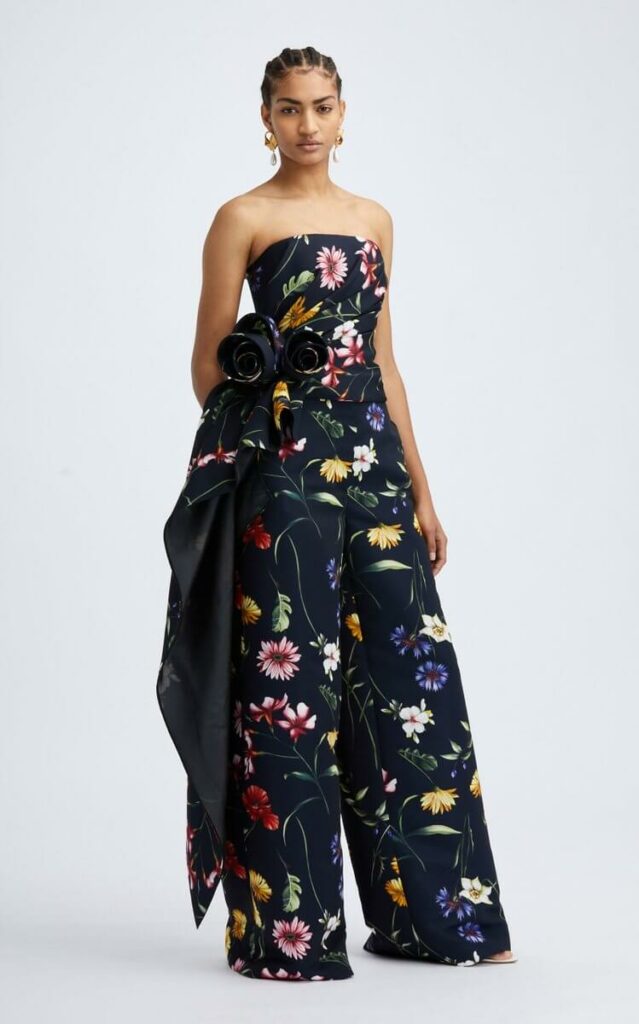 Cool tones
Pastels are a staple of the wedding repertoire, but what if you traded that whisper pink for a dusty blue or sage green? Oscar de la Renta premiered a powder blue ruffled gown in his fall 2020 bridal collection, and we haven't forgotten it. These colors should be light enough to bring a bridal vibe but rich enough to stand out from their pastel counterparts. Our advice: These standout tones are perfect for an early fall wedding.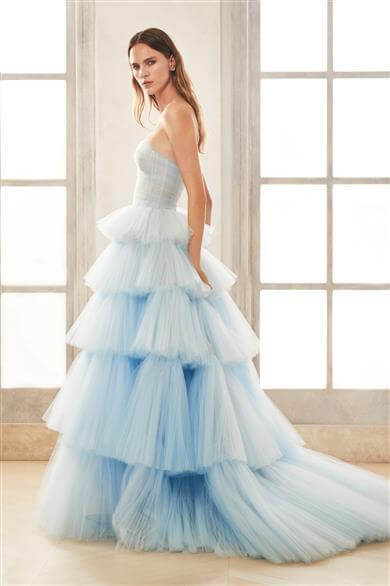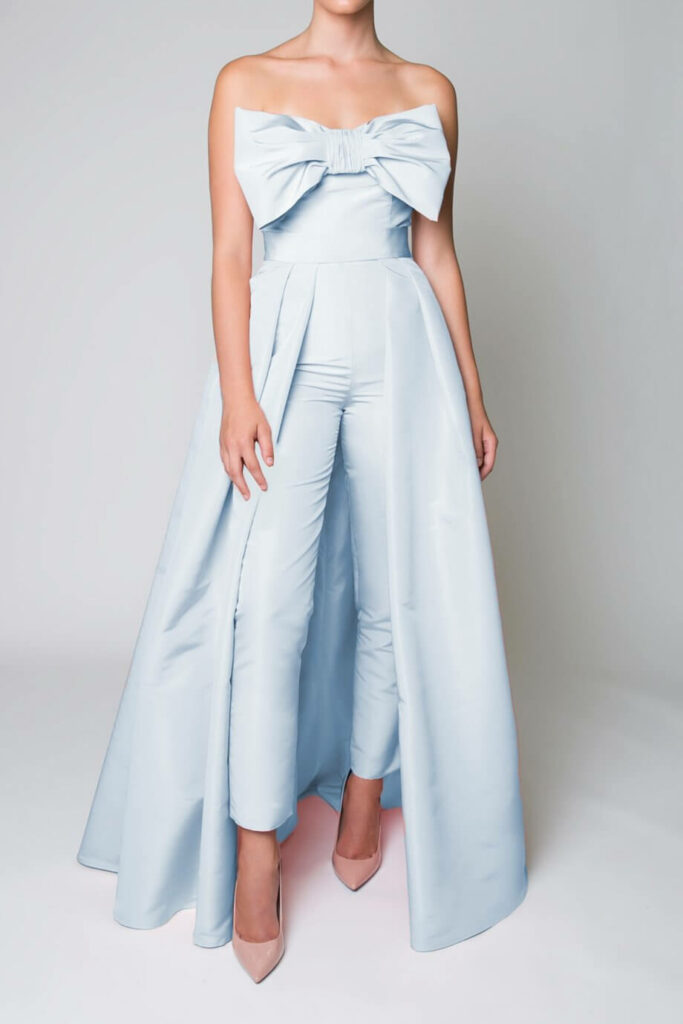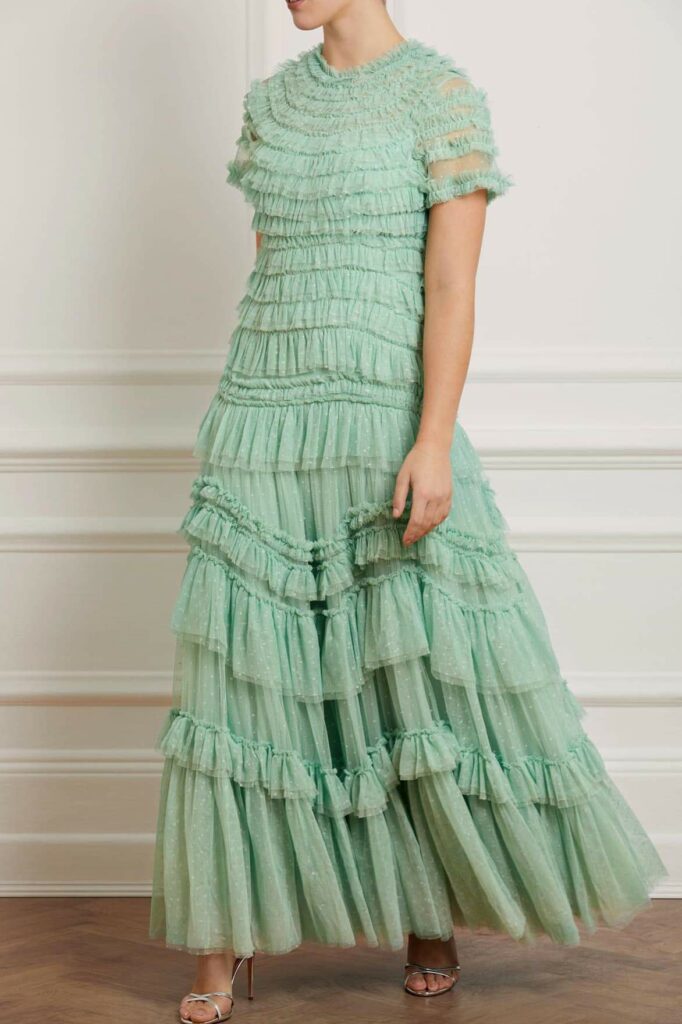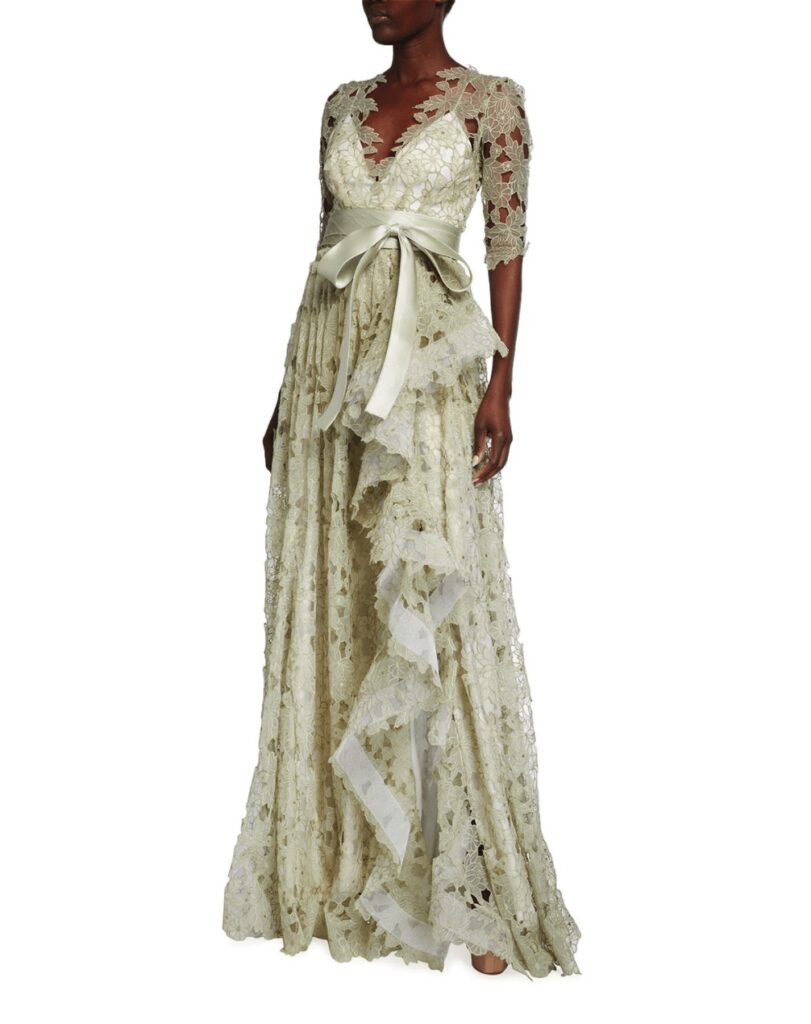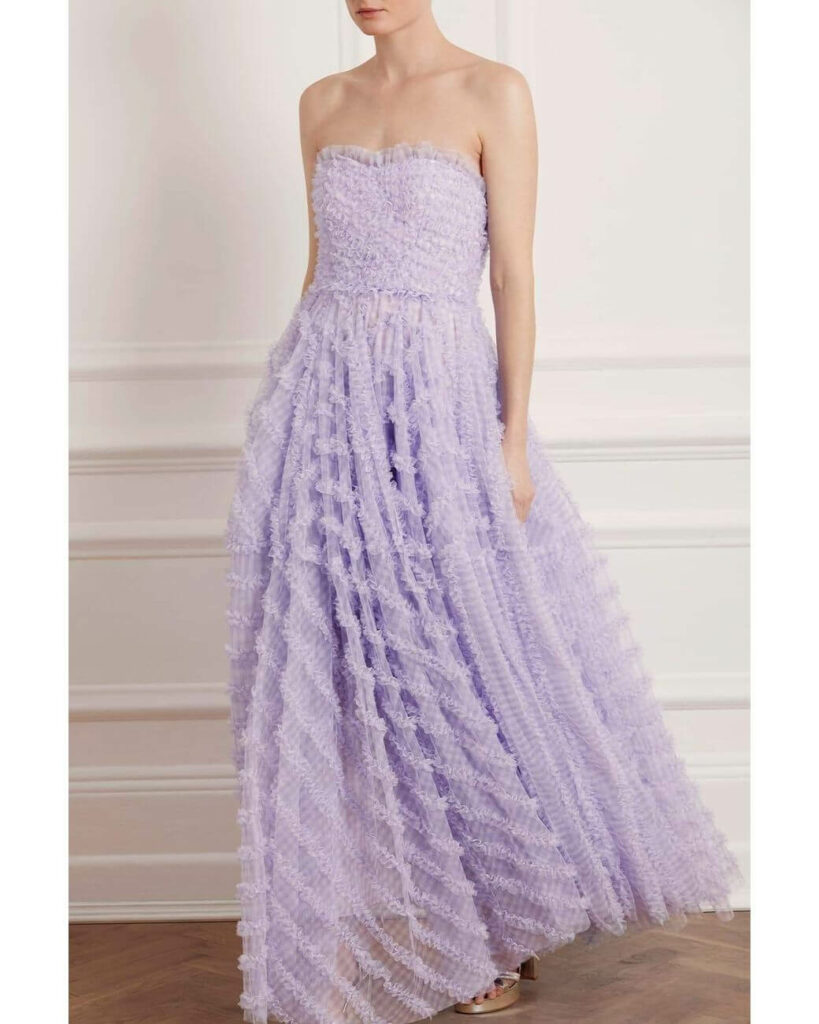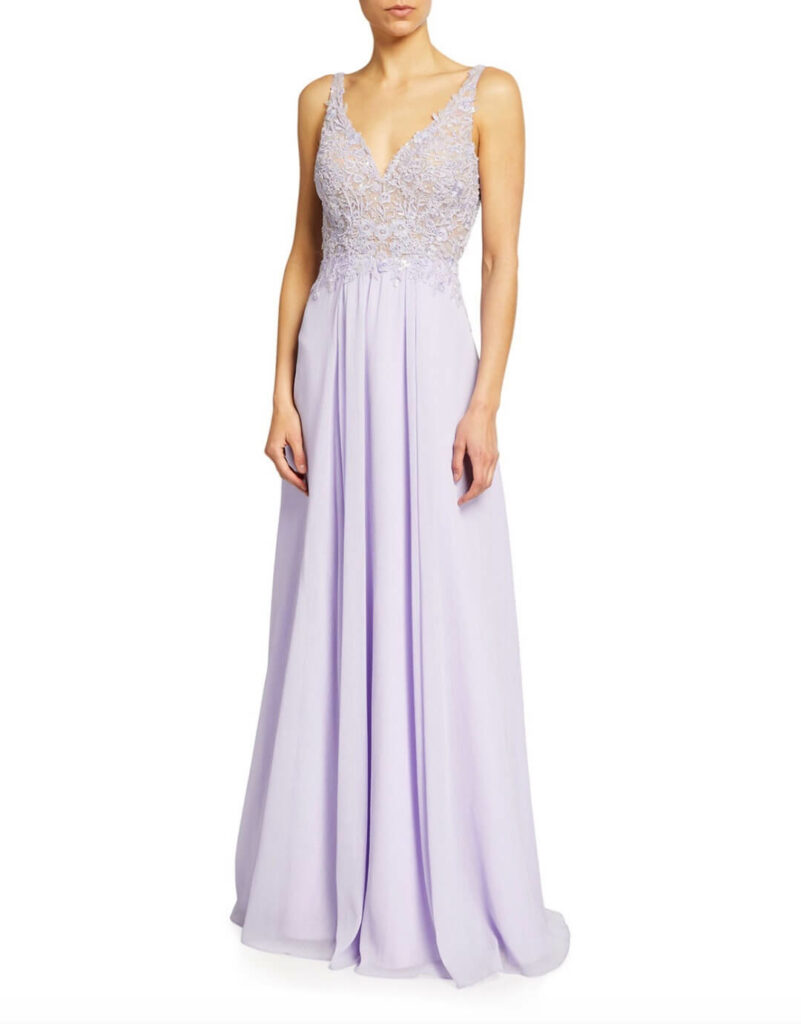 Sherbet sunset
Saturated, warm pastels give the traditional subdued hues a bright, punchy update. Golden yellows and creamy oranges make up the ideal sunset palette for this spring-centric trend.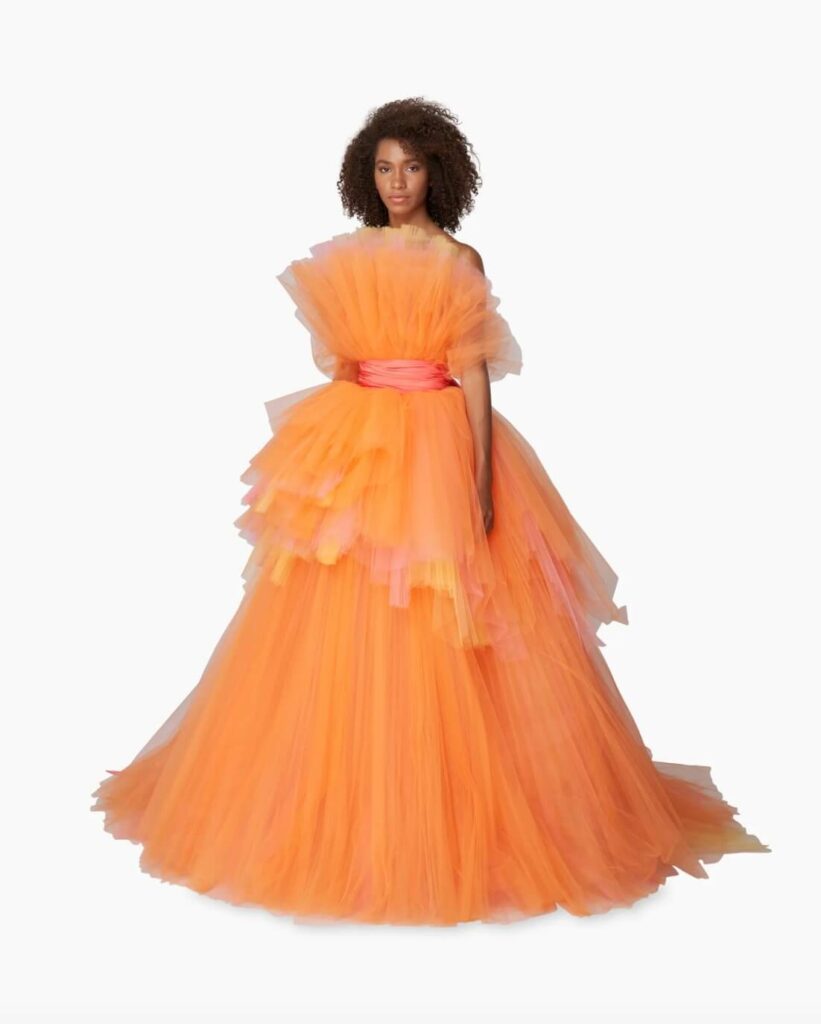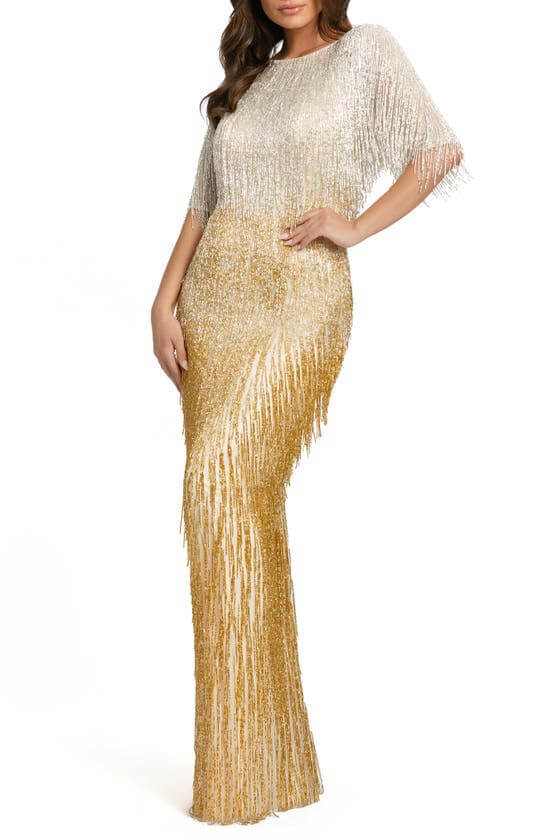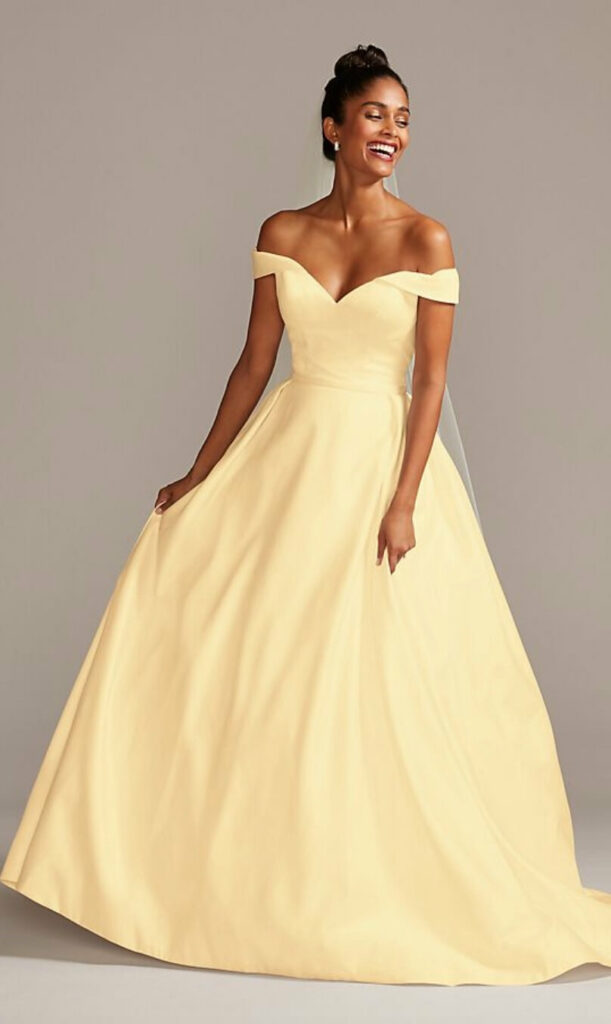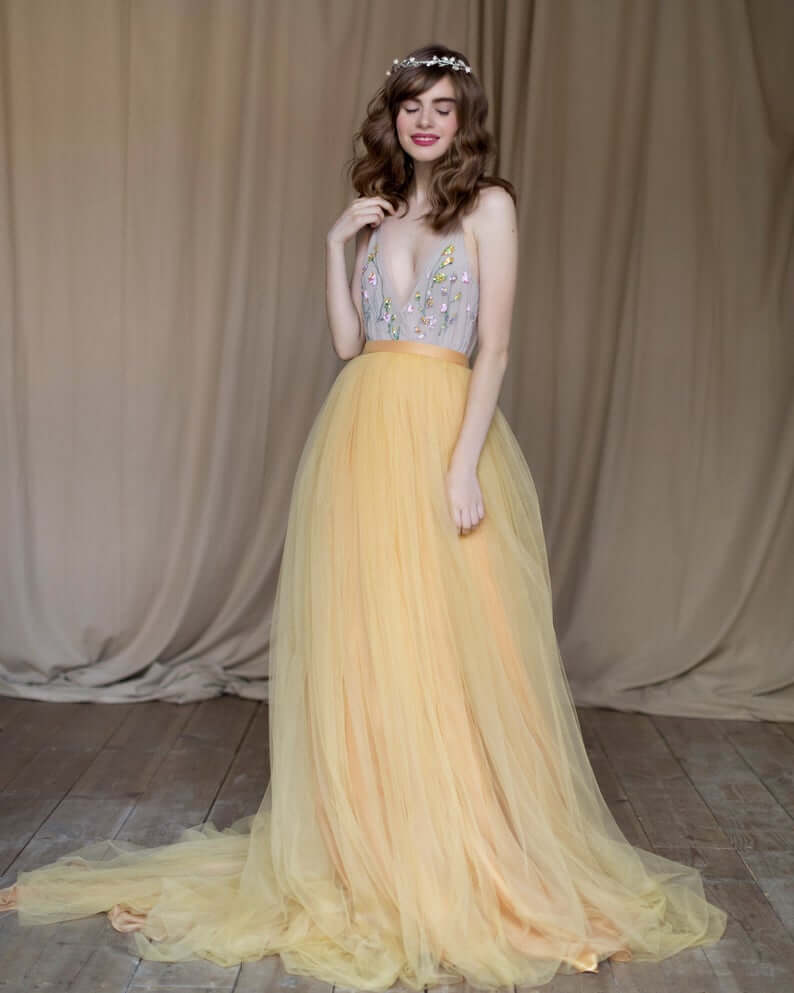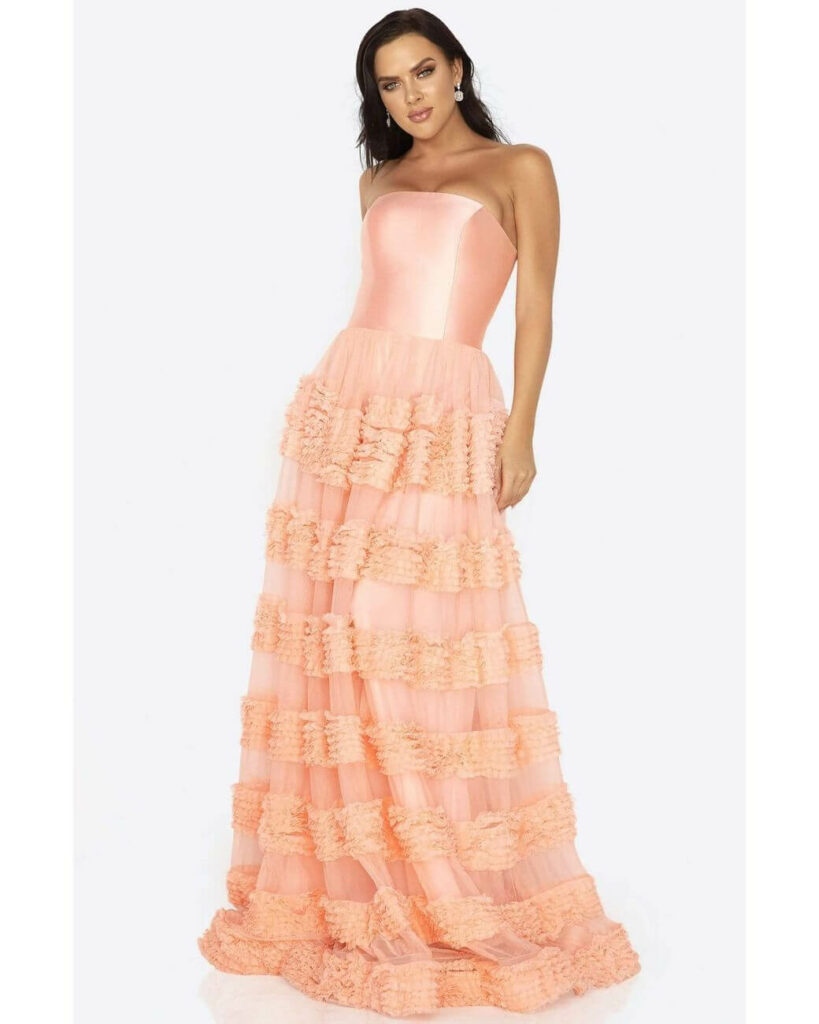 Not ready to fully commit to the color just yet? There are so many ways to bring in a hint of these trends into your big day without going all in. Try adding a veil with colorful appliques or a hued cape to your white ensemble to tie in the trend.