In a time when brides are wearing multiple outfits on the day of their nuptials, splurging on the right items is vital.
Spring 2020 bridal looks have already hit the runways and showcased chic jumpsuits, bridal blazers, and, of course, romantic lace. No matter the budget you're working with, these trends are totally achievable—even if you wear more than one of them!
There is an art to finding the right bridal outfit that will fit your budget. Before you start shopping, think about the look (or looks) you want on your big day.
Are you feeling a lacy and romantic vibe during the ceremony with a quick change to a punky jumpsuit for the reception? Boho by day, blazer by night? Whichever way you decide to go, we have a few tips on how to embody your dream look without breaking the bank.
Scout out sample sales and trunk shows at your local bridal boutiques
You'll get designer brands at extreme discounts. The word about sample sales spreads fast, so bring a few friends along to divide and conquer the sale.
Break out of the bridal section
Gowns deemed 'wedding dresses' automatically carry a higher price tag. But the truth is there are stunning ensembles in the formal section.
If you don't want to keep your dress forever, try renting! Rent The Runway is a great resource for getting designer formalwear at a fraction of the cost.
Hit your local vintage shop
As fashions from generations past creep back into style, you might just find everything you were looking for with a much cheaper price tag.
When vintage shopping, examine every item in detail to make sure there are no hidden rips or stains. If you find something interesting, but not perfect, get it altered!
A solid vintage find is a perfect canvas for building exactly what you want. You can explore Etsy to find beautiful pieces from any decade.
Now that you know some ways to achieve the look you're aiming for at a palatable cost, here are the top ten spring 2020 bridal fashion trends to keep on your radar—with accompanying budget-friendly options for inspiration.
1. Victorian Inspired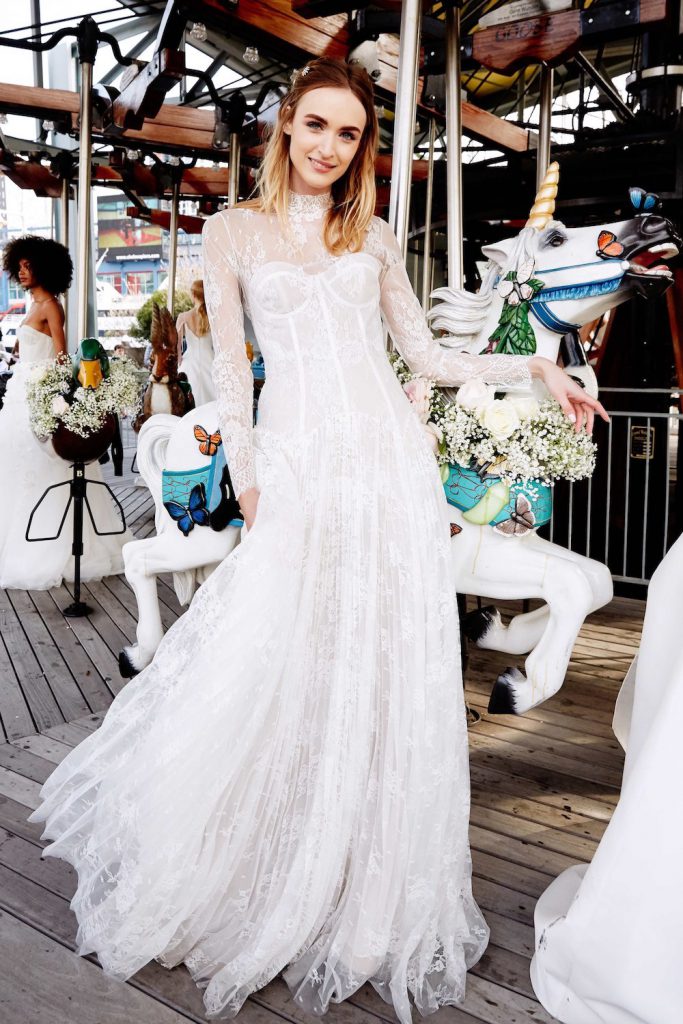 Collars are all the rage in the fashion world, and now they have slipped into bridal, as well. We are seeing everything from a lowkey lace accent to a full coverage look with a ruffled high neckline and long, lacy sleeves. If you are into the trend but not wanting to commit, check out a removable collar to have the best of both worlds.
Victorian Inspired Steals:
2. Long Sleeves, Bare Shoulders
The arrival of spring carries a hint of chill in the air, making these dresses perfect for those brides who run cold. We are seeing billowy and lacy sleeves that start just off the shoulder, giving this look a romantic playfulness.
Long Sleeve, Bare Shoulder Steals:
3. Bridal Jumpsuits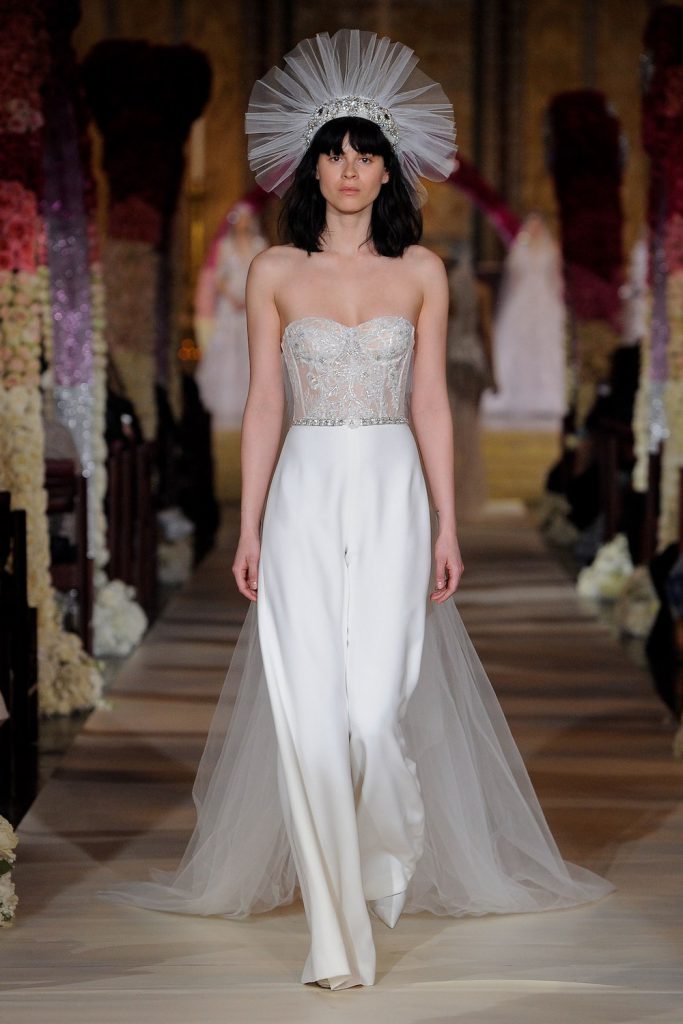 Jumpsuits have quickly become a staple in bridal fashion. Lacy accents, tulle trains, and clean lines make this look ideal for both your wedding day and any festivities leading up to it.
Bridal Jumpsuit Steals
4. Sweet Suiting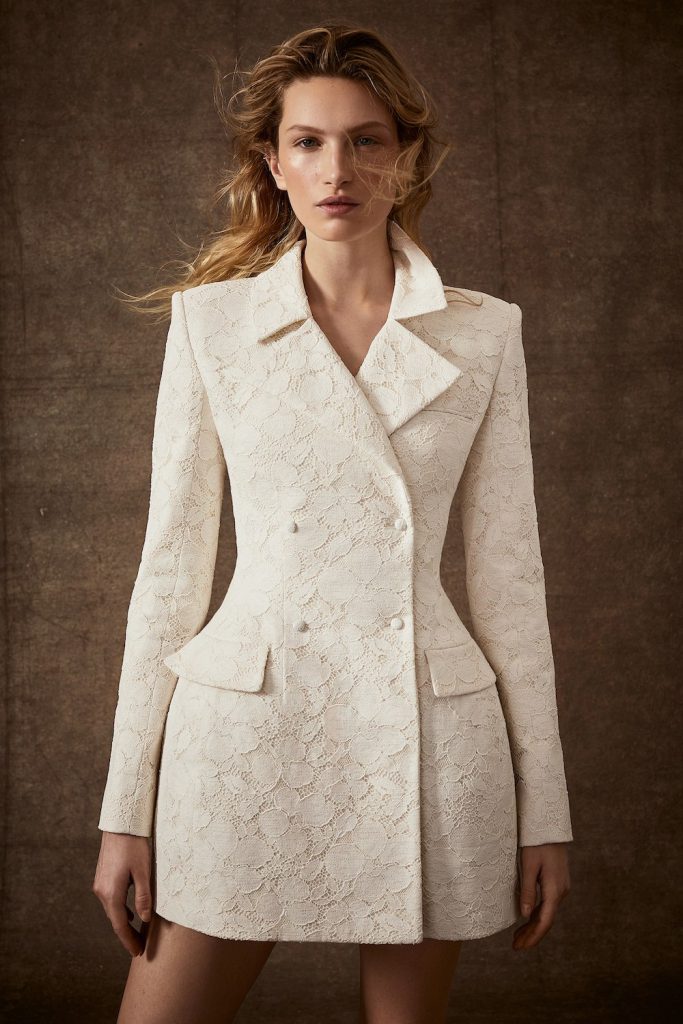 Take everything you thought you knew about wedding suits and throw it out the window—because the spring 2020 collections changed the game. Gone are the days when a 'bridal suit' was the equivalent of a bulky, white tuxedo. Think longline dress blazers, wide-legged pants with a delicate lace jacket, and sequins when shopping for this look.
Sweet Suiting Steals
5. Capes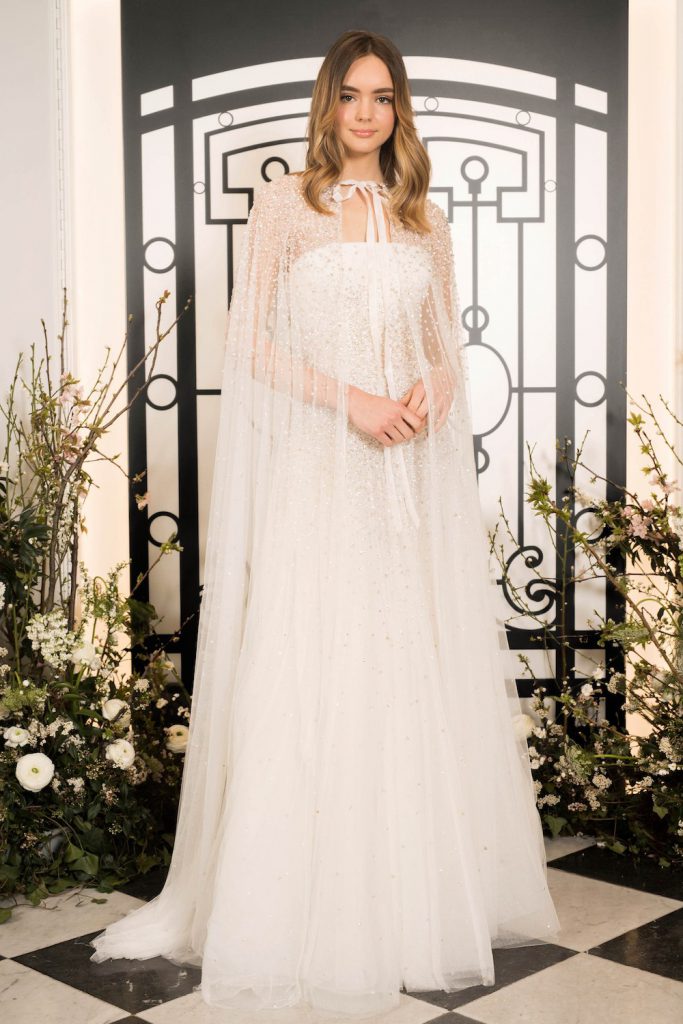 This trend is the fairytale look that seems to have been channeled from a Disney movie. If you were thinking about ditching the veil on your wedding day, a cape is a great alternative that will give that train-like look without having to attach it to your perfectly coiffed hair.
Cape Steals
6. Suit Trains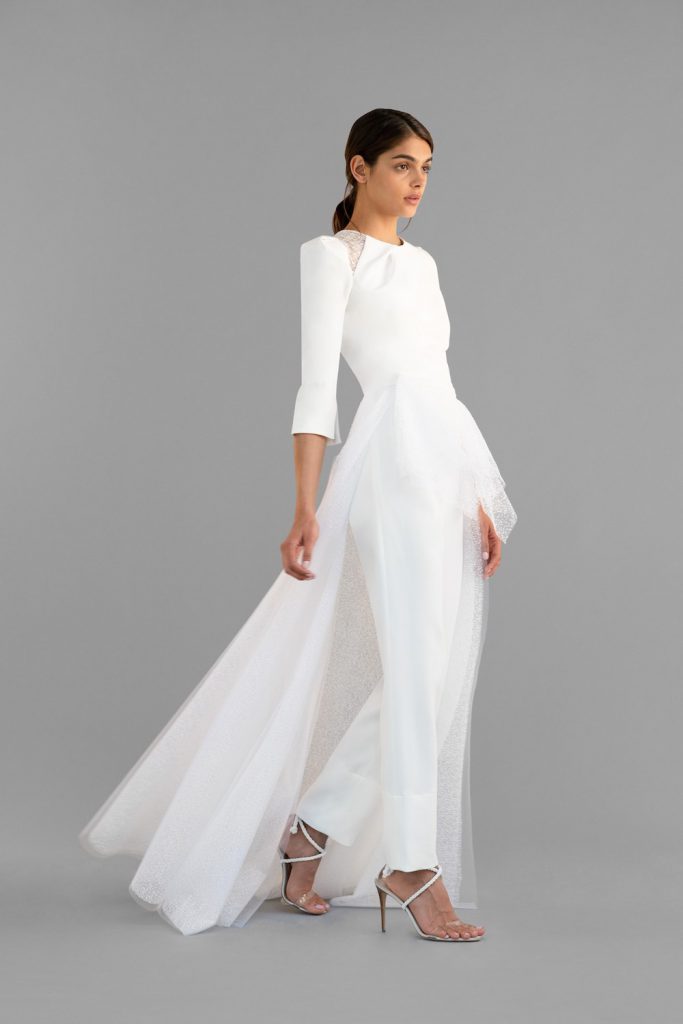 Can't decide between a dress or pants? Now you don't have to. Suits with attached trains fluttered down the spring 2020 runways, giving brides the best of both worlds. Can't find exactly what you are looking for? Try buying the suit first and then get a detachable skirt to layer over it.
Suit Train Steals
7. Disco Chic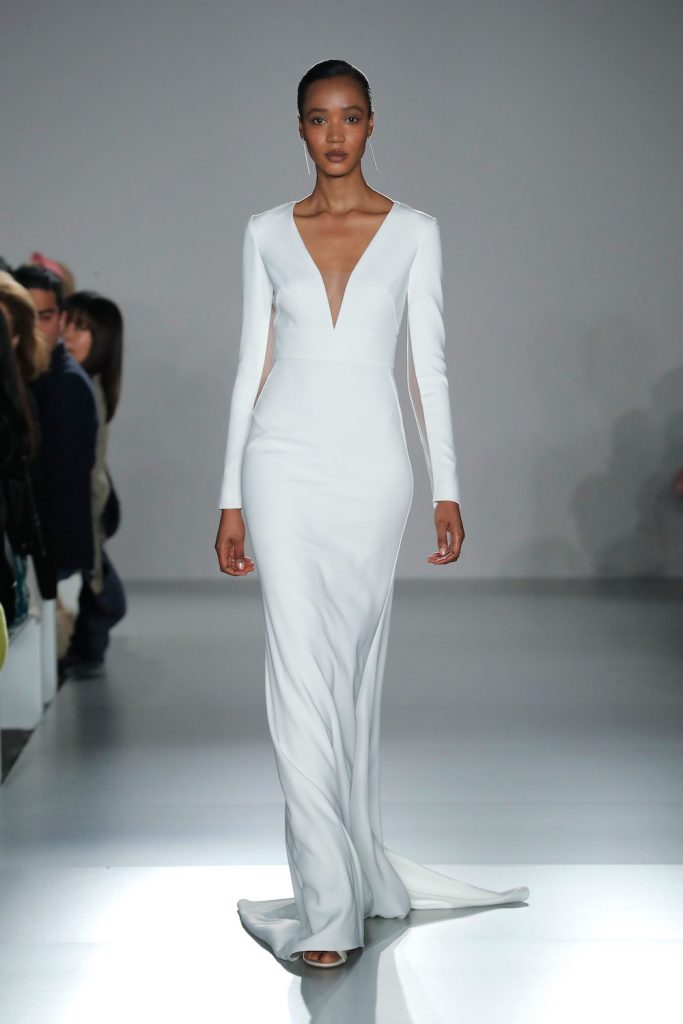 If you are feeling some major Studio 54 vibes from the spring 2020 collections, you're not alone. We are seeing a resurgence of the '70s everywhere. Great news! It's so easy to wear. This one is for the minimalist bride looking for a killer silhouette instead of yards of lace.
Disco Chic Steals
8. Fab Feathers
Creating movement with your wedding ensemble not only looks amazing in person but in the photos, too. Feathers are the ethereal accent that look so fun twirling on the dance floor.
Fab Feather Steals
9. In Tiers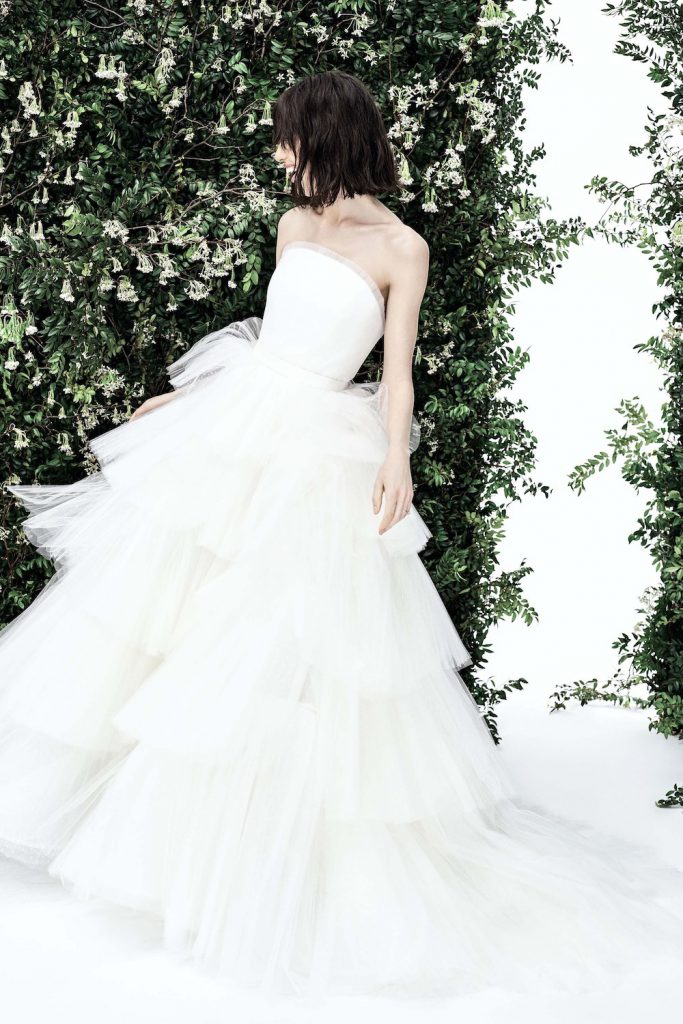 Layered wedding wear is a great way to give your dress a whisper of airy volume without being overwhelming. The dramatic movement of the extra fabric will look like you are almost floating down the aisle. Usually, these dresses are insanely expensive, but we found a few that hit the budget sweet spot.
In Tiers Steals
10. 1920s Glamour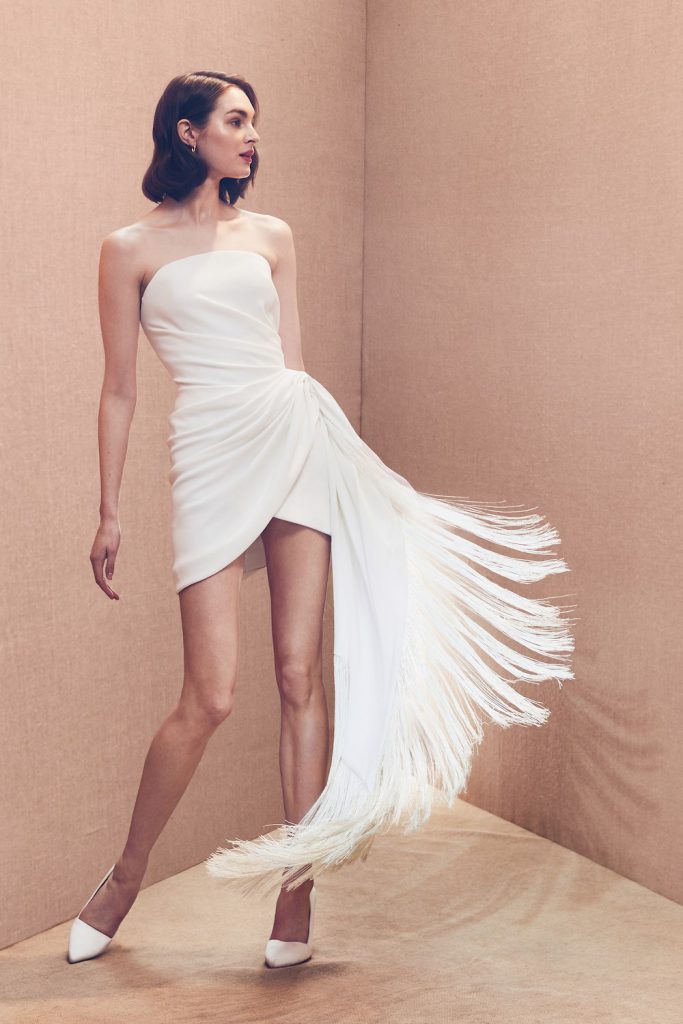 For the bride who is all about that old-world drama, this style is for you. Keep an eye out for elaborate beading, geometric patterns, and flapper fringe when searching for this trend. Let The Great Gatsby be your guide as you channel this vintage Hollywood look.
1920s Glamour Steals