While your initial wedding day planning might focus on practical tasks such as securing a Houston wedding venue, selecting a color palette, and choosing vendors, there's a sentimental appointment that deserves thoughtful and special attention, too: your engagement photo session. While most couples task their wedding photographer with the engagement photoshoot (And it's often included in the photography package.), it's also possible to hire a separate photographer if you're particularly taken with their engagement photography portfolio.
One of the keys to securing the best session, and the best engagement photos, is to choose a photogenic location for the shoot. You can take the romantic route and select a place that is meaningful to you and your fiancé (say, the site of your first date, where he proposed, or your favorite vacation spot), but it's also important to consider the backdrops that are available to you.
"When it comes to engagement sessions, couples sometimes stress about where to have them done, and for good reason," Houston wedding photographer Trish Pentecost of Plum Tree Studios says. "Picking just the right place to represent this important time in their lives and who they are as a couple can seem like a daunting task. But the easiest way to go about it is to simply think about what kind of surroundings will help the couple feel most at ease and, more so, where they feel most themselves. I love helping couples select the locations for their engagement sessions, whether that is a place of personal meaning or a place that showcases their modern style or love of nature."
Love the lush look of a natural setting? A park or garden may be the ticket. Are you both art lovers? A museum or gallery could be the perfect background for you. You also want to consider how crowded a destination may be when choosing a day and time for your shoot. A boardwalk that is teeming with people on a Saturday night will probably have lighter foot traffic on a Wednesday afternoon.
If you're planning a Houston wedding, chances are you're seeking a site that's close to home. We reached out to Houston wedding photographer Aisha Khan of Ama by Aisha – Photography & Cinema to get her picks on the best spots for engagement shoots in and around the city. Read on for Khan's professional favorites, as well as our own picks, and see which of these 12 locales are perfect for you.
A beautiful greenspace that stretches an impressive 160 acres, Buffalo Bayou Park offers an array of scenic backgrounds perfect for an engagement session. The Water Works, the entry point to the park, features a grassy plateau, an elevated pavilion, and spectacular views of the Houston skyline. Lost Lake is a prime photo opportunity with its verdant wetland gardens and charming paddle crafts. Meanwhile, Eleanor Tinsley Park, a subsection of the larger park, is a great grassy backdrop for posing with pets on a leash.
Located at Houston's Museum of Fine Arts, the Lillie and Hugh Roy Cullen Sculpture Garden is a lovely spot that mixes the beauty of a lush setting with outstanding works of art. Framed by concrete walls, the garden features rolling lawns, native trees, flowering creeping myrtle, and bamboo plants complemented by sculptures by Louise Bourgeois, Alexander Calder, Henri Matisse, David Smith, and Auguste Rodin among others. This is the perfect setting for couples who have an appreciation for fine art and are also looking for a natural backdrop with plenty of greenery.
Situated in downtown Houston, Discovery Green is a popular public park that serves as an urban oasis amid the impressive skyscrapers of the city. Oaks, sycamores, flowering trees, and wetland plants are among the lavish vegetation that covers nearly 12 acres between La Branch Street and Avenida de las Americas. Kinder Lake makes a beautiful backdrop for photos, as does the Houston Skyline visible from the Andrea and Bill White Promenade. Public artworks, interactive water features, event spaces, and a playground round out the park's photogenic offerings.
"Full of warehouses, graffiti, and even some abandoned buildings, East of Downtown is definitely a cool spot for edgy couples," Khan says. "The Houston Graffiti Building is a great place to start, but be sure to explore Canal Street, Navigation Boulevard, Buffalo Bayou, Commerce Street, and Congress Street. You're bound to find hidden gems all over!"
"The Galveston Historic District is full of old architecture, coffee shops, candy and gelato shops, bars, restaurants, and really cool back alleys!" describes Khan, who loves using the area as a backdrop for photos. "The nearby Pleasure Pier looks great at sunset both above and beneath!" she adds. Featuring attractions such as thrill rides, midway games, and an array of eateries, this Gulf Coast hotspot is teeming with excitement and photo ops, while under the pier offers a romantic scene.
This striking, sculptural fountain in the Uptown District recirculates 11,000 gallons of water through its multi-story structure, making Gerald D. Hines Waterwall Park one of Houston's most memorable outdoor attractions. Concrete and brick accentuate photogenic cascades of water to create romantic backdrops for photos. Meanwhile, stone columns add a regal touch and the surrounding park offers plenty of greenery for nature-loving couples. "Close to the Galleria Mall, it attracts many visitors which can make it challenging photographing with the crowds," explains Khan. "If you can arrange it, a sunrise or weekday shoot is best, but the park also features rows of trees that can serve as a second photo location. Plus, the scenery is just as beautiful on the backside of the waterwall, so you'll find it easier to not get so wet."
This sprawling, 155-acre nature sanctuary located in Memorial Park features five miles of nature trails that wind through a variety of scenic habitats including forest, wetland, and prairie. Specialty gardens offer plantings specifically designed to attract wildlife such as hummingbirds and butterflies, making for beautiful photo backdrops. Admission is free, but professional photography requires a one-time fee of $125 or a yearly rate of $150 that comes with a membership. See the front desk for details and to check-in prior to your engagement session.
Situated in the heart of the city, Hermann Park is home to a variety of picturesque highlights on its 445 acres, including the Japanese Garden. The garden was built in a traditional Japanese design known as the Daiymo Style which dates all the way back to the 17th-century and is based on the Zen philosophy. A traditional Japanese gate flanked by trees marks the entrance to the garden which boasts a stone lantern, waterfall, teahouse, and small arbor. Hours are Monday through Sunday from 9:00 am – 6:00 pm.
"Neon lights and carnival rides – need I say more?!" Khan says. "[Kemah Boardwalk is] very relaxed with the photography policy, too. Just be sure to get tickets for rides and have some fun! Close by, there's also El Jardin Beach which is a quiet beach spot that can serve as a second photo location."
"[Main Street is] one of the best locations in Houston due to its age, versatility, and many interesting spots," explains Khan. "Start on the north part of downtown at the historic Allen's Landing Park featuring the city's birthplace and original port. A gorgeous view of the city can be seen as soon as you walk out of the park with the light rails going north and south. Keep going south and more historical buildings, bars, and restaurants will be along the way, which make perfect backdrops for romantic engagement photos. The city lights allow for great photos even at night!"
Also located in Hermann Park covering an area of eight acres, McGovern Centennial Gardens features a Rose Garden, an Arid Garden, a Woodland Garden, over 50 species of trees, and an ornate Friendship Pavilion perfect for photographs. Artwork abounds throughout the area, with beautiful sculptures and monuments taking center stage. Hours are Monday through Sunday from 9:00 am – 7:00 pm.
Positioned downtown, the Museum District is a popular cultural attraction that's a collection of 19 museums located within a 1.5-mile radius. "Between the Museum of Fine Arts – Houston, the Contemporary Arts Museum, Glassell School of Art, and the Lillie and Hugh Roy Cullen Sculpture Garden, you'll find yourself very entertained!" Khan says. "The sites feature modern architecture mixed with nature, so you get the best of both worlds."
Up Next: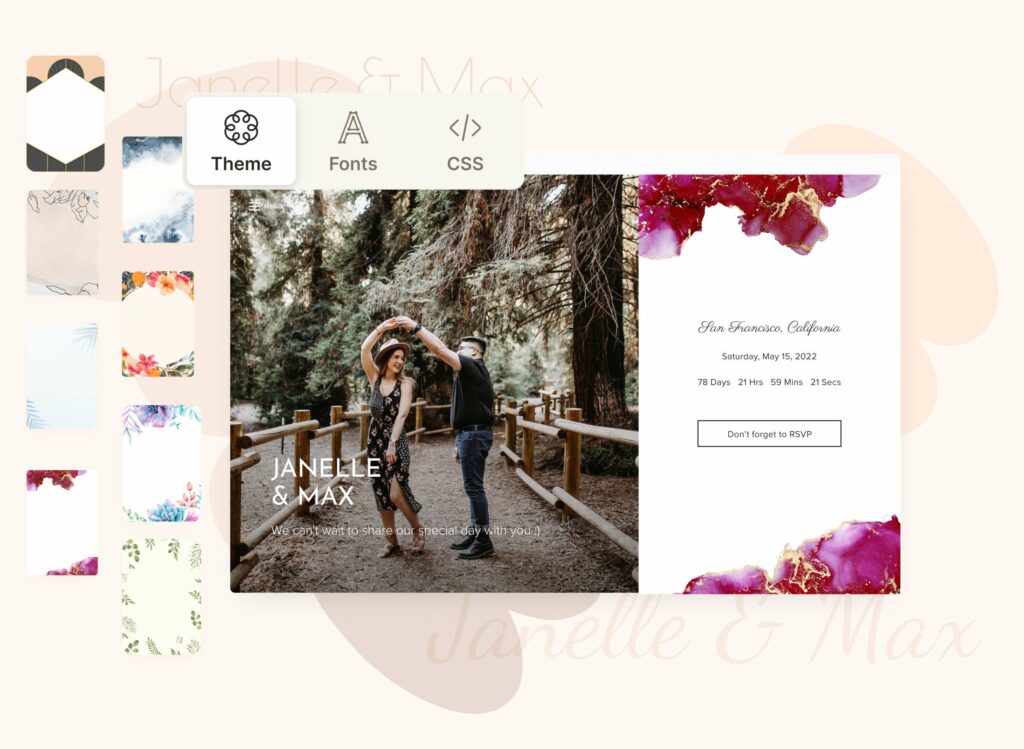 Set up your wedding website in minutes with design options to make yours truly unique.
Related Posts