More popular than ever, micro weddings aren't just reserved for vow renewals and anniversaries. The trend has caught on like wildfire over the last few years as couples shout from the rooftops that this type of intimate wedding means you may be able to skip much of the seemingly endless planning that comes with a big celebration. With more flexibility, hosting small-scale nuptials also means you have more opportunities to add a personal touch. If you're short on inspiration, here's a look at some dreamy micro wedding ideas to consider for your big day.
Micro Weddings 101
These intimate events typically embrace the same details and goings-on you'd find at a traditional wedding, but they do so on a smaller scale — and with a smaller price tag. Micro weddings are often shorter and simpler, and the vibe can be a bit more relaxed. With a guest list that usually tops out at 50, couples often limit attendance to their best friends and immediate family members.
Though micro weddings are frequently confused with minimonies and elopements, all three celebrations are quite different. Elopements are usually limited to the couple, an officiant, and a witness or two, while minimonies can include around 10 people at a ceremony and typically precede a bigger event planned for a future date.
A micro wedding, however, is just a smaller version of a traditional wedding. And while the price tag of that larger celebration often lands somewhere north of $25,000, a micro wedding budget can drop down to $10,000 or less.
So if you're thinking about a micro wedding, rest assured that while the guest list may be scaled back, the celebration is just as big as ever. Here are 35 micro wedding ideas to help you plan a day that's as grand as it is memorable.
Micro Wedding Ceremony Ideas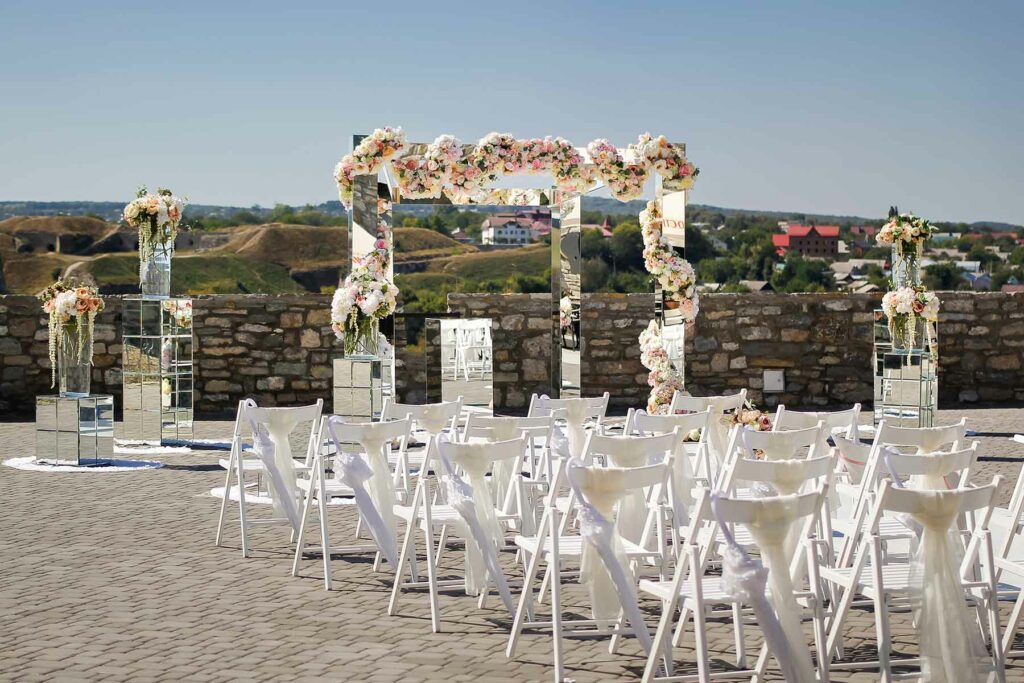 1. Exchange vows at a local or national park
From lush greenery and colorful flowers to gorgeous rock formations, local and national parks provide beautiful, scenic backdrops for micro weddings. These venues often have guest limits that are strictly enforced, which makes them great for smaller celebrations, but just don't forget to secure a permit.
2. Try your local botanical garden
Botanical gardens have both indoor and outdoor spaces that are perfect for micro weddings. As an added benefit, the scenery is already awash in flowers, so you can skip the florist if budget is a concern.
3. Find a heritage home
Historic mansions and buildings are an excellent way to get the intimate feeling of a home wedding without the foot traffic through your living room. Plus, you'll be able to soak up all the nostalgia of the past while stepping into your future. If you do your homework, you may be able to find an option that offers overnight accommodation packages to house all of your guests for a full weekend of celebration.
4. Return to a scenic spot in your hometown
Many towns have an unofficial special occasion spot where folks go to commemorate life's biggest events, from graduations to proposals — so why not your wedding? That town square, fountain or gazebo has been a backdrop for many beloved memories, so talk to city officials about hosting your small nuptials there (just be prepared for a few unofficial guests since it's a public space!).
5. Book a local beach
No one says you need to plan a destination wedding to exchange vows on the sand. If you're lucky enough to have one a hop, skip and a jump away, local beaches are an excellent micro wedding venue due to their smaller headcount capacities.
6. Say "I do" with a rooftop view
Whether they offer a glimpse of a midday skyline or an evening cityscape with twinkling lights in the background, rooftops almost scream "micro wedding venue." A location high above the city streets only adds to the intimate vibe of your big day.
7. Write your own vows
Intimacy is at the forefront for micro weddings, and nothing says intimate like DIY vows. And if you're feeling a little shy, just remember that you're surrounded by your nearest and dearest. You and your other half should feel free to wear your hearts on your sleeves.
8. ​​Take it to the farm
If warm, rustic vibes and gorgeous scenery top your list of must-haves, contact a local family farm and take the celebration there. In case you were wondering, the white and pink blooms that cover almond trees in late winter and brilliant apple blossoms in the spring and summer are incredible photo ops.
Micro Wedding Reception Venue Ideas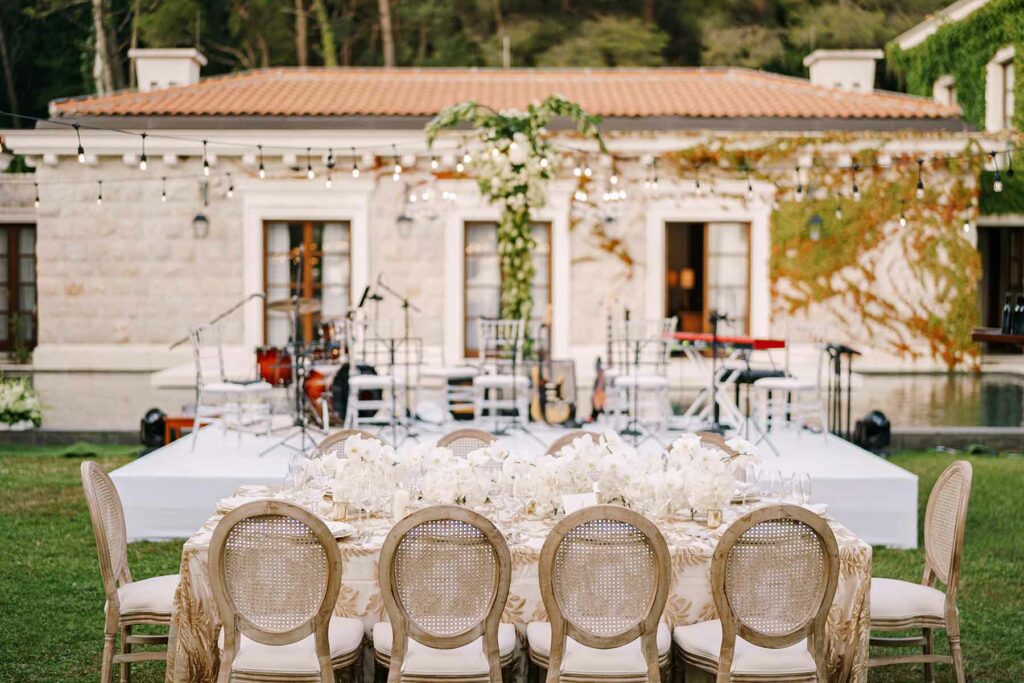 9. Book a private room at a winery
With lush vineyards in the backdrop, wineries are gorgeous wedding venues — oenophile or not. With a smaller guest count, you'll have your pick of spots for celebrating after saying "I do."
10. Borrow a backyard
Whether it's the one you grew up with or one you've admired from afar, backyards are charming venues for micro weddings. You can DIY every aspect to enhance the intimacy of your big day.
11. Arrange seating in a circle
The purpose of a micro wedding is to share your special day with those you love the most, so there's no sense in seating your favorite aunt on the other side of the room. To boost the feeling of togetherness, try arranging the seating for your reception in a circle.
12. Try a local brewery
Wedding inspiration can come from anywhere, and if your love of craft beer inspires dreams for your wedding day, then so be it. With craft beers on tap and plenty of rustic vibes, your local brewery is worth a closer look. While your guest list may be small, a sprawling brewery will afford you that much more space for a dance floor.
13. Dine at your favorite restaurant
To keep the vibe casual and feel comfortably at home, rent out a room in your favorite restaurant. These establishments often have private dining rooms that they hire out for such occasions — catering and staff included.
14. Hire a band
A micro wedding could free up your budget enough for a splurge on live music. Plus, with a shorter event time than a traditional wedding, it may make the price tag more palatable.
Decor Ideas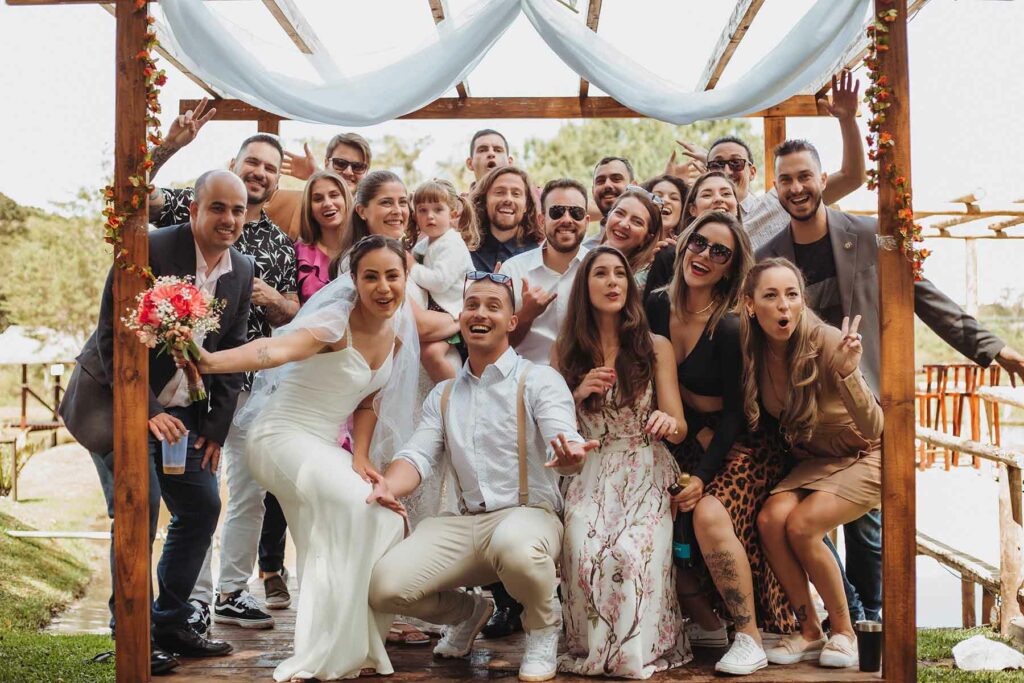 15. Upgrade your invitations
By buying dinner for 50 people instead of 200, you can free up your budget or redirect your funds toward upgrades that really make a difference. One upgrade that may be worthy of a closer look is your invitations. Not only do they set the tone for your wedding, but they make great keepsakes, too. Bargain invitations may not look so great in your shadow box 20 years down the line.
16. Personalize your wedding favors
Like invitation upgrades, you can also redirect extra funds toward personalized wedding favors — everyone likes keepsakes with their name emblazoned across the front. With a smaller guest list, you can consider options ranging from engraved wine glasses or luggage tags to hand painted coasters.
17. Take a group photo
By design, micro weddings and their condensed guest lists open up possibilities that large events just can't accommodate. Case in point: group photos. With fewer guests to gather around, you can snap more photos with the whole gang that are great to post on your wedding website or print as thank you cards.
18. Let your loved ones be your photographers
Speaking of photos, micro weddings give you a unique opportunity to hand Polaroid or disposable cameras over to your friends and family. They may not be professionals, but seeing your big day through the eyes of your nearest and dearest will be priceless.
19. Bring on the games
In keeping with the casual vibes that micro weddings are known for, you can always add a few games for your guests to enjoy. Think giant Jenga for a backyard wedding or Pictionary for indoor fun.
20. Elevate your paper goods with calligraphy
Smaller parties afford you the opportunity to splurge on elegant touches throughout your event. Hand-calligraphed menus and place cards are likely to be a hit.
21. Pop some single-serve bubbly
Cap off your traditional wedding toast with single-serve Champagne bottles at each place setting that guests can take home.
22. Write personalized notes to guests
Thank loved ones for being part of your exclusive guest list by leaving a short but sweet handwritten note at each place setting. A sentence or two at the bottom of the menu or on a monogrammed card is a meaningful and personal way of acknowledging how much it means for them to join you on the big day.
23. Use Polaroids in lieu of a guest book
Instead of a guest book with a list of names, set up a Polaroid station where guests can take fun photos and leave their good wishes. Just don't forget to have someone gather them at the end of the evening so you can get them into a scrapbook down the line.
24. Commission a custom painting
Instead of a traditional guest book, give yourselves the gift of a live wedding painter. Have guests sign a mat that you can frame and hang in your home after the festivities are over.
Catering Ideas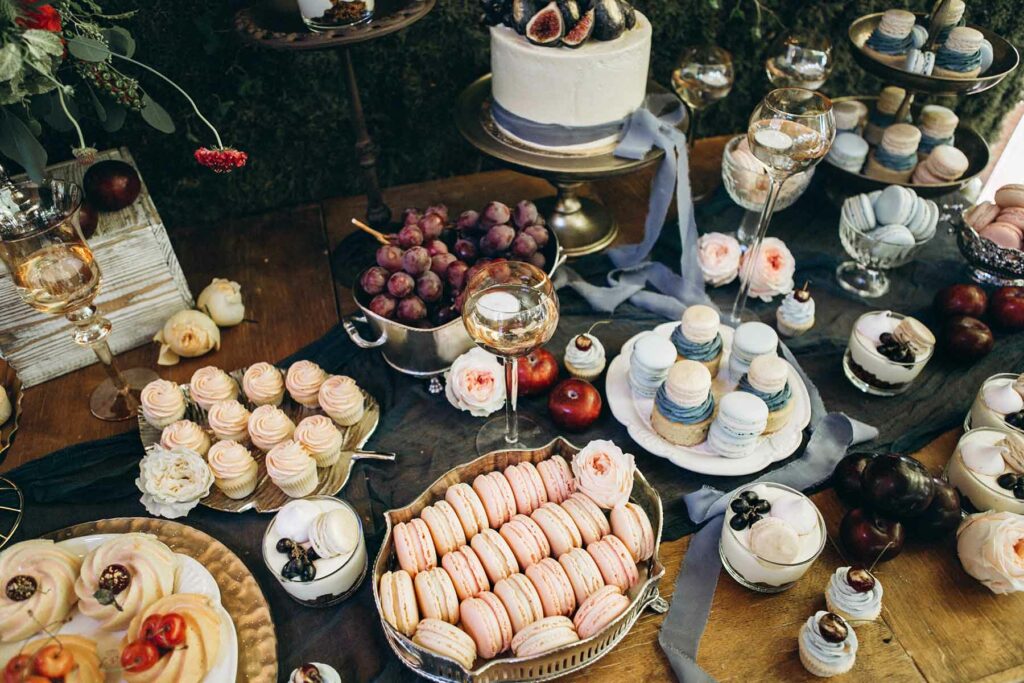 25. Create an elevated, experiential dinner
Since you have a smaller guest list, you can create a more bespoke menu that delivers a more memorable experience. Think wine pairings with a sommelier or tableside preparations of foods such as risotto mixed in a cheese wheel.
26. Skip the big wedding cake
Instead of a giant wedding cake, think small (and delicious) — hand-painted macarons or decadent mini doughnuts are sure to be crowd-pleasers. If you're set on a traditional cake cutting at your reception, opt for a mini cake for the occasion and provide your guests with similarly decorated cupcakes.
27. Bring in a food truck
Formal sit-down dinners are the best way to feed 150 people in an orderly fashion. If you opt for a micro wedding, however, a smaller guest list opens the door for creative alternatives all around. Food trucks, for example, are an eclectic catering option that no one will ever see coming but will be a hit with hungry guests.
28. Have a cookout
If you opt for a backyard blowout, the only suitable cuisine is a cookout. Everyone loves a good barbecue, so keep it simple with steaks on the grill or hire a caterer with a slow-smoker to cook brisket, pulled pork and other fall-off-the-bone meats.
29. Have a dessert bar
Giving your guests the opportunity to customize their dessert is always a win. And the permutations here are endless, from ice cream sundaes and snow cones to cupcakes and candy bars.
30. Pass the hors d'oeuvres
While micro weddings may skip the formality of a cocktail hour and the opportunities for mingling it offers, you don't have to skip the tradition altogether. To keep things casual (and super social), think about skipping the sit-down dinner and passing trays and trays of hors d'oeuvres instead.
31. Challenge guests' palates
With fewer people and food preferences to accommodate, micro weddings create a unique opportunity to wow your guests with anything but the standard fare. So, throw some caution to the wind and shake things up. Whether it's sushi, curry, tacos or souvlaki, choose the cuisine that makes your heart sing.
32. Do a pancake or waffle bar
While most weddings, micro or not, are squarely focused on dinner service, you could consider flouting tradition with decadent brunch stations. Not only is this a budget-friendly way to feed your guests, but the combination of brunch and dessert is always a crowd-pleaser.
33. Develop a signature drink
Since it's unlikely you can stock your micro wedding bar with every libation your friends and family will want to consume, work with a mixologist to wow your guests with something they've never tried before.
34. Chocolate fountain
Chocolate fountains are social and fun, so include one at every table with all the fixings. Or just add a larger one to your dessert bar — a smaller head count ensures everyone will have a fair chance to dip the fruit or treat of their choice.
35. Charcuterie for one
It's no secret everyone is obsessed with charcuterie platters, but there's a big difference between serving five people at a dinner party or 50 at your micro wedding. So instead of a platter, pass out individual portions. Each serving comes with meat, cheeses and fruits arranged in an adorable cup or on a miniature plate.