Newlyweds Amanda and JT share details from their rustic, bohemian-inspired wedding in Temecula, CA.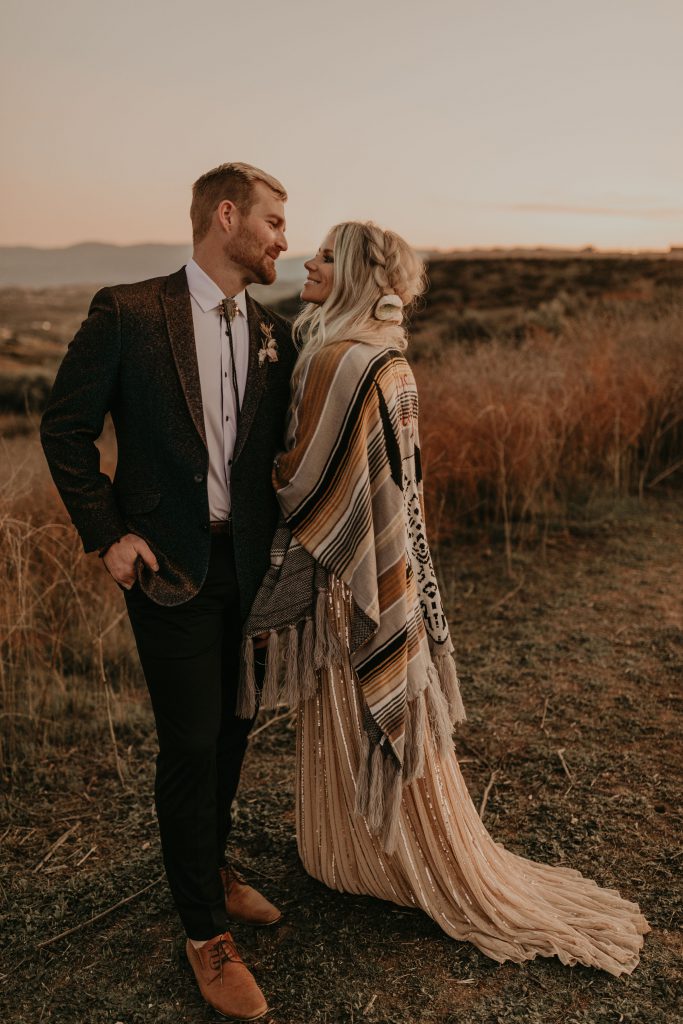 First off, congrats! What is your most memorable moment from the wedding?
Thank you! The most memorable for both of us was the first look! I was so nervous that JT was going to be disappointed or shocked that I didn't wear a white wedding gown but when we saw each other it was just the best feeling! When we hugged, I asked him if he was upset that I didn't wear white and he said, "No way! I actually had a feeling you weren't going to wear white. I just know you!" We laughed and cried and couldn't stop kissing. It was the best!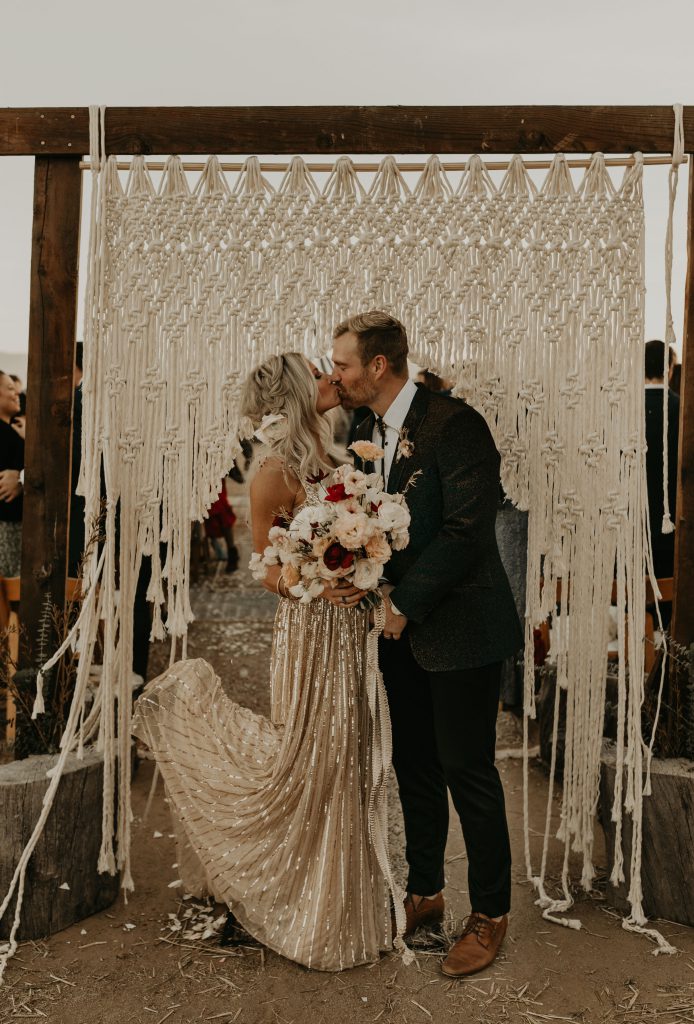 What were the colors of your wedding?
The main colors were burgundy and navy with tones of gold, cream, white, blush, and green.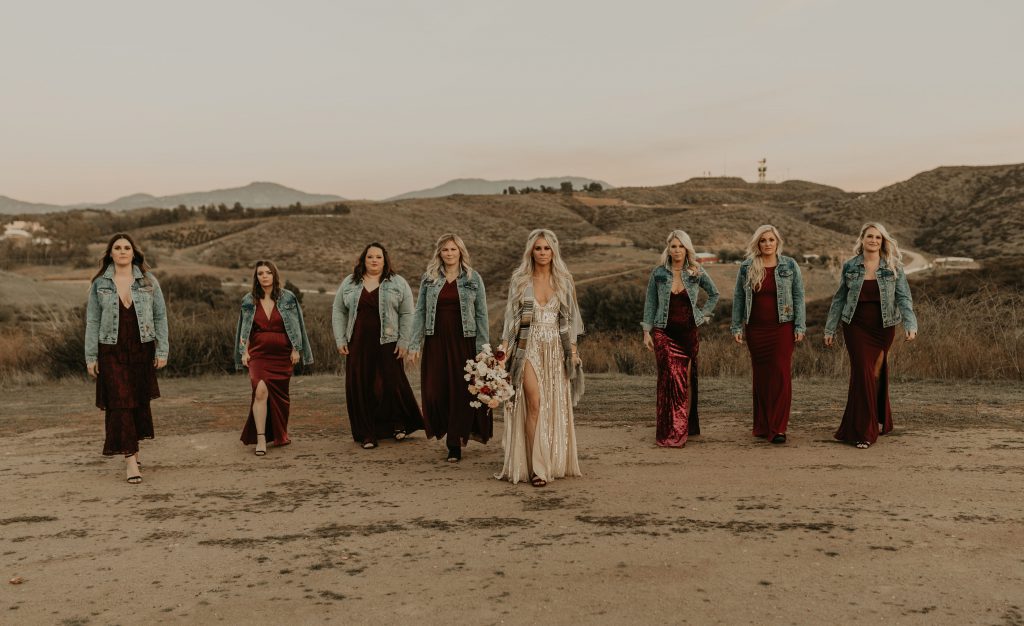 What do you think worked really well at your wedding that you would recommend every couple to do?
We had a two-hour pre-game party at the venue before the ceremony with shuttles running every half hour. Guests usually get together and have drinks before a wedding, so why not provide it for them to ensure that everyone gets there on time before the actual ceremony starts!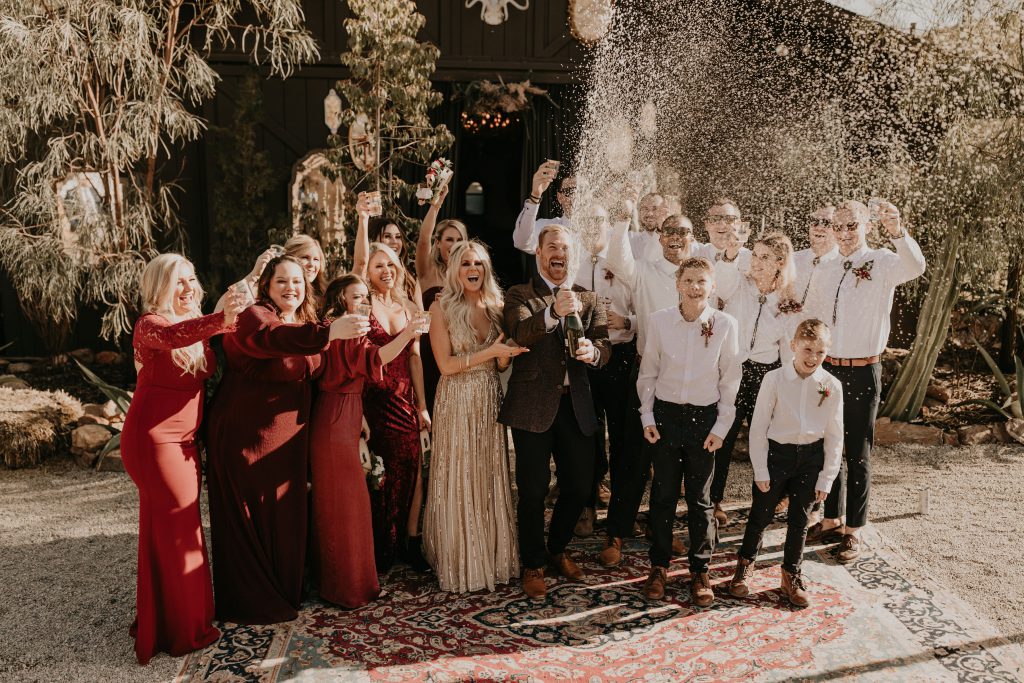 Would you have done anything differently—splurge on a pricier dress, nix the favors, go for that extra passed appetizer?
I wish we would have started everything earlier. Everyone warned us how quickly the day flies by, and they weren't lying! Maybe if we would have started the pre-game at noon and ceremony at 2, it would have given us more time or made the day slow down… I doubt it, but it was just such a fun day and we never wanted it to end!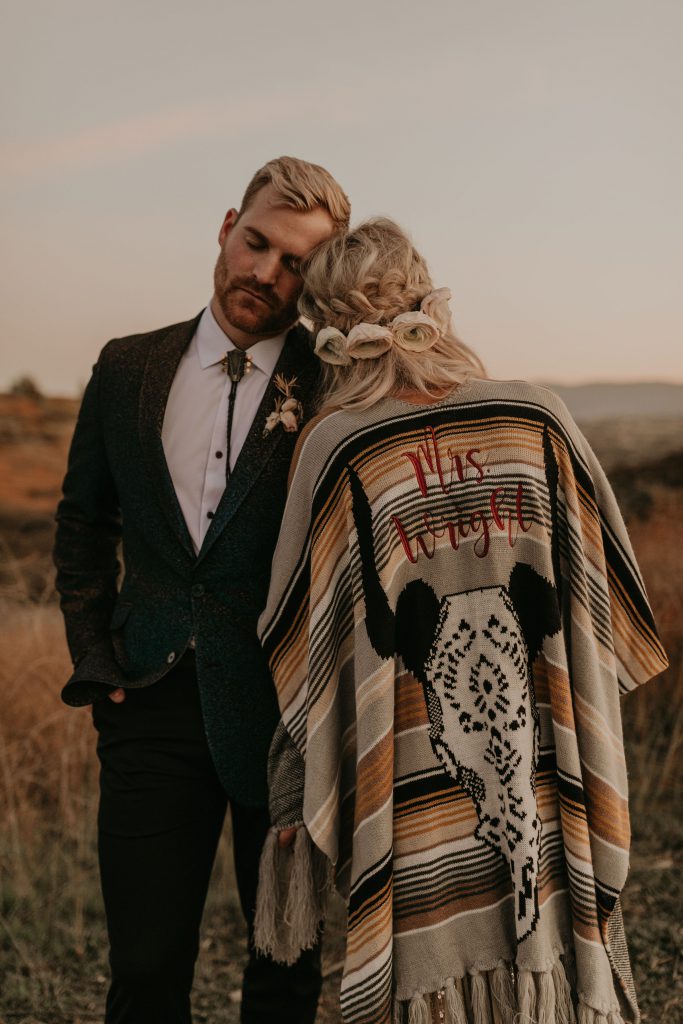 What tips do you have for other Joy couples still in the midst of wedding planning?
We cut out a lot of things like cake cutting, bouquet and garter toss, and we got the dances and speeches over with right away. We wanted everyone to eat and get on the dance floor to party for as long as possible! Guests don't really care about all that other stuff. They just want to have fun with the bride and groom!
What were your favorite features of Joy?
I love how you could be so creative and select different themes, colors, fonts to make it your own unique style.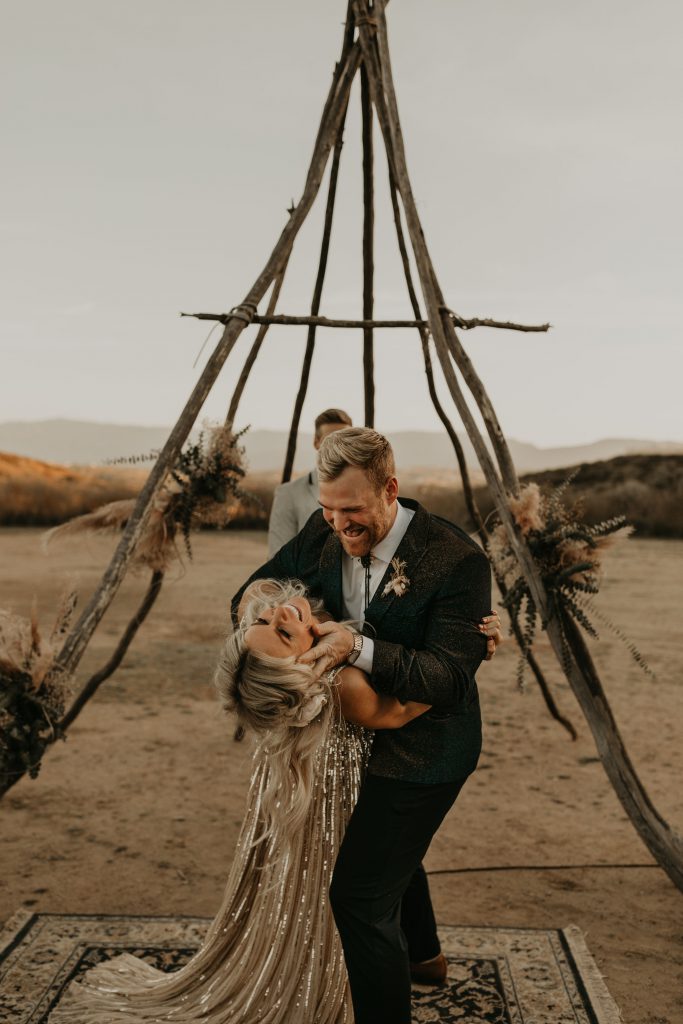 At Joy we believe that although a wedding lasts one day, joy lasts forever. What does that mean to you and your partner?
The whole meaning and point of a wedding is to unite and bond two people forever. That forever will have its ups and downs for sure, but there will always be some type of joy experienced every single day and that will help remind you why you got married in the first place!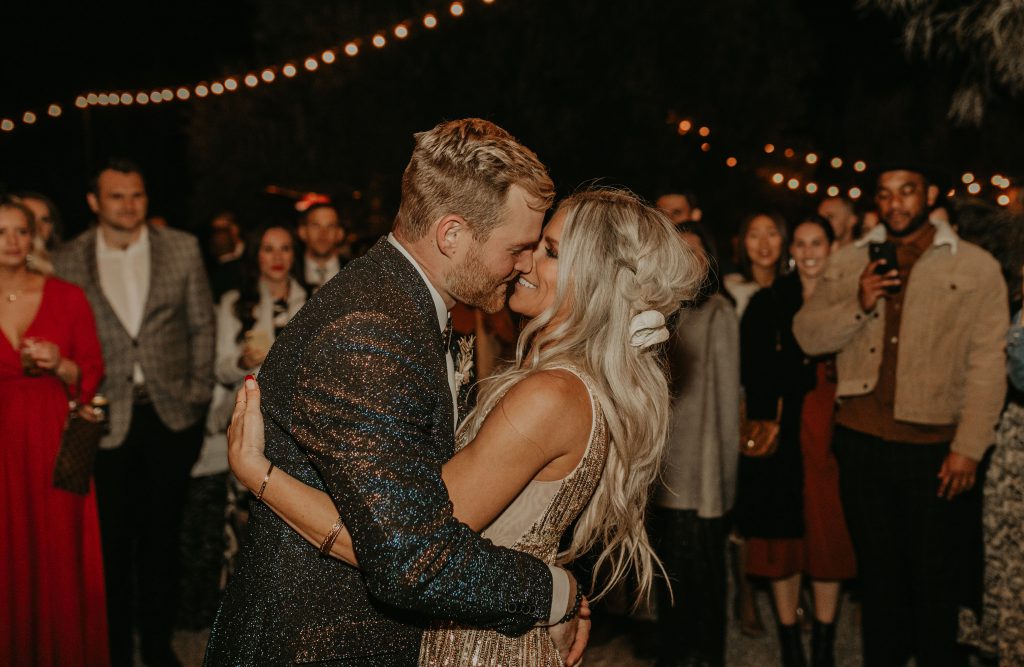 Vendor Details
Wedding Venue: Wolf Feather Honey Farm
The owners, Chari and Craig, are the raddest and most laid back people ever. We picked the venue a year out and throughout the entire year, they would answer any silly questions we had, remind us of things we needed to do, and were just so happy to help at any time. They were on-site the entire time, starting at 7:30 am, to help out with any last-minute issues and to just hang with us and enjoy drinks while getting to know everyone. It really made it so much less stressful and helped everyone feel at ease the entire day!
Photographer: Cori Taylor
I found Cori through Instagram and only communicated with her through email leading up to the day of the wedding! But the moment I met her, it felt like I had known her forever! She was so welcoming, cheerful, and laid back! We were able to give her ideas of photos we wanted to get and she had no pushback and was so open to everyone's ideas. She's so creative but also very quick and thorough with getting all the basic family photos (that you don't like taking but know you need) as well. I cannot recommend her enough!
Florist: Melissa Duncanson
Melissa was great to work with! I sent her my Pinterest page and her vision board was exactly what I had imagined. She's not basic at all and that's exactly what I wanted. Someone creative and wild! She was awesome!
Hair Stylist: Lindsey Neavitt
Lindsey is one of my best friend's sisters, but that's beyond the point. She came into a room filled with around 10 women and a baby with music playing and champagne popping and it didn't distract or phase her one bit. She sang along to songs, cracked jokes, and made everyone feel so comfortable and look absolutely stunning! She's the best!
Makeup Artist: Lynn Simpson
Lynn was recommended to me by Lindsey and she did not disappoint! I don't live in Southern California where the wedding was so I had to schedule the makeup trial the Wednesday before the actual wedding. Honestly, I could have gone without a trial because she is that good! When we initially connected I told her I wanted wild and bold eyes but didn't want to look too cakey. She did all of that and more! I felt like the most gorgeous person in the world!