Philadelphia newlyweds Andrew and Jenna share details from their Moroccan vintage wedding.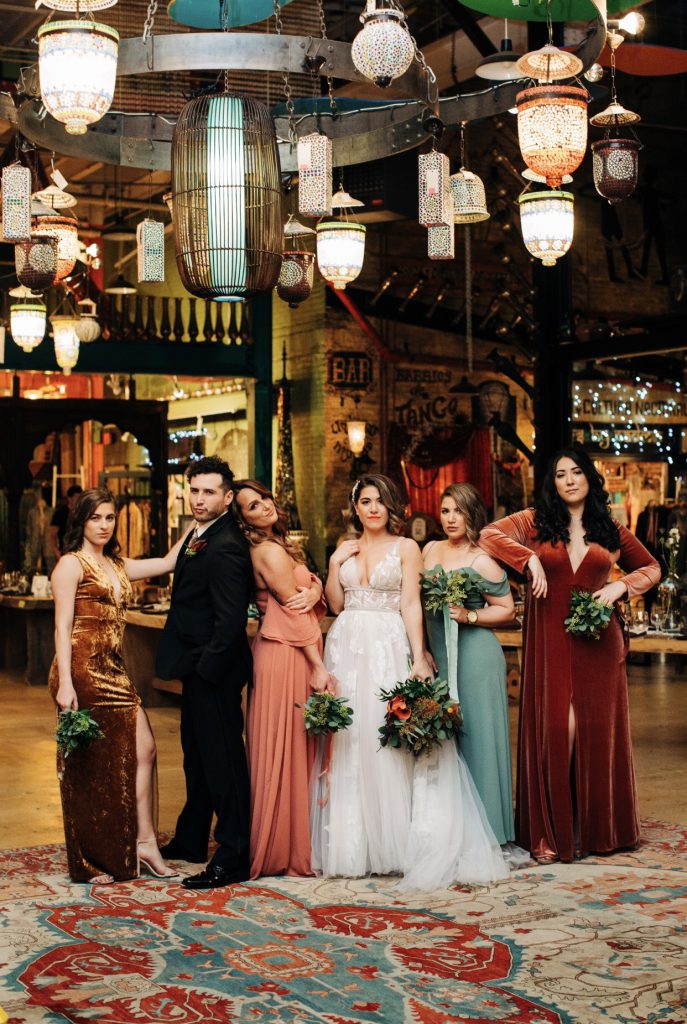 First off, congrats! What is your most memorable moment from the wedding?
This is a really hard question to answer. I felt like I could have stood up there during the ceremony forever. The feeling was unlike anything I´ve ever experienced, so that would be the most memorable for me. Being surrounded by loved ones sending all their mindful intentions towards our union. I also surprised Andrew by planning a live acoustic performance from our two best friends during the cocktail hour. So, being serenaded by our dear friends was an unforgettable moment. And as a closing to the night, Andrew´s best man had the DJ play a popular hit by Andrew´s old band ¨Someday Never¨, who was a big local band back in the day. Everyone went nuts. I fangirled out because I used to love that band before I knew Andrew and obviously knew all the words. It was so awesome!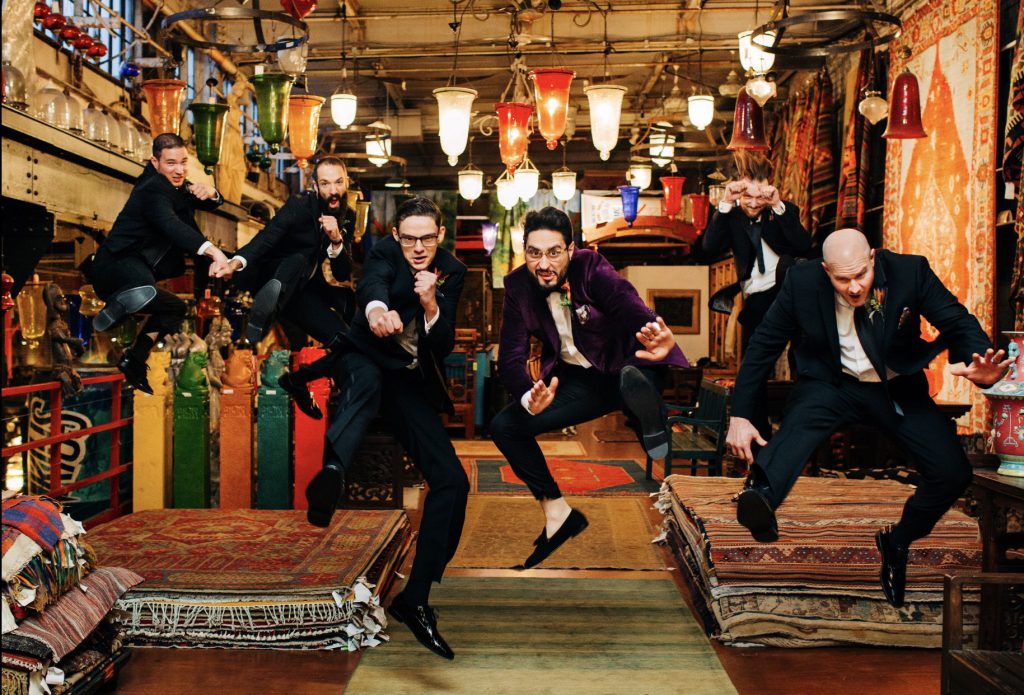 What were the colors of your wedding?
Very colorful! A lot of warm tones… plum, mustard, pinks, oranges, reds. The venue is colorful in itself. Very Moroccan inspired.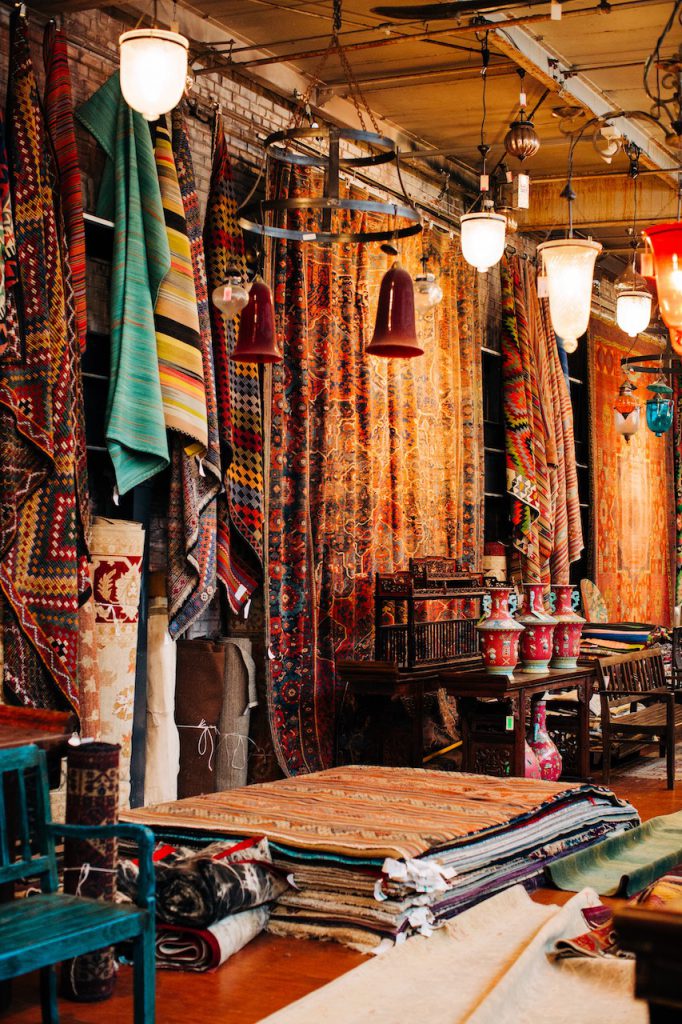 What do you think worked really well at your wedding that you would recommend every couple to do?
I´m not sure I can say that I have a recommendation that every couple should follow other than maybe hire people you feel you can really count on to have your back. I switched my photographer last minute and lost out on a deposit, which sucked, but I felt in my heart that it was the right decision. My husband and I could not be more grateful to the married couple photography duo, Rocksteady Images, who we consider to be an absolute highlight and major contributor to the day. So, we went with our gut and it worked out. They had our backs and basically ran the day smoothly for us since we did not have a wedding coordinator!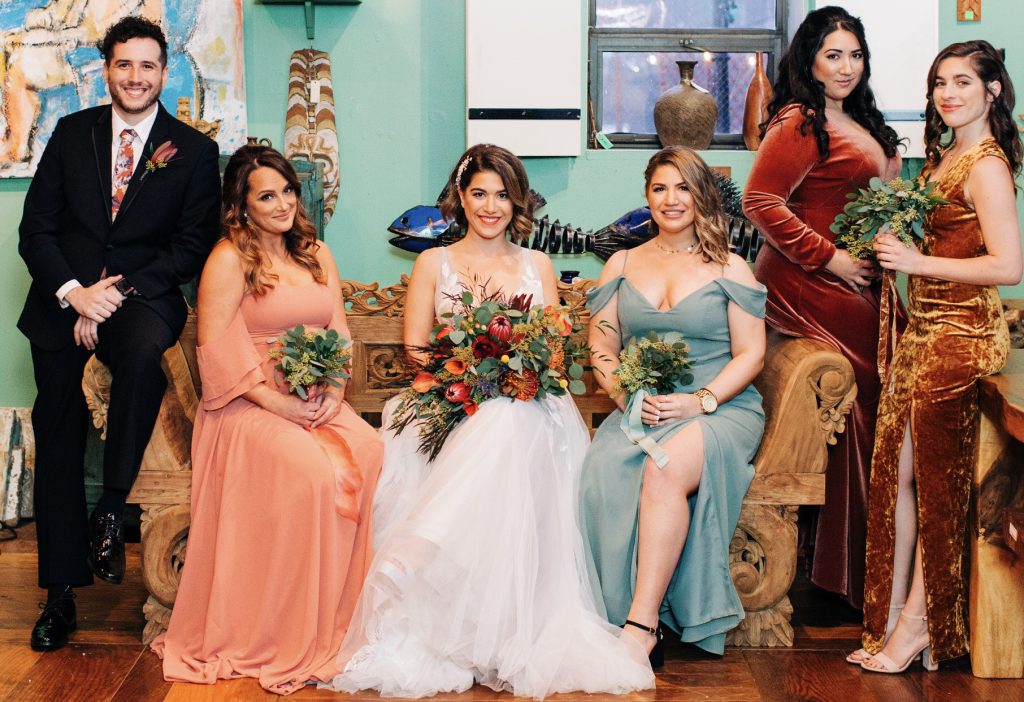 Everyone´s number one piece of advice was 'the day goes by so quickly… make sure you take it all in!' I set my intentions to be present a few weeks before the wedding. I deleted social media, took some moments to pause and breathe, soak up the feelings, thoughts, and conversations. The night before the wedding, my girlfriends and I did a group meditation. That morning and throughout the day, I was more present than I have ever been in my life. I remember every bit of it. Also not getting super trashed helped, haha!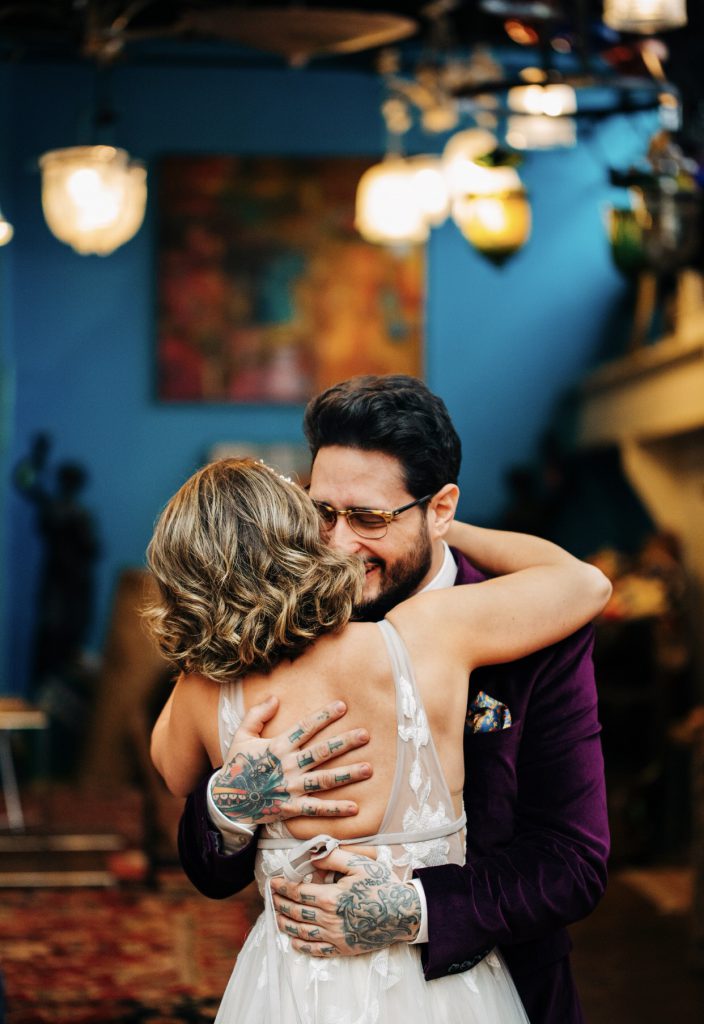 To us, Joy is the journey. It's feeling everything with radical acceptance.
Would you have done anything differently—splurge on a pricier dress, nix the favors, go for that extra passed appetizer?
This is totally a personal thing, but I didn´t spend money on a veil and ordered a sixteen dollar one off of Amazon because I knew I´d only be wearing it for a short time. But looking at pictures, I´m a little insecure about how it looked and I wish I looked for another one. It was kind of too skinny and long. Oh well .. if that´s the one thing I would have changed, then I think that´s pretty good! Andrew doesn't think he would have done anything differently.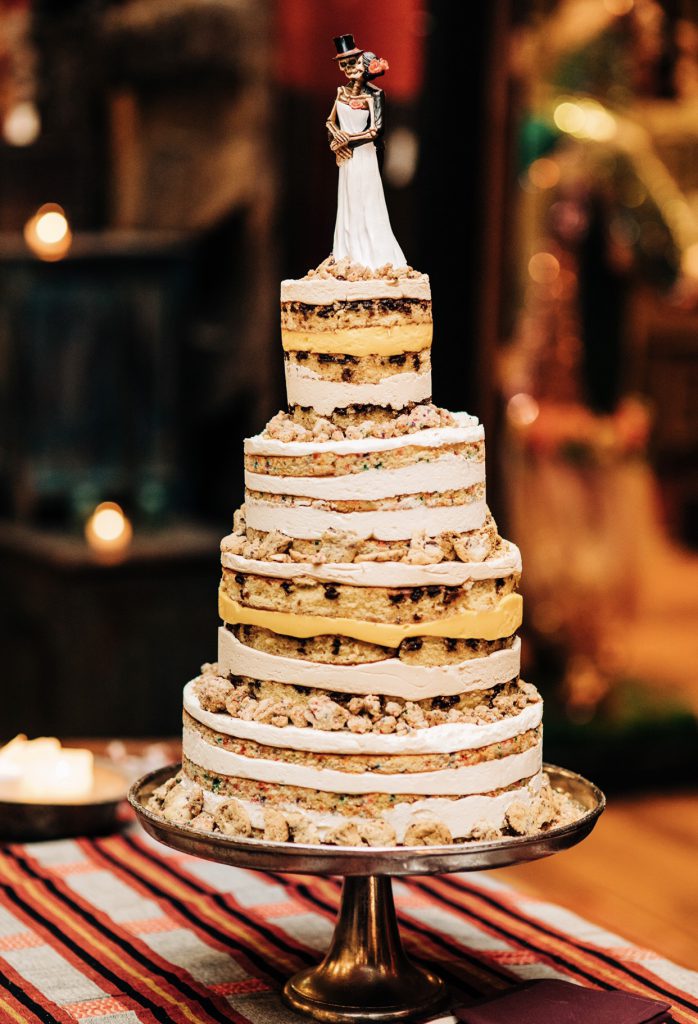 What tips do you have for other Joy couples still in the midst of wedding planning?
To realize that this is all a learning curve, do the best you can and keep adjusting your expectations! Social media can be difficult in this day and age, having us think we need to have all of these bells and whistles to be happy. Not everyone can afford it. Keep shifting the focus back to the root of it all, which is your relationship and your love. It´s seriously such a cool time to get all of the attention and energy focused on you and your partner. So take it all in!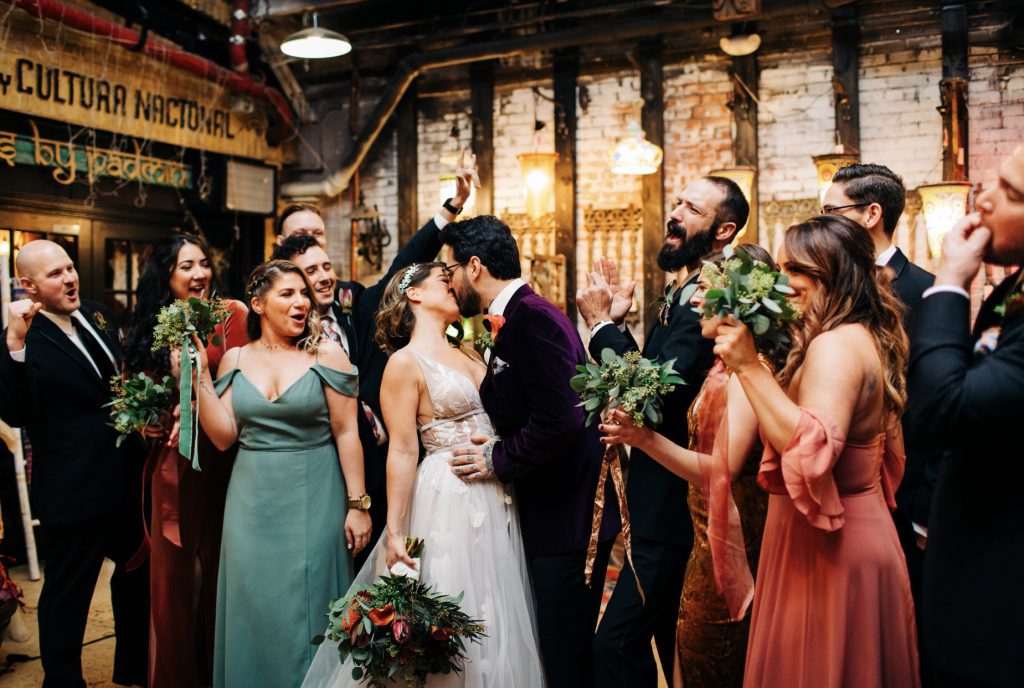 What were your favorite features of Joy?
I loved the way it was laid out and it was super easy to share and navigate. I got to feature all of the information about my venue and hotel blocking. I honestly liked the Joy visual features more than other sites I looked at!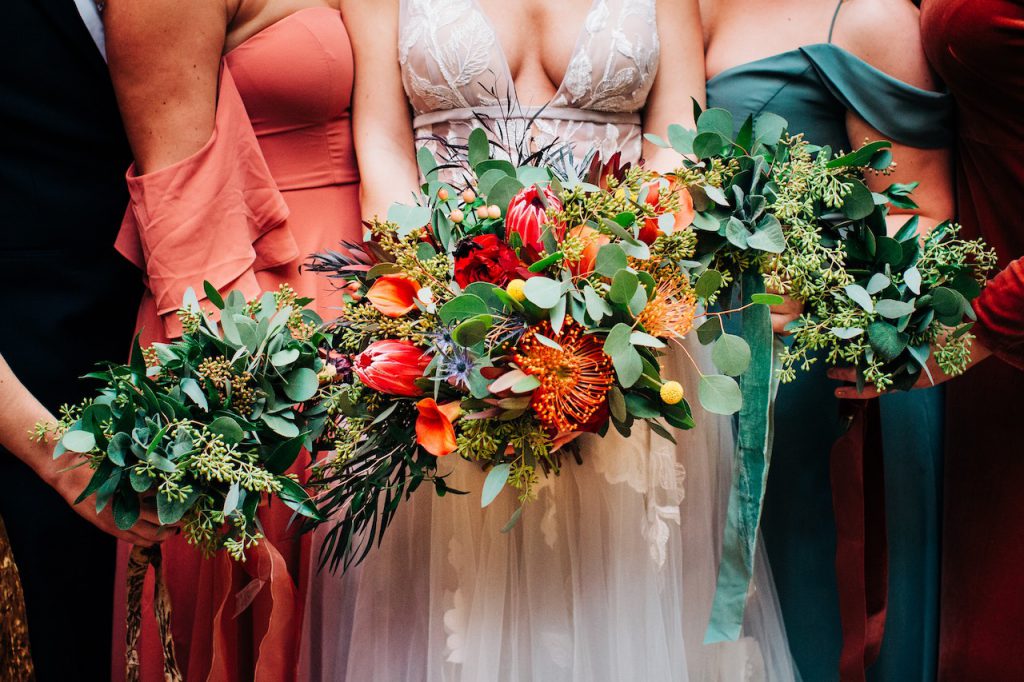 At Joy we believe that although a wedding lasts one day, joy lasts forever. What does that mean to you and your partner?
Our wedding was an epic day, we soaked up as much of the moments as we could! To us, Joy is the journey. It's feeling everything with radical acceptance. It's remembering what's important even when life feels like a shit storm. We're overjoyed to be sharing our life together! (We answered this similarly in our feature on the engagement blog, it still holds true!)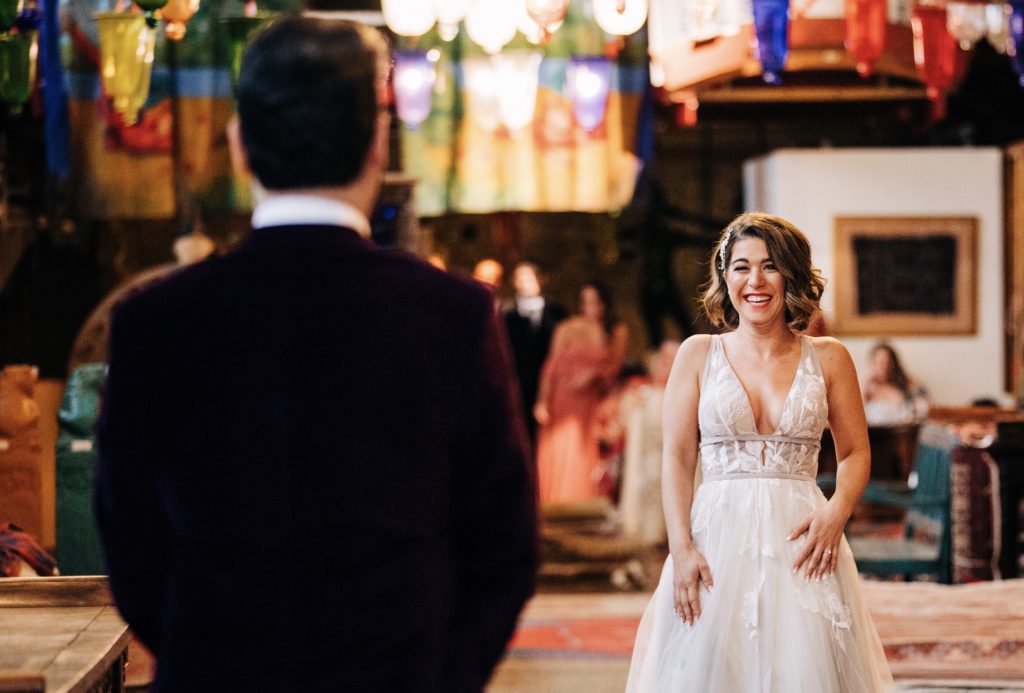 Vendor Details
Wedding Venue: Material Culture
Photographer: Rocksteady Images
I cannot rave about these two enough. All of my friends will be hiring them for their weddings. Professional, passionate, grounded, and skilled. I mean, have you seen our pictures?
Videographer: Creative Vision Media
Rob Nardone, owner, and editor is a friend of ours. He is super talented and has been recognized by WeddingWire, the Knot, etc. for the work he´s been doing, so we were lucky to be able to hire him. The guys who worked at our wedding were very professional. I said they moved swiftly like ninjas! We didn´t even know they were there, so everything felt super natural.
Florist: Carl Alan Floral Designs
It was the best working with these folks. I switched up some things last minute and they rolled with the punches! Their work is gorgeous and super affordable. The designer we worked with was honest and direct, which I really appreciated. We also sat with Carl Alan for a good twenty minutes chatting before our designer was ready to meet with us. It´s nice to do business with down to earth people who get it.
Caterer: Aliza Green
She was our main point of contact during the wedding and really took the lead with all things food and service-related. Aliza is incredibly talented. Her food is visually rustic looking and radiates that warm feeling you get when family and food come together. She is currently no longer catering Material Culture Weddings and enjoying traveling abroad teaching others about food in various parts of the world.
Baker: Julien Chantereau
Julien is a dear friend of my husband. He was also a wedding guest and prepared the most delicious, eclectic, and unique cake for us to match our vibe! He recently competed on Chopped Sweets Edition! We seriously love everything he puts his hands on. Our cake was ¨Birthday cake with funfetti crumble and mocha cake with passion fruit cream.¨
DJ: Charles Westcott Entertainment
CJ had our back, as the music was very important to us. We loved his super direct and laid back attitude. He accommodated all of my requests and everyone was raving about the music/ DJ the whole night. He coordinated so well with the other vendors, too. I would highly recommend to others.
Hair Stylist: Ali Tritto
Ali is a dear friend of mine who has been doing my hair for about 10 years now. I couldn´t have imagined doing this without her. She is not only talented and actually listens to what you want, but she also is caring in her nature and loves to serve others, making them feel beautiful, comfortable, and happy. She is great at communication and coordinating time with other vendors.
Makeup Artist: Candance Turner
I saw Candace do someone´s makeup years ago and knew I had to hire her when my time came to get married. She currently does a lot of eyelash extensions, but still doing makeup for events! She showed up for my day and did an amazing job making us feel beautiful. She is down to earth and honest which I respect the most. She also did a great job coordinating with the other vendors to stay on schedule.
Transportation: King Limousine and Transportation Service INC
Another breath of fresh air during this stressful time! They asked all of the right questions and made the reservation for our shuttle buses seamless. Our driver Earl was seriously the best! So nice, flexible, and professional. Every experience with King Limo was a great one and I would recommend to others.
Ring Designer: Ken and Dana Designs
Both my husband and I purchased our rings from Ken and Dana Designs. I´m obsessed with their unique and well-crafted rings. My set is absolutely beautiful and gets a lot of attention. We ordered my engagement ring online and then went into the New York store for our wedding bands. Customer service was great and everything was easy to finance.