The San Francisco Bay area offers couples an assortment of mesmerizing venues that include historical structures, rolling hills, secret gardens, and redwood groves. These venues combine the splendor of the outdoors with awe-inspiring structures that organically blend with the natural environment. That's why the hardest part of selecting a wedding venue in this area is narrowing your list of favorites to just a few. To simplify your search, we've compiled a list of the best rustic wedding venues in the Bay Area.
An ideal location for an intimate destination wedding, The Pelican Inn in Muir Beach features a storybook hotel and grounds that highlight the beauty of the local vegetation. You can hold your ceremony on the inn's expansive lawn, featuring views of an idyllic barn and horses. On a rainy day, couples can exchange vows in the Snug Room that has a cozy ambiance created by stuffed chairs, bookcases, and a fireplace.
You can then enjoy your reception in a glassed-in space filled with vines and flowers and lit by candles and soft lights. After the meal, the tables can be pushed aside to make room for dancing.
Typical Cost: Starts at $2,000 – $4,000
Capacity: 50
Bonus: In addition to taking advantage of the handsome backdrops around the inn, couples can also travel to the nearby Muir Beach for wedding photos.
Find The Pelican Inn on Facebook and Instagram.
The impressive Presidio Log Cabin is located on 30 acres of land in Presidio Park and looks out onto the San Francisco skyline. After pledging your love, you'll journey into the country-style lodge that was made from Monterey Cypress timber in 1937.
In addition to boasting a grand room with a soaring, pitched ceiling made of tree beams, and old-timey chandeliers, the cabin has a patio where you can take in views of the Golden Gate Bridge. The dining portion of the room features bay windows that make the area feel like it's one with nature.
Couples can choose from a variety of wedding packages that include everything from catering to bar services to decor.
Typical Cost: $1,995 – $5,995
Capacity: 200
Bonus: The venue provides onsite dressing rooms.
Find Presidio Log Cabin on Facebook, Instagram, and Twitter.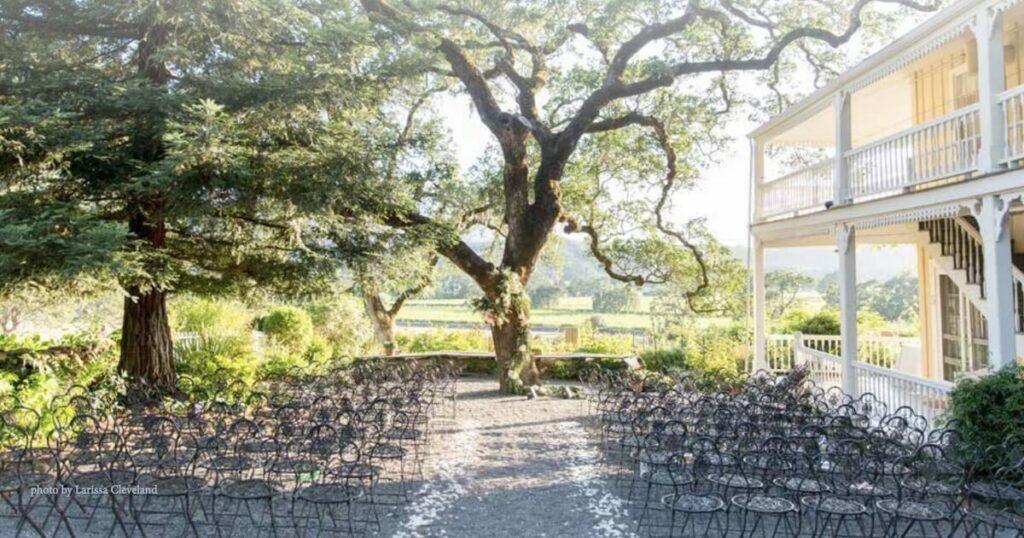 One of the most whimsical outdoor wedding venues, Beltane Ranch is located on 100 acres in Sonoma wine country and dates back to 1892. The home at the center of the ranch makes you feel like you've been transported to a bygone era, which includes wooden confection with delicate lathed railings, Victorian-style wood trim, and grand verandas decked out with wicker furniture. And, of course, the garden at the front of the home is encircled by a white picket fence.
The land surrounding the home includes two lawns for ceremonies, vineyards, charming stone walls, vibrant flower beds, and towering oak trees. One of the ceremony lawns also includes a stage for a DJ and a canopy of twinkle lights.
When it comes to food, the in-house catering service is sure to impress. The chef designs custom menus that include organic produce grown on the land and provides spot-on wine pairings.
Typical Cost: 2-wedding weekend package starts at $20,000; intimate wedding package ranges from $2,500 – $8,000
Capacity: 50
Bonus: You can enjoy a laidback rehearsal dinner in the horse barn.
Find Beltane Ranch on Facebook and Instagram.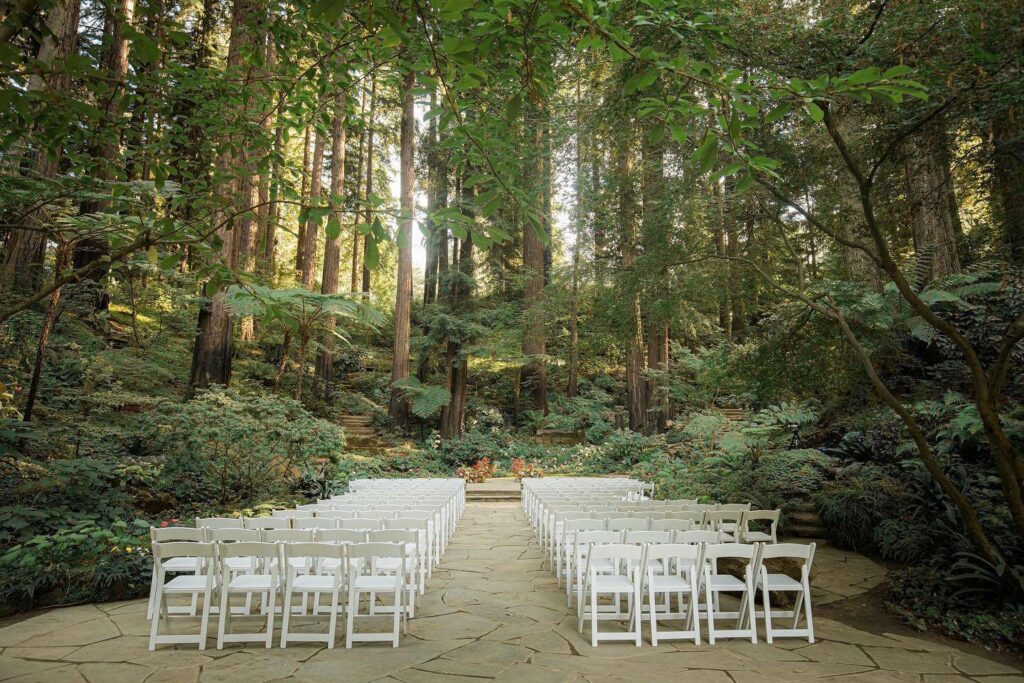 Located in Los Gatos among 36 acres of California redwoods and gardens, Nestldown provides a spellbinding environment to tie the knot. Most couples select the lakeside amphitheater, surrounded by redwoods, or the outdoor chapel, accessible by an earth-and-wood staircase that winds down a forested hillside, for their ceremony. The chapel is paved with flagstones, bordered by trees and ferns, and features a wisteria-covered pergola.
Receptions take place in The Barn, a structure made of glass of fir that has a steep-pitched ceiling and slender, wooden columns. This impressive structure is flanked by gardens overflowing with geraniums, red-hot salvias, alyssum, candytufts, begonias, violas, irises, and calla lilies. There's also a large koi pond lined with willows and birch.
This is the venue for you if you want your big day to be graced by the majesty of nature.
Typical Cost: $9,500 – $28,000
Capacity: November to mid-May is 125 base, 150 max; mid-May – late-October is 150 base, 200 max
Bonus: The lush gardens, two large ponds, and waterfalls create fantasy-esque backdrops for your wedding photos.
Find Nestldown on Facebook and Instagram.
The Brazilian Room, located just north of Oakland in Berkeley's Tilden Park, offers striking environments indoors and outdoors. The venue is located in a 2,077-acre park, which includes hiking trails, creeks, mineral springs, and sylvan meadows.
But the glen, where the venue is situated, is one of the most captivating areas of the park. It's dotted with pine, oak, and eucalyptus and wows with a large flagstone patio that offers dramatic views of a sloping lawn and the surrounding hillsides. Because of this majestic backdrop, most couples host their ceremony on the patio.
When it's time to eat, drink, and dance, the celebration moves into the Old English-style building that includes floor-to-ceiling leaded-glass windows looking out on the forest, dark wooden beams on the ceiling, a polished wood floor, a stone fireplace, and original Brazilian wood paneling.
Typical Cost: $560 – $5,538
Capacity: 150
Bonus: You'll be celebrating your wedding within a piece of history. In 1939, at the Golden Gate International Exposition on Treasure Island, the country of Brazil gifted the venue to the East Bay Regional Park District. The structure was moved to Tilden Park after the exposition.
Find Brazilian Room on Facebook, Instagram, and Twitter.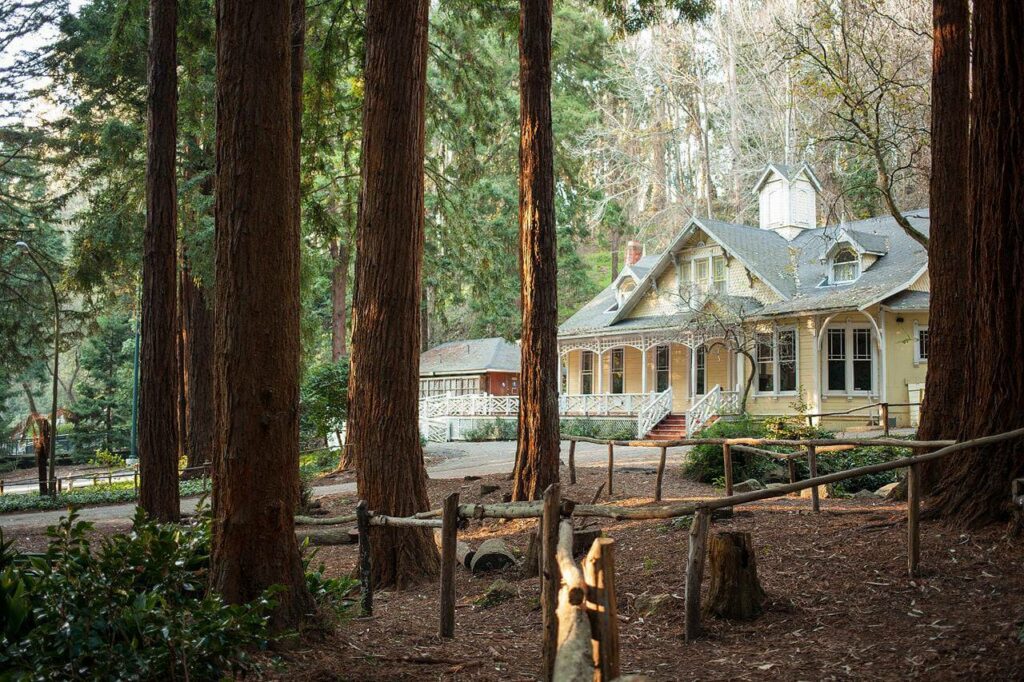 Located in the stunning Sigmund Stern Recreation Grove, Trocadero Clubhouse provides a redwood grove where you can say "I do" and a charming clubhouse to host your reception. The clubhouse includes a large grand room with a usable fireplace, a saloon room, an industrial kitchen, and an upstairs room for getting ready.
You can also host your reception outdoors under the towering redwoods or a large meadow with picnic tables and grills. And if you want unforgettable photos, meander down the woodsy paths that take you past a pond.
Note that this venue is unavailable on Halloween, Thanksgiving, Christmas Eve, Christmas, New Year's Eve, or New Year's Day.
Typical Cost: Fees start around $900 for six hours
Capacity: 120 seated, 140 standing
Bonus: The venue allows you to hire your own vendors and features a catering kitchen in the clubhouse.
Find Trocadero Clubhouse on Facebook, Instagram, and Twitter.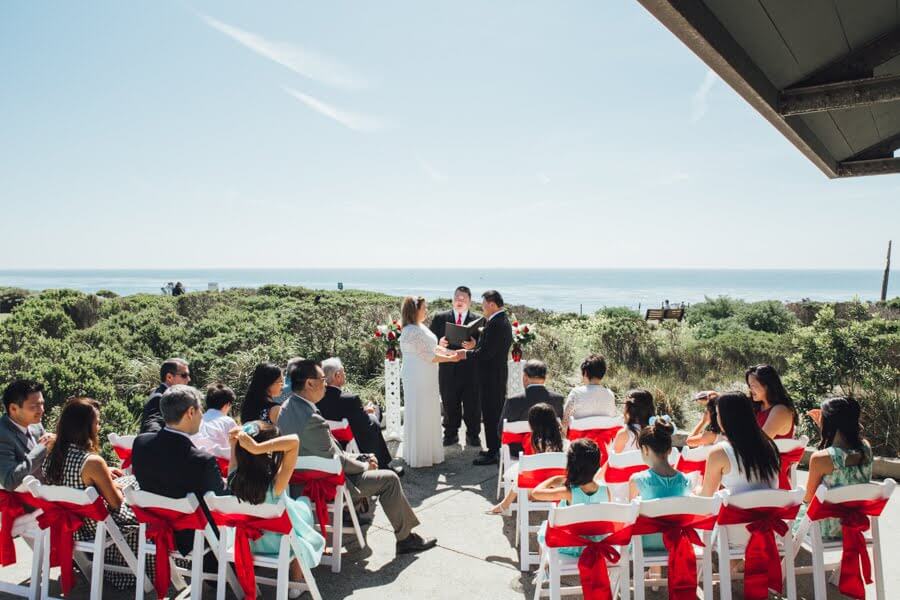 This 100-acre marine science campus is a dream for lovers of the deep blue, as it features the skeleton of a blue whale and sightings of seals, sea lions, southern sea otters, humpback whales, gray whales, dolphins, and porpoises, depending on when you visit. The grounds at Seymour Marine Discovery Center are also home to wildlife like monarch butterflies, snowy egrets, and nesting barn swallows.
The venue's rustic, wood-planked buildings sit on a bluff above the ocean and offer dramatic views of the sea and Santa Cruz coast. If you utilize the Shipwreck Deck for your ceremony, your aisle will be a nature trail that hugs a cliff and is bordered by yarrow, lupine, beach grass, and daisies.
Typical Cost: $3,350
Capacity: 120
Bonus: You and your guests can explore the interactive exhibits and aquarium, getting glimpses into the lives of moon jellies, a monkeyface eel, swell sharks, and an octopus.
Find Seymour Marine Discovery Center on Facebook and Instagram.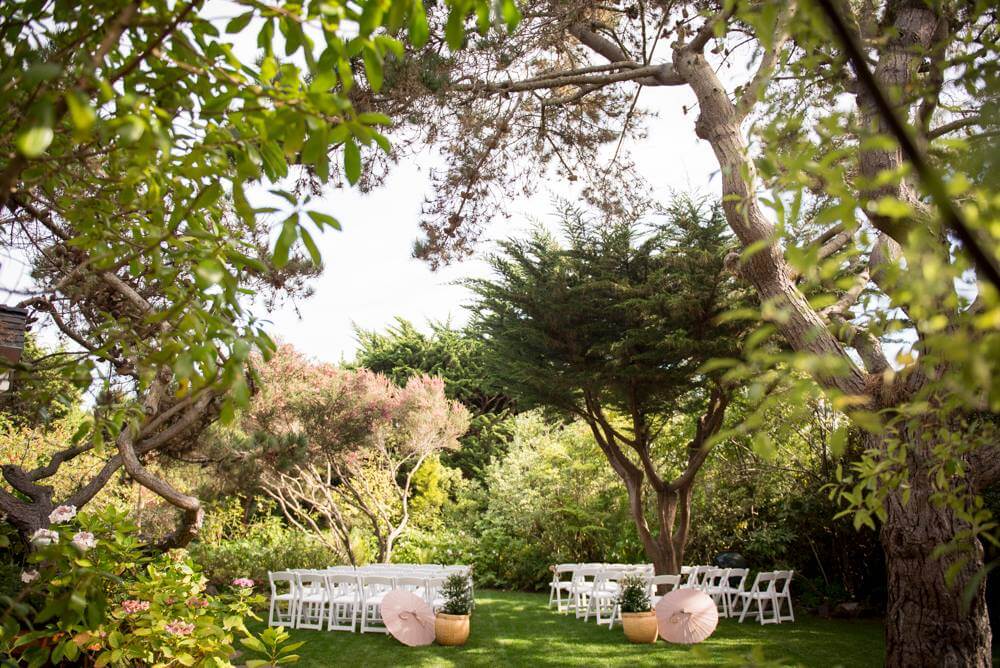 An ethereal Half Moon Bay wedding venue, Hastings House Garden makes you feel like you've stepped into a secret garden replete with a rainbow of flowers. The flowers, which are beautifully mixed with unfettered greenery, open into a grass-covered clearing ideal for an intimate ceremony.
And because the venue is adjacent to the ocean, a pleasant, light wind is almost always winding through the trees. This wind carries the ambrosial scents of the garden and creates a lovely climate, even on balmier days.
This venue is also available for receptions.
Typical Cost: $1,000 – $3,500
Capacity: 100
Bonus: Your vows will be set to the soothing soundtrack of crashing waves.
Find Hastings House Garden on Facebook.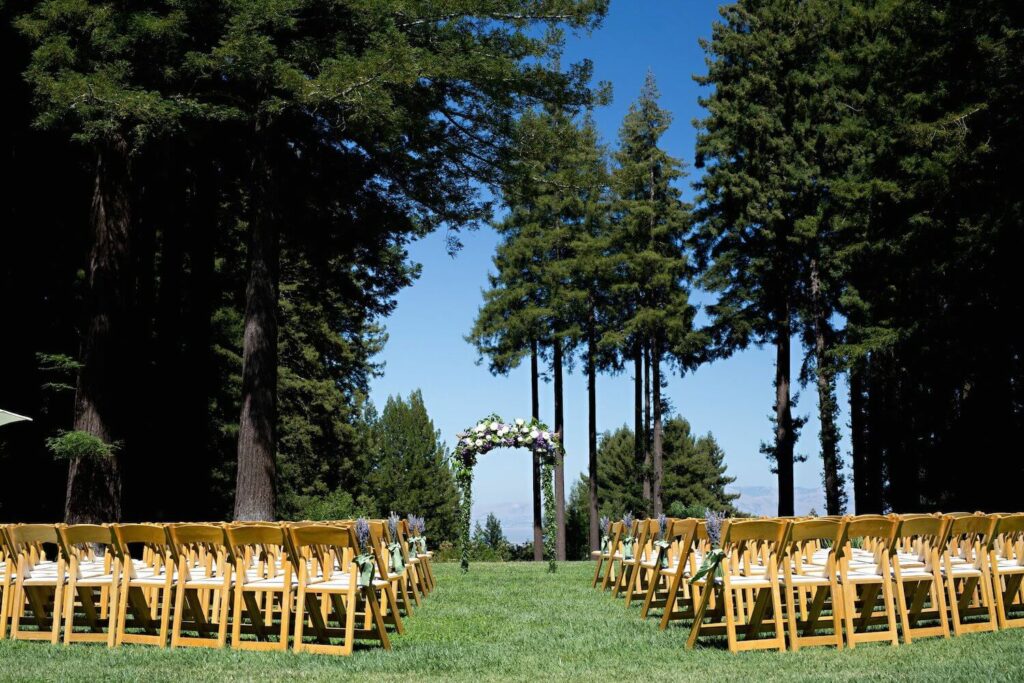 A rustic wonderland venue, The Mountain Terrace is situated among redwood groves in the quaint town of Woodside. The expansive lawn dissolves into a wall of redwood and oak trees, which allow the sun to filter through and create a gold hue around the trees. And at the edge of the lawn, you're treated to broad views of the southern portion of the San Francisco Bay to the Fremont hills.
You can host both your ceremony and reception on the lawn, but you can even have a reception on the venue's redwood deck that glows under market lights. The patio also includes a cozy tree swing and fire pit.
As another option, you can utilize the indoor dining room and dance area that impresses with a fireplace and an antique oak bar adorned with Doric columns and backed by a three-part mirror.
Typical Cost: $3,000 – $8,500
Capacity: 120
Bonus: The venue provides discounts for many of the most stunning local hotels.
Find The Mountain Terrace on Facebook and Instagram.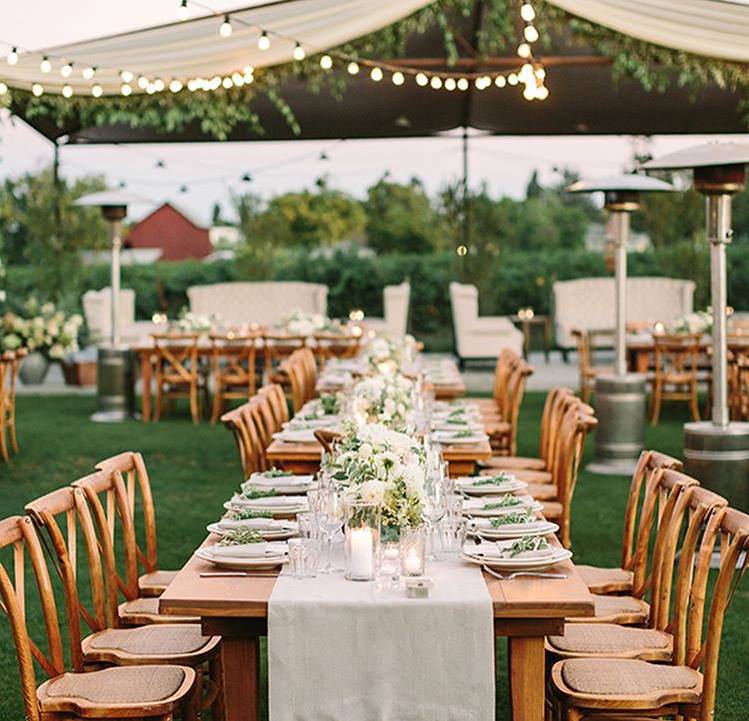 Set in the rolling hills northeast of Santa Rosa, the picturesque Farmstead at Longmeadow Ranch offers the ideal location for a rustic-chic wedding. This bucolic Napa Valley wedding venue provides a mix of indoor and outdoor event spaces, making it an ideal option for an affordable wine country wedding any time of year. The venue's most popular event spaces include the vineyard and garden settings, like the Pergola, Apple Meadow, Walnut Tree, and Lawn.
The Barn is the choice for an indoor wedding reception, as it features an open layout and sweeping views of the vineyard. You can also enjoy your reception under the star on the lawn, offering special touches like a covered patio, stage, smoker, and live fire pit. The exquisite farm-to-table dishes, made with ingredients from the onsite edible garden, also add to the charm.
This is the wedding venue for you if you're craving laidback vibes with a splash of elegance.
Typical Cost: Starts at $8,000 for ceremony and reception
Capacity: 300
Bonus: The venue's onsite wedding planners tailor wedding packages to match your unique needs, budget, style, and personality.
Find Farmstead at Longmeadow Ranch on Facebook, Instagram, and Twitter.
Up Next: