The captivating diversity of Edinburgh, Scotland — from its medieval Old Town and sophisticated New Town to its walled gardens and neoclassical buildings — is emulated in the city's impressive offering of unique wedding venues. And while the Scottish capital provides plenty of spaces for large weddings, many of the castles, manors, country houses, and boutique hotels are dream venues for small weddings.
If you're hoping to tie the knot in an intimate environment that makes you feel like you've traveled back to the days of yore, Edinburgh should be at the top of your list. Here are 5 small wedding venues in Edinburgh that are as extraordinary as they are historic.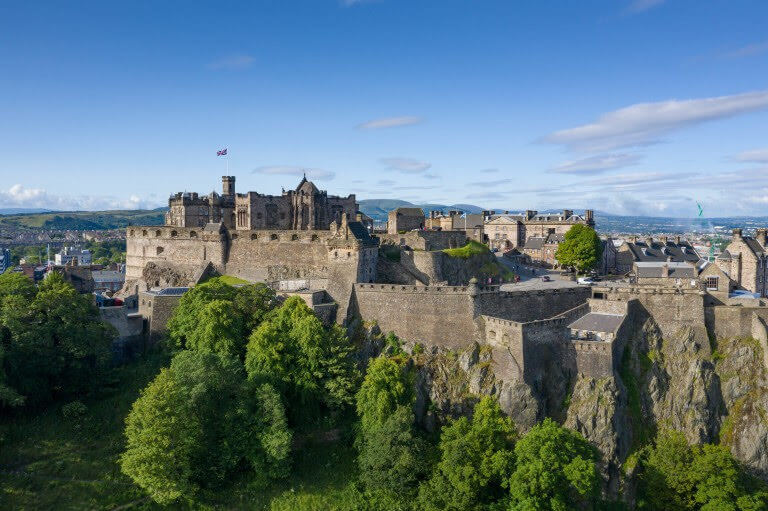 The most classic location to have an intimate wedding in Scotland, Edinburgh Castle is a masterpiece of Pre-Victorian architecture that has been in existence since the Iron Age. The fortress was the site where Mary, Queen of Scots gave birth to her son James, home to James IV and Margaret Tudor, and housed Queen Margaret who was later made a saint.
One of the most popular wedding ceremony sites is St Margaret's Chapel that was built by David I around 1130 for use by the royal family. It's Edinburgh's oldest building and an exceptional place to say "I do." Another stunning ceremony location is the Gatehouse Suite that has a wood-paneled room at the top of a spiral staircase.
Couples and guests can enjoy an evening reception in the Jacobite Room, offering modern interiors, high ceilings, and a dramatic view of the Firth of Forth. You can also hold a wedding reception in the Queen Anne Building, located in the center of the castle and featuring an indoor courtyard.
Exuding sophistication with stained glass windows, courtyards, mysterious staircases, and terraces that offer breathtaking views of Edinburgh, this is a small wedding venue for the couple wanting a quintessential Scottish wedding.
Typical Cost: $1,500 – $4,600 for rental fee; $155/per person
Capacity: 120
Bonus: You can arrange a private viewing of Britain's oldest Crown Jewels for your wedding guests.
Find Edinburgh Castle on Facebook, Instagram, and Twitter.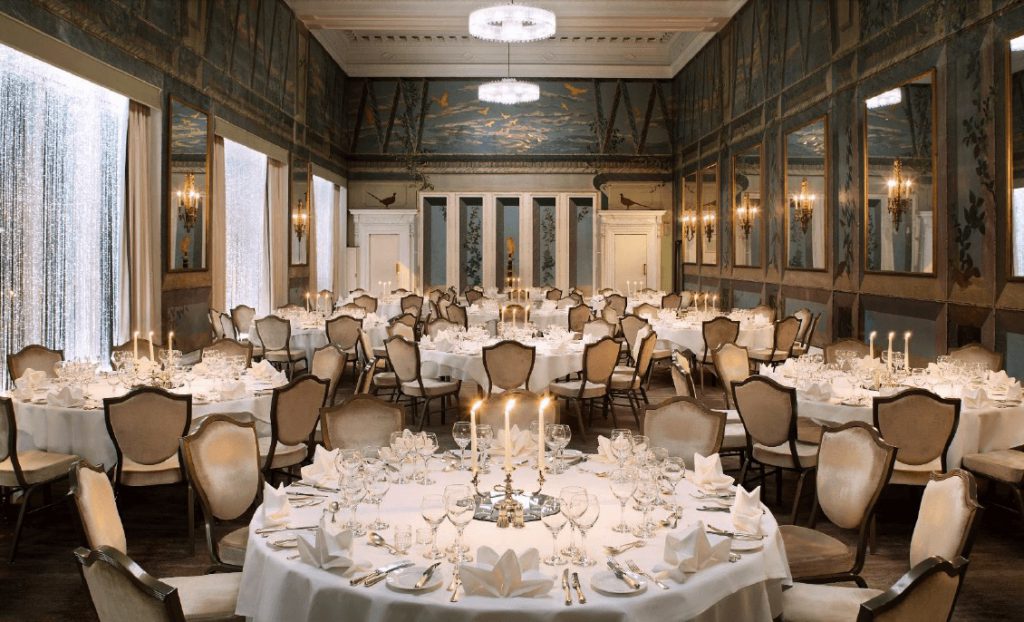 A supremely luxurious hotel, Waldorf Astoria Edinburgh – The Caledonian dazzles with wildlife frescoes, chandeliers, and neoclassical murals. One of the most stunning event spaces is the Castle Suite that has 24-foot ceilings, one-of-a-kind chandeliers, frescos featuring golden eagles and Scottish wildlife, and spellbinding views of Edinburgh Castle.
A perfect setting for a small, yet grand, reception is the Versailles Suite that has hand-painted neoclassical murals and contemporary lighting fixtures. All receptions are highlighted by custom dishes dreamed up by the hotel's world-class Head Chef.
Round out the wedding celebration by pampering your wedding party with treatments in the Guerlain Spa and honeymooning in one of the luxurious suites that offer panoramic views of Edinburgh.
Typical Cost: $620 – $1,100 for ceremony rental; inquire for additional prices
Capacity: 18 – 250
Bonus: You can achieve captivating photos on the grand staircase of the hotel, featuring the Peacock Alley station clock and original stained glass windows as backdrops on your special day.
Find Waldorf Astoria Edinburgh – The Caledonian on Facebook, Instagram, and Twitter.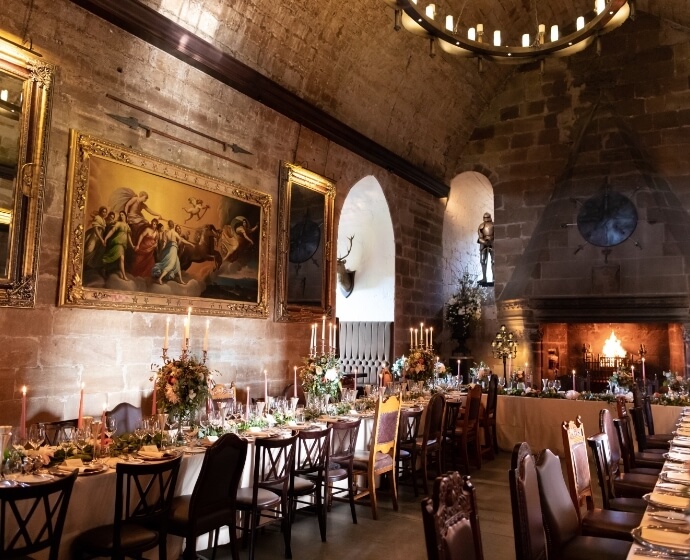 A 15th-century Scottish castle only 30 minutes from Edinburgh Airport, Borthwick Castle is the ideal choice for a small destination wedding, as it offers 12 guest rooms that can accommodate 28 guests.
Throughout its 600-year existence, icons such as Mary, Queen of Scots and the Scottish novelist Sir Walter Scott have inhabited this citadel. Although the castle was recently restored, making it a luxurious 21st-century destination, great care was taken to maintain its authenticity and rich history.
This beautiful wedding venue has three event spaces that offer special features for a quintessential castle wedding. The Garrison is an elegant room with stone-vaulted ceilings and medieval chandeliers, creating a dramatic ambiance for a ceremony. Couples can hold ceremonies and receptions in the Great Hall, a magnificent room with soaring ceilings, mesmerizing lighting fixtures, and a large fireplace. In the warmer months, the Castle Lawn is another option for a celebration set to the backdrop of the Scottish countryside.
Typical Cost: $10,600 – $22,580 for exclusive use of the castle for one – two nights
Capacity: 80
Bonus: The castle has an exceptional in-house caterer that provides delicious meals and bespoke wine and drink selections.
Find Borthwick Castle on Facebook, Instagram, and Twitter.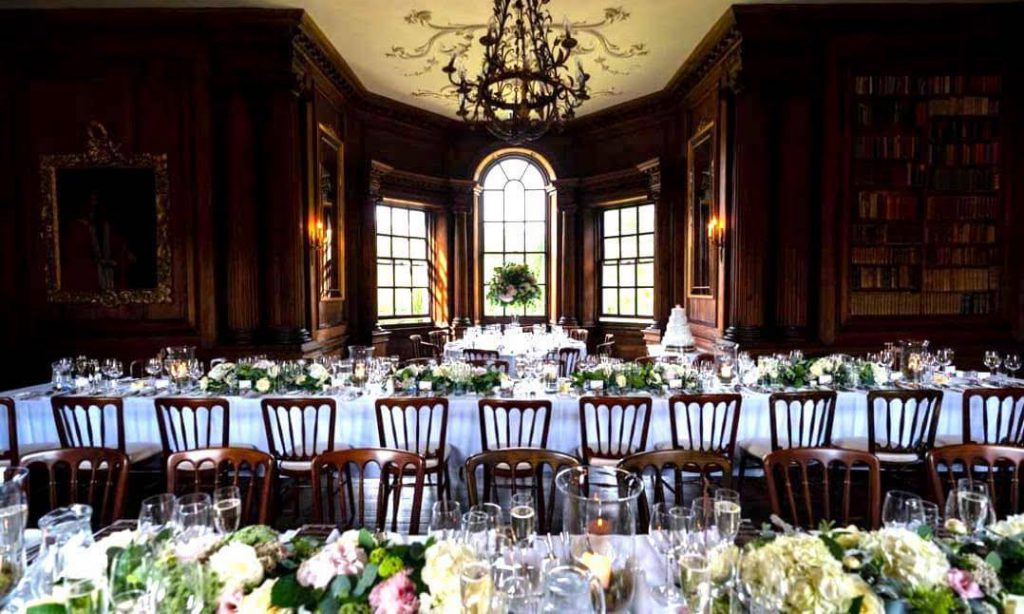 A Georgian manor nestled in the bucolic land outside of Edinburgh, Gilmerton House is a timeless, romantic setting for your big day. Many couples host their ceremony or reception in the property's sprawling gardens that are lined by trees and create a sophisticated effect with manicured shrubbery.
An indoor ceremony, wedding breakfast, or evening reception can be enjoyed in the paneled Music Room that creates a truly unique impact with Rococo elements. Slightly larger celebrations can unfold in the Reception Room or Rose Garden marquee that both exude elegance for which the house is acclaimed.
And the eco-friendliness of the house only adds to its appeal. For the past 35 years, the house has been heated by a biomass boiler that burns tree roots, recycled wood and cardboard, and waste wood from local houses that would otherwise go to landfill.
Typical Cost: Starts at $12,570 for ceremony and reception
Capacity: 150
Bonus: The 10 double bedrooms in the main house, and the three bedrooms in the onsite lodge, come with full butler service.
Find Gilmerton House on Facebook, Instagram, and Twitter.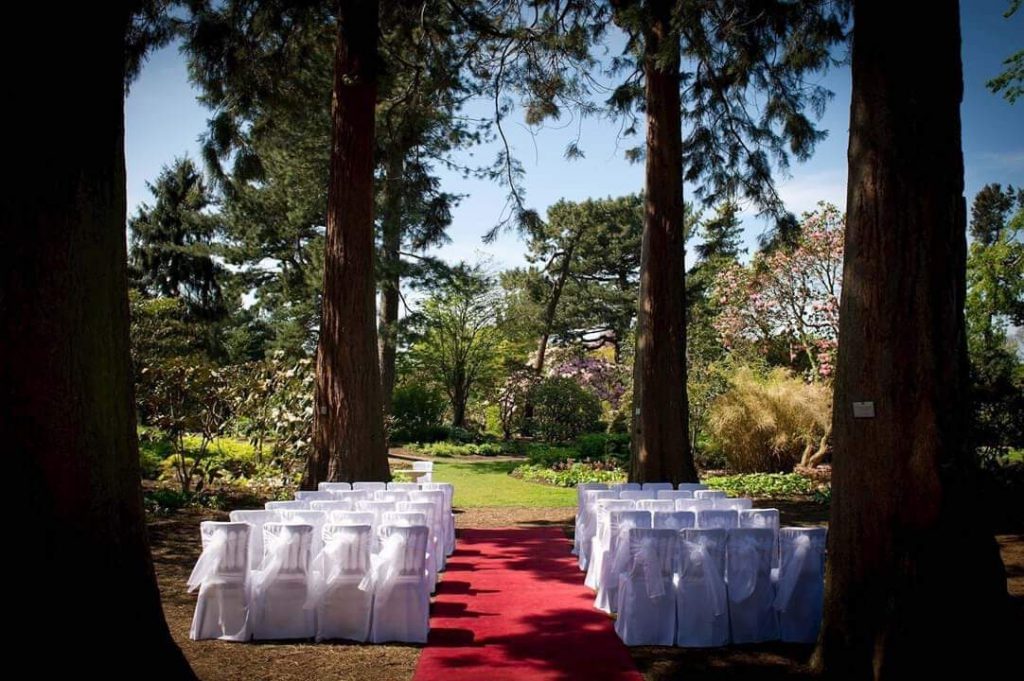 An ideal venue for smaller weddings, Royal Botanic Garden Edinburgh offers a variety of ceremony sites, a stunning reception space, and a number of other perks. For the ceremony, couples can choose from the enchanting John Muir Grove that's encircled by towering California redwood trees or the Pavilion, a permanent marquee with Constantine doors and indoor heating.
Receptions for intimate gatherings are often held in the Caledonian Hall, featuring high ceilings and large windows that fill the room with natural light. It also offers stunning views of the Rock Gardens and waterfalls.
In addition to the event spaces, the wedding package includes centerpieces made with seasonal flowers, sparkling wine, a three-course meal, and staff comprised of a 'master of ceremonies' and wedding coordinator.
Typical Cost: Starts at $8,800
Capacity: 50
Bonus: You have access to all the gardens that offer a wide array of picturesque backdrops on your wedding day.
Find Royal Botanic Garden Edinburgh on Facebook, Instagram, and Twitter.