As with many elements of your wedding, a wedding registry should reflect a couple's interests, lifestyle and values. If you and your future spouse strive to lead a life filled with eco-conscious behaviors, it only makes sense to choose products that will align with that goal. Think sustainably-sourced bedding, cookware made of recycled materials, or composting bins that can divert waste from landfills. You can also create an opportunity for guests to donate to your favorite cause with an environmentally-based charity registry. There's no need to have uneasy feelings about building out your wedding registry to meet your needs or values!
To help you curate a small list of wedding gifts to lower your overall carbon footprint, here's a guide to our favorite registry items for eco-conscious couples. These picks will satisfy your desire to create a more intentional home while encouraging your guests to give thoughtfully in celebration of your big day.
Kitchen and Dining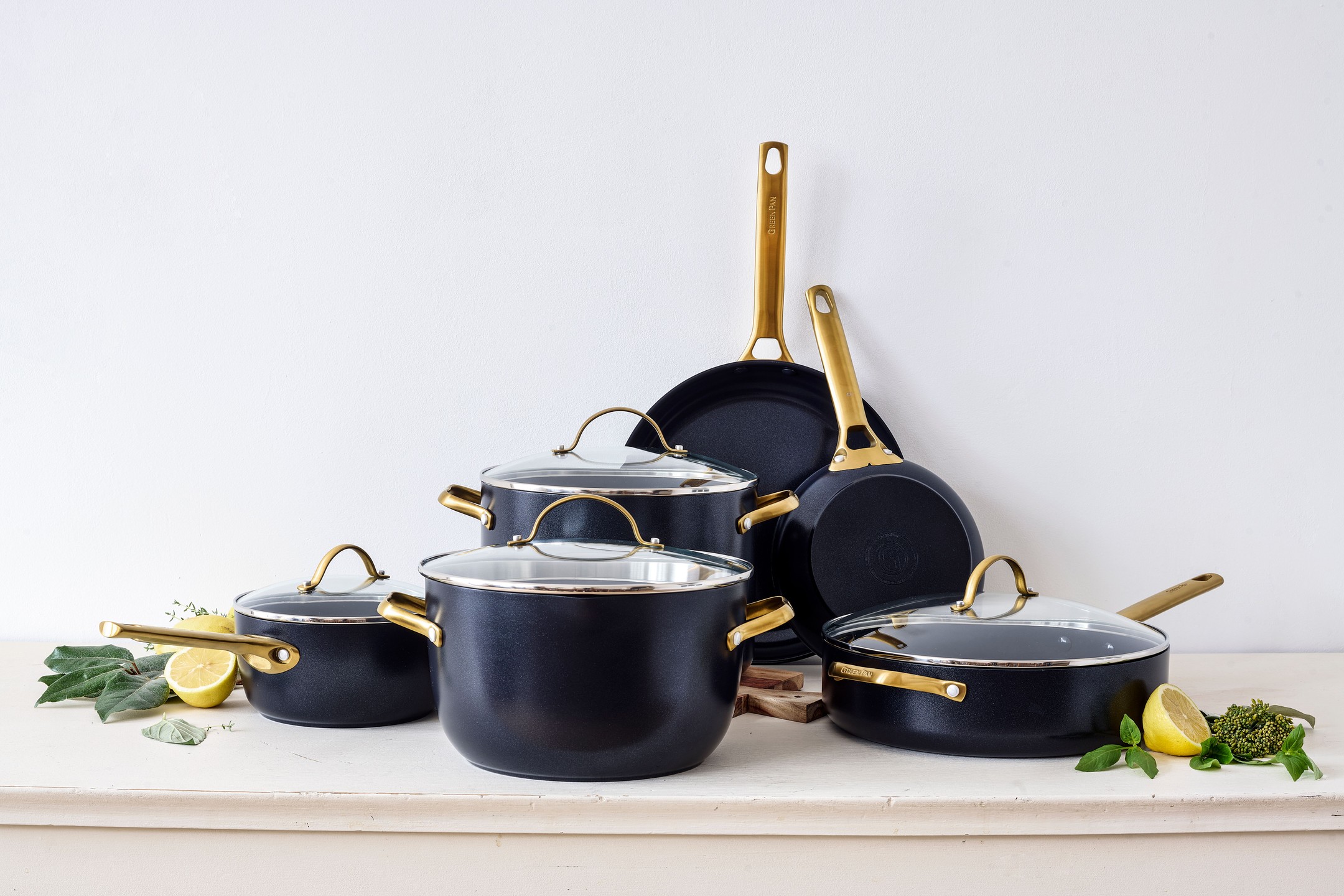 For couples devoted to green eating, this 10-piece cookware set will help you prepare delicious and healthful meals that are good for your body and reduce toxins in your kitchen (and the planet). Great for daily organic scrambled eggs, casual meatless Monday dinners or serving up wild-caught seafood for a dinner party, this cookware set features a ceramic nonstick coating that has superior non-stick capabilities — without chemicals and heavy metals. The set's even heat distribution creates a mess-free release when serving, so there's also less time and resources needed during clean-up.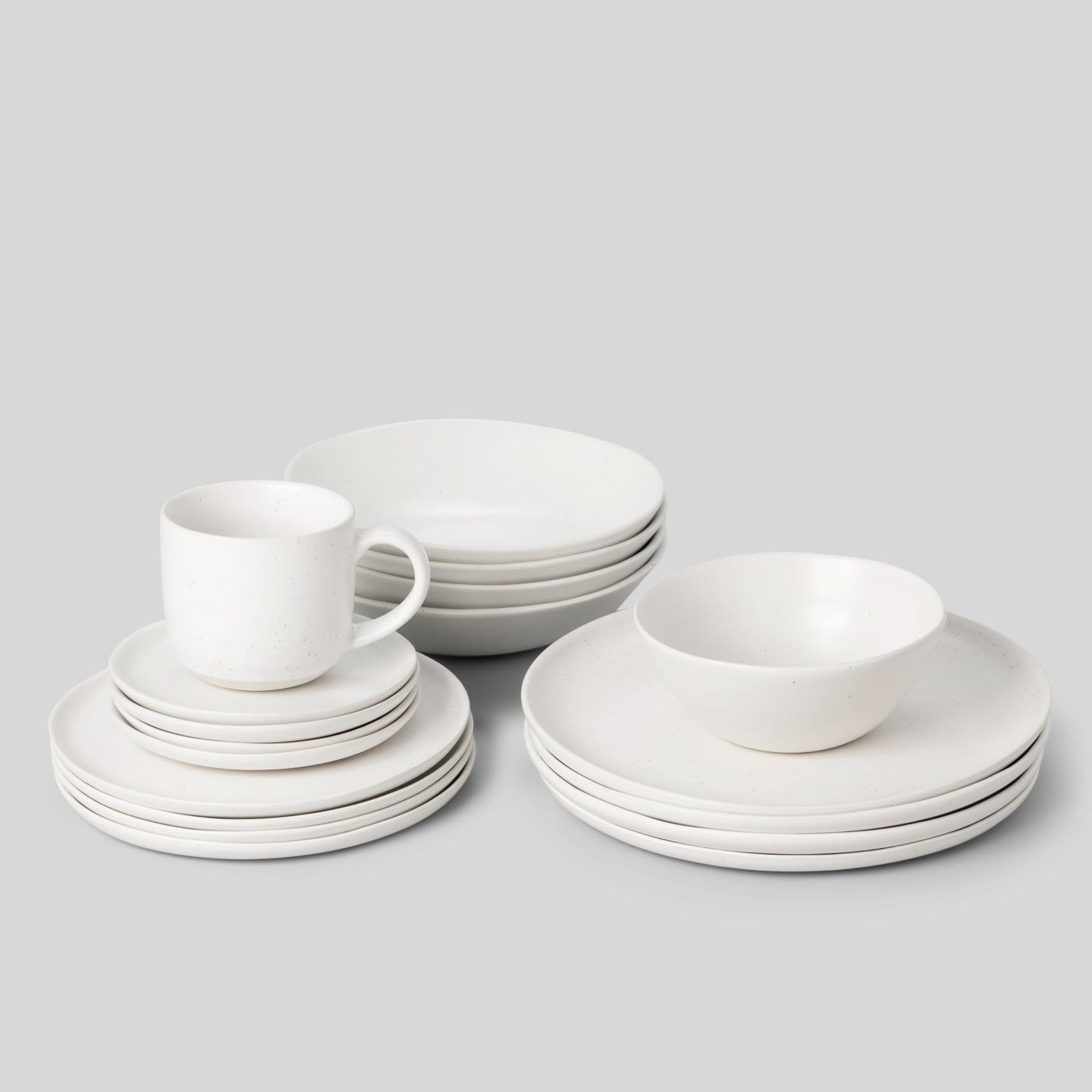 Made from natural material, this ceramic stoneware dinnerware set is the epitome of understated elegance. Ceramic stoneware is highly durable and long-lasting, meaning you won't need another set later down the road. You can use it at the table or in the oven, since the dishes are food-safe and will not release toxins into your locally-sourced meats or veggies. Feel good all around with this set because Fable is a brand that is dedicated to achieving zero-waste production.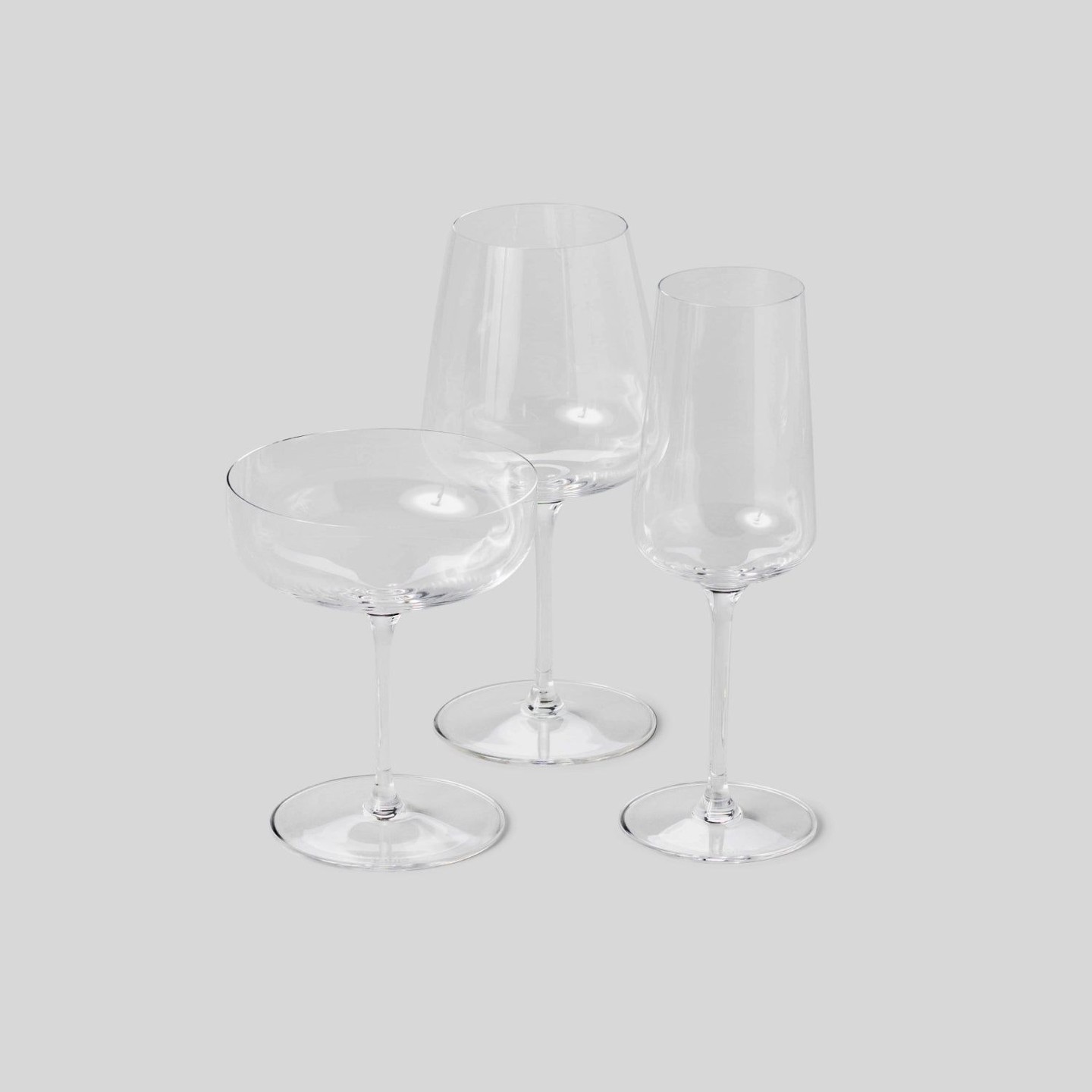 Raise a glass (of sustainable wine!) to glassware that's also full of style and function. Fable produces its stemware from regionally sourced ingredients and strengthens it with a treatment to enhance its shatter resistance — meaning there should be no need to replace a glass if you accidentally elbow it at the dinner table! The set includes four wine glasses, four coupe glasses and four flutes to make it versatile for any celebratory occasion or one-on-one dinner with your loved one.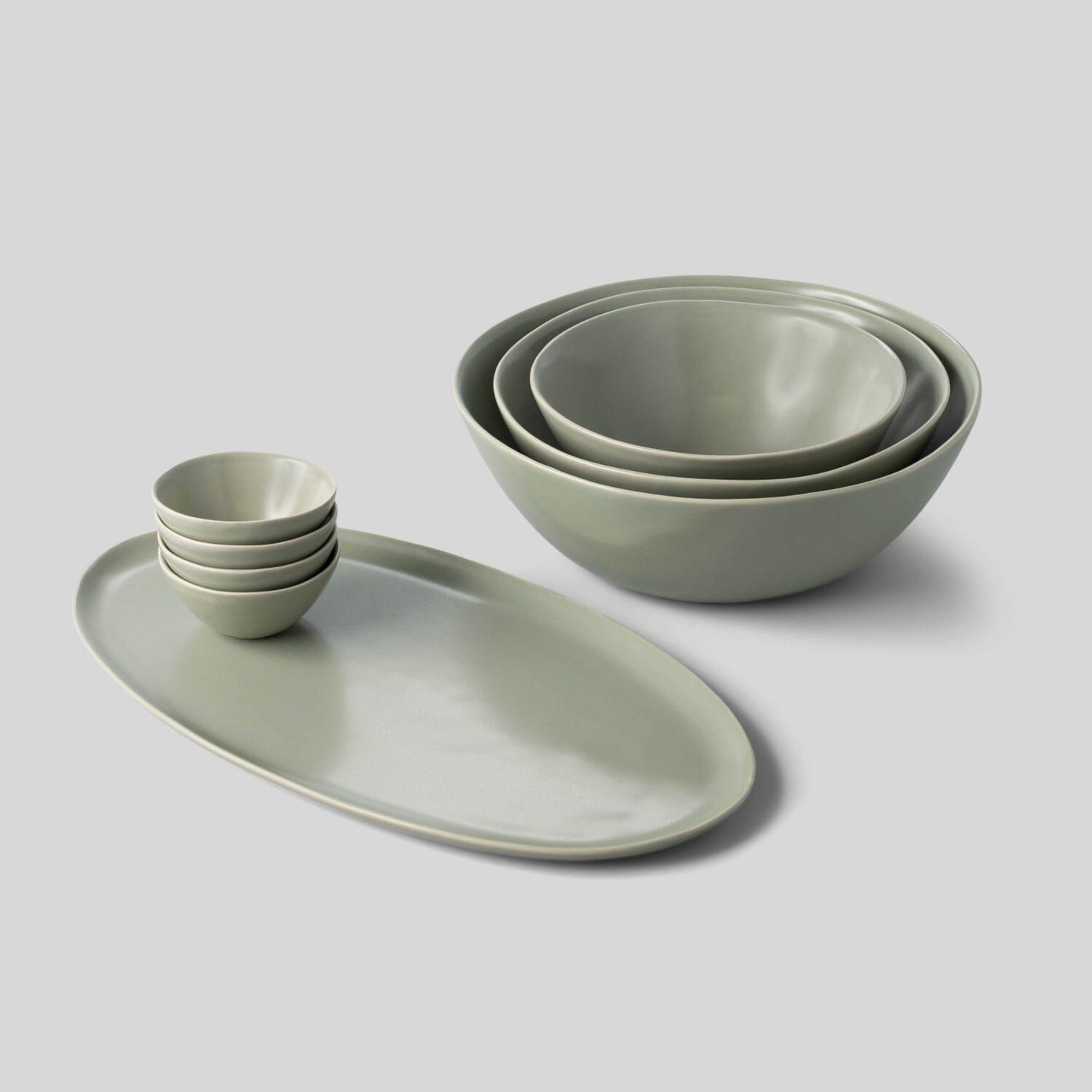 Sourced from Mother Nature herself, the six-piece ceramic serving set creates a beautiful canvas for a masterful meal. Fable produces its ceramics at a zero-waste facility in Portugal, and uses a blend of recycled and locally sourced clay to responsibly craft each piece. Choose from five sleek shades to add an elegant pop of color or contrast to the tablescape. These are sure to have your dinner party guests reaching for more!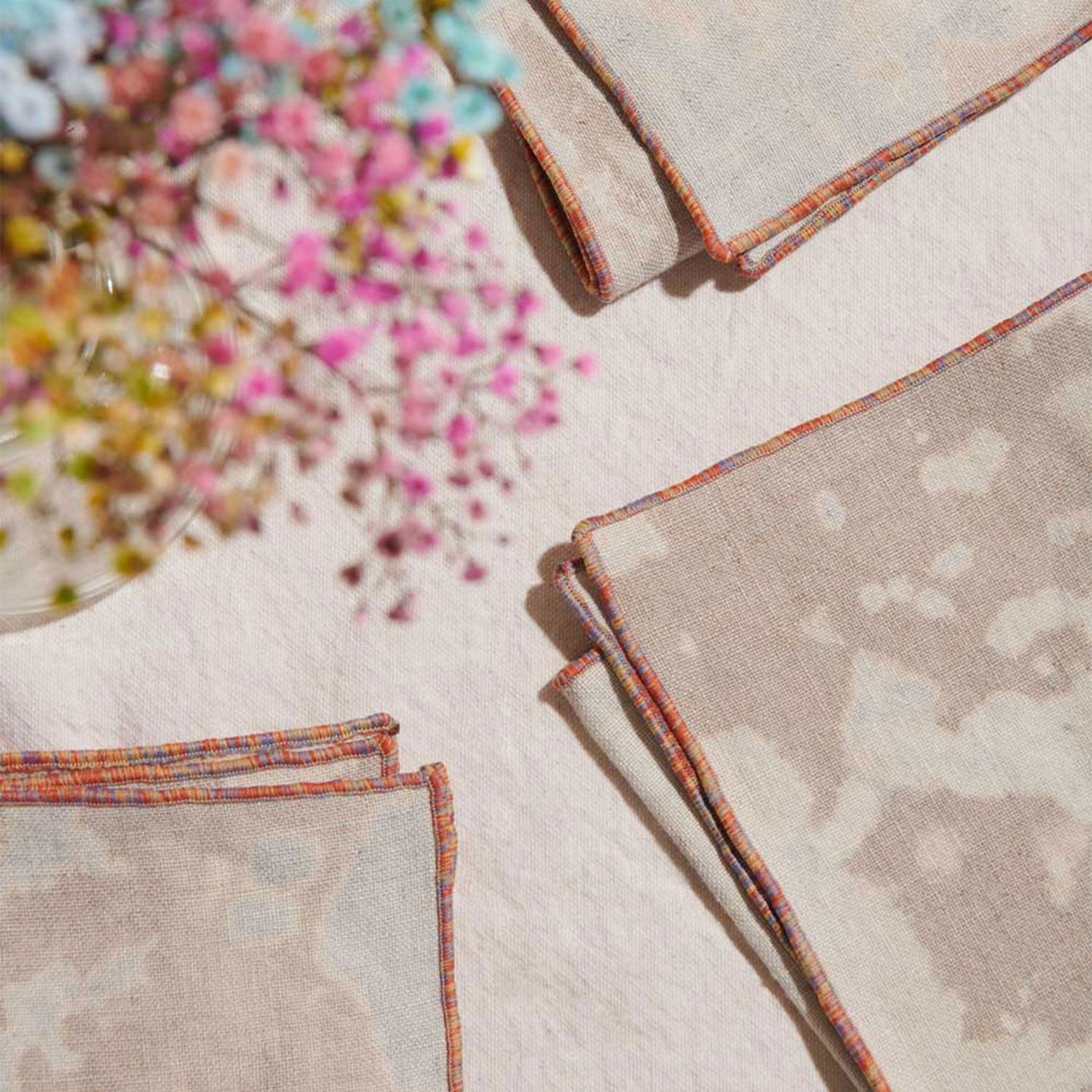 Swapping paper napkins with cloth napkins is a simple move toward creating a waste-free home. Each set contains four napkins made from 100-percent premium reclaimed fabric that would otherwise be discarded as surplus. Plus, they're available in 16 eye-catching, modern colors and designs to dress up the tabletop. While cloth napkins are long associated with special occasions, you can use these as an everyday item — the pre-shrunk fabric is machine-washable and will hold its shape meal after meal.
Cleaning and Organization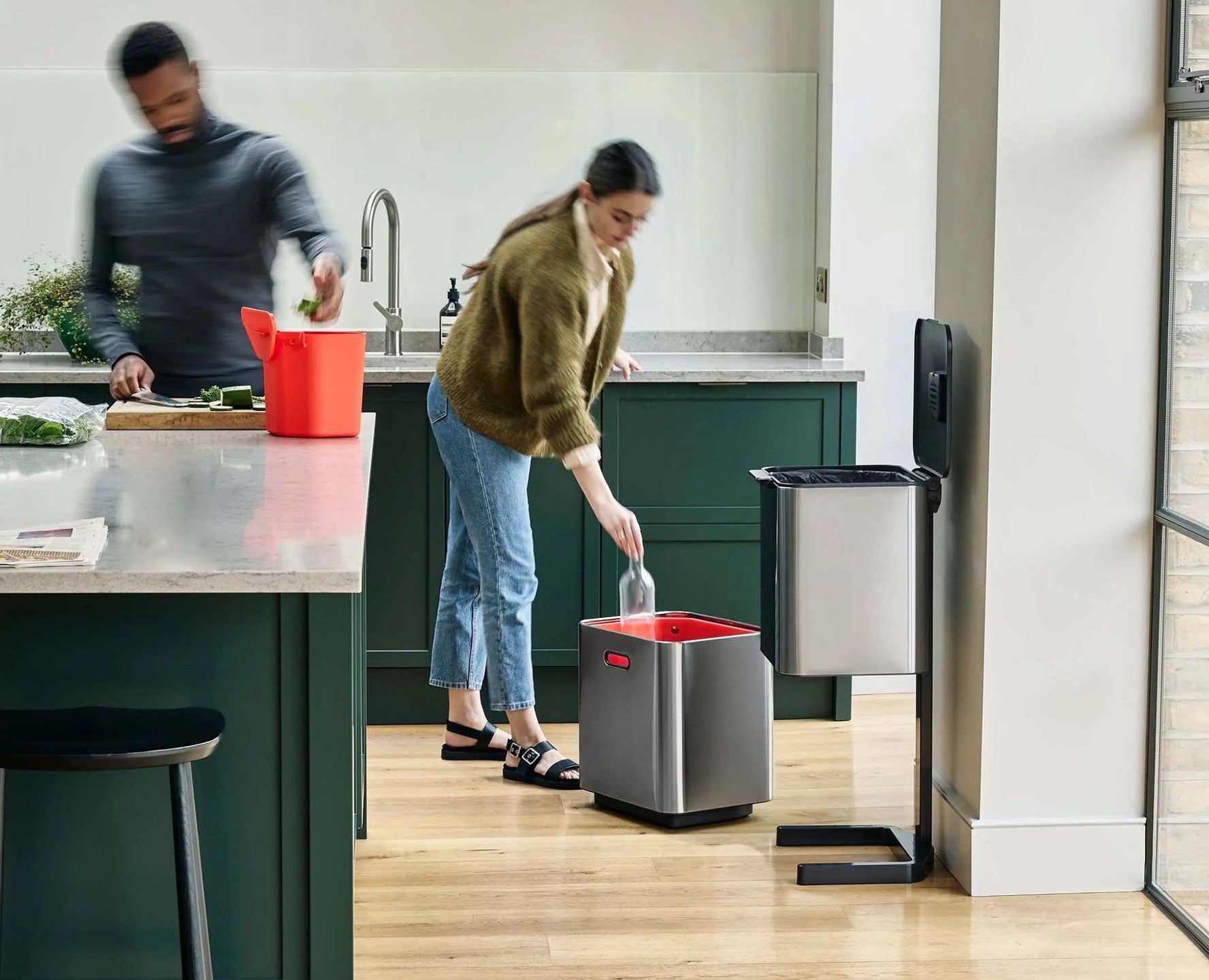 Separating waste and recycling is commonplace. We do it nearly everywhere, from the local coffee shop to the office. With this bin from Joseph Joseph, you can introduce the sustainable practice into your home. As sleek as it is functional, this bin includes a traditional waste basket that sits atop a recycling bin large enough to collect all your glass bottles and plastic containers. Smart features, such as a ventilated odor filter and removable food waste caddy, increase its ease of use and make it effortless for you to live out a greener lifestyle.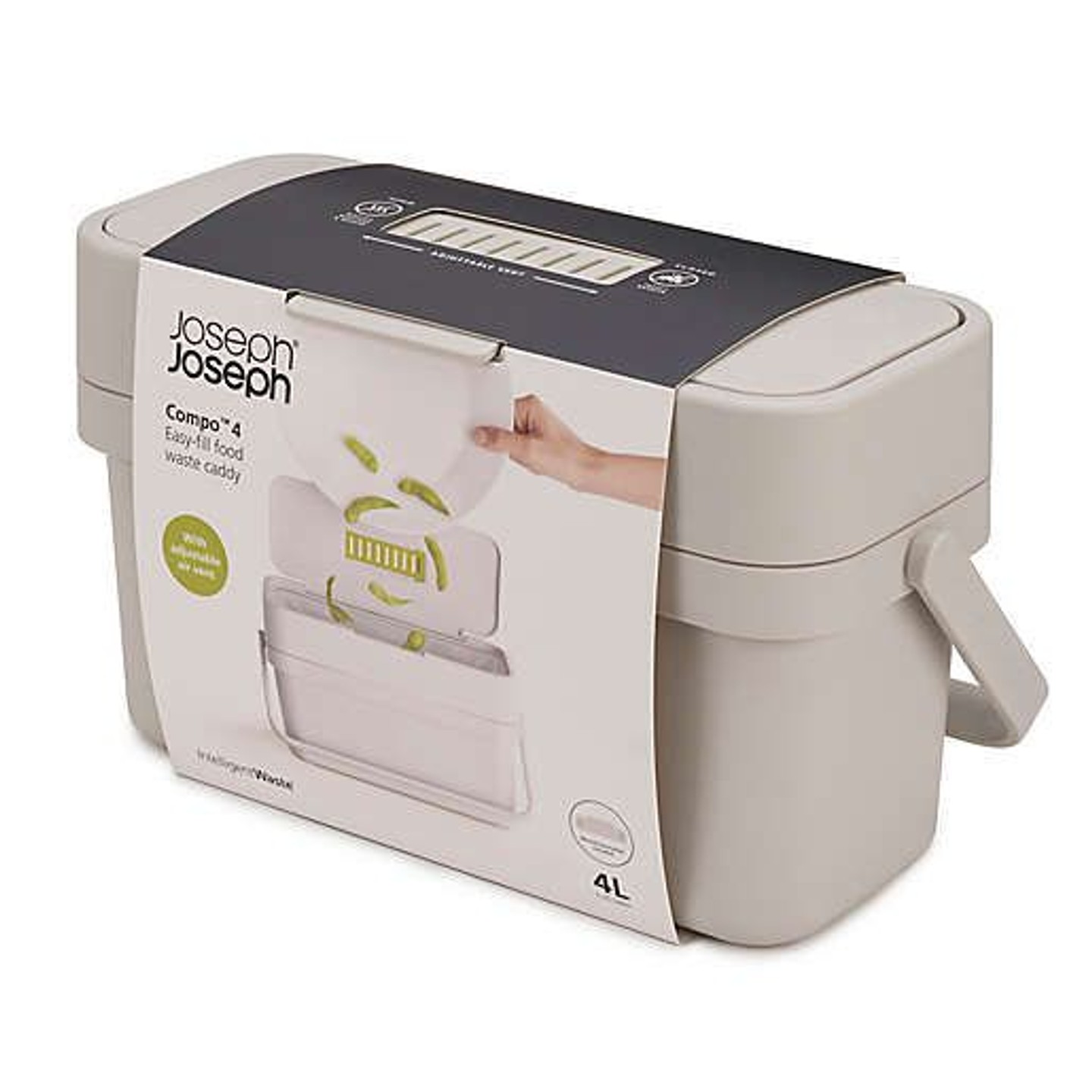 If you and our significant other are foodies or fanciful home chefs, this food waste caddy is a must-have for your kitchen. Collecting food scraps is a straightforward way to lighten your footprint and move toward a zero-waste lifestyle, and this bin from Joseph Joseph makes it so easy. Simply place the slim one-gallon container on your countertop or affix it to a cabinet door for convenient access when discarding onion peels or spent coffee grounds. Its neutral color palette blends seamlessly into any food prep space, and an adjustable air vent limits moisture and odor so your guests won't first notice your composting habit with their nose.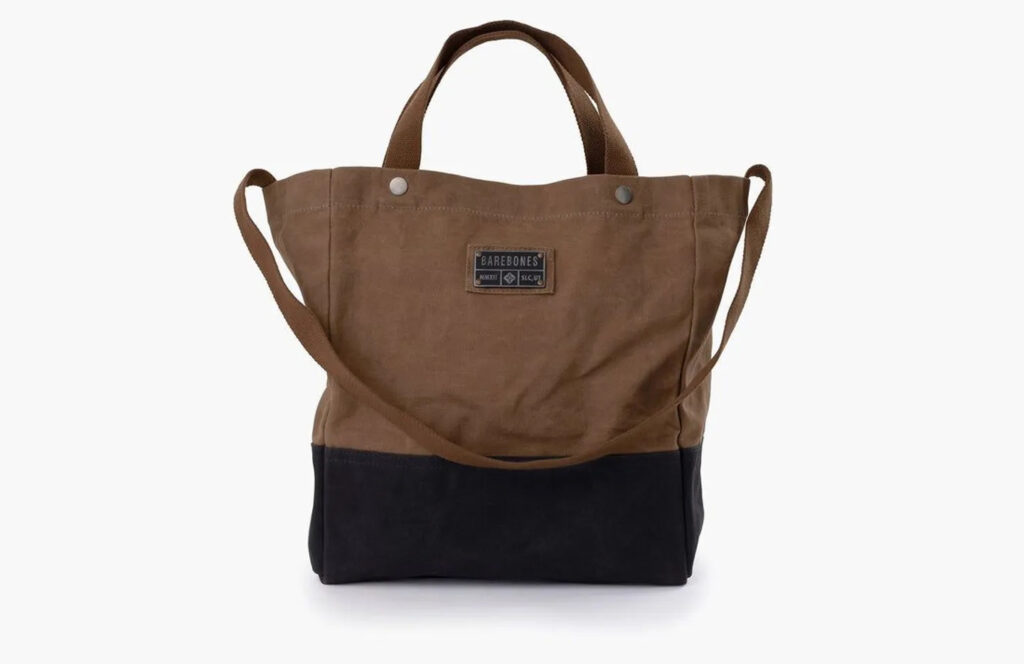 Stash this attractive tote bag in your car for your next trip to the farmers market or while shopping at local boutiques. The practice of bringing your own bag is a great environmentally-friendly alternative to choosing between plastic or paper. This canvas is crafted to withstand everything from large grocery loads to overnight trip essentials thanks in part to its roomy shape, durable cotton straps and metal hardware. A water-resistant waxed exterior keeps your goods dry in the elements, but also lengthens the tote's overall lifespan — this is one tough bag.
Bed and Bath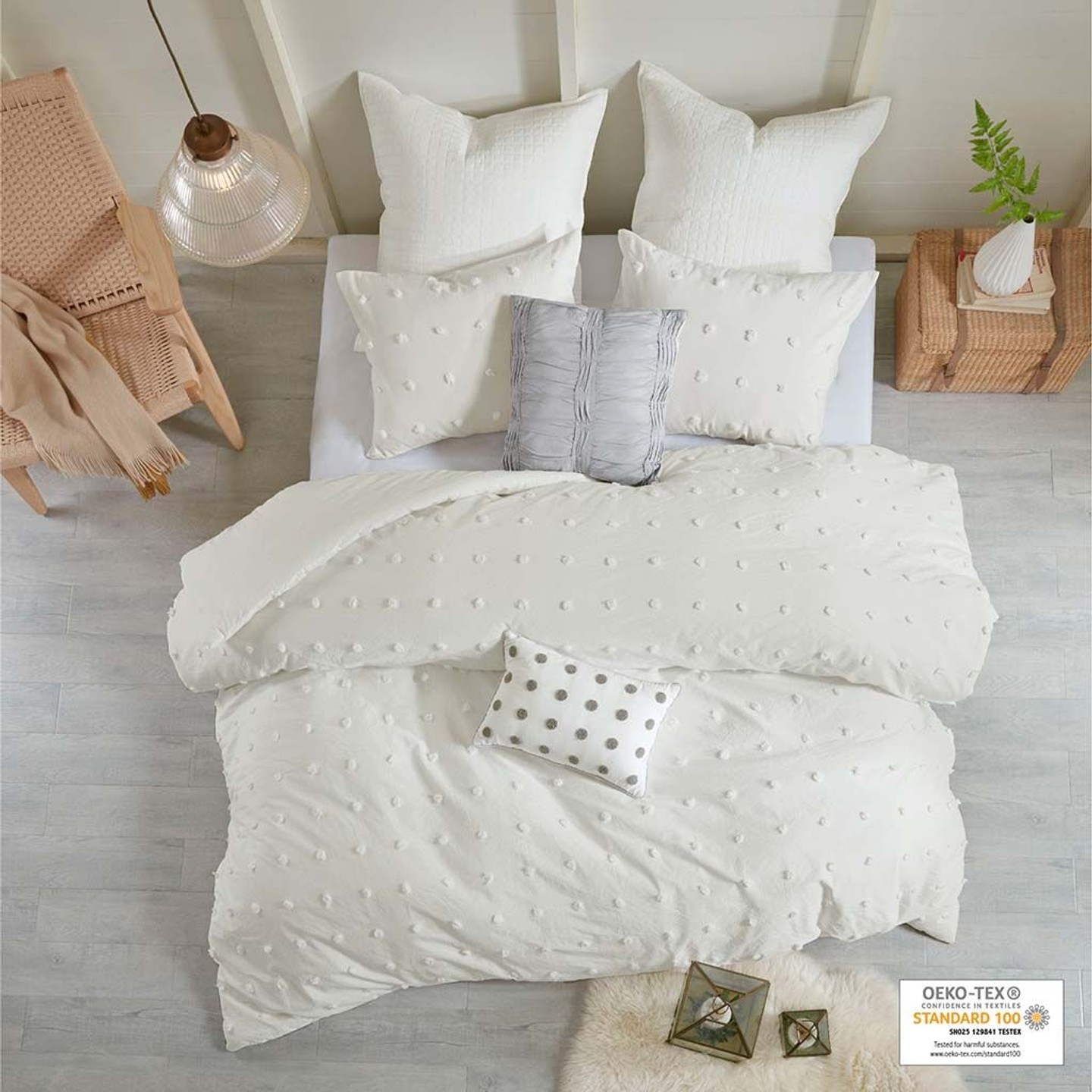 Rest easy knowing your bedding is made from the most common natural fabric: cotton. Compared to synthetic textiles, which are petroleum-based products, this duvet cover is a nice alternative for eco-conscious couples. Since it's made from an extremely durable and long lasting material, you won't need to replace your linens by the time your first wedding anniversary rolls around. However, when it is time for something new, you can feel good about the fact that cotton can be recycled. This set is also OEKO-TEX certified, meaning the set does not contain any harmful substances or chemicals that could leach into your newlywed home.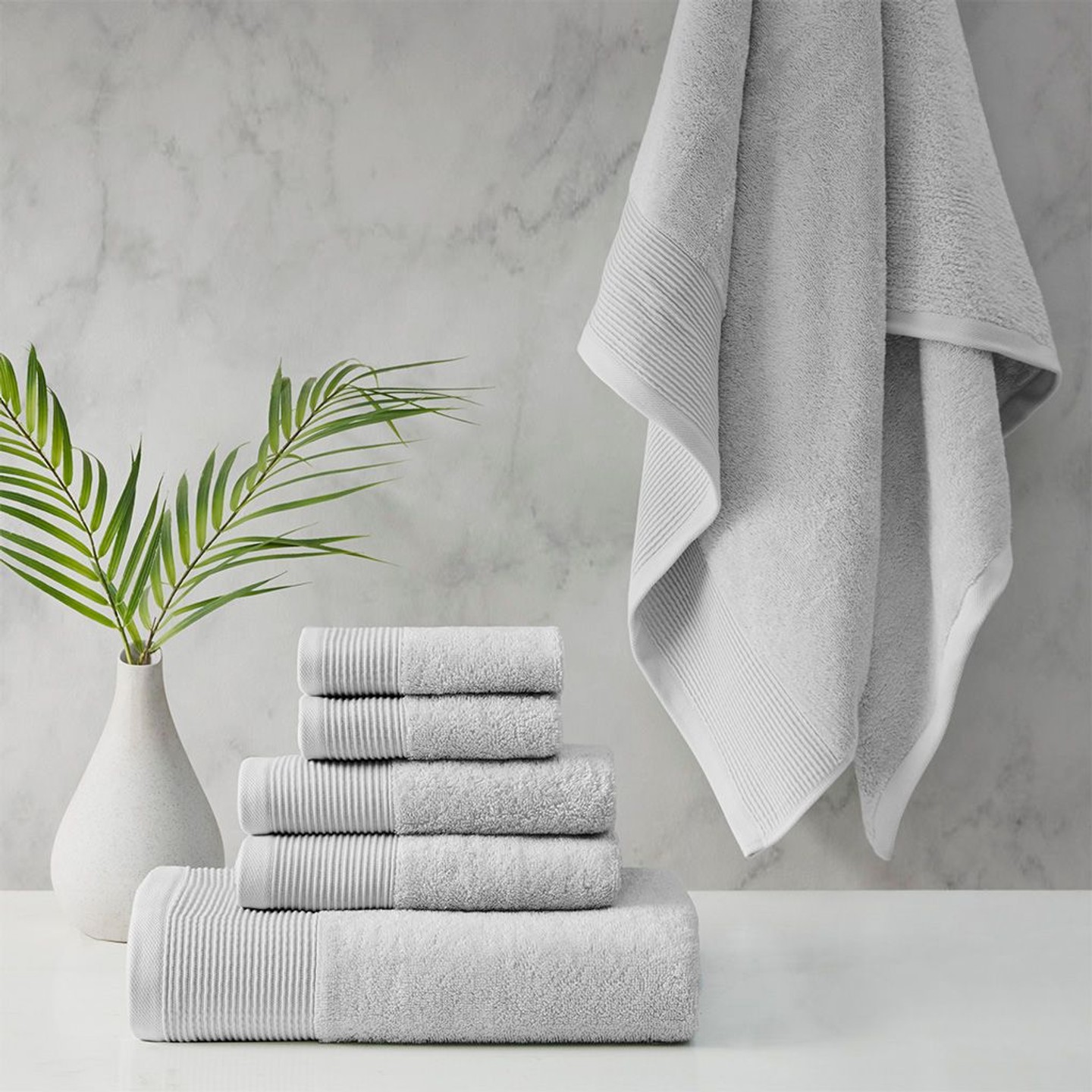 This six-piece towel set is made using Tencel Lyocell cotton fibers, which are derived from sustainably-sourced wood pulp. But don't be leery about comfort, as this textile is still extremely plush and ultra absorbent. Wrap yourself up and enjoy the soft fabric after showering or bathing — we're not going to judge you for hanging out in your bath towel, and chances are neither will your partner. These towels are also OEKO-TEX certified.
Outdoors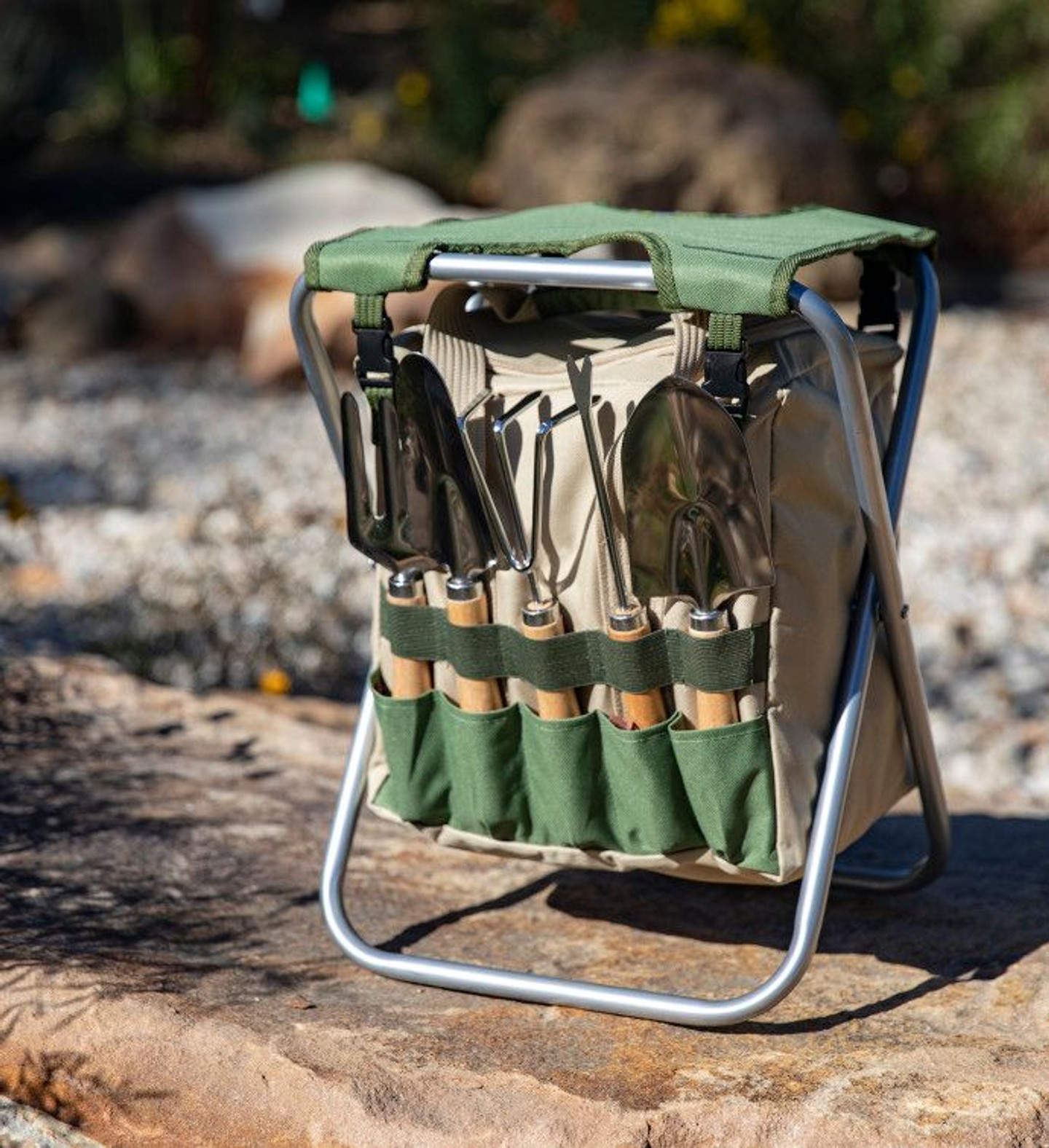 Reconnect with the planet when you use this all-in-one set that includes two trowels, a garden fork, rake and weeder. Whether it's in your own backyard vegetable garden or at a community plot, the multifunctional solution keeps your essential tools within reach, with a folding seat to boot! Use the five-piece tool set while planting and weeding, or take advantage of the comfortable seat while cutting native flowers for a bouquet or harvesting snap peas. You and your future spouse will be growing your own sustainable food source close to home — what's more green than that?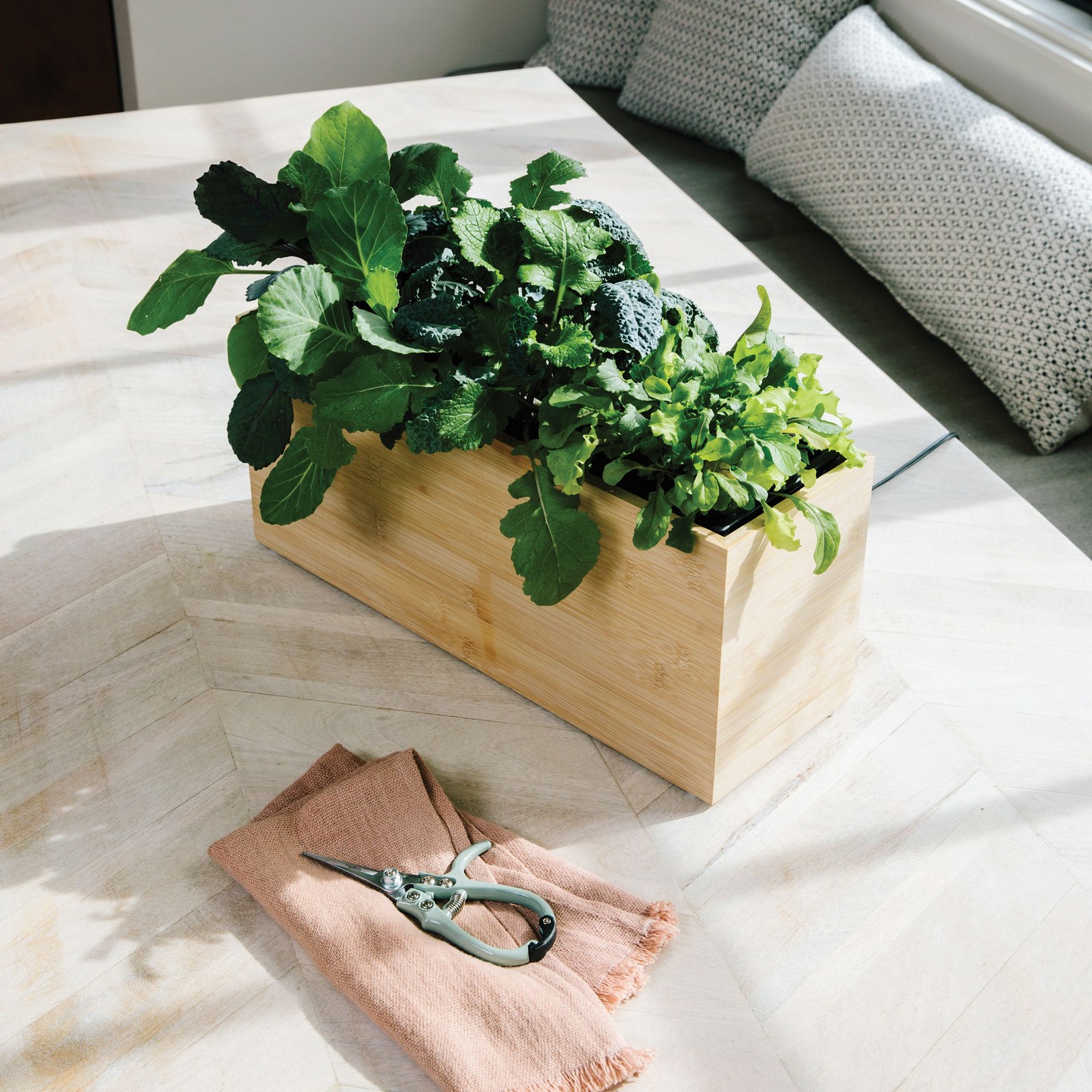 Hoping to reap the physical, mental and environmental benefits of home gardening, but unsure where to begin? Modern Sprout's Smart Hydroplanter is an ideal entry into the hobby. The planter is equipped to support an indoor, organic garden throughout the entire year. No need to follow a specific planting calendar or feel uneasy about purchasing non-local produce out of season –—just grow what you desire at home. The sleek lines of the bamboo planter match any home decor, so you can place it just about anywhere in your home.
See the full selection of items for eco-conscious couples here.
Up Next:
From gifts, to cash funds, experiences or charitable causes, add any gift you want, from any online retailer, to your Joy registry.