Cutting corners on your dream wedding is never something you should have to face. But in a day and age when wedding-related items come with a premium price tag, couples need to get creative.
Jason Buffer, an Event Planner at 230 Fifth, recommends selecting projects that will give you the most bang for your buck such as crafting your own centerpieces and bouquets to avoid surge pricing. "With a little bit of inspiration and creativity, your wallet will be happy you avoided the dreaded 'wedding tax' vendors tend to charge. I can vouch and say that it is not a myth!"
DIY projects are not only budget-friendly, but they're also an intimate way to connect with family and friends during such a sentimental time. Kara McCoy, Lead Designer and Founder of Kara Anne & Co, recommends making a memory out of the experience. "Take a trip to a flower farm with your crew to create your table arrangements, or ask your family to bake cookies to bring for the dessert table."
In 2019, some extreme hacks went viral, but McCoy urges the ambitious DIYer to select projects wisely. "For couples interested in DIY, don't try to do it all!" McCoy advises. "Saving money is great, but you also want to enjoy your wedding and all that leads up to it. Choose your DIY projects carefully—your sanity and time are worth more."
Below, we've rounded up the best decor and DIY hacks of 2019 to kick your wedding planning into gear in 2020.
1. DIYing the Cake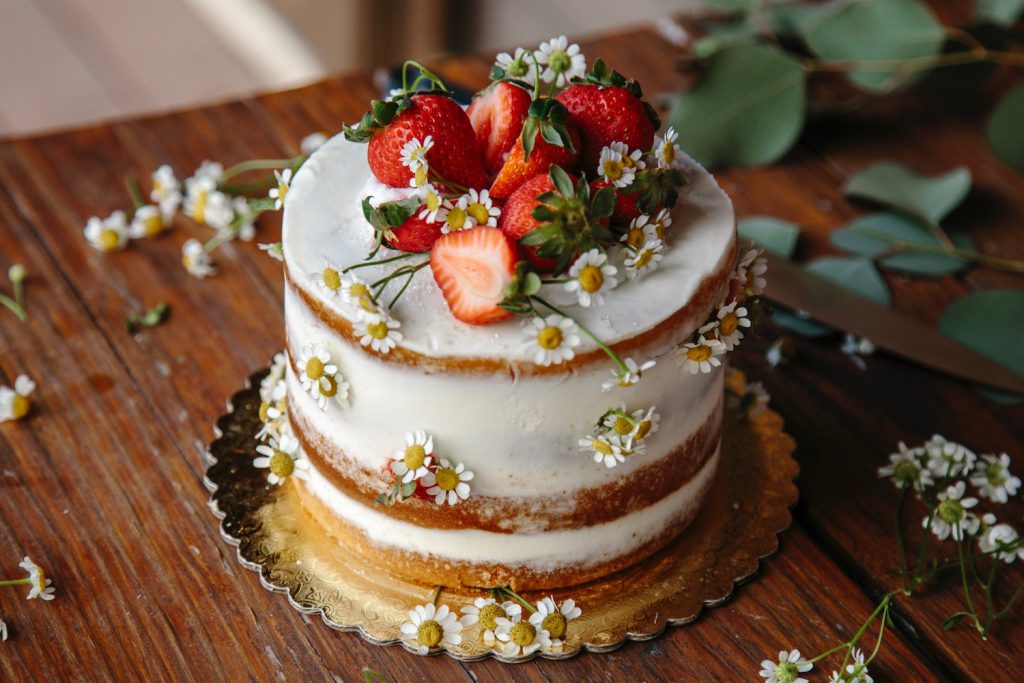 Cakes are one of the biggest wedding expenses, especially if you are planning on a large guest list. On top of the bakery's cost, many times the venue charges a cake cutting and serving fee.
One creative couple decided to take matters into their own hands and craft the ultimate DIY dessert for $50 by using two sheet cakes from Costco and flowers from Trader Joe's, cutting the cost down by hundreds of dollars.
2. Dressing Up Trees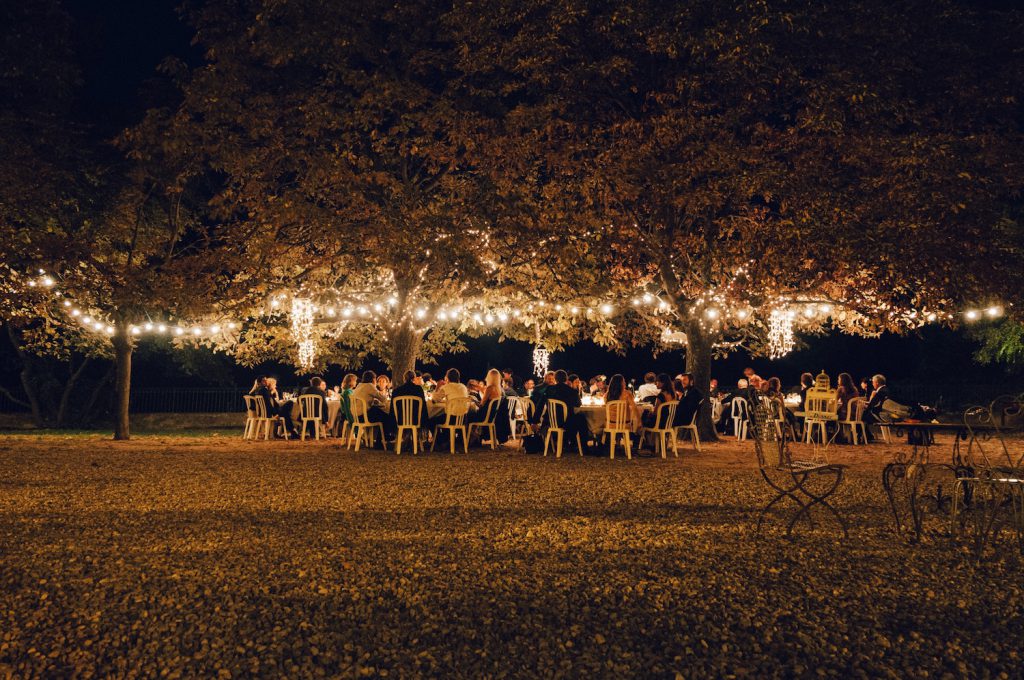 Trees are so underutilized when it comes to outdoor wedding decor. While naturally majestic, they are also the perfect vehicles for a little DIY whimsy (without damaging the trees, of course!).
Elevate the monotone color scheme by adding a pop of color. Simply wrap tree branches with swaths of fabric or ribbon, and allow a small portion to hang untethered to dance in the wind during your ceremony or reception.
Not so into color? Dig out your Christmas lights from the attic and wrap everything from branches to trunk in ambient light. The soft glow will look almost angelic at dusk!
Need more tree dressing inspiration? Check out these tips from Something Turquoise.
3. Using Wood Pallets for Furniture or Signage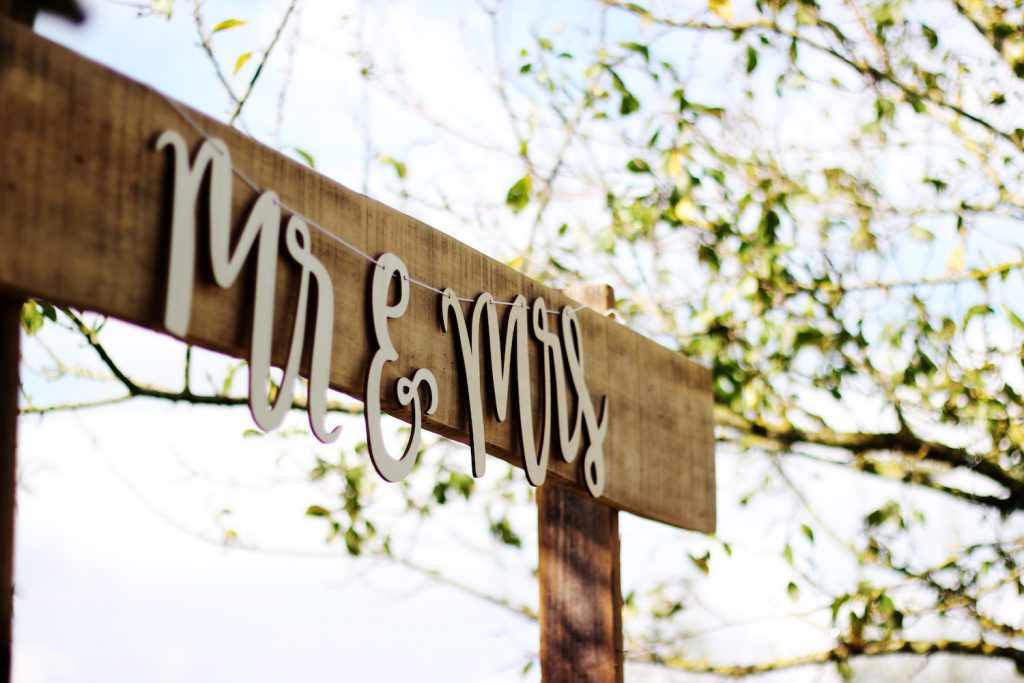 Craft stores are a goldmine of inspiration, but what about street junk? Wood pallets are extremely versatile, many times free, and can be used for everything from furniture to a schedule of events.
Just grab a sheet of sandpaper and a bucket of paint to make some magic. This is an easy (and cheap) way to really get creative, so don't be afraid to mess up! You can always repaint or use the other side as a fresh canvas.
4. Decorating Ceremony Arches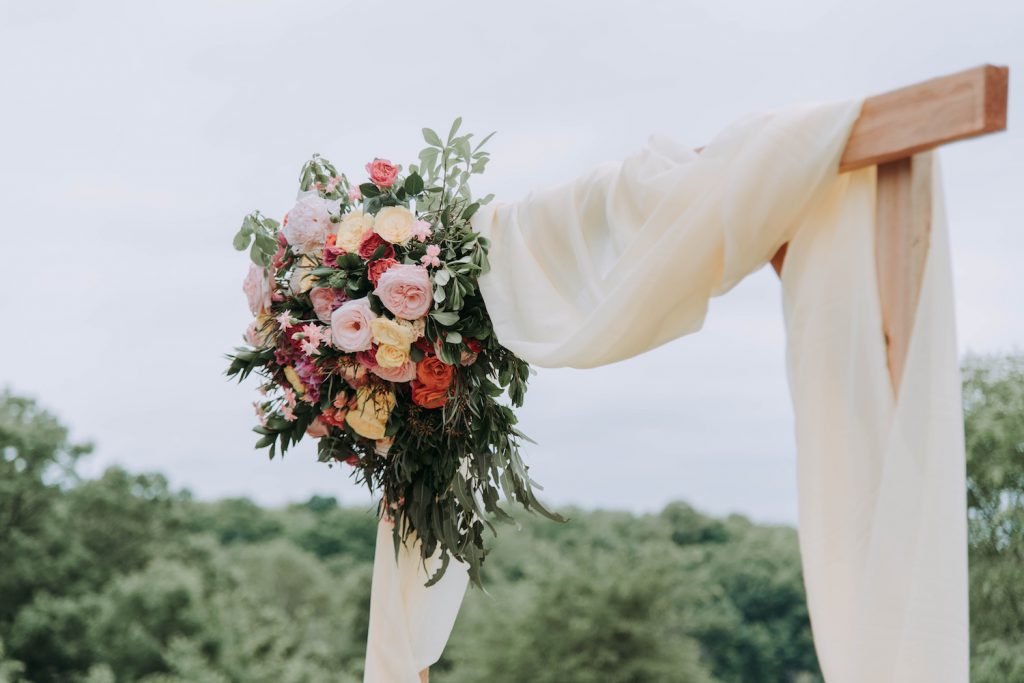 A beautifully decorated arch is the perfect frame for your nuptials. But if the venue doesn't provide one, buying it outright can be expensive depending on the material.
Clever couples who are handy with a drill can easily construct this ceremony staple themselves. The trick? Create a simple (but sturdy) structure and decorate it with anything from winding vines and flowers to bolts of fabric.
The Sorry Girls created the ultimate tutorial to help you get started.
5. Customizing Photo Booths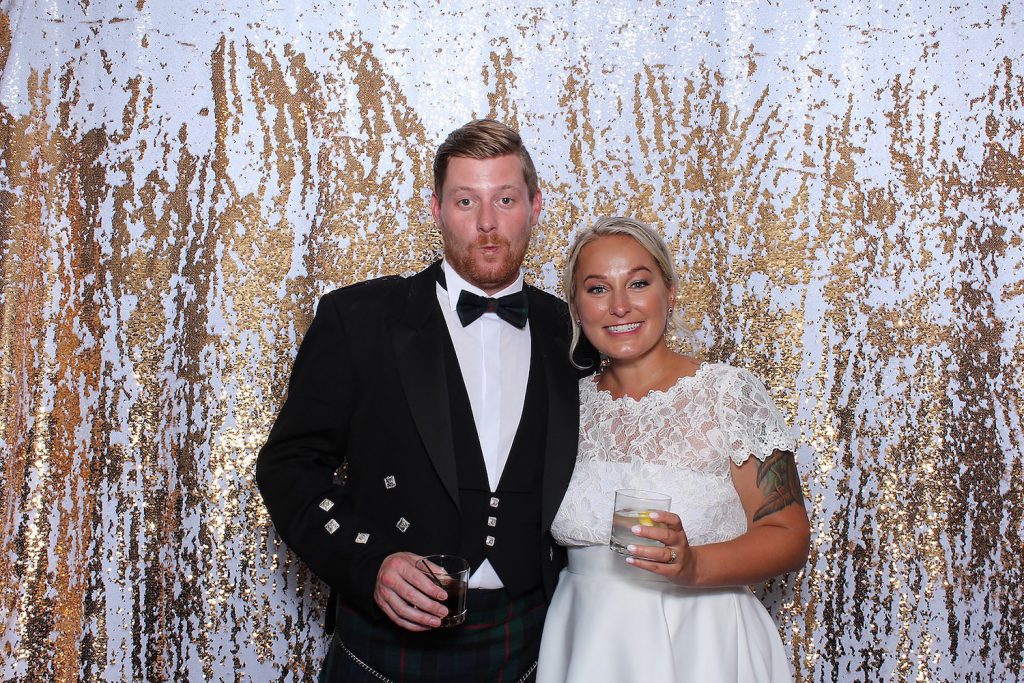 Photo booths are fun, for you and your guests, and create unforgettable memories of your wedding. That being said, hiring an additional service to bring in props, a backdrop, a photographer, and a printer can eat up a big chunk of your photography budget.
Since we live in the 21st-century and iPhone cameras now rival that of a DSLR, skip the extra costs and take a tip from Liz and Liam's wedding by crafting your own background and having guests post their own shots to social media with your hashtag.
Tip: Raid the Dollar Store's party and toy section for inexpensive (and hilarious) props for your makeshift photo booth. Think colorful feather boas, top hats, tiaras, costume masks, and funky sunglasses.
6. Creating Dual-Purpose Name Cards
Name cards can consume a large portion of your paper budget if you go to a calligrapher.
One couple cut costs for their New Year's Eve wedding celebration by using inexpensive noisemakers draped with printed cards displaying guests' names and table numbers. The dual-purpose place cards were the perfect touch for when the clock struck midnight!
7. Making a Charitable Donation in Your Guests' Names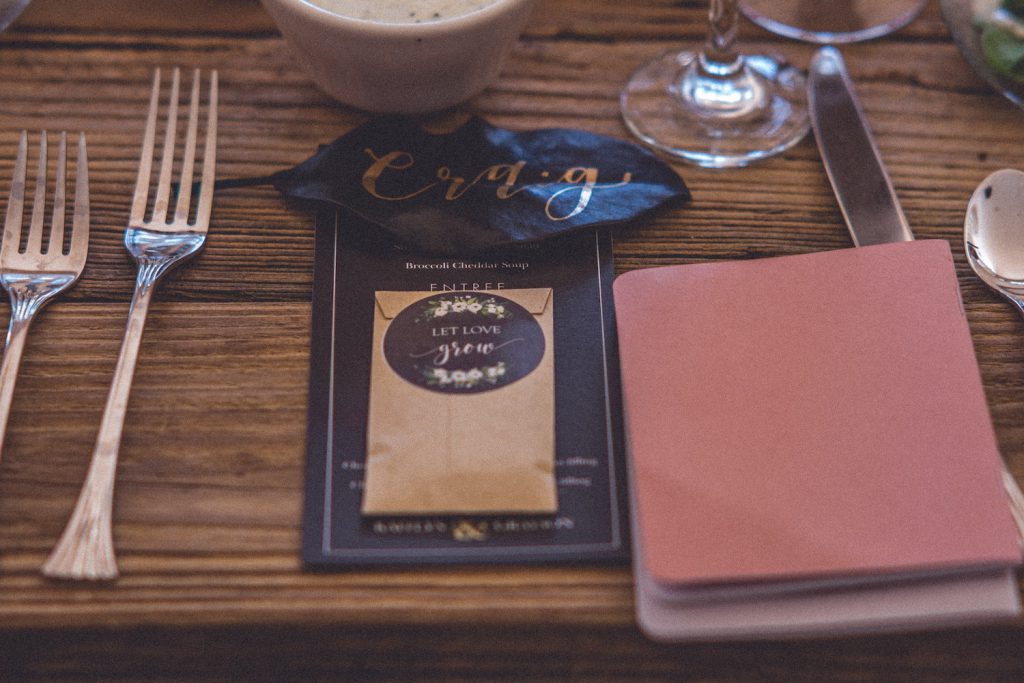 Charitable donations are the new personalized M&Ms favor. If you're stuck on what to do for wedding favors, put your budget toward your favorite charity.
Just leave a self-printed card at each place setting explaining that, in lieu of favors, you have made a donation in their name. Not only is this a heartwarming gesture, but you can write-off the expense in your taxes for the year. It's a win-win!
8. Using Sustainable Exit Tossers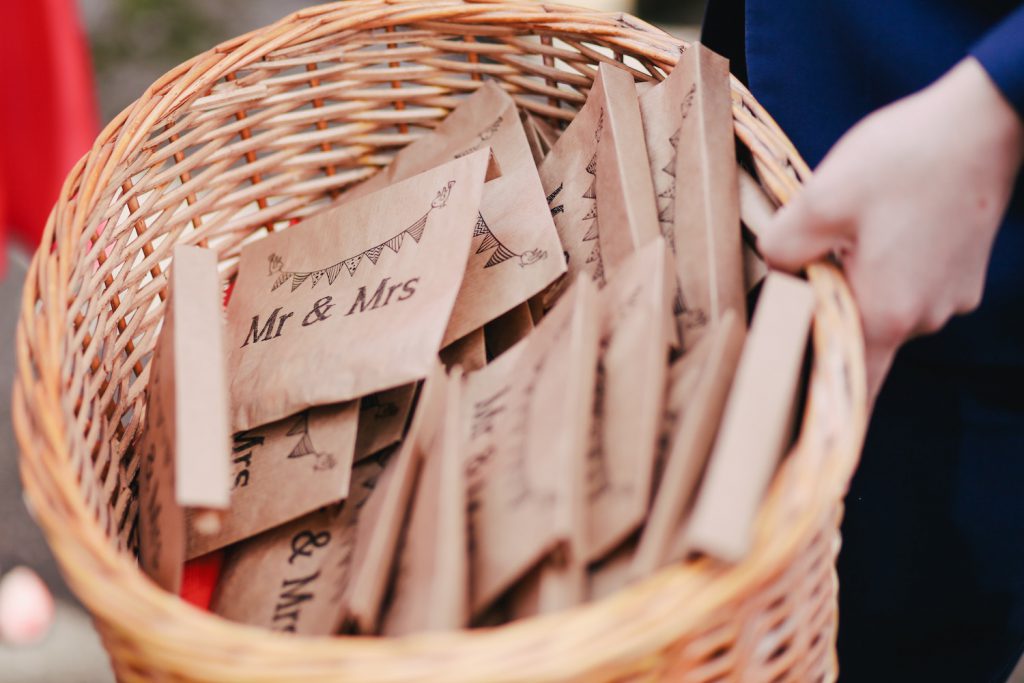 Sustainability was a big theme for 2019 and has no sign of slowing down in the new year. Historically, exit tossers have been made of everything from confetti to glitter, both of which are not ideal for the environment.
Luckily, sustainability is also budget-friendly! Flower petals are beautiful, but also expensive and so delicate they could be bruised by the time you are making your grand exit. If you are still loving the idea of a flowery descent, try dried lavender petals. They are sustainable, less expensive than fresh petals, and you'll associate that calming smell with the amazing memory of your nuptials for years to come.
9. Getting Creative with Centerpieces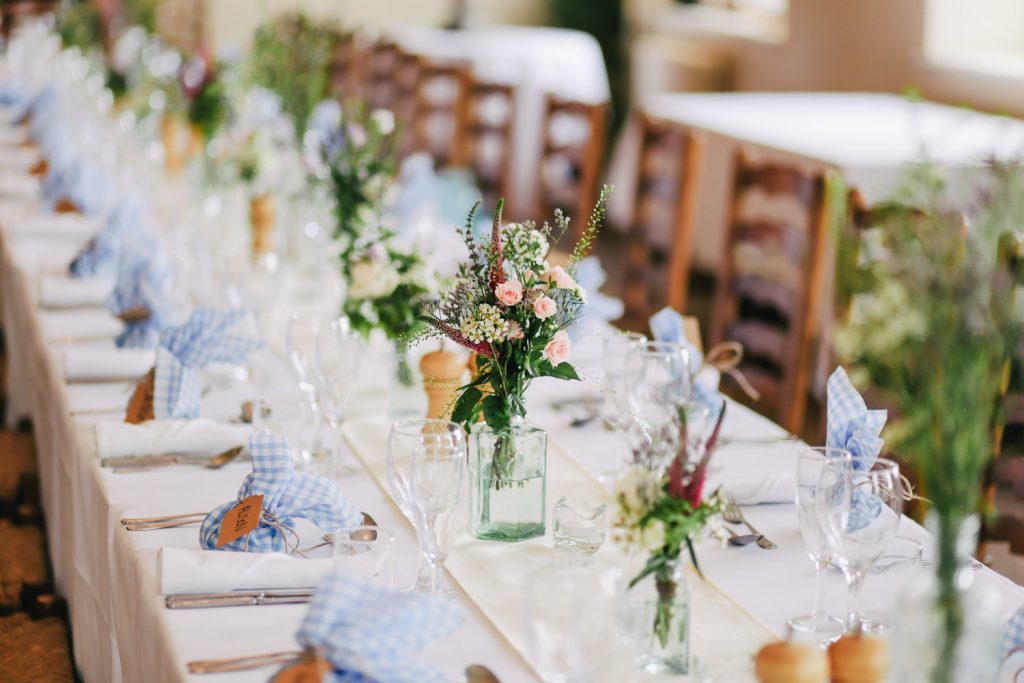 Centerpieces are arguably one of the biggest ticket items of your budget, depending on the wedding size. Between delivery, the 'wedding tax,' and the arrangements themselves, costs add up quickly.
According to Brides.com, couples should expect about 10% of their budget to go toward flowers, and many times it trends upwards. "Most couples are forced to put aside at least $2,000, and sometimes up to $10,000, on average, for florals which is a huge chunk of anyone's wedding budget," Buffer explains. His recommendation? "Get imaginative and look on Pinterest and Etsy for ideas that perk your inner florist."
A simple centerpiece can easily be prepared by a few volunteers the morning of your wedding—without spending a fortune or taking up the day with crafting. Try this magic mixture for starters: Combine eucalyptus branches, baby's breath, a leafy green, and fill the rest with five or six flowers of your choice. The different greeneries will create amazing texture and showcase your carefully selected blooms without making anything look like a 'filler.'
As for the vessel, take a look at your local craft store or even around the house. If floral centerpieces are too much to do yourself, due to the wedding size, nix it! Anything from an array of tapered candles to carefully placed pumpkins will make for a stunning impression.
10. Using Faux Flower Crowns for a Boho Look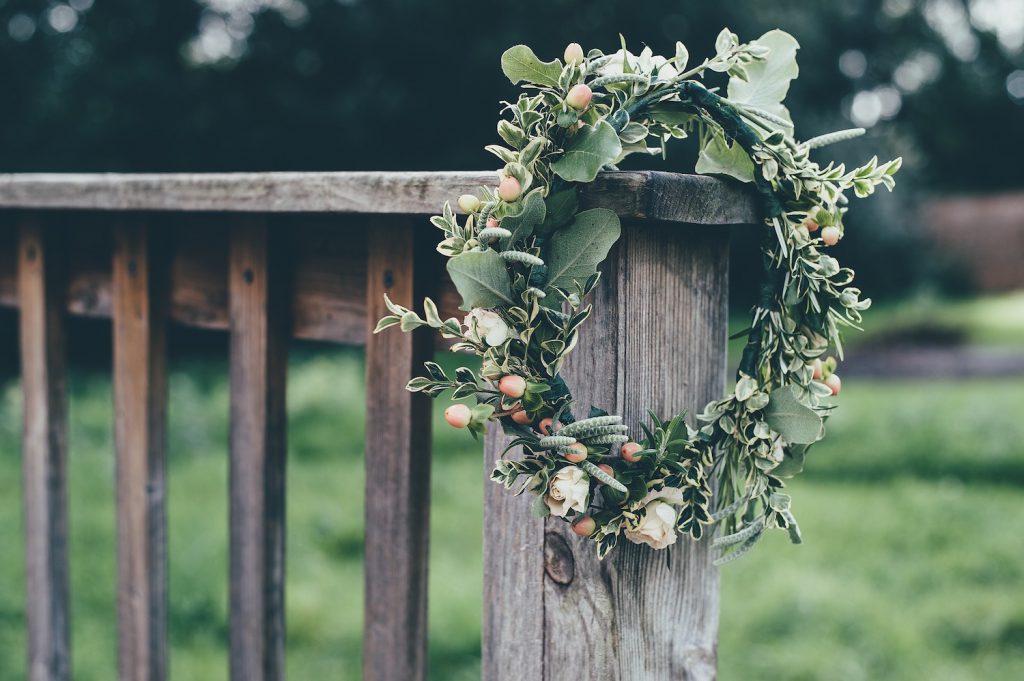 The boho trend is the theme for the breezy, laidback couple and perfect for flower crowns. If each member of the wedding party needs a flower crown and a bouquet, that can really add up in your flower budget.
Luckily, faux flower crowns are chic, inexpensive, and easy to make at home. This tutorial is the go-to guide on making a great headpiece at a minimal cost—not to mention, holding up even through a few whirls around the dance floor.