Building your wedding registry is an exciting part of the wedding planning process. You'll have a chance to add everything from functional cookware to stylish home decor and trending appliances. But don't overlook the importance of including everyday essentials, especially flatware and serving sets. Ditch the mismatched forks and knives and upgrade to a set that's worthy of your newlywed tabletop.
Whether you're a budding home chef, hostess extraordinaire or none of the above, flatware has a place on your wedding registry. Use our guide to discover how to choose the best flatware and serving utensils for your home that provide form and function, plus discover great options for popular finishes and materials.
Everything You Need to Know About Flatware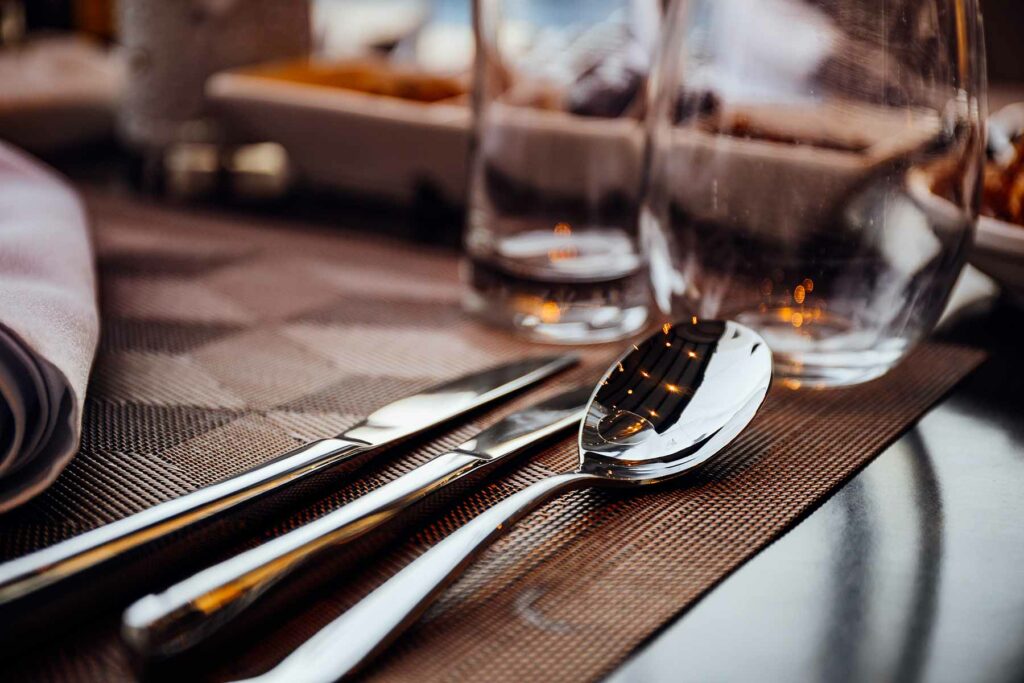 Flatware may seem like a straightforward dining tool, but there are a few things to consider when selecting the ideal set for your wedding registry:
What is flatware? Flatware is a general term for forks, knives and spoons at a table setting. A basic flatware set commonly includes five pieces: a dinner fork, salad fork, dinner knife, tablespoon and teaspoon. Register for at least eight sets (more if you and your partner have an affinity for entertaining). Doing so will ensure there are enough sets for hosting dinner parties, and you can avoid frequent washing throughout the week.
Level up with speciality sets. A basic flatware set may not make the cut in all entertaining situations. Specialty sets and serving utensils fill in gaps to make preparing, serving and eating meals a breeze. Additional pieces you may want to add to your registry can include: steak knives, sugar spoons, soup spoons, ladles, serving forks, servings spoons, a carving fork and knife, cake knife, pie server, salad servers, dessert forks and tongs. When building your list, envision the types of meals you plan to enjoy together. If you and your soon-to-be-spouse love to cook or host large family dinners, adding a variety of specialty knife sets, and serving tools to your registry is a must. If you have your eye on something special, you can also register for gift cards to purchase that luxury entertaining set on your own.
Choose your material. Flatware is typically available in three metals: stainless steel, silver-plated and sterling silver. A stainless steel flatware set is the best option for everyday use because the material is strong, long-lasting and easy to maintain. Silver-plated is a step up the luxury ladder, but is also dishwasher-safe. Sterling silver flatware, however, contains 92.5 percent silver content and immediately elevates any table setting. Wood, plastic and other materials may also be available, but experts tend to agree that metal-based flatware are better suited for everyday use.
Select a style. Flatware is available in a variety of styles — rounded, etched, vintage, angular or floral, just to name a few. Pick a pattern that suits your personality as a couple, and consider your home's tablescape, too. The new dinnerware, glassware and cutlery you plan to register for may also help inform a decision. Can't choose just one finish? Don't be afraid to mix and match styles to create a charming presentation on your table.
Finalize with the right finish. Mirror or satin are the two most common finishes for flatware. For more shine, gloss and traditional appeal, choose a mirror finish. Satin, sometimes called matte, has a subtler look that adds a casual feel to the table — plus, its brushed look camouflages fingerprints.
Find the right storage. As you upgrade your flatware, consider elevating your storage as well. Everyday stainless steel sets can be stored in a flatware tray or utensil caddy. A silverware set should be kept in a silverware box or an air-tight, felt-lined chest to avoid getting tarnished or scratched.
Know how to care for your flatware. Flatware sets can last for a long stretch of your married life, especially when properly maintained. To extend its longevity, silver-plated and sterling silver flatware should be polished and hand-washed (though silver plated can tolerate the dishwasher).
Best Satin Flatware Set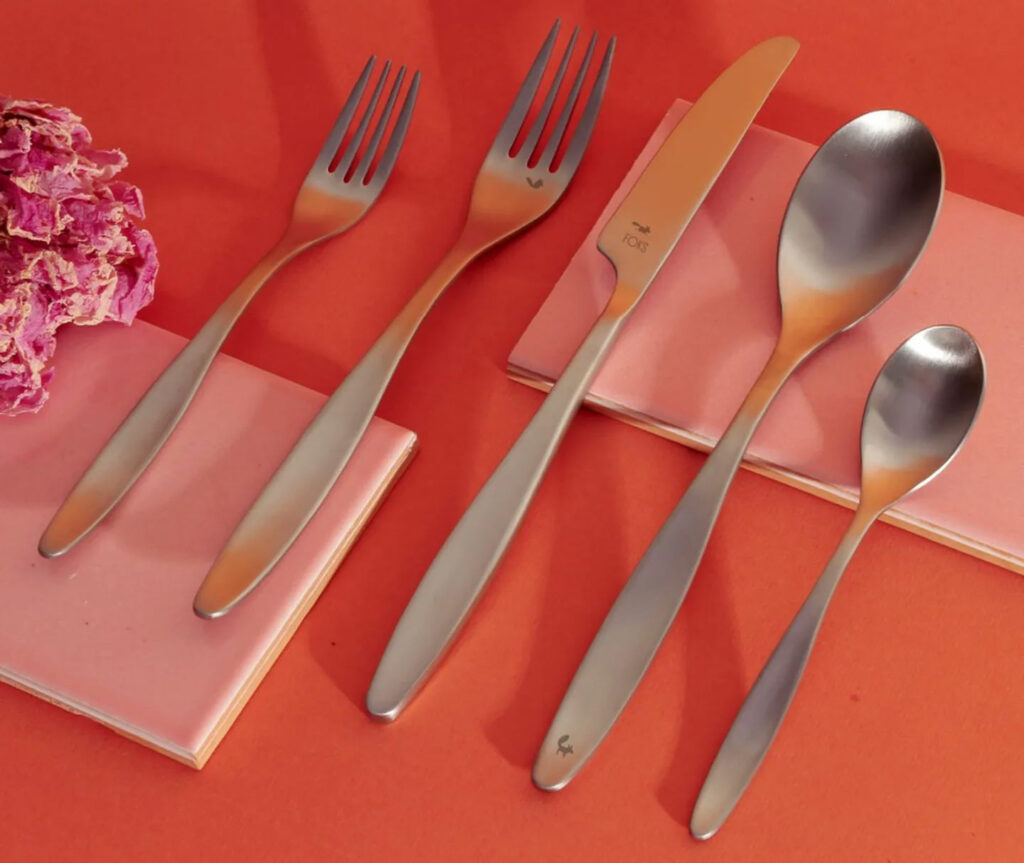 This casual set features a gently curved form and matte finish to create an effortlessly chic presentation on your table. Moreover, a charming character is engraved into each fork, knife and spoon to add a playful element that will surprise and delight your dinner guests. Pair this pewter-colored set with a range of dinnerware and home decor; it offers universal appeal.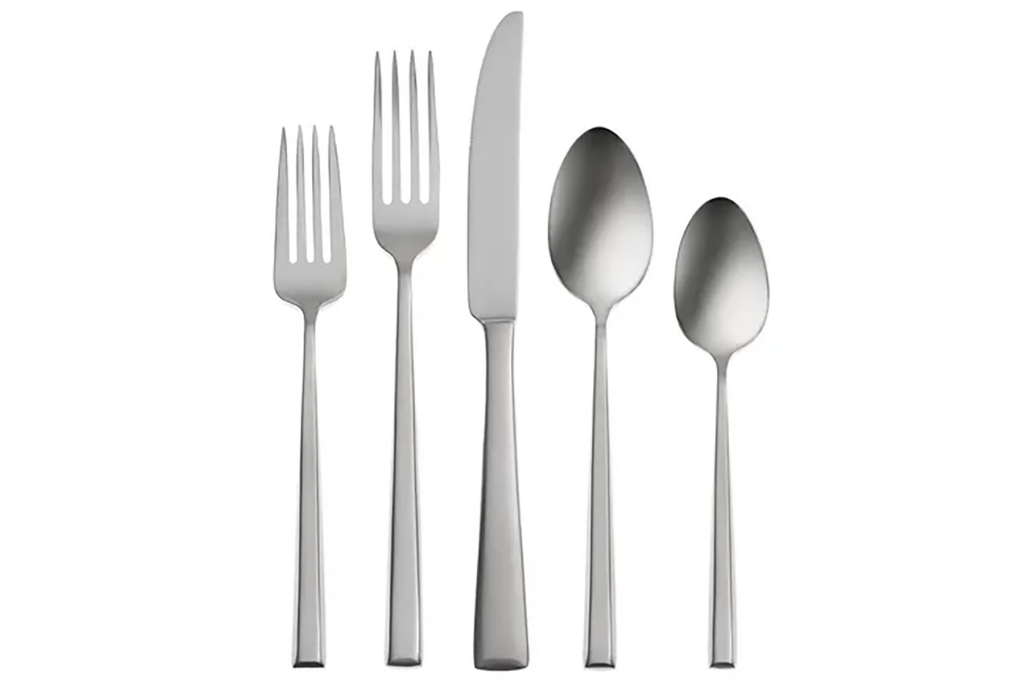 Style meets comfort in this 20-piece set from Oneida. Elongated handles and an angular shape make the collection's forks, knives and spoons stand out on a level all their own. Just like your vows, the strong utensils will last a lifetime without rust or tarnish.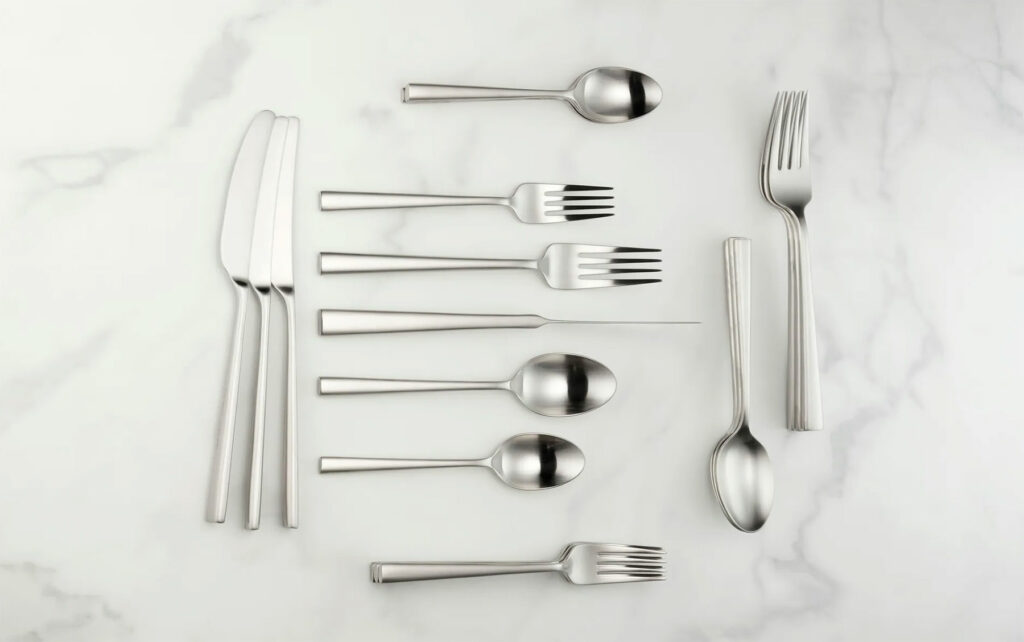 Sophistication is served with this Kate Spade flatware set. The timeless silhouette and sleek satin finish may steal the show during your next weekend brunch or intimate dinner. Thankfully, its stainless steel build requires minimal upkeep. Kate Spade New York is a luxury brand you can count on to deliver simple elegance for years and years.
Best Mirror Flatware Set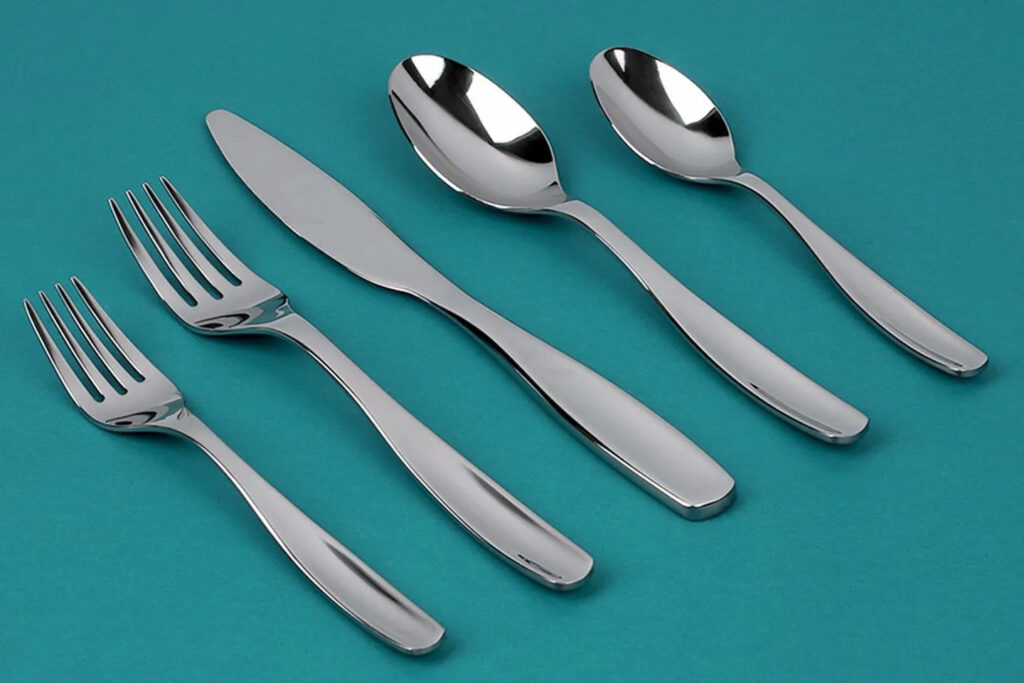 For approachable refinement, choose the Luna 20-Piece Flatware Set. Each piece is full of movement, from the sloping contours of the handle to its hourglass-like shape. A mirrored finish helps to showcase the meal and adds a touch of glam to the table. Clean up this everyday flatware in a flash to spend more time with your guests or significant other.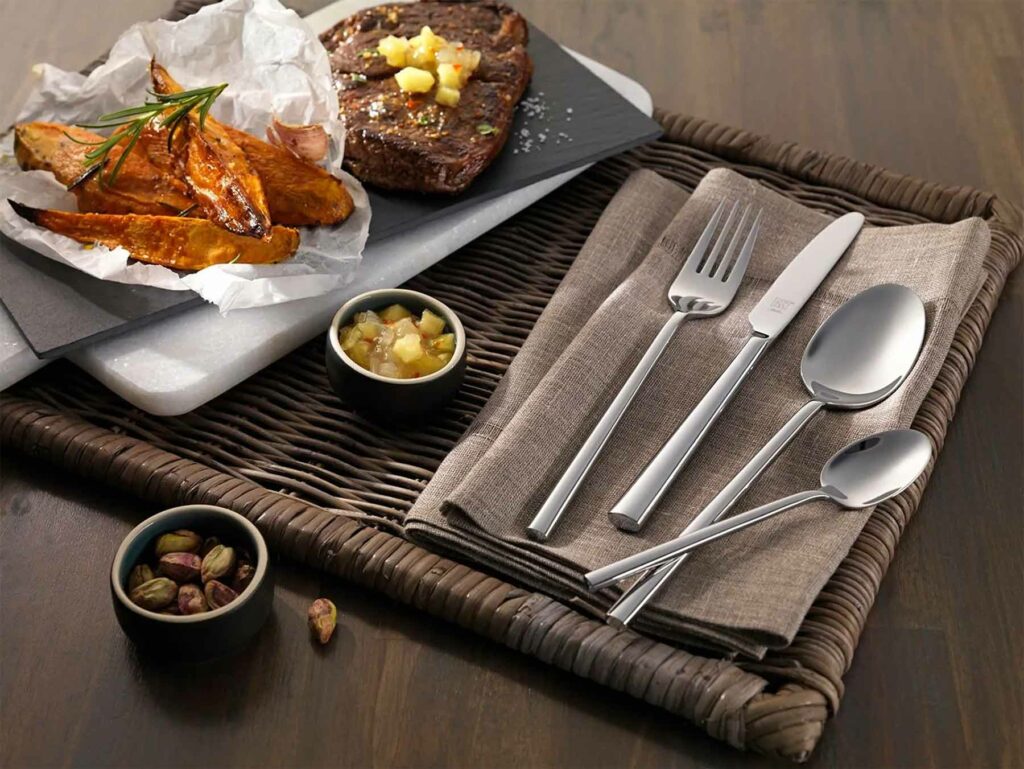 Whether you're dining on haute cuisine or a reheated weeknight dinner, your meal will become a dining experience with this beautiful flatware set from Zwilling. A subtle banding detail at the neck adds a modern twist. The included five-piece hostess set — serving spoon, slotted serving spoon, cold meat fork, butter knife and sugar spoon — will set you up for dining success, no matter the dish or occasion.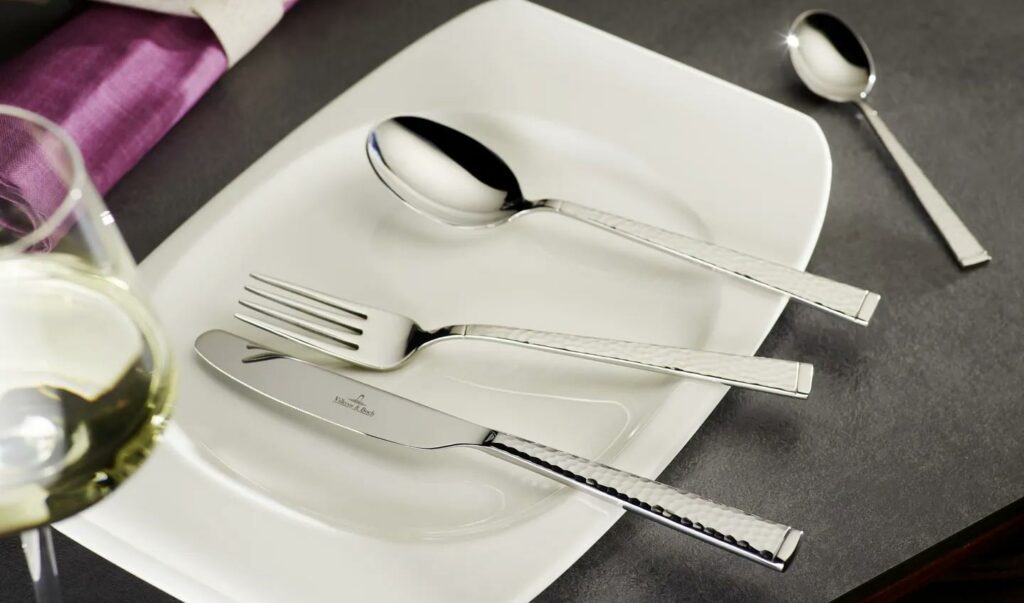 A hammered pattern dresses up this exquisite flatware set and adds a welcome textured feel to the hand. Crafted from 18/10 stainless steel, you and your partner will be able to set the table for up to 12 guests during epic dinner parties. But don't worry, the Blacksmith set transitions to everyday use as well since you can throw your forks and knives in the dishwasher for easy clean-up.
Best All-in-One Flatware Set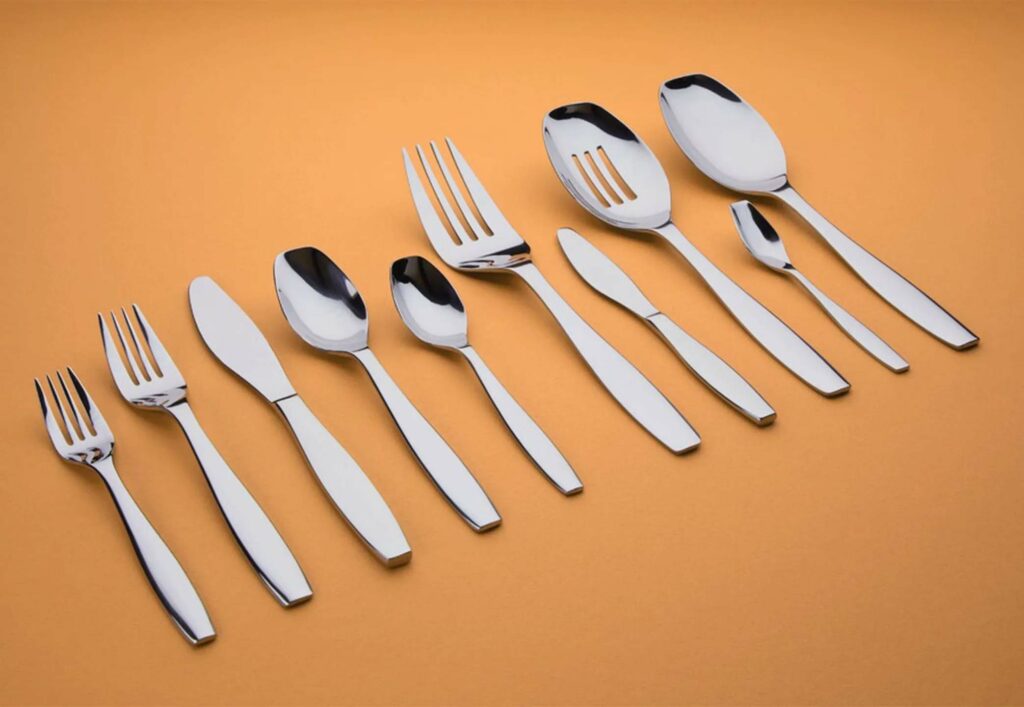 For weekend breakfasts, luncheon buffets and even holiday meals with the family, experience the thrill of entertaining with the Cruise 45-Piece Flatware Set. Dine with up to eight people, plus have six additional serving tools on-hand to accompany any menu. Each piece has a balance of square and round features, as well as a handsome design that appears slightly wider than other collections on the market — all the better for enjoying delicious meals.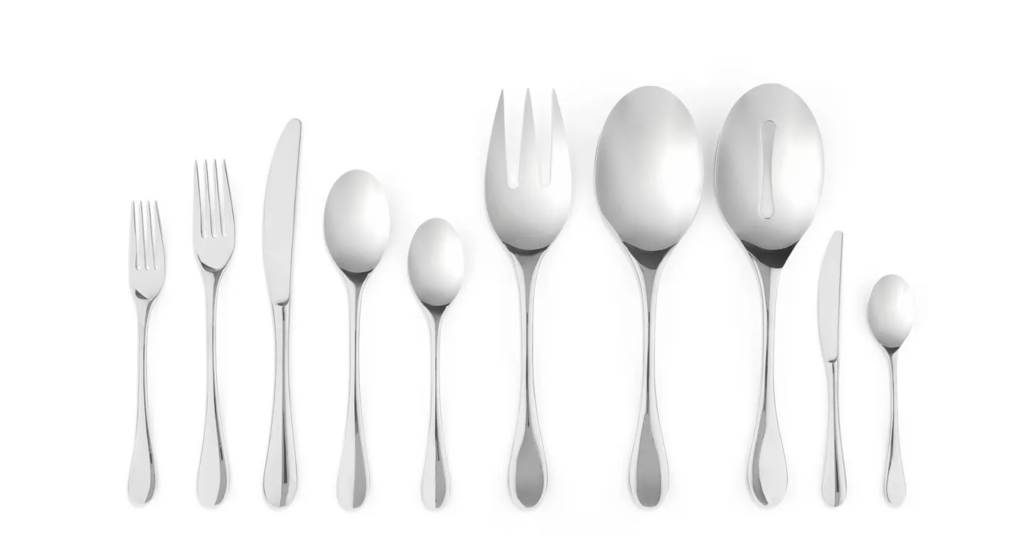 Add a cosmopolitan flair to your tabletop with this flatware, inspired by the Isle of Skye in Scotland. A delicate handle provides a comfortable grip while generously sized spoon heads will keep everyone full and satisfied. The set is forged from long-lasting 18/10 stainless steel to offer unmatched quality and easy maintenance.
The NewWave Flatware Set is a masterpiece. At first look, the streamlined design shouts minimalism; yet, each piece includes a delicate twist, like a whisper of whimsy. Bring out the leaf of your dining room table because this set contains 12 place settings and four practical serving utensils, including a ladle for stews, sauces and salad dressings. Serve in style and don't sweat over its care. This stainless steel doesn't require polishing and can be cleaned in the dishwasher.
Best Serving Set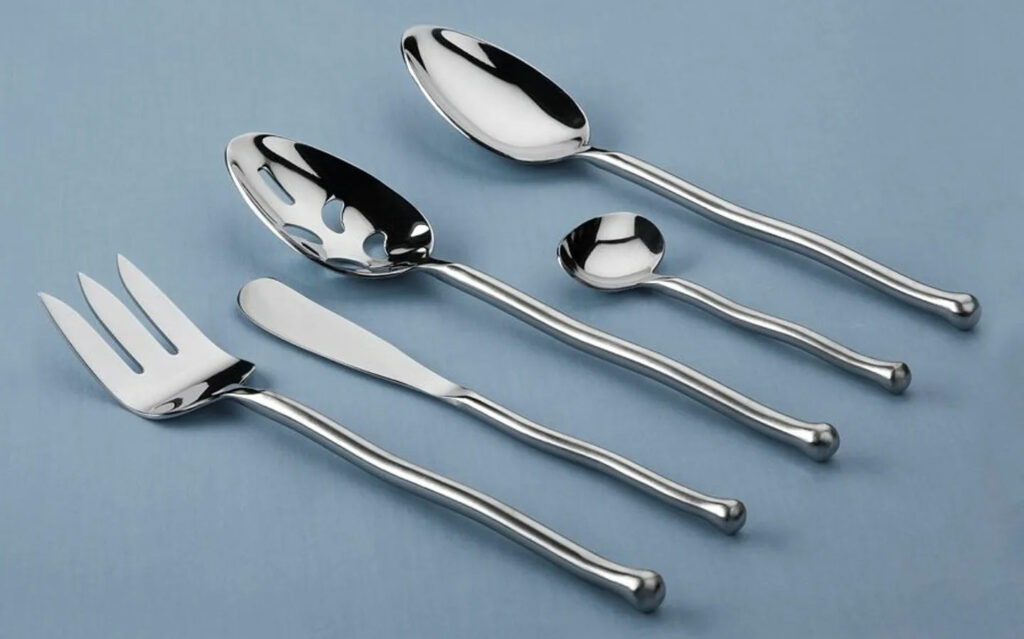 This chef-approved serving set will add the right amount of pizzazz to your newlywed meals. Decoratively shaped slots and tines, accompanied by a timeless gloss finish, make this set one of a kind. Wrap your palm around the stretched handles and dish out a platter of seared meats, casserole of roasted vegetables, or sprinkling of sugar. Clean-up is a snap, too; no hand-washing required!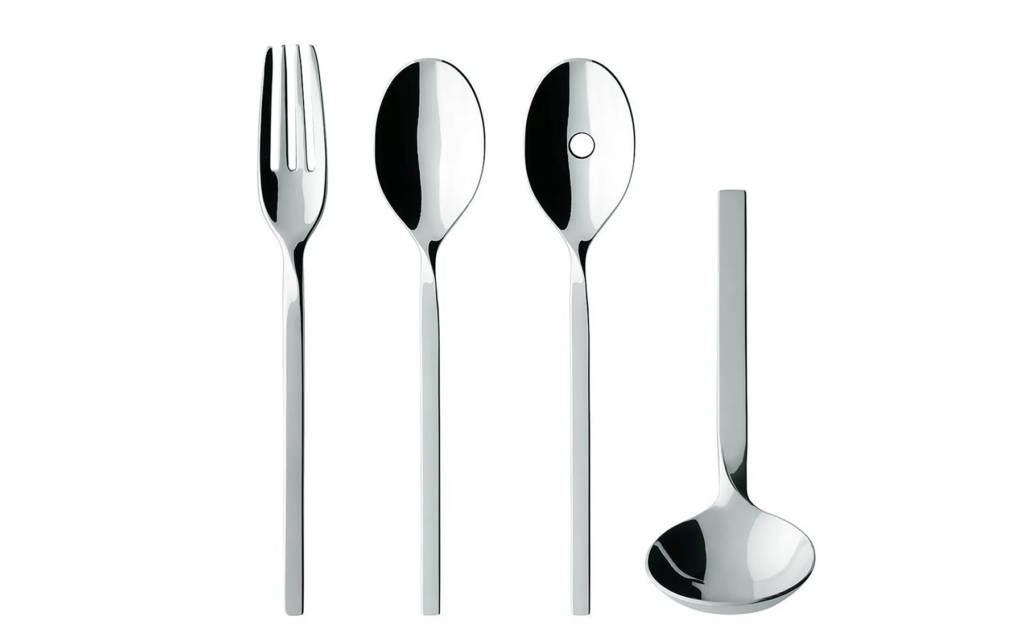 From a leader in all things dining, this Villeroy & Boch four-piece flatware serving set is as comprehensive as it is beautiful. Comprising a serving fork, serving spoon, slotted spoon and ladle, the stainless steel tools sport a bright mirrored surface that is polished to perfection. Sleek with a hint of playful energy, the serving set will complement a range of table styles and vibes, from modern casual meals to traditional fine dining. And for the cherry on top, it's also dishwasher safe.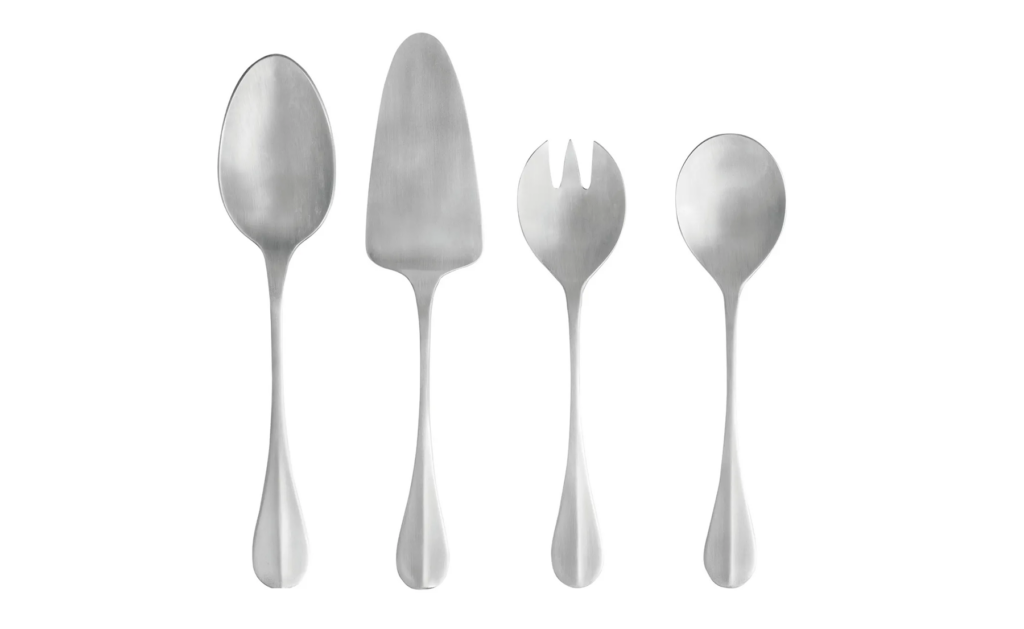 Ideal for serving your dinner guests a range of options, the Nau Brushed 4-Piece Hostess Serving Set has you covered for dishing up sweet and savory portions of a meal. The set features a brushed surface that gives off the sophistication of an antique, yet its shape leans modern. Originating from Portugal, the set includes a high-quality serving spoon, cake server, salad fork and salad spoon.
Single-Serve Flatware Pieces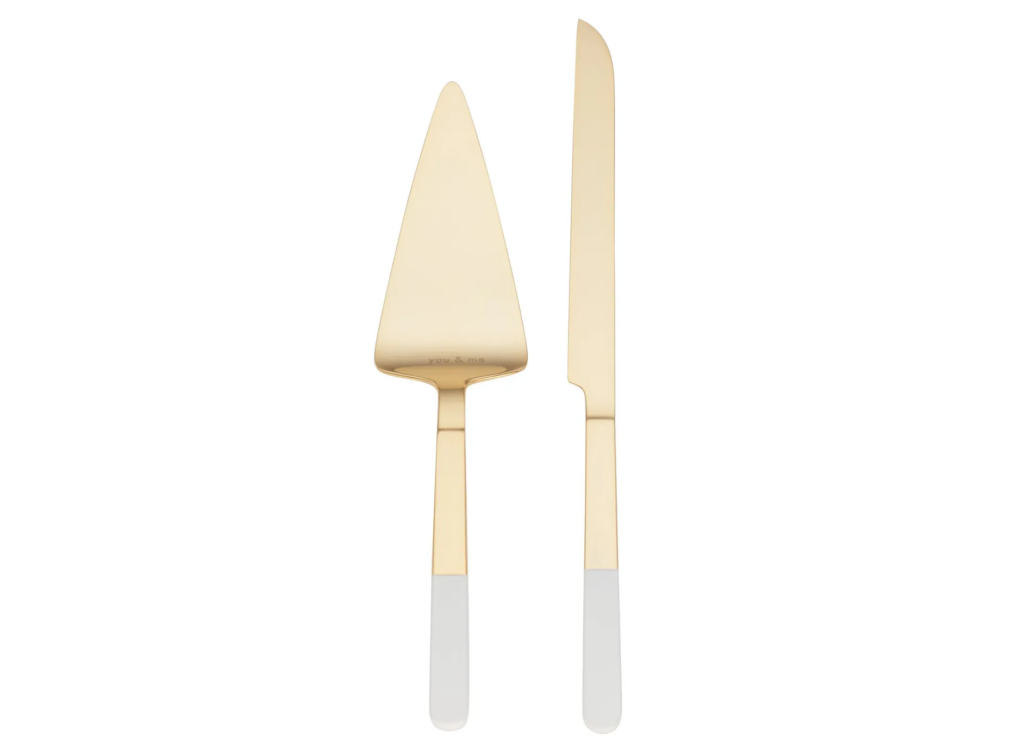 A celebration of style and function, this Kate Spade New York dessert set will have you swooning over pies, tarts, cakes and more. A two-tone metallic-resin pairing will match nearly any place setting and tablescape. Measuring at 13.5 inches, the cake knife is large enough to slice through multi-layered desserts, including wedding cakes. Register for this item and use it on your big day and on future special occasions. It's the perfect registry pick for enjoying a lifetime of sweet memories.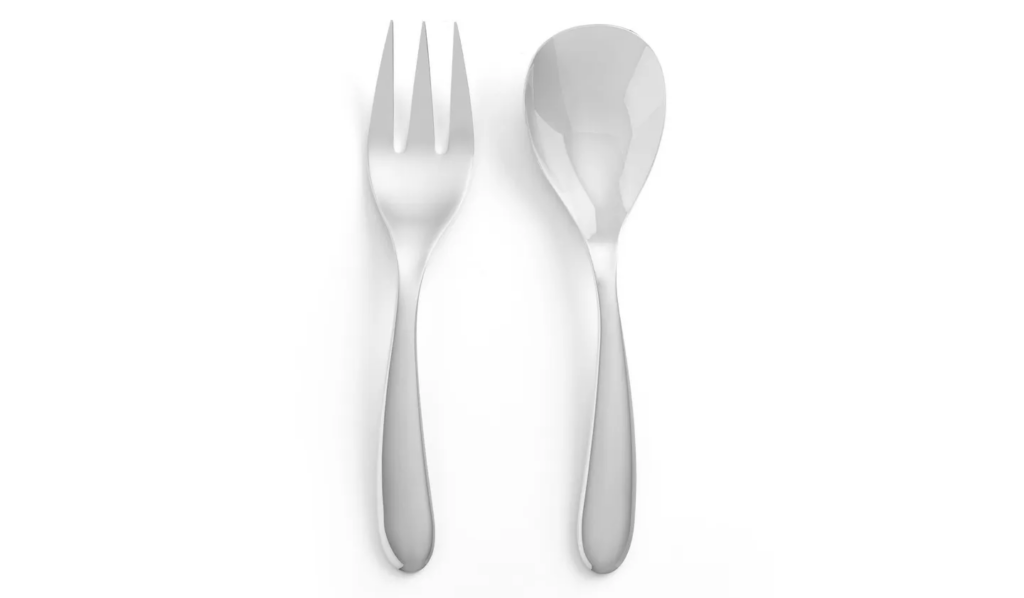 Perfect for the modern couple, this two-piece set is designed for serving up leafy green salads, though it can also dish out anything from a fruit medley to roasted chicken. Its compact size, coming in at under 11 inches, makes the fork and spoon duo easy to handle. Sharp tines and a wide bowl offer precision while serving. It's a great versatile set you could pull out for a quiet dinner for two or use at a lively dinner party.
Up Next:
From gifts, to cash funds, experiences or charitable causes, add any gift you want, from any online retailer, to your Joy registry.