An essential element of any kitchen upgrade is a set of quality knives. Alongside premium cookware, dinnerware and other kitchen necessities, adding the right knives and a solid cutting board to your wedding registry can elevate your cooking skills and make it easier for you to complete specific culinary tasks. You and you partner will be be dicing, chopping and peeling like pros in no time. Whether you want an all-in-one set or prefer selecting your tools a la carte, use our guide to the best knives and cutting boards for your wedding registry to find a variety of options at every price point.
Knives 101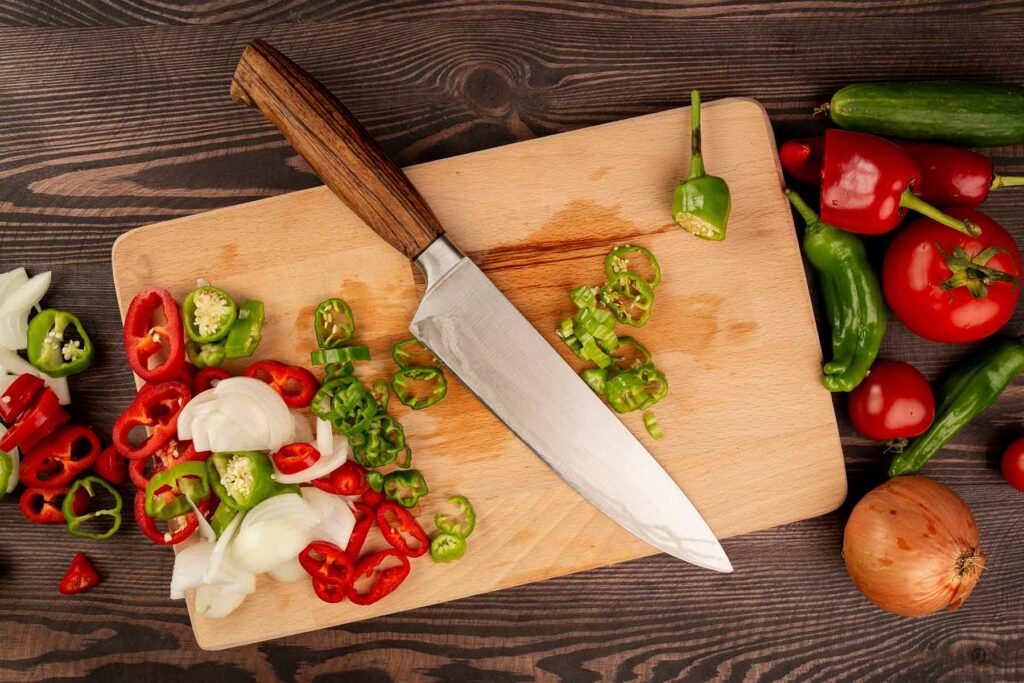 There are numerous specialty knives, each serving a particular purpose. Before adding them to your wedding registry, get to know the recommended use for each knife so you can stock your kitchen with exactly what you need.
Paring knife: A paring knife's smooth, sharp blade makes it ideal for peeling fruits and vegetables, chopping and slicing smaller veggies, and precision work, like slicing cilantro for taco night.
Prep knife: This kind of knife is perfect for detailed chopping. It's a great choice for tasks like cutting up fruit or deveining shrimp.
Bread knife: The long, serrated blade of a bread knife makes it easy to slice up a fresh loaf or baguette. This strong blade is also handy when cutting a tougher fruit, like cantaloupe.
Boning knife: This knife features a sturdy, stiff blade that simplifies the process of deboning meat and fish, especially those with tougher bone or muscle.
Santoku knife: This blade originates from Japan and is a go-to choice for slicing, dicing and chopping. It's especially handy for slicing meat and cheese.
Slicing knife: If you want thin, even slices of items like roast, fruits or vegetables, use this long, narrow blade that typically has a straight edge and shallow divots.
Chef's knife: This versatile knife has a blade that's rounded toward the tip. It can be used for everything from slicing meat and dicing vegetables to disjointing some cuts of meat, slicing herbs and even chopping nuts.
Nakiri knife:

Ideal for cutting vegetables, this traditional Japanese knife features a straight blade that lets you cut down to the chopping board without needing to pull or push.
Best Knife Block Sets
If you want to stock your kitchen with a variety of different blades, a quality knife block set is a great wedding registry addition. It will not only look great on your countertop, but you'll also be equipped for every possible culinary activity, from chopping and dicing to carving, and slicing. A knife block set is also ideal if you're not quite sure what types of knives you'll end up needing. To help you find the ideal set for your registry, we've included our top choices at every price point.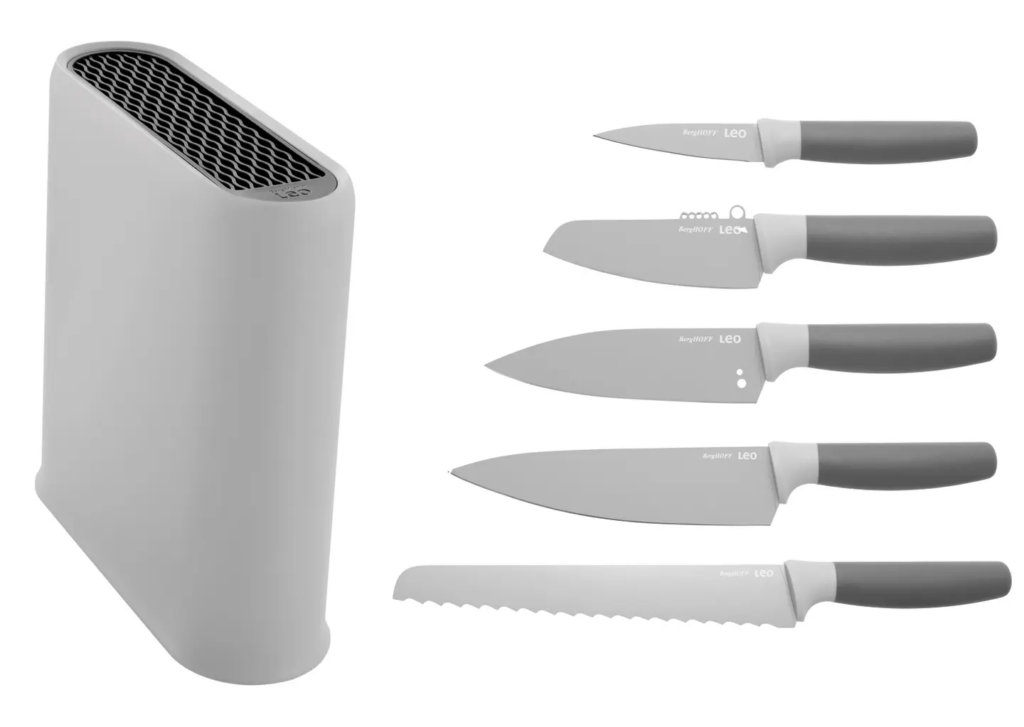 The sleek, neutral design of this starter set makes it a great fit for kitchens with a more simple, modern aesthetic. In addition, the oval shape of the block creates a smaller footprint on your countertop, and the anti-skid base helps ensure it stays in its designated space. The set includes a stainless steel bread knife, chef's knife, carving knife, utility knife, paring knife and kitchen shears that all have a nonstick coating and ergonomically designed handles.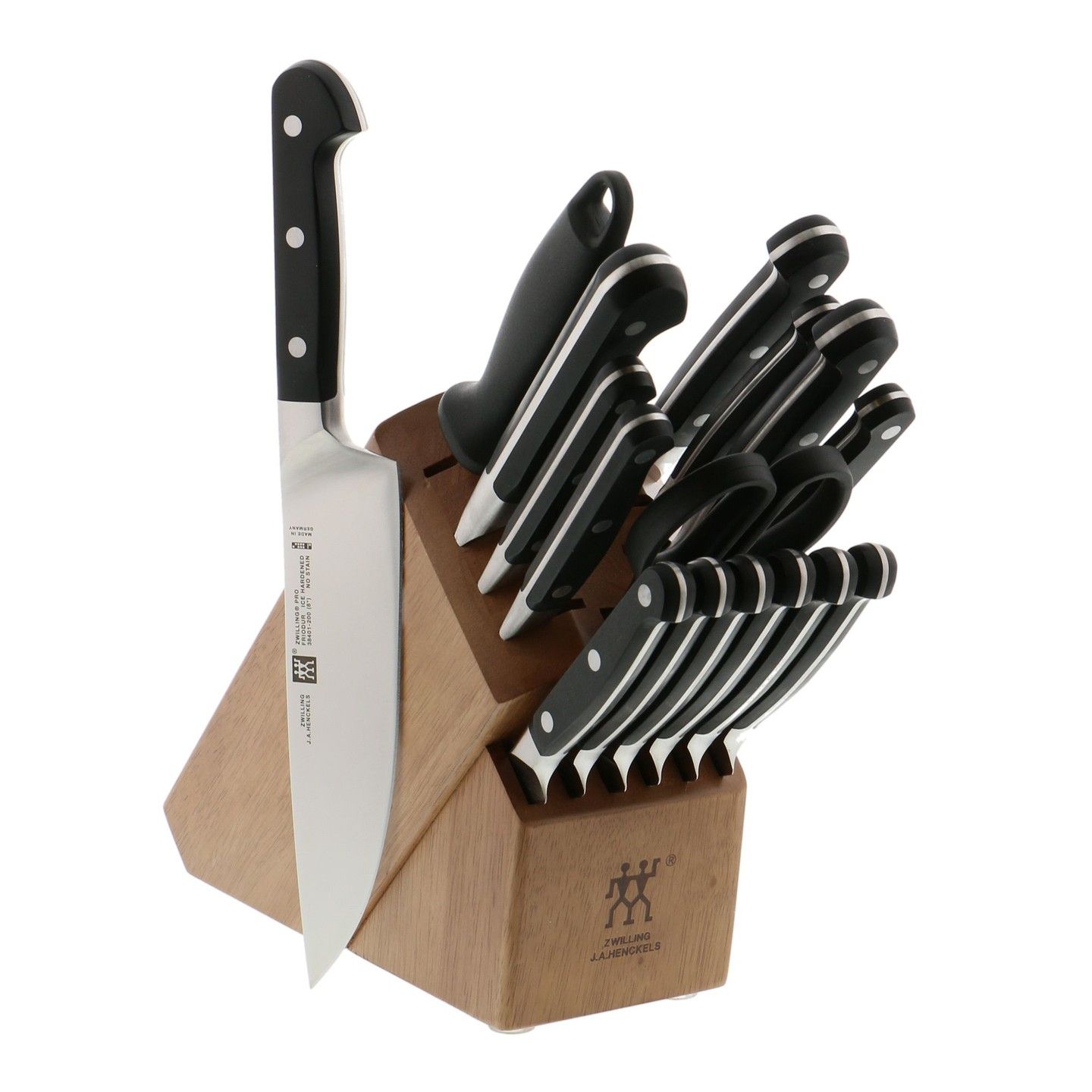 This chic seven-piece set includes an acrylic-front knife block that shows off a bread knife, chef's knife, deli knife, boning knife, double-edge utility knife and paring knife. The blades of the knives are made of 100-percent German stainless steel, while the handles are crafted from Southeast Asian teak. These are also full-tang knives, meaning that the unsharpened part of the blade extends all the way to the end of the handle. This not only creates better balance, but also makes the knife stronger than one with a partial tang.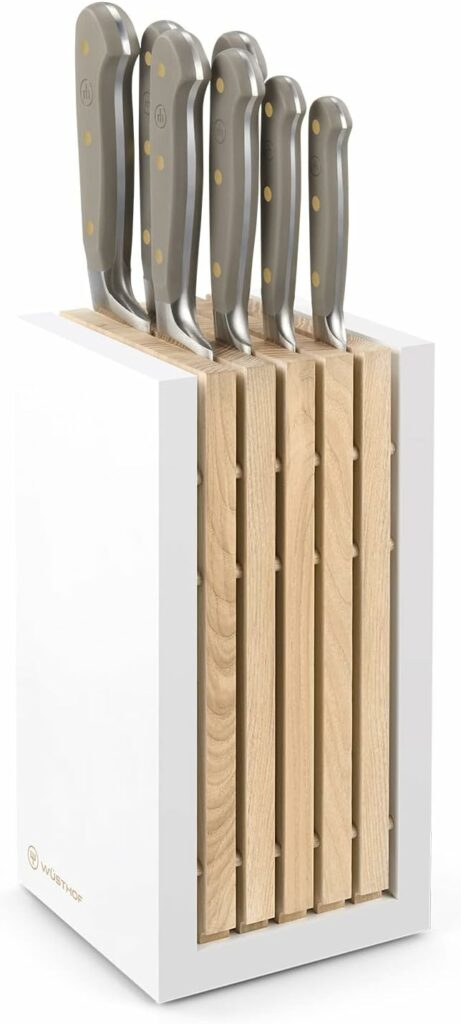 Couples with a passion for cooking will love this high-end block set that includes eight specialty knives, including a paring knife, utility knives, chef's knives, santoku knife and a double-serrated bread knife. Choose between five unique handle colors or mix and match shades for a custom set. Equipped with brass-riveted handles, the precision-forged knives feature hardened high-carbon steel blades that keep their edge and are easy to sharpen.
Best Specialty Knives
If you're a more experienced home chef who knows the types of specialty knives you'll need, you might want to skip the set in favor of registering for individual pieces. Registering for knives in this way can help ensure you have the exact tools you need when whipping up a gourmet meal.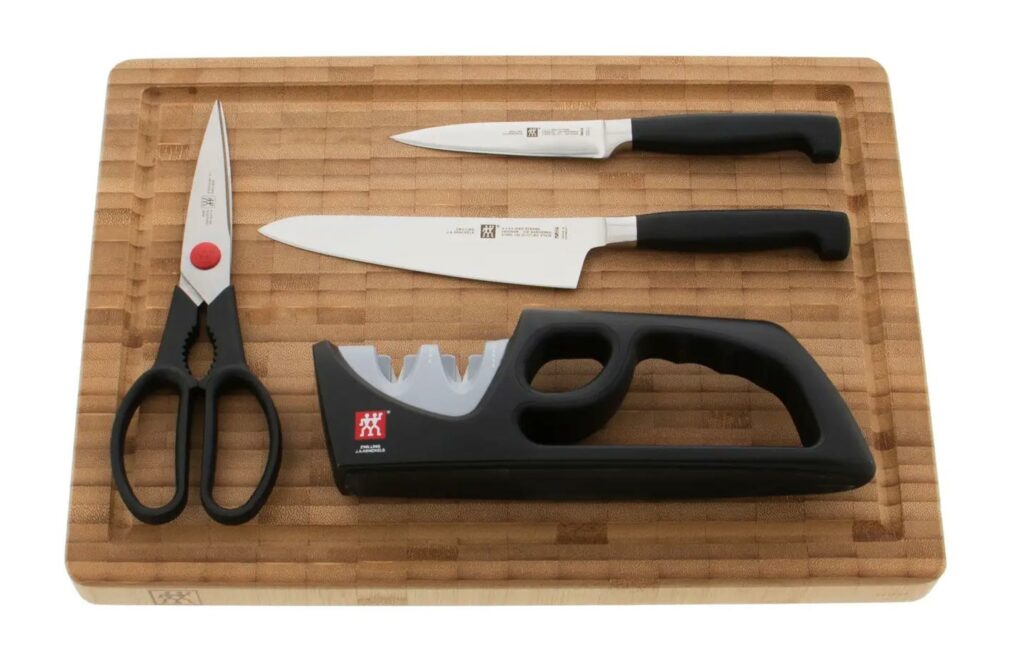 If you're at the beginning of your amateur chef journey, this set is a great entry point into the world of specialty knives. This starter set includes a 4-inch paring knife for peeling apples for a pie or dicing up potatoes for a scramble, and a larger fine-edge knife you can use to slice cheese for a picnic or complete a range of cooking prep tasks. Also included are kitchen shears, a two-stage pull-through sharpener and a bacteria-resistant bamboo cutting board.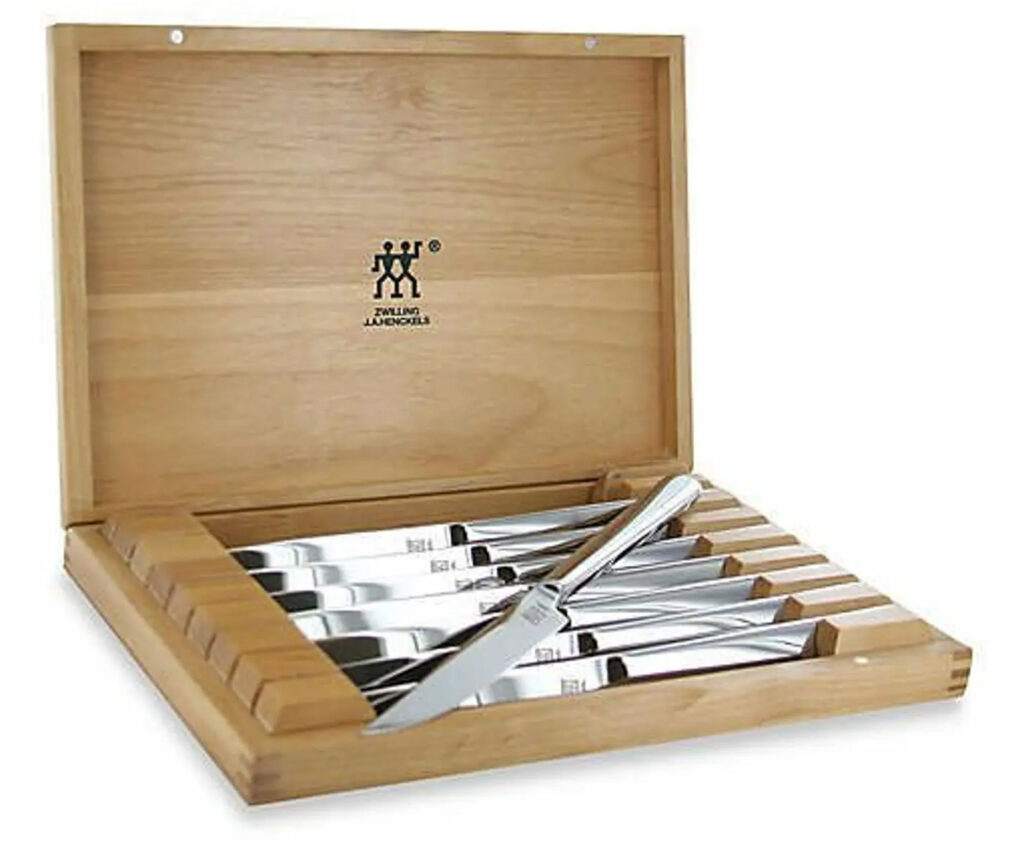 Great for dinner parties, this set should be at the top of the wish list for couples with a taste for steak. The stainless steel knives included in this set make cutting through thick cuts of meat like tri-tip or filet mignon a breeze. Your wrists also won't become fatigued, as the tapered design from the blade to handle provides an ergonomic grip. Lastly, the sophisticated wooden box the knives come in provides both function and form.

Elevate your enjoyment of that holiday turkey or roast by registering for this carving knife and fork set. The 8.25-inch carving knife wows with a chromium stainless steel blade featuring an intriguing Damascus pattern. Both the knife and fork boast triple-riveted handles that provide extra strength and comfort while also boosting the sturdiness of the knife.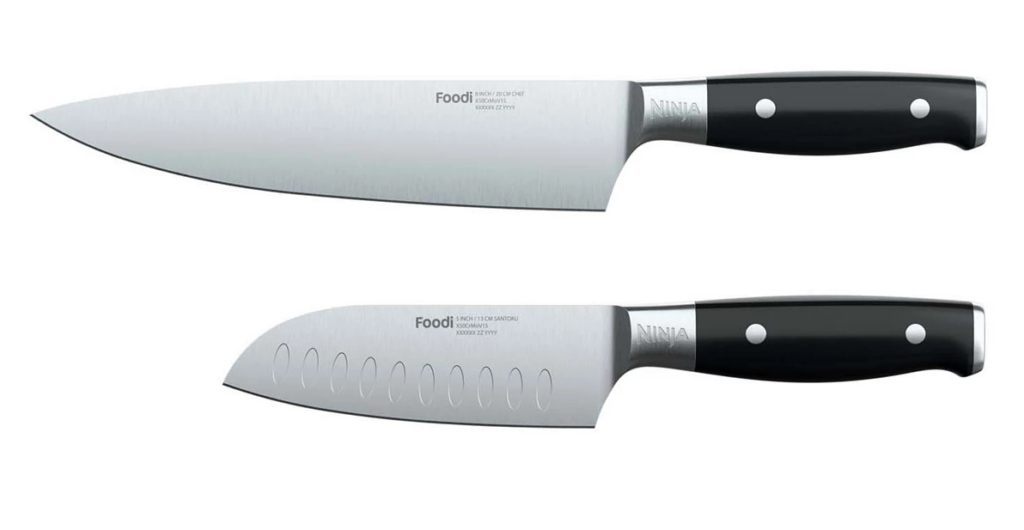 When it comes to chef's knives, the sharper the better, which is why this Ninja set is such a win. The premium chef's knife and santoku knife in this set have razor-sharp blades made of German stainless steel, making slicing, dicing and chopping a cinch. And because you'll likely be using these versatile knives for a variety of kitchen needs, it's a major plus that they have ergonomic handles and perfectly balanced weight.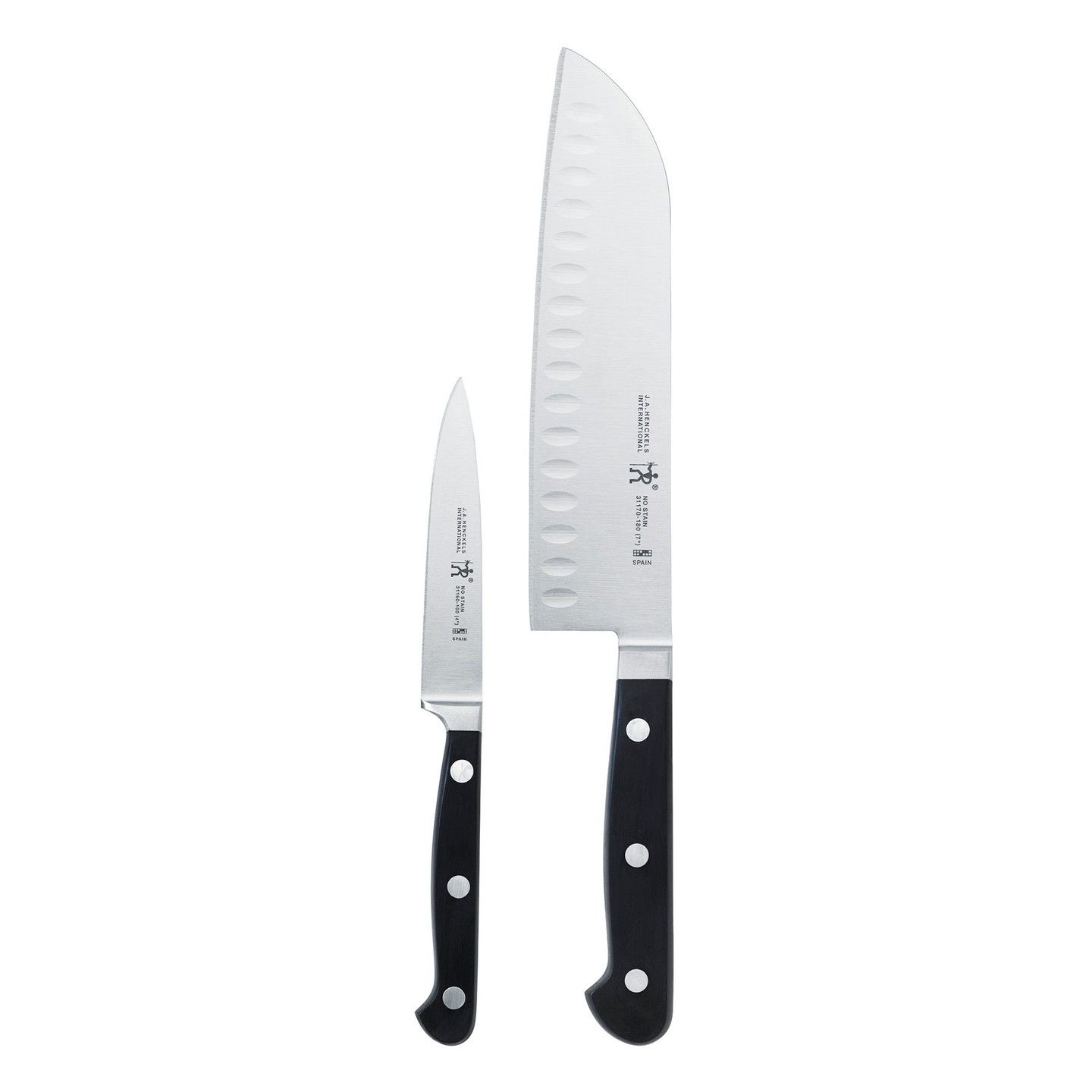 This specialty set will be a go-to when you need to finely dice onions or mince garlic. While Western knives tend to be heavy and sturdy, these Asian knives are incredibly sharp and light, making them a popular option for at-home chefs seeking precision.
Best Knife Accessories
Those opting to register for knives a la carte or wanting to ensure their knives are always as sharp as possible should consider registering for a couple go-to knife accessories. These accessories can make your cooking experience simpler and more efficient.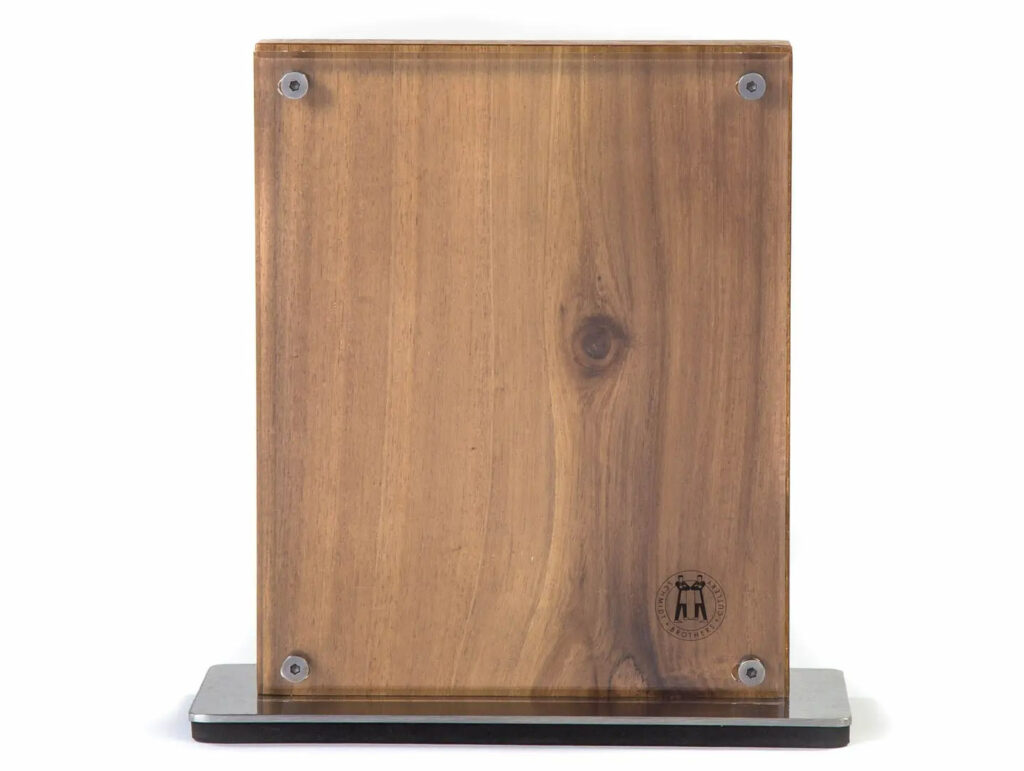 Ensure those specialty knives you're registering for have a stylish home by adding this two-sided magnetic knife block to your wedding registry. This block pairs nicely with kitchen styles ranging from midcentury modern to rustic chic, as it's composed of a warm, natural acacia wood block behind two sheets of acrylic. When you slide the knives between the acrylic and wood, they appear to be floating.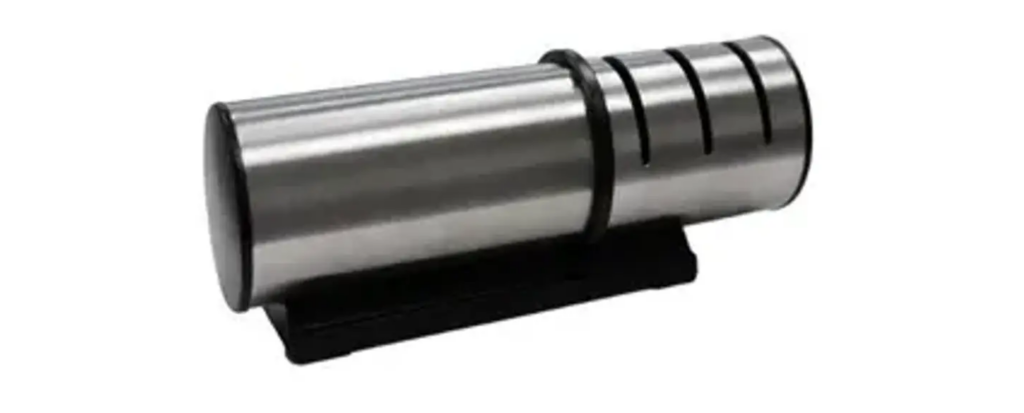 Ensure your knives maintain their sharp edge by equipping your kitchen with this elegant, easy-to-use stainless steel diamond sharpener. On a regular basis, just move the blades of your knives through the sharpener from tip to handle. Once you're done, enjoy a fresh blade ready to tackle your dicing, chopping and slicing needs. To enhance safety, the sharpener includes a non-slip base that ensures it stays in place as you pull the blades through.
Best Cutting Boards
Knives and cutting boards are kitchen tools that work hand-in-hand. As you upgrade your knives on your wedding registry, it's wise to update your cutting board, too. Because materials do make a difference based on your lifestyle and cooking preferences, we've provided our top picks for two popular varieties of cutting boards.

Add a useful and visually-pleasing tool to your kitchen by registering for this double-sided acacia wood cutting board with a recessed grooved edge that helps prevent mess. Wooden cutting boards are a great choice for couples wanting a product that's durable, easy on knives and sanitary. It's a common myth that these cutting boards are less sanitary — in fact, 99.9 percent of bacteria placed on the wooden surface dies within three minutes after contamination. Measuring approximately 14 inches by 9 inches, this board is also a great size to double as a serving platter for charcuterie when it isn't being used for food prep.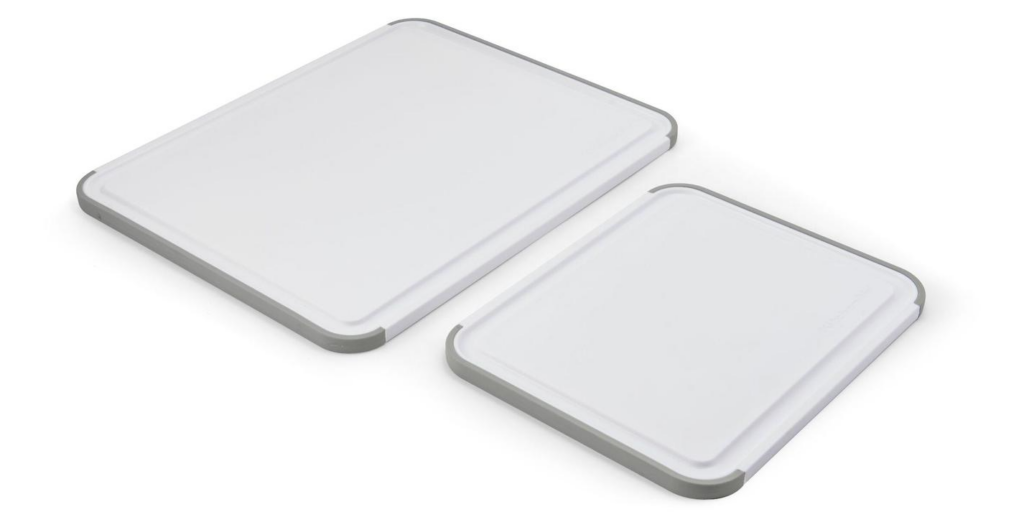 If you want cutting boards that are space efficient, dishwasher-safe and easy-to-clean, look no further. This set of two non-slip plastic cutting boards are made from BPA-free polypropylene plastic and are engineered to maintain their shape over time. The set includes two different sizes, which makes it easier to chop veggies side by side with your new spouse.
Up Next:
From gifts, to cash funds, experiences or charitable causes, add any gift you want, from any online retailer, to your Joy registry.