When it comes to kitchen essentials for your wedding registry, a quality mixer should be at the top of your list. If you're stirring, whisking, or beating ingredients for bread, pasta, cookies, or a host of other goods, a mixer will seriously cut down on your prep time and make your kitchen life much easier.
We've rounded up the best mixers in a variety of categories. Whether you're always in the kitchen or only cook the occasional meal, we've found the perfect mixer to add to your registry wishlist.
Overview:
Best Stand Mixers
The ultimate when it comes to mixers, the stand mixer is a great choice for the devoted cook. This powerful appliance facilitates hands-free, mess-free food prep at a speedy rate, and can handle even the thickest of mixtures. Plus, they're often aesthetically pleasing and come in a range of colors.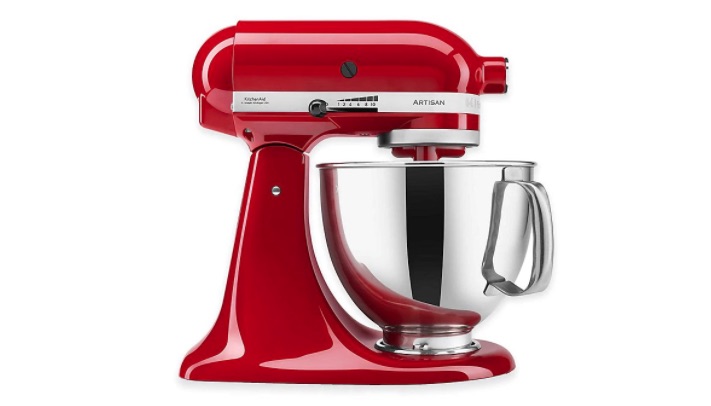 The #1 registry item, this KitchenAid mixer is an easy choice for your wedding registry. With a flat beater, dough hook, wire whip, and ten-speed control, it can meet all of your mixing needs. It includes a five-quart, durable stainless steel mixing bowl that allows you to make a large batch of whatever you're whipping up.
This kitchen stable is also compatible with a seemingly endless range of attachments — from making pasta and ice cream to peeling, coring, and slicing veggies and fruits. Sweetening the deal? It comes in an impressive array of colors, ensuring you'll want to leave it on your countertop for a lifetime.
$379.99 at Bedbathandbeyond.com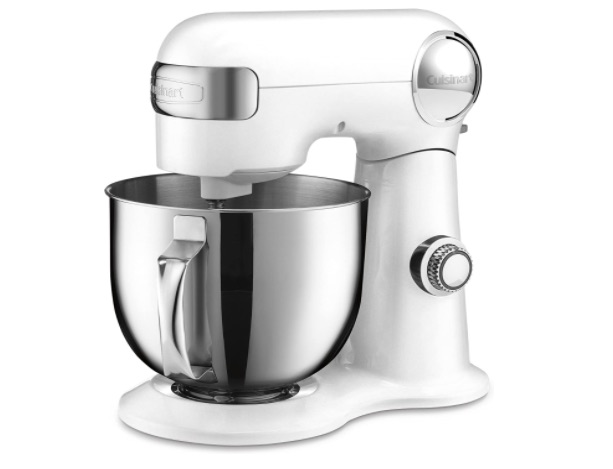 A powerful mixer with a large capacity, Cuisinart's stand mixer is a great choice for those that entertain — plus, it's sold at an amazing price.
The mixer features 12 speeds that suit a range of cooking needs and a tilt-back head that provides easy access to the contents in the polished stainless steel bowl. This makes it easy to make a range of sweet treats, from cakes and cookies to merengue and doughnuts. And because Cuisinart provides a wide array of popular appliances, the registry is a great chance to add one of their mixers to your kitchen.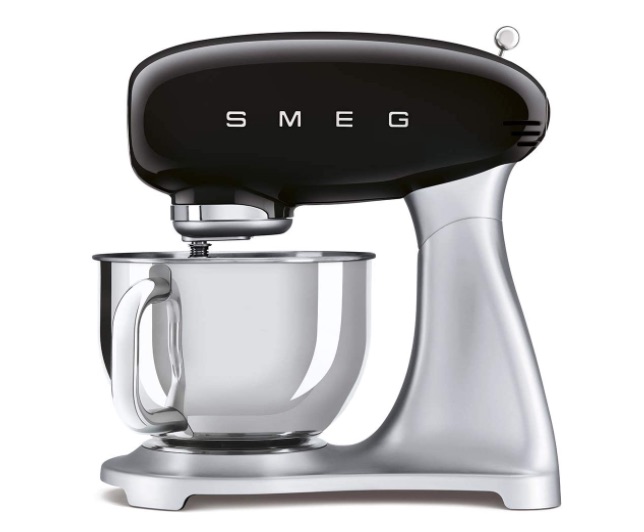 If you enjoy the retro style, this Smeg stand mixer is a must for your wedding registry. Beyond the stylish design, this mixer wows with a planetary mixing capability that allows the arm to reach all the bowl walls, ensuring there aren't ingredients that don't make it into the mix.
To make sure you have the right arm for the job, this mixer comes with a steel wire whisk, an aluminum flat beater, and an aluminum dough hook. Plus, the coating for the accessories is non-stick and dishwasher safe, making cleanup a breeze.
Best Hand Mixers
If you only use a mixer now and again or don't have much space to spare in your kitchen, a hand mixer could be the perfect option for you. This convenient appliance is easy to pull out for a quick-cooking job, and more than capable of mixing creams, cake mixtures, cookie dough, egg yolk, and more. As an added benefit, it's less expensive than a stand mixer.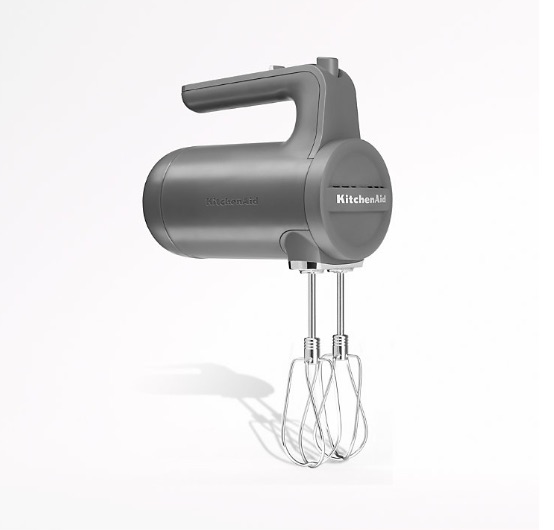 The epitome of simplicity, this chic matte grey mixer is cordless, which really makes it stand out from the crowd — plus, batteries are not required, as this mixer is rechargeable.
In addition to this no-fuss feature, this KitchenAid hand mixer has seven speeds and a Soft Start feature that gradually shifts the beaters from one speed to another, helping to prevent splatter. It also rests upright on the counter so the beaters don't make a mess when you set them aside to add ingredients.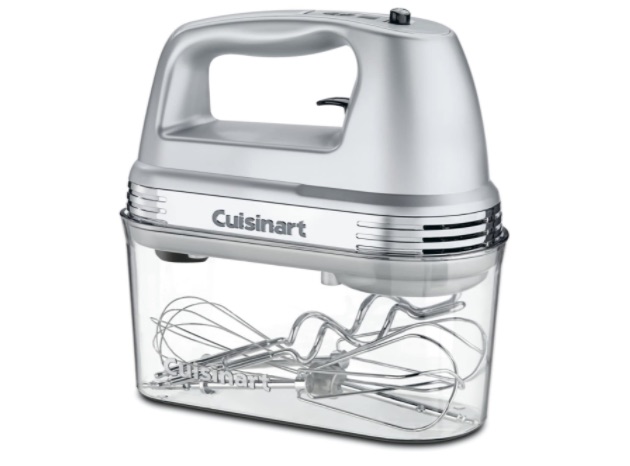 An incredibly effective and efficient handheld mixer, the Cuisinart Power Advantage Plus offers a 220-watt motor and a variety of speeds that let you work up to that perfect rate. You'll also receive beaters, a chef's whisk, dough hooks, spatula, and built-in storage for all the attachments — plus, a recipe book if you can't decide what to make. If you have limited kitchen space and don't want to sacrifice quality, this mixer is a win.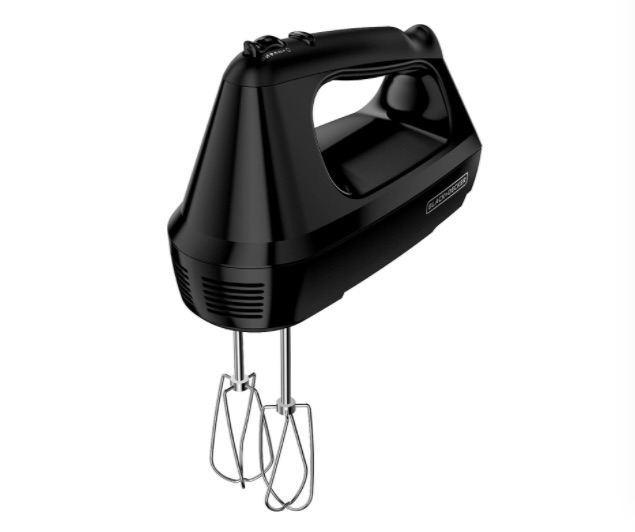 If you want a mixer that's both high-quality and affordable, this is a great registry item. It includes numerous dishwasher-safe attachments, such as two professional-style wire beaters, one whisk, and two dough hooks. There's also a hard-shell storage case to ensure the attachments don't end up scattered throughout your kitchen. And if you ever find yourself with a tough mixture, just turn on the Power Boost Function to get the job done.
Best Stand Mixer Attachments
While the stand mixer is an amazing appliance on its own, it's made all the more impressive by the range of attachments that come with many of them. These attachments allow you to do everything from making homemade pasta and whipping up gourmet ice cream to blending frozen drinks and pureeing veggies for soup. They also help you skip the need to register for an abundance of extra appliances.
Top 3 KitchenAid Attachments for the Stand Mixer
If you're going all out by registering for the classic KitchenAid stand mixer, you might as well upgrade even further with these high-quality, effective attachments.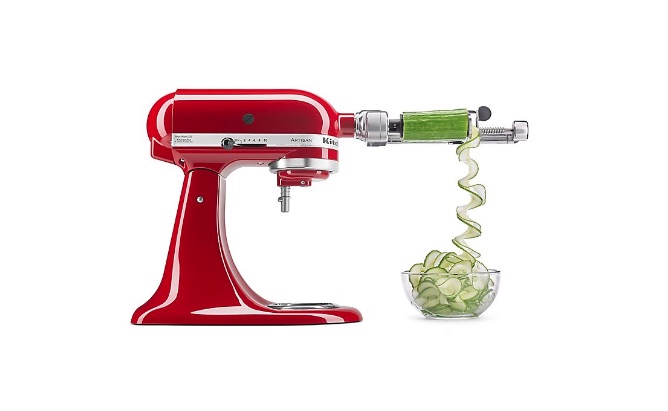 This is an essential attachment for the KitchenAid Stand Mixer, as it helps you to peel, core, and slice a variety of fruits and veggies. It includes a fine and medium spiralizer, spiral slice, and peel mechanism, which can make everything from zucchini noodles to spiral-sliced apples to top a pastry.
If the thought of making your own noodles sounds daunting, know that this attachment is incredibly easy to use. It can make you look like a master chef with very little effort.
$99.99 at Bedbathandbeyond.com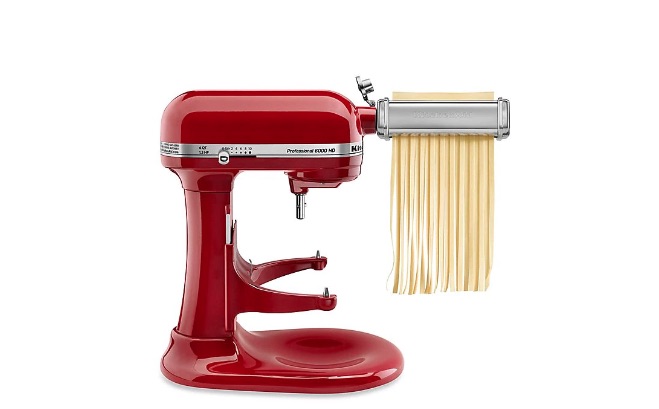 Another must-have attachment for the KitchenAid mixer, the three-piece pasta roller helps you prepare a variety of pasta. It features a pasta roller, fettuccine cutter, and spaghetti cutter to help you whip up meals that will make your partner's jaw drop.
In addition to the fettuccine and spaghetti noodles, the pasta roller can be used to make egg noodles, lasagna, and tortellini. And if pesto is your sauce of choice, you can pop off the attachment and use the stand mixer to mix up your basil, pine nuts, cheese, garlic, oil, and other ingredients.
$199.99 at Bedbathandbeyond.com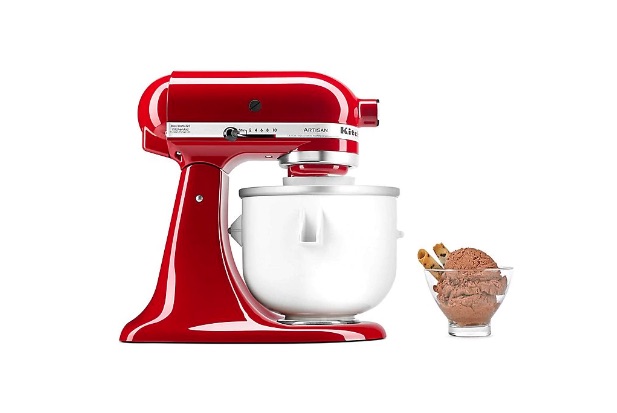 Our last must-have attachment for the KitchenAid mixer, this add-on helps you easily make up to two quarts of fresh, creamy ice cream or sorbet. Just pour in the batter, and the freezer bowl and dasher will transform it into a frozen treat in 20-30 minutes. This is the way to make world-class desserts with minimal effort. The hardest part is deciding what ingredients to use, as the amazing flavor combos seem endless.
$79.99 at Bedbathandbeyond.com
Top Two Cuisinart Attachments for the Stand Mixer
If you're opting for the Cuisinart stand mixer, you should consider these super convenient attachments that eliminate the need for a separate blender and food processor.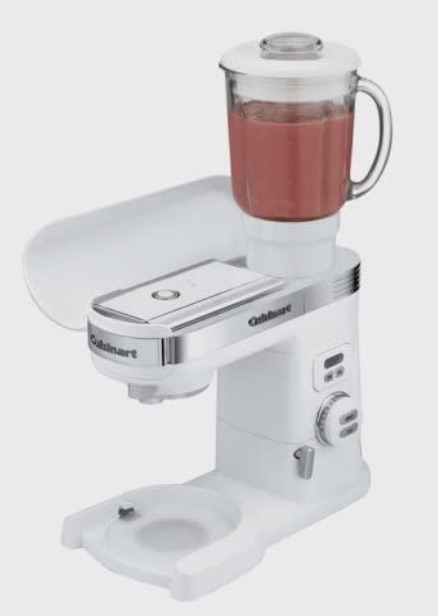 This attachment lets you hook up a full-size blender, with a large 40-ounce glass jar, to your stand mixer. It includes 12-speeds that accommodate an array of blending needs, a leak-resistant cover, and a recipe book if you ever run low on inspiration. Whether you're big on smoothies, refreshing frozen cocktails, or a perfectly blended sauce or batter, this attachment is for you.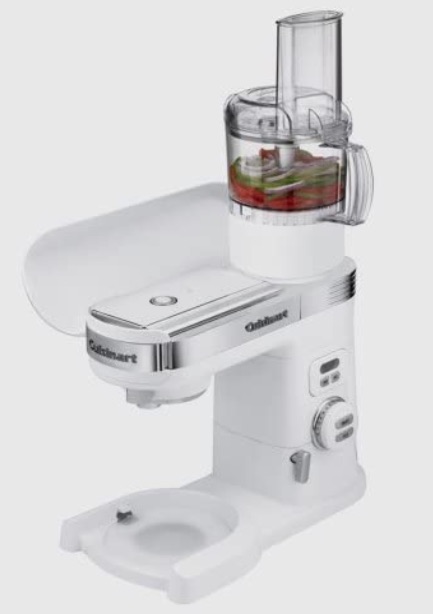 If you're into the idea of saving time when cooking, don't pass up this food processor attachment. Simply hook it up to your stand mixer, and you're ready to chop, puree, or mix vegetables, fruit, cheese, nuts, and a range of other ingredients. And with its three-cup capacity, you have plenty of space to prep the goods for soups, sauces, and more.