An engagement photo session is more than just an opportunity to have images for your save the dates or to get a feel for your photographer before your wedding day. It's also an opportunity to capture your essence as a couple and make memories of this special time in your lives—and choosing the right location for this important part of your wedding photography is key. Your engagement photographer can offer suggestions and select a site that is memorable to you as a couple, reflects your aesthetic, and speaks to the love you have for your city, all of which is paramount to a great engagement session.
A Chicago engagement shoot, in particular, has the advantage of taking place in a city with many stunning backdrops. "I look for versatility when choosing my favorite engagement portrait locations," says Chicago-based wedding photographer Andrew Weeks, who also shoots weddings in San Francisco, California. "I like spots that have a variety of settings to choose from that are also all within walking distance."
His favorite? Milton Lee Olive Park. "Olive Park hits this on the nose. It has a variety of backgrounds. It has the classic city skyline, it has concrete steps, park benches, the lake, the beach, tree-lined areas, and if you want, you can still cross the street and head into downtown for a more urban environment. At the end of the shoot, it can look like you traveled all over the city to capture these images, when in reality you parked once, went for a nice walk with me, smiled, laughed, kissed your fiancé a bunch, and got some great timeless portraits of the two of you!"
In addition to Weeks' favorite spot to shoot, we've rounded up a variety other photogenic locations in Chicago to host your engagement photo session.
Located along the shore of Lake Michigan, America's first planetarium features a campus worthy of a once-in-a-lifetime photo session. Unique sculptures, a sweeping stairway, and terrace views make stunning backdrops for engagement pictures, as does the majestic Doane Observatory. The Downtown Chicago skyline is visible from Adler Planetarium, and the indoor displays make for exceptional otherworldly scenery.
Situated on storied Michigan Avenue, the city's most popular museum offers a variety of environments perfect for an engagement photo session. Second only to New York's Metropolitan Museum of Art in size, the Art Institute of Chicago includes a Beaux-Arts style building guarded by a famous pair of bronze lion statues. A series of grand stairways separated by platforms is a favorite for photographs.
If incorporating a Chicago landmark into your engagement session is your goal, you can't go wrong with Buckingham Fountain, one of the largest sculptural fountains in the world. In operation from early May through mid-October, the fountain produces a major display for 20 minutes every hour on the hour with a center jet reaching heights of 150 feet in the air. The rococo wedding-cake style structure is fashioned of pink Georgia marble and features picturesque granite elements and beautiful bronze sculptures, which creates a lovely background for photographs.
Over a thousand acres are dedicated to the city's largest park, which stretches from Grand Avenue to Ardmore Avenue along seven miles of lakeshore. Beautiful backdrops for engagement photography at Lincoln Park include beaches, the Chicago History Museum, a conservatory, a lily pool, and a pavilion. Lincoln Park Zoo, a free zoo that is open year-round, is home to nearly 1,250 animals and features an interactive reproduction of a family farm. With so many settings to choose from, you're sure to find an environment that fits your style.
Technically a giant rooftop garden situated on top of a theatre and a subterranean parking garage, Millennium Park boasts a bevy of Chicago landmarks, the centerpiece of which is the outdoor performing arts venue Jay Pritzker Pavilion. Designed by Frank Gehry, the pavilion features a stage framed by curving stainless steel plates as well as a picturesque Great Lawn. In the park's AT&T Plaza sits the famous "Cloud Gate," a towering legume-shaped sculpture that gleams silver and is a popular photo op. Crown Fountain, a cross between a video sculpture and a working fountain, allows the public to get up close and personal with the water, which is perfect for a playful summer photoshoot. Nature lovers will also love Lurie Garden, a scenic spot composed of grasses, shrubs, trees, perennials, and flowering bulbs.
What this micro-oasis lacks in size it makes up for in beauty and serenity. Located just north of Navy Pier, Meek's favorite engagement spot is known for its series of five circular fountains—representing the five Great Lakes—connected by diagonal walks. An alley of scenic honey locust trees frames the entrance to Milton Lee Olive Park, while benches overlooking the beach offer a place to sit (and pose). The views of the Chicago skyline, including the Wrigley Building, are second to none, and acres of soft green grass round out the offerings of this small but lovely pocket park.
This storied outdoor venue is positively electric with excitement, color, and attractions. Pier Park features a Ferris wheel and a carousel, both fabulous photo ops. The Crystal Gardens, a stunning six-story glass atrium housing an indoor botanical garden, offers a lush backdrop amid twinkle lights and whimsical fountains, while outdoor art installations appeal to the artistic. Keep in mind that Navy Pier is Chicago's top tourist attraction, so we recommend going on a weekday when the crowds are less intense.
Located in Lincoln Park, North Avenue Beach is one of Chicago's most popular beaches. Along with the breathtaking lake views, the beach boasts a 22,000-square-foot beach house shaped like a marooned ocean liner that makes a unique backdrop for images. Outdoor enthusiasts can take photos cycling, rollerblading, or strolling along the Lakefront Trail. Shore Club Chicago, located on the beach, also has an accessible patio with a striking mural that appeals to art lovers.
There's something for everyone along this 1.25-mile stretch on the south bank of the Chicago River. Occupied by a multitude of interesting storefronts, waterfront cafes, monuments, and museums, the Chicago Riverwalk is a popular destination for tourists and locals alike. Public art is displayed throughout the pedestrian trail, reminiscent of an outdoor art gallery and perfect for couples that want artistic vibes in their photos. Meanwhile, the River Theater offers an urban oasis with a sculptural staircase and "The Jetty" cove features a floating wetland garden, both of which are interesting frameworks for engagement photos. Plus, architecture aficionados will love the backdrop of some of Chicago's most beautiful buildings.
Up Next: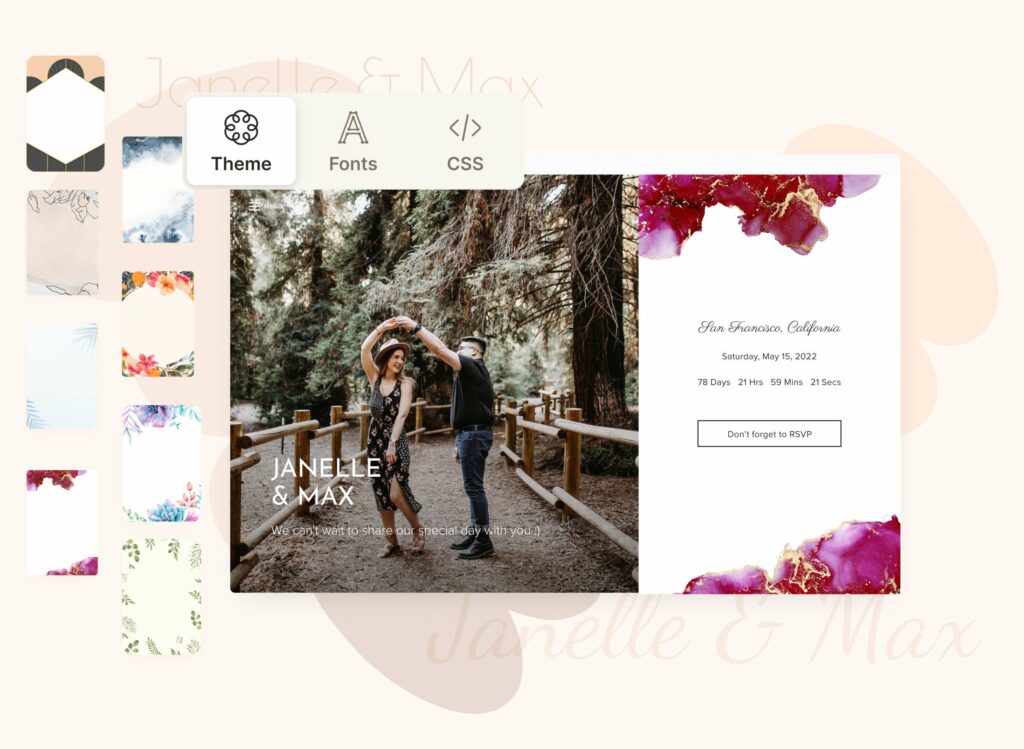 Set up your wedding website in minutes with design options to make yours truly unique.
Related Posts