This North Carolina couple shares details on their big day, including an ice cream truck at their reception!
First off, congrats! What is your most memorable moment from the wedding?
There were so many special moments that we incorporated into our wedding day. First look, humor in our ceremony, surprising the groom with our bridal party dancing up the aisle, our choreographed first dance, the ice cream sandwich truck, and more. But the moment that stands out the most was our last dance. After the reception was over, the DJ played one last special song for us, it wasn't a typical first dance song but a song that had a lot of meaning to us. In the empty room, the two of us laughed, cried, loved, and soaked up the last of our special day. It really helped to sum up all the emotions and love of the day and wrap up our first day as Mr. and Mrs.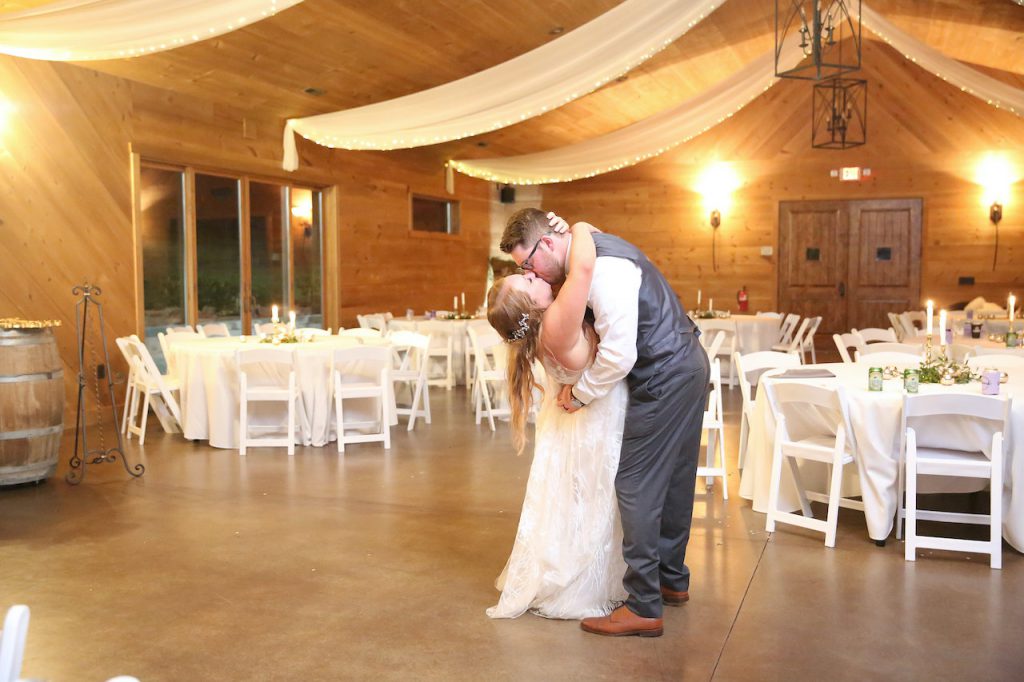 What were the colors of your wedding?
Shades of purple including plum, mauve, lavender, blush pink.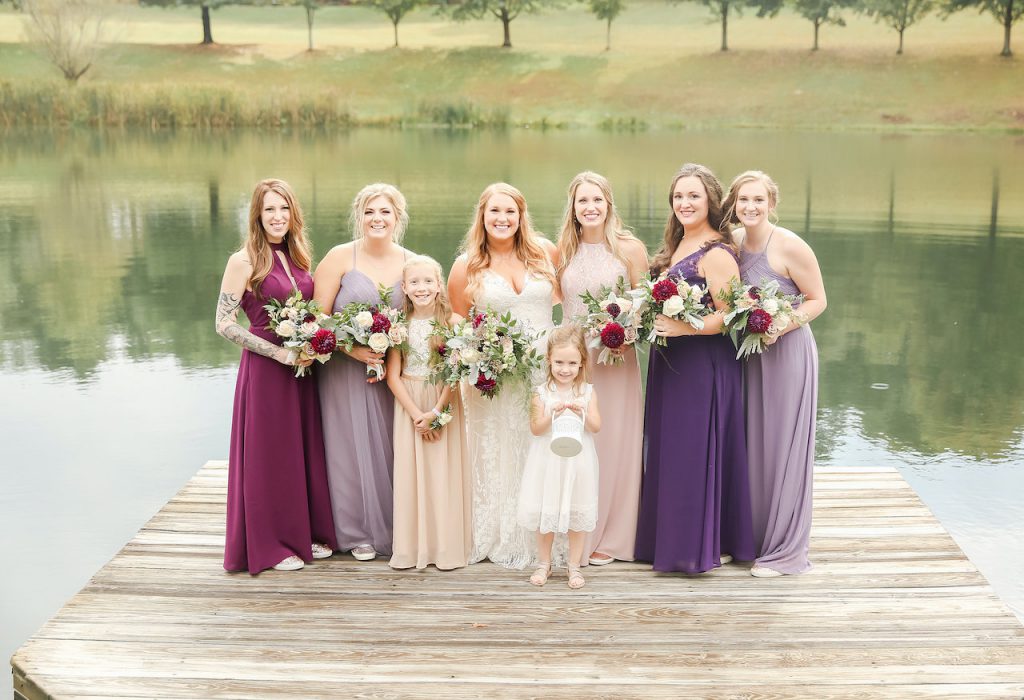 What do you think worked really well at your wedding that you would recommend every couple to do?
Have fun! There were some things that really didn't matter that much to us in the grand scheme of planning, so we decided to have fun with it. Our bridal party entered the reception of the Star Wars theme song. We used a poster that said, "Roses are red, true love is rare, booty booty booty booty rocking everywhere" as decor by the dance floor. We shot off a confetti cannon to take photos. We got in a rowboat on the pond after the wedding and took fun pictures even though everyone was fearful we could fall in. All of these things and more made our day unique to us and more memorable. So, do the silly thing that is special to just you and your partner. Take the time to be alone and enjoy one another. It is your day, and it can be overwhelming. Be sure to be real to yourself and who you are as a couple and incorporate that into your day!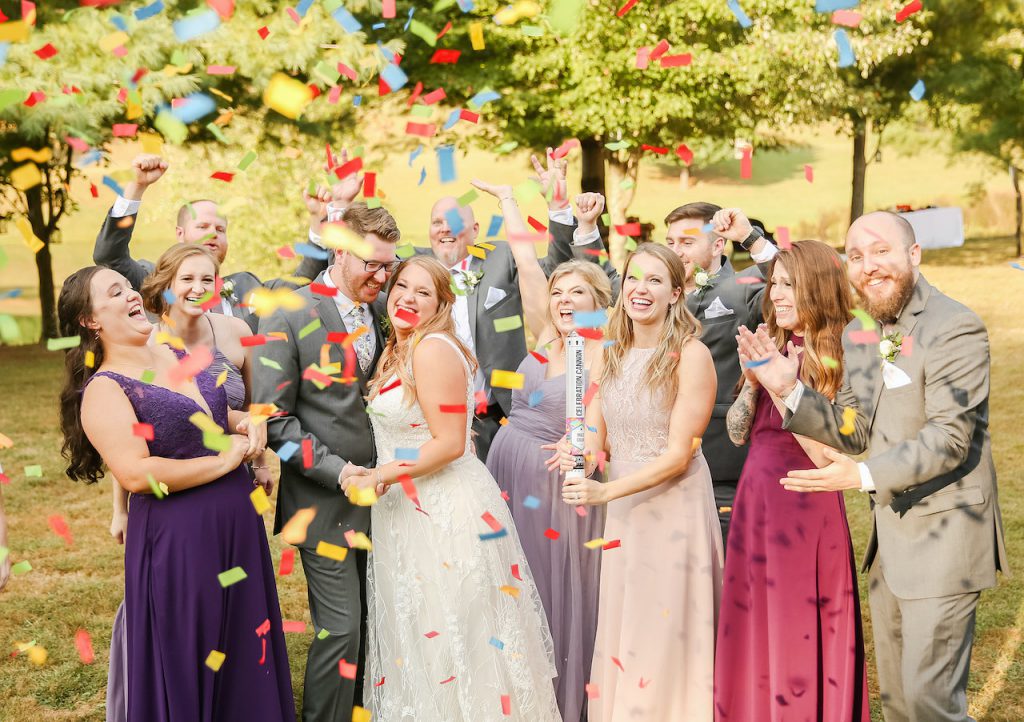 Would you have done anything differently—splurge on a pricier dress, nix the favors, go for that extra passed appetizer?
Honestly, it was the most perfect day! I can't think of anything I would want to change. Maybe make it last longer? 🙂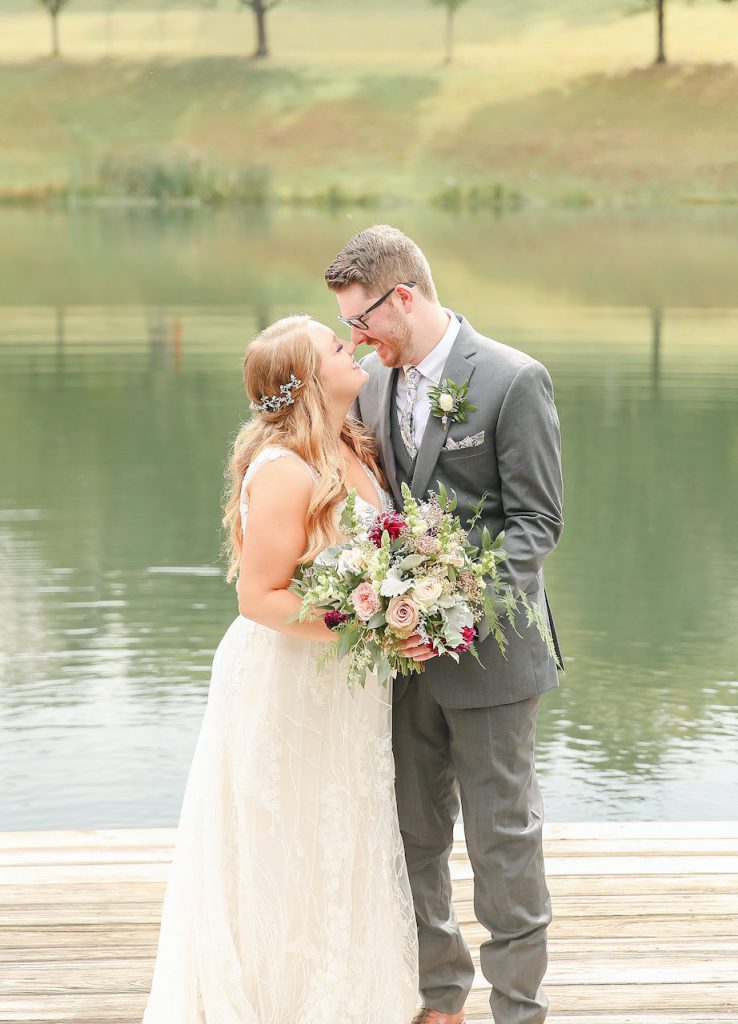 What tips do you have for other Joy couples still in the midst of wedding planning?
Take the time for each other and still enjoy your relationship and this important time. Planning a wedding can be stressful and takes a lot of work plus your normal life-stress from work and other relationships, etc. During planning, we made sure to have certain days that we did not work on wedding stuff but instead had a date night or made dinner together at home, or watched a movie. Really anything that gives you time to enjoy one another and relax. We honestly did not get that stressed out planning and enjoyed the process but we found it important to take time to focus on us and not just the wedding.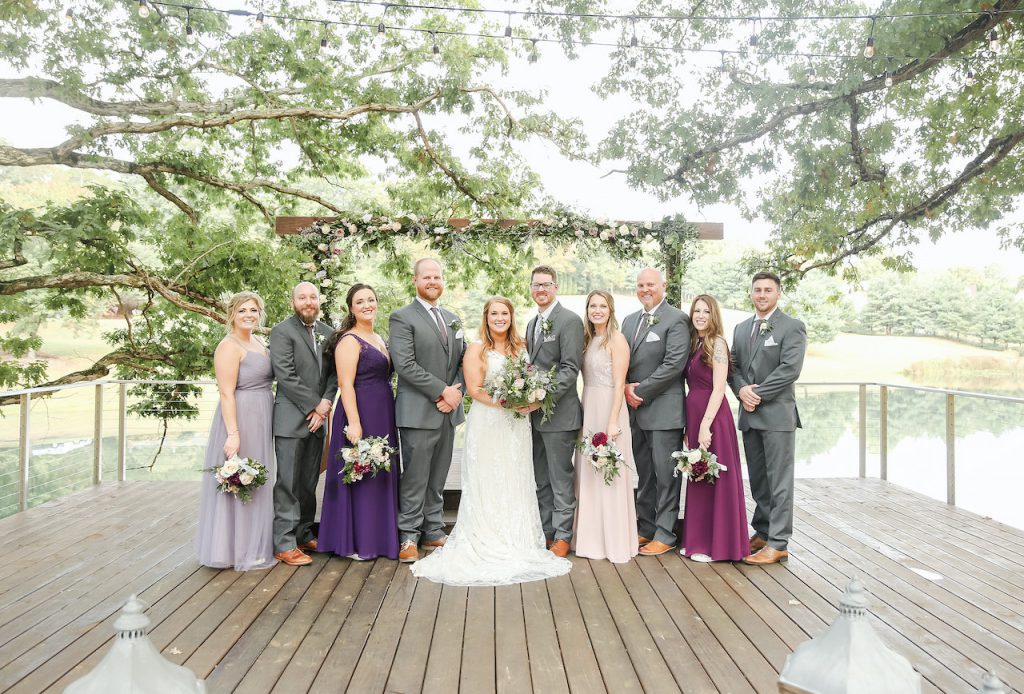 What were your favorite features of Joy?
We loved the layout and look of our Joy site! Also that we could put any registry information we wanted and weren't limited to specific registry options.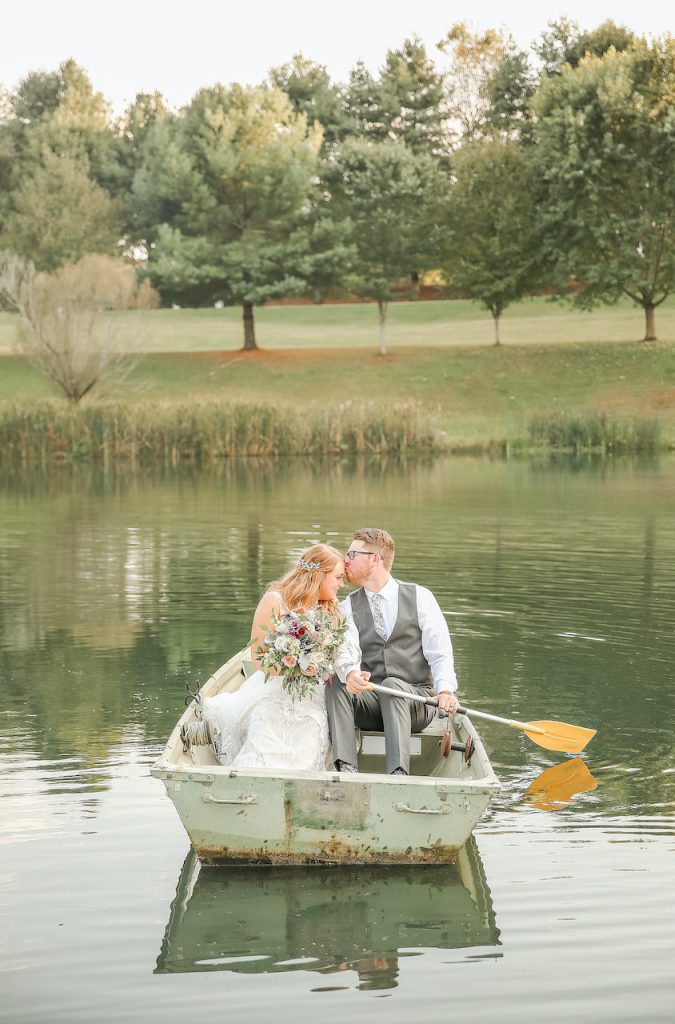 At Joy we believe that although a wedding lasts one day, joy lasts forever. What does that mean to you and your partner?
When people asked the theme of the wedding, we only think of "fun". Our relationship has been filled with so much joy and happiness and we have had so much fun together! That is what we wanted to share with our wedding guests. We feel like the love we share that is filled with joy, happiness, and fun is the foundation for what life long relationships are made of. Now that the wedding is over we can look back on it and it was a lot of fun, for us and our guests. Now we are just continuing to build the foundation for the rest of our lives and make sure it is filled with the joy, fun, and love that we had on our wedding day!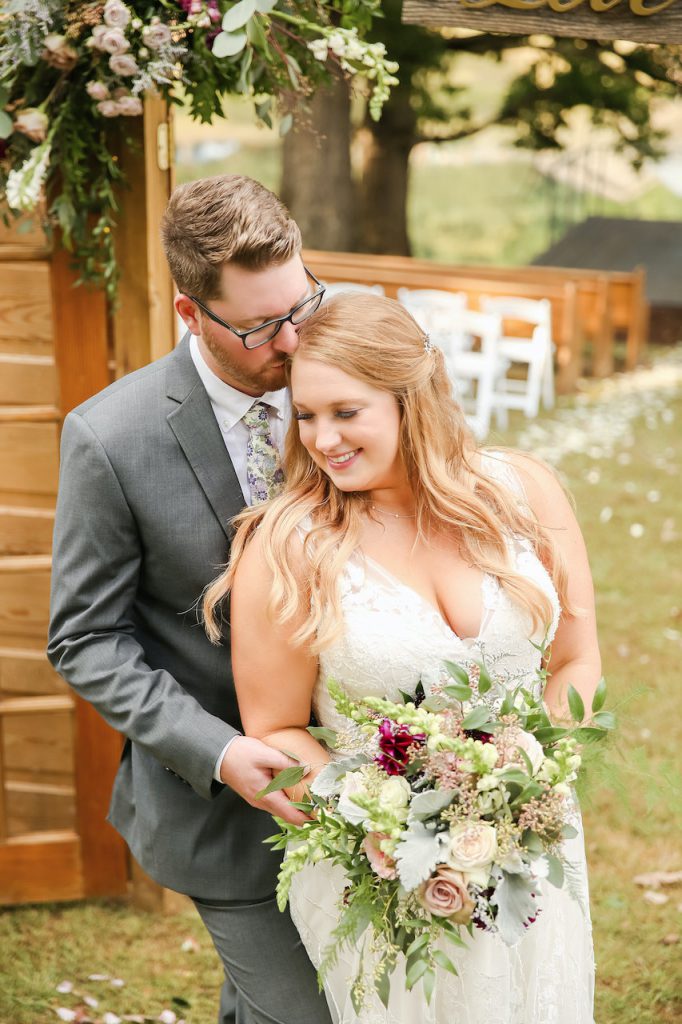 Vendor Details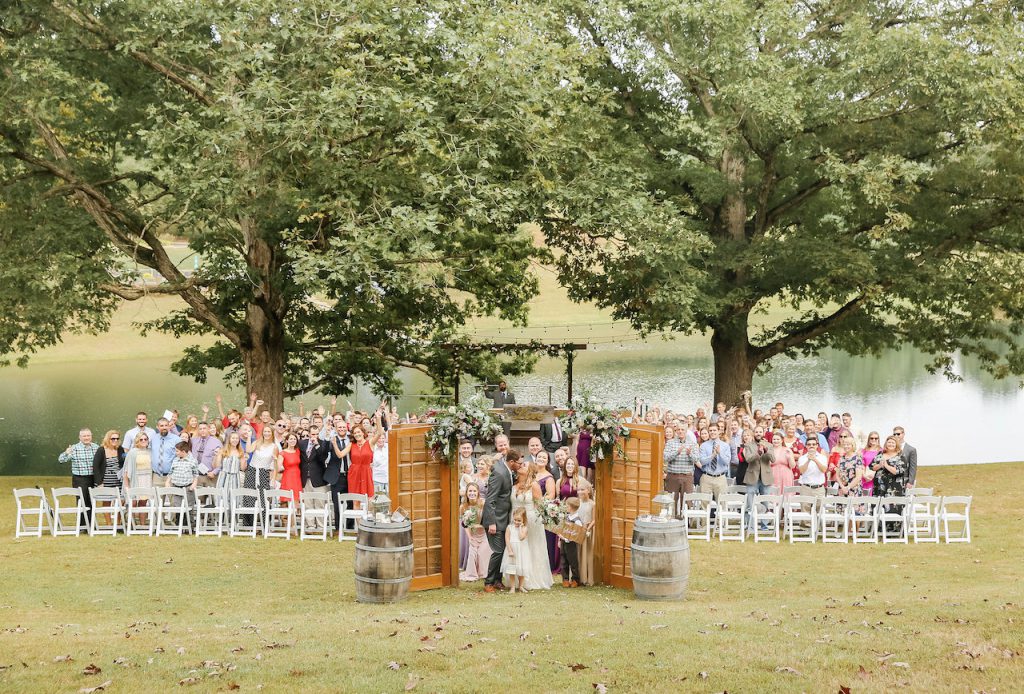 Wedding Venue: Reflections at the Pond
Our wedding day was perfect and we cannot thank the Reflections Team enough for all they did to make it possible! Even with the threat of inclement weather, and a fast moving rain storm on our wedding day they made the outdoor ceremony of our dreams possible. The ceremony site is gorgeous on its own and made even more stunning with design by White Laurel and florals. The reception site is set up perfectly to accommodate various size groups and can meet all your reception needs! We loved working with Nicole and her team and would recommend this venue and wedding coordination to everyone! The pond is so pretty and the landscaping just perfect- I really wanted to get in the boat on the pond for some notebook-esq photos and the Reflections Team made sure that was possible. All of our bridal party, family and guests had the most fantastic time and saw how hard the venue worked for us. Everyone was able to enjoy the wedding due to the team's commitment to their work. This was especially special for my mom who got to celebrate this special day with us instead of working throughout our wedding! We are so grateful to Nicole and the Reflections Team and can't speak more highly of the venue, it was literally the day of our dreams
Photographer: Ruby Peoples
I cannot begin to explain how wonderful Ruby Peoples is as a photographer! She has captured so many amazing memories for my family and I cannot imagine working with anyone else. Ruby is professional, fun, and has an insane work ethic! Every photo session I have ever experienced with her I have left feeling comfortable, confident and received sneak peek photos in less than 24 hours! We aren't even 3 weeks out from our wedding and she is already working on our photos. Ruby has captured my graduations, family photos, my dogs for Christmas cards, my sister's wedding, my wedding, my sister-in-law's wedding, all of our engagement pictures, and my little nephew's new born photos. Ruby went above and beyond for me- she hiked up Black Balsam in the freezing cold for our engagement shoot, we went to Looking Glass Falls for my bridal photos, she took photos of us burying the bourbon prior to our wedding, helped me to take some surprise pictures for my future husband, and then captured our wedding day from beginning to end. I love the style of her work, and the ease of working with Ruby- the natural light photography makes for timeless photos! We loved our experience with Ruby and will continue to work with her in the future.
Videographer: Devin Tatro
Our experience with Devin was spectacular, he made us feel so comfortable and we had so much fun. It was like working with your friend! We couldn't have been more pleased with the video and and the quality of the product. I am overwhelmed with how perfectly he captured our day and us as a couple. Thanks Devin for making us look good and helping us to capture these memories for a lifetime!
Florist: Brittany Cubero
Brittany is so talented. She went above and beyond for my wedding. She made me a bouquet for bridal portraits with little input from me and it exceeding my expectations. Brittany also helped me to get ready for my bridal portraits which was just above and beyond. The florals for our wedding day were incredible and I was overjoyed with how beautiful she helped to make our day!
Caterer: Corey Marino
Hands down the best catering service I have ever seen! Wonderful service, delicious food, and the best team! Loved every part of working with Catering by Corey, from the inquiry and email processes, to my multiple questions and menu adjustments Corey was a pleasure to work with. She let us come up with our own special appetizer (mini meatloaf cupcakes that our guests loved!), helped us determine numbers and menu options and even helped us to determine the rental items we would need. Everything from emails, to the tasting, and the actual day of was a wonderful experience! I still have guests coming up to me to talk about the delicious food at our wedding! Andrew was amazing day of, he made sure that the bridal party and especially my husband and I had food and drinks as soon as we began photos during cocktail hour and he continued to check on us throughout the reception. I really cannot brag on this team enough, best choice for catering for your wedding!
Baker: Kristin Allen
Kristin is so amazing! I loved every part of the experience working with her for our wedding day! I fell in love with her bakery and frequent it often now! She even hosted a bridal tea the day of our rehearsal dinner. Everything was beautiful and delicious and always exceeds expectations! I would recommend her to everyone!
Ice Cream Truck Vendor: Sunshine Sammies
They make homemade ice cream and cookies to create the most delicious ice cream sandwiches! It was a fun addition to our reception, guests have raved about this and I have sent everyone to their brick and mortar shop in Downtown Asheville.
DJ: Sound Extreme Entertainment
Steven from Sound Extreme was the PERFECT DJ for our big day!!! He did such a fantastic job with sound at the ceremony, music for cocktail hour, and reading the crowd during the reception!
Wedding & Engagement Rings: Hollifield Jewelers
Working with our local jewelry store made the experience so special. Logan was able to take his grandmother's diamond and design a setting special for the engagement ring. Then we both loved working with them for our wedding bands.
Dress Designer: Maggie Sottero
Dress Boutique: Wedding Inspirations
Shoe Designer: Kate Spade