Whether you're hosting an intimate fête or renting out a banquet hall, wedding flowers are one of the most expensive items in the budget for your big day. Carrying an average price tag of $2,000, centerpieces, bouquets, boutonnieres and corsages may add up quickly.
Do-it-yourself floral arrangements are not only an amazing way to save some money in your budget, they're easier than you think. Couples who decide to arrange their own wedding flowers, however, should be aware of some common challenges. Jessica Pridham of Eloped, an elopement planning company, shares that one of the biggest mistakes she sees with DIY wedding flowers is underestimating the timing. "People don't really realize how busy you will be around your wedding date and making the flowers takes at least a couple hours depending on how much you're doing," Pridham says.
From nailing the timing to cost-saving tips, Joy's guide to DIY flowers covers all the basics for couples looking to make their big day bloom.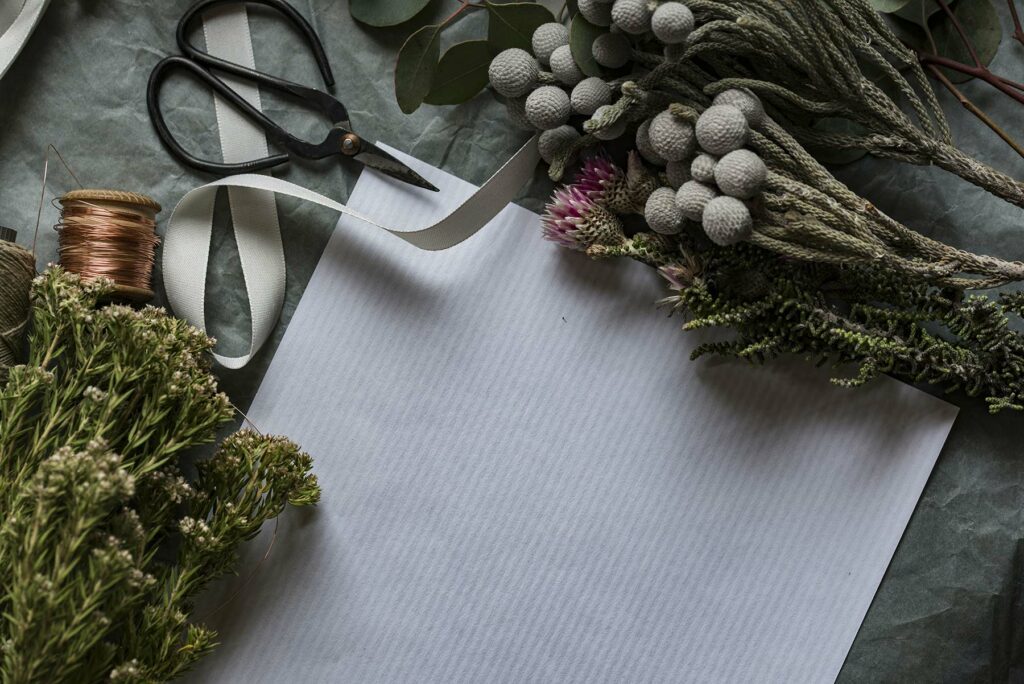 Where to Start
First, settle on a theme that will be the through line of your DIY floral arrangements. Whether it's a uniting color palette or spotlighting a particular flower, it's good to narrow down your plan before you go shopping. Vision boards are a great way to piece together your design into one cohesive picture. If you hit a creative roadblock, florals or color palettes from your wedding website or invitations can be a good place to find inspiration.
Also mentally walk through your ceremony and reception to count each arrangement, bouquet, corsage and boutonniere. Once you have an idea of the workload, activate the phone tree and sign up some recruits! Enlisting friends or family will help things run much smoother the day of your wedding and relieve any additional stress.
Many floral arrangements can be made a day — or even a couple days — in advance if you have proper storage. Emily Mathison, U.S. creative director of McQueens Flowers, advises using durable fresh flowers and storing the finished product in cool temperatures to extend the life of the blooms.
"Flowers with a woody stem, such as hydrangea, often have a longer vase life," she says. "However, softer-stemmed flowers, particularly spring flowers such as daffodils or tulips, don't do well in any kind of heat and will often only last 3 to 5 days. Keep your flowers somewhere cool [before your big day]."
Remember, the smaller the arrangement, the less time it will take to create. Give yourself ample time to put together the ceremony and centerpiece arrangements. Boutonnieres, bouquets, and cocktail table adornments will naturally take less time because they are smaller, with the exception of a wedding bouquet.
What You'll Need
Sharp flower shears or scissors
Floral foam blocks
Floral tape
Plastic buckets for storing the flowers prior to arranging
Ribbon, twine and straight pins for wrapping the stems of bouquets and boutonnieres
Chicken wire (depending on the arrangement)
Secateurs, if foraging or using branches
Vessels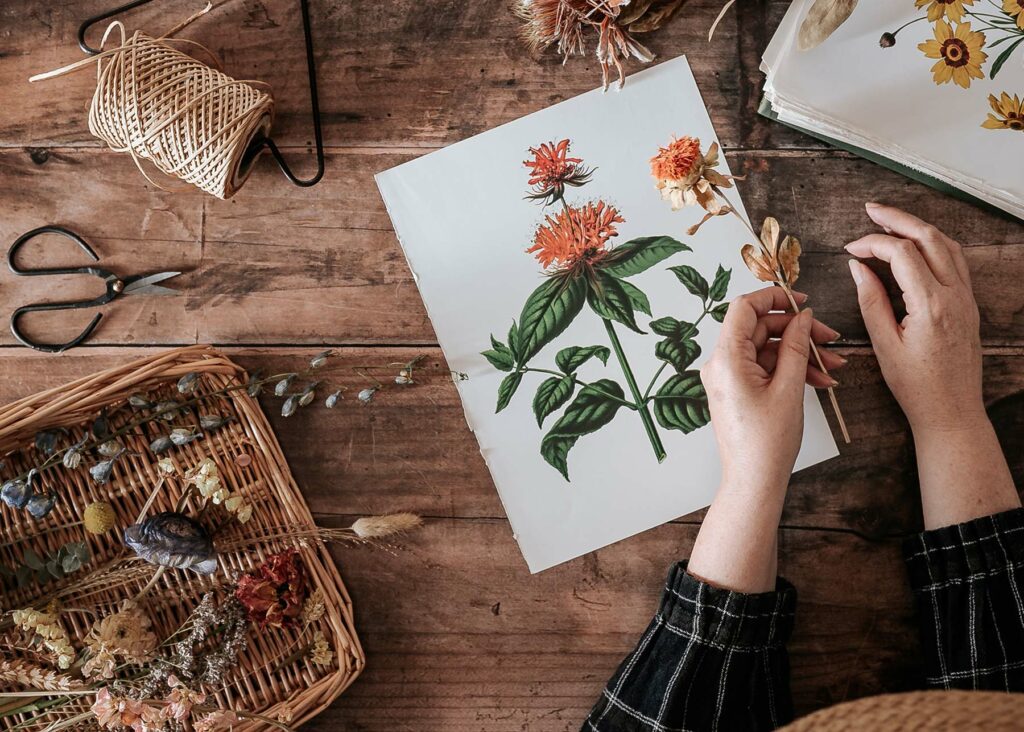 Get the Most Out of Your Budget
Buy in season
Buying in-season flowers from a local purveyor is the best way to stretch your budget for floral design. If your favorite flower isn't in season for your wedding date, surely there is a comparable varietal that completes your vision. "Even if your favorite flower isn't in season, there is bound to be a gorgeous alternative," says Mathison. "For example, brides who love peonies (in season May to July) but are getting married in February. A good alternative that I would recommend is ranunculus. They have a similar frilly, super soft petal and gorgeous appeal. There are many options like this for most types of flowers." Consult the list below to get an idea of what's in season around your big day.
| | | | |
| --- | --- | --- | --- |
| Winter | Spring | Summer | Fall |
| Gardenias | Lilies of the Valley | Roses | Chrysanthemums |
| Poinsettias | Peonies | Poppies | Sunflowers |
| Winter's Rose Camellia | Forget-me-nots | Calla Lilies | Pansies |
| Christmas rose | Lilacs | Daisies | Hibiscus |
| Ranunculus | Periwinkles | Dahlias | Aster |
| Hardenbergia | Forsythias | Hydrangeas | Coronillas |
Forage
The most beautiful floral arrangements showcase a combination of textures. Get creative by using blooming branches from trees in your yard to lend a natural vibe to your motif. "We use seasonal branches a lot of the time [in our designs]," says Mathison. "So, if you have any trees that are starting to blossom with some low-lying branches, cut off the sprigs just before the flowers open and enjoy them in a vase at home. Fruit trees or tree lilacs are gorgeous for this." Not to mention, it's free!
Repurpose vessels
Over the years of a couple's courtship, you're bound to have a vase or two stored away on a shelf. Dust it off and give it new life at your wedding! Mixing and matching clear bases with the same arrangements will not only save some major coin, but it will add a little dimension to your tables. If you find that you don't have enough for all of your centerpieces, check out local yard sales or Goodwill for some inexpensive finds.
Not into the clear vase look? Hop over to the craft store and pick up a can of spray paint made for glass products. Better yet, paint each vessel with chalkboard paint and have your centerpieces double as table numbers. Vintage books, lanterns and other trinkets can also serve as tablescape decor, bringing down your flower budget.
Use the ceremony flowers in the reception
Repurposing your ceremony flowers at the reception is a big-time budget-saver. A great way to do this is by using arrangements lining the aisle as centerpieces on your reception tables. Use the altar flowers to make an elaborate vignette at the sweetheart table or at the entrance of the reception. For cocktail tables, wedding party bouquets make for the perfect lowline centerpiece when put into a small vase.
Source locally
The math is easy here: The shorter distance a flower has to travel in a refrigerated truck, the less the product will cost. Set your sights on local wholesale flowers for your supplies. "When it comes to purchasing the flowers, you can source them from local floral markets and, surprisingly, Costco and Sam's Club. These usually offer the best bang for your buck," says Stefan Bucur, founder and owner of Rhythm of the Home.
"Another tip that will help when DIY-ing your own wedding florals is to add silk flowers and faux greenery to installations that are used in the background and off the tables," he continues. "Most people will not know the difference but will appreciate the beauty. This helps keep the cost of florals down tremendously."
The supermarket chain Trader Joe's is known for its love of local produce and inexpensive prices, which extends to the flower section. Speak to a store clerk and see if you can order your blooms at a discounted, bulk price.
Avoid holiday markups
Thinking about a Christmas wedding? Prepare for a wholesale flower markup as blooms will be in high demand for everything from corporate holiday parties to members-only museum events. Avoiding big holidays like Valentine's Day will not only save you money, but wholesalers will have more flowers to choose from, as well.
Lean on green
Greenery and foliage are often underestimated as simple flower fillers, but they are the base that make your blooms pop. Sprigs of eucalyptus, baby's breath and dusty miller give arrangements texture and dimension, elevating your carefully chosen florals. These little miracles will make just a few blooms look lush and fabulous. Bonus: Greenery is markedly cheaper than fresh flowers! With a stunning wedding lighting display, you could also skip florals completely by using votive candles to complement an arrangement of draped garlands or succulents.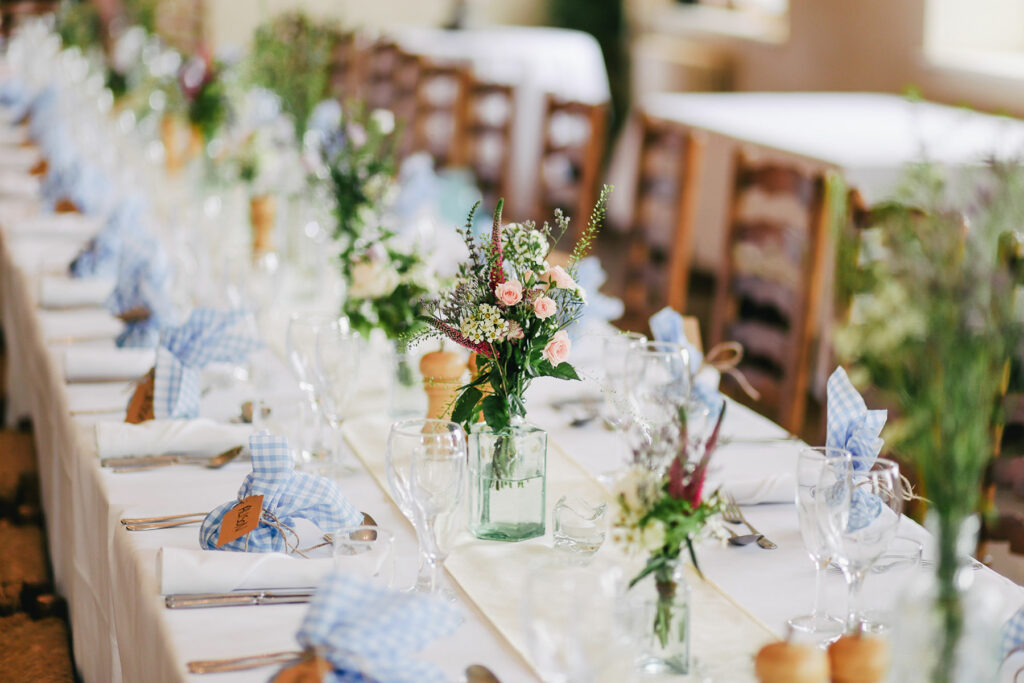 Tips for Every Arrangement
Once you pick up your flowers from your wholesaler, there are a few easy ways to stretch their freshness before your big day. "Make sure to keep the water clean and cut all your flowers at an angle with sharp scissors just before you put the flowers in water," Mathison advises. "Keep your flowers somewhere cool. Use what you really love and have some fun with it."
Remember that the first arrangement is always the hardest. Give yourself time to experiment with different designs. Once you settle on the method, creating the subsequent arrangements will be much easier.
When arranging your flowers, whether for your ceremony or centerpieces, keep these principles in mind: balance, dominance, texture, color, contrast, scale and unity. A great way to start is by placing two blooms on each side of your vessel. As you begin to fill in around these two flowers, think about balance — both sides should start to blend into one full, lush masterpiece. Make sure that one type of flower is the focus of each creation. Think about it like this: One bloom is the headliner and everything else is a supporting character. The cast makes the star shine!
Ceremony Flowers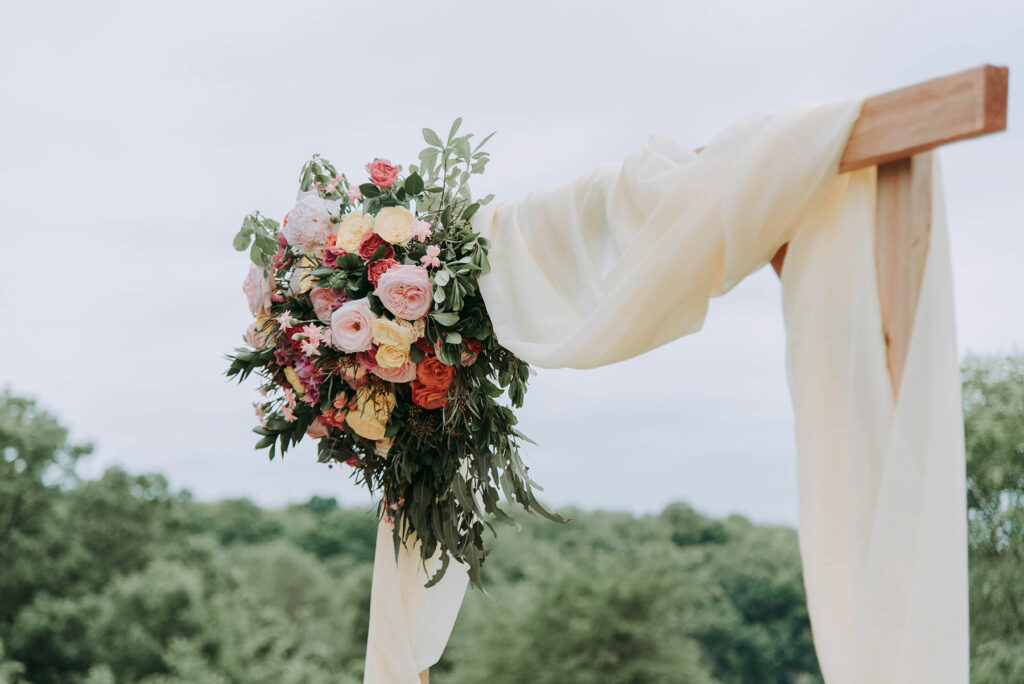 If you are sticking with standalone arrangements, play with height as you design your altar to make a big impression. Flanking the aisle with pedestals topped with cascading greenery or a garland creates a great frame for the nuptials. If tall columns are hard to come by, stack a few apple boxes in a stair-like design and drape it with a solid-colored cloth. Set clusters of arrangements on each step. Potted trees, pumpkins and seasonal gourds make for a great natural space filler to give the design dimension, not to mention it saves on flowers and personpower. Pro tip: Paint the pumpkins white to create a cohesive look.
If using an arch, things could get a little tricky (and time-consuming). Not to worry! It's easy to prepare. "For creating flower arches or larger centerpieces, I recommend lots of chicken wire and foliage," says Mathison. "First, get the shape [using] foliage, and then create gorgeous clusters of flowers in focal areas."
Give yourself ample time for these flowers, both the day-of and when you create the arrangement. Start designing your ceremony space with textiles and any props the day before your wedding so all you have to do the day-of is to set the arrangements. Don't forget, giving your ceremony flowers a second life in your reception will cut your flower budget in half. Use your arch to frame the sweetheart table for a whimsical photo of the newlyweds.
Centerpieces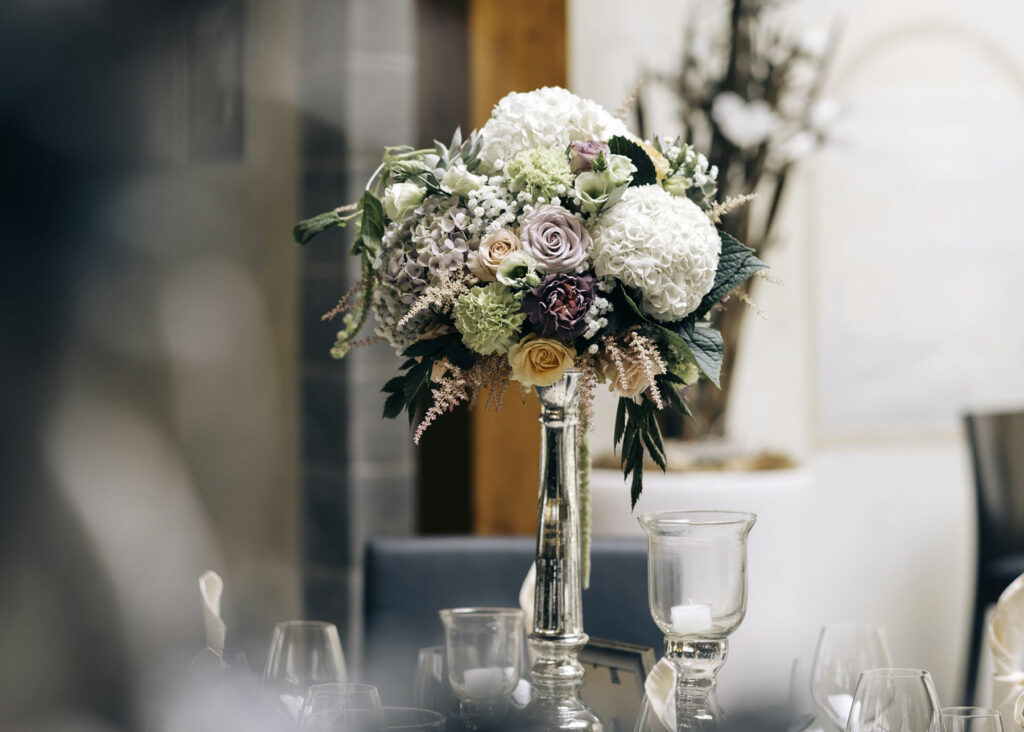 There are many factors to consider when planning your reception centerpieces. How many tables are in the room? How many people are seated at each table? What shape is the table? Consider the height of your arrangement and how it will influence the flow of conversation. Go low or high, nothing in between. You want all the guests to be able to see each other, even on the other side of the table.
Round tables tend to be larger and offer more space to fill with design. This is a good time to embrace a taller centerpiece, which will fill the table without hindering conversation. For larger centerpieces, secure your arrangement using chicken wire and floral foam blocks. This is especially helpful if your centerpieces are moving from the ceremony to the reception. These can be made up to three days in advance, if stored in a cool place. The closer you construct these arrangements to your wedding date, the fresher they will look. Larger centerpieces will take longer to construct, so give yourself and your helpers more time to create these.
Community tables, while long, create closer quarters with regard to distance between guest place settings. Keeping your arrangements on the shorter side will optimize space and eyeline amongst your guests. A small potted plant or cluster of artfully planted succulents is simple and stylish. Set a small succulent with each name card to have the design double as a wedding favor for guests.
Bouquets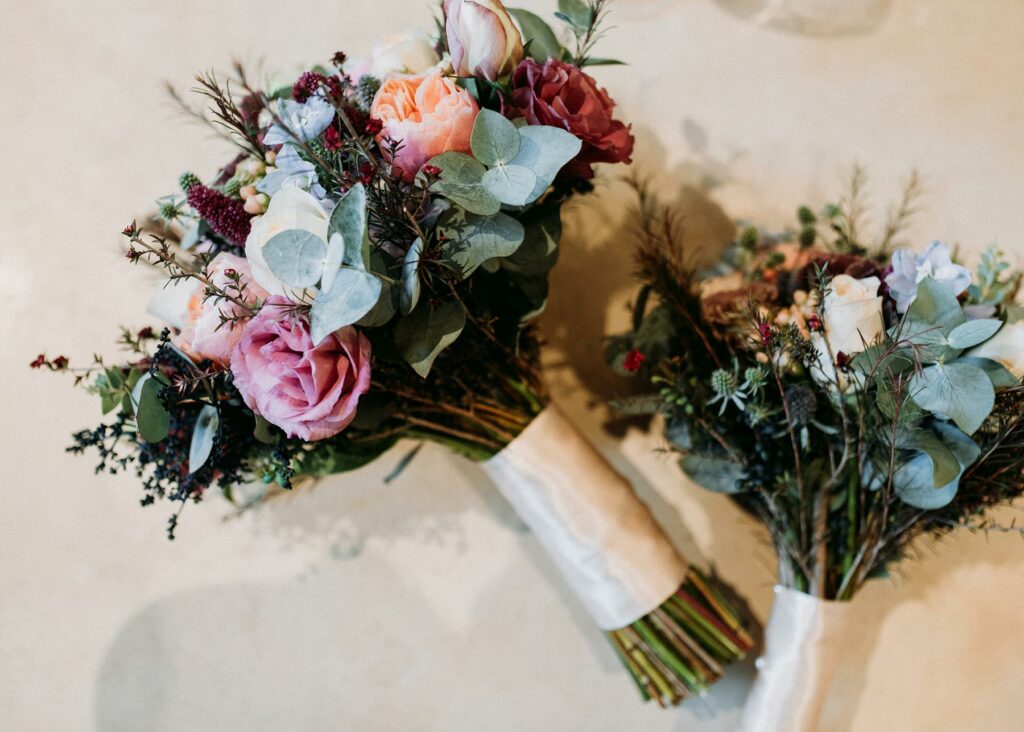 Having a wedding bouquet made by a florist can eat up an average of $250 of your flower budget. The reason bouquets are so expensive is because many are composed mostly of blooms with very little filler. Think about the design of your bouquet before you purchase your flowers. Classic styles will likely be a bit more expensive as they are flower-heavy with no greenery, while cascading designs might give you a little more wiggle room in your budget.
Make sure to splurge a little on your bouquet, as it will be in most of your wedding photos. Wedding party or family bouquets can be a toned-down version of the larger bouquet by using a quarter of the blooms and embracing a neutral filler flower like baby's breath and other airy foliage. Don't forget to get creative with wrapping the stems! Ribbon and burlap make for a beautiful accent.
Boutonnieres and Corsages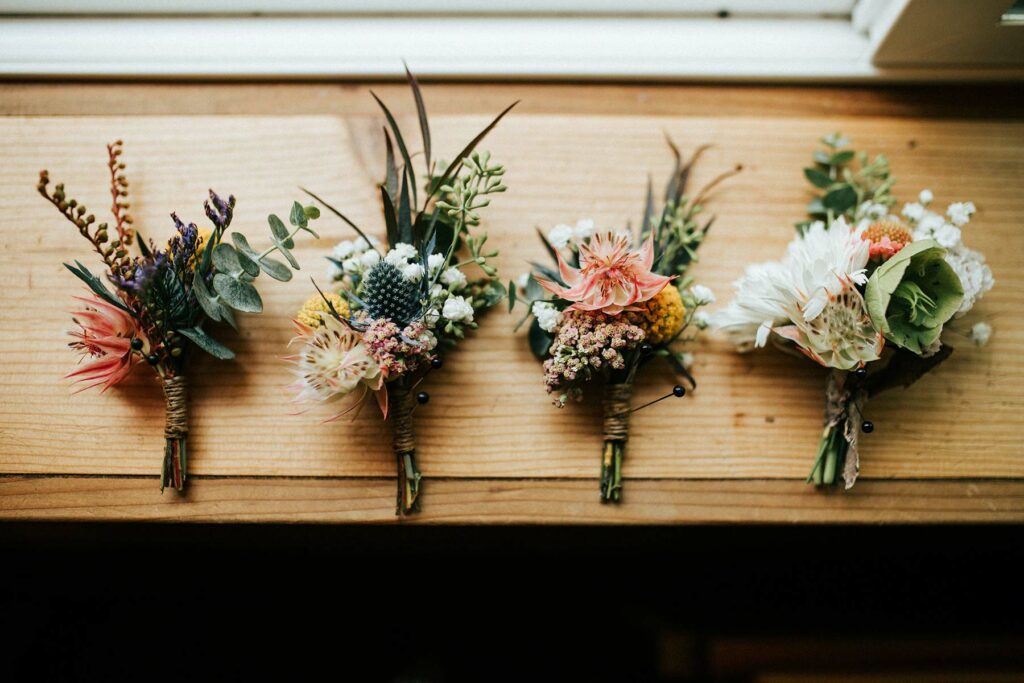 Delicate pieces like boutonnieres and corsages require a little extra care so they don't fall apart if they are jostled. "I would recommend miniature roses," advises Mathison. "Spray roses keep their shape out of water for a long time and can lay flat against the body. No one wants anything too bulbous as it will just get knocked off or damaged."
If roses aren't for you, consider a dried flower creation, especially for boutonnieres. This will allow you to make them days or even weeks in advance. If time isn't a factor, put together your boutonnieres last as they will take the least amount of time. Grab some pearl-end straight pins for securing them to clothing. There will likely be a smattering of leftover flowers perfect for wrapping into a small lapel pin. Again, you'll want one main bloom supported by a few sprigs of foliage, no more than five stems total. Using leftover flowers will save on your budget and ensure that the design matches your wedding colors.