The Second City is known for many things, including deep-dish pizza, jazz, Al Capone, the Sears Tower, and mega-low temps. But Chicago's robust offering of affordable (and fabulous) wedding venues should also be added to its résumé. From rooftop lofts and manicured gardens to a luxury bowling alley and an urban-chic factory, this windy city has a bit of everything when it comes to weddings.
Engaged history buffs, art aficionados, hipsters, and more will be sure to find their ideal event space here, regardless of their financial plan for the big day. Here is our roundup of nine affordable Chicago wedding venues that are as lovely as they are budget-friendly.
This award-winning, family run venue is located in the Lakeview neighborhood of Chicago. The large, open floor plan of this space features an exposed ceiling and brick walls that serve as an ideal backdrop for a rustic, boho, or vintage-style wedding.
When it's time to say your vows, you can utilize the venue's raised stage to ensure all of your wedding guests get to see the big moment. Plus, there's even a spotlight that can be trained on you and your partner for dramatic flair.
As one of the city's premier entertainment venues, Chicago Theater Works has an impressive array of built-in A/V capabilities. If you have a slideshow of your happiest moments with your significant other, there's a video projector with a wide-format screen. You're also able to use several wired and wireless microphones, as well as a sound system. And, of course, all the basic rentals for the ceremony and reception are included, such as banquet chairs and tables in various sizes and shapes.
Best of all, budget-conscious couples will love that you can bring in your own caterer. The venue's staging kitchen provides all the equipment needed to store and plate prepared foods. If you plan on serving drinks, you'll need to go through the venue for soft drinks and alcoholic beverages. It offers affordable options for hosted packages or a cash bar.
Typical Cost: $2,250 – $3,750 rental fee; bar packages start at $21 per person
Capacity: Up to 180 seated guests
Bonus: You and your wedding party will have access to a dressing room that includes an iron and steamer to get out any wrinkles in your outfits for the big day.
Find Chicago Theater Works on Facebook and Instagram.
For an affordable wedding venue with ultimate variety, consider Loyola University Chicago for your special day. This sophisticated locale has three campuses that provide a lakeside mansion, gardens, a glass atrium with a wraparound terrace, and wedding reception rooms with floor-to-ceiling windows that look out onto the city and Lake Michigan.
Highlights of the Lake Shore campus include the Donovan Reading Room — with its soaring ceilings, stained glass windows, and captivating Art Deco details — and the historic Mundelein Auditorium featuring Art Deco chandeliers, intricate stained glass, and an outdoor courtyard that dazzles with fountains and flowers. The campus also boasts the Palm Court with its massive glass atrium looking out onto the lake.
To soak your big day in Old World glamour, say "yes" to the Cuneo Mansion and Gardens at the Loyola campus. This historic mansion and museum features Venetian style architecture and spills out onto formal gardens.
Planning on a Roman Catholic wedding ceremony? You can utilize the university's spectacular Madonna Della Strada Chapel.
Typical Cost: $2,500 – $10,000 rental fee
Capacity: Up to 320 seated guests
Bonus: The experienced event staff will support you with almost every facet of wedding planning.
Find Loyola University Chicago on Twitter and Instagram.
If you're looking for spectacular skyline views without a penthouse price tag, this Illinois event venue fits the bill. In the evening, guests will be dazzled by a river that sparkles as it's been kissed by the lights. Making it even more attractive to couples seeking an authentic Windy City ambiance are the original exposed brick walls, accented by billowing drapes, sleek lighting fixtures, chandeliers, and delicate twinkle lights. These details create a compelling mix of historic romance and contemporary flair.
While the views are jaw-dropping, the food is equally delightful. River Roast's on-site culinary teams serve highly acclaimed New American meets British food — think mini beef Wellington, deviled eggs with crispy bacon, and seared seasonal salmon. Every bite is sure to leave guests raving about the delicious meal long after your big day.
The basic wedding package includes a five-hour reception and a three-course dinner, as well as a wedding cake and wine service. You will also receive a four-hour open bar with that package, plus a Champagne toast so guests can raise a glass to the newlyweds during the speeches.
Typical Cost: $100 – $185 per person, which includes the reception venue, open bar, hors d'oeuvres, wine service with dinner, and a sparkling wine toast
Capacity: Up to 250 seated guests with use of both indoor and outdoor venues
Bonus: Packages include a custom-designed wedding cake for the big day.
Find River Roast Private Events on Facebook, Twitter, and Instagram.
In the Chicago suburb of Orland Park, Illinois, Silver Lake Country Club is an oasis of nature-made wonders and perfect for an outdoor ceremony. During warmer months, couples can say "I do" on a manicured lawn by the club's lake, which is surrounded by rolling hills, flowers, and an assortment of trees. Another exquisite outdoor ceremony site, the West Patio includes a trellised altar and cascading waterfall surrounded by lush gardens and native prairie grass.
Cocktail hour is usually hosted beside a gazebo that's encircled by gardens. It wows with a rainbow of flowers and verdant foliage. As for your reception, the country club offers two large event rooms that frame the gardens with floor-to-ceiling windows, feature impressive dance floors, and include patios for when guests need to slip away for some fresh air.
This is an ideal choice for city dwellers wanting to swap swanky high-rises for bucolic surroundings — at least on their wedding day.
Typical Cost: $85 – $115 per person, plus $1,500 rental fee for the ceremony site
Capacity: Up to 250 seated guests
Bonus: The scenic grounds are covered in stunning backdrops for your wedding photos.
Find Silver Lake Country Club on Facebook and Instagram.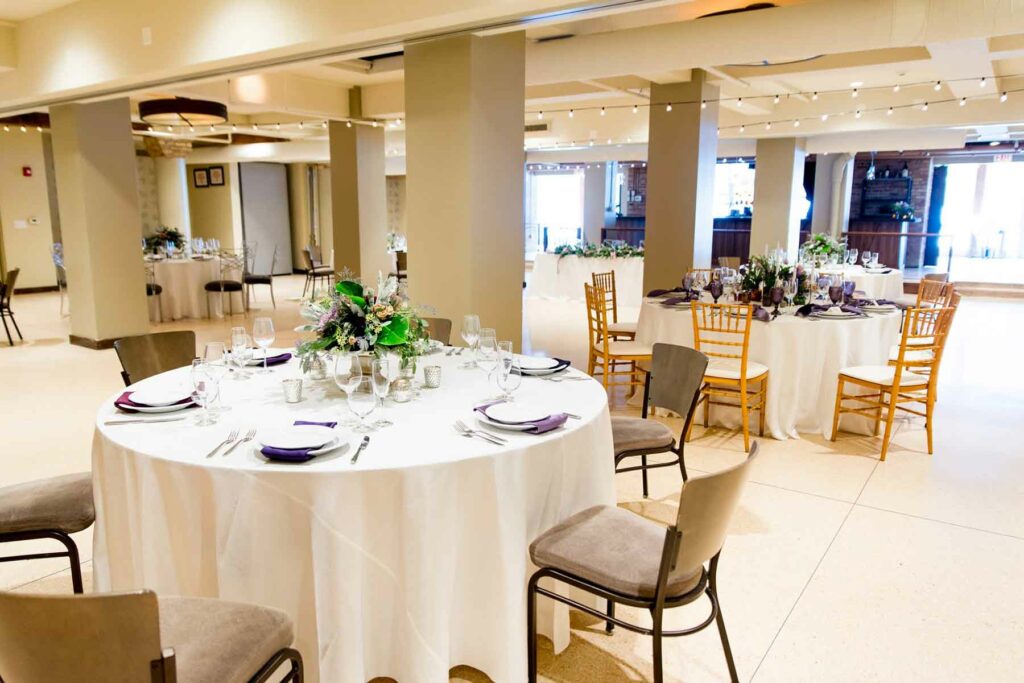 For a space that offers bowling and bocce ball, Pinstripes has surprisingly sophisticated ballrooms with hardwood floors and sleek lighting. It also provides outdoor spaces that feature a fire pit and epic views of downtown Chicago.
But Pinstripes is not one of those casual cheap-beer-and-fake-cheese bowling venues. In fact, Chef Cesar Gutierrez turns out incredible Italian-American bistro fare such as pizzas cooked in a wood-burning stove and assorted small plates. You can also rest assured that any meat you eat here is organic and free-range.
This is a venue where you can achieve chic wedding vibes while also offering unique bursts of let-your-hair-down fun.
Typical Cost: Starts at $91 per person
Capacity: Up to 200 seated guests
Bonus: Your guests won't feel awkward bowling in their formal attire, as the 18 lanes are set in an uber-luxurious atmosphere.
Find Pinstripes on Facebook, Twitter, and Instagram.
One of the best affordable wedding venues in Chicago, Zhou B Events features two spaces that allow for a beautiful ceremony or reception.
If you want to have your outdoor ceremony in a whimsical space hidden from the bustling Chicago city streets, consider the Zhou B Secret Garden. This special event space will transport you and your guests to another world with its lush greenery, a koi pond, and contemporary sculptures created by the Zhou Brothers, who are renowned for an aesthetic that blends Eastern and Western philosophy, art, and literature.
While you can host both the ceremony and reception in the garden, there's also an adjacent indoor space featuring the Zhou Brothers' artwork. A perk of using this area for the reception is that it can be set up in advance and won't require a quick turnaround after the ceremony.
The Zhou B Art Center is another excellent event space with its sprawling, open floor plan gallery featuring the requisite concrete floors and white pillars. The 28,000-square-foot space has two floors, made all the more impressive thanks to stunning artwork by the Zhou Brothers and other artists. The gallery is a colorful canvas for your wedding vision, perfect for a modern, romantic or classic aesthetic.
Typical Cost: $3,500 – $7,000 rental fee (does not include venue buy-out pricing)
Capacity: Up to 100 seated guests at both venues
Bonus: The venue is conveniently located near numerous accommodations for wedding guests.
Find Zhou B Events on Facebook and Instagram.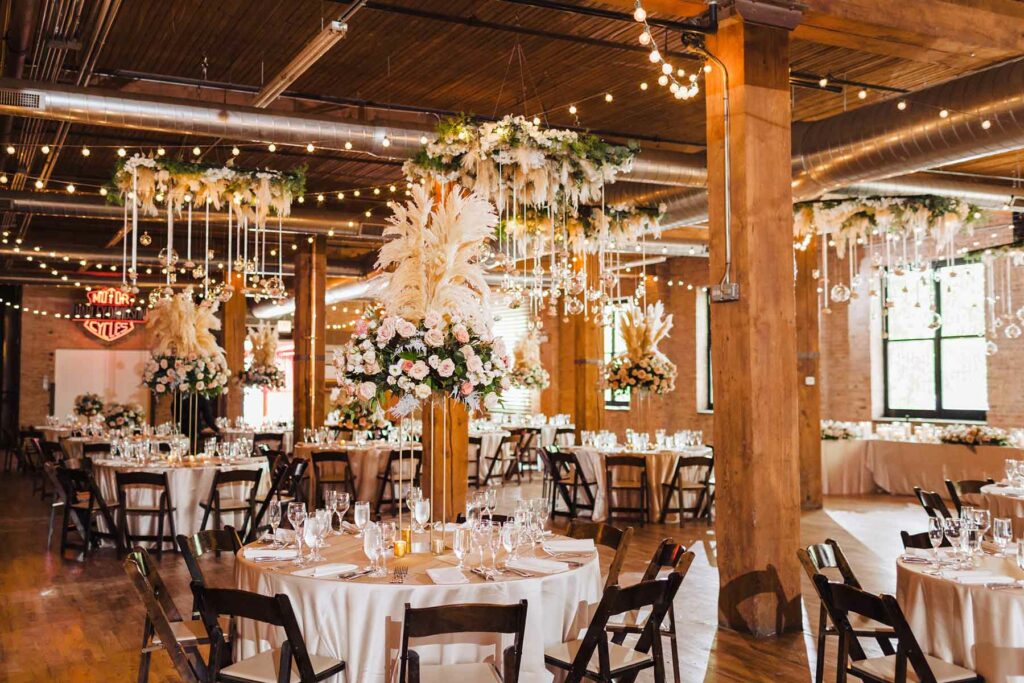 Once the world's largest macaroni factory, the 250,000-square-foot Lacuna building maintains historic charm while also delivering modern vibes in its three unique event spaces. You and your guests will enjoy views of the surrounding Pilsen neighborhood from the 5,000-square-foot rooftop deck, which is perfect for summer weddings.
If you're looking for a blank canvas to create your Pinterest-perfect wedding, the La Galleria is for you. Hardwood floors, exposed ceilings, and pillars create a breathtaking backdrop for anything from twinkle light-filled mason jars to fresh garlands snaking across the ceiling. For those throwing a massive bash, the 15,000-square-foot Reverie Gallery can comfortably house up to 350 of your nearest and dearest.
Typical Cost: $6,000 – $8,000
Capacity: Up to 350 seated in the Reverie Gallery; up to 200 in the La Galleria; and up to 150 on the SkyDeck (the SkyDeck can accommodate up to 250 for a ceremony only)
Bonus: Pieces by local Chicago artists are hung throughout the building.
Find Lacuna on Facebook, Instagram, and Twitter.
The Garfield Park Conservatory is one of the nation's largest and situated on 10 acres of gardens. Many couples choose to say I do in the conservatory's multi-room greenhouse that features a skylit and an impressive collection of exotic plants. A meander through the lush spaces within the greenhouse will have you walking amongst waterfalls, Persian lilies floating atop a pond, towering palms, large clusters of ferns, vanilla orchids, a chocolate tree, and many other compelling sights.
In addition to utilizing the greenhouse you can have the party spill out onto the Bluestone Patio that's surrounded by the conservatory's landscaped grounds. This patio is also a great option for an al fresco ceremony.
Another option for either an indoor ceremony or reception is the Show House that is entirely made of glass panes and dazzles with soaring ceilings and a perimeter of thriving greenery.
If you like the thought of treating yourself and your guests to a celebration in a fragrant, tropical paradise in the heart of Chicago this is the venue for you.
Typical Cost: $400 – $6,750 rental fee
Capacity: Up to 300 seated guests in Horticulture Hall; up to 100 in the Artist's Garden or Jensen Room; up to 50 in the Community Room
Bonus: There is a full-venue rental option, giving you and your wedding guests exclusive access to all the spectacular indoor and outdoor spaces.
Find Garfield Park Conservatory at Instagram, Facebook, and Twitter.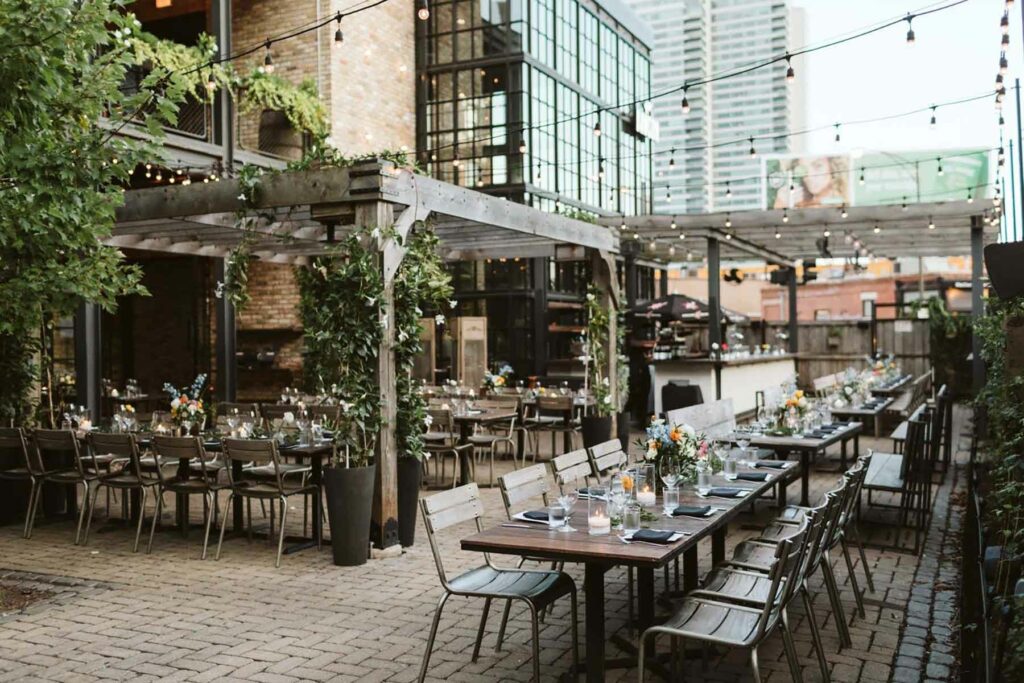 Whether you're hosting an intimate wedding or hundreds of guests, The Dawson has you covered. This event venue named "Best of the Best" by Modern Luxury magazine, offers multiple private and semi-private event spaces, and a two-story foyer with an awe-inspiring grand staircase that serves as an excellent backdrop for photos. Adding to the elegance is custom tile, soft, flattering lighting, and handcrafted woodwork.
Great for indoor receptions, the main room at The Dawson has an open kitchen and horseshoe bar, in addition to large windows, white walls, rustic tiles, and hardwood floors. If you want to take the party outside, you can opt for the lush courtyard that has an array of seating options, a full bar, and a cozy lounge area by a large stone fireplace.
A small wedding can be held in the upstairs Foundry, where there's a bar and flexible seating arrangements. The exposed concrete and brick walls, hardwood floors, modern chandeliers, and high-backed booth seating around the perimeter of the room make this space a match for those wanting their reception to have chic, moody vibes.
One of the most striking rooms in The Dawson is the Devil's Den, an intimate space that makes an impression with triangular denim walls, plush blue carpeting, an understated fireplace, and large windows that coat the room in natural light during the day.
Typical Cost: $75 – $250 per person
Capacity: Up to 100 seated guests in the main dining room; up to 70 seated guests in the Foundry; up to 32 in the Devil's Den; up to 230 seated guests for a venue buyout
Bonus: It offers delicious dishes like wagyu skirt steak, pozole verde, and sticky duck wings that are sure to make your wedding a memorable, gastronomic experience.
Find The Dawson on Facebook, Instagram, and Twitter.
---
More Chicago Wedding Venues:
Tell us more!
Do you know of a budget-friendly Chicago wedding venue we missed? Let us know on Facebook, Twitter, or in the comment section below.
Up Next:
Set up your wedding website in minutes with design options to make yours truly unique.