The Second City is known for many things including deep-dish pizza, jazz, Al Capone, the Sears Tower, and mega-low temps. But Chicago's robust offering of affordable (and fabulous) wedding venues should also be added to its résumé. From historic mansions and manicured gardens to a luxury bowling alley and an urban-chic factory, this famous city has a bit of everything when it comes to weddings.
Engaged history buffs, art aficionados, hipsters, and more will be sure to find their ideal event space here, regardless of their budget for the big day. Here is our roundup of seven Chicago wedding venues that are as lovely as they are affordable.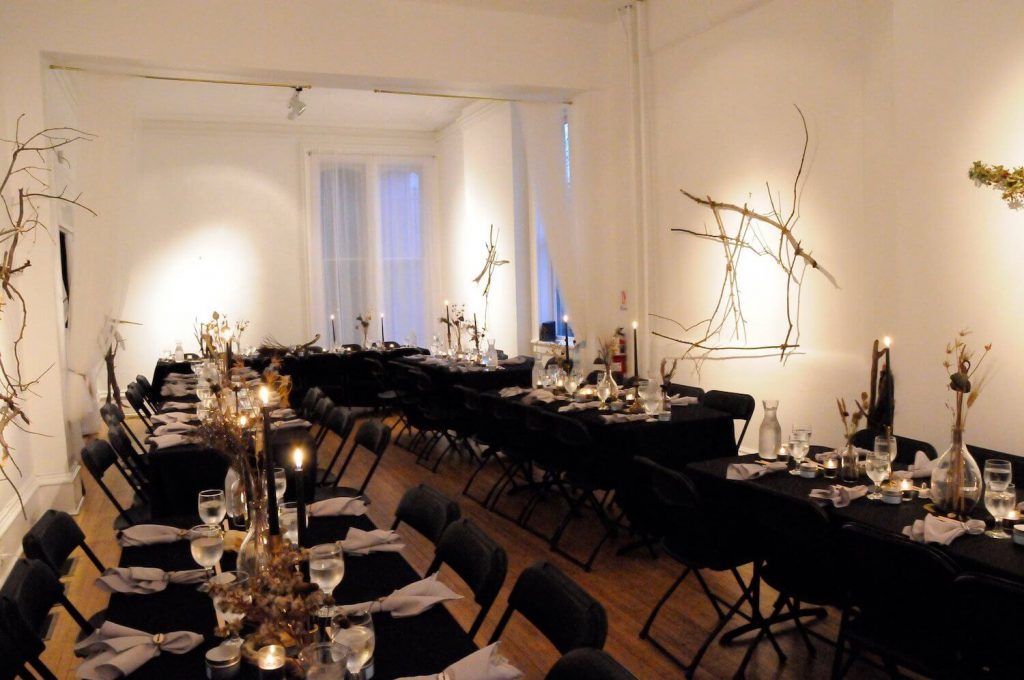 A 1870s mansion located in the Prairie Avenue Historic District, Keith House Chicago is an enchanting setting for an affordable and intimate wedding at any time of year. Its bright green lawn offers a lush setting for summer ceremonies while the art gallery and parlor provide indoor options featuring period charm.
The Prairie Avenue Gallery, located within the Keith House, was founded 35 years ago by Joy Darrow and Steven Pratt who purchased the building with the dream to foster an arts community. The gallery gives wedding guests the pleasure of browsing an eclectic art collection as they sip champagne and celebrate love.
Adding to the appeal? The event director, Marcy, stays onsite during events and is said to be fabulous, helping to sprinkle extra magic on your special day.
Typical Cost: Up to $4,500 for rental fee
Capacity: 20 – 75
Bonus: This Second Empire structure sits on a street known as the "sunny street that held the sifted few," which hints at the exclusivity of this section of Prairie Avenue in the 19th-century.
Find Keith House Chicago on Facebook.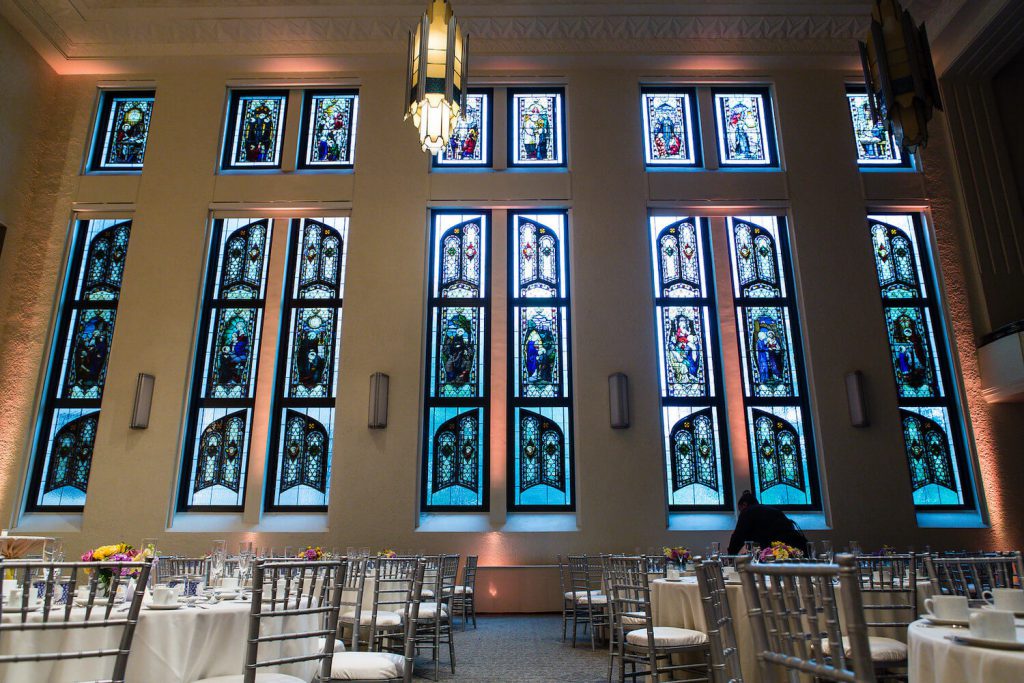 For an affordable wedding venue with ultimate variety, consider Loyola University Chicago for your big day. This sophisticated locale has three campuses that provide a lakeside mansion, gardens, a glass atrium with a wraparound terrace, and wedding reception rooms with floor-to-ceiling windows that look out onto the city and Lake Michigan.
Highlights of the Lake Shore campus include the Donovan Reading Room — with its soaring ceilings, stained glass windows, and captivating Art Deco details — and the historic Mundelein Auditorium featuring Art Deco chandeliers, intricate stained glass, and an outdoor courtyard that dazzles with fountains and flowers. The campus also boasts the Palm Court with its massive glass atrium looking out onto the lake.
To soak your big day in old-world glamour, say "yes" to the Cuneo Mansion and Gardens at the Loyola campus. This historic mansion and museum features Venetian style architecture and spills out onto formal gardens.
Planning on a Roman Catholic wedding ceremony? You can utilize the university's spectacular Madonna Della Strada Chapel.
Typical Cost: Rental fee is $2,500 – $6,000; meal packages start at $55/per person
Capacity: 200
Bonus: The experienced event staff will support you with almost every facet of wedding planning.
Find Loyola University Chicago on Instagram and Twitter.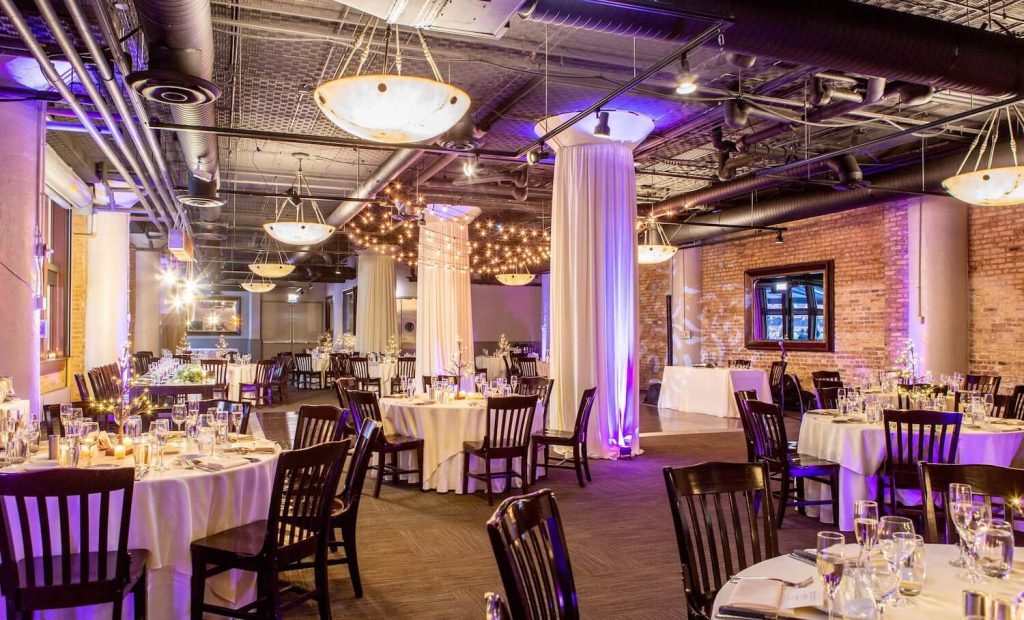 Bathed in classic Chicago vibes, River Roast Private Events features spectacular views of the city skyline and a river that sparkles in the evening as it's kissed by the lights.
The original exposed-brick walls (accented with billowing drapes), sleek lighting fixtures, chandeliers, and delicate twinkle lights make it even more attractive to couples seeking an authentic Chicago ambiance. These details combine to create a compelling mix of historical romance and contemporary flare.
Plus, the food is just as savory as the environment. The onsite culinary team serves highly-acclaimed New American-meets-British food — think Mini Beef Wellington, Deviled Eggs with Crispy Bacon, and Seared Seasonal Salmon — that's sure to leave guests raving about the delicious nosh.
Typical Cost: $120 – $165/per person
Capacity: 200
Bonus: If you're a brunch-lover, River Roast offers Sunday brunch weddings where classic breakfast fare and a bloody Mary bar are provided.
Find River Roast Private Events on Facebook, Instagram, and Twitter.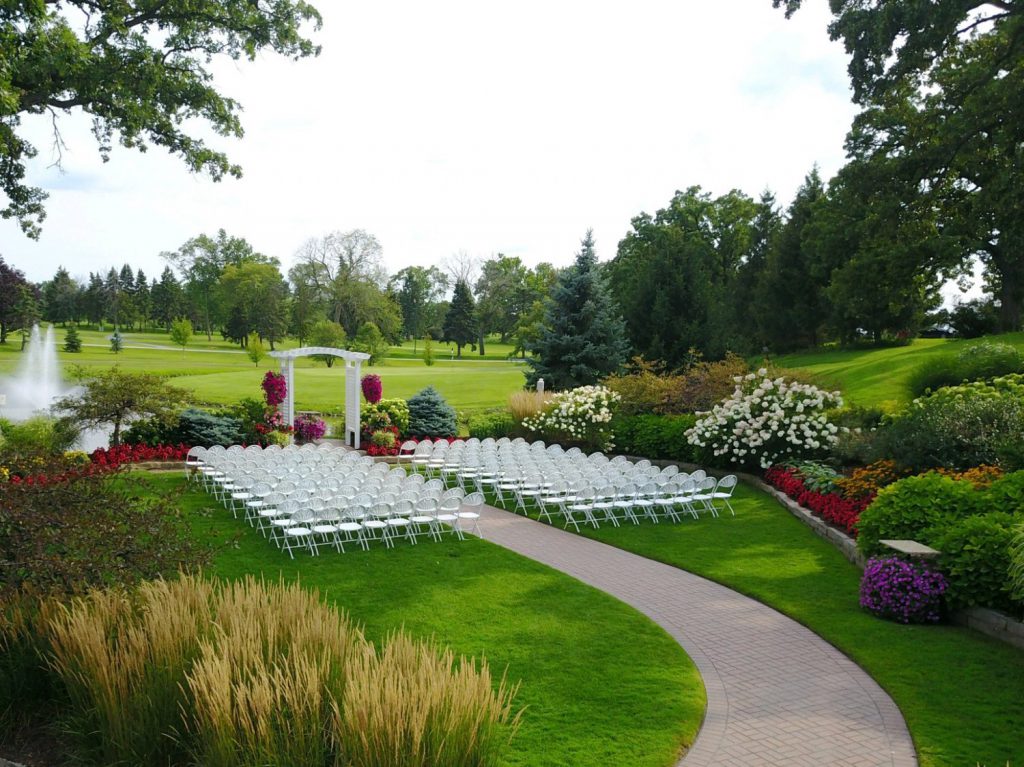 Just outside Chicago, in Orland Park, Illinois, Silver Lake Country Club is an oasis of nature-made wonders and perfect for an outdoor ceremony. During warmer months, couples can say "I do" on a manicured lawn by the club's lake which is surrounded by rolling hills, flowers, and an assortment of trees. Another exquisite outdoor ceremony site, the West Patio includes a trellised alter and cascading waterfall surrounded by lush gardens and native prairie grass.
Cocktail hour is usually hosted beside a gazebo that's encircled by gardens. It wows with a rainbow of flowers and verdant foliage. As for your reception, the country club offers two large event rooms that frame the gardens with floor-to-ceiling windows, feature impressive dance floors, and include patios for when guests need to slip away for some fresh air.
This is an ideal choice for city dwellers wanting to swap swanky high-rises for bucolic surroundings — at least on their wedding day.
Typical Cost: $55 – $85/per person
Capacity: 200
Bonus: The scenic grounds are covered in stunning backdrops for your wedding photos.
Find Silver Lake Country Club on Facebook and Instagram.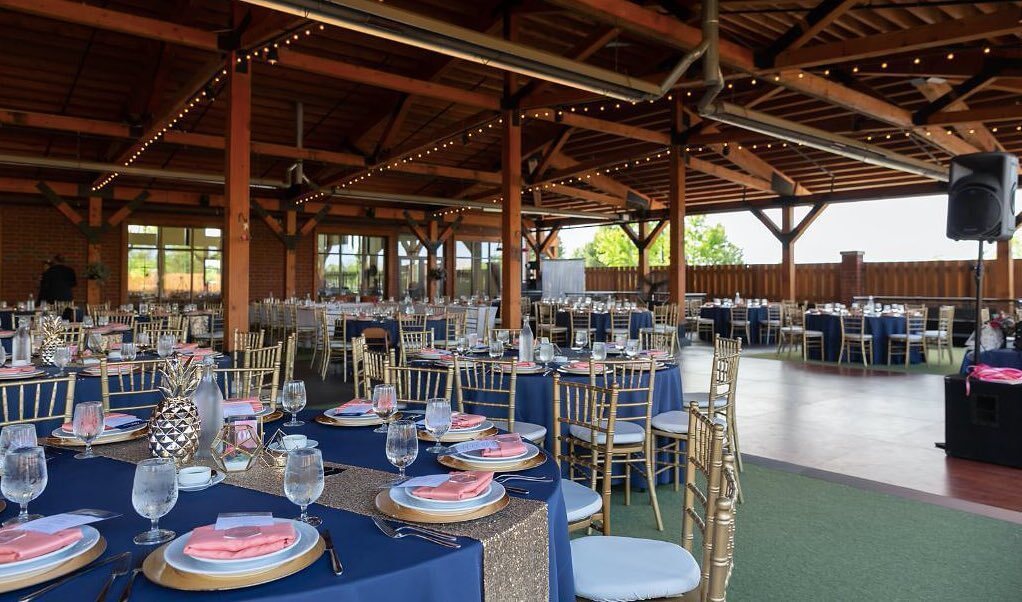 For a space that offers bowling and bocce ball, Pinstripes has surprisingly sophisticated ballrooms with hardwood floors and sleek lighting. It also provides outdoor spaces that feature a fire pit and epic views of Downtown Chicago.
But Pinstripes is not one of those casual cheap-beer-and-fake-cheese bowling venues. In fact, Chef Cesar Gutierrez turns out incredible Italian-American bistro fare such as pizzas cooked in a wood-burning stove and assorted small plates. You can also rest assured that any meat you eat here is organic and free-range.
This is a venue where you can achieve chic wedding vibes while also offering unique bursts of let-your-hair-down fun.
Typical Cost: Starts at $10,000
Capacity: 250
Bonus: Your guests won't feel awkward bowling in their formal attire as the 18 lanes are set in an uber-luxurious atmosphere.
Find Pinstripes on Facebook, Instagram, and Twitter.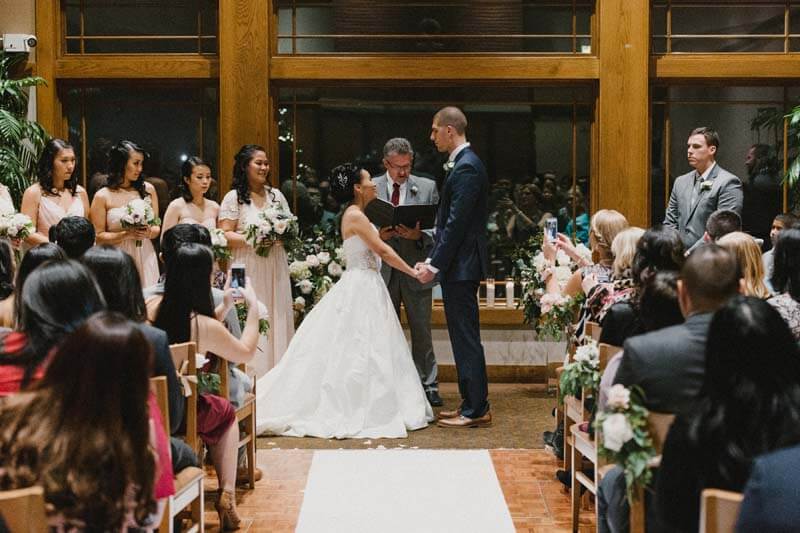 With a 24,000-square-foot Frank Lloyd Wright prairie-style clubhouse surrounded by groomed, grassy knolls, Harborside International Golf Center offers an upscale atmosphere — but for a moderate price. Ceremonies can take place on the green or in a number of tasteful rooms within the clubhouse.
During the reception in the ballroom, you'll be treated to stunning views through floor-to-ceiling windows, but you can also step out onto the terrace to enjoy unobstructed vistas of the surrounding golf courses, cityscape, and Lake Calumet.
Wondering about catering? An onsite chef will work with you to create a customized four-course dinner for your celebration. If you're hoping for a wedding with tranquil vibes and rustic sophistication, this is your spot.
Typical Cost: Ceremony fee is $500; $40 – $75/per person for food and drink
Capacity: 230
Bonus: The onsite event planner is super hands-on, ensuring you feel taken care of throughout the many months you'll likely be corresponding.
Find Harborside International Golf Center on Facebook and Twitter.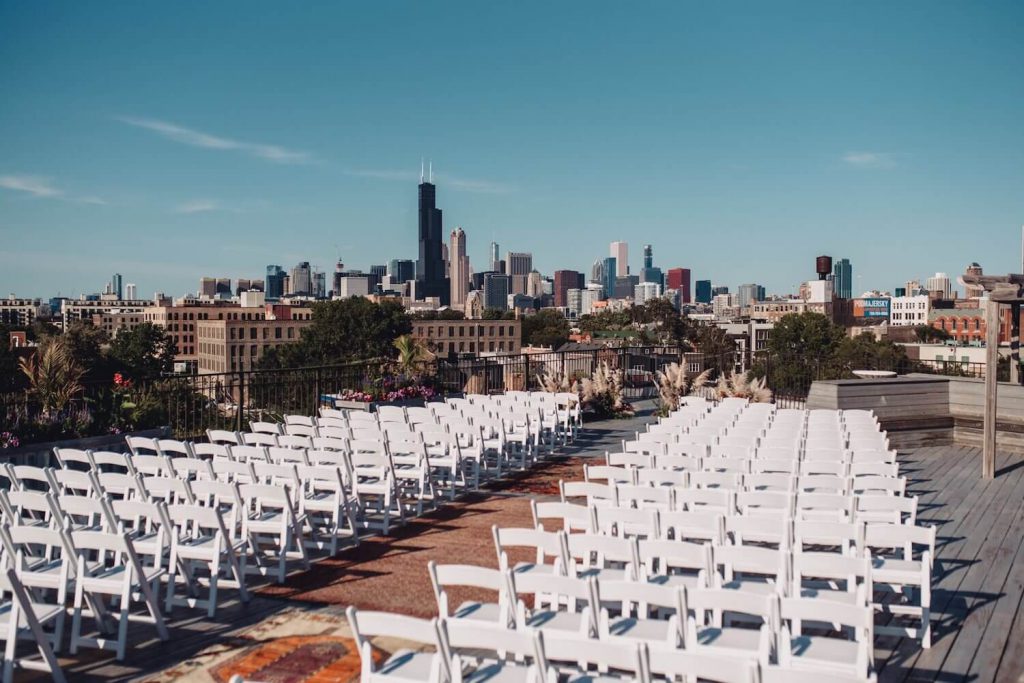 Once the world's largest macaroni factories, the three unique event spaces in the Lacuna Lofts building maintain historic charm while also providing modern vibes with views of the surrounding Pilsen neighborhood. The 5,000-square-foot rooftop deck is perfect for summer weddings and will charm guests with sweeping 5th-story views of the Chicago skyline.
If you're looking for a clean canvas to sprinkle all your Pinterest ideas upon, the Blank Canvas Gallery is for you. Its hardwood floors, exposed ceilings, and pillars create a breathtaking backdrop for anything from twinkle light-filled mason jars to fresh garlands snaking across the ceiling.
And for those throwing a massive bash, the 15,000-square-foot Reverie Gallery can comfortably house up to 700 of your nearest and dearest.
Typical Cost: $3,000 – $7,500; $105 – $130/per person for food and drink
Capacity: 150 – 700
Bonus: The food. Couples rave about the customized fresh and seasonal menus provided by LM Catering. Kosher and Indian cuisine can also be served.
Find Lacuna Lofts on Facebook.
---
More Chicago Wedding Venues:
Tell us more!
Do you know of a budget-friendly Chicago wedding venue we missed? Let us know on Facebook, Twitter, or in the comment section below.
Up Next: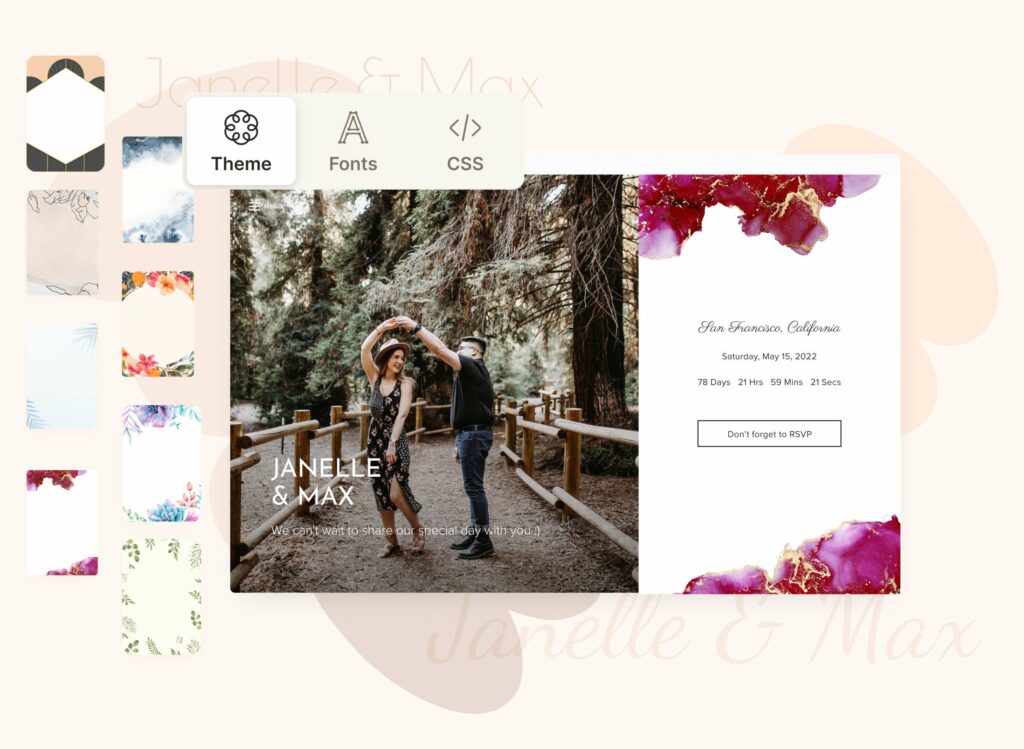 Set up your wedding website in minutes with design options to make yours truly unique.