Whether you and your fiancé are all about entertaining or just enjoy a nightcap served in style, your wedding registry is the perfect time to upgrade your barware or create a new, in-home bar. Start by considering your favorite drinks and the beverages you plan to serve guests when hosting. Once you've honed in on your needs, use this guide to discover the best barware for your wedding registry, in addition to the go-to brands.
Overview:
Barware Guide
It can feel overwhelming to make sense of the seemingly endless variety of barware glasses and accessories, so we've broken it down in this guide.
Wine Glasses
Red Wine Glasses. The bowls of red wine glasses are typically rounder, providing a larger area for the wine to breathe and the flavor to develop. They also have a large opening, making it easier to smell the wine.
White Wine Glasses. The bowls of white wine glasses have a U-shape to help preserve the cool temperature and aroma of the wine. It also has a long stem so the wine isn't warmed by the hand.
Champagne Glasses. Champagne flutes have narrow bowls to maintain carbonation and push bubbles to the surface of the drink.
Rosé Glasses. Flared rosé glasses are commonly used for a young, crisp rosé. The flared lip causes the liquid to first reach the tip of the tongue, which is more sensitive to sweetness. A tapered rosé glass is best for a mature, full-bodied rosé. Both types of glasses have a long stem to prevent the hand from heating the drink.
Cocktail and Spirit Glasses
Martini. One of the most iconic types of cocktail glasses, a martini glass has a flared, cone-shaped bowl that helps prevent ingredients from separating. It can also support a toothpick with garnishes.
Coupe. Used for a variety of drinks, like gimlets, daiquiris, and Manhattans, the coupe glass has a shallow, saucer-like bowl. It's ideal for drinks that are shaken or stirred and served without ice. You can also use them for champagne and sparkling wine.
Margarita. The wide, shallow bowl of the margarita glass is great for all varieties of margaritas, and the thick rim is ideal for the traditional salt garnish.
Moscow Mule. This type of drink is typically served in a copper mug that enhances the flavors of the ingredients — ginger beer, vodka, and lime.
Highball Glass. Highball glasses are tall and slender and used for liquor drinks that include ice or carbonation, like mojitos, Bloody Mary's, or gin and tonics.
Double Old-Fashioned. Also known as a whiskey glass or rocks glass, the double old-fashioned glass has a short, wide design preferred for spirits or cocktails served over ice.
Beer Glasses
Pint Glass. This common, tall beer glass typically holds 16 ounces of beer or cider and is ideal for low-alcohol drinks that allow for larger sips.
Beer Mug. With thick glass and a handle, the beer mug helps keep a cold beer from warming up.
Goblet or Chalice. The go-to choice for heavier, malty brews, a goblet or chalice has a wide-mouth, which makes it easier to take deep sips that help you get a good sense of a beer's flavor profile.
Pilsner Glass. Used to enjoy light beers like an ale or lager, a pilsner glass is usually slimmer than a pint glass and helps to show off the color of a beer. This type of glass also helps to preserve the beer's head, which protects the aromas and flavors of the liquid.
Wheat Beer Glass. A tall glass with a narrow bottom and wide top, the wheat beer glass is used for pale and blonde-style beers and, of course, wheat beer. The narrow bottom traps sediment in wheat beers, and the top preserves a thick head.
Bar Accessories
Wine and Spirit Decanters. This popular bar accessory allows the wine or spirit to breathe, helping the flavors expand before it's served.
Wine Aerator. This serves the same purpose as a decanter but causes the wine to breathe at a quicker pace. An aerator is designed to send wine through a funnel of pressurized oxygen that forces the liquid to interact with air.
Pitchers. A must-have if you enjoy entertaining, pitchers are used for serving sangria, margaritas, batch cocktails, and non-alcoholic beverages. Both the handle and spout of a pitcher make it easy to pour drinks into individual glasses.
Bar Tools
Jigger/Shaker. A jigger is used to measure liquor for a mixed drink, while a shaker is needed to mix the ingredients once they've been measured. Drinks made in a shaker, like a martini, gin and tonic, or Tom Collins, are traditionally shaken with ice.
Strainer. After a cocktail is shaken with ice, it's poured through a strainer so the chilled liquid can be enjoyed without the ice.
Muddler. When making a cocktail that calls for sugar cubes, mint, fruit, and other such items, a muddler is required to crush the ingredients so their flavors can be infused into the drink. It's specifically designed so the ingredients can be crushed without scratching the glass.
Whiskey Stoner. These 'stones' are actually cubes of soapstone that will chill liquor without altering the flavor. They're used when someone wants to chill a spirit without watering it down with ice.
Best Wine Glasses
One of the most essential categories in barware, quality wine glasses are a great place to start when creating your at-home bar. Wine glasses are a special science, with each type of wine having a unique glass that it's best served in. The design of these glasses account for the aromas and flavors of the wines and help ensure you have a pleasurable drinking experience.

For red wine connoisseurs who appreciate a more modern aesthetic, this collection is hard to beat. The set comes with four red wine stemware glasses made of premium Schott Zwiesel Tritan Crystal Glass and features a chic, cylindrical bowl and an elegant stem. These are glasses you'd expect to see in the home of a fashion-forward couple. Beyond the visual appeal, these German-made glasses are incredibly resistant to breakage and dishwasher-safe.
The brand of choice for most champagne lovers, this collection promises both timeless elegance and engineering that enhances the quality of your bubbly. A family-owned, 300-year-old crystal company known for creating glassware of superior quality, Reidel's champagne flutes don't disappoint. They're a favorite for light, fresh, and dry champagnes, as they pull the bubbles to the surface with dramatic effect and highlight the sparkling features of the drink.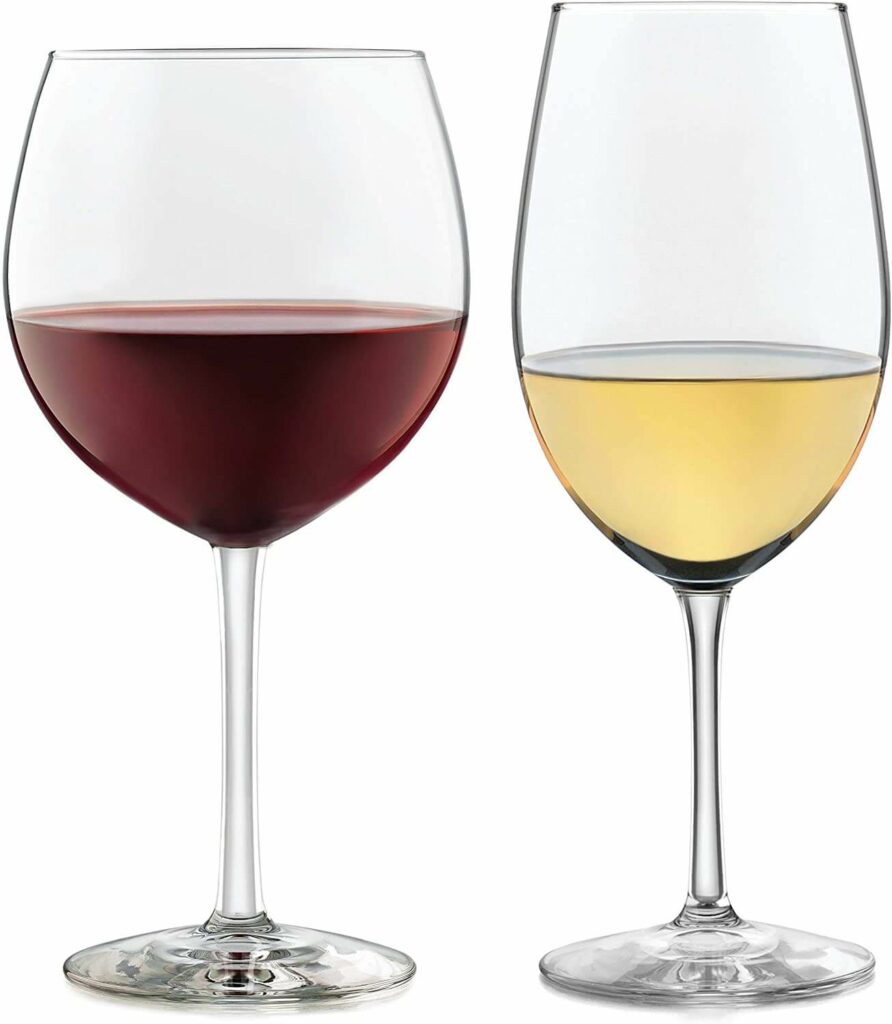 If you want more traditional wine glasses at a reasonable cost, this collection is an excellent choice. The set includes six 19.7-ounce red wine glasses and six 18-ounce white wine glasses, guaranteeing you have the right glasses for an intimate dinner party regardless of the type of wine your guests prefer. These glasses boast a classic style, helping them easily blend in with other glassware. They also foster easy clean-up, as they're dishwasher-safe.
Best Cocktail and Spirit Glasses
When it comes to cocktails, the drink just isn't the same if it's served in the wrong glass. Because of this, it's essential to have a collection of the required glassware (and in one case, copper-ware) for the most popular cocktails. To simplify your search, we've gathered the top choices for the must-have cocktail glasses.
Martini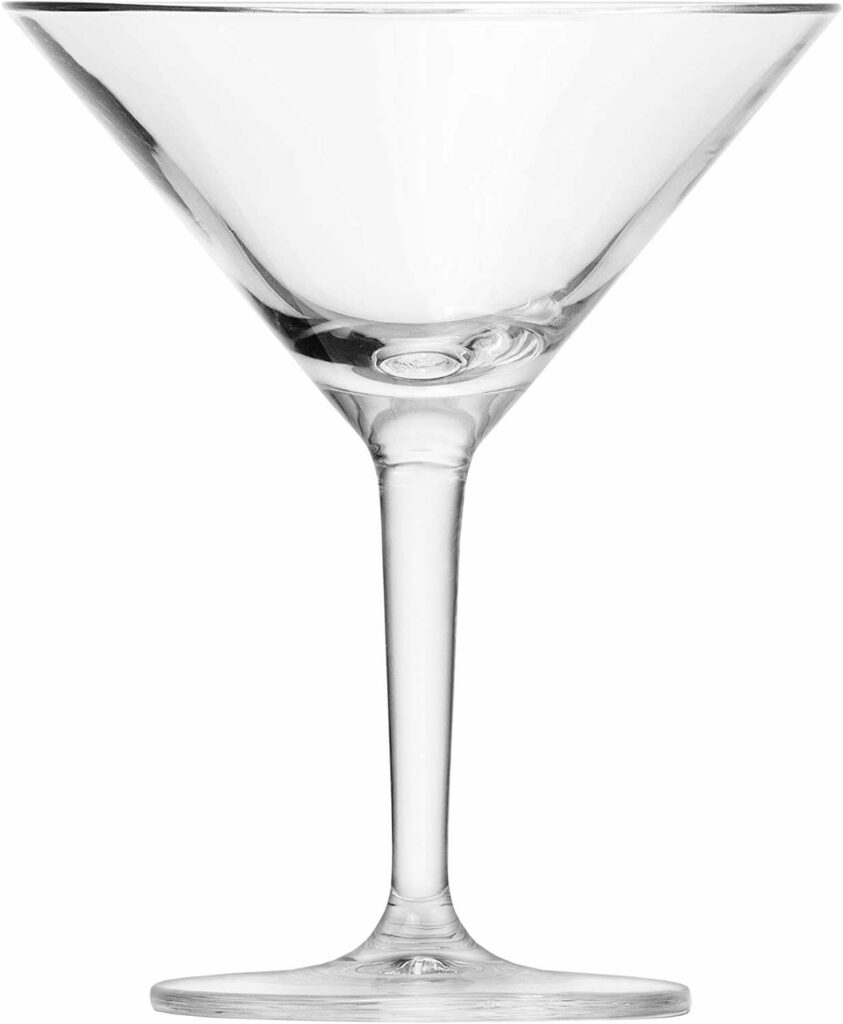 Made in Germany, this set of traditional martini glasses is sure to add refinement to your barware collection. The set includes six glasses made of Tritan crystal, which is a patented type of crystal glass that includes titanium oxide and zirconium oxide. Tritan crystal resists breakage, chipping, and scratching and is thermal shock-resistant. It's also incredibly clear and capable of conducting, refracting, and transferring light more than any other type of crystal.
Coupe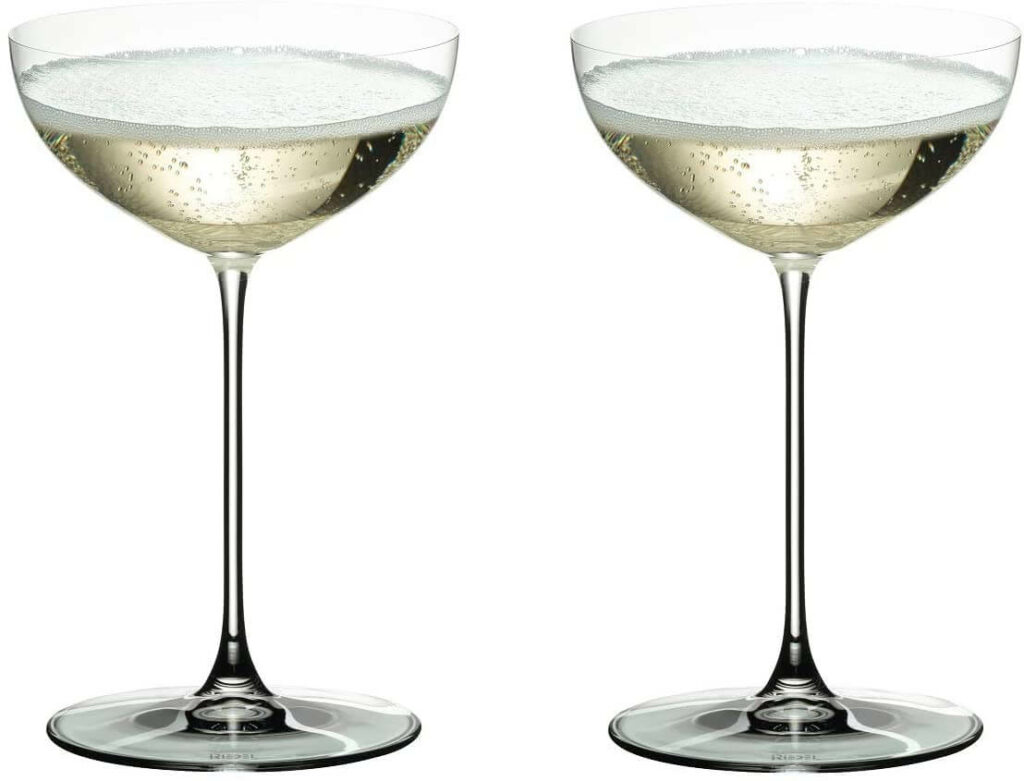 If you want guests to marvel at the sophistication of your barware, register for these coupe glasses. They're unadorned, machine-made cocktail glasses that are part of a lightweight collection, a delicacy in the world of glassware. The shape of the glasses is unique while still offering the traditional appeal of a coupe glass, and they're a great way to feature the dazzling visuals of champagne or sparkling wine. These glasses are also the prime way to enjoy gimlets, daiquiris, Manhattans, and other such cocktails.
Margarita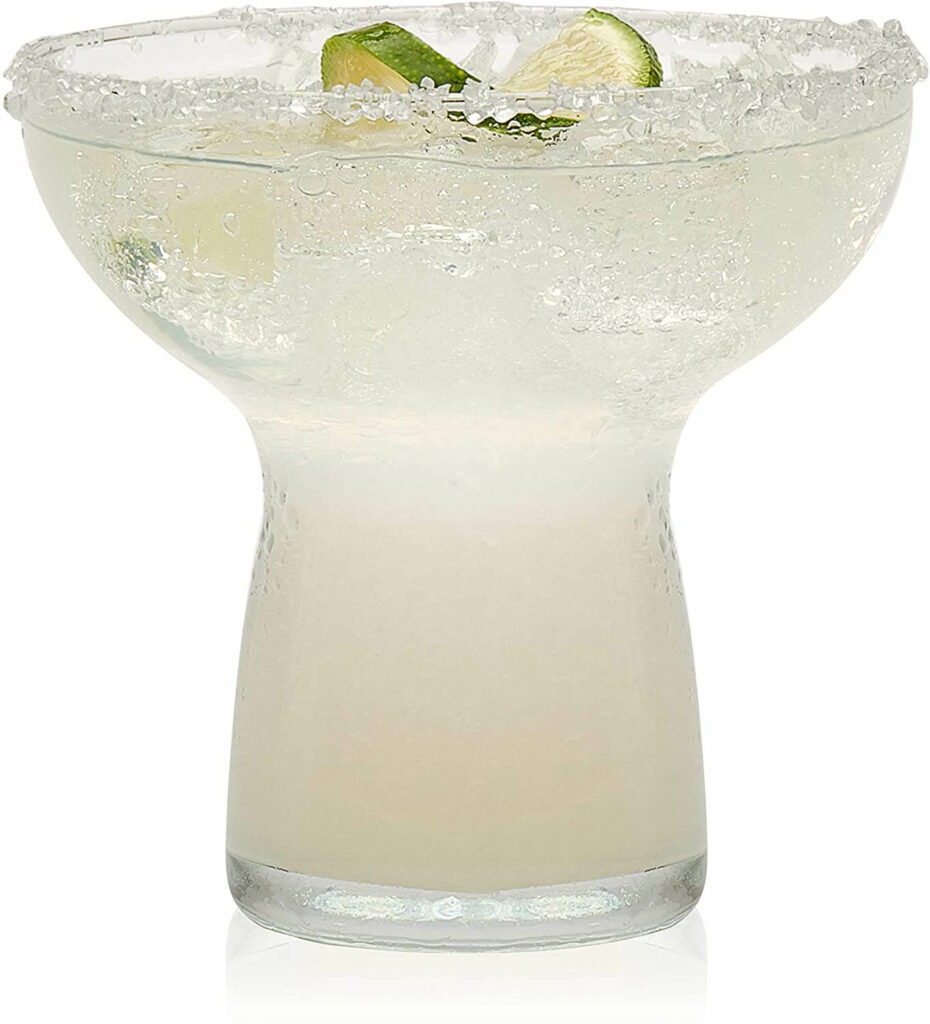 This contemporary margarita glass is unique in that it's stemless, resulting in a lightweight yet durable glass that's easy to carry and minimizes the chance of spills and breaks. The set includes six 10.25-ounce glasses that have wide, thick brims for a salt garnish, and are 100% BPA-free, lead-free, and dishwasher-safe. These glasses are also multipurpose, as they can be used for serving individual desserts.
Highball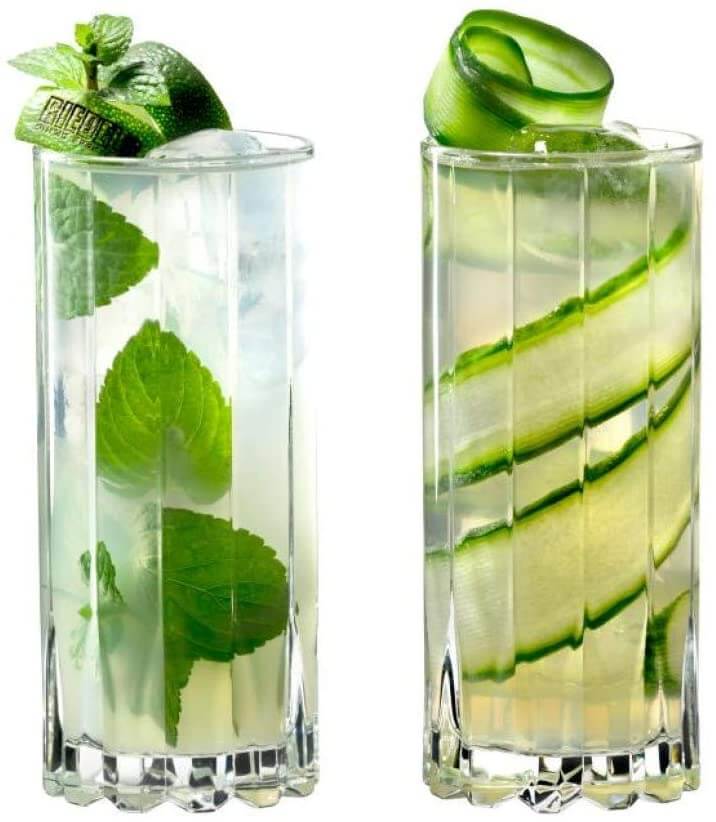 Another excellent product from the Riedel brand, these highball glasses have a sleek look and an innovative design that accommodates both standard and larger ice cubes. The glasses are based on the traditional serves for the old-fashioned, Manhattan, daiquiri, sour, peasant, buck and julep cocktails, and were made in collaboration with spirits-specialist Zane Harris. This collaboration ensured special attention was given to the glasses' size, shape, volume, and capacity for ice.
Moscow Mule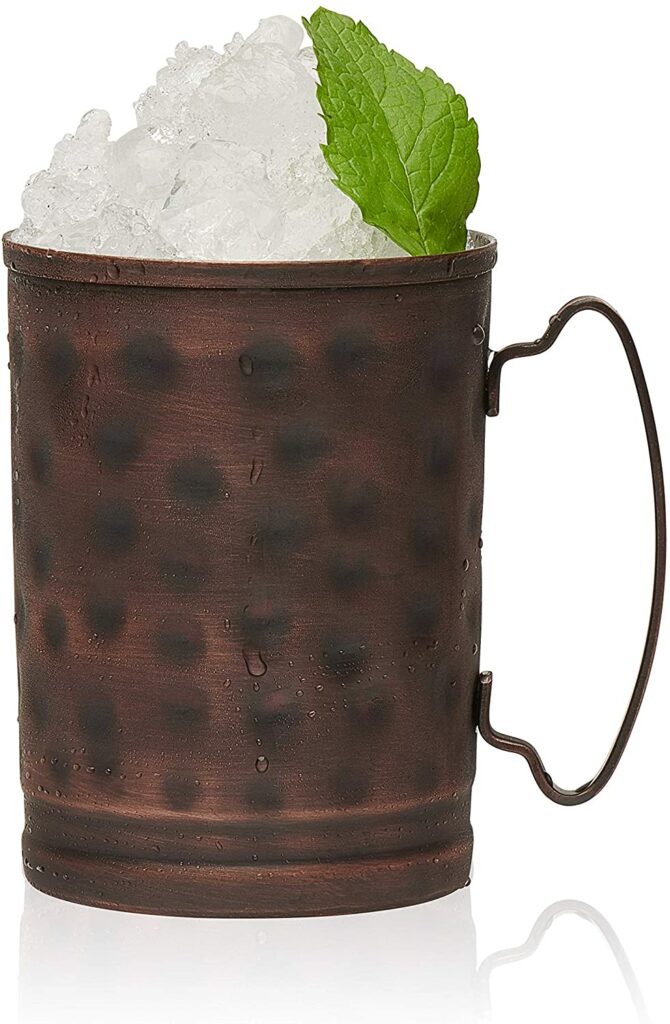 There's no better way to enjoy a Moscow Mule than in these copper mugs that boast a nonreactive stainless-steel lining for safety and durability. And because Moscow Mules are best enjoyed cold, the copper helps keep the drink icy. Meanwhile, the large handle facilitates a sturdy grip to minimize the chance of spills, and the hammered finish elevates the look of these timeless mugs.
Double Old-Fashioned

This set comes with four 12.75-ounce crystal glasses that each feature a unique, whimsical design that helps bring a jovial mood to cocktail hour. These designs are also precision-etched and complement one another, making it easy to discern whose glass belongs to who, as no two are the same. If you'd like to extend your collection, this set pairs well with Mikasa's Cheers stemware.
Best Beer Glasses
Just like wine, the type of glass a certain beer is drunk from impacts its taste. For example, low-alcohol beers taste best in a pint glass, heavier, malty brews in a goblet, light beers in a Pilsner glass, and blonde brews in a wheat beer glass. So if you enjoy a good cold beer, or have friends who you know will request such a beverage at your home, adding beer glasses to your registry is essential.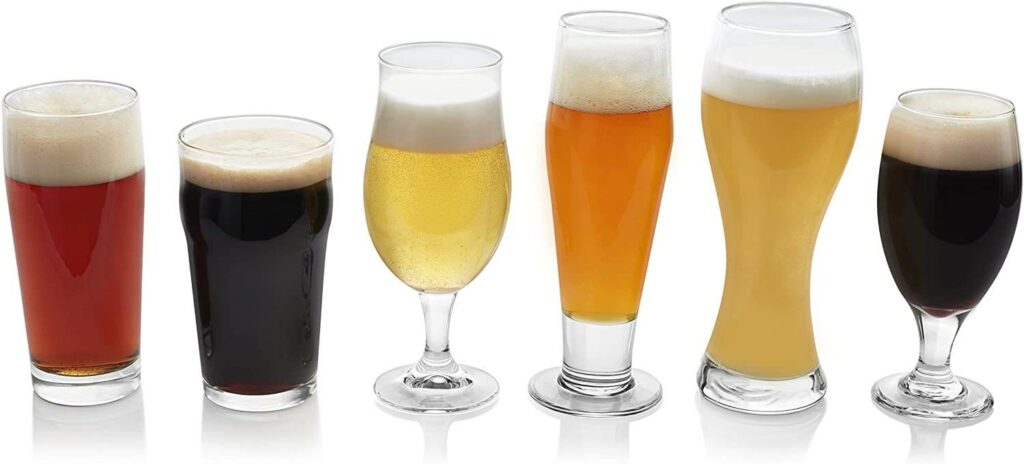 Get all of your beer glass needs met in one fell swoop by registering for these assorted beer glasses. This set includes a pilsner glass, English pub glass, Belgian ale glass, porter/stout glass, wheat beer glass, and craft pub glass. These glasses bring out the flavors in the beers they're designed for, seriously enhancing the beer-drinking experience.
Best Bar Accessories
Once you've registered for the needed glassware for wine, cocktails, and beer, it's time to turn your attention to bar accessories. These accessories ensure you have what's needed to enhance the flavor of certain beverages and concoct specialty cocktails. From decanters to tools like a shaker, strainer, and whiskey stoner, we've found the optimal add-ons for your bar area.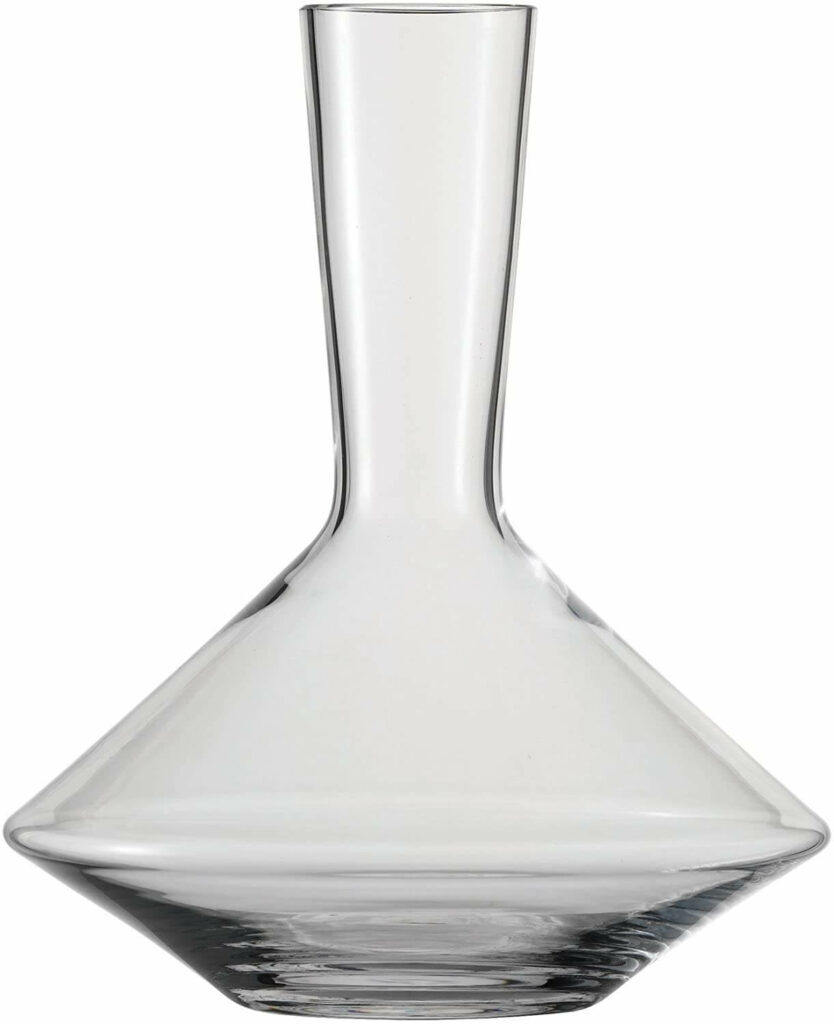 This fashionable wine decanter, made in Slovakia or Germany, has sharp, crisp lines that cause it to upgrade the class of any tabletop it graces. It also shines when it comes to quality, as it's made from Tritan crystal glass, which contains titanium for strength and zirconium oxide for elevated crystal clarity. This type of glass resists breakage, chipping, and scratching, and is thermal shock-resistant.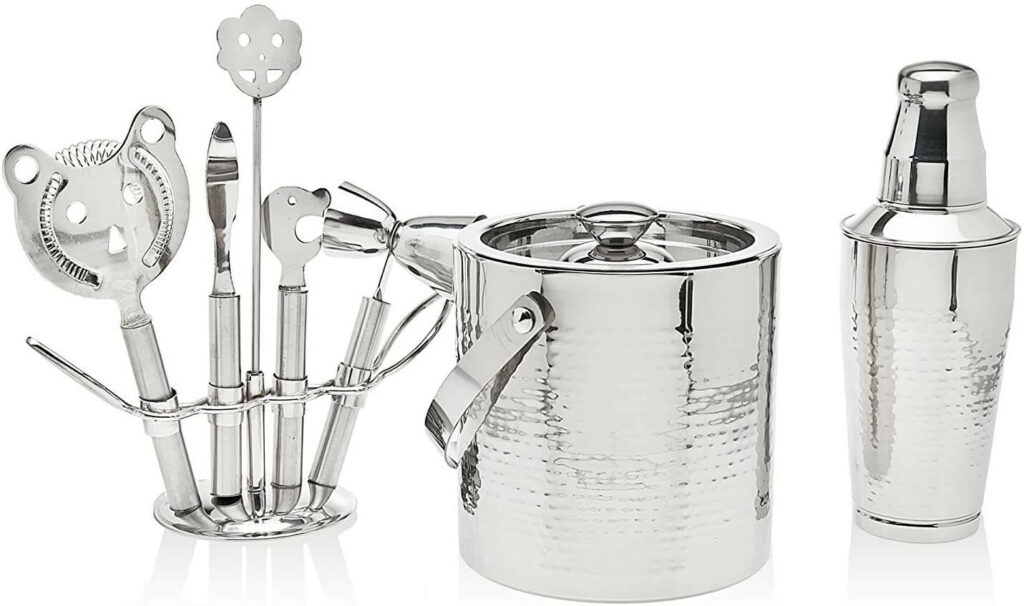 Complete your bar area with this cocktail bar set that wows with a sleek aesthetic composed of hammered, stainless steel finishes. It includes a shaker, ice bucket, shaker/jigger, strainer, muddler, and whiskey stoner. It has everything you would need to make just about any kind of cocktail.