How do you make your engagement photos pop with romance, authentic moments, and photogenic and meaningful backdrops to capture you as a couple? Other than hiring a great photographer, of course, location is everything. "Choosing the perfect location for your engagement photo session can be daunting, so I always recommend my couples to look back at their relationship and think about things they love doing together, or sentimental locations," Los Angeles wedding photographer Jodee Debes says. "As much as you'll use your engagement photos for your wedding website, save the dates, to brag on Instagram, or to hang in the house, they're really a snapshot of this moment in your lives together. Mark that occasion with meaningful locations or activities." Read on for Debes' top picks for engagement photo locations in Los Angeles, along with our personal favorites, to help you find the perfect fit.
An industrial neighborhood located on the eastern edge of Downtown Los Angeles (DTLA), the Arts District is one of Debes' favorites for engagement photography. "Super urban with lots of breweries, this spot is great for a couple that loves exploring L.A., trying new spots, and of course tasting beer!" Striking murals and colorful street art make for eclectic outdoor backdrops, while the A+D Architecture and Design Museum offers a fantasy of interesting and evolving art-scapes.
An iconic L.A. landmark that's appeared in an array of films and TV shows, the Griffith Observatory is housed in a striking, and extremely photogenic, building on Mount Hollywood in Griffith Park. The grounds feature a rolling lawn, a large concrete sculpture known as the Astronomers Monument, and an engraved sundial, in addition to a stunning view of the Hollywood Sign and Los Angeles skyline, offering plenty of photography locations.
Note: The Observatory is one of the most popular attractions in Southern California, so try to plan your photoshoot for a weekday, as it tends to be less crowded.
Distinct from other cities in the US, Hollywood is an urban fantasy of colorful sights, billboards, and iconic buildings. The Hollywood Boulevard and Entertainment District—listed on the National Register of Historic Places—overflows with interesting storefronts, including the storied Hollywood & Highland Center mall where the Dolby Theatre (home to the Academy Awards) is. Additionally, unique theatres such as the TCL Chinese Theatre, Disney's El Capitan, and the Egyptian Theatre abound, while iconic locations off the boulevard include the Capitol Records building, Hollywood Bowl, and Universal Studios and CityWalk.
This "museum of living plants" sits on 127 acres in the historic district of the city of Arcadia. Boasting species of trees and plants from around the globe, the Arboretum's gardens provide a lush, verdant backdrop for engagement photos. The pergolas and arbors of the Rose Garden are particularly lovely, while the picturesque summit of Tallac Knoll offers the serene Aquatic Garden with a waterfall located below.
Note: Visitors that come to the Arboretum to take posed photography require a permit at the front desk before the photo session begins. (Permit fee is $50.)
The largest art museum in the western US, Los Angeles County Museum of Art (LACMA) is a series of multi-story buildings on a picturesque landscape that makes the photo location a perfect combination of architecture and greenery. Urban Light, a grid installation of 202 antique cast iron street lamps that have been meticulously restored, is situated outside the museum facing Wilshire Boulevard and is, perhaps, the museum's most famous site. However, it's not the only memorable locale. "For the couple that loves art, there are so many gorgeous spots to shoot at around this location, beyond the iconic lamp posts!" Debes says.
Famous for its dazzling beaches and impressive celebrity homes, Malibu stretches along 30+ miles of the Pacific Coast. The views at Surfrider Beach—known for its world-class surfing—are impressive, while beautiful and family-friendly Zuma Beach offers a range of amenities. But it's El Matador State Beach that is among the most photogenic. "There's a reason this beach is one of the most photographed—it's beautiful!" Debes explains. "There are so many gorgeous parts of it including the keyhole rock and even the view from the top."
Interesting shops are plentiful at the upscale Malibu Country Mart and the Malibu Lumber Yard, but one of the most stunning spots in Malibu is the Getty Villa. As the original home to the J. Paul Getty Museum, the Villa is set on 64 acres of manicured gardens with breathtaking views of the Pacific, a wonderful place for art lovers to take engagement pictures.
Blending elements of both Mediterranean Revival Style and Spanish Colonial Revival Style architecture, the building that houses Pasadena's city government is a stunning spot for engagement photos. Created in the 1920s, Pasadena City Hall is pierced with arches and a dome that rises 26 feet high. The grounds also feature photogenic fountains and lovely gardens, all of which make a beautiful backdrop for you and your partner.
One of the best engagement photo locations in Los Angeles, there's a lot to love about the famous Santa Monica beach. "Lifeguard towers, the ocean, summer concert music series…this location is a special place for many people and so fun to photograph," Debes says. The Santa Monica Pier, with its carousel, restaurants, and rides, is another frequently-photographed L.A. landmark. "One of my couples loved going to theme parks together and lived in Santa Monica at the time, so heading to the Santa Monica Pier and riding the rollercoaster made so much sense!"
The largest railway passenger terminal in the Western US, Union Station in Downtown Los Angeles offers a combination of Art Deco, Mission Revival, and Streamline Moderne style. Grand in scale and rich in architectural details, such as eight-pointed stars, travertine marble walls, and terra cotta floors, the station—which celebrated its 80th birthday in 2019—also features enclosed garden patios for a bit of greenery. Couples who like a vintage vibe and plenty of energy will love Union Station for their engagement session.
The beach itself offers lovely views of the Pacific, but it's the world-famous Venice Beach Boardwalk that presents the most interesting backdrop for engagement photos. Stretching over 2 miles, the boardwalk (also known as Ocean Front Walk) hosts colorful street vendors, restaurants, and artists. The nearby Venice Canals is also a popular location for photographs, which Debes describes as "an iconic yet hidden gem" of L.A. "One of my couples loves walking their dog around this area, so taking photos there was so much fun with them and their pup!"
The Frank Gehry-designed Walt Disney Concert Hall, home to the Los Angeles Philharmonic, is a modern architectural marvel. All stainless-steel curves and soaring angles, this 3.6-acre complex offers plenty of stairways for posing and an incredible backdrop, making it one of the best engagement photo locations in Los Angeles.
Up Next:
Set up your wedding website in minutes with design options to make yours truly unique.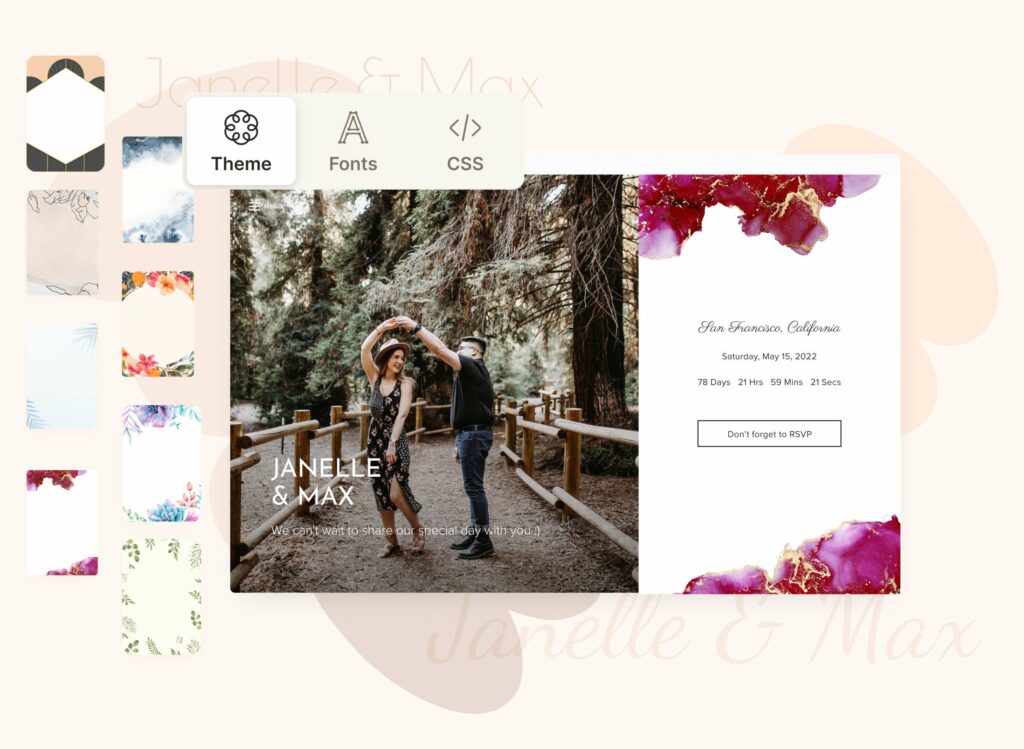 Related Posts