Choosing a location for your engagement photo session is one of the earliest decisions you'll make after the engagement. It's also a great opportunity to secure images for save the dates and invitations to your engagement party—not to mention, getting to know your wedding photographer better.
Engagement photos are meant to capture this magical time in your lives and personalities, so put some thought into what you want your New York City engagement photos to convey.
Looking for a lush, natural background that speaks to your love of nature? There are several beautiful parks in the city that are perfect for a photo session. Thinking about a more urban vibe? Photogenic neighborhoods abound.
A spot that is picturesque and meaningful will go a long way toward capturing your essence as a couple. Many of the prime spots for pictures in NYC are popular with the public, so schedule your session during off-hours—or, just be prepared to deal with crowds. You also want to be aware of any fees associated with accessing landmarks and/or licenses for photography.
We tapped local wedding photographer Jennifer MacFarlane, owner of Stylish Hip Weddings and Eloping is Fun, to help us narrow down the locations that represent the quintessential NYC engagement photo session. Read on for the ten best locations for engagement photos in NYC, thanks to MacFarlane's picks and our own favorite landmarks.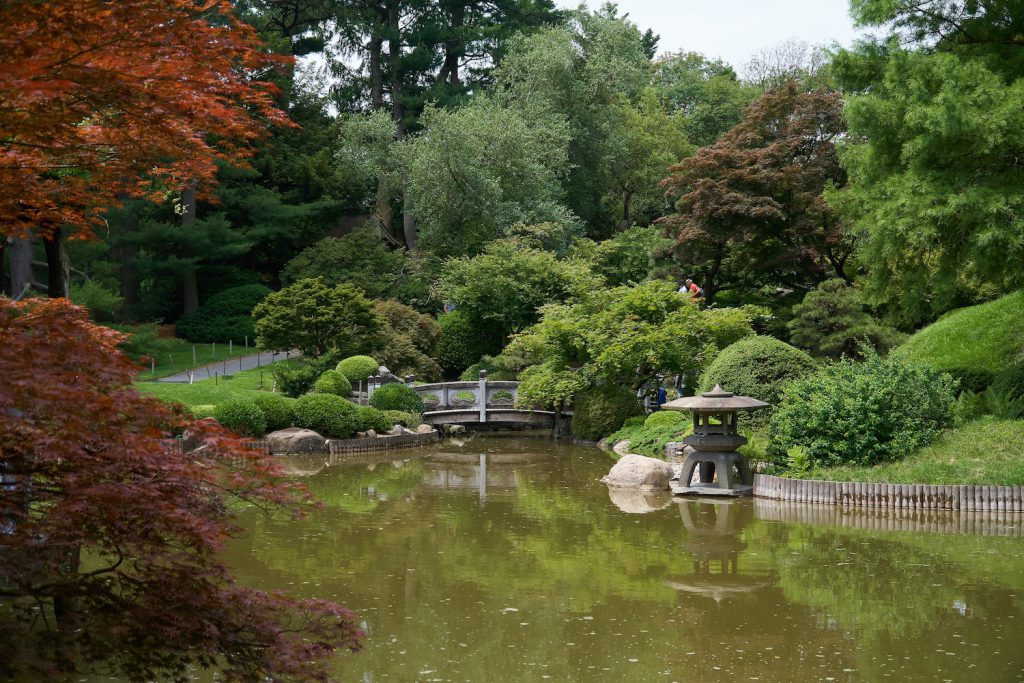 Founded over a century ago, this famous greenspace sits on 52 lush acres in Mount Prospect Park.
Cherry blossoms from more than 200 trees also bloom in the spring, making Brooklyn Botanic Garden one of the foremost sights for cherry viewing outside of Asia.
"The cherry blossoms are beautiful, but the park is jam-packed 24/7 at that time," MacFarlane says.
The Japanese garden, the first to open in America, features rolling hills and a beautiful, koi-filled pond that makes an artful backdrop for a photo session along with wooden bridges and stone lanterns.
Additionally, the Cranford Rose Garden boasts close to 1,400 types of roses while the Steinhardt Conservatory offers three climate-controlled pavilions featuring water plants, desert blooms, and an art gallery.
"You need a permit for photos here," MacFarlane adds, noting that the cost runs $350.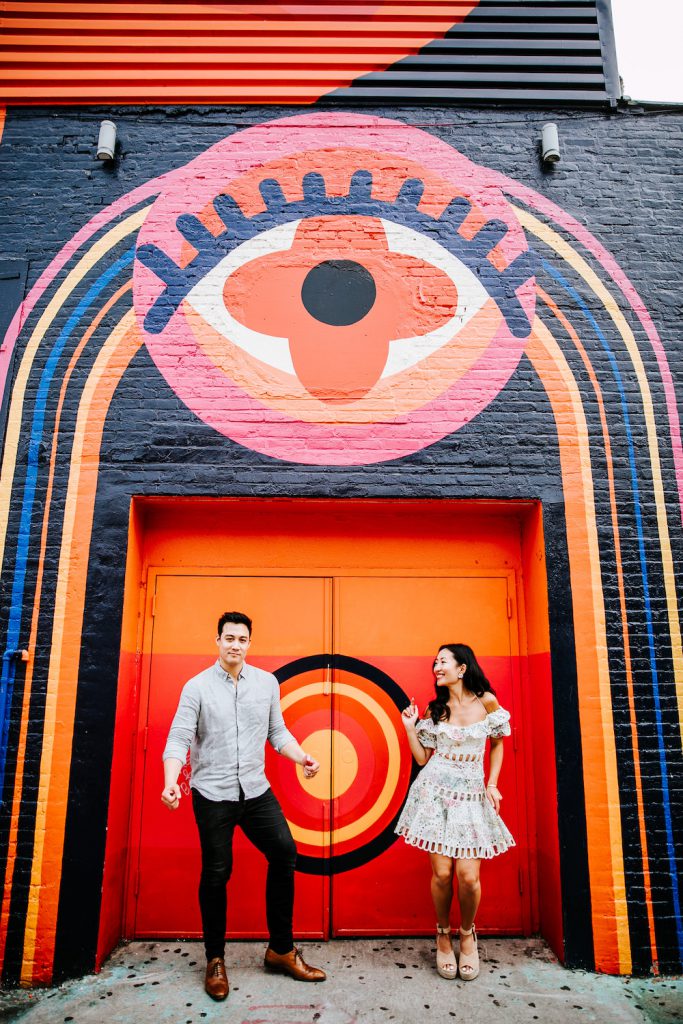 Once known as an industrial area, this up-and-coming working-class Brooklyn neighborhood is famous for its outdoor galleries and the vibrant street art that covers nearly every available surface.
"The nightclub House of Yes is usually my Bushwick starting point because of the colorful poppy murals they have on the side of their building," MacFarlane describes. "I like to come here at the end of an engagement session and grab a drink or a fresh taco from the tortilla factory and take some more fun, energetic photos."
A blend of bars, coffee shops, and new restaurants, Bushwick is fun, vibrant, and full of life.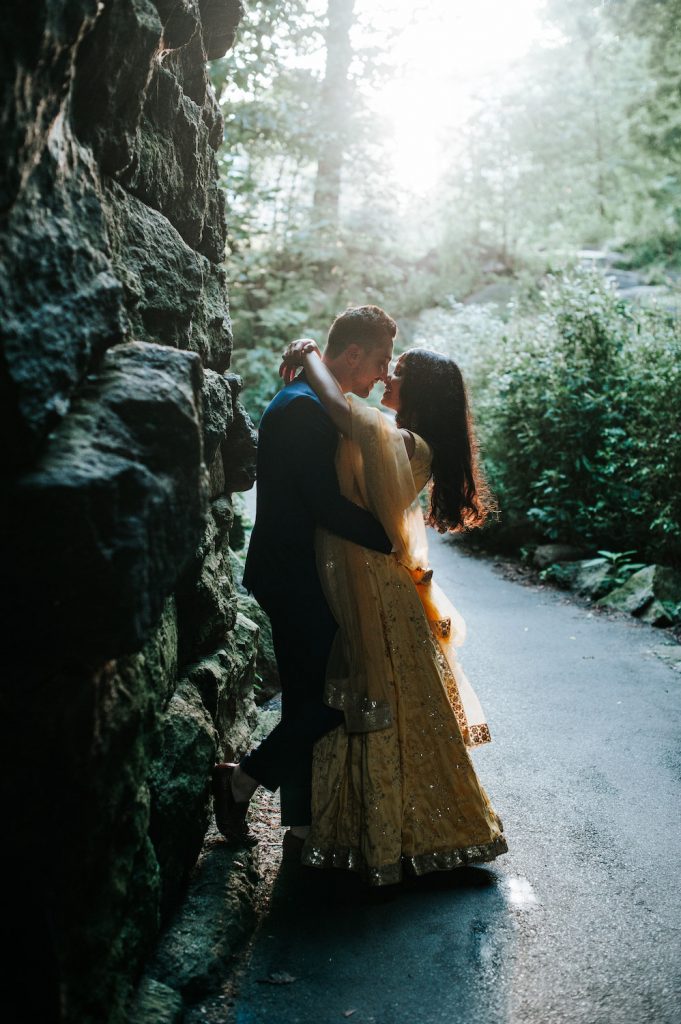 A National Historic Landmark and a New York City scenic landmark, this world-famous, 843-acre Manhattan park is known as the 'green heart' of the Big Apple.
Among Central Park's many popular backdrops for photos are the Central Park Zoo, Central Park Carousel, The Pond, and the Central Park Mall. Hosting an estimated 38 million annual visitors, the park is heavy on the foot traffic.
"Central Park is a given as a go-to favorite spot for engagement photos, but over the years there has been an influx of tourists which makes engagement sessions challenging at times," MacFarlane notes.
"I take my couples to the more secluded and lush North Woods of Central Park. Around 103rd Street and Central Park West, you can walk down to the Glen Span Arch which is a great spot for photos because of all the vantage points that are possible and the way that the light plays in the arch."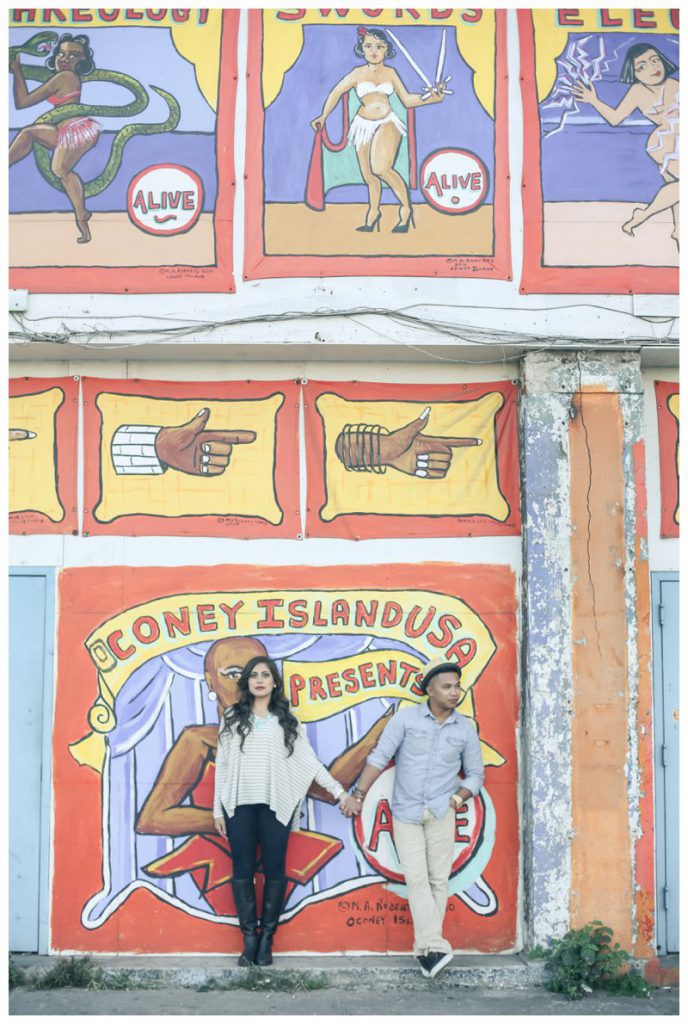 Famous for its amusement parks, Coney Island is a frenzy of colorful activity and classic carnival rides, creating a fun, bright, and interesting backdrop for photos.
"Coney Island is a lot of fun for engagement shoots," MacFarlane says. "[It is] retro and colorful both in terms of surroundings and characters—think Russians jogging down the boardwalk in Speedos or a guy with a 9-foot albino python. The mural in front of the Coney Island area show is one of my favorites. And the Wonder Wheel is awesome for some smooching shots."
An acronym for "Down Under the Manhattan Bridge Overpass," DUMBO is a classic spot for photos.
"Every beautiful, cool, iconic thing about New York City is in one small radius," MacFarlane describes. "Cobblestone streets, the Brooklyn Bridge, Pebble Beach, Jane's Carousel, the NYC skyline, the now Instagram-famous Washington Street—you cannot go wrong in DUMBO. Just be sure to schedule your engagement session mid-week unless you want to compete with giant wedding parties and quinceaneras on the weekend."
Situated beneath the world-famous Brooklyn Bridge, Brooklyn Bridge Park is an 85-acre wonderland along the East River waterfront that offers spectacular vibes of Manhattan and a picturesque setting for engagement photos.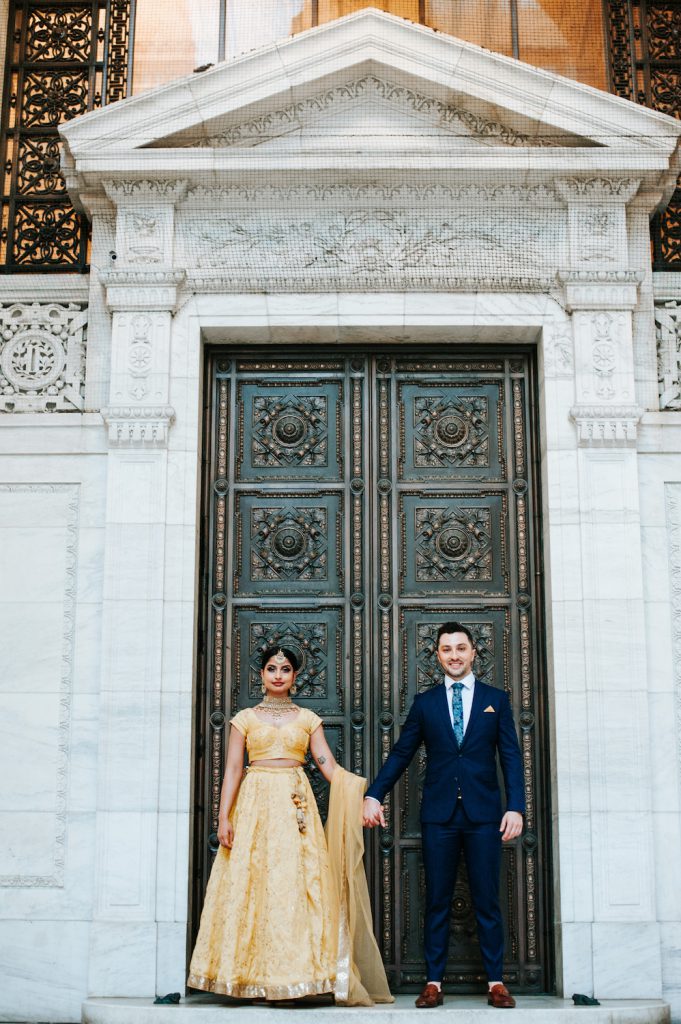 The Stephen A. Schwarzman building located at Fifth Avenue and 42nd Street is a major New York City landmark—and for good reason. Housing the New York Public Library, this Beaux-Arts structure also happens to be exquisite and features "Patience" and "Fortitude," its own pair of famous lion statues.
"NYPL's soaring marble columns and white alabaster will make any couple look sexy!" McFarlane says. "Located smack in the middle of midtown, I also love shooting around the NYPL for the great NYC street shots that you can get, especially around dusk when the street lights come on and the traffic lights cast a beautiful red glow over the streets."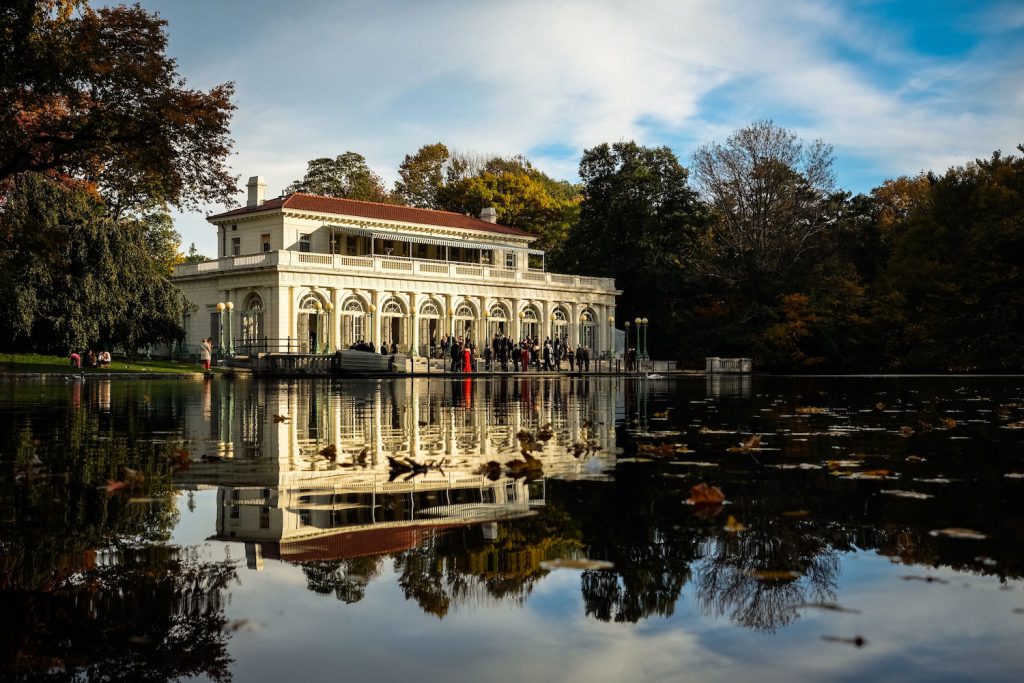 Known as Brooklyn's flagship park, this 526-acre green space has been open to the public since 1867 and features the borough's lone lake.
"Prospect Park is lovely, especially for Brooklyn natives," McFarlane says. "There are some very deeply wooded areas in the park for photos."
Other picturesque engagement photo locations include:
Litchfield Villa (also known as 'Grace Hill'), an Italianate villa that now serves as headquarters for Brooklyn's Department of Parks and Recreation
The Boathouse, an NYC landmark situated in the eastern section of the park
Prospect Park Zoo
The sculpture garden of Concert Grove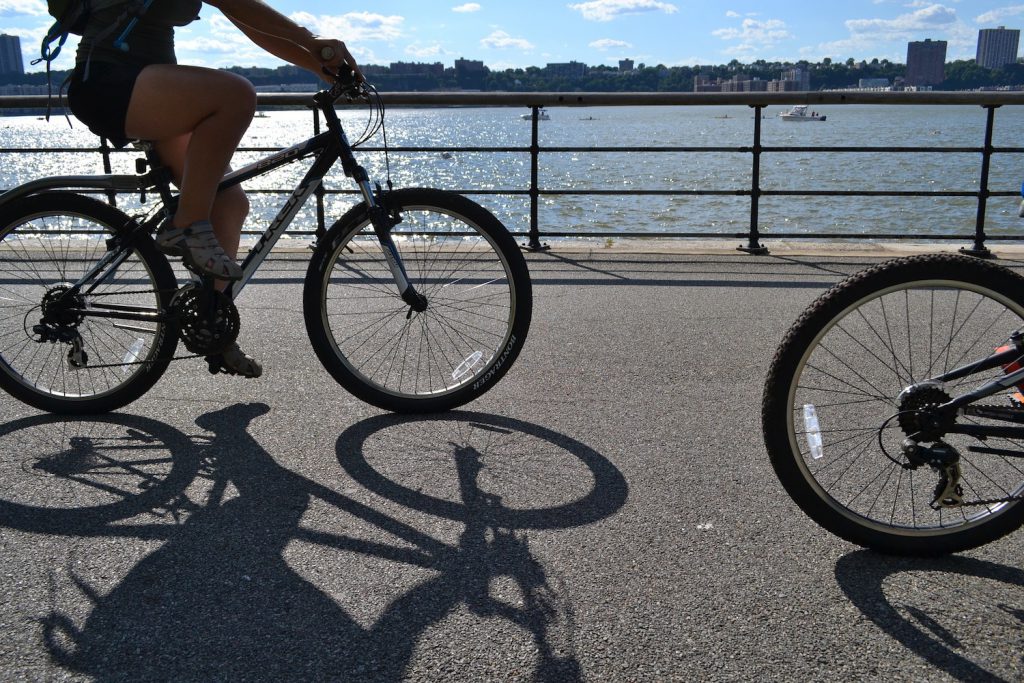 Located along the Hudson River from 72nd to 158th Street, this remarkable park is part of the Manhattan Waterfront Greenway and one of NYC's few designated scenic landmarks. The park is composed mainly of tiered slopes, each of which has a look and character of its own.
"Riverside Park is lovely and a good alternative to the crowded Central Park," McFarlane describes.
Additionally, Riverside Drive boasts a lush canopy of elms and views of the Hudson River Valley while the park's landscaped upper promenade features rock outcrops and winding paths.
"There are some magical hidden streams that cut through the rocky jagged terrain," McFarlane describes.
If you're looking for a more regal backdrop, the white marble Soldiers' and Sailors' Monument is a beautiful option for photos with its stairs and Corinthian columns.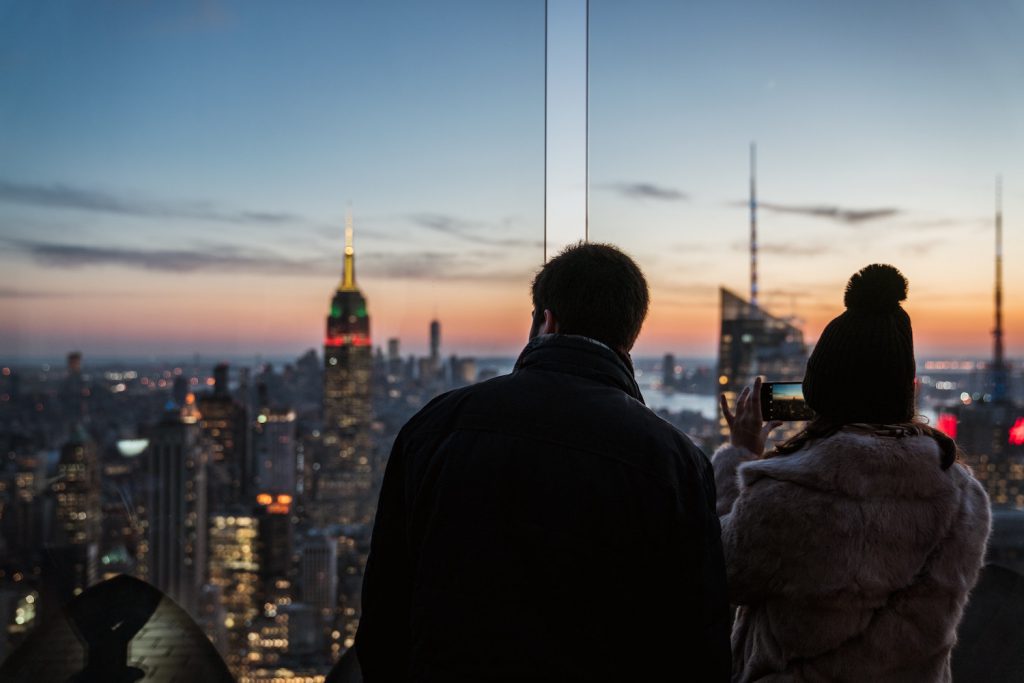 The rooftop observation decks atop 30 Rockefeller Plaza, a famed Manhattan building, offers unparalleled views of the city's skyline as well as very big crowds.
"We like to shoot [at Top of the Rock] in the off-season when it starts getting cold. A rainy day is best because then you can have the place mostly to yourselves," McFarlane advises. "In the summer at sunset, there are crowds six-people deep to get to the ledge to look at the sunset and the views of New York City."
Tickets start at $38 for adults, and you'll find the entrance on 50th Street between Fifth and Sixth Avenues.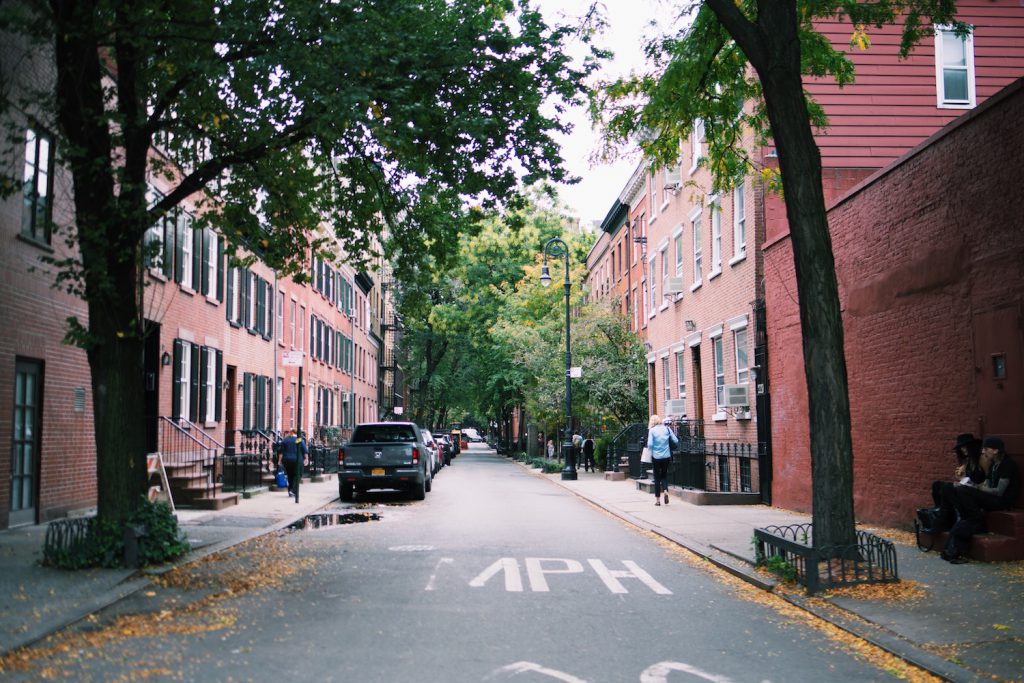 Located south of Chelsea and north of Hudson Square, this idyllic Manhattan neighborhood has been known as 'Little Bohemia' since 1916 due, in large part, to its colorful reputation for fostering alternative culture.
"The West Village is another great spot that we love for engagement shoots," McFarlane says. "It is so classic NYC with quaint streets, hidden alleyways, and gorgeous brownstones."
Steeped in history and beautifully preserved, the village offers plenty of landmarks to use as backdrops including The Stonewall Inn, The Cherry Lane Theatre, and 66 Perry Street, also known as Carrie Bradshaw's house in Sex and the City.
Up Next: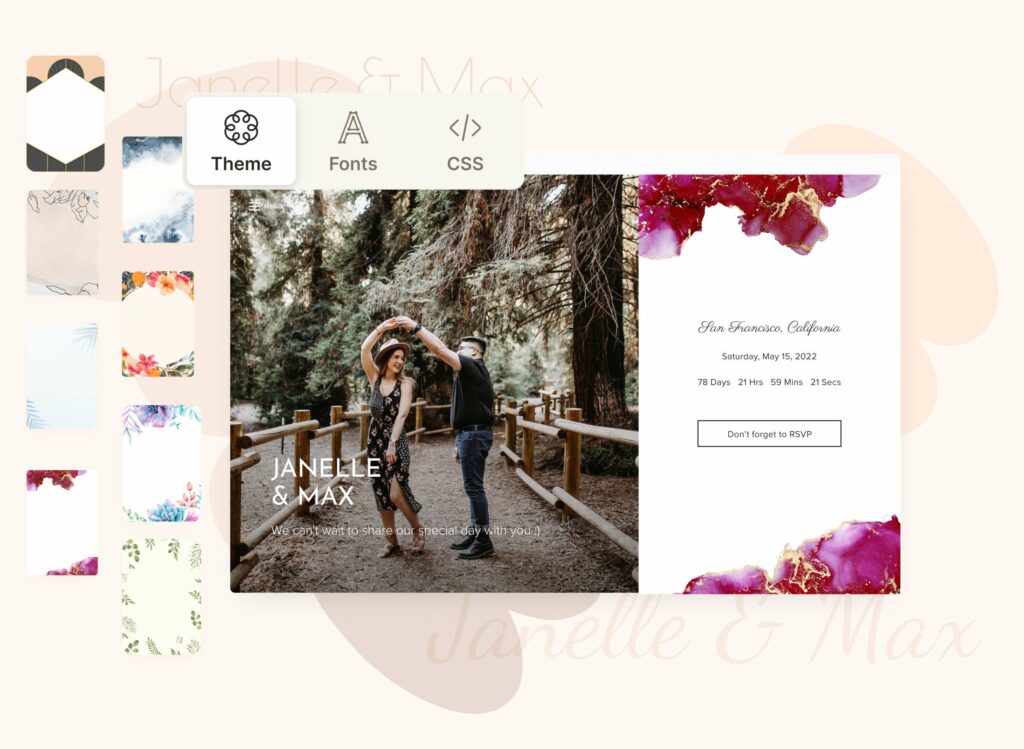 Set up your wedding website in minutes with design options to make yours truly unique.