The time period leading up to your wedding is filled with celebratory festivities and events honoring you and your fiancé. While it's special and exciting to be celebrated by your loved ones, the prospect of managing events in addition to your big day can seem overwhelming. Luckily, you can use Joy to create a gorgeous wedding website that seamlessly organizes all of your wedding events and details in one place.
Create your master guest list using Joy's powerful guest list manager
The first step in planning your wedding and your related events is to work with your partner to compile your master guest list of everyone you want to be present on your big day. While it may take some time, it's an important first step that will make planning the rest of your wedding celebrations much easier.
From there, add everyone's names and emails into Joy's guest list manager. Better than relying on an antiquated spreadsheet that offers few benefits and takes up your precious time, our guest list manager is a helpful tool that allows you to do more, including:
Visualizing your master guest list on one streamlined platform
Organizing guests into groups or parties of your choosing
Separating guests based on the event(s) to which they're invited (i.e. separate ceremony and reception guests)
Sending invitations and communicating with guests via email
Keeping track of guests' RSVP responses with automatic updates
Organize your master guest list into sublists for each event
When all of your guests have been added to your master guest list, organize them into separate groups using labels. You can think of labels as a way to designate who-is-who on your guest list and where they belong.
There are a variety of ways to utilize labels to group your guests, including:
Designating who is invited to your various multiple events; for example, if you're wanting to invite a guest to your ceremony but not your engagement party
Determining who on your guest list is a part of the wedding party, has kids, has food allergies, are the parents, or are out-of-town guests
Keeping track of who everyone is; this is helpful for extended guests such as your parents' friends, your in-law's guests, or your fiancé's college friends
Assigning tasks to members of your wedding party (or others)
You don't have to use all these use cases for your wedding — you can organize your guest list however is most helpful to you. Start by thinking about the different groups of guests you have within your master list, who is attending which of your wedding events, and what other designations will help you plan, such as who is staying in your hotel block and needs a welcome bag for their room or who needs to be at your wedding rehearsal. Then, sift through your guests and create and add labels accordingly.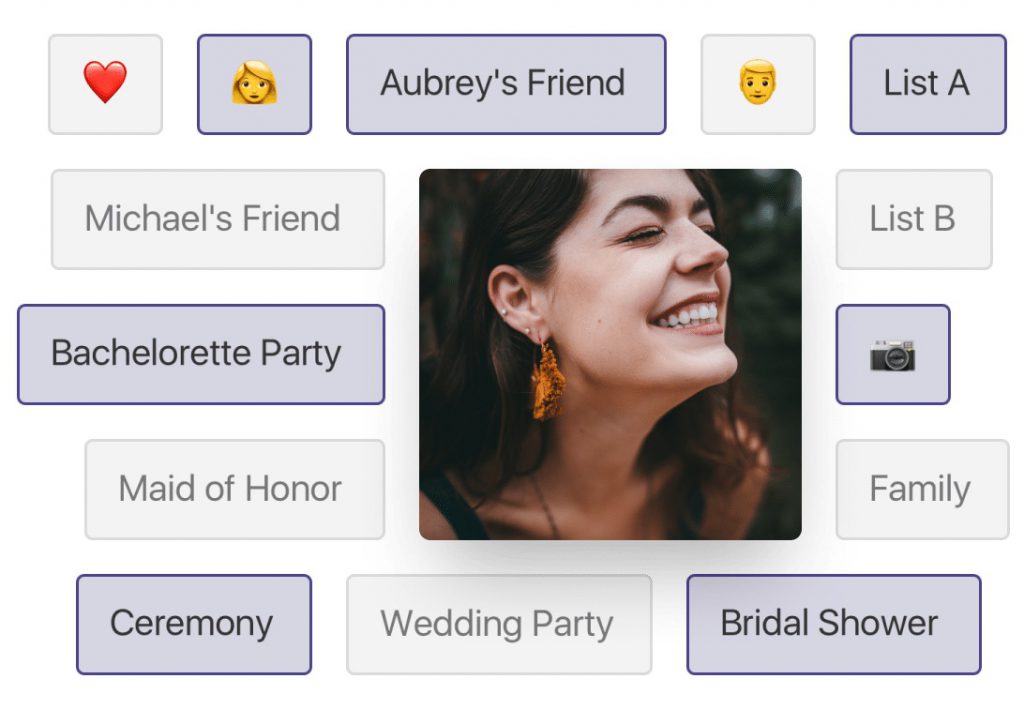 Control which guests see each event on your wedding schedule
With Joy's schedule visibility feature, you're able to control who gets to see what on your schedule. What does this mean? You don't have to worry if that private luncheon for your out-of-town guests will be visible to everyone when they visit your website. It's just a matter of setting up this feature properly.
One of the handy ways to use labels is designating which guests are invited to which events. This also means determining the events that should be private on the schedule. On your Schedule page you can set your various events to only be seen by those tagged with a specific label. In addition to labels, you can choose the guests who should see the event from a dropdown menu.
Schedule visibility is a helpful feature to ensure that each of your wedding festivities are only seen by those who are invited. This way, it's clear to everyone on your guest list the events to which they're invited, limiting the chances of confusion or hurt feelings.
Manage which guests receive RSVP questions for each of your wedding events
With Joy, you can create and customize multiple event RSVP questions for guests with specific labels. For example, you'll want guests invited to your rehearsal dinner and wedding to see more information in their RSVP than guests only invited to your wedding. First, make sure that guests who have the "rehearsal dinner" guest label are clearly identified on the guest list.
Then, head over to your RSVP page and add an attendance question about your rehearsal dinner. Set the question so that it is asked to only those with the "rehearsal dinner" guest label.
Ask custom follow-up RSVP questions to help you plan
If you want to gather more detailed information from your guests, you can ask follow-up questions (about meal choice, lodging, or anything else you wish) to your event attendance question. Thanks to Joy's powerful RSVP system, you can customize your settings so that only guests who respond that they are attending are asked the related follow up questions.
There are two benefits here. One, you see how many invited guests are going to that private welcome cruise event, easily tracking your headcount. Two, you can use follow up questions to learn more about your guests' plans and preferences for the event in question.
Send e-cards, save the dates, and emails only to specific groups of guests
Ready to send out e-cards about a certain wedding event on your schedule? Rest assured that only guests with the label for a specific event will receive correspondence about that event.
If you want to send a separate invitation to out-of-town guests about a dinner, select those guests who have the coordinating label (or filter by label), then send out your invitation with the peace of mind of knowing only the intended recipients will receive it.
You can repeat this process for all of your private wedding events. Just don't forget to select the appropriate guests before sending correspondence for each event.
Organize everything about your guests and wedding events in one place
A wedding website with Joy is more than just an opportunity to flaunt your romance. It's also a way to manage your guests, plan multiple events, track RSVPs, gather information, send paperless invitations and save the dates, and house your registries.
Additionally, you can use Joy's mobile app to enhance you and your guests' experience. The app allows you to keep track of your wedding, help guests stay connected, send announcements, and more. Guests can also share photos, RSVP, see their tailored schedule of events, share experiences, and communicate with you!
From organizing your guest list to customizing the privacy of your wedding event schedule and RSVPs, Joy's user-friendly tools make planning your many wedding events more approachable, helping you realize the wedding of your dreams.