One of the most important and sentimental breaks from wedding planning that you and your partner can take is devoting some time to your engagement session. This photo shoot, which is typically handled by your wedding photographer, can be incredibly helpful for your creative engagement announcements, save the dates, and decor in your home, not to mention posterity. As for the most important decision associated with this photo session? The location. Luckily, couples have a variety of gorgeous backdrops from which to choose for their Seattle, Washington engagement photos.
"Washington offers rainforest, desert, cities, water, and everything in between," Emily Keeney of Emily Keeney Photography describes. "It's one of the most diverse landscapes in the country which can make choosing a location for your engagement photos a real challenge!"
Keeney always reminds her couples that the location should be meaningful to them. "If hiking is a big part of their lives, it makes sense to involve that in the location. If their idea of a good time is brunch and record shopping, then an urban setting makes a lot of sense."
Most importantly, keep in mind that your photos aren't just about the location—they're about you and your relationship. "It's my goal as a photographer to capture authentic emotion and connection and that my couples can feel their photos when they look back on them years later," Keeney says.
We reached out to top Seattle wedding photographers to get their suggestions for 17 of the most photogenic engagement session locations in this dynamic city. Read on for Keeney's picks including those from Jonas Seaman of Jonas Seaman Photography, Malorie Kerouac of Malorie Kerouac Photography, and Dacia Pierson of Eager Hearts Photography Co for your stunning Seattle-area engagement photo shoot.
Seaman: "Belltown is the best for urban nooks and crannies. The alleyways are brick, and the building windows create awesome reflections of light in the late afternoon."
Find Belltown on Facebook and Twitter.
Keeney: "Not far from Seattle, the landscape [at North Cascades National Park] turns rugged and is dense with old-growth trees, rocky peaks, and lush greenery. Being out there is an experience in itself and creates a free and vast setting for engagement photos."
Find North Cascades National Park on Facebook, Instagram, and Twitter.
Pierson: "Discovery Park is a photographer's dream. Wide-open spaces, minimal crowds, and everything beautiful the Pacific Northwest has to offer: rocky beaches, fields of wildflowers, and if you're lucky, unencumbered views of Mount Rainier."
Keeney: "[It's] probably my favorite Seattle location for shoots. The grassy bluff is beautiful year-round, and the sunsets there are just incredible. The grass illuminates with a beautiful golden tone in the summer and fall and creates the dreamiest setting for romantic photos. I recommend it to almost every couple."
Seaman: "The thing I like best about Discovery Park is the amount of variety it provides. You've got the expanse of green grass at the top end of the park, the beautiful hiking trails and forest in the middle, and then the beachfront and lighthouse at the bottom. It's like having three locations in one."
Kerouac: "Discovery Park is a popular engagement session location because of its rare fields of tall grass and iconic viewpoints of the Puget Sound. It is easy to access and beautiful year-round!"
Find Discovery Park on Facebook and Twitter.
Kerouac: "To avoid the hustle and bustle of Downtown Seattle, a lot of couples take to rooftops for their engagement session. That way they get the urban feel without anyone else around!"
Seaman: "Downtown Seattle proper is also an incredible urban landscape. There are plenty of staircases, sky bridges, and balconies that are great for capturing couples in the city itself."
Find Downtown Seattle on Facebook, Instagram, and Twitter.
Kerouac: "Gas Works Park is a true Seattle landmark. It highlights Seattle's industrial history in a modern way and also offers grass, trees, and Lake Union—not to mention, the amazing view of Downtown Seattle and the Space Needle!"
Find Gas Works Park on Facebook and Twitter.
Seaman: "Personally, Georgetown is my favorite urban area for engagement sessions. It's a few small blocks of artist spaces, antique shops, and restaurants with more of a DIY aesthetic to it—a bit more off-kilter than downtown, Belltown, or Pioneer Square. There are lots of hand-painted signs and strings of lights. Always great for a fun session."
Find Georgetown on Facebook.
Kerouac: "Hurricane Ridge is an incredible viewpoint in the Olympic National Park. It has dozens of deer regularly roaming the grounds, and [there are] wildflowers everywhere—not to mention, the incredible view of Washington's Olympic Mountain Range!"
Find Hurricane Ridge on Facebook, Instagram, and Twitter.
Seaman: "Lincoln Park offers plenty of variety with forest trails but also a very long stretch of beach that is often covered with driftwood."
Keeney: "It offers lush greenery, fall foliage, and iconic evergreens. I love it because it's so close, yet it really feels remote. There are plenty of eagle sightings here, too!"
Find Lincoln Park on Facebook.
Seaman: "Luna Park is a lesser-known gem. It's down the street from the more popular Alki Beach, but unlike Alki, you can often have the place to yourself. It has a gorgeous beach with a view of downtown."
Find Luna Park on Facebook.
Keeney: "Pike Place Market is iconic to Seattle. It's not for the camera-shy, though, because it's always very busy. You have to be okay with having other people in your photos, but it captures the bustling city life so well, and with the lights and signs, it's very visually stimulating."
Seaman: "Pike Place is always fun, especially if the couple wants a Seattle landmark as an element of their session. I especially love the alley leading to the bottom of the market. It is always popping with color from flyers and graffiti."
Find Pike Place Market on Facebook, Instagram, and Twitter.
Seaman: "Pioneer Square gives you the best of 'old' Seattle. The storefronts are incredible and every corner is filled with atmosphere."
Find Pioneer Square on Facebook, Instagram, and Twitter.
Keeney: "A short drive from Seattle, Rattlesnake is a beautiful lake scattered with moody and rugged tree stumps and offers a serene mountain backdrop. If you like the look of mountain photos, but don't want to hike, this is a great spot. The parking lot is right next to this vista!"
Kerouac: "Rattlesnake Lake is a popular option for engagement sessions because it offers a really unique, adventurous location without much work in getting there! It is known for its beautiful hike as well as the underwater tree stumps that show themselves when the lake drops in the summer and winter months."
Find Rattlesnake Lake on Facebook.
Seaman: "One of my favorite things to do with a couple is to hop [the Seattle Ferry] to Vashon or Bainbridge. It's always fun. You get the wind blowing, the water, and views of the city in the distance."
Find the Seattle Ferry on Facebook, Instagram, and Twitter.
Seaman: "Farther down from Pike Place Market are the piers of the Seattle Waterfront. It's always beautiful to spend time there with couples and to capture the Ferris wheel at sunset."
Find the Seattle Waterfront on Facebook, Instagram, and Twitter.
Kerouac: "Snoqualmie Falls is one of Seattle's best spots. It is just 40 minutes outside of Seattle and feels like you are somewhere in Iceland. It is an amazing and powerful waterfall destination that showcases one of Seattle's most stunning natural landmarks."
Find Snoqualmie Falls on Facebook.
Keeney: "This might not count for Seattle, because it's a bit of a drive, but just on the other side of the Cascades lies the Columbia River and a beautiful high desert with epic landscapes and vast views. Different from the usual greenery and forests, Vantage is dramatic and beautiful. Be prepared for wind, though!"
Find Vantage on Facebook.
Kerouac: "Washington Park Arboretum is a huge park in essentially Downtown Seattle, just minutes from the University of Washington. It has tons of options including a Japanese Botanical Garden, but all of it is beautiful. It has Seattle's iconic lush, green foliage, and glimpses of Lake Washington's shore."
Find Washington Park Arboretum on Facebook, Instagram, and Twitter.
Want more tips on engagement shoots? Check out our article on professional hair and makeup for your engagement photography.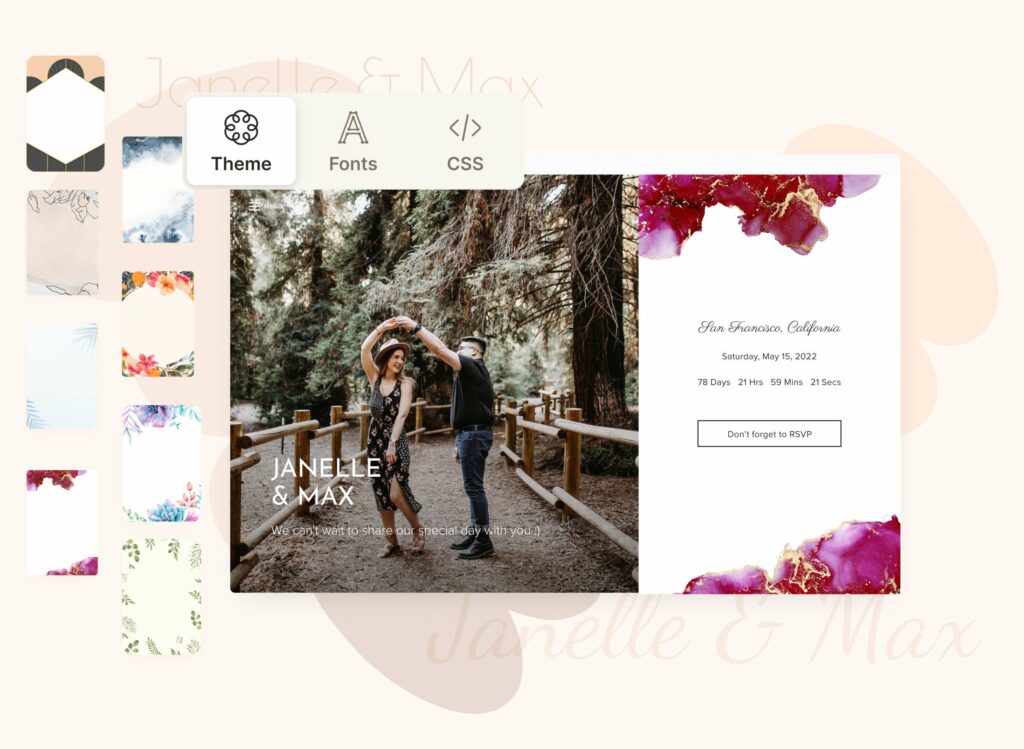 Set up your wedding website in minutes with design options to make yours truly unique.
Related Posts