Wedding photography is a precious commodity lasting long after you exchange your vows. Ideally, your engagement photos will not only help you capture your essence as a couple when you announce the news, but the session itself will also serve as great practice for your big day.
"You and your fiancé will get a chance to warm up in front of the lens and feel what it's like to have photos taken so that come wedding day, you'll already know how it works," Austin wedding photographer Nikkolas Nguyen explains. "You and your photographer will also get to know each other and establish a relationship, which will ease tension. If your photographer feels like an old friend, you'll naturally feel more relaxed and open."
Even before you choose a wedding venue, you'll need to select a location for your engagement shoot — and Austin just happens to be rife with spectacular engagement photo spots. "Whether it's a breathtaking view [of] nature, modern architecture downtown, or a brewery that has personal significance, it's important to pick locations that reflect the couple's personalities," Austin wedding photographers Andy and Carrie Schneider of Andy + Carrie Photography describe.
Consider Your Clothing for the Engagement Photo Session
According to the Schneiders, you should also wear clothes that make you feel good about the way you look. "We recommend that couples try on their outfits together, before the session, to get an idea of which outfits are most flattering and complementary to each other."
Meanwhile, Nguyen recommends taking a change of outfit to your photoshoot. "Not only will it give you variety, but having two outfits onsite can help alleviate questions like 'Should I go more casual or elegant?' and 'Which outfit will look better at the scene?'"
Now that you've begun planning this special photo session and the outfits you'd like to wear, read on for these photographers' top 15 locations that will leave a lasting impression for your Austin engagement photos.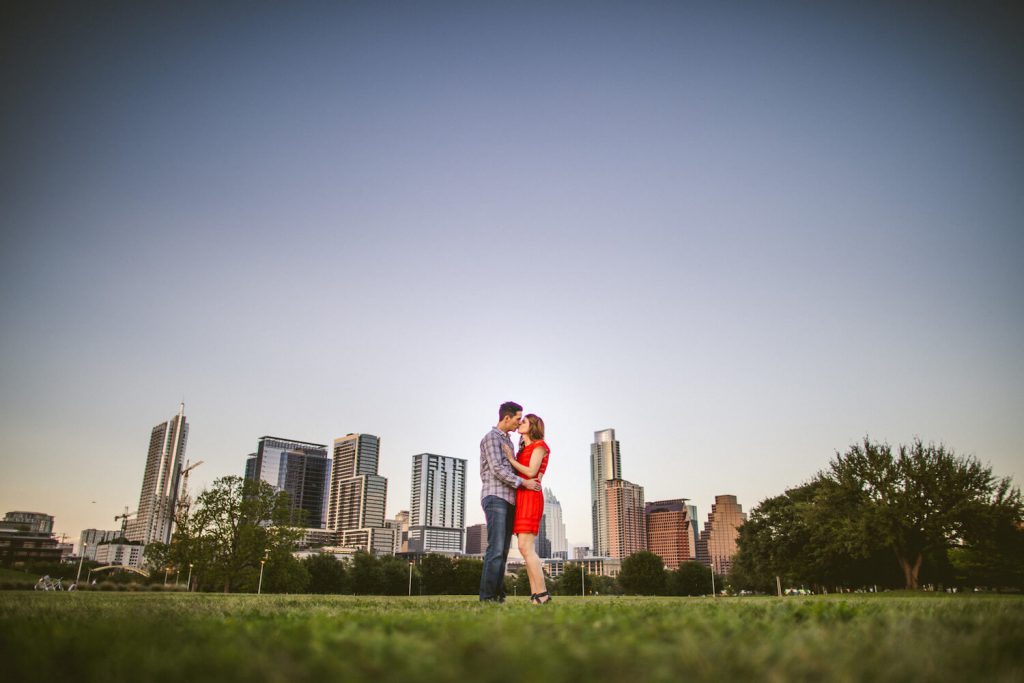 The Schneiders: "[Auditorium Shores] offers scenic views of the downtown skyline from several different vantage points including the Long Center's City Terrace which has unique architecture from the original 1950s structure. (The Long Center is also a favorite location for couples wanting skyline photos at night.)
Additionally, it offers natural views of the neighboring Butler Park which has an open, grassy field, a pond, a fountain, and Doug Sahm Hill Summit. It's also a dog-friendly area for couples that want to include their furry friends. Note: Auditorium Shores often has events and outdoor concerts, so it's good to check the schedule online before planning an engagement session here. Also, it can get very crowded on the weekends."
The Schneiders: "A popular spot for proposals, The Boardwalk [at Lady Bird Lake] is a new addition to the hike and bike trails with views of Lady Bird Lake and the skyline (which is especially beautiful at sunset).
The boardwalk connects to the old trail which has giant trees for some natural views. Note that parking can be a challenge in this area, so it's best to use a rideshare [service]."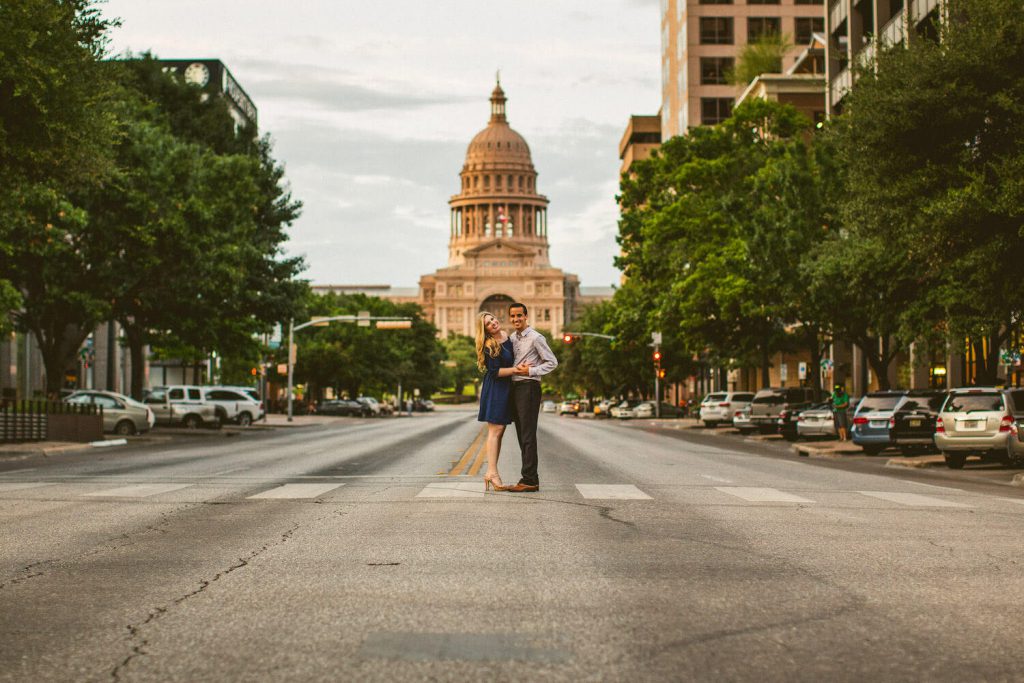 The Schneiders: "A good spot for couples wanting to include some historic Texas scenery in their photos, the Texas Capitol has beautiful grounds with gigantic trees and lush, green grass — while the interior is one of the few free indoor locations in Austin and a great rainy-day option.
Our favorite spots inside the Capitol are the staircases and the dome. This is a popular tourist attraction, so if you are planning on photographing inside, we recommend checking the hours before going. Note: Weekdays are best."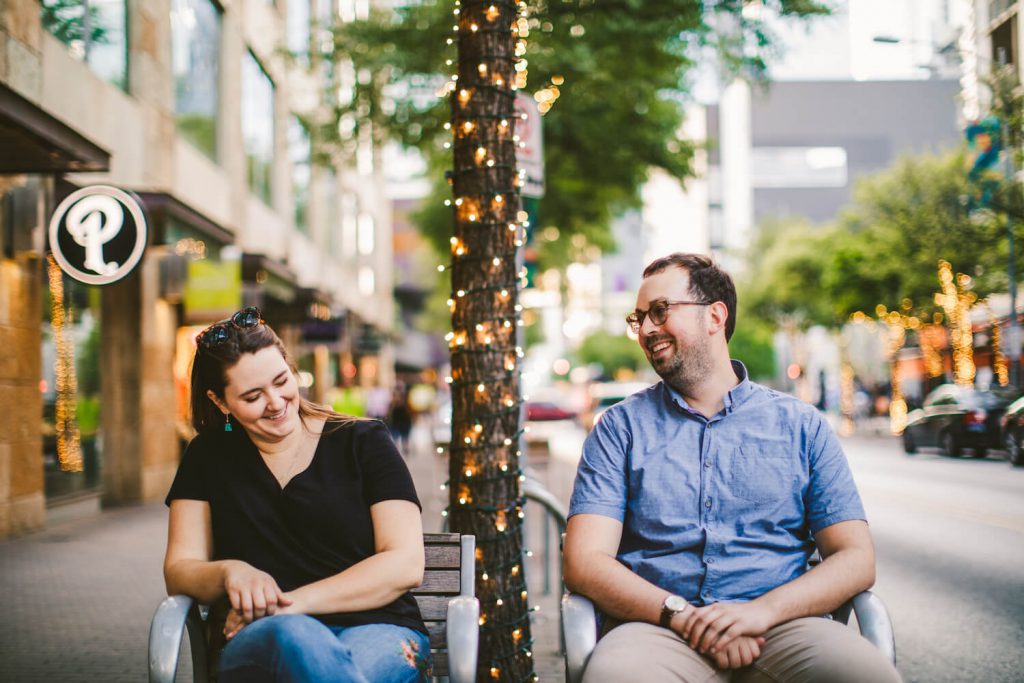 The Schneiders: "A great mix of old, historic buildings and new, modern buildings, Downtown Austin features the iconic Congress Bridge (aka Bat Bridge) with downtown views and the colorful Tau Ceti (the tallest mural in Austin one block east of Congress on Second).
Other highlights include colorful murals outside the Mexic-Arte Museum, the historic Driskill hotel, the modern art museum The Contemporary, and views of the Texas State Capitol in the background."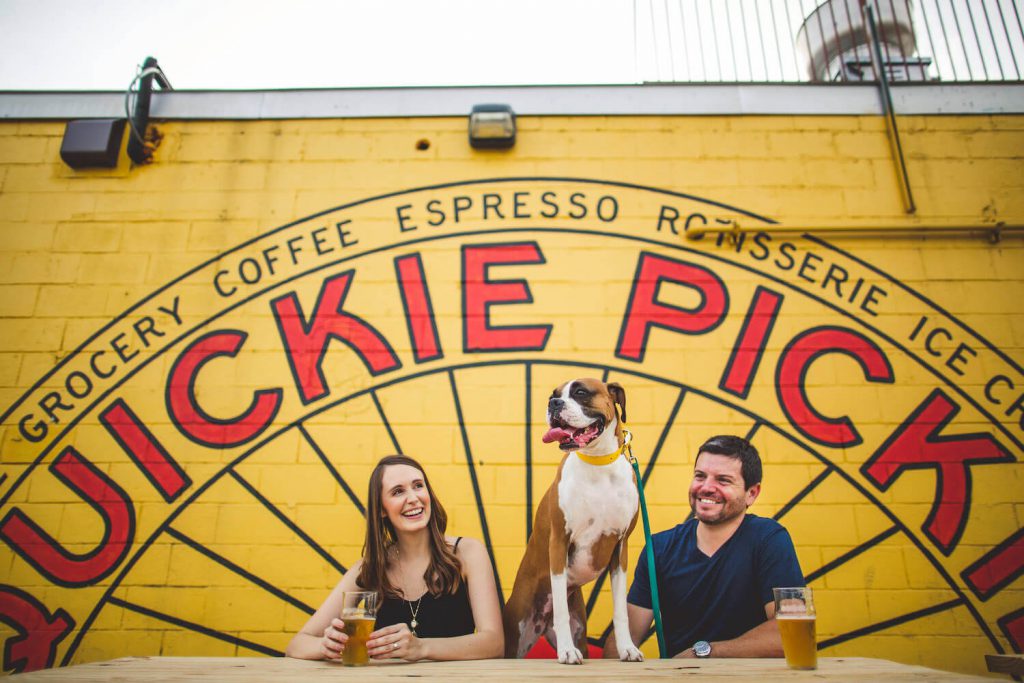 The Schneiders: "[Think] colorful murals, eclectic bars, coffee shops and breweries, a mix of old and new Austin, and large trees and grassy fields.
The vibrant, colorful buildings in East Austin are perfect for a more playful collection of [photos]. Festival Beach is also a popular spot for couples who want to include their dogs in some portraits."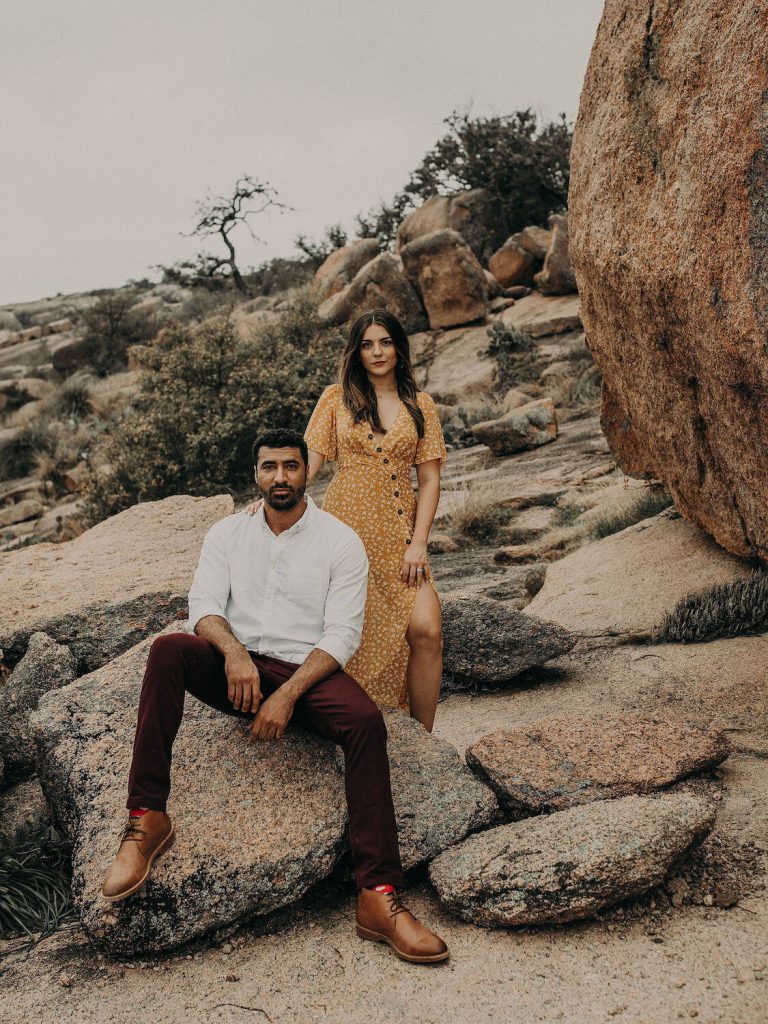 Nguyen: "One of the best possible places to have an engagement shoot? Enchanted Rock! Even though it's about two hours outside of Austin, Texas, it's magical.
The massive pink granite dome that rises high above the surrounding plains gives you such a beautiful Texas landscape for some whimsical photos. And if that doesn't draw you in, the scenery and abounding rocky formations add a magical, enchanting feel."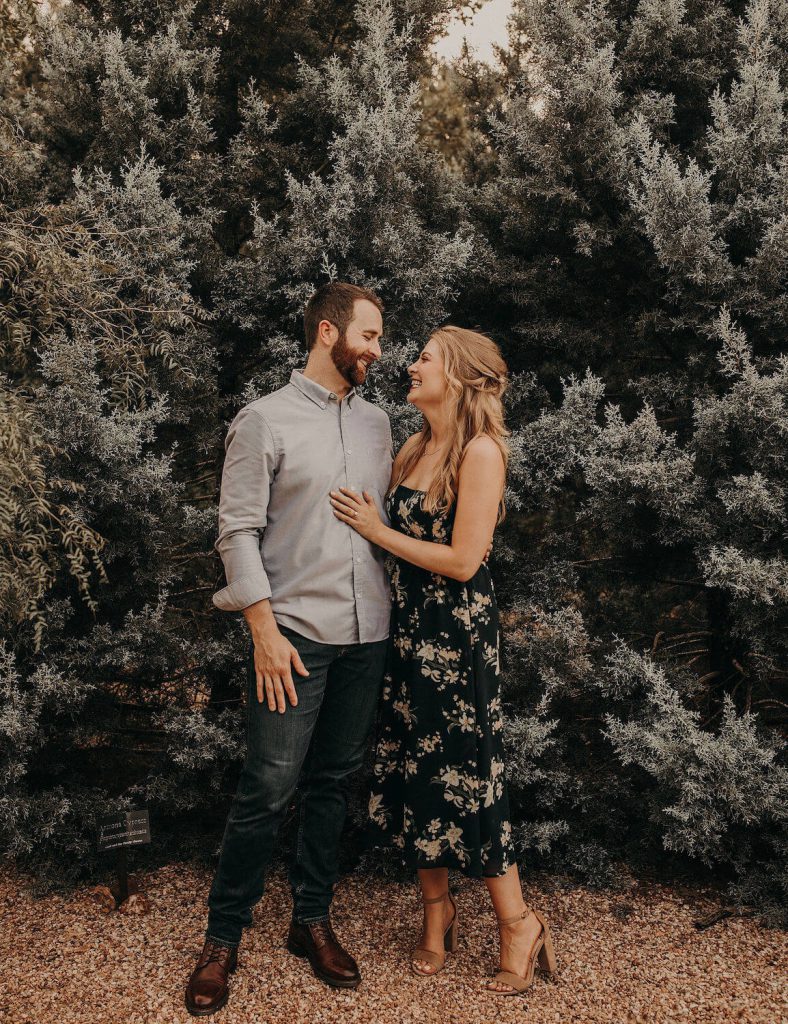 Nguyen: "Thinking of more romantic, dreamy engagement photos? The gardens, natural areas and arboretum of Lady Bird Johnson Wildflower Center in Hill Country would be my top pick!
The grounds provide a romantic backdrop for an incredible engagement session. If you go at the right time (hint: golden hour!) you can even capture some beautiful late sun rays falling down to give your photos that dreamy touch."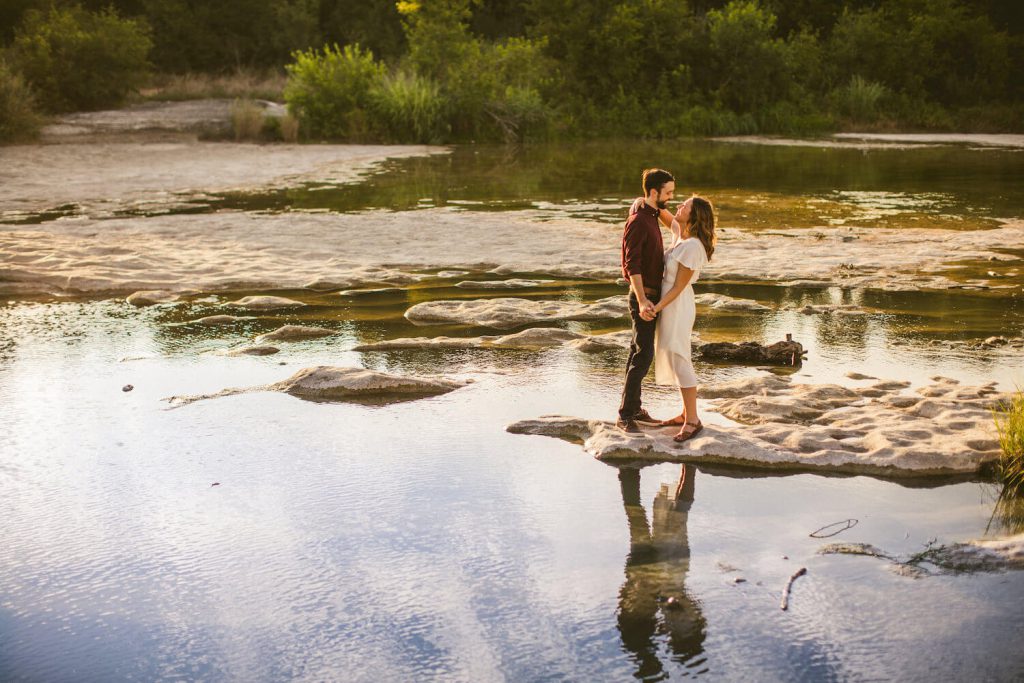 The Schneiders: "A beautiful park just southeast of Austin with stunning landscapes (including ancient volcanic formations, small waterfalls and ponds, tree groves, and grassy fields with wildflowers in the spring), McKinney Falls [State Park] is another weekday recommendation, as it gets very crowded on the weekends.
There's an entrance fee per vehicle as well as a photography permit fee (which was $25 last time we checked). We also recommend wearing bug spray in the woods and only parking in designated parking lots to avoid getting a ticket."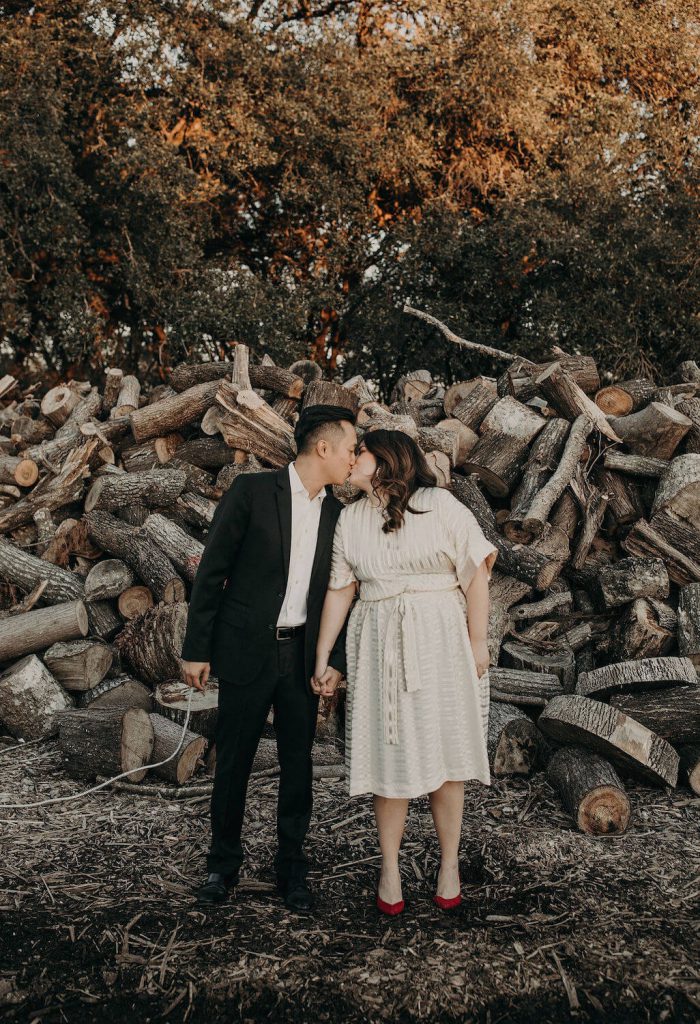 Nguyen: "If you're looking for a more laidback location for your engagement shoot, I'd say consider Moontower Saloon. One of the many reasons why I enjoyed shooting here was because they allow dogs!
In fact, the Saloon has over 11 acres of dog-friendly space with live music, patio bars, and shady oak trees — plenty of options for an adventurous yet easygoing session!"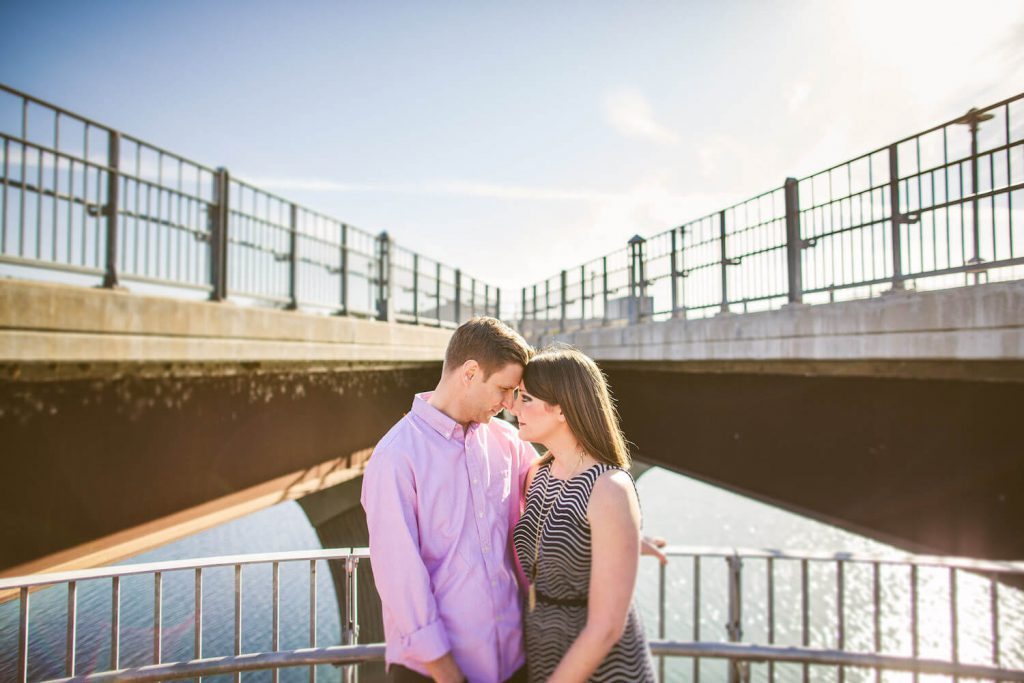 The Schneiders: "Several blocks downtown between West Cesar Chavez Street and North Lamar Boulevard, the Seaholm District includes a vast variety of urban and natural scenery, plus skyline views, all within walking distance.
The new, modern Austin Central Library, Butterfly Bridge, Seaholm Power Plant, Sand Beach Park, Open Room outdoor sculpture, hiking trails along Lady Bird Lake, and Pfluger Pedestrian Bridge are especially photogenic. Note: Austin Central Library requires a reservation ahead of time, and the Seaholm Power Plant has restrictions on the property."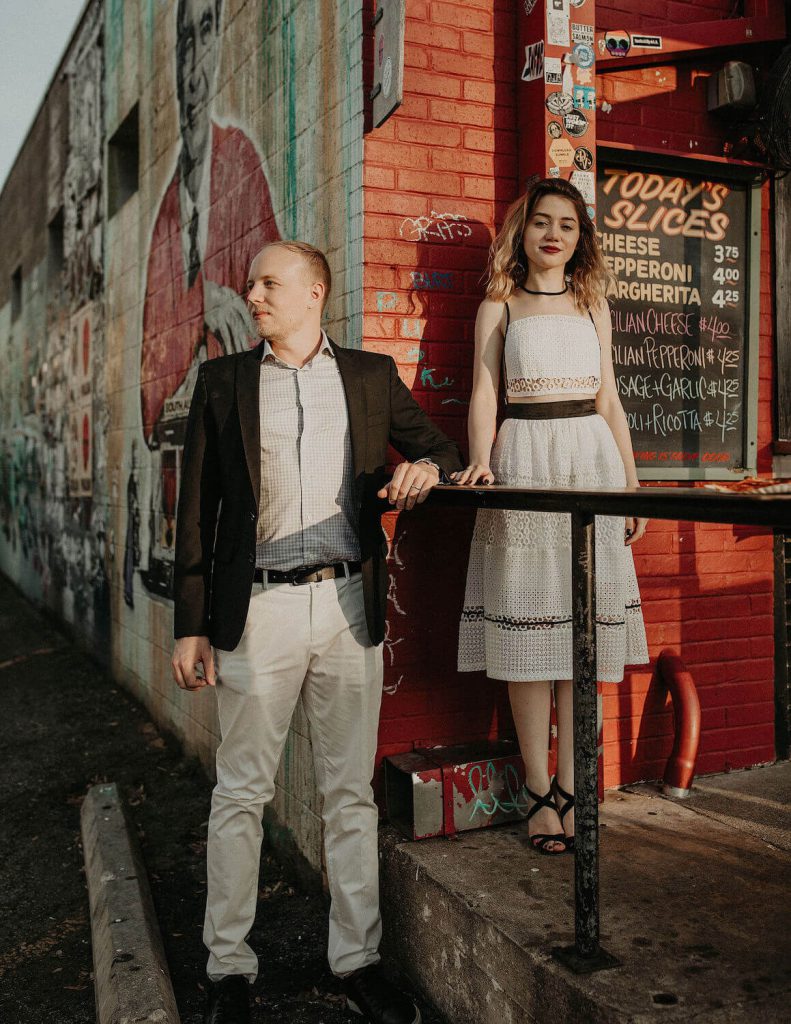 Nguyen: "One of my go-to engagement shoot spots is South Congress in Downtown Austin. It always feels like an urban adventure when I'm photographing there!
This is because the vibrant streets of South Congress offer many spots for shooting. Some of my favorites include the South Congress Hotel with its modern flair and the South Congress Bridge with the iconic Austin skyline!"
The Schneiders: "A bustling street with lots of unique, colorful storefronts and new, modern structures, South Congress is home to the 'I Love You So Much' mural at Jo's Coffee, the legendary Continental Club. This is a great area for couples [who] are foodies and want some photographs documenting their love of food at some well-known local restaurants (i.e. Homeslice Pizza, Amy's Ice Cream, Magnolia Cafe).
The neon lights at Austin Motel and South Congress Hotel, and the green ivy in front of Hotel San Jose, are also popular spots. Because South Congress is such a popular location for locals and tourists, and parking can be a challenge, we recommend sessions on weekdays or early on weekend mornings."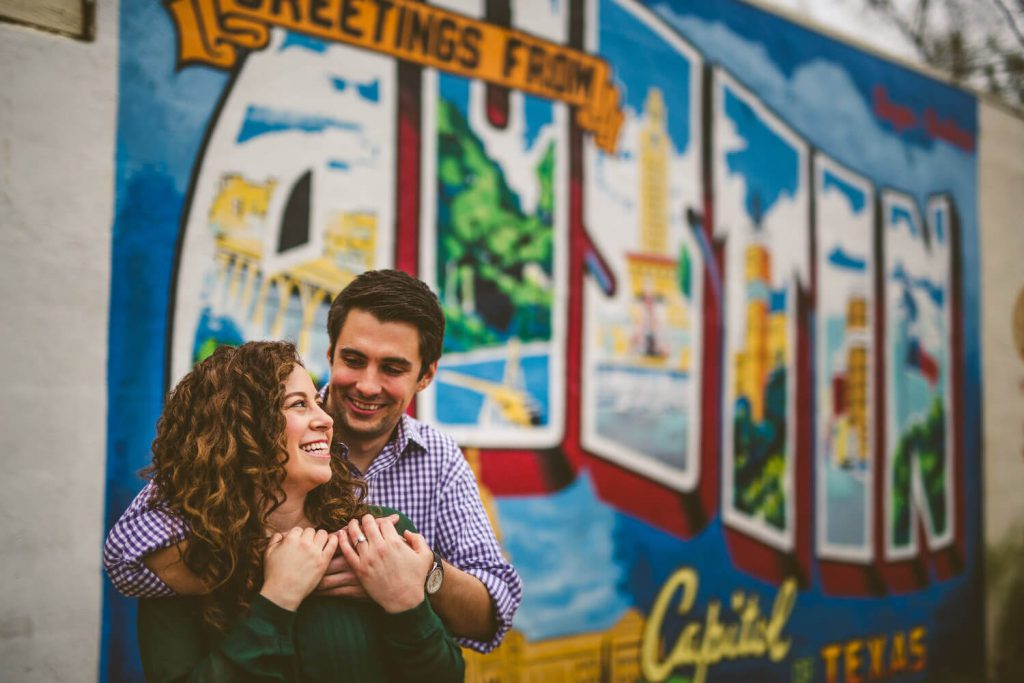 The Schneiders: "The iconic 'Greetings from Austin' mural is located on South First Street and connected to Roadhouse Relics (which also has some cool neon signs).
Be prepared to wait your turn for photos in front of the mural. [Fortunately], other colorful buildings are within walking distance."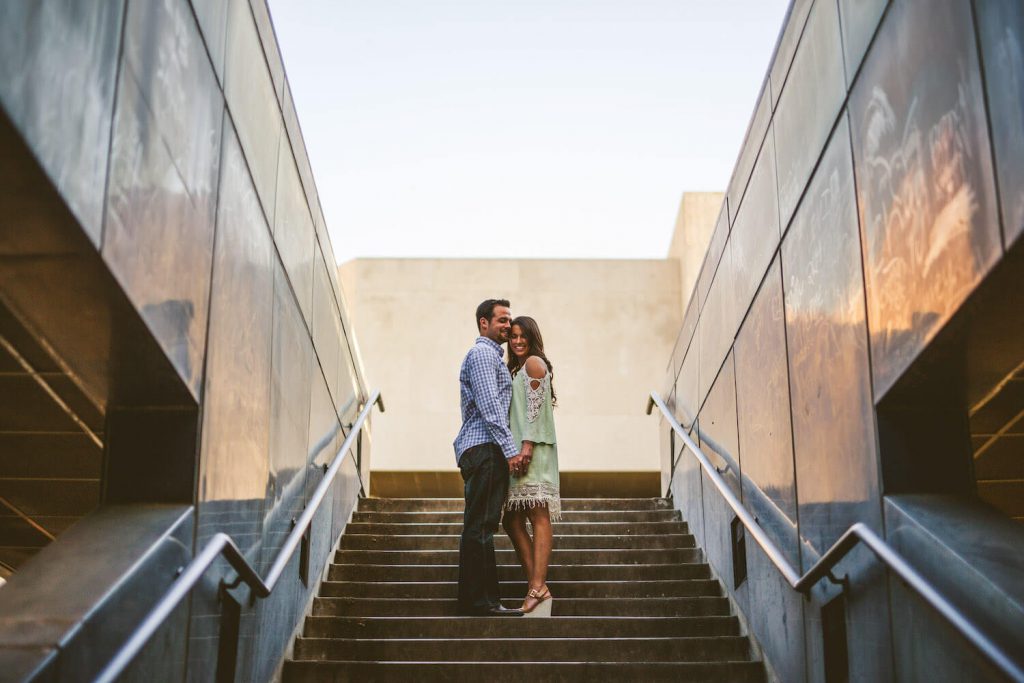 The Schneiders: A popular location for University of Texas alumni, the University of Texas campus has beautiful architecture, courtyards, large oak trees, some palm trees, an antique greenhouse, a turtle pond, and a vibrant pride of Barbados flowers in the spring and summer.
Some couples walk across the Guadalupe Street to The Drag for some more eclectic scenery including the 'Hi, How Are You?' frog mural by Daniel Johnston."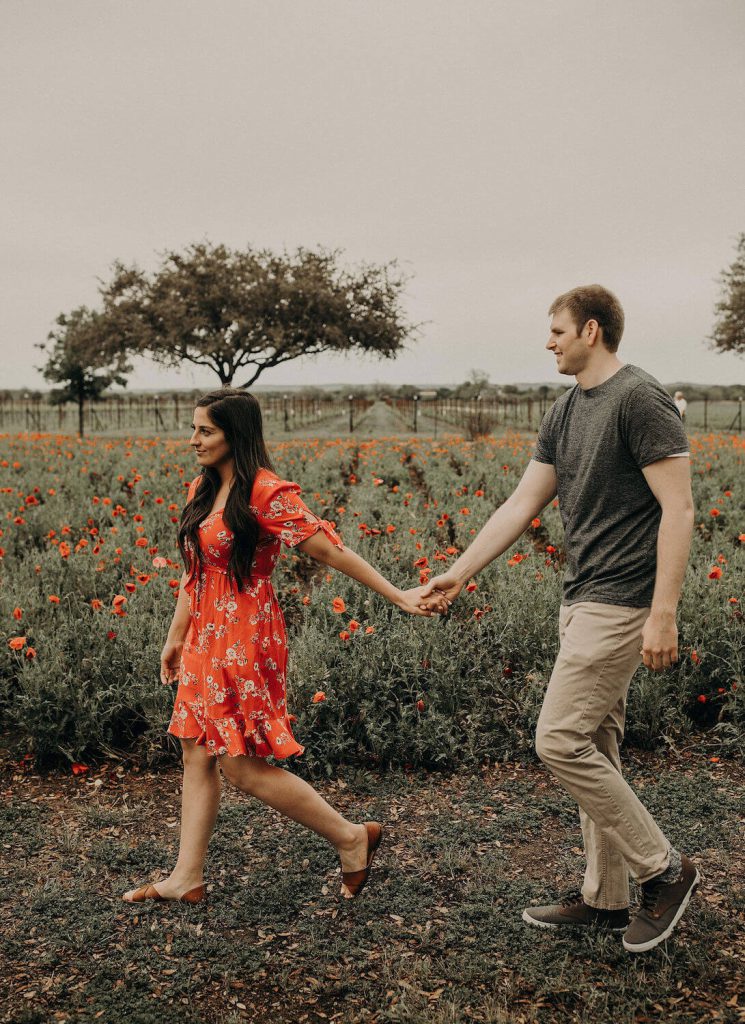 Nguyen: "If you're heading toward Enchanted Rock, I also recommend checking out Wildseed Farms, featuring one of the largest garden centers in the Texas Hill Country.
I love being able to walk the trails with my clients and using the lush flora on the grounds to capture romantic engagement photos!"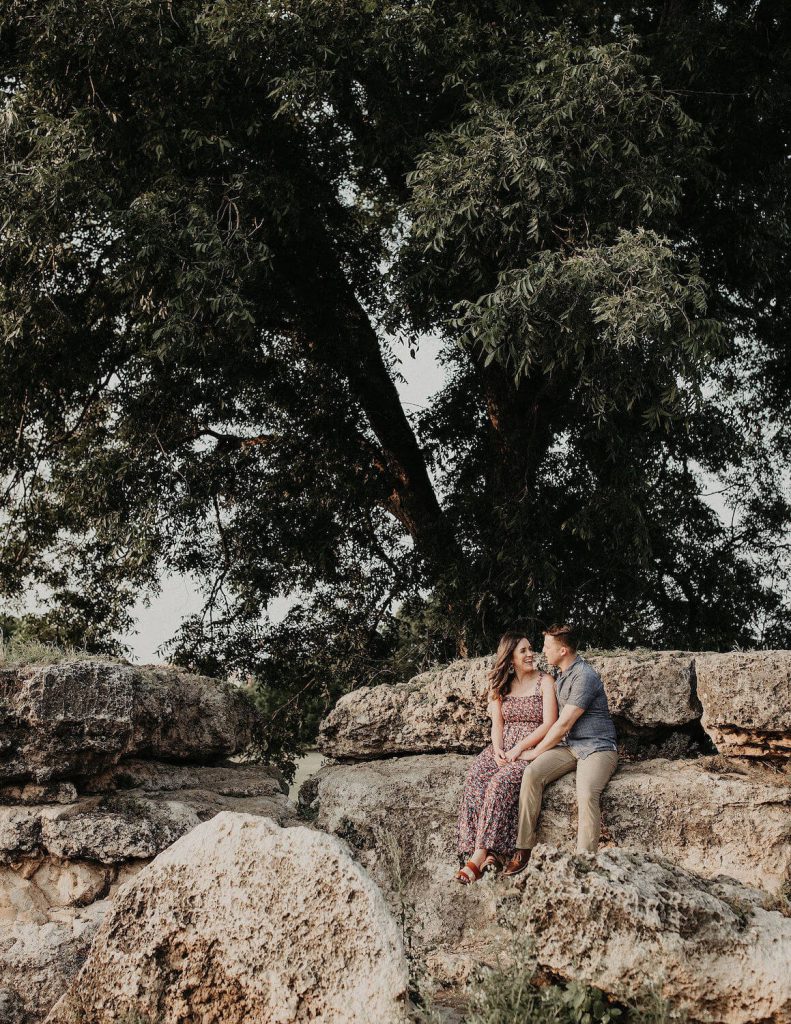 Nguyen: "There's a reason Zilker [Metropolitan] Park is considered 'Austin's most-loved park!' It's buzzing with activity and carries such a fun vibe, making it a great location to photograph fun-loving couples who like to be outdoors!
I especially love the diversity of the park. It gives you many options for your shoot from the playfulness of the playground to the scenic overlooks that give you a beautiful view of the Austin skyline or Lady Bird Lake."
Aim for Authenticity in Your Engagement Photos
Nguyen explains that, at the end of the day, the most important thing is to be authentic and true to yourself as a couple in your engagement photos.
"When it comes time for your engagement session, remember that it's not about the perfect poses, perfect looks, or perfect anything. It's about you and your partner sharing a joyous moment and capturing it so you can cherish it forever. Instead of worrying about what you look like, just enjoy being with each other, and the nerves and photographer will fade into the background."